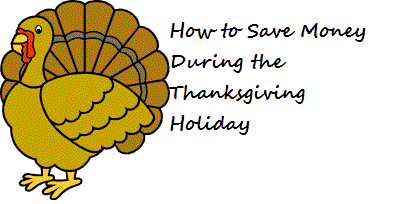 Thanksgiving is right around the corner and EEK! That means a meal that could easily become very expensive. Here are some tips to save you money and time during this busy holiday time.
The Meal-
-If you are hosting dinner then you are normally the one in charge of the turkey. You can get a FREE turkey at many grocery stores by spending X amount. And all of the stores that I have gotten a free turkey from the total  was BEFORE coupons. To get to our total (Shoprite has a free turkey when you spend $300) I gather all of my Free coupons and scan the ad to see what is free or really dirt cheap that week to help get to my total. Last year I was shopping at Acme and they had an AWESOME catalina deal and I ended up paying only a few bucks(less then $5) out of pocket for a ton of groceries and my free turkey. Check and see if your stores do a free turkey deal.
-Know what you are going to serve for dinner a few weeks in advance, this gives you time to hunt down the deals. If you wait till last minute you will be spending a lot more even if you are using coupons to help cut down the costs.
-If you are having a lot of people come over, ask them to all pitch in. While it may be odd to invite people over and then say "oh do you mind bringing such and such", when you start the invites let everyone know you wanna do a potluck Thanksgiving dinner, it will help with the costs for everyone, especially the host.
-Make it yourself . I was in shock the other day when I walked past the pies in the bakery department and saw that they wanted 7.99 for a pumpkin pie(and it was the small one) that all they did was take it from the freezer and put it in their oven. The frozen ones in the freezer section were around 4-5 dollars. Even just putting a pie in the oven the day before Thanksgiving yourself is saving you a couple bucks. And if you wanted to save even more, then make it from scratch. You could make 2 pies for the price of 1 prebaked one at the grocery store. This also goes for things like breads, you can get a box of pumpkin bread(not on sale) for around $3 add the eggs and some milk and bake it yourself. A prebaked loaf of pumpkin bread was over $5 in the bakery section. A few extra minutes of your time can save you a bunch of money.
-Desserts-Many of them can be made the day or 2 before, but things like breads and muffins can be made a few weeks before and put in the freezer and you can take them out and let them thaw and have fresh bread and muffins.
-Decorations- 
We all love to decorate for the holidays but since Halloween just passed many of us still have pumpkins, use your pumpkins(if you did not carve them) as center pieces for your table. It is chilly here so we can leave the pumpkins outside and they do not rot. You can also find cheap decorative corn as pumpkin patches are closing down because Halloween is over.
-Have your children (or grandchildren, nieces/nephews ect) Color pictures and write Happy Thanksgiving on them and put them into frames(you can find them for a few bucks at wal-mart and the dollar store). Not only is this a way to decorate but each year you can put the new picture in the front and have memories of when they were little.


Having visitors that stay over
-The holidays bring family and friends from out of town over and many times that includes a day or 2 of them staying at your house.
-Put a small basket together of things like shampoo and razors that you have gotten through out the year, and put it where they will be staying. This way if they forget anything it is there already and it saves you from having to either look for it in your house or going to the store with them(if they do not know where it is).
-Meals for people staying over can add up as well. For the days that are before the holiday you can save yourself money and time before they even get to your house.
-Breakfast- Make muffins and pancakes in advance and freeze them, this way you have a yummy breakfast with out having to spend forever in the kitchen preparing it.
-Lunch- Many times I have see my parents when we were younger run to the deli and grab subs, this can be expensive but if you make sure to have everything you would need for people to make their own on hand then you save the time of running to the deli, and the added cost of them making it for you. It also cuts down on having to remember who ordered/wanted what.
Kids Outfits-
We all like our kids to look cute when family comes to visit, but there is a need to go out and buy something just for Thanksgiving. You can get an outfit(like a cute sweater dress or a sweater and nice pants) that you can have your child wear for both Thanksgiving and the winter holidays. If you do not like to have them wear the exact same outfit for both holidays figure out the outfits so they can at leats rewear one part of the outfit for another holiday or as regular everyday clothes.
Instead of buying dress shoes that kids will wear only during the holidays(especially boys) I like to buy black sneakers for my son. Especially now since he is bigger and I am never sure what size he will be in during the holidays. When he was younger I used to buy them after the holidays when they were on sale. They stay nice looking even after being worn a bit but they go with almost any outfit and there is no wasted money for 1 or 2 times of being worn.
If you have anything to add please share what you do to save money during Thanksgiving:)