Homemade zucchini bread is one of the best things to make when you have extra zucchini. This moist homemade zucchini bread recipe is perfect for lunch or a snack!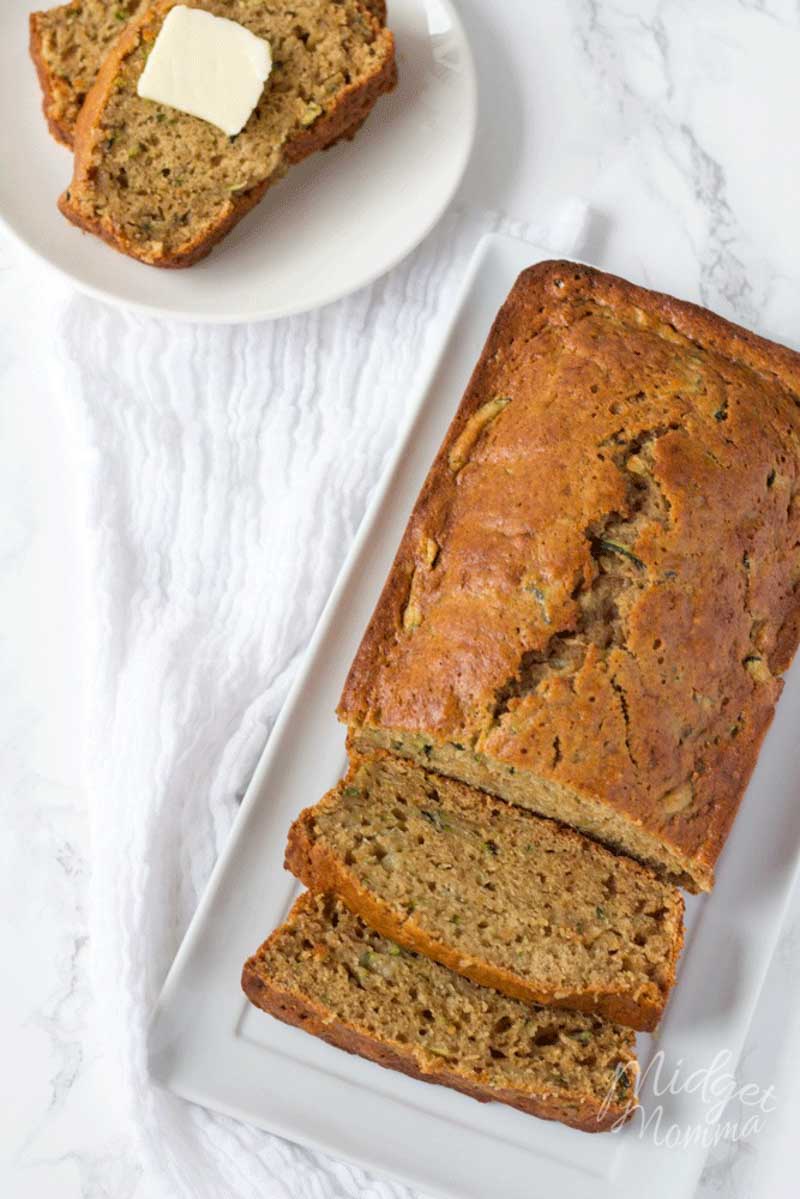 Zucchini Bread Recipe
I am always making bread, doesn't matter what time of year it is. We love fresh baked bread of all flavors, including this awesome Moist and Delicious Zucchini Bread Recipe!
To be honest, recently the top pick has been this Zucchini Bread Recipe. The kids are asking me to make homemade Zucchini Bread a million times a week. Ok maybe not a million but you know what I am saying. I am happy to make this bread for them to enjoy because I know that they are eating a healthy homemade bread.
Fresh bread, like this Zucchini Bread is something I love having in the house. None of my family ever complains when we have fresh baked bread ready to eat! It really does make a great snack for the kids that I can be happy they love eating.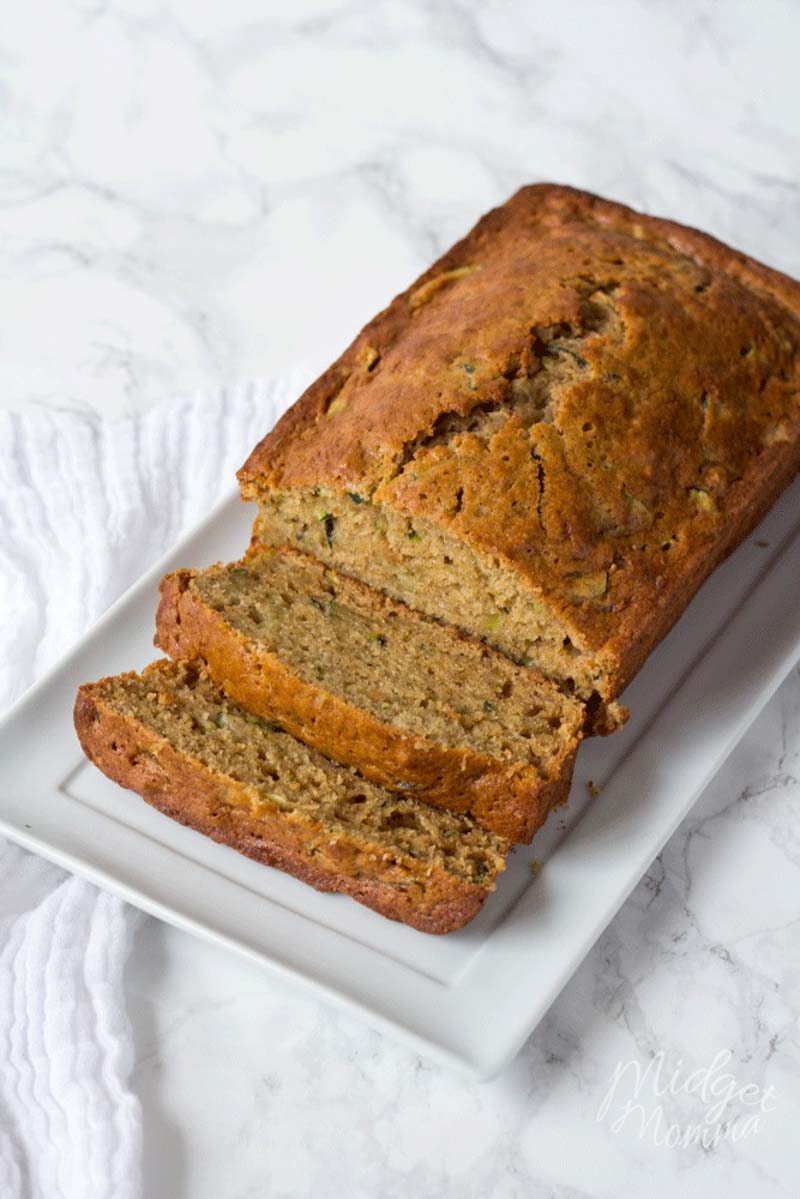 This really is the Best Zucchini Bread Ever, at least that is what everyone who has tasted it has told me, including my biggest critics, the kids! This homemade zucchini Bread Recipe, is moist, easy to make and most importantly delicious! Seriously you are going to want to eat it for breakfast and a snack!
If you happen to find zucchini on sale or have an over abundance of zucchini from your garden then you have to add this homemade bread recipe to your must make recipe list! It is a great way to use up fresh zucchini because you can easily freeze this zucchini bread recipe after you bake it.
Love homemade bread? Check these amazing bread recipes out!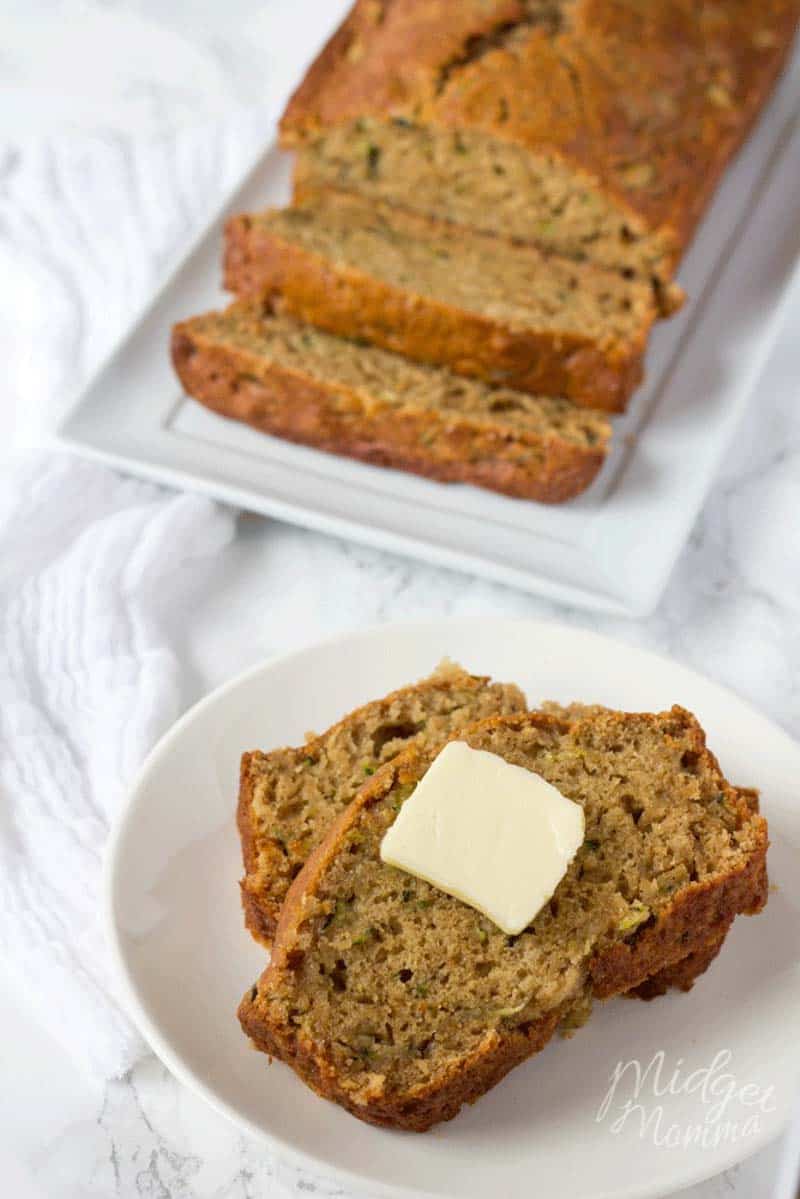 How to Make Zucchini Bread Moist
The trick to making this zucchini bread moist, is using applesauce. You must make sure it is unsweetened applesauce or it will make this homemade quick bread too sweet.
I prefer using the smooth applesauce, but if you are looking thru your pantry and only have chunky applesauce you can use that. You will not taste the applesauce in this zucchini bread with applesauce recipe. It just makes the homemade bread moist and the best bread ever!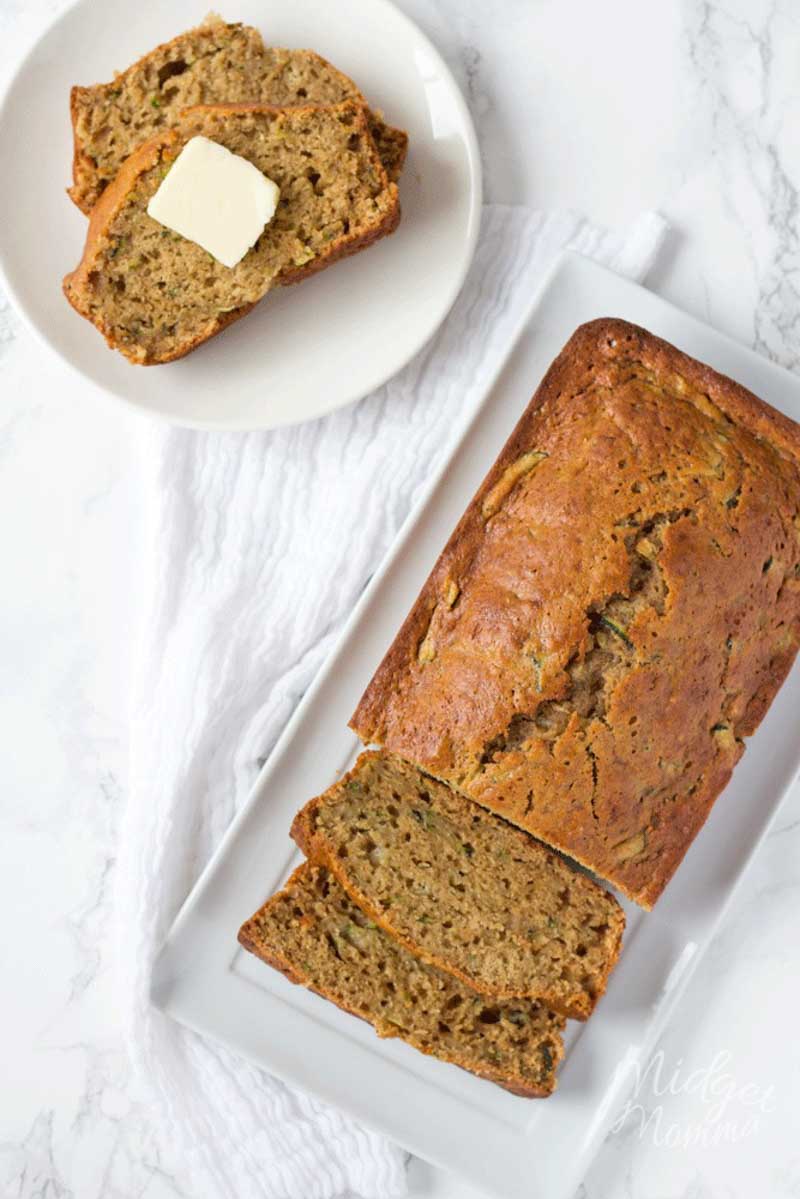 Can I Freeze Zucchini Bread?
This homemade Bread never lasts long in our house and it is a bread recipe that I normally double the recipe of so I can stick a few loaves in the freezer.
Freezing this homemade bread is simple, let the loafs of fresh baked bread cool completely. Once they are cool wrap well with plastic wrap, then a layer of tinfoil and then stick in a ziplock bag.
Store the bread in the freezer and it will keep for 3-6 months.
Once you are ready to defrost your homemade bread, just remove from the freezer and place in the fridge, while still wrapped until it is defrosted.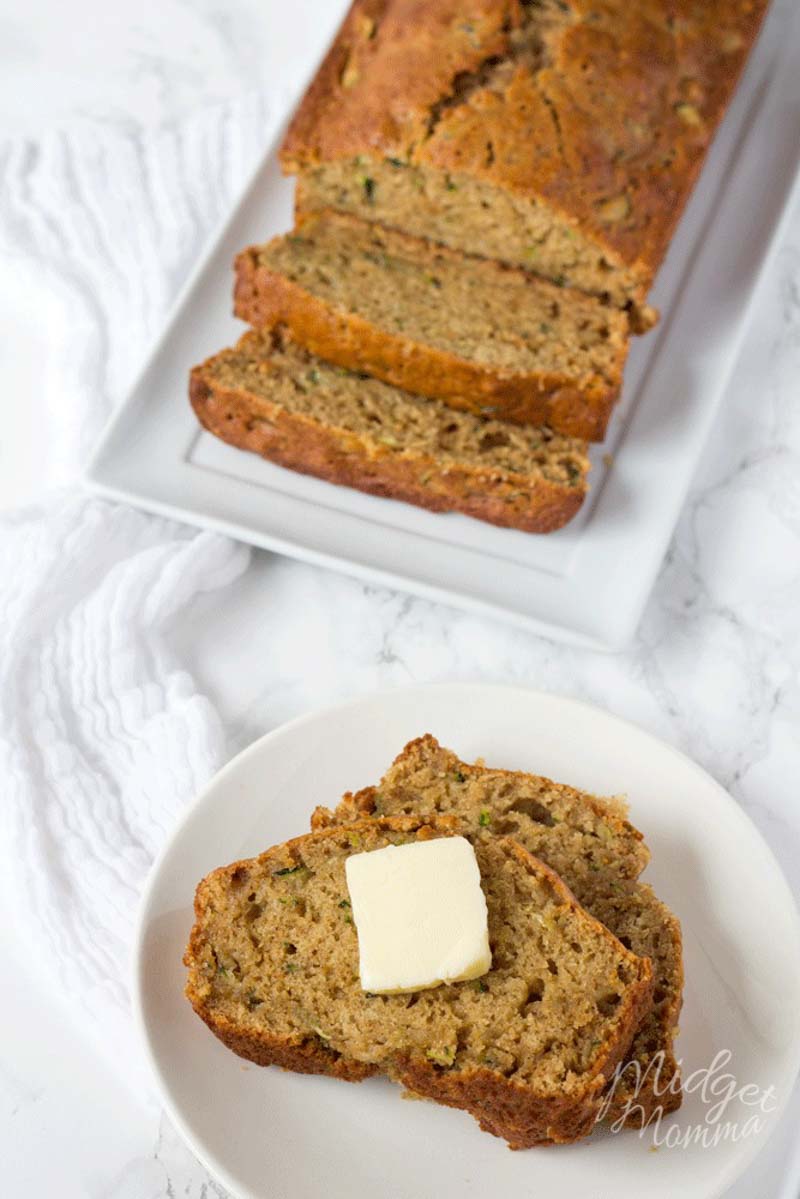 Zucchini Bread Ingredients
Zucchini
Unsweetened applesauce
Canola oil
Eggs
Vanilla extract
Granulated white sugar
All-purpose flour
Whole Wheat flour
Ground cinnamon
Baking soda
Salt
Baking powder
How to Make Zucchini Bread
Preheat the oven.
Spray the bottoms only of 2 loaf pans with nonstick spray.
In a large bowl mix zucchini, oil, eggs, vanilla extract and sugar until everything is well mixed.
Next add in the rest of the ingredients one by one mixing well.
Pour half the bread batter into each loaf pan.
Bake in the oven.
Once out of the oven allow the bread to cool for 10 minutes.
Use a knife and loosen the sides of the bread and remove the bread from the pan and continue cooling on a cooling rack.
Love Zucchini? Check out these zucchini recipes!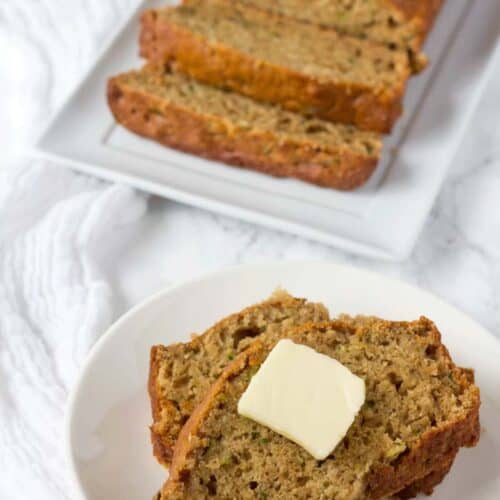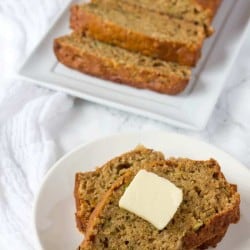 Best Zucchini Bread
Servings
The Best Zucchini Bread Ever! This Zucchini Bread Recipe is moist and delicious! Seriously you are going to want to eat it for breakfast and a snack!
Instructions
Heat the oven to 350°F.

Spray bottoms only of two loaf pans with cooking spray.

In large bowl, mix zucchini, applesauce, oil, egg, vanilla and sugar until well blended.

Stir in all other remaining ingredients.

Pour the batter evenly into pans.

Bake for 50 to 60 minutes or until toothpick inserted in center comes out clean.

Let Cool for 10 minutes.

Loosen sides of loaves from pans, remove from pans to cooling racks.
Calories: 382kcal | Carbohydrates: 61g | Protein: 6g | Fat: 13g | Saturated Fat: 1g | Cholesterol: 49mg | Sodium: 364mg | Potassium: 212mg | Fiber: 3g | Sugar: 33g | Vitamin A: 140IU | Vitamin C: 5.8mg | Calcium: 32mg | Iron: 2mg
zucchini Bread
bread, Breakfast, Snack
11 Weight Watchers Smart Points per serving on the Freestyle Program
Join the newsletter
Subscribe to get our latest recipes right in your inbox every time we post a new one!