This overnight Maple oatmeal was a big hit and one thing I really like about it is I do not have to add any extra sugar or sweeteners, it is perfectly sweetened with the peaches! You can use any airtight container but I prefer to use mason jars, they are easier for getting it done.
What is also great is that they are refreshing as a snack too. There is no cooking so you are not warming up the house and in the morning when you wake up you can just grab it out of the fridge and eat it. At snack time you can do the same and it is super quick! They are also so simple to prep, it is a great thing to have the kiddos do to help out!
I have really become a fan of these overnight oatmeals and ever since a friend of mine told me about the blueberry overnight no cook oatmeal. You can also check out my Peach Overnight Oatmeal made with fresh peaches!

Nocook Overnight Maple Oatmeal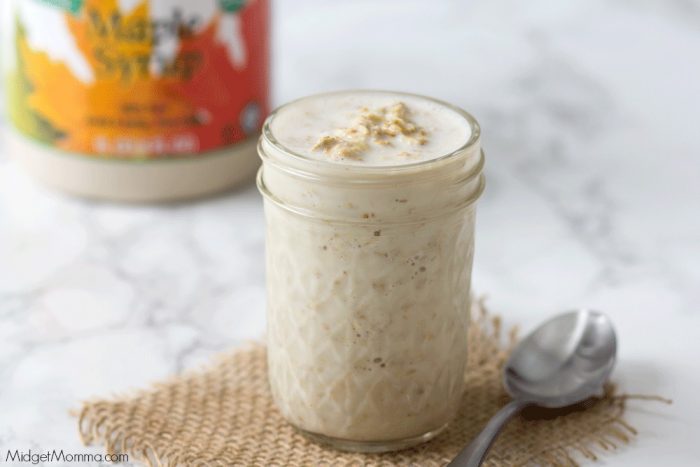 Maple Overnight Oatmeal Ingredients:
1/2 cup rolled oats
1/2 cup milk
1/2 container of vanilla yogurt
1/2 cup real maple syrup
Maple Overnight Oatmeal Directions
In a mason jar or a container that you can put a lid on that will be able to be shut and air tight.
Put in the oats, then the milk, maple syrup and yogurt.
Shake (if using a mason jar) or stir well (if using a container).
Put the lid on and then put them in the fridge until morning (about 8-10 hours).
Take out and enjoy these Nocook Overnight Maple Oatmeal!
Join the newsletter
Subscribe to get our latest content by email.
This post may contain affiliate links. Please read my disclosure policy here