Looking for an easy no bake breakfast that is perfect for summer and super easy to make? This Peach Overnight Oats Recipe is the perfect summer breakfast recipe! Old-Fashioned rolled oats, peach yogurt, milk, and fresh peaches are all you need to make this easy overnight oats recipe.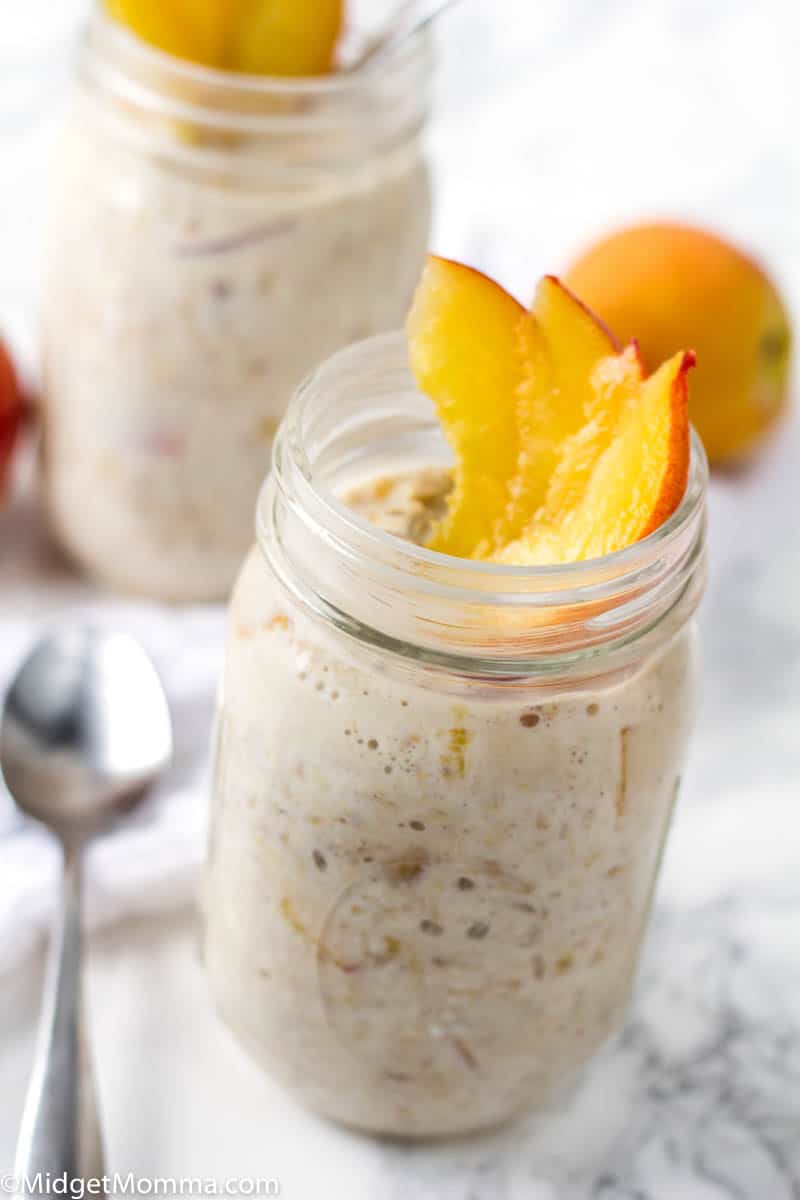 Peach Overnight Oats Recipe
If you are a fan of overnight oats and you love peaches then you are going to love this Peach Overnight Oats Recipe! The great thing about overnight oats is that they only take 5 minutes to prep and then they finish up overnight while you are sleeping. Then in the morning, they are ready to be enjoyed.
We have been making overnight oats for many years, they are a family favorite for the hot summer months when cooking is not something that anyone in my house wants to do.
It takes about 5 minutes of prep the night before and then in the morning breakfast is waiting in the fridge for us to take out and enjoy.
Be sure to also check out Blueberry Overnight Oats and maple overnight oats! If you are fans of oatmeal then you should check out Pecan pie oatmeal, Gingerbread oatmeal, apple cinnamon oatmeal, and our banana oatmeal cookies. As you can tell we love oatmeal recipes in our house!
Easy Breakfast Recipes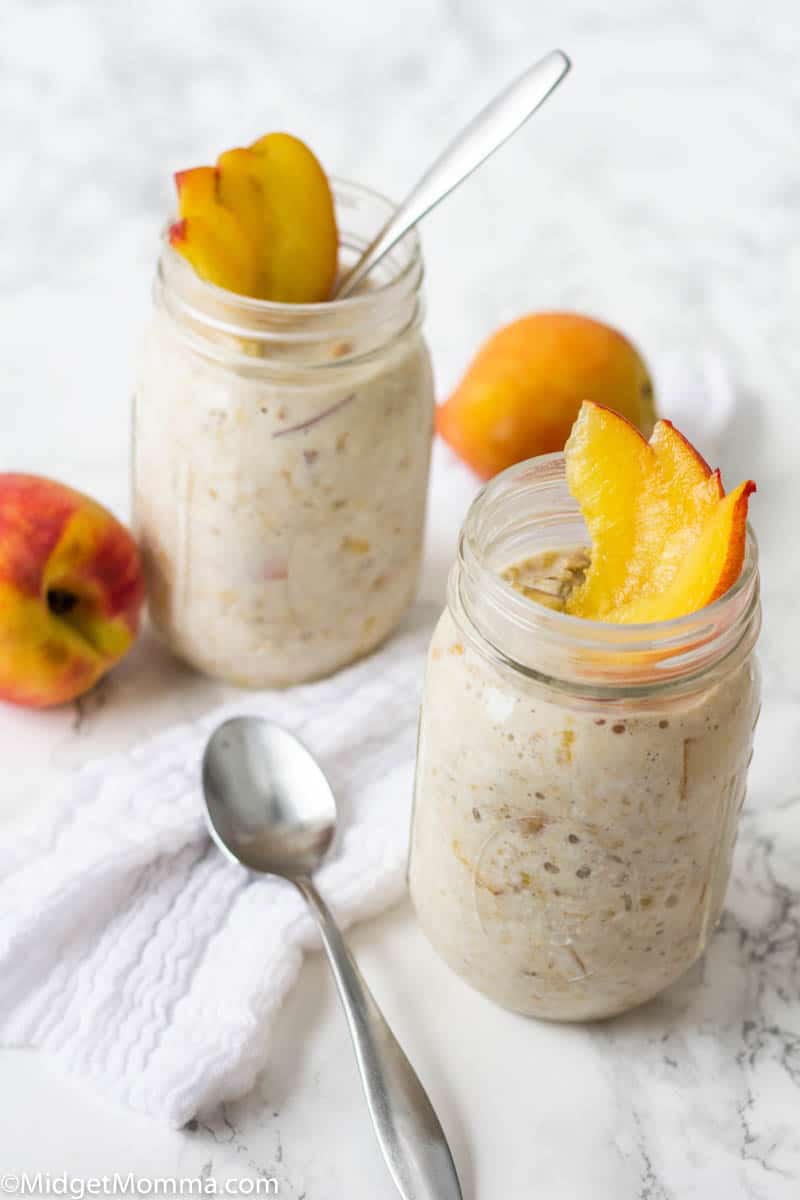 What are overnight oats?
If you have never had overnight oats you are in for a treat! Overnight oats are a quick and easy breakfast that is made by soaking rolled oats overnight in a liquid. Depending on the recipe some overnight oats recipes use yogurt, others use milk and I have seen some that use water.
We like using yogurt and milk when making overnight oats. I find that the oats keep their texture better and I don't end up with some slimy smushy something in my jar in the morning.
I also like using yogurt because it gives more nutritional value to the oats and it gives amazing flavor too!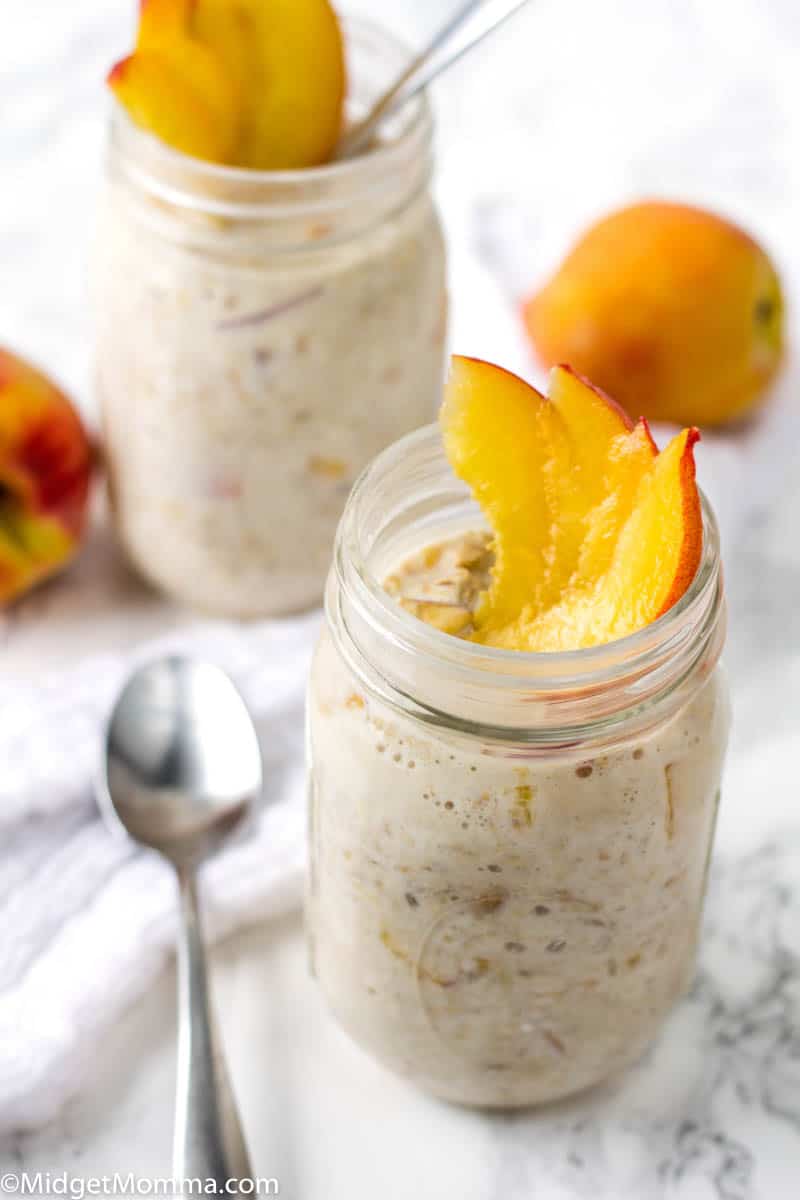 How Long do Overnight Oats keep in the fridge?
I have found that overnight oats are good for 2-3 days after I have made them. Any longer than that and they get a different texture that I am not a fan of.
How Do you heat overnight oats?
Personally, I like to eat my overnight oats right out of the fridge, cold. My kids prefer to heat theirs up. If you are wanting to heat up overnight oats just heat them in the microwave for 45 seconds to 1 minute.
If you do not have a lot of extra room in your container put the overnight oats into a different container to heat up because they will boil a little bit when you are cooking them in the microwave.
My kids also like to add more fresh peaches to the top of their peach oats in the morning when they eat it.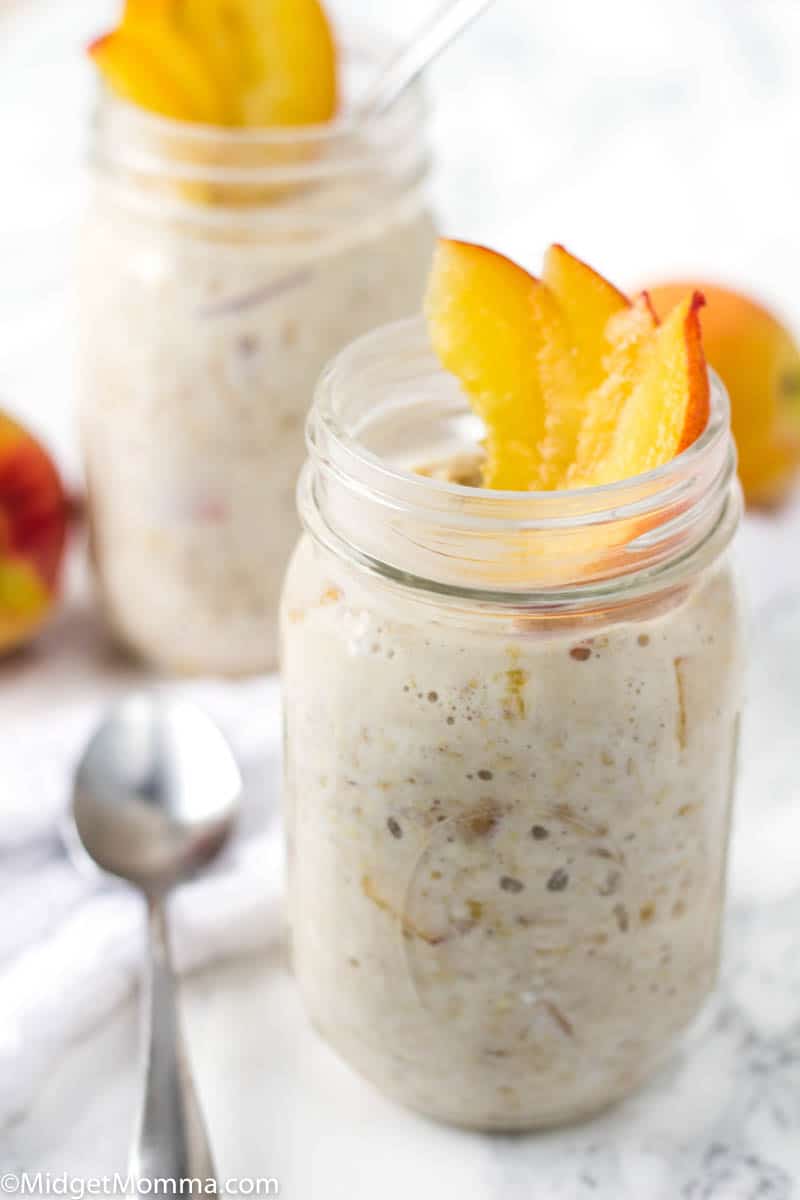 What are the best Oats for overnight oats?
The best oats to use are Old-Fashioned rolled oats. You can use quick oats but they will end up being softer than if you used rolled oats. I do not suggest using steel cut oats, they need more liquid than the others and a longer time in the fridge to get the softness you want your oats to have.
Canned or fresh peaches?
We prefer fresh peaches, however, if you only have canned on hand they will work too. You can also use frozen peaches, if you are like us then you have lots of them in the freezer from going peach picking. They will fully defrost overnight in the fridge if you put them in the oats still frozen when prepping them the night before.
Variations of this recipe
Change up the yogurt. I like to use yogurt with fruit in it when making overnights oats, but you can use also use greek yogurt or plain yogurt.
Add more fresh fruits I love using fresh fruit but you can also use frozen fruit when making them. If you want more fruit then you can also add other fruit including raspberries, strawberries, nectarines, plums and blackberries. If you want to add bananas I suggest adding them when you are serving this.
Add nuts. You can also add nuts, my kids like adding sliced almonds to their oats.
Add sweetener. If you like your oats sweet, you might want to add a little bit of sugar, honey, or maple syrup to sweeten this overnight oat recipe. I find that when I use a fruit mixed yogurt or plain yogurt there is plenty of sweetness but if you are using greek yogurt or yogurt with no fruit you might want to add a touch of sweetness.
Add Cinnamon. A dash of cinnamon is perfect with the peaches. Sometimes we add the cinnamon in before putting them in the fridge, other times we sprinkle the cinnamon on top when we are going to eat.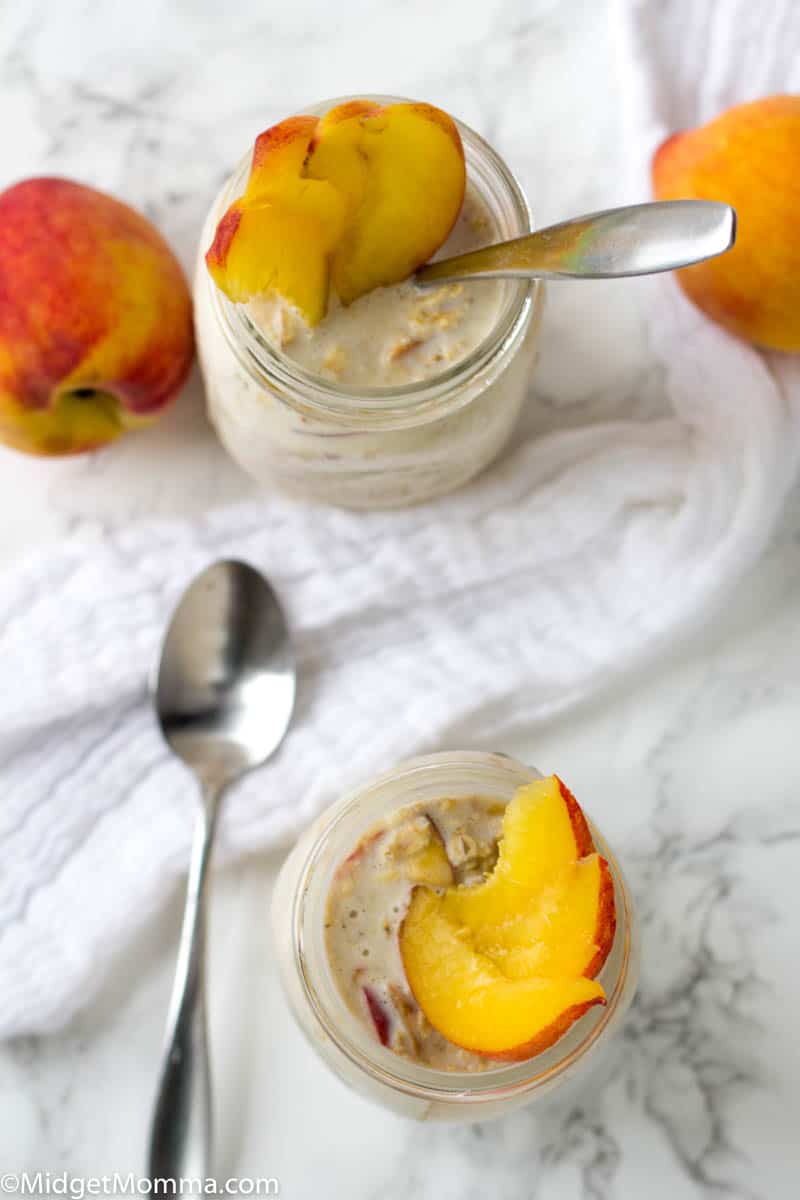 Overnight Oats Ingredients
Peach yogurt (with fruit on the bottom or already mixed will work)
Milk of choice
fresh peaches
How to Make Peach Overnight Oats
Add the oats into a mason jar or a bowl, then add in the peaches and the yogurt, then pour in the milk.
Mix well with a spoon, or if using a mason jar put the lid on it and shake it up to mix everything together.
Put them in the fridge for 8-10 hours, open the lid and enjoy!
Healthy Breakfast Recipes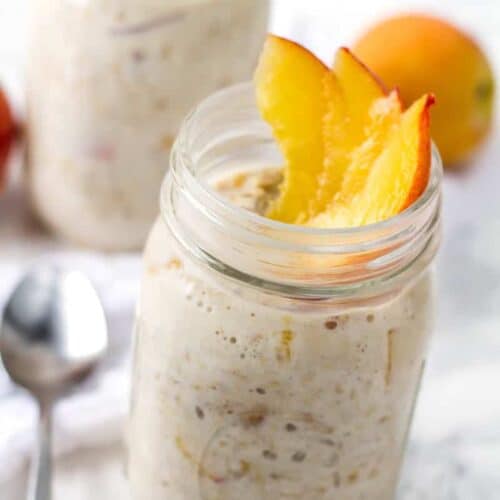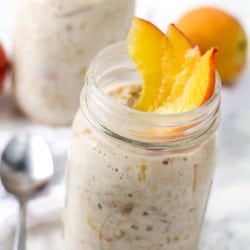 Peach Overnight Oats Recipe
Servings
This Peach Overnight Oats Recipe is perfect for the summer! Old-Fashioned rolled oats, peach yogurt, milk and fresh peaches are all you need to make this easy overnight oats recipe.
Ingredients
1/2 cup rolled oats
1/2 cup milk
3 ounces peach yogurt
1/2 cup fresh peaches diced
Instructions
Wash and dice the fresh peaches.

In a mason jar or a container that you can put a lid on that will be able to be shut and air tight., add the rolled oats, then add the milk and yogurt. Then add in the peaches and stir again.

Shake (if using a mason jar) or stir well (if using a container).

Once everything is well mixed add in the peaches and stir again/shake again.

Remove from the fridge and serve as desired, either right from the fridge or warmed up.
Calories: 155kcal | Carbohydrates: 22g | Protein: 6g | Fat: 5g | Saturated Fat: 2g | Cholesterol: 12mg | Sodium: 47mg | Potassium: 293mg | Fiber: 3g | Sugar: 8g | Vitamin A: 266IU | Vitamin C: 3mg | Calcium: 131mg | Iron: 1mg
overnight oats, peach, peach over night oats recipe
Breakfast