If you are looking for an amazing Smoothie Bowl Recipe then you are going to love this Banana Berry Smoothie Bowl with the amazing flavors or banana, blueberries and strawberries!

Banana Berry Smoothie Bowl Recipe
If you haven't had a smoothie bowl then seriously you HAVE to try them! They are amazing! It is seriously like the healthy version of soft serve ice cream. The texture of a smoothie bowl makes you want to keep on making them! The best part is that you can because they are healthy and good for you!
This is a healthy berry banana smoothie, but cooler and better because you are eating it with a spoon in a bowl!
Now I know what you are thinking…. WHY would someone make a smoothie and then put it in a bowl???
Do you see how BEAUTIFUL this frozen berry smoothie recipe in a bowl is? Oh and incase you are wondering if a smoothie in a bowl tastes good… they taste amazing!
Love Smoothies? Check these out!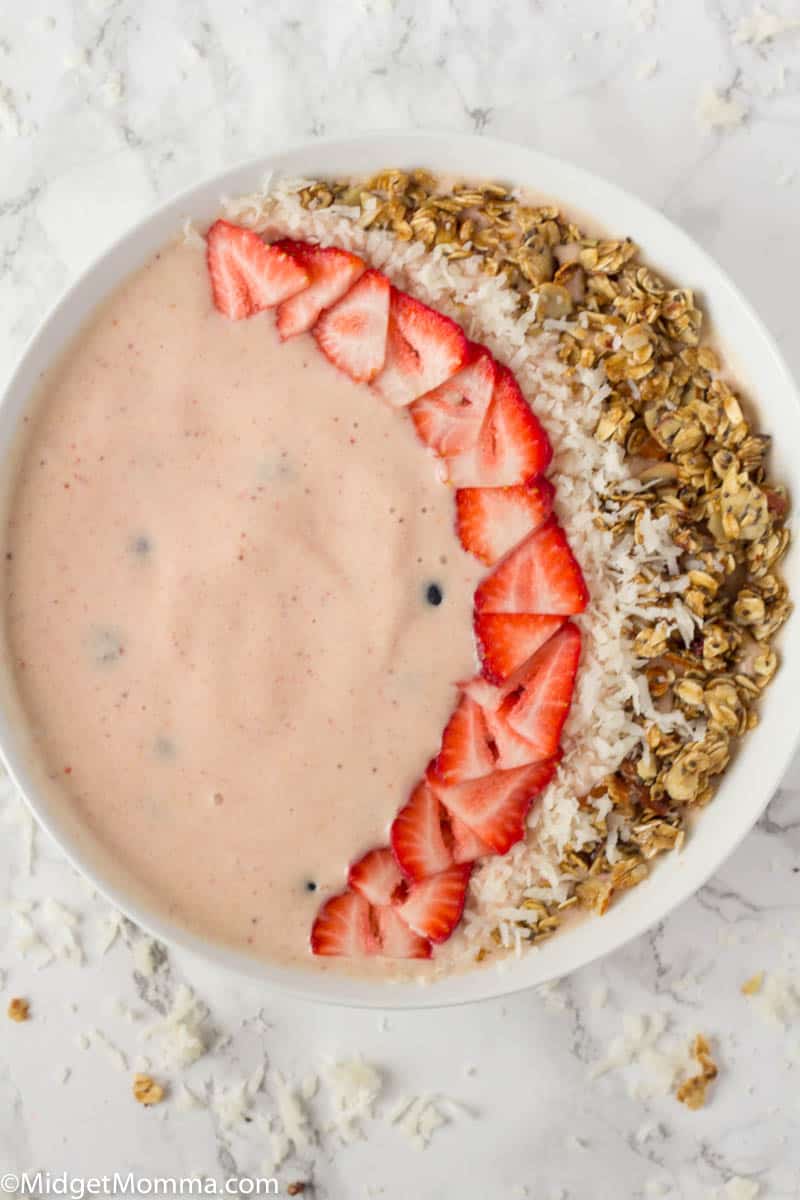 What is a Smoothie Bowl?
A smoothie bowl starts with a thick blend of whole foods, such as frozen fruits, veggies and other healthy ingredients including milk and juice.
The colorful smoothie base is poured into a bowl once blended to a soft serve ice cream texture and then decorated on top with other smoothie ingredients.
Fresh or Frozen Fruit?
When making this easy smoothie bowl recipe you will be using both fresh fruit and frozen fruit.
The combination of frozen fruit blended, then mixed with fresh fruit and topped with more fresh fruit and granola and coconut to give it some crunch is AMAZING! Personally I think they are much better then a smoothie in a cup. Once you try a smoothie bowl, you won't be going back to smoothies in a glass!
Now I always have frozen blueberries and frozen strawberries on hand. I tend to stock up on them when they have some great sales at my stores. Then I use these how to freeze blueberries and how to freeze strawberries methods to freeze them perfectly. You don't end up with mushed frozen fruit at all and it is perfect for keeping frozen fruit on hand for making smoothie bowls!
Weight Watchers Smoothie bowl
And if you are looking for a Weight Watchers Smoothie bowl, you are in luck! This one is 12 Weight Watchers Points on the Weight Watchers FreeStyle Program. BUT if you switch out the milk for Almond milk and skip the coconut and add in extra sliced bananas on top it is only 5 points and still tastes amazing!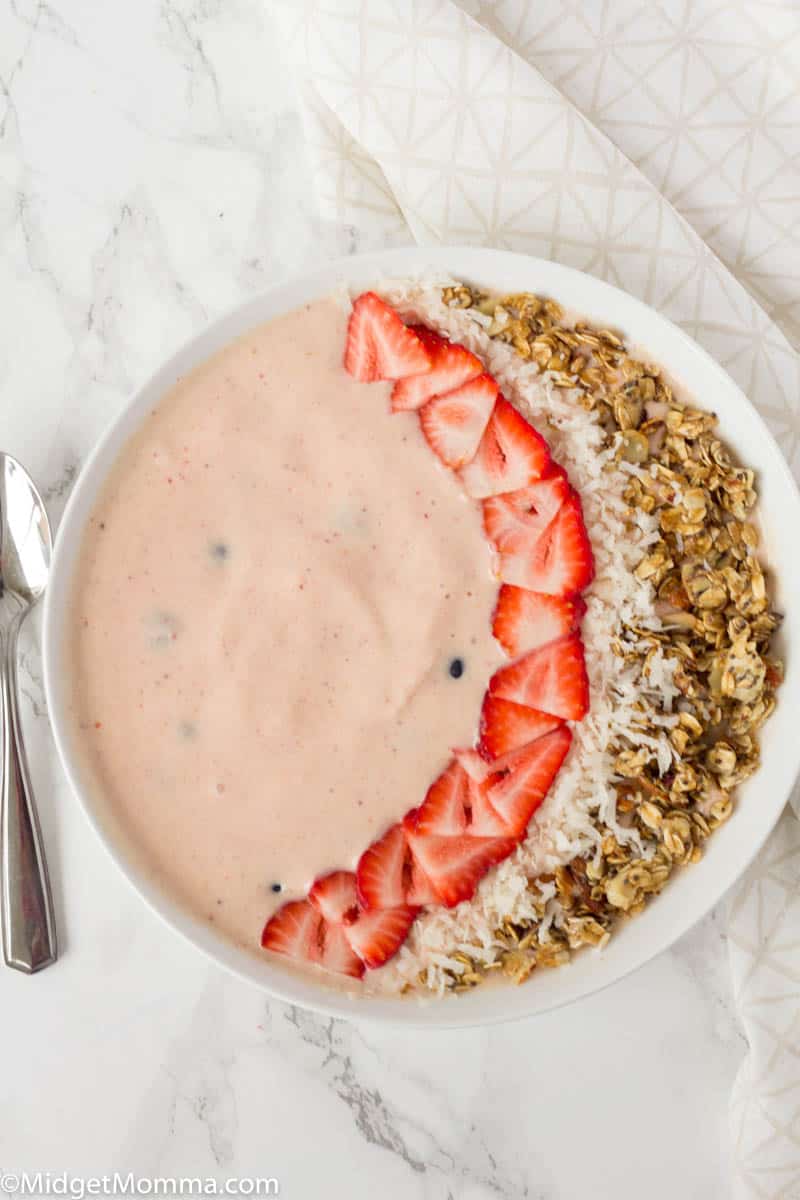 Banana Berry Smoothie Bowl Ingredients
Orange juice
Milk
Banana
strawberries
Blueberries
Granola
Shredded coconut
Fresh blueberries
Fresh strawberries
How to Make a Smoothie Bowl
Wash your fresh fruit, slice the strawberries and set aside.
Pour milk and juice into the blender.
Add the frozen fruit and then put on the lid.
Slowly blend until everything is blended to a soft serve ice cream consistency.
Pour into a medium bowl and add the fresh blueberries and mix them into the smoothie mixture. Divide the smoothie bowl mixture into 2 bowls.
Layer the granola, shredded coconut and fresh strawberries on top of each one.
Love quick and easy breakfasts? Check these out!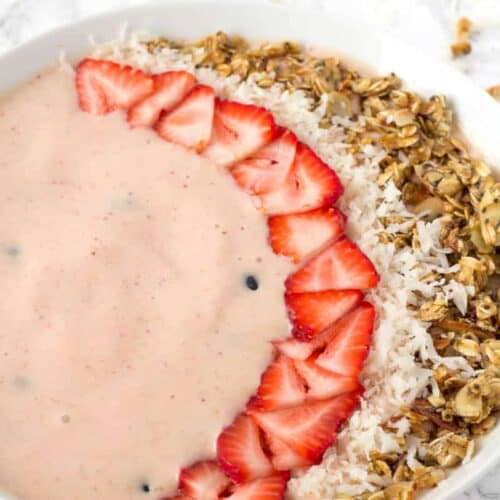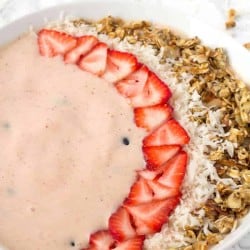 Banana Berry Smoothie Bowl
Servings
Banana Berry Smoothie Bowl is the perfect morning breakfast. Skip putting your smoothie in a glass, because once you try a smoothie bowl you won't be going back to using a glass!
Ingredients
Instructions
Pour the juice and milk in the blender. Add the frozen fruit, place the lid back on the blender.

Slowly turn the blender on gradually turning the speed up until you reach high, blend for two minutes. Do not over blend, you want the consistency to be thick, and you want your smoothie bowl to remind you of soft serve.

Pour into a bowl and stir in the fresh blueberries.

Layer the granola, coconut, and strawberries on the top of the bowl.
Calories: 472kcal | Carbohydrates: 90g | Protein: 10g | Fat: 11g | Saturated Fat: 5g | Cholesterol: 11mg | Sodium: 61mg | Potassium: 1296mg | Fiber: 12g | Sugar: 56g | Vitamin A: 545IU | Vitamin C: 201mg | Calcium: 181mg | Iron: 2.4mg
Banana Berry Smoothie Bowl
Breakfast