Egg breakfast cups, sometimes referred to as egg muffin cups or muffin tin eggs, are a super easy breakfast recipe that is also family friendly and totally customizable. Slices of ham put in a muffin tin, filled with eggs and cheese make for a super easy weekday morning breakfast. You will love this easy egg cup recipe that is loved by my whole family!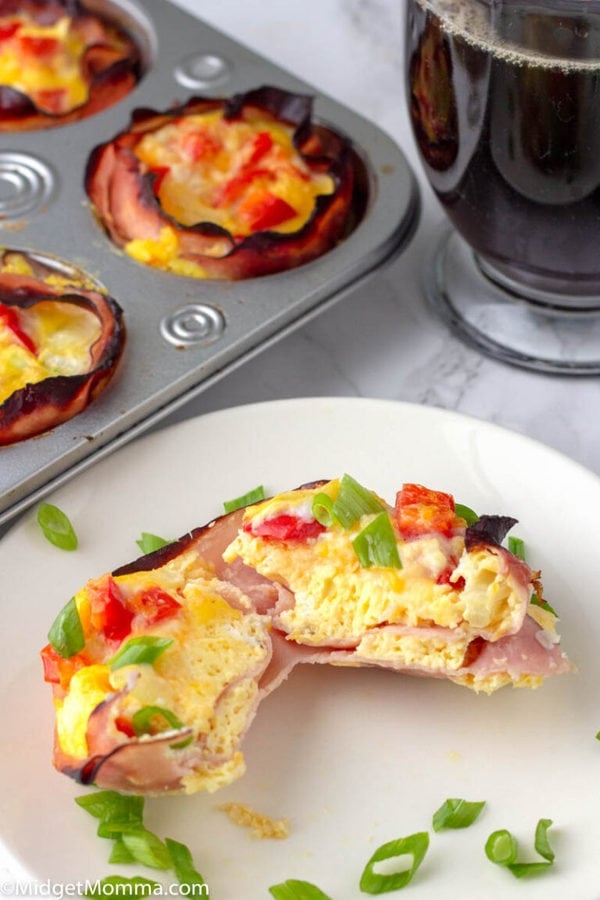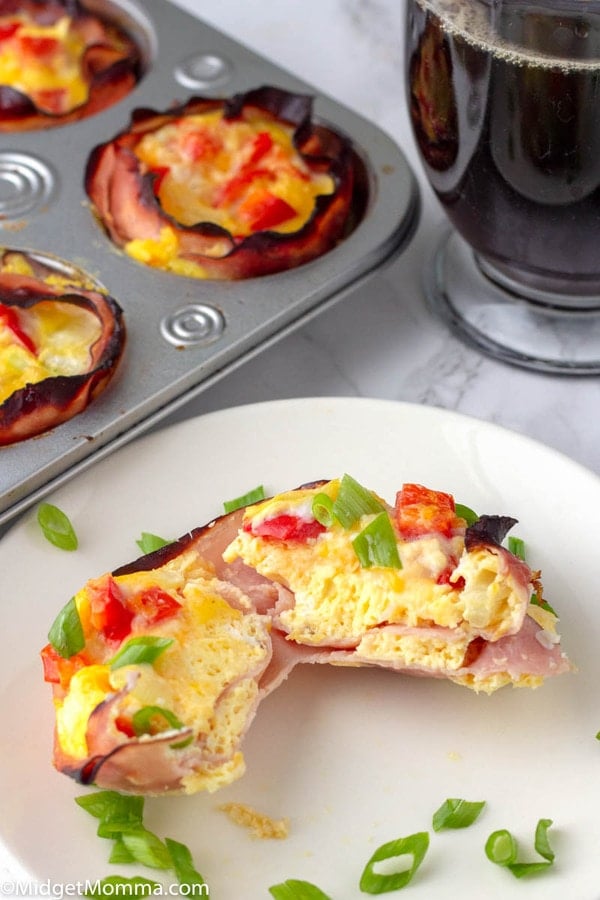 Ham Cheese and Egg Breakfast Cups Recipe
If you are looking for easy egg recipes for breakfast then you are going to love how easy it is to make muffin tin eggs! Why are they called muffin tin eggs you ask? Because you mix all the ingredients together and then bake them in a muffin tin! It makes for super easy prep, super easy cooking and super easy clean up!
Breakfast Egg cups are a quick and easy breakfast recipe is one that can be prepped and then cooks while you are getting ready for the rest of your day. Or if you are like me, take the time to enjoy a cup of coffee, like pumpkin spice coffee or iced coffee while they cook!
I need tasty breakfasts like this in my life because I want the kids and myself to eat a healthy breakfast to get our day started, but our mornings are always crazy during the week. As much as I would love to have a ton of time to make a tasty breakfast in the mornings that has a lot of prep work and cooking involved I have to be honest with myself and that is that we don't have that kind of time in the mornings.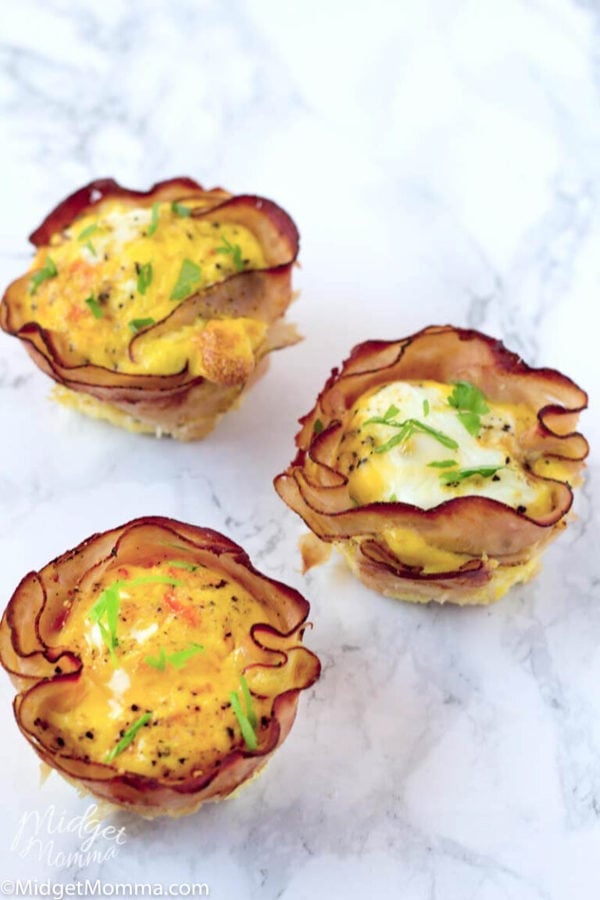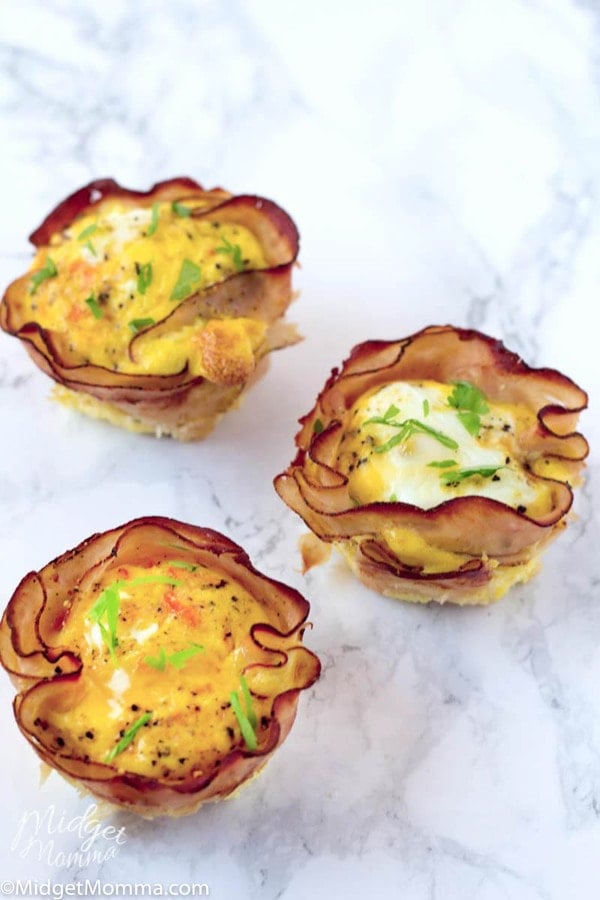 Quick and Easy Prep!
These healthy Egg Cups are such a simple breakfast made in a muffin pan. This ham and egg cups breakfast recipe is one that even the kiddos will enjoy! I love when recipes make everyone in the house happy, it makes cooking so much more fun!
One of the great things about these Ham and egg breakfast cups is that you can change these up to what vegetables you have in your fridge. So feel free to change out the veggies in these Ham and Egg Cups to your favorites!
Looking for more make ahead breakfast recipes? Check these out!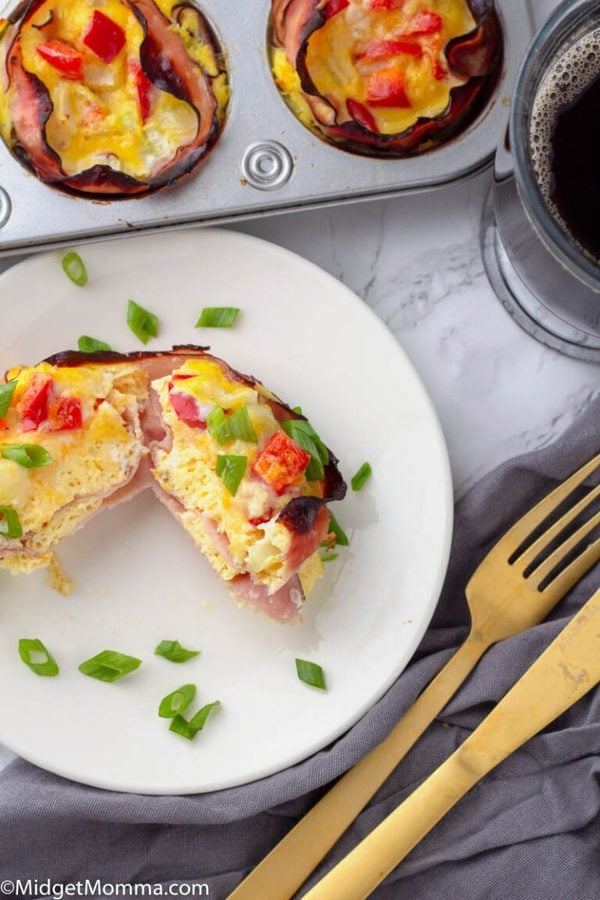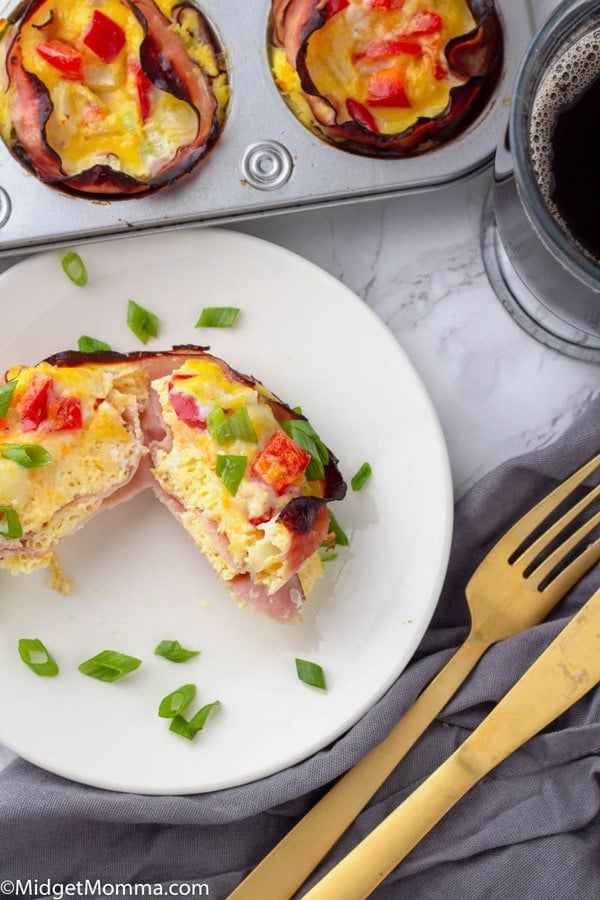 Substitutions for Egg Muffins
One of my favorite things about making breakfast egg cups is how easy they are to change up. If you have left over veggies it is easy to change things out and add what you have on hand. This is my main go to recipe for breakfast egg cups however there are so many different ways we change them up all the time. Other great options to add include:
spinach
tomatoes (I recommend putting on top when eating)
jalapenos
asparagus
onions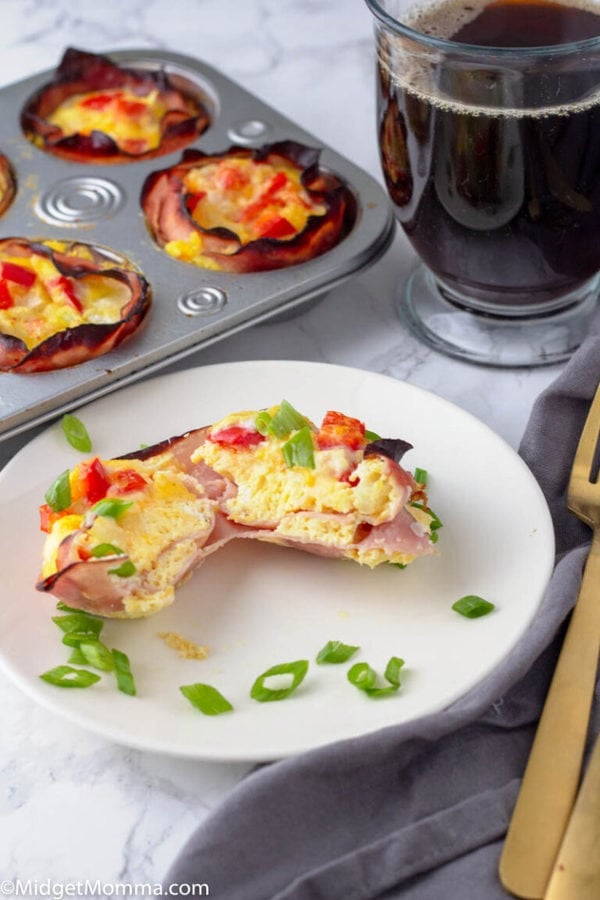 How long to cook egg cups
After the quick and easy prep, these egg cups bake in the oven for 15-18 minutes, depending on your oven will depend on the exact cooking time.
How Long do egg cups last?
After making egg cups you can store them in an air tight container in the fridge for 3-4 days. It makes it really easy to double or even triple the batch and then reheat them in the morning for quick and easy breakfasts.
To reheat egg cups after storing them in the fridge, put them on a plate and microwave for 30-40 seconds per egg cup.
How to Freeze Egg Breakfast Cups
Cook your egg muffin cups and allow them to cool completely. Remove the egg cups from the muffin tin and place on a baking sheet. Place the baking sheet in the freezer and freezer for 2 hours. Once completely frozen place egg cups on freezer zip close bags and put back in the freezer. Egg muffins will keep in the freezer for up to 3 months.
To reheat egg cups after storing them in the freezer, put them on a plate and microwave for 1 minute and 30 seconds per egg cup.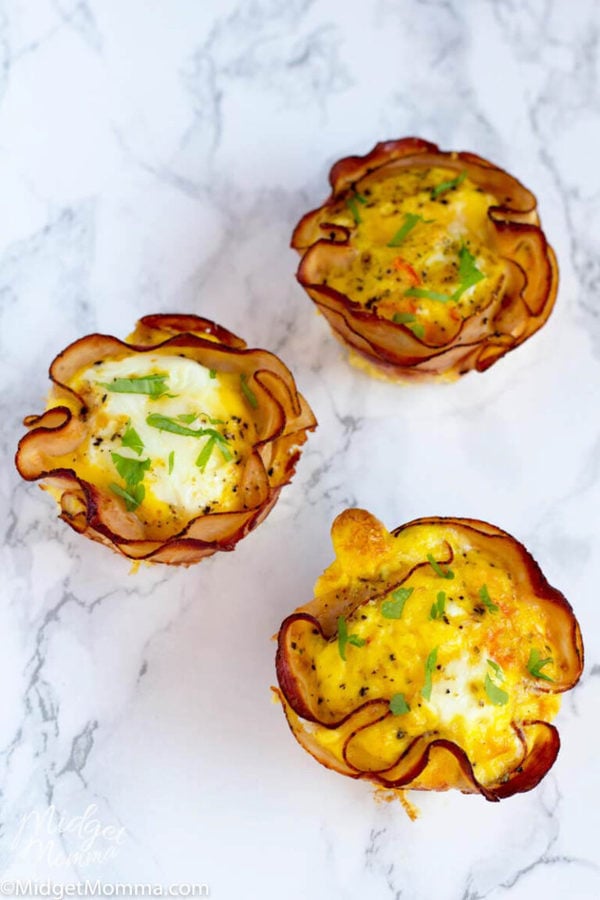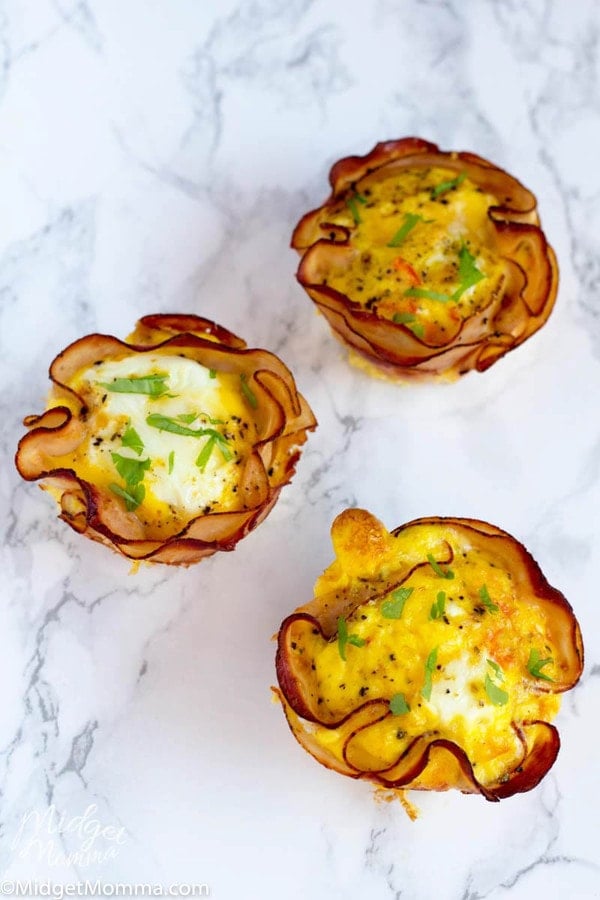 Egg Breakfast Cups ingredients
ham
shredded cheese
eggs
bell pepper
diced onions
diced scallions
How to Make Egg Breakfast Cups
Preheat oven to 400 degrees
Grease 6 spots of the muffin tin and fill the other 6 spots with water
Layer 2 pieces of ham in each muffin tin hole
Sprinkle the cheese on top of the ham
Add all of the eggs, bell peppers, onions whisk until blended in a large measuring cup.
Pour the egg mixture into the muffin tin lined with ham and cheese.
Bake in the oven for 15-18 minutes until the eggs are cooked to your liking.
Sprinkle the tops with diced scallions before serving.
Looking for more breakfast recipes? Check these out!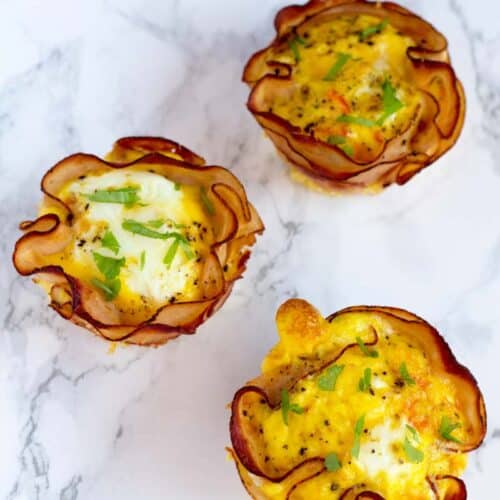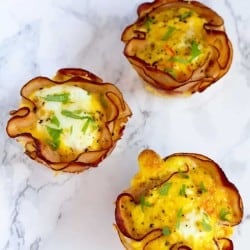 Ham Cheese and Egg Muffin Cups Recipe
Servings
Ham Cheese and Egg Muffin Cups Recipe are the perfect easy breakfast. Ham cups are filled with eggs and veggies then baked in the oven.
Ingredients
12 slices ham
1/2 cup shredded cheese - If you are doing weight watchers go with a low fat cheese, if you are doing Keto go with a high fat cheese
6 eggs
1/4 cup bell pepper diced
2 teaspoon onions diced
2 teaspoon scallions sliced
Instructions
Preheat the oven 400 degrees.

Grease six spots in your muffin pan.

Layer two piece of ham into each muffin hole.

Sprinkle the cheese into the bottom of the ham.

Whisk the eggs, pepper, and onions together in a measuring cup. Pour the egg mixture into the ham cups.

Bake for 15-18 minutes or until eggs are cooked to your liking.

Sprinkle the scallions on the top of the eggs.
Calories: 458kcal | Carbohydrates: 2g | Protein: 39g | Fat: 31g | Saturated Fat: 11g | Cholesterol: 411mg | Sodium: 1572mg | Potassium: 482mg | Sugar: 1g | Vitamin A: 990IU | Vitamin C: 15.8mg | Calcium: 151mg | Iron: 2.6mg
ham and egg cups, Ham Cheese and Egg Muffin Cups Recipe, muffin tin eggs
Breakfast
Notes
2 Ham and Egg cups per serving.
Weight Watchers information: 1 Smart Point for each egg cup if you use low fat cheese. Be sure yo check out some other tasty weight watchers breakfast recipes.
Join the newsletter
Subscribe to get our latest recipes right in your inbox every time we post a new one!