This Brown Sugar Bacon is now my go to breakfast bacon, my whole family loves the flavor and I love the ease of making it. It is a win win! I always used to cook my bacon in a frying pan like my parents taught me until I started working in a hotel kitchen. There they would bake the bacon in the oven which I had never seen before. I decided to ask the chef why they baked  their bacon and he just handed me a piece. I was surprised to see the bacon was not shriveled up like you normally see when you cook it in a frying pan and it was crispy without being dry. My friend told me about how she makes Brown Sugar Bacon by adding brown sugar to the bacon which gives you the salty sweet flavor which I love. This Brown Sugar Bacon is the perfect addition to any breakfast and with it being so easy to make you can prep it and have it cook in the oven while making your eggs! Plus there is no grease mess to clean up from the bacon spraying grease when you cook it in a pan! Everyone is going to love this Brown Sugar Bacon and want it for every breakfast meal!
Get tasty recipes daily when you join us on our facebook page here! 
Brown Sugar Bacon Recipe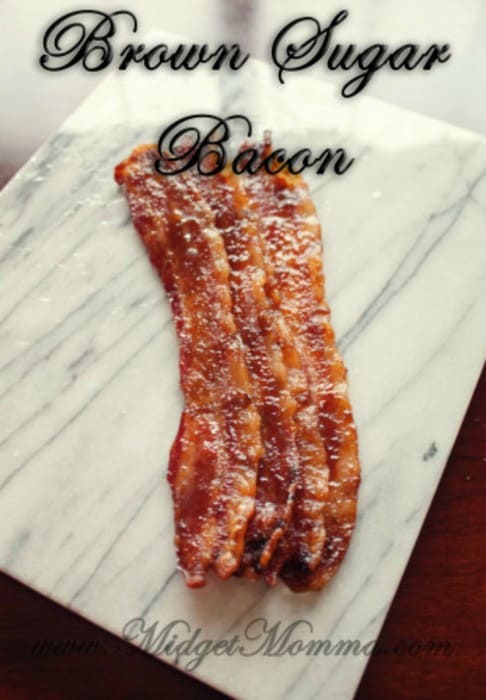 Brown Sugar Bacon Ingredients:
1 pound bacon
1.5 cups brown sugar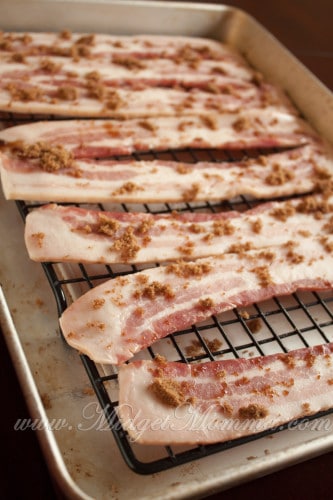 Directions for Brown Sugar Bacon
Preheat oven to 400°
Lay the bacon out onto a broiler pan or on a rack inside of a larger pan. A great tip is to line the pan underneath with aluminum foil for easy clean up.
Sprinkle the bacon with brown sugar and place into the oven.
Regular cut bacon takes about 17 to 20 minutes and thick cut bacon will take about 20 to 25 minutes depending on how you like it cooked.
Transfer the bacon onto a plate with paper towels to help absorbs some excess fat.
This post may contain affiliate links. Please read my disclosure policy here