This Brown Sugar Bacon is now my go to breakfast bacon, my whole family loves the flavor and I love the ease of making it. It is a win win! Whenever I make this, my kids refer to it as candied bacon. This easy bacon recipe is so tasty, they tell me it is like they are eating a breakfast candy!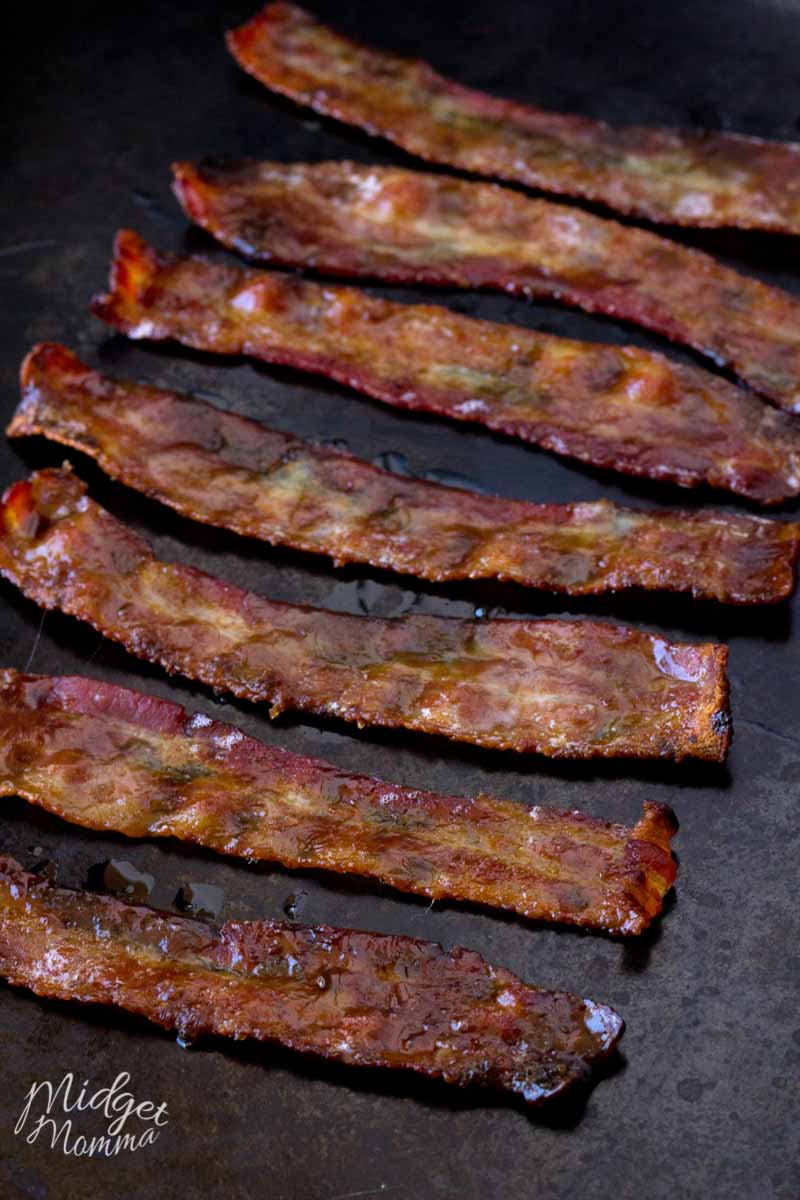 I have always cooked my bacon for breakfast in a frying pan, like my parents did when I was a kid. Then I started working in a hotel kitchen and they cooked bacon in the oven. I started with just baking my bacon in the oven after seeing how amazing oven baked bacon is. When you cook bacon in the oven it does not shrivel up, and it is crispy with out being dry.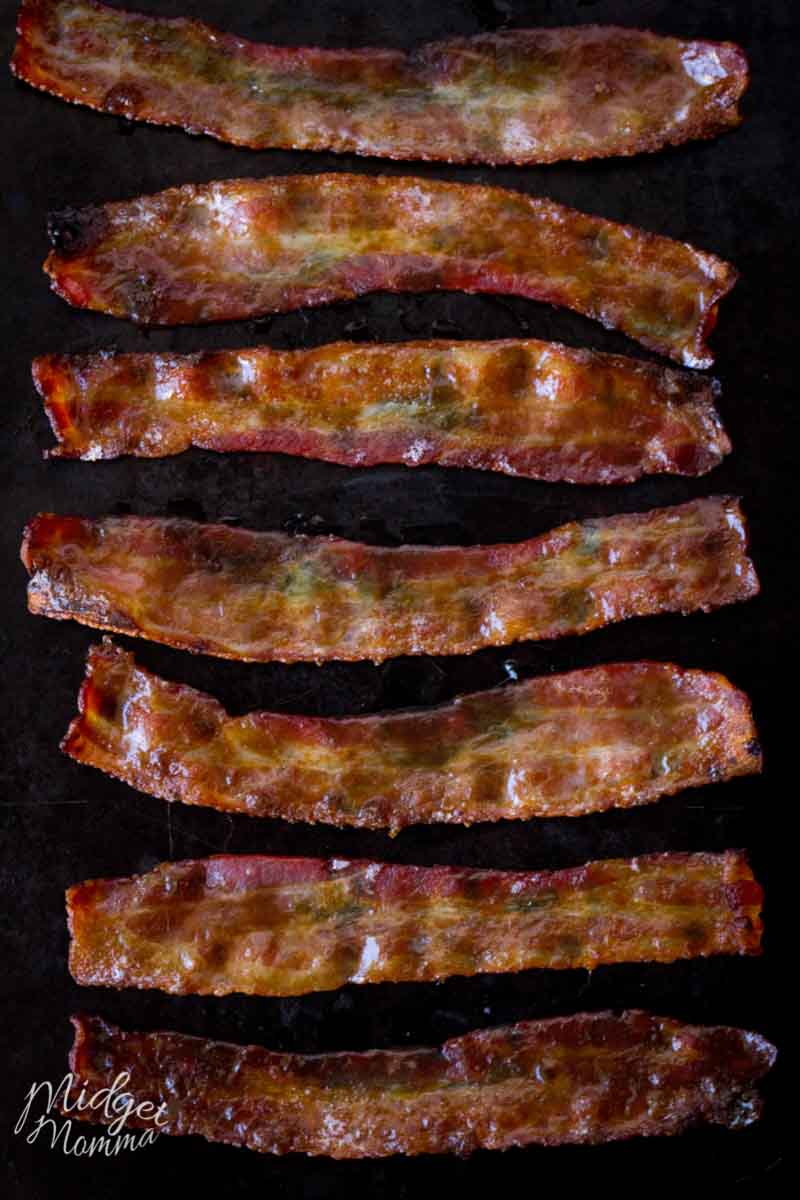 I didn't know that brown sugar bacon was a thing until a friend of mine told me about it. Boy do I wish I had learned about brown sugar bacon sooner! This stuff is delish! Brown Sugar bacon gives you this amazing salty and sweet flavor that is just simply amazing. I really can not use any other word to describe it.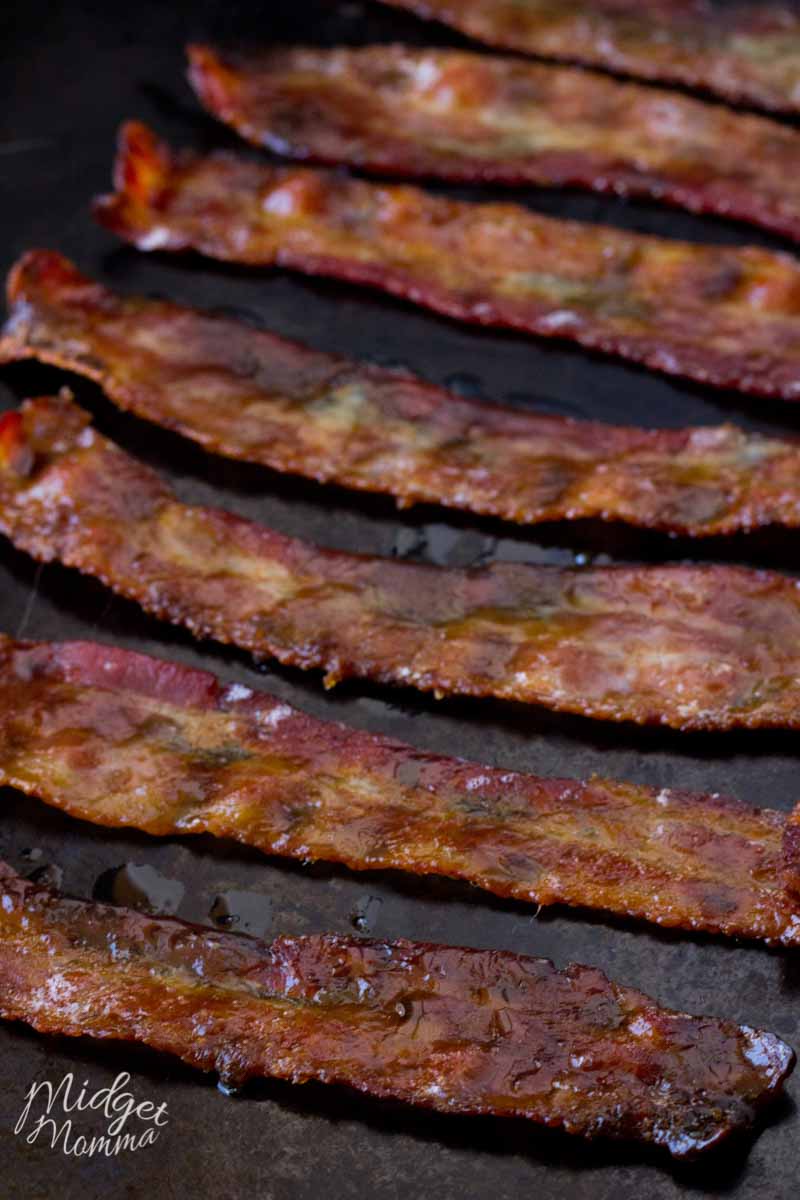 One of the other things I love about brown sugar bacon, is the clean up. Normally when I fry bacon on the stove I end up with a grease mess. Grease flies out of the pan no matter what you do when you are frying bacon. With oven baked bacon there is no grease mess to clean up from the bacon spraying grease when you cook it in a pan! And we all know that I am all about making less mess when cooking so I can spend less time cleaning up!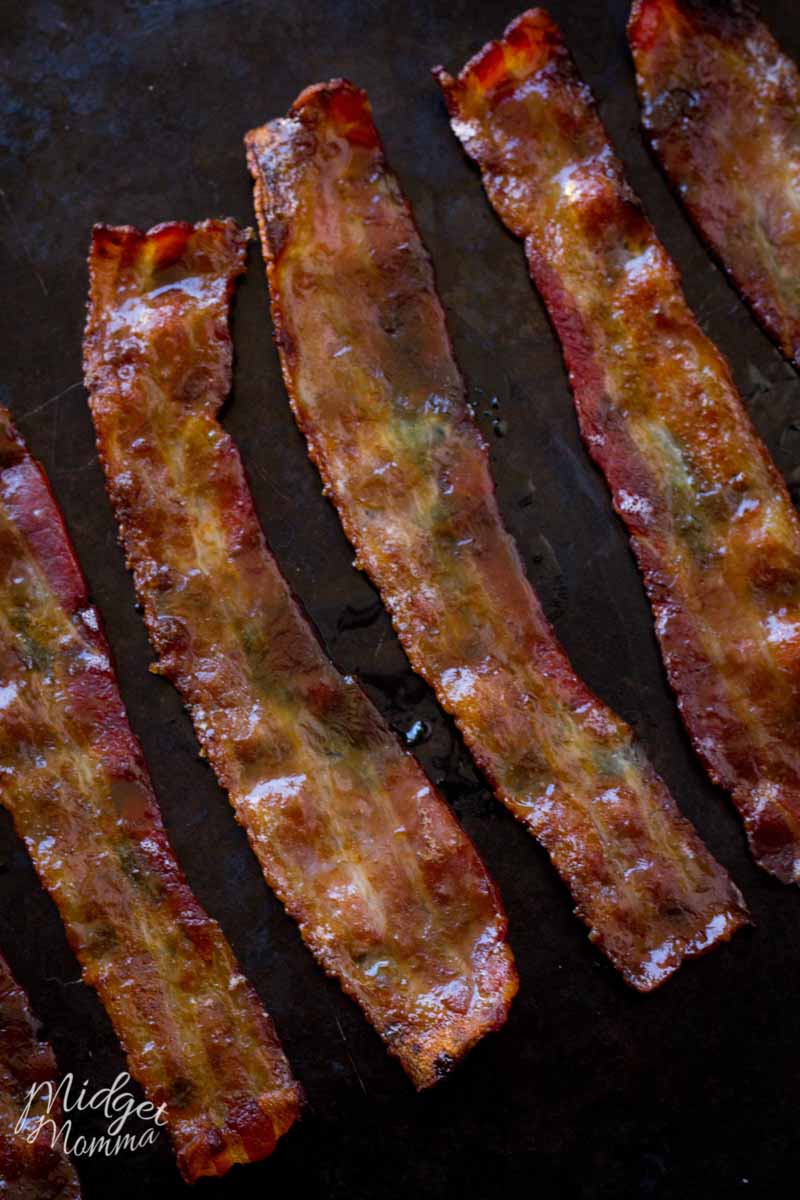 Brown Sugar Bacon is the perfect addition to any breakfast and with it being so easy to make you can prep it and have it cook in the oven while making your eggs! Plus there is no grease mess to clean up from the bacon spraying grease when you cook it in a pan!
Everyone is going to love this Brown Sugar Bacon and want it for every breakfast meal!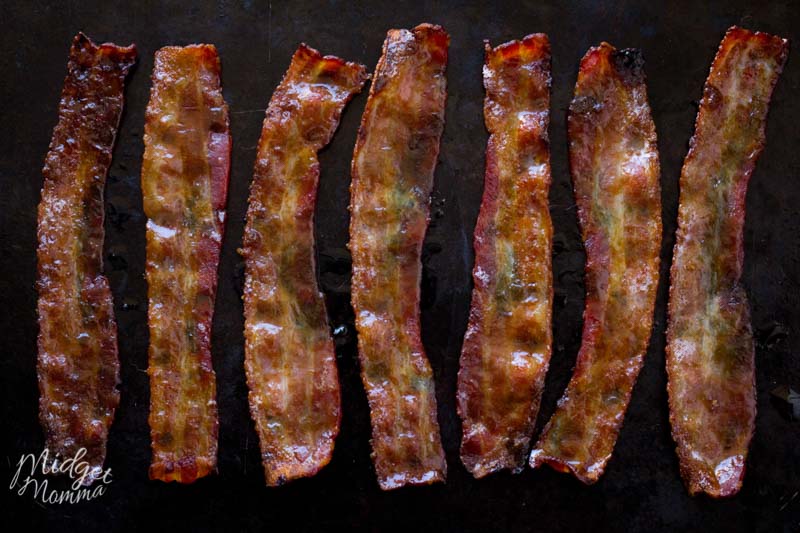 When you are making brown sugar bacon you want to have a large baking sheet and a baking rack. When the baking is cooking all of the grease will go in the bottom of the pan making clean up super easy!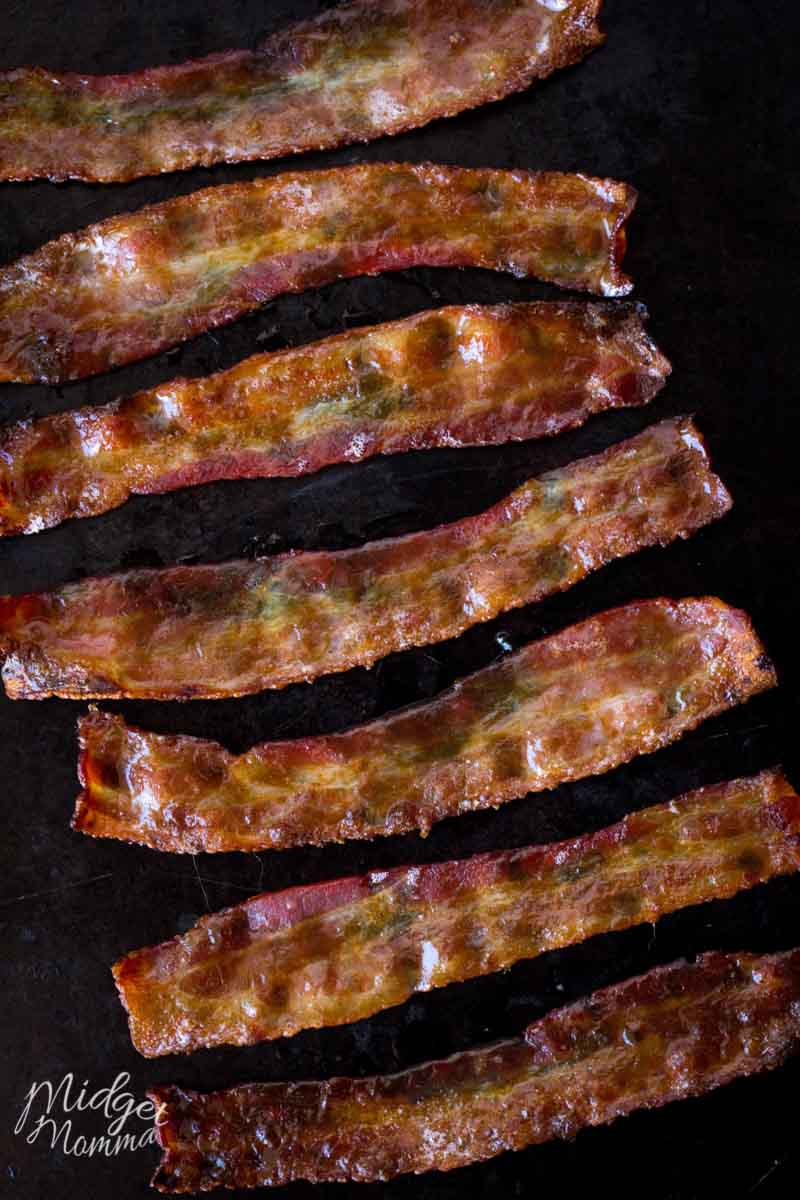 Everyone is going to love brown sugar bacon in the oven at the first bite, so don't be surprised if you have your whole family asking you to make this bacon all the time.
I like making this candied bacon recipe with our favorite breakfast recipes or when we are making a brunch.
If you are a fan of breakfast like we are then you also have to check out these amazing pancake recipes and waffle recipes! Some of our favorite breakfast recipes that we love making with our brown sugar bacon are: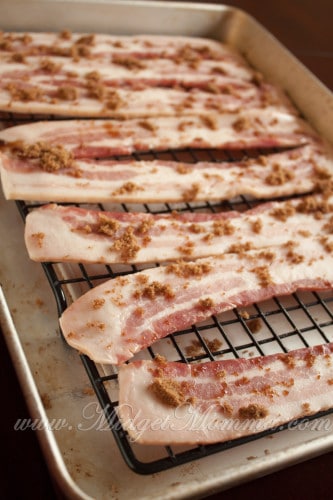 How to Make Brown Sugar Bacon Recipe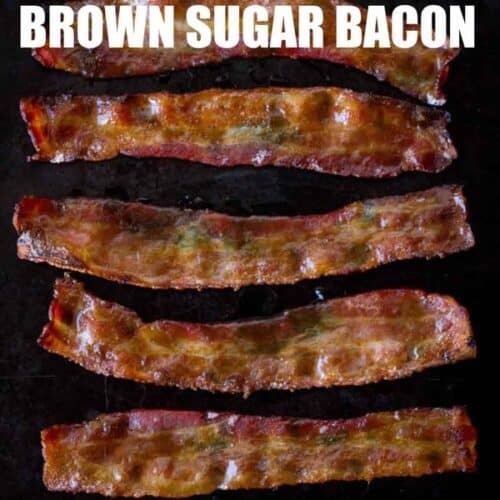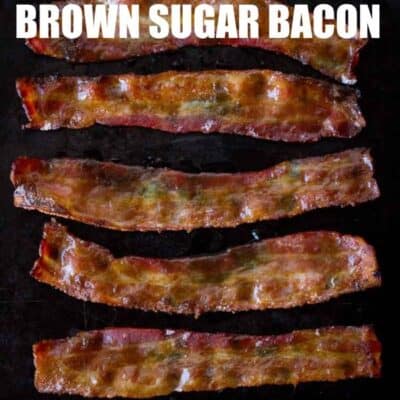 Brown Sugar Bacon
This Brown Sugar Bacon recipe will quickly become your go to breakfast recipe and you will never make "normal bacon" again.
Print
Pin
Rate
Servings: 6
Instructions
Preheat oven to 400°

Lay the bacon out onto a broiler pan or on a rack inside of a larger pan. A great tip is to line the pan underneath with aluminum foil for easy clean up.

Sprinkle the bacon with brown sugar and place into the oven.

Regular cut bacon takes about 17 to 20 minutes and thick cut bacon will take about 20 to 25 minutes depending on how you like it cooked.

Transfer the bacon onto a plate with paper towels to help absorbs some excess fat.
Nutrition
Calories: 524kcal | Carbohydrates: 54g | Protein: 9g | Fat: 30g | Saturated Fat: 10g | Cholesterol: 49mg | Sodium: 515mg | Potassium: 222mg | Sugar: 53g | Vitamin A: 30IU | Calcium: 49mg | Iron: 0.7mg
Love breakfast? Make sure you check out these other tasty breakfast recipes!
Blueberry Streusel Muffins Recipe
Chocolate Banana Chocolate Chip Muffins
Join the newsletter
Subscribe to get our latest recipes right in your inbox every time we post a new one!