Taking a trip to Williamsburg Virginia is a great way to have fun, learn and have an enjoyable family vacation. There are plenty of things to do with Kids in Williamsburg Virginia. You can make it a weekend trip or a weeklong trip depending on how much time you have.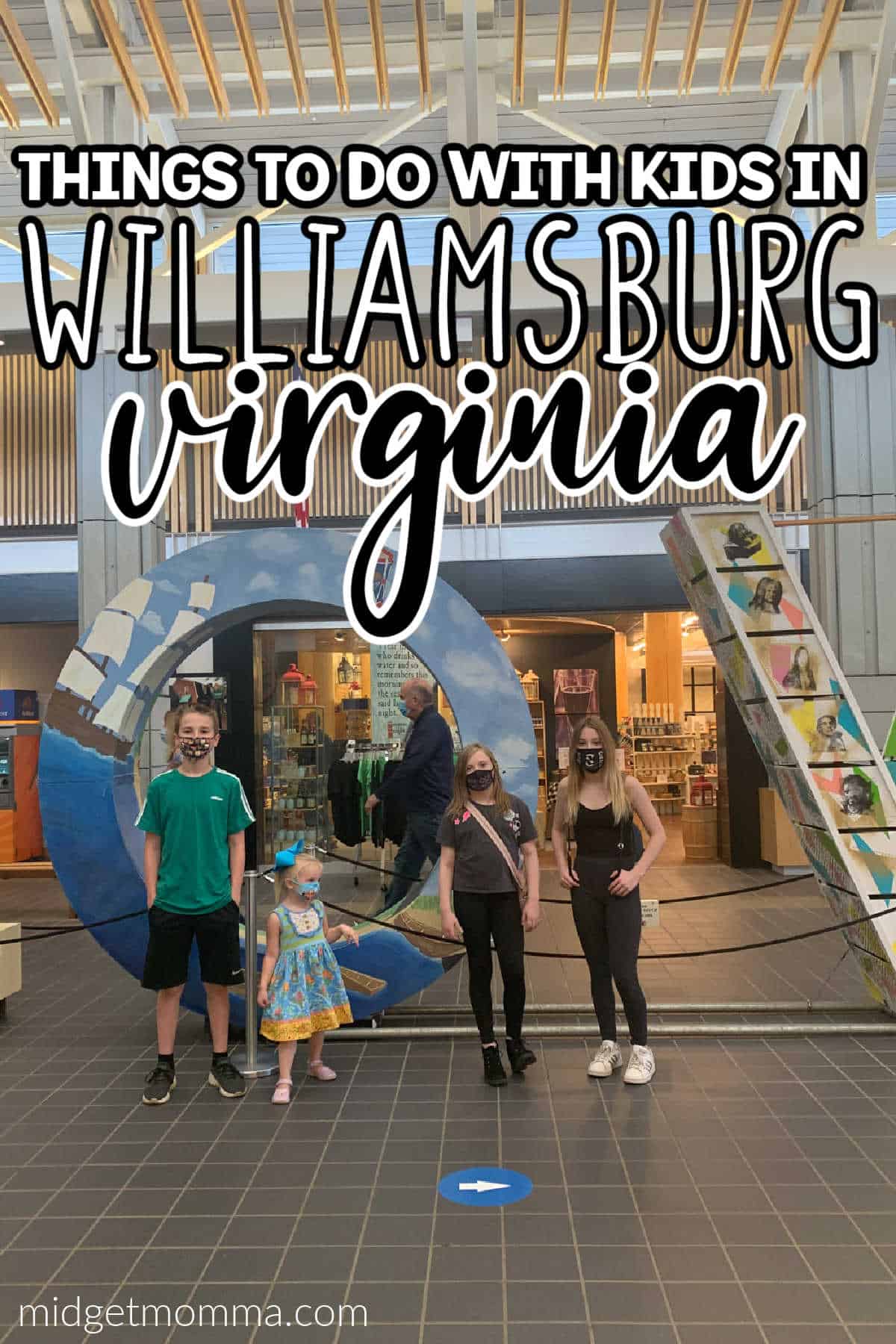 Is Williamsburg Virginia Good for kids?
We visited Williamsburg Virginia with kids ranging from ages 4 to 16. All of the kids enjoyed the trip so in my opinion visiting Williamsburg with kids is great for all ages. There will be different things that catch each age group's attention while you are visiting different places. All of the places to visit with kids in Williamsburg Virginia we have on this list are great for kids of all ages.
Is Williamsburg Worth Visiting?
Yes! If you are looking for a fun and educational vacation Williamsburg Virginia is the perfect place. Not only is it fun, but the kids will be learning a lot also. Even better they don't even realize that they are learning because they are having fun. There are lots of Things to do with Kids in Williamsburg Virginia that will make it an unforgettable family vacation.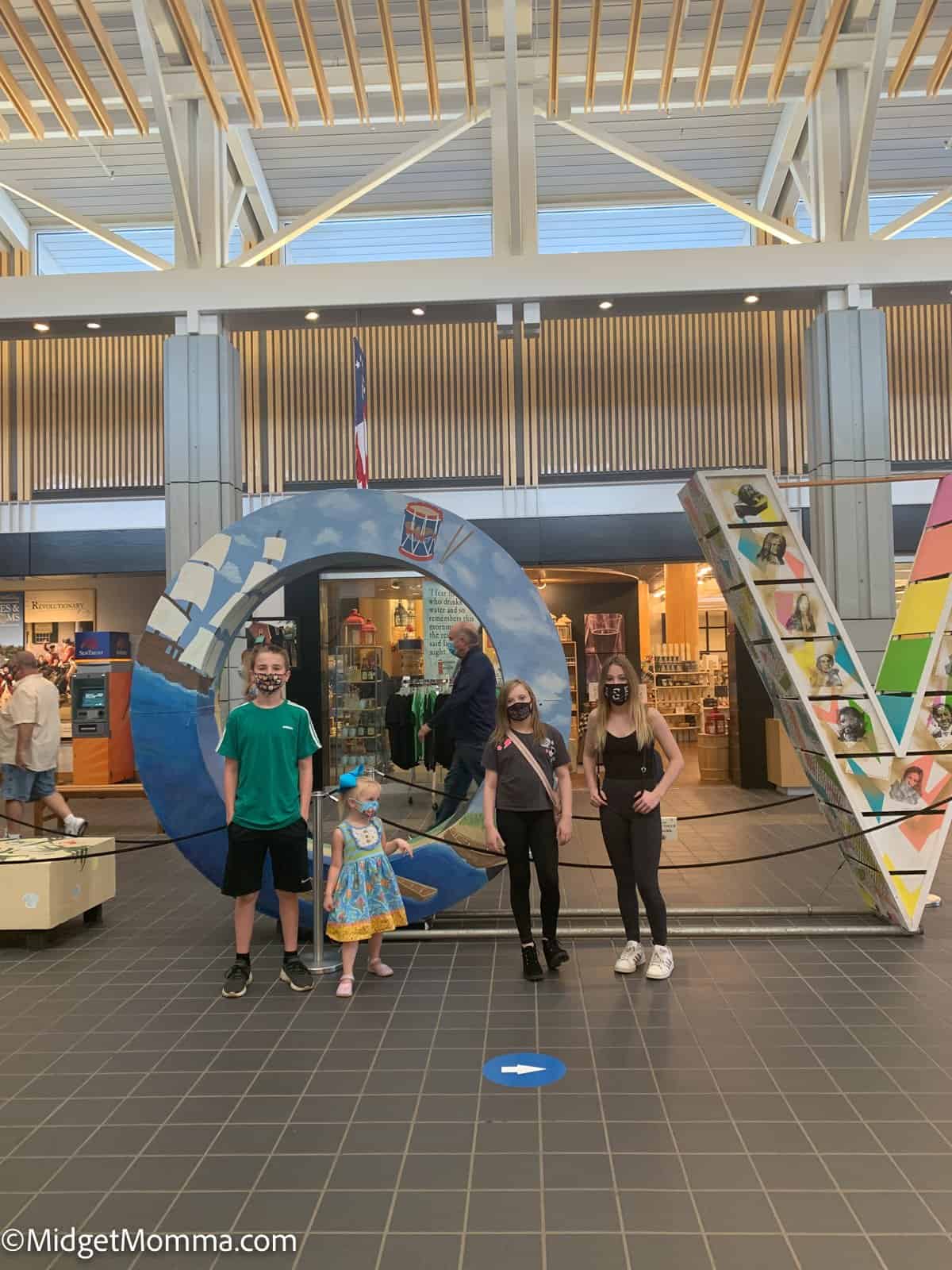 How many days should you spend in Williamsburg Virginia?
We spent 7 days in Williamsburg exploring but you can make a short trip or a long trip and still have a lot of fun. I do suggest that if you are planning to do colonial Williamsburg that you plan for 2 days there so that you can see everything there.
Things to do with Kids in Williamsburg Virginia
We focused our trip on the educational things to do in Williamsburg Virginia for this trip. Eventually, I plan to go back and explore some more with the kids. There are lots of other things to do with kids in Williamsburg Virginia. Once that happens we will share those things with you all as well.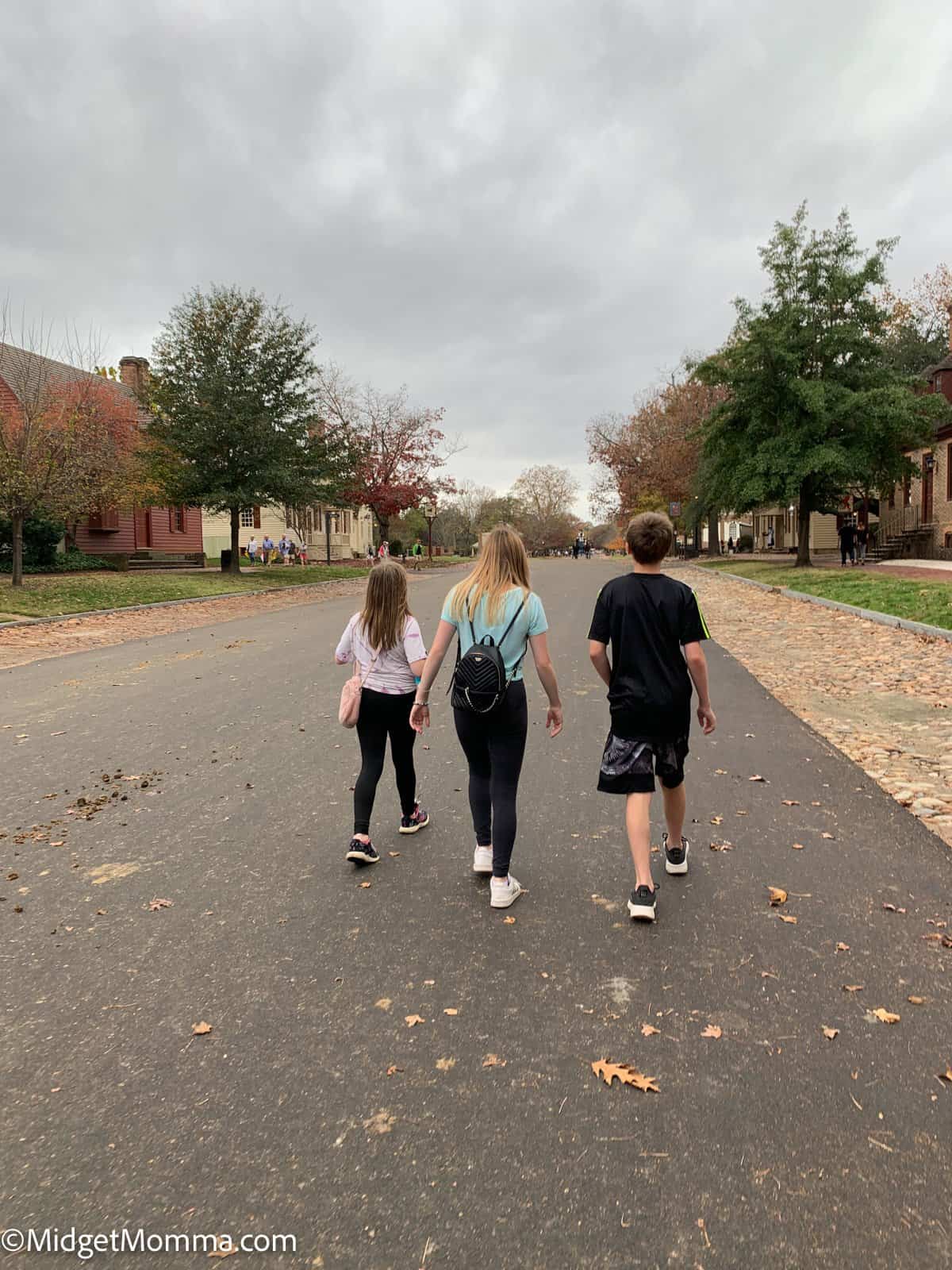 Visit Colonial Williamsburg Historic Area
You can visit the Colonial Williamsburg historic area for free and just walk around if you want to. You can also pay to be able to explore inside the buildings and go on tours of the historic buildings. If you are going just for a walk around visit I suggest planning for 1-2 hours. If you are doing the tours then I suggest making it a full day activity.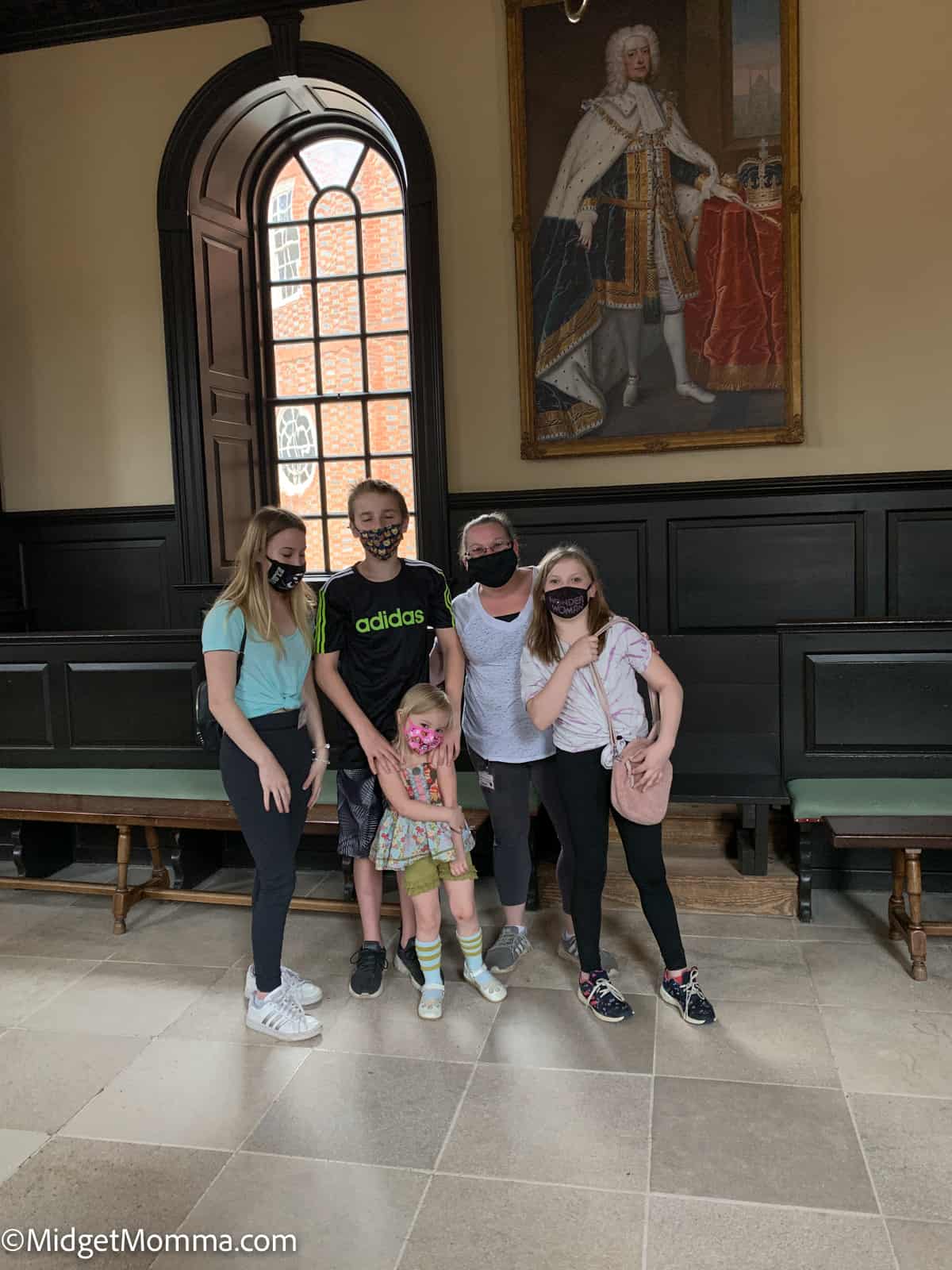 We took two different visits to Colonial Williamsburg Historical area to see everything we wanted to. The first day we just walked around and saw everything that was outside. Then the second day toured the Capital building, courthouse, carpenter, blacksmith, and shoemaker along with eating at one of the taverns.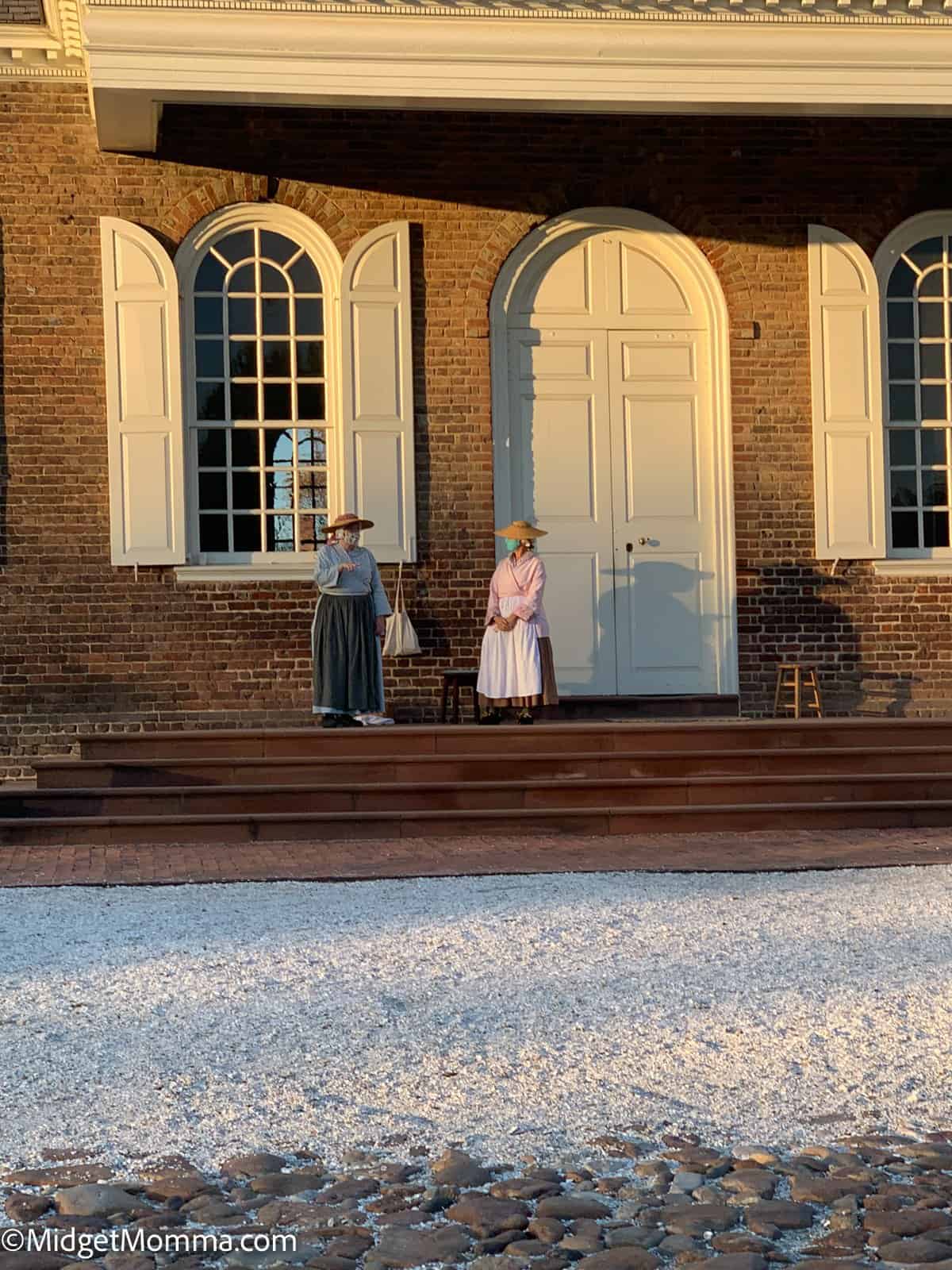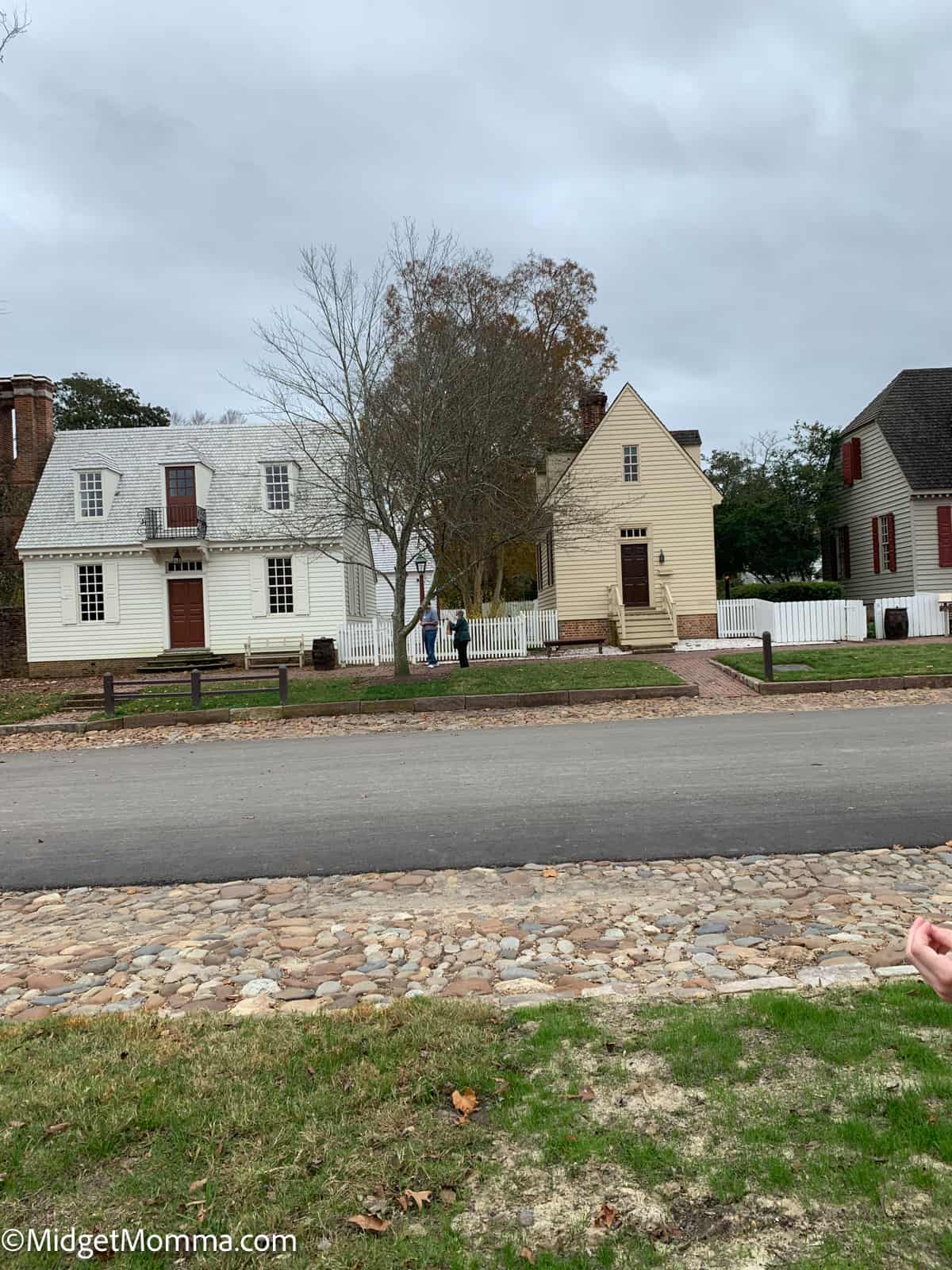 When you are visiting the different areas and buildings in historic Williamsburg Virginia you will get to see hands on how life was. You will get to learn about how things were done, how things were made, and how the people lived in Colonial Williamsburg during the time period.
Buildings to visit at Colonial Williamsburg
Govener's Palace
The Capitol
The courthouse
Weaver trade shop
Carpenter's yard
Peyton Randolph yard and kitchen
Colonial Garden
Blacksmith Shop
Brickyard
Magazine Yard
Church Meetinghouse
Get tickets here.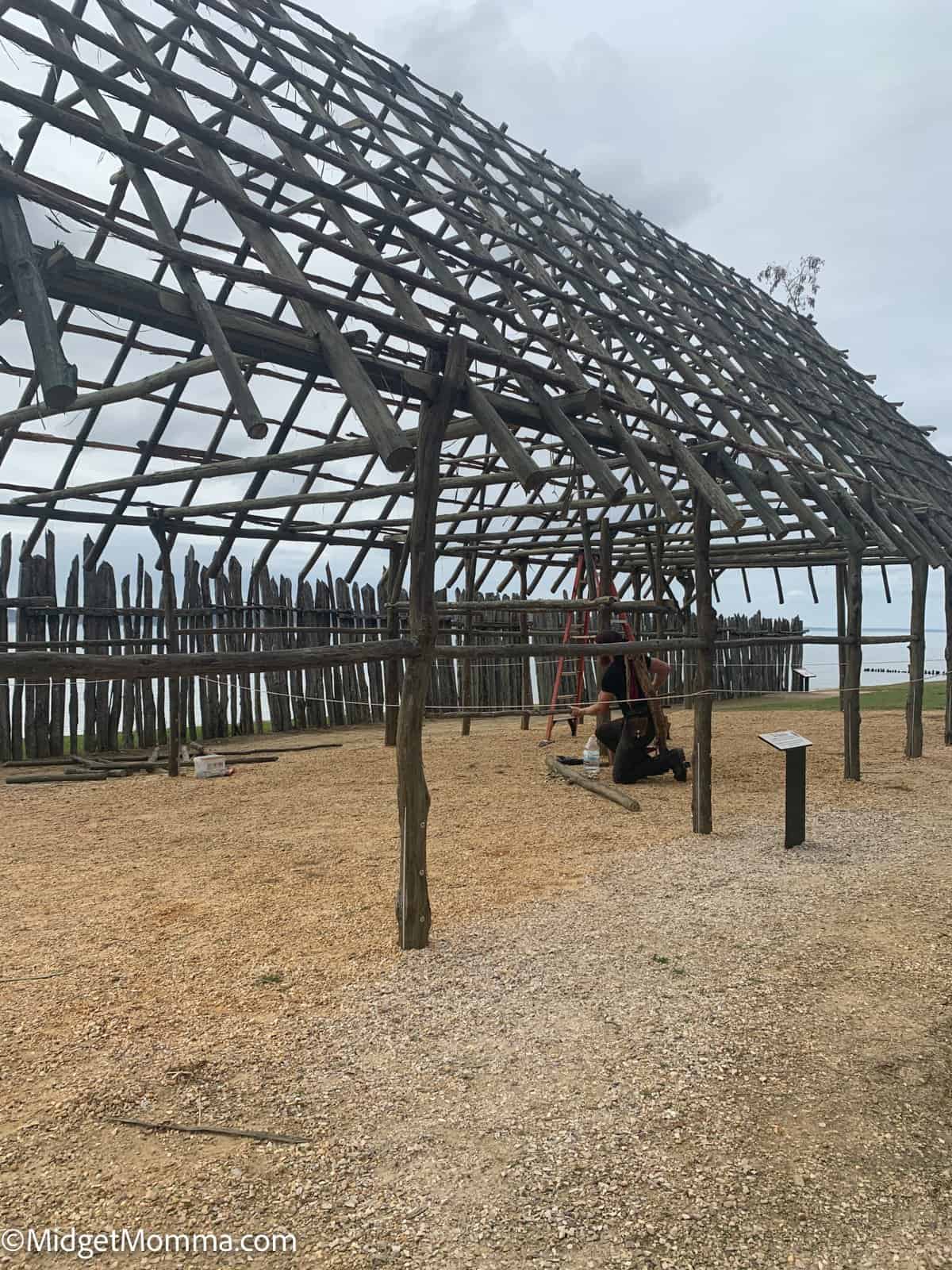 Jamestown Settlement Location – Historic Jamestowne
At Jamestown settlement, you are in the location of the original actual settlement where the folks landed in the 1600s. There are quite a few different things that you can do while you are visiting. This is the actual location of the settlement that settlers built when they arrived in America. Historic Jamestowne is the location of the fort, originally settled in 1607 and is run by the National Park Service.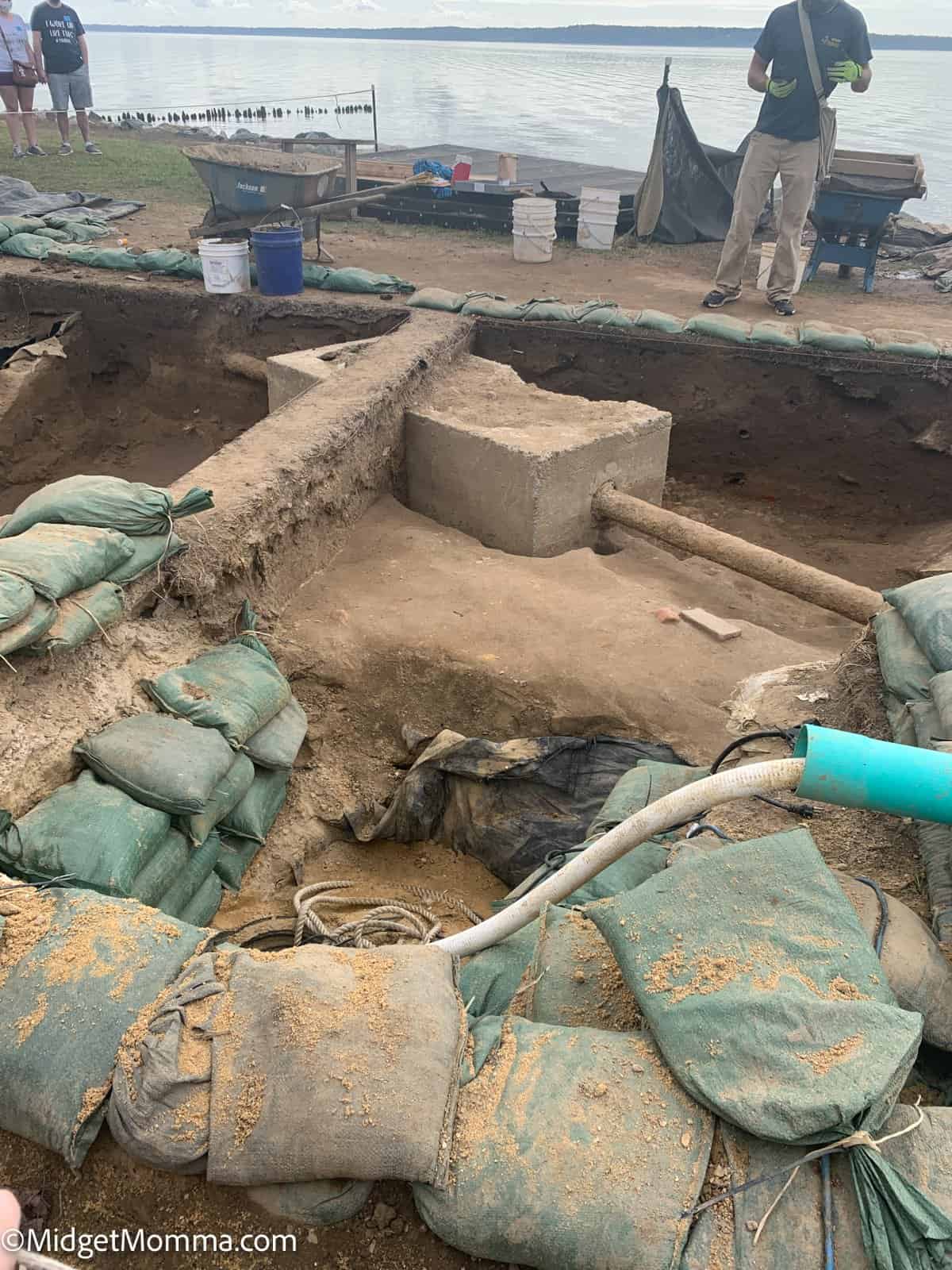 Things to do at Jamestown Settlement
There are multiple things that you will want to do when you are visiting this location. For us it was important to get a photo with the Pocahontas statue, as myself and my kids are descendants of Pocahontas and I like to have them learn about their heritage when I can.
Go on the Jamestown Settlement Tour. While you are visiting the Jamestown settlement you will be able to take a tour where you will see parts of the original buildings.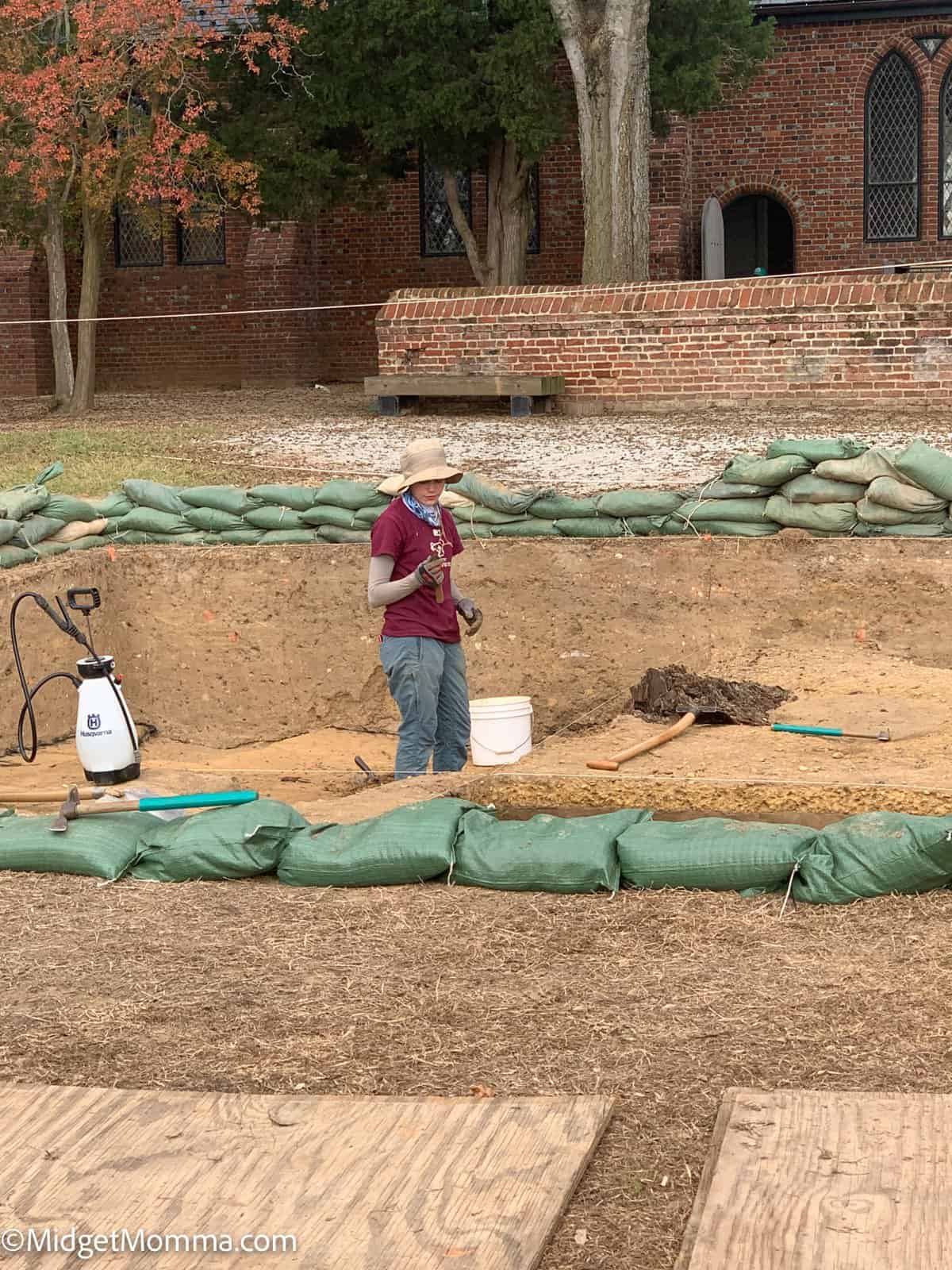 See archaeologists digging for artifacts. If you are lucky there will be archaeologists digging to see what they can find and you are able to watch them. The archaeologist was fantastic in talking to the kids and sharing with them how they do their job and what items they had previously found.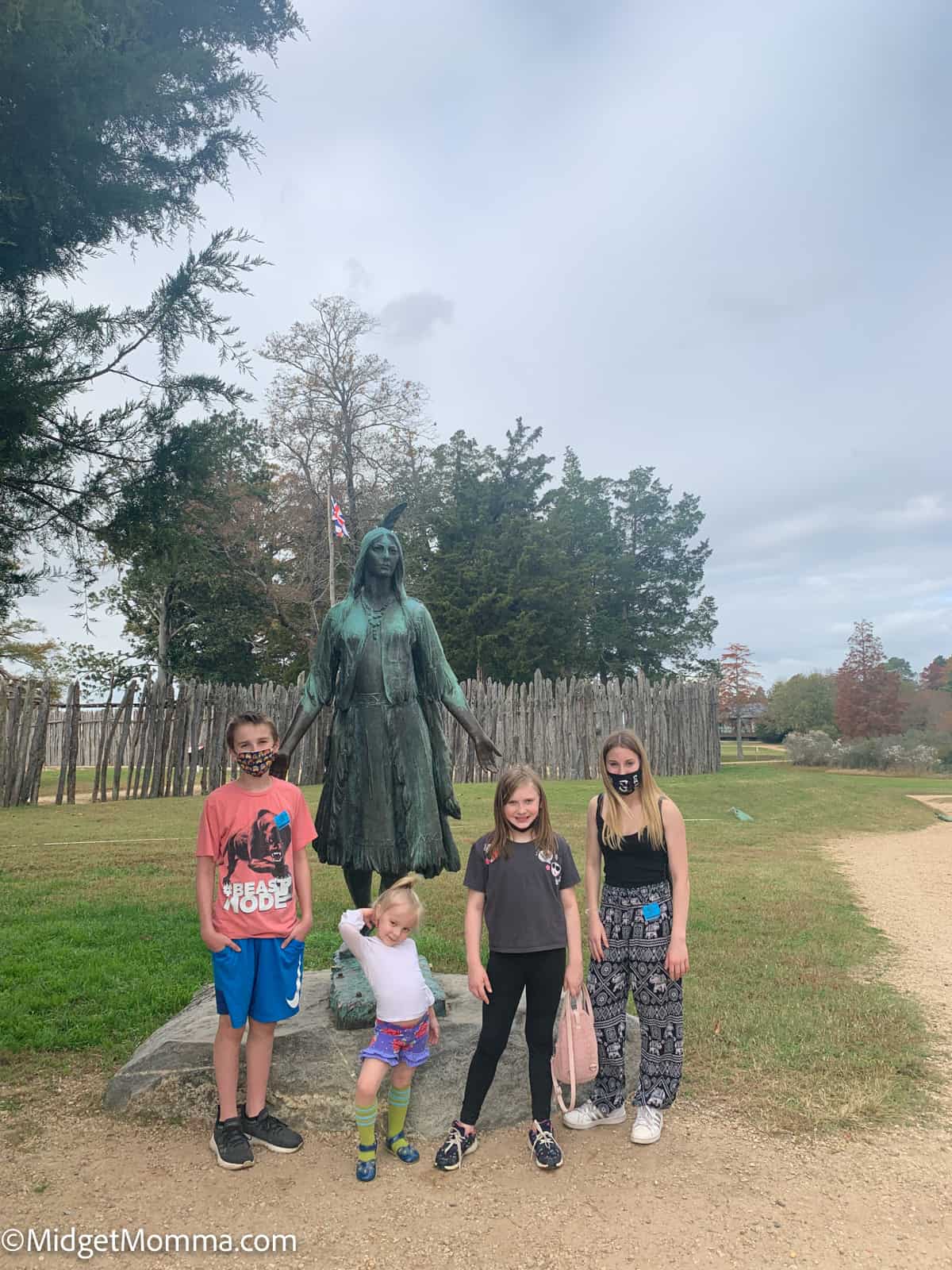 See the Pocahontas Statue. If you take a walk to the front of the Jamestowne Settlement then you will find the statue of Pocahontas.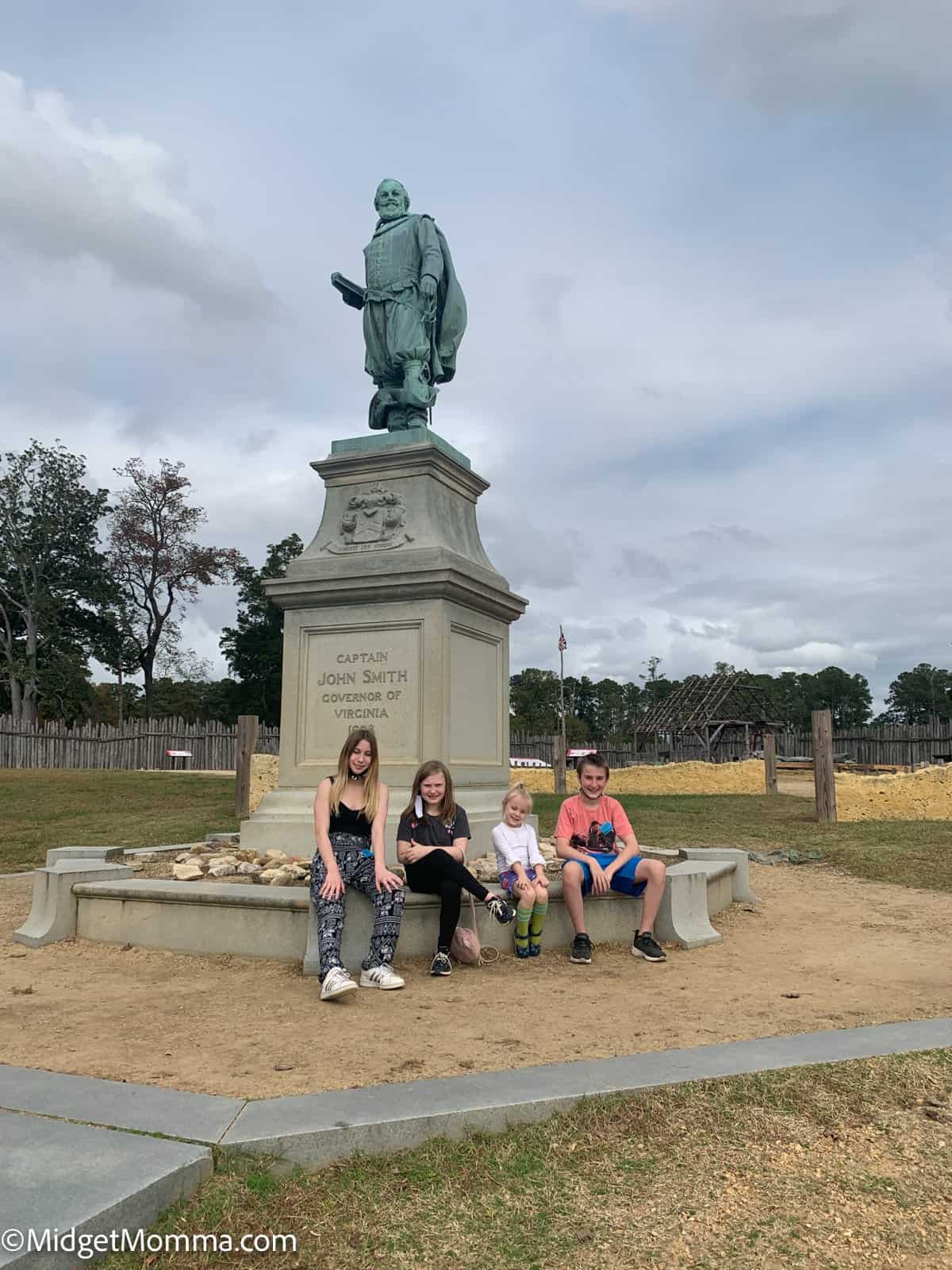 See the John Smith Statue. Located on the Jamestown Settlement location park is the statue of John Smith.
When you are visiting make sure to grab a packet from the ranger station. The kids will learn a ton while filling out this packet and have fun while doing it. There is a different packet for each age group and they are split into ages 5-7, 8-10 and 11+ so the material is on par with the kids ages and skills.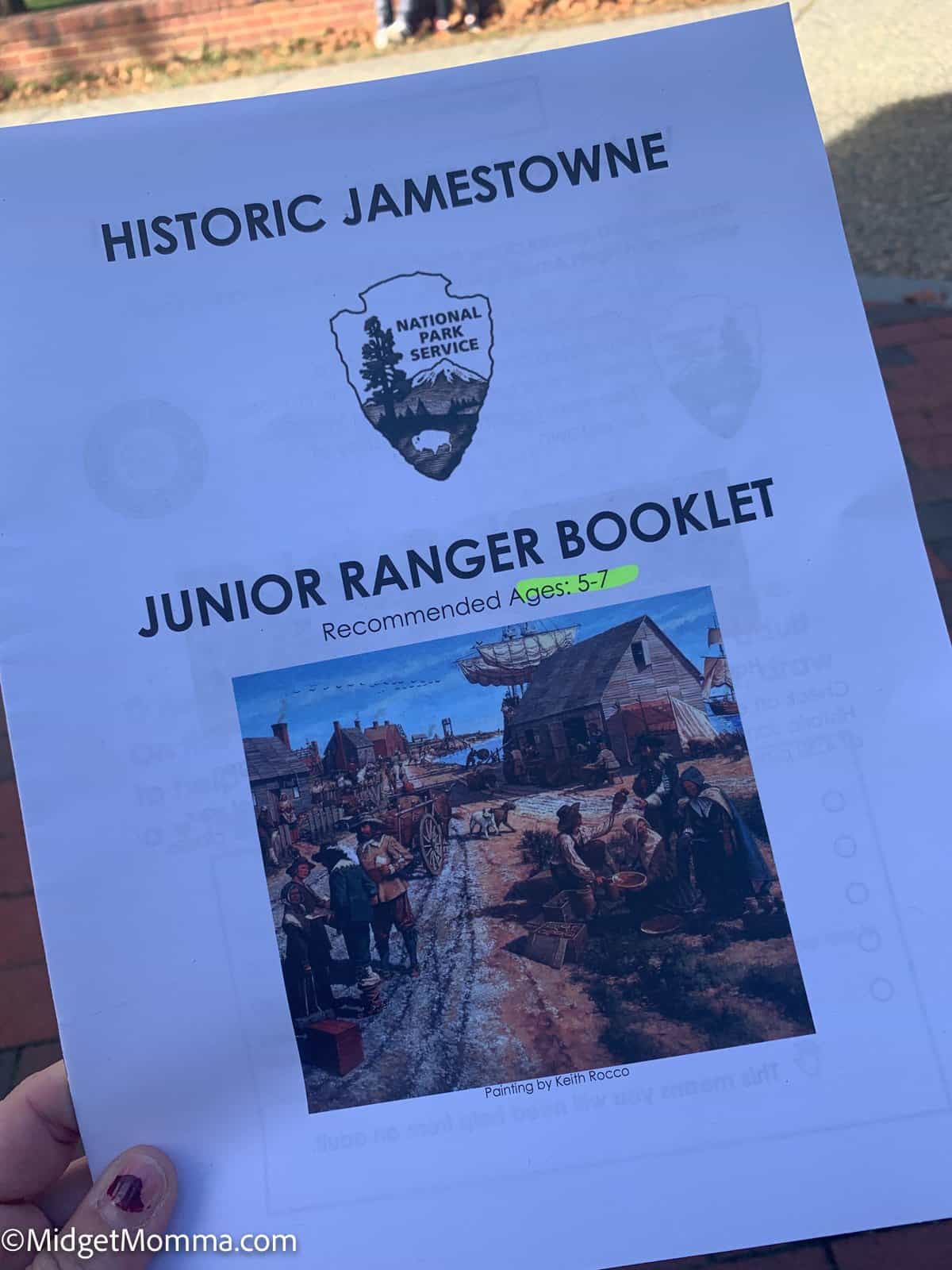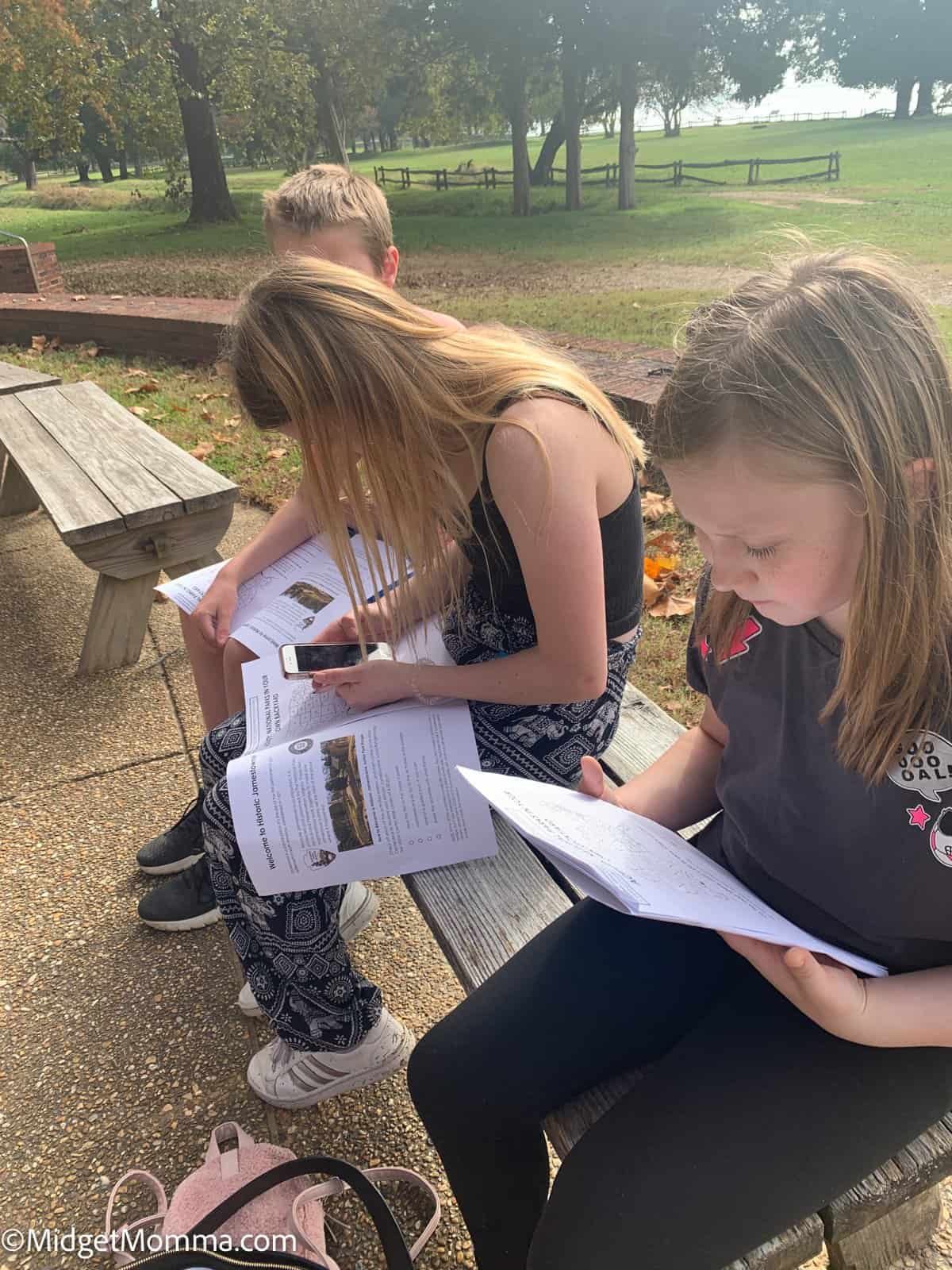 Hours of Operation: 9am – 4:30pm
Get Tickets here.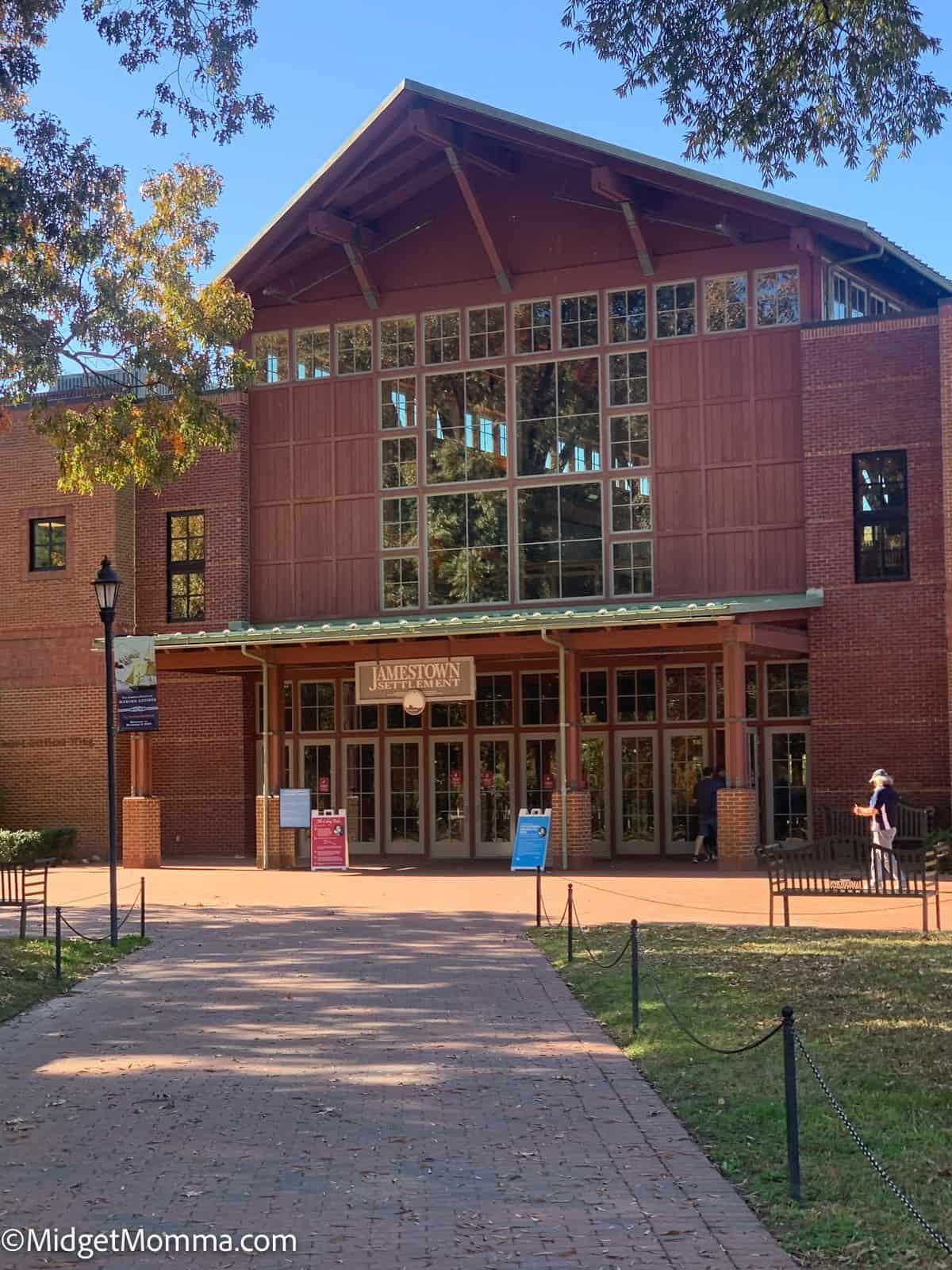 Jamestown Settlement Museum
There are three different parts to the Jamestown Settlement museum, an indoor museum, and three outdoor live reenactment museums. We split our visit into two days doing the live reenactment tours the one day and then exploring the inside museum the next day before heading to Smith's Fort plantation. I highly suggest doing a full day for the live interactive museum and tours so that you don't miss anything.
The Jamestown Settlement is a privately-owned interpretive center that is located on Jamestown island. It is not the site of the original fort but is filled with all the hands on learning so the kids will understand and learn about what life was like during the time period.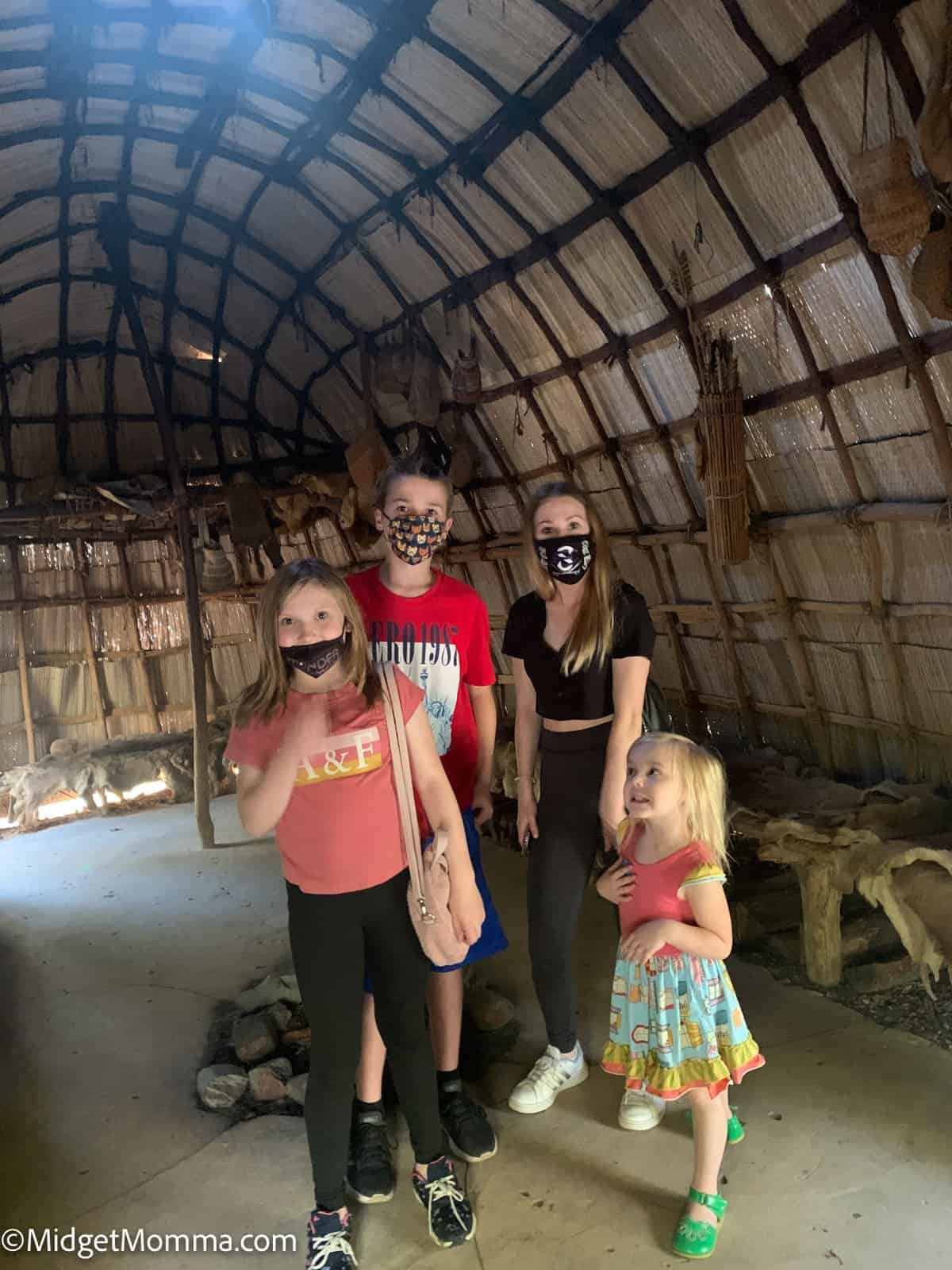 You'll learn about the Virginia Indians who occupied the Virginia landscape for centuries, the arrival of English colonists in Jamestown in 1607 to establish America's first permanent English colony, and the first documented arrival of West Central Africans in 1619, leading to cultural encounters and events that planted the seeds of a new nation.
Things to do at Jamestown Settlement Museum
There are three different areas that you will want to explore and take the kids to see that are reenactments. You will learn about colonial Williamsburg and how the settlers lived along with how the native people lived back in the 17th-century. Everyone you interact within these areas stays in character within the time period. Be sure to watch the presentations because not only are they filled with information but they are very entertaining.
English settlers fort from the 1610-1614 time period. Learn about how life was in the Virginia Company of London's 1610-1614 military outpost. Walk thru the area and learn about what the settlers did to keep the camp functioning. You will see how food was made, where people slept, how the houses were built, and more.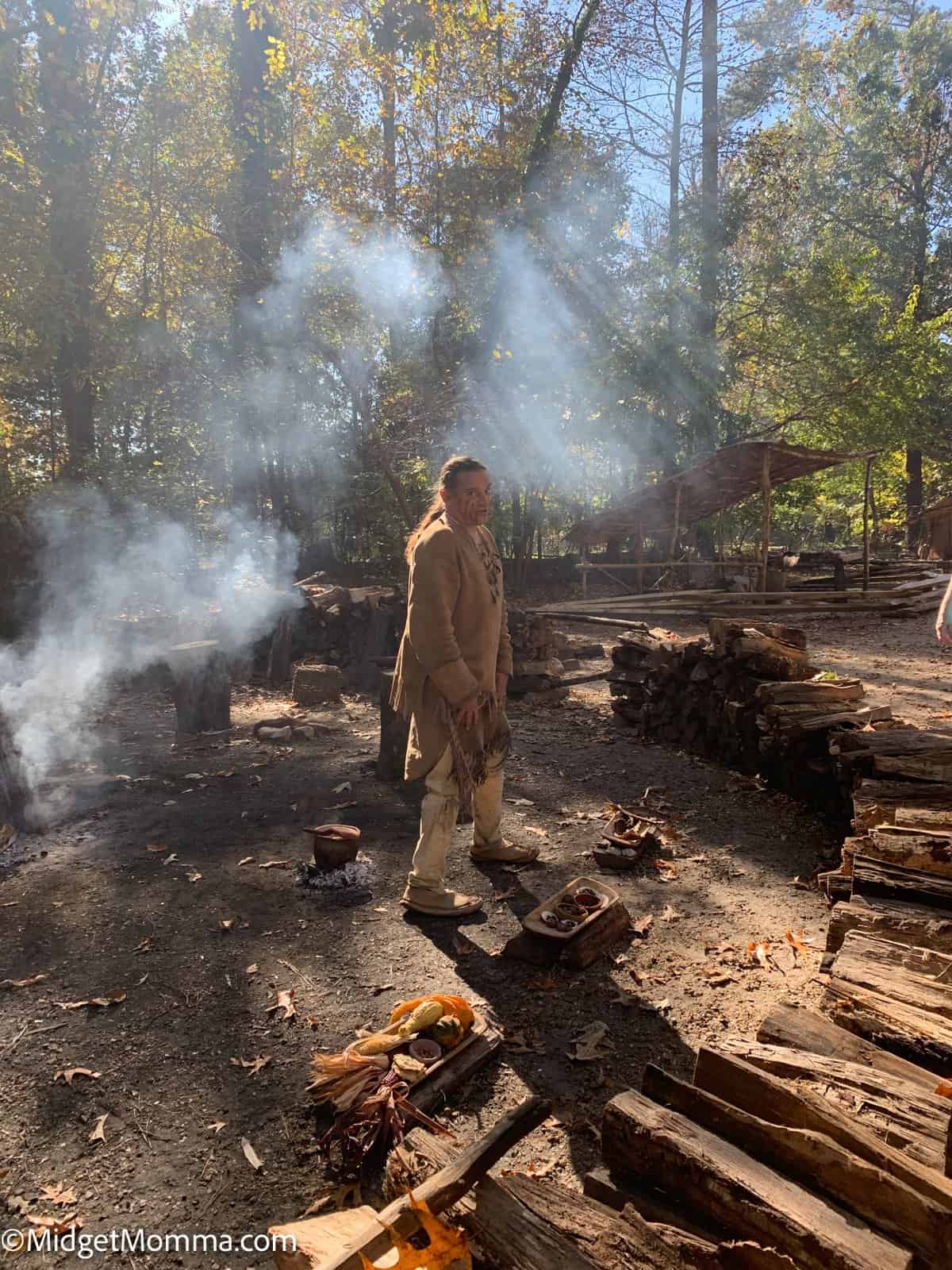 Powhatan life Village Tour. Filled with live re-enactments of the Powhatan life you will see how they lived and be able to get questions answered to learn about them. Take a tour of a re-created hut, see a boat and see how things were made and used along with learning about the foods they ate.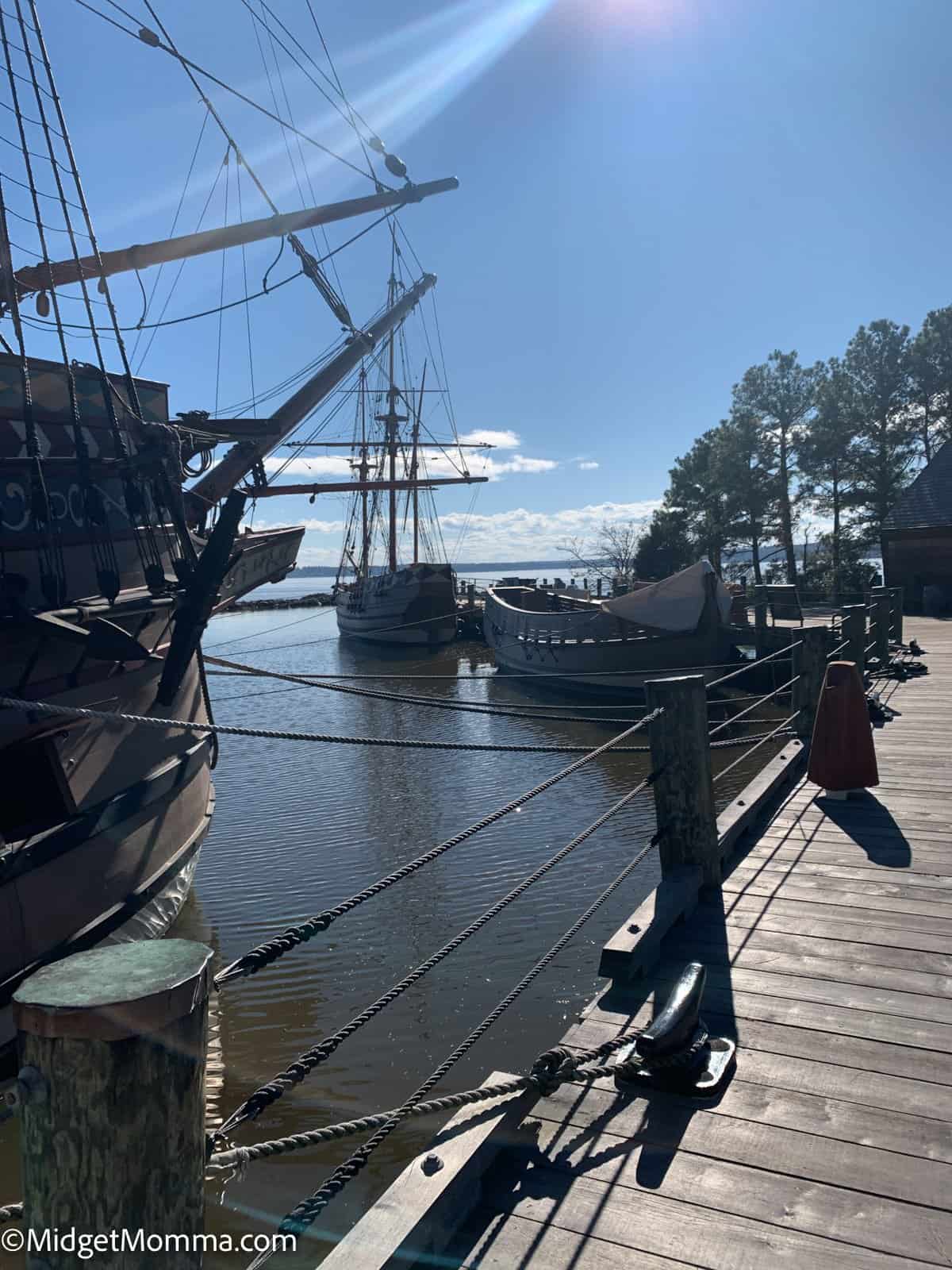 Jamestown Settlement Ships Tour.This area has remakes of all 3 main ships the Susan Constant, Godspeed and Discovery. These ships were used when the settlers came from England to Virginia in 1607. You are able to go on to the ship and listen to the crew talk about how life was when traveling from England to Virginia on the ship.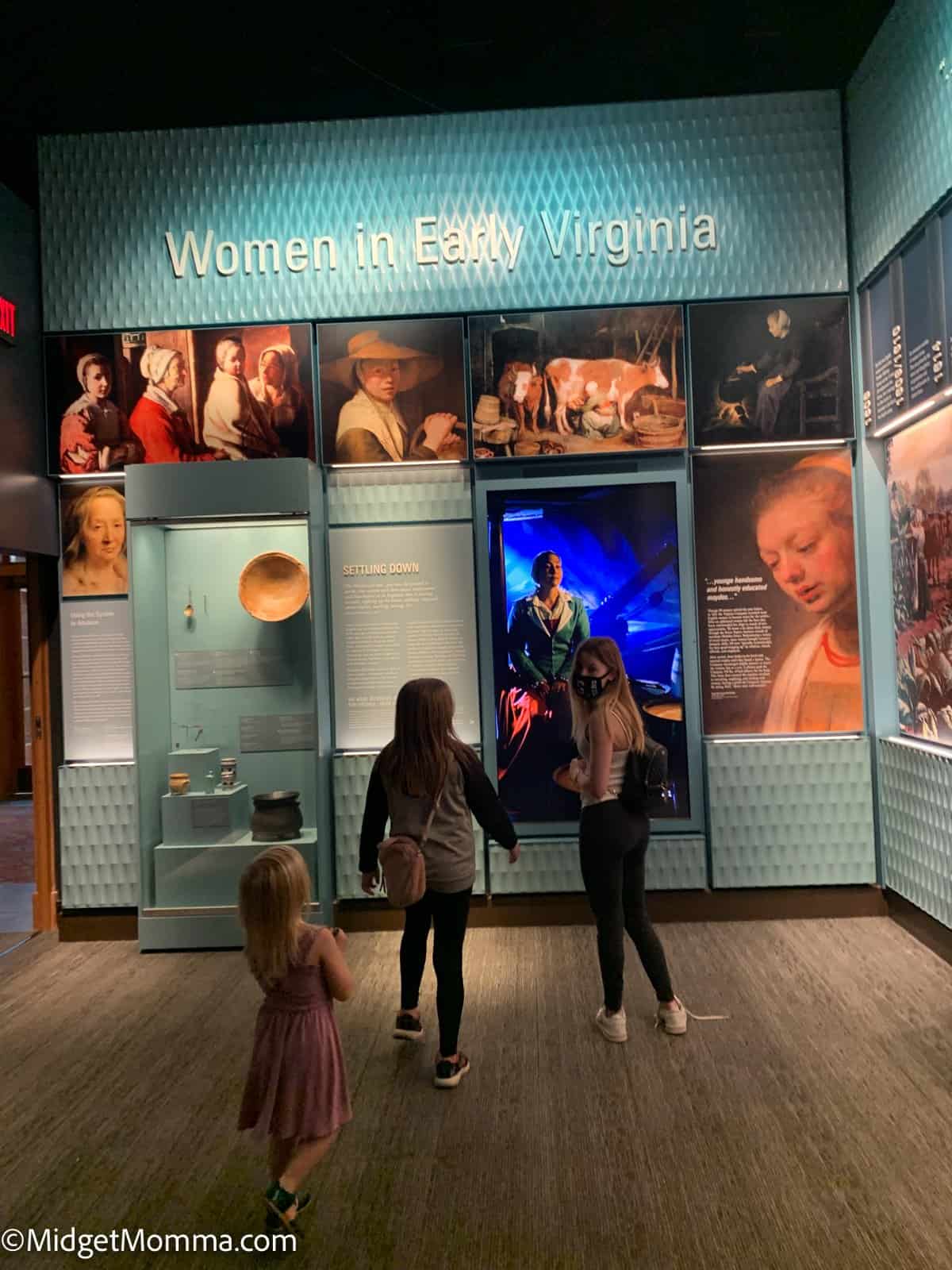 Indoor Jamestown Settlement Museum. The indoor Museum of the Jamestown Settlement is filled with artifacts and exhibits. All of them show the cultures of the Powhatan Indians, English, and West Central Africans who lived in 1600s Virginia. The focus of the exhibits is Jamestown's beginnings in England and the first century of the Virginia colony through 1699.
Hours of Operation: Open year-round 9 a.m. to 5 p.m. daily, except Christmas and New Year's days. Outdoor living-history areas open 10 a.m. to 4:30 p.m. Get Tickets here.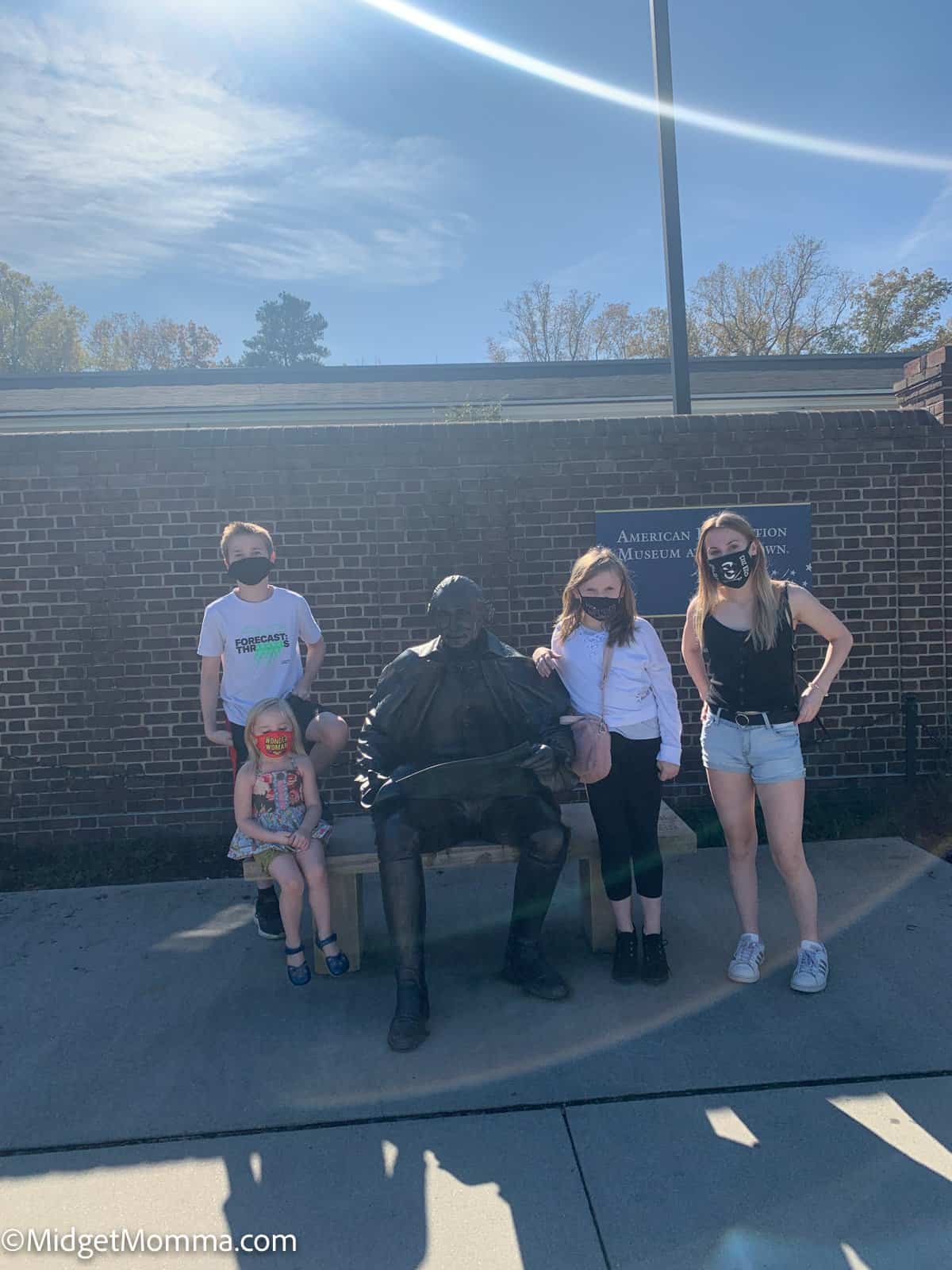 American Revolution Museum at Yorktown
Another fantastic place for the kids to learn while being entertained is the American Revolution Museum at Yorktown. Learn and explore the outside re-enactments and learn about how life was in Williamsburg Virginia in the 1800s.
There are two different outside areas of living history to check out, the military camp and the Revolution Area Farm. Be sure to watch the presentations because not only are they filled with information but they are very entertaining.
Continental Army encampment. Explore what life was like living in the 1800s in a military camp. Not only did the military members live there but their families as well. While you explore this area you will learn about the daily routines of American soldiers. They have demonstrations of military drills, musket and seasonal artillery firing, 18th-century surgical and medical practices, and the role of the quartermaster in managing troop supplies.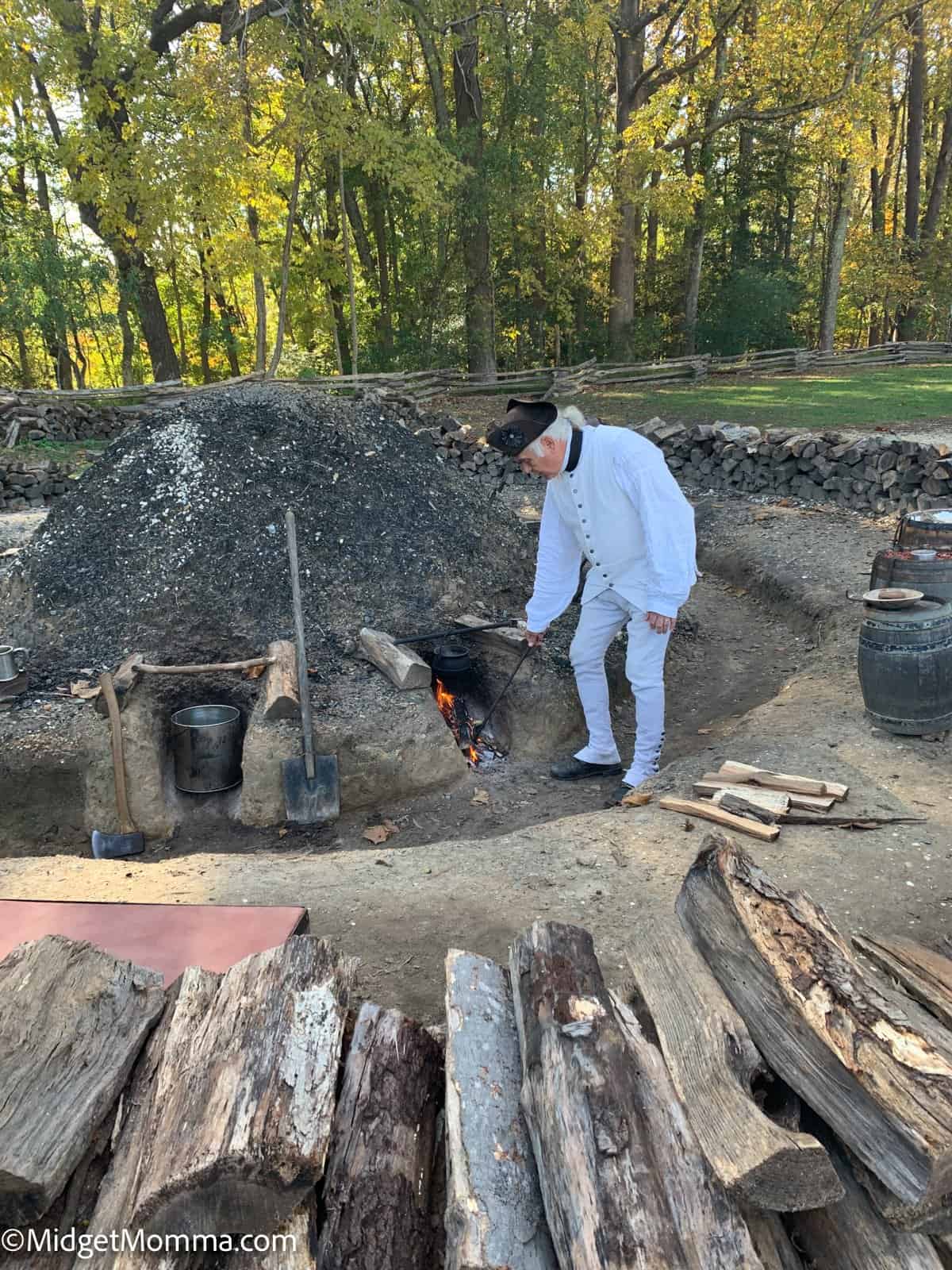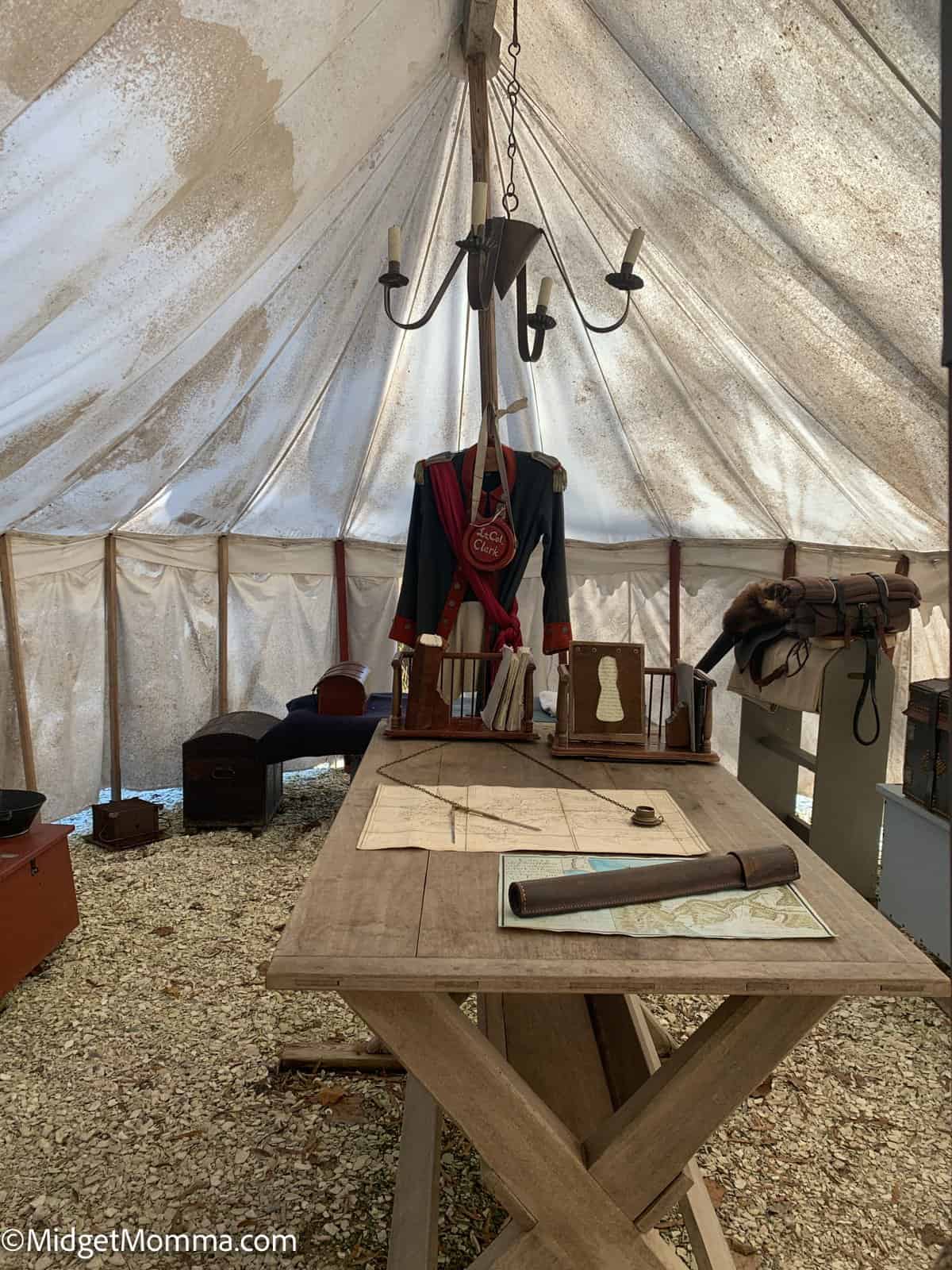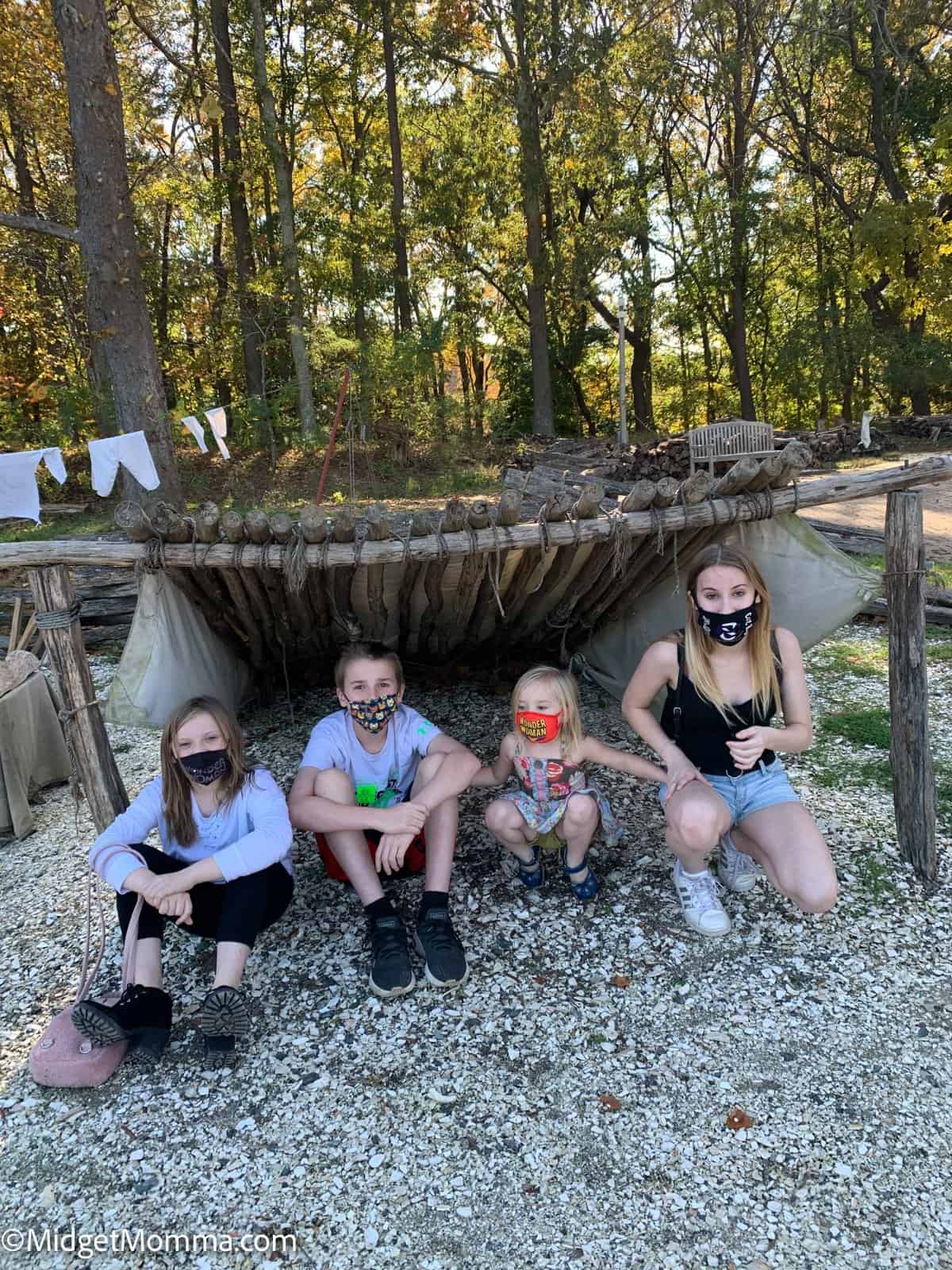 Revolution-era Farm. Learn about what life was like living on a farm in Virginia in the 1800s. This area brings to life world of the 18th-century family of Edward Moss (c. 1757-1786), whose life is well-documented in Virginia history records. While exploring you will learn about farm and domestic life as well as the lives of enslaved African Americans during the American Revolution period.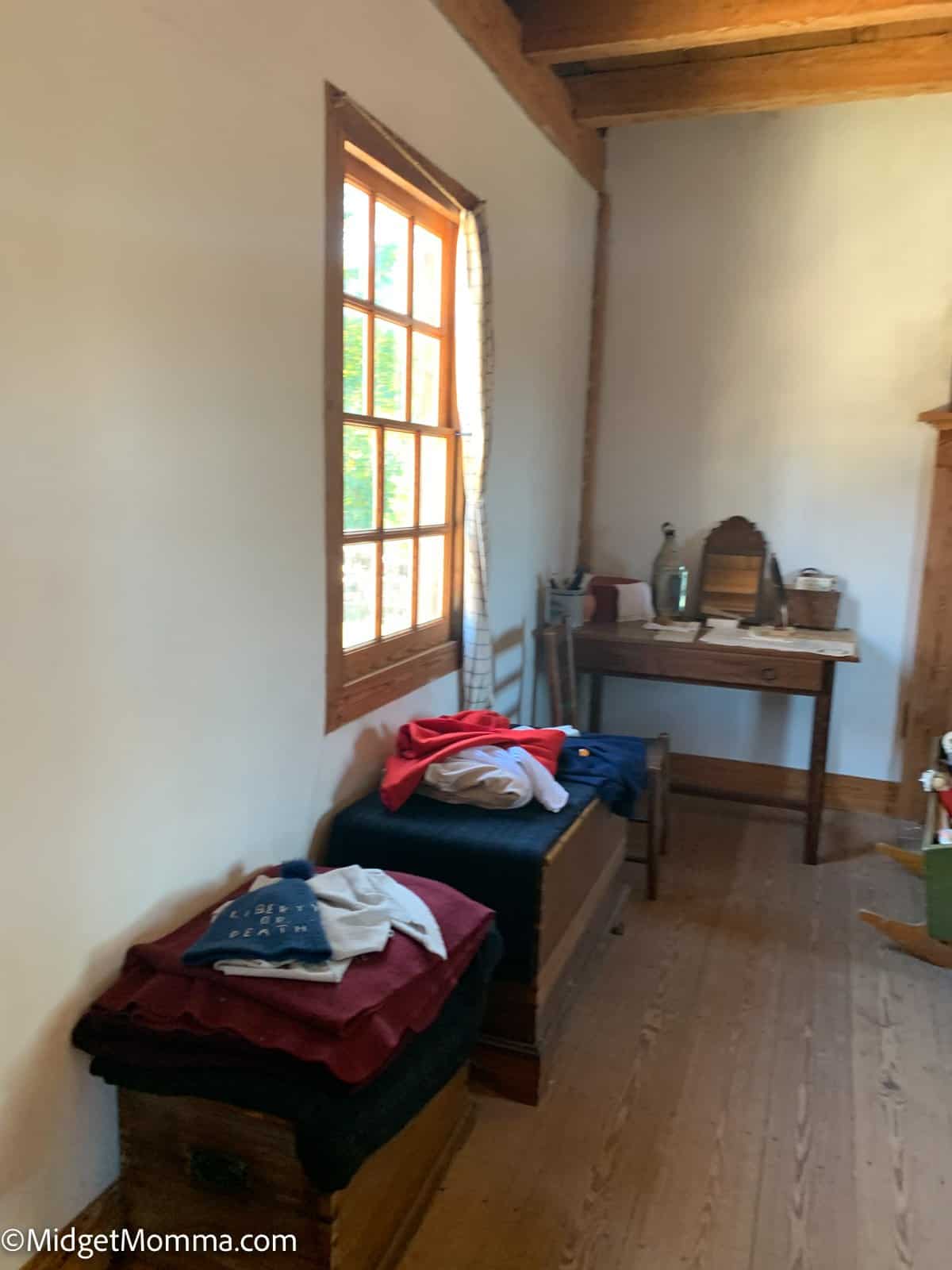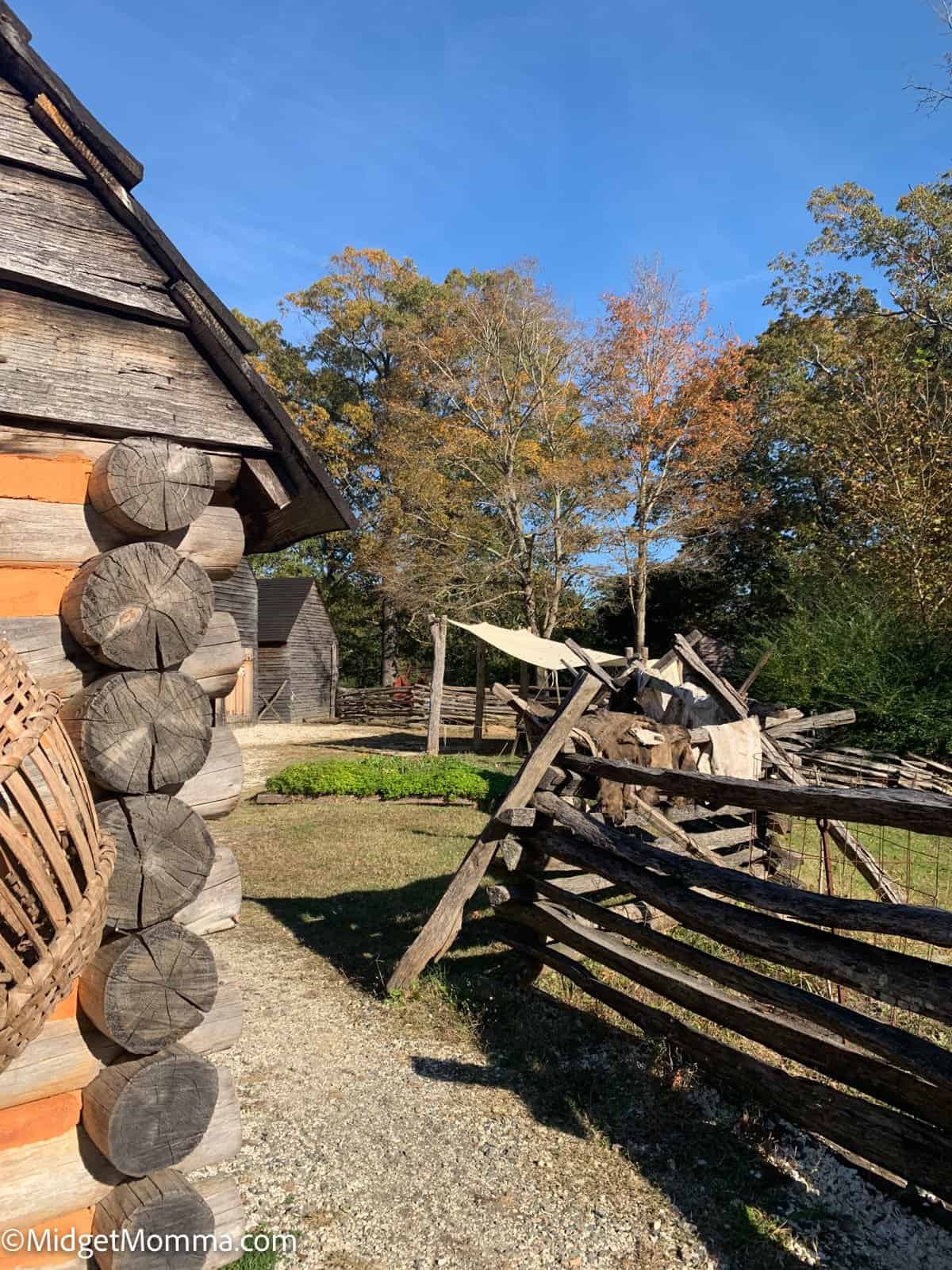 Hours of Operation: Open year-round 9 a.m. to 5 p.m. daily, except Christmas and New Year's days. Outdoor living-history areas open 10 a.m. to 4:30 p.m. Get tickets here.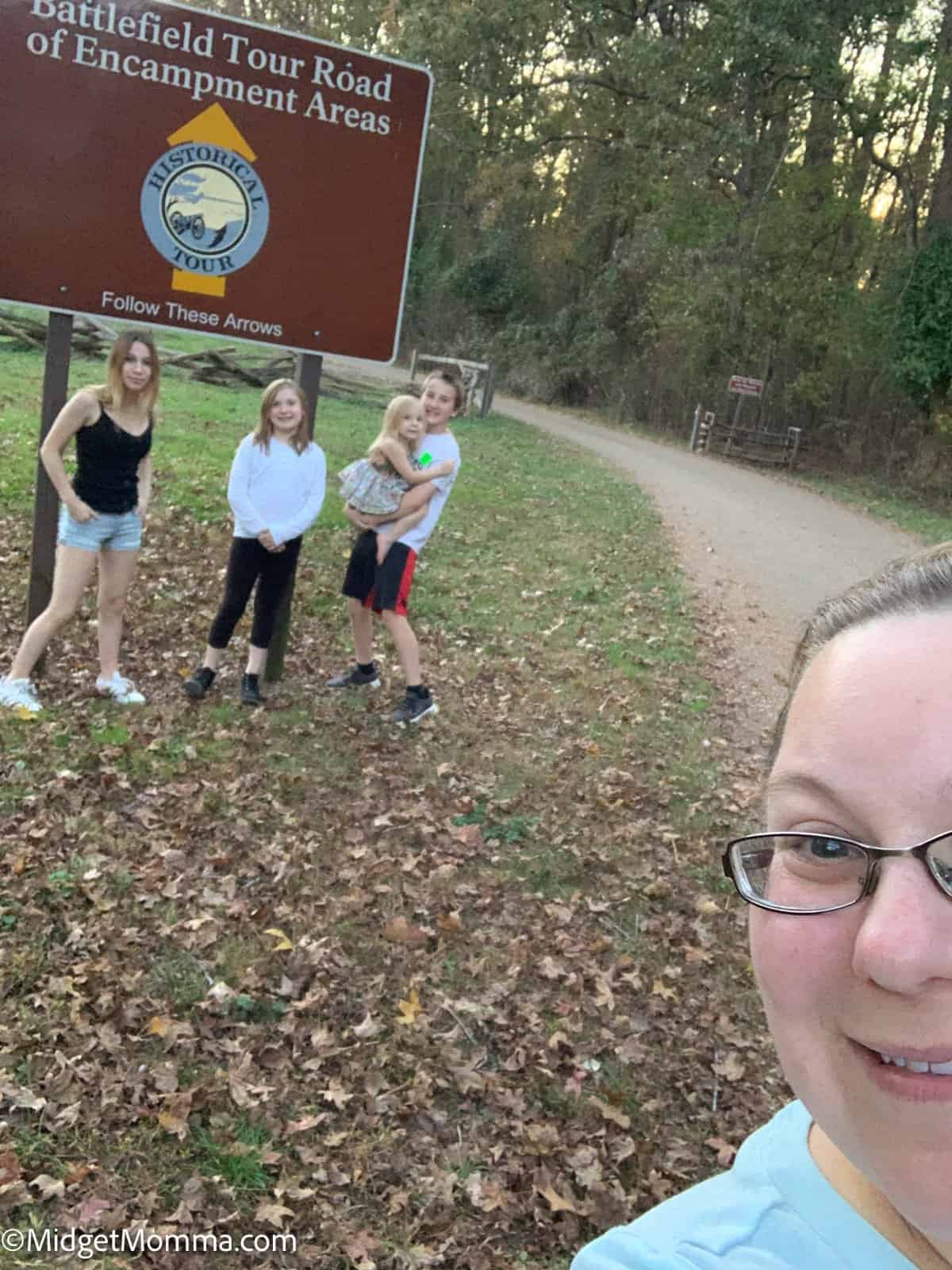 Yorktown Battlefield Audio Tour
Yorktown Battlefield is a great place to get the kids interested in and learn about history. On October 19, 1781, British forces surrendered to the combined American and French armies led at the battle of Yorktown.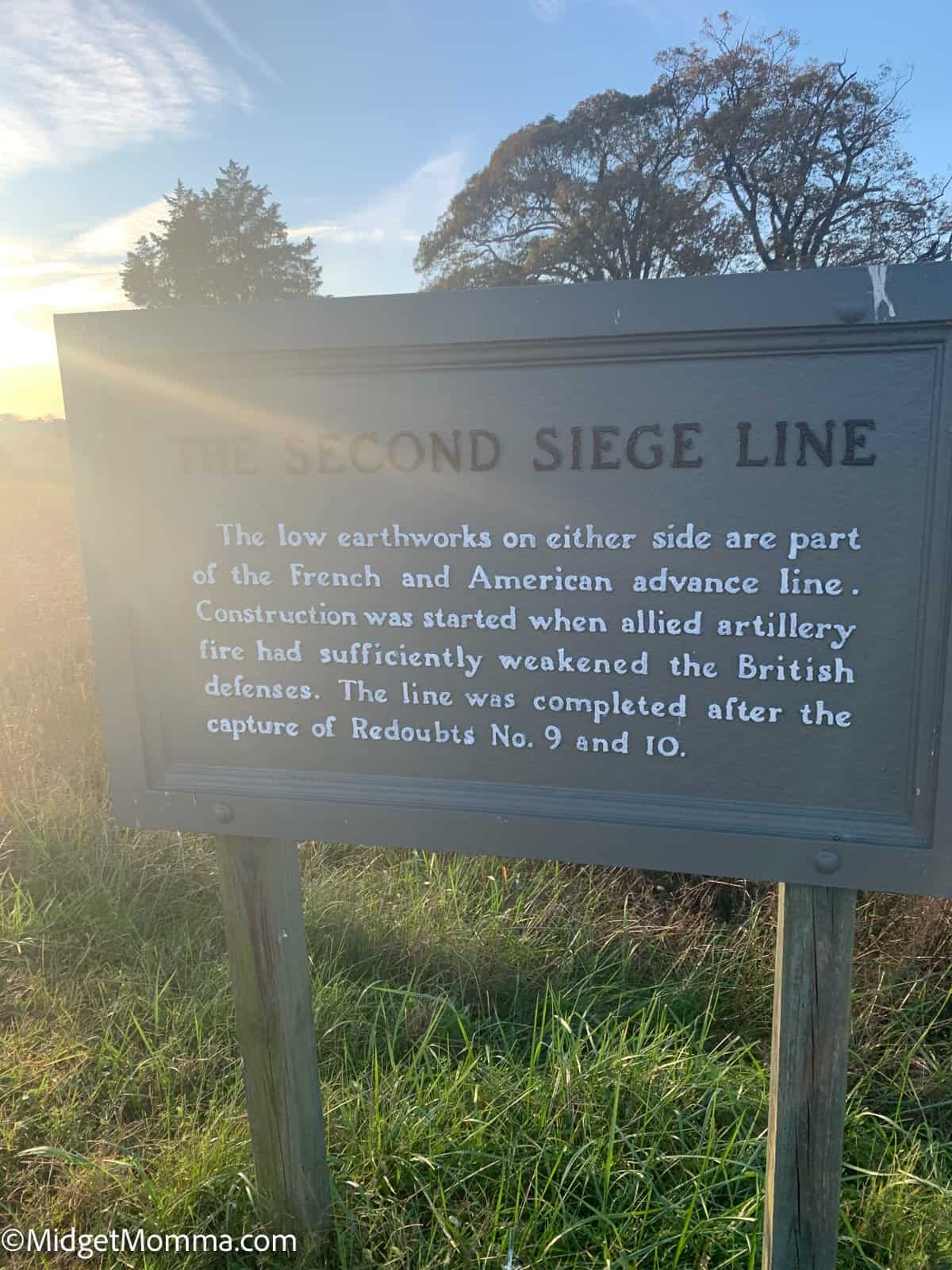 This six-stop tour takes you to the most important spots on the battlefield that lead up to that surrender. It is a driving tour, so you will visit each stop that is important to the battle of Yorktown while following the audio tour. You can buy the CD for $5 at the Visitors center or download the free app.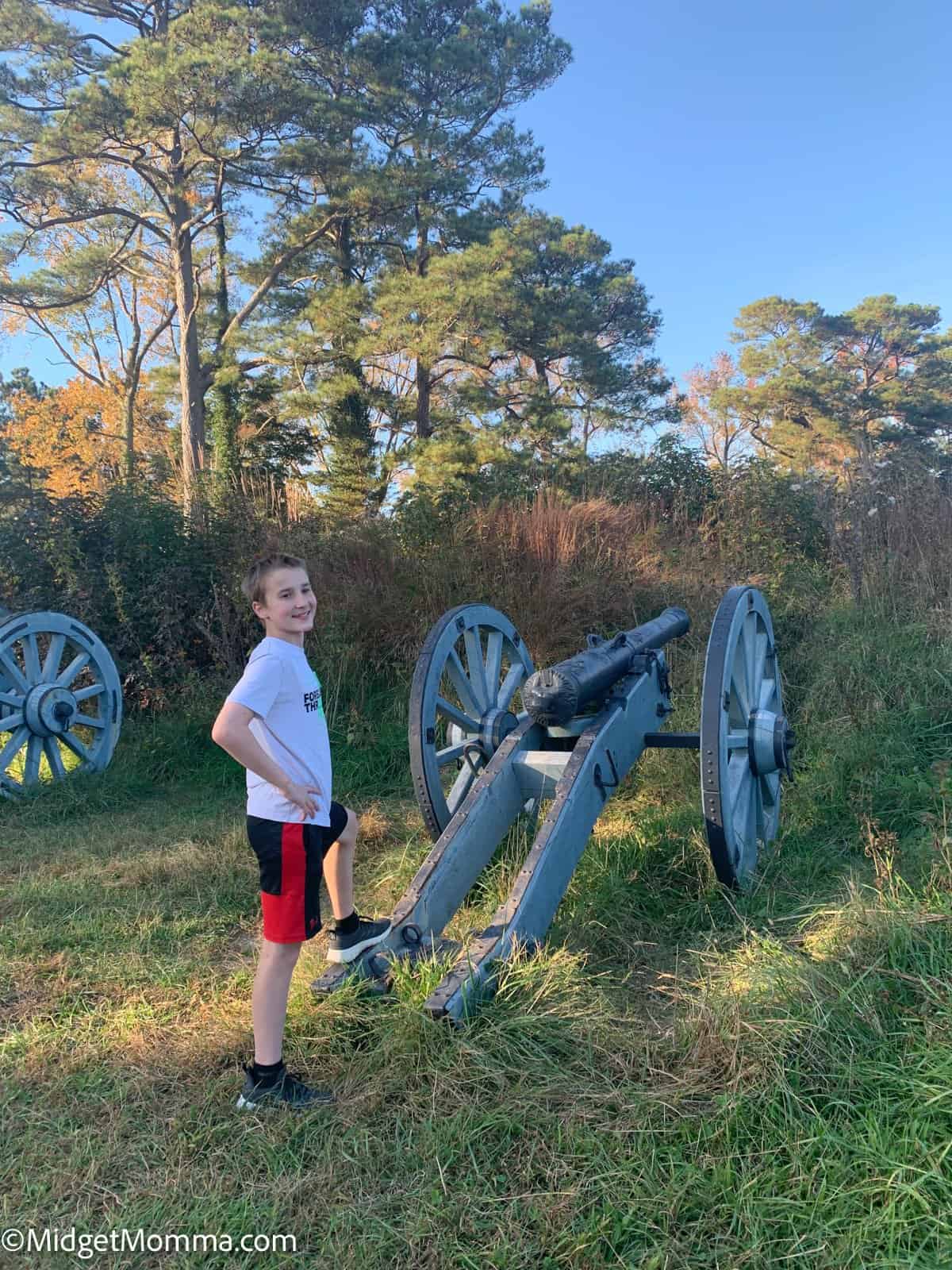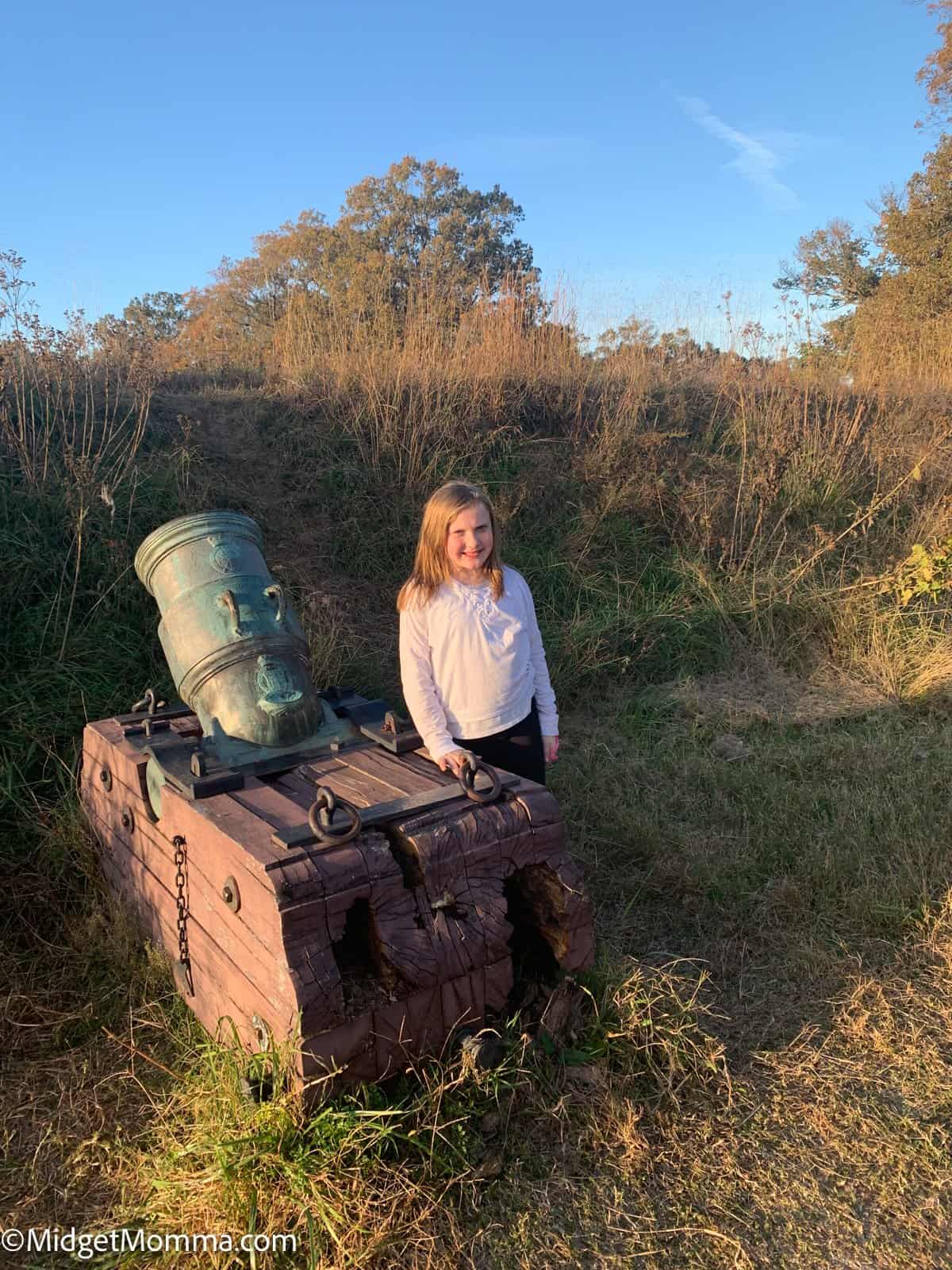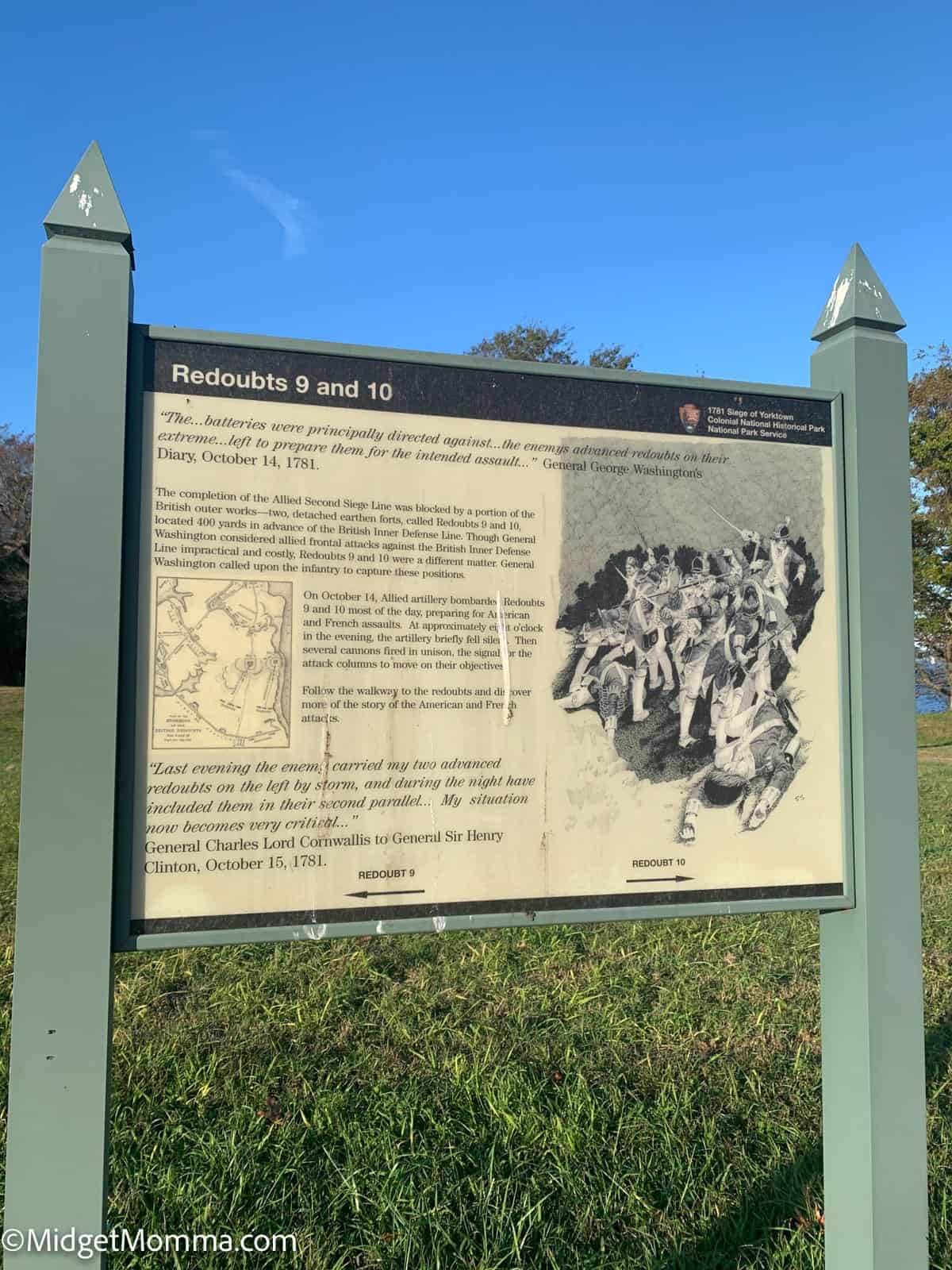 Depending on how long you spend at each stop the tour will take anywhere from 30 minutes to 1.5 hours. My kids enjoyed getting out of the car and exploring each stop in full so we were closer to 1.5 hours.
Location: 1000 Colonial Parkway Yorktown, VA 23690
Ride on the Jamestown ferry
The kids loved the Jamestown ferry, you drive your car on and then the ferry takes you across the way. The ferry goes between Jamestown Virginia and Surry Virginia. Even if you have no plans to visit anything that is in Surry Virginia the ferry is an enjoyable (and free) activity for the kids to experience.
The Jamestown-Scotland Ferry operates 24 hours a day, 365 days a year, including major holidays.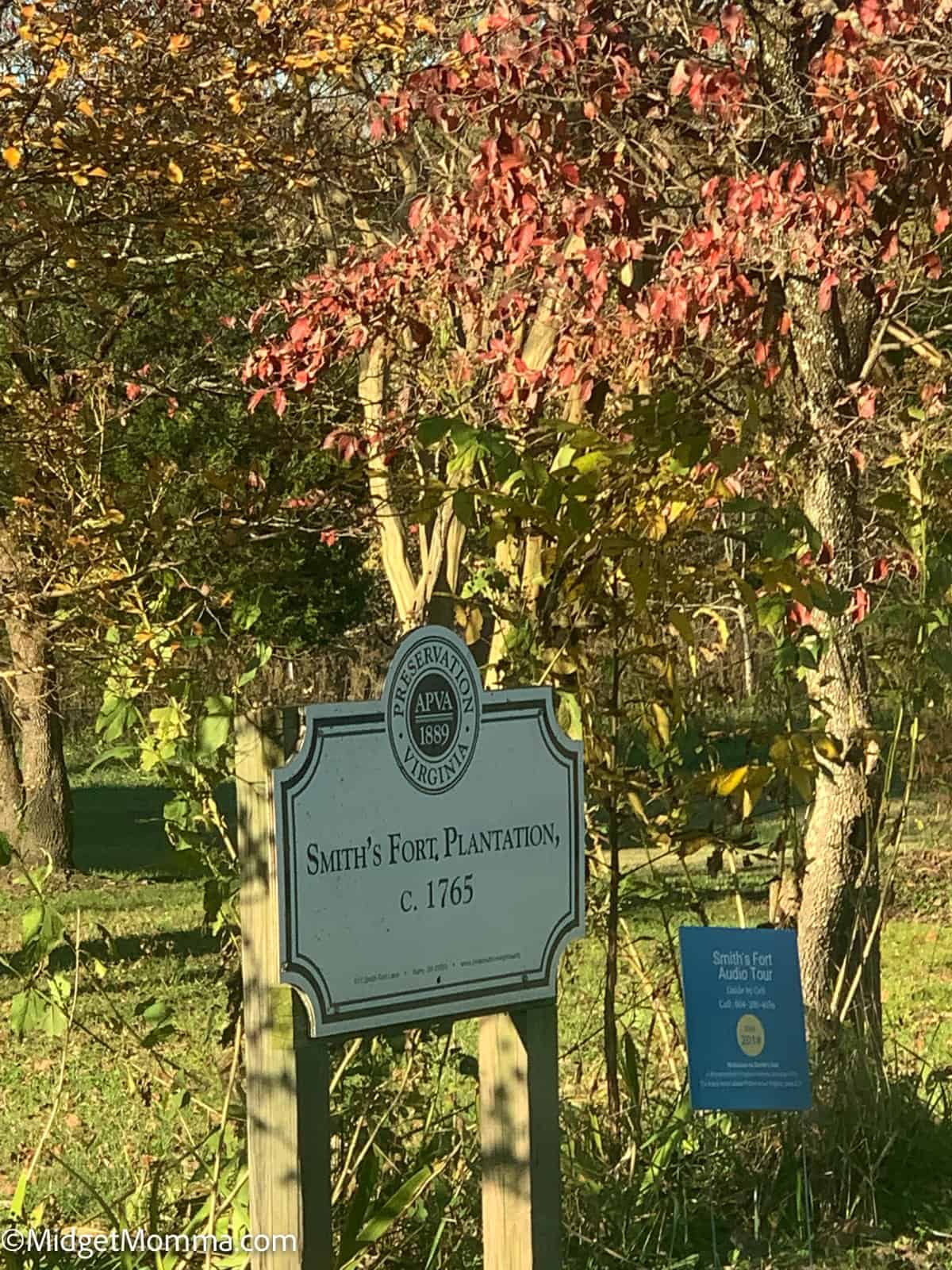 Smith's Fort plantation
You will need to take the Jamestown ferry to get to the Smith's Fort plantation, but the audio tour is amazing. There are a few different options for touring Smith's Plantation, we did the audio tour. is the site of Captain John Smith's proposed "New Fort" and the current house is situated on land given by Chief Wahunsenacawh (Powhatan) as a dowry for his daughter Pocahontas' marriage to John Rolfe in 1614. Smith's Plantation is located directly across the James River from Jamestown. If coming from Jamestown then you will need to take the ferry to get here.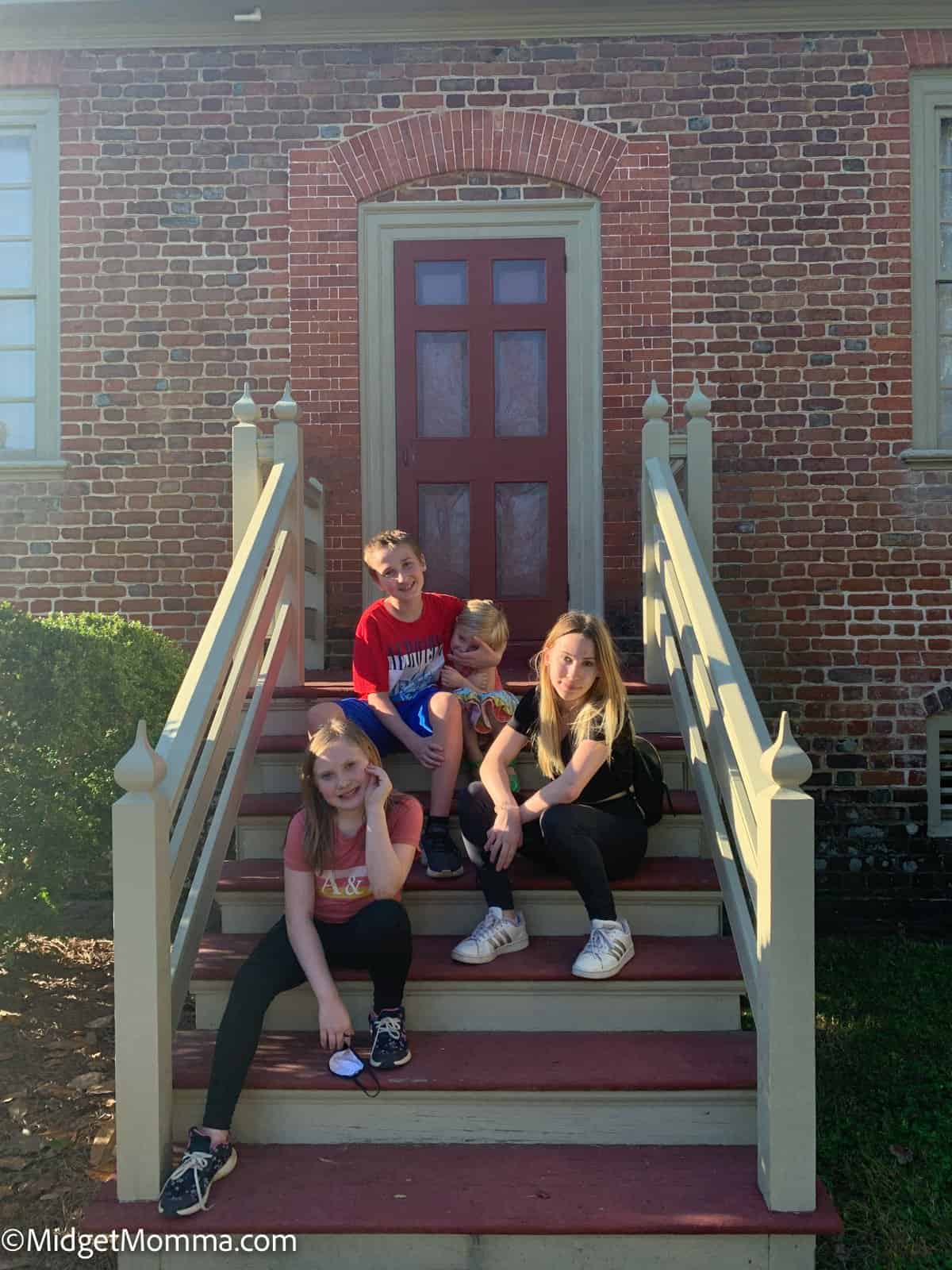 Smith's Fort Plantaion Tours
Audio Tour of Smith's Fort Plantation. Receive an informative site map and explore the grounds following a numbered path. Use your personal cell phone to hear about the site's history and architecture.
Guided Exterior Tour of Smith's Fort Plantation. A minute guided tour of the history and architecture of the site.
Guided Interior and Exterior tour. A45-minute tour guided where you will learn about the lives and legacies of Captain John Smith, John Rolfe, Pocahontas and Chief Wahunsenacawh.
Get Tickets here.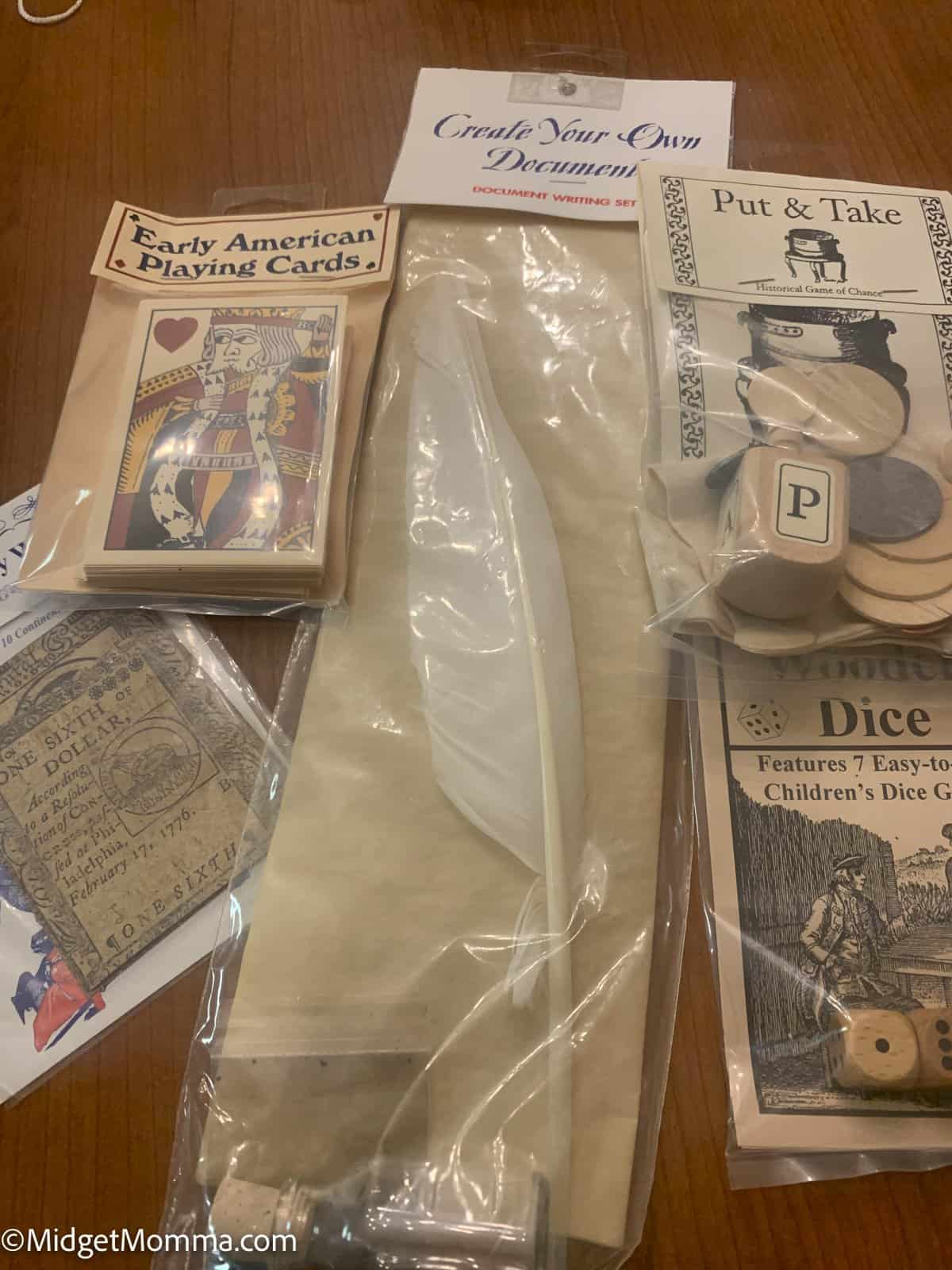 Make old time Crafts and Play with Replica toys
Just about every gift shop you walk into will have replicas of old time toys and crafts. We bought a few and brought them back to the villa we were staying at and they made for a great evening activity. I thought the old school toys would be a one and done with the kids but they ended up bringing them with us every day and then while in the car or while we were waiting playing with them.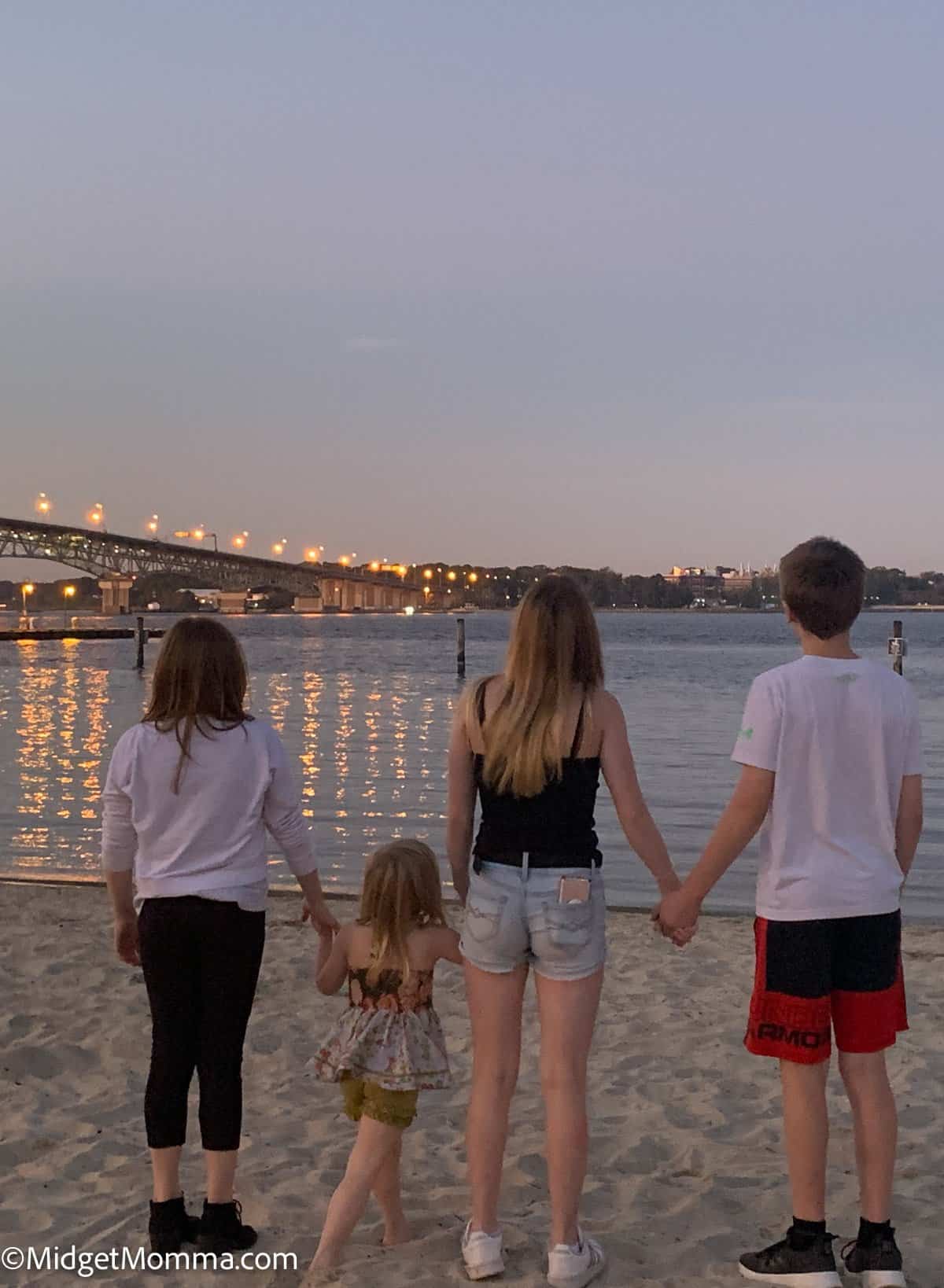 Take a walk to the Beach
Anytime we can we look for a beach and when you are in Williamsburg Virginia there are a few beaches you can take a visit too. The beaches that you can visit are not ocean beaches, they are the shores of the Chesapeake Bay. Not being an ocean doesn't change how much fun it is to run in the sand, take beautiful photos and amazing views you will get when you go.
Beaches in Williamsburg Virginia Area
Jamestown Beach
College Creek Beach
North End Beach
Yorktown Beach
First Landing State Park
Looking for more places to take the kids? Check out some of our favorite kid friendly travel spots!