Are you visiting the Poconos and looking for something fun and beautiful to do? Hiking at Bushkill falls is a must do when you are visiting the Poconos! Bushkill falls is the Niagara of Pennsylvania and absolutely beautiful.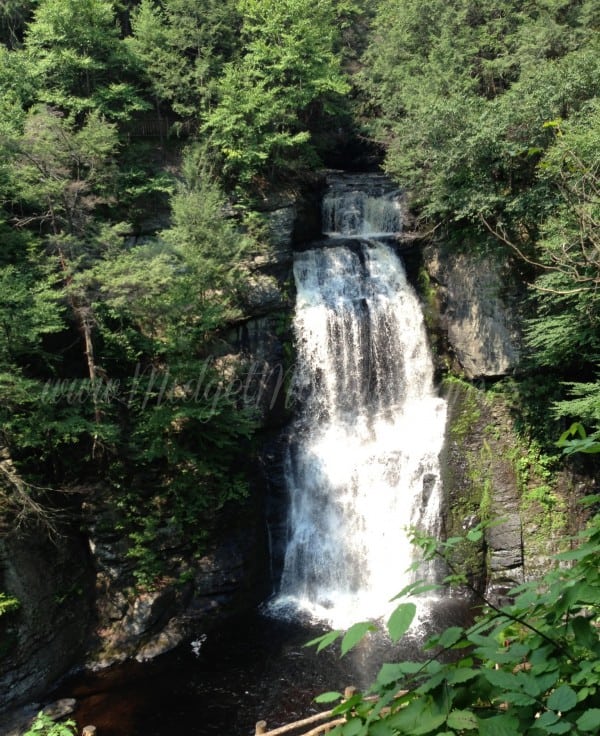 Bushkill Falls in the Pocono Mountains
Now you might not be a hiker normally, but that is ok when you are going to Bushkill Falls. They have different hiking trails that are different hiking skills levels. It is an easy hike to get to the main falls, and once you get there it is amazing!
Before you enter the the area of Bushkill Falls to start hiking they have a really fun walk through museum. It tells you about the animals that used to live in the area and still do. The kids loved the giant bear and insisted on getting a picture with it. Growing up in the Poconos bears walking through the backyard was a normal thing. This however was my kids first time seeing a bear, since we were living in New Jersey when we took this trip. Now we live semi-locally to Bushkill Falls that the bears are no longer as exciting.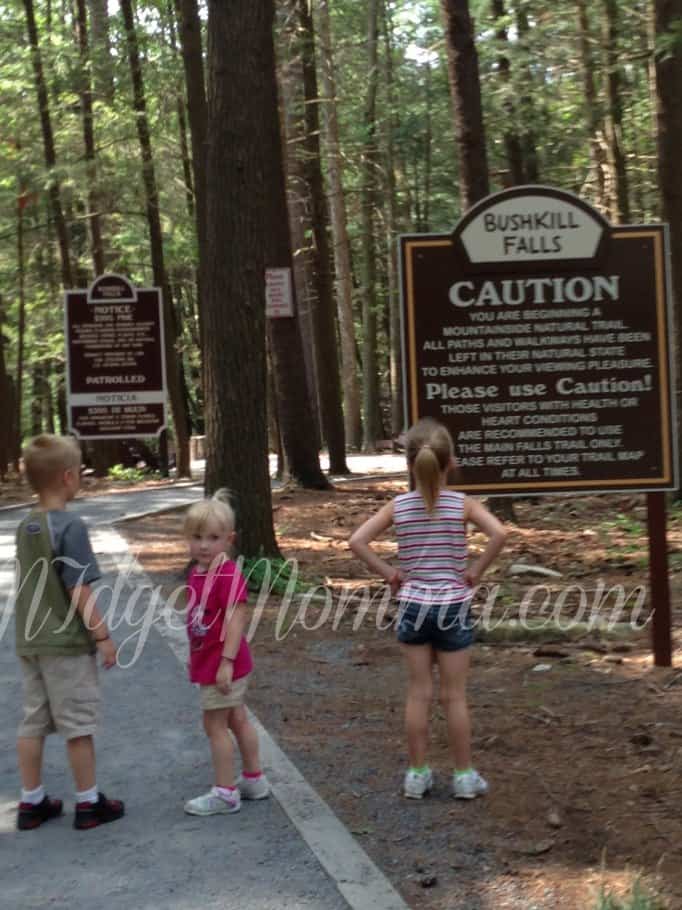 How to Hike at Bushkill Falls
Once you go thru the Bushkill Falls museum, it is easy to get on the trail and start hiking to the Falls.
What is great about hiking at Bushkill Falls is you can pick the trail that fits your ability and go at your own pace. If you want to you can go on a few different trails and spend even more time there exploring. The network of hiking trails and bridges is easy to follow. There are markers along the trail that make it easy to know where you are going, you also get a map to follow and then they have signs along the way of maps that help you as well. We went with the easiest hike route since I was just me and 3 kids under the age of 7 hiking and we had no issues.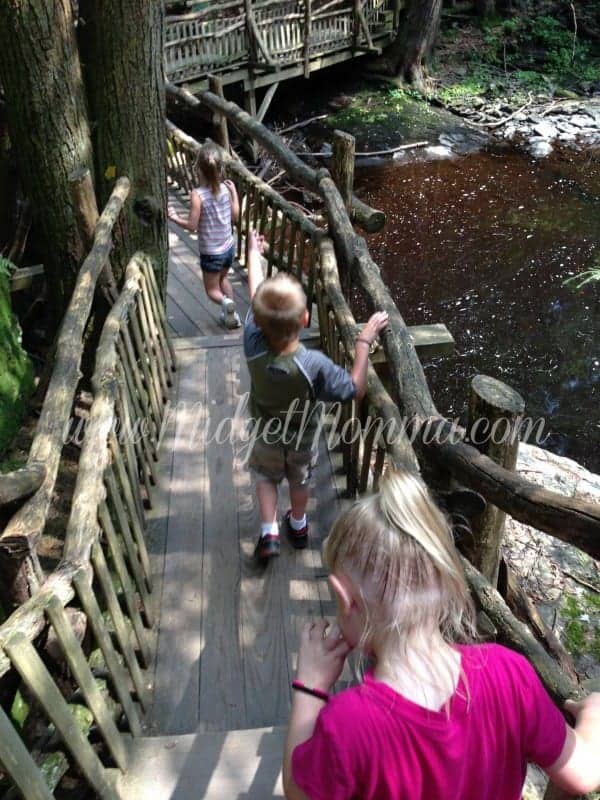 If you are worried about getting lost on the Bushkill Falls trail, don't worry! Everything is labeled and set up for easy exploring and hiking. The trails and bridges are set up so you know exactly where you are going.
While you are hiking to the main falls you are going to see beautiful scenery. Bushkill Falls and the hiking path is such a beautiful place. It is also shockingly quite relaxing to hike to the falls, even with a bunch of kids with you.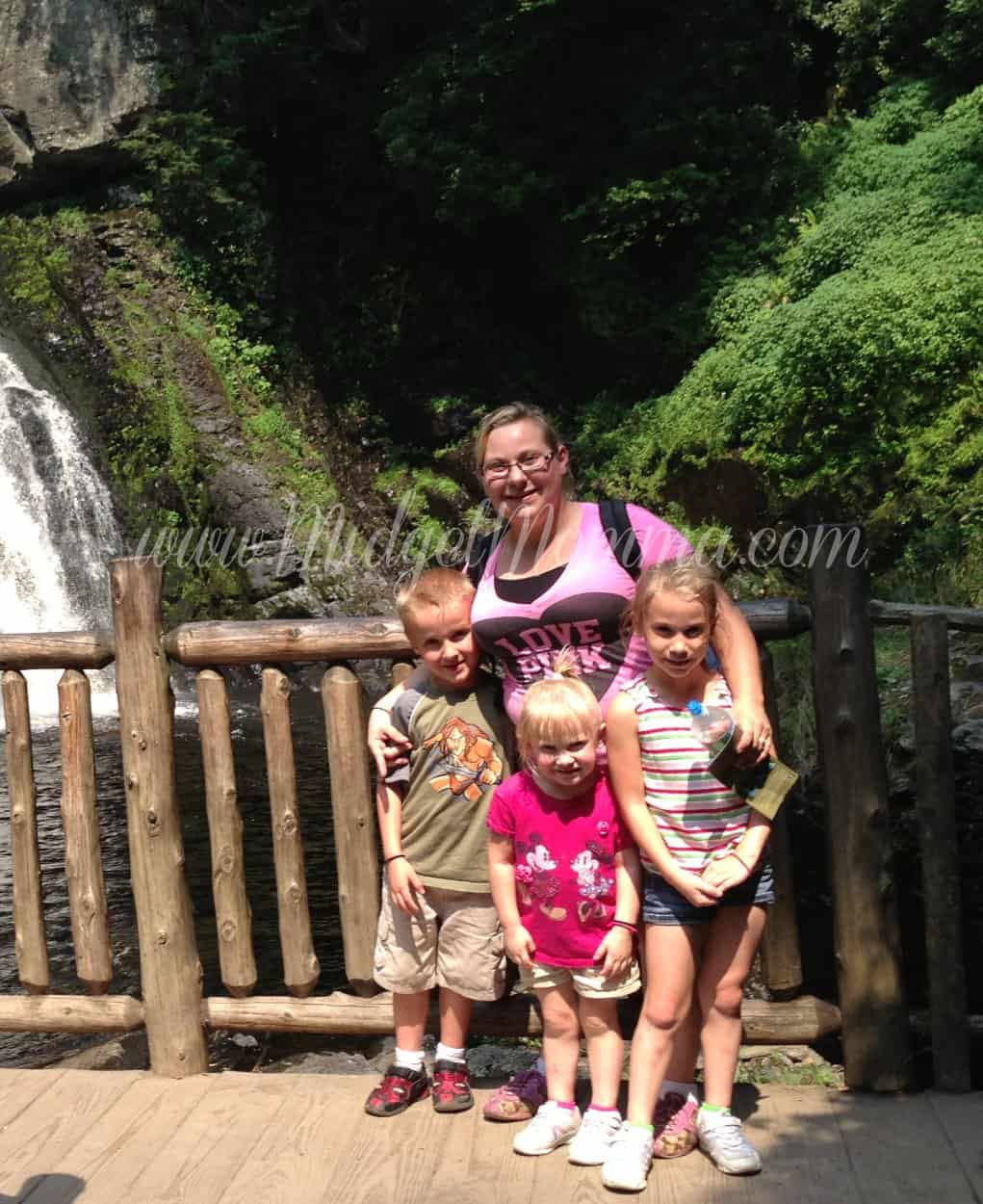 Take pictures on your hike at Bushkill Falls
When you are hiking, make sure you have your camera! You are going to want to take pictures of all the amazing and beautiful things you see along the hiking trails at Bushkill Falls. It is beautiful the whole path to the falls. When you get to the main falls it is stunning! There are a lot of amazing places to take pictures along your way as well.
I have to admit that growing up in the Poconos, as a kid I never took a trip to Bushkill Falls. It was always seen as one of those famous scenic attractions that only tourists go to see. No one I knew, who lived in the area ever put a focus on taking a hike at the falls or the surrounding forest. It was never something that was a "must do" because you lived there even though when you live in the area you can get in for free. After going with my kids, I have to say it is definitely a place that everyone who visits the Poconos needs to check out!
After taking this trip with my kids I can not wait to take them again. I wish I had taken advantage of this beautiful place when I was growing up in the Pocono Mountains. However I do know it is never to late to get back to exploring the Poconos Mountains area and visit the Pennsylvania Bushkill Fall more often.
How much does it cost to get into Bushkill Falls?
Adults are $15 on weekdays and $18 on weekends and holidays.
Seniors are $17 on weekdays and $17 on weekends and holidays.
Kids 4-10 are $9 on weekdays and $9 on weekends and holidays.
Kids under 3 are free.
How long does it take to hike Bushkill Falls?
The whole hike takes about 2 hours depending on how well of a hiker you are. The longest trail is about 2 miles and you will see all 8 waterfalls if you take that path.
Looking for more fun in the Poconos? Check these out!
Disclaimer: I was provided admission to Bushkill Falls to facilitate my review. I received no compensation was received and all opinions are 100% my own.