If you are looking at a trip to the Poconos then one stop you need to make is to the Camelbeach Adventures, a fantastic place where kids and adults with both have a TON of fun.
We were there and the kids all got to explore and test their boundaries that they are normally comfortable with. This was the first time any of them had done any thing with an outdoor adventure course or push their personal limits and they all had a blast. There are a lot of different activities that you can pick from to do while you are there. We tested out a few of them and the kids loved every minute of their day!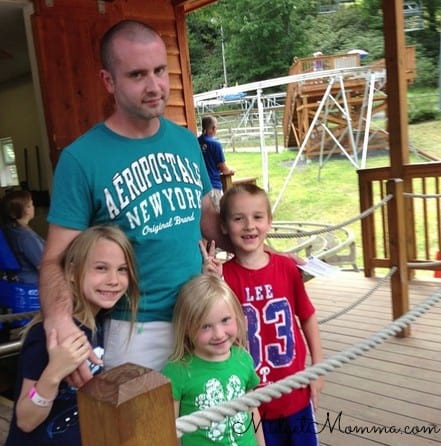 We made our first stop to the Mountain Coaster, where each kid got a chance to ride and Tom went with them all. The ride is on a coaster track like you would think but you get to control the speed, all three of my kids said it was AWESOME!
The kids all took a ride on the Euro Bungee, when they had to get off they were sad to have to get off. The ride is awesome, they hook you in a harness and then using a bungy you are jumping on a trampoline!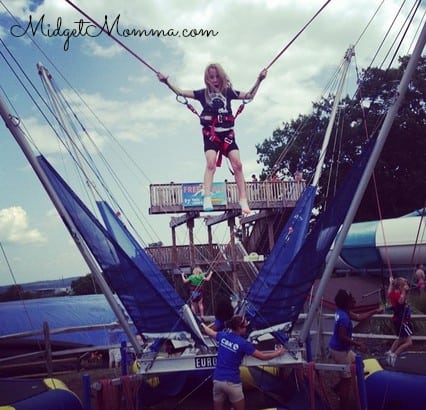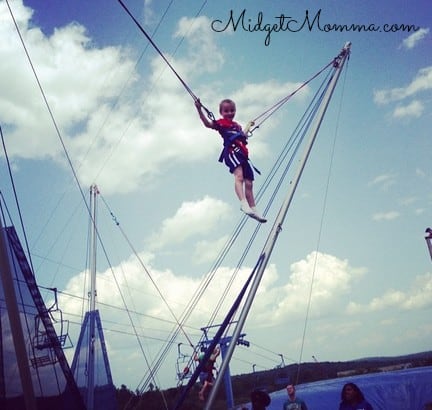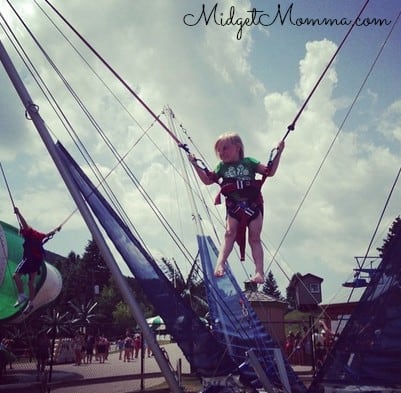 McKenzie was daring and did the Free fall, she is not a fan of heights and was a bit nervous at first but after her first jump she ran as quickly as possible to get back up on the landing to jump again!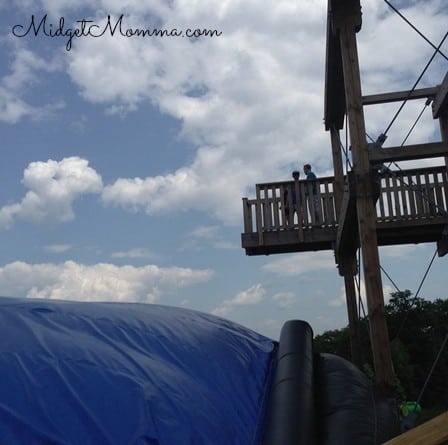 McKenzie and Logan were awesome at the rock climbing wall, I was quite shocked at how quickly they got to the top when they have never done anything like it before!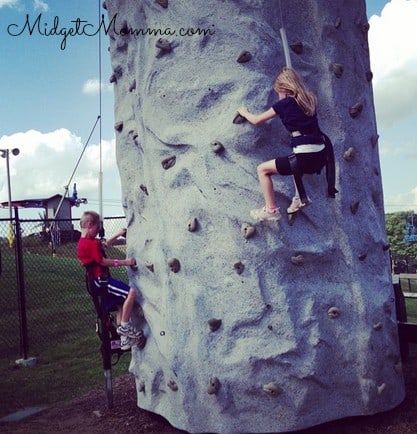 The older two's favorite thing of the whole day was the Explorer adventure course, they do a full run through on all the safety need to knows before the kids get started. They teach them how to use the caribeaners and how to zip line. They then climb up all in their gear and do the course. There are 2 zip lines in the course and the kids said that was their favorite part of the course!!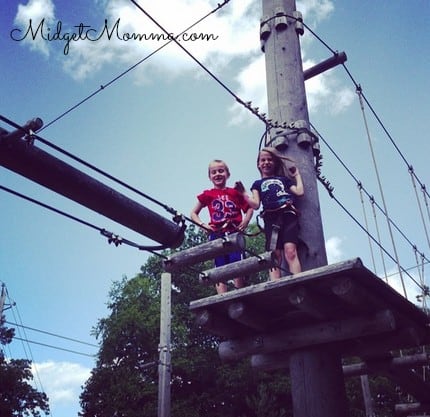 CamelBeach Adventures Activities
CLIMBING WALL
24' climbing wall with Safety harness with auto belay cable. Plus assorted hand and foot holds to accommodate various climb levels.
EURO BUNGEE
Safely jump and flip up to 20' in the air with Safety harness and attendants.
FREEFALL
Newest adrenaline attraction in Adventure Zone. Freefall tower offers two jump platform levels and Hollywood-style jump airbag.
MOUNTAIN MOUNTAIN COASTER 
Pennsylvania's only Mountain Coaster! A 4,500' steel-track single and double rider mountain coaster!
TREETOPS ADVENTURE COURSES
Multiple heart-pounding, adventurous obstacle courses set in a natural environment. More than 100 aerial obstacles, including zip lines, suspended bridges, scramble nets, swinging logs and more.
ZIP LINES
Zip through and OVER the trees 85' about the ground and Twin zip lines allow for racing.
4,000 ft. ZIP-FLYER
Longest twin Zip-Flyers in North America. Plus Race side-by-side and "fly" from the summit of Camelback Mountain.
MOUNTAIN SEGWAYS
Ride up to the top of Camelback Mountain on the Sullivan Sky Ride. Tour the Camelback Mountain trails on Segways equipped to traverse over brush and through rocky rails-to-trail pathways.
Looking for more fun in the Poconos? Check these out! 
Disclaimer: We were invited to try out Camelbeach's Adventures. No compensation was received and all opinions are 100% my own.