When you are going on a vacation part of you wants to get away from home and relax and enjoy but at the same time there are some amenities that while you are on vacation you kinda miss when you are in a normal hotel room. Things like separate rooms for people, a dining room, a living room and the kitchen (so dining out doesn't break your bank account) and lets not forget the washer and dryer!
When I took a trip to the Poconos with my kids back in July we stayed at Fernwood resort, they have awesome villas that are great for vacationing and being right in the beautiful Poconos with having the amenities that you like having at home.
The villa we stayed in had 2 bedrooms (each with a queen sized bed), 2 bathrooms, living room, dining room, full kitchen, a loft with 2 more beds and a washer and dryer. Each room had all the furnishings you would have at home, dressers, tvs and the kitchen is stocked with all the appliances and dishes you will need. It makes it really easy to vacation and have the comforts of being at home at the sametime. After arriving we took a quick trip to the grocery store to stock up on the items we would need for the meals I planned on making and then we set out to explore the rest of what the resort had to offer.
Fernwood Resort in the Poconos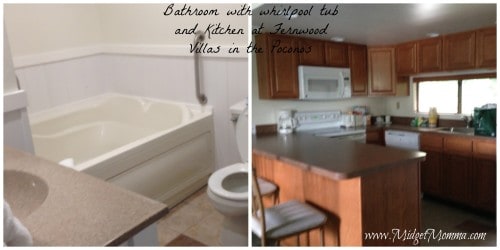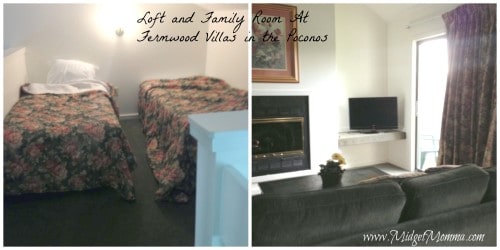 The villas are not the only thing Fernwood has to offer, you can make your whole vacation there if you wanted to. They have indoor and out door pools, which my kids loved and I really liked that they had a 1 foot wading pool that was indoors. It was perfect for the kids when Alyssa got overwhelmed with being in the big pool and not being able to swim by herself. They have activities each day at the activity center, each day it is a different craft and while we were there the kids got to design their own umbrellas which they thought was super cool, they have crafts for kids and for adults. Each day they have a kids camp, that you can send the kids to and its a great price to, just $15. The kids do crafts and activities and each day has its own theme. The kids wanted to go but sadly we ran out of time for them to do it but I am hoping there is a next time so they can. You can also do minigolf or check out the newest additions – Blue lightening Tubing (just like snow tubing but no snow needed!!), the TreeVentures course of climbing and ropes, horseback riding, golfing, or just take a relaxing walk around to see all the beautiful outdoors.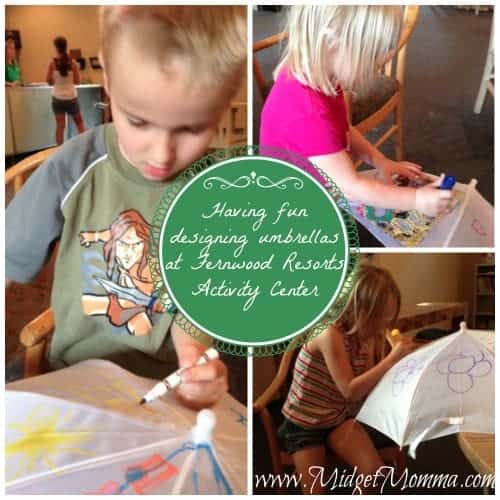 If you are hungry there are 2 places to eat while at Fernwood, Wintergreens and We ate at both places and enjoyed the selection and quality of the food. They had menu items that were great for the adults and for the kids. You can eat in the restaurants or take your food to go and enjoy it in the Villa you are staying in.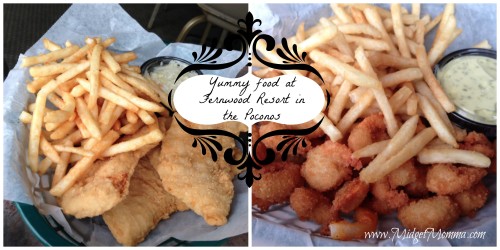 Fernwood is nestled in the Pocono Mountains up route 209 and close enough to get to other attractions you might want to visit but far enough away from the hustle and bustle that you can enjoy the peace, quiet and beauty of the Pocono Mountains.
Looking for more fun in the Poconos? Check these out! 
Disclaimer: I was provided a Villa to stay in, Activity and food vouchers to review the Fernwood Resort. No compensation was received and all opinions are 100% my own.