This Caramel Turtle Chocolate Poke Cake will be sure to delight young and old alike. This chocolate poke cake starts with a homemade buttermilk chocolate cake, then homemade caramel sauce that is poured on top of the cake, the cake is then topped with homemade caramel buttercream frosting, pecans, and a drizzle of caramel sauce for the most amazing chocolate poke cake ever.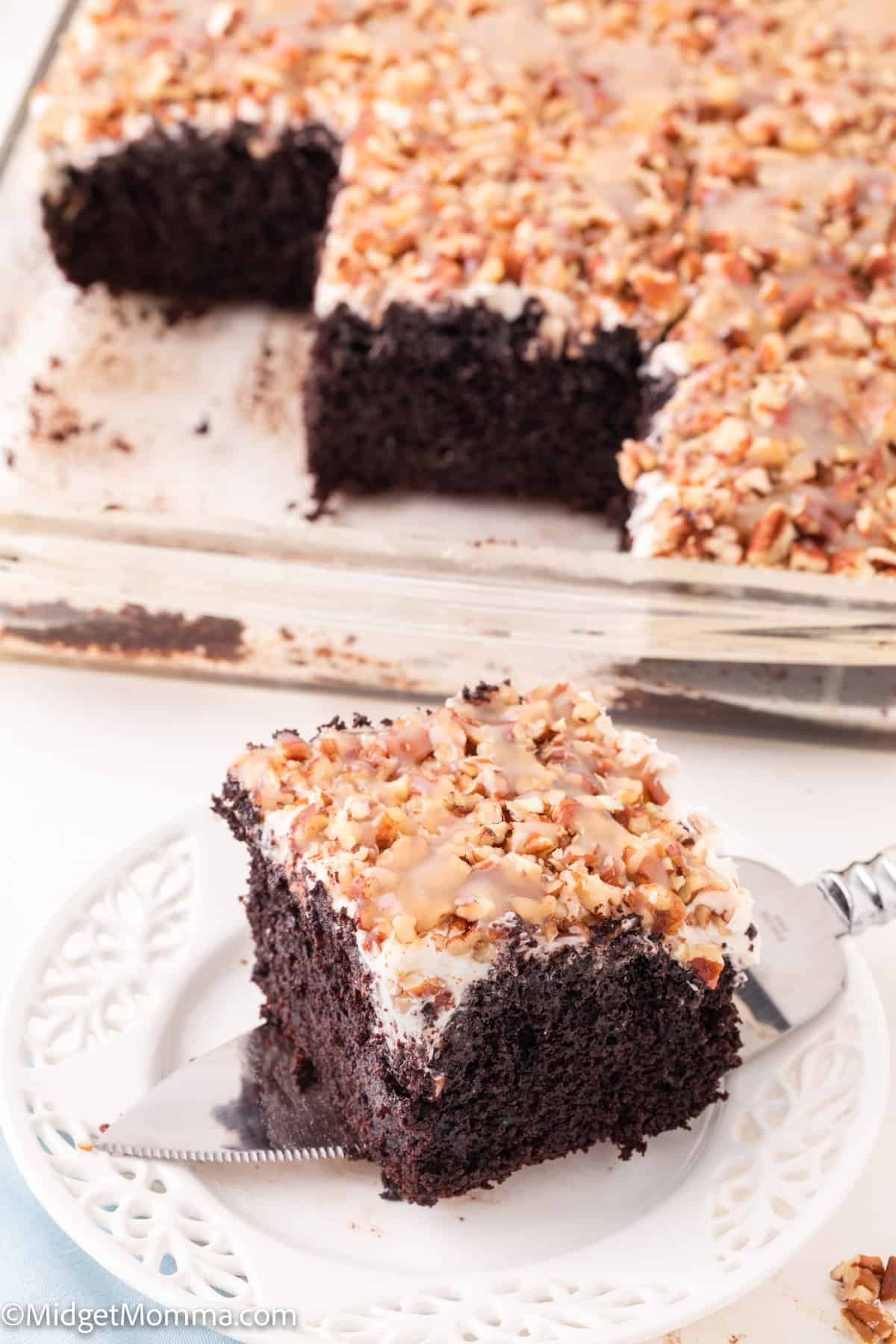 Caramel Turtle Chocolate Poke Cake
If you love caramel turtle candy or the combination of chocolate and caramel then you are going to love this chocolate poke cake recipe that we have made with a fun twist. All the flavors of turtle candies that you love in a sweet dark chocolate cake.
It has the rich smooth taste of the caramel and the dark chocolate cake to complement it and the pecans to add some crunch and texture. The combination is delicious and will leave your family and guests asking for more. It happened in my house so I am sure it will happen in yours too.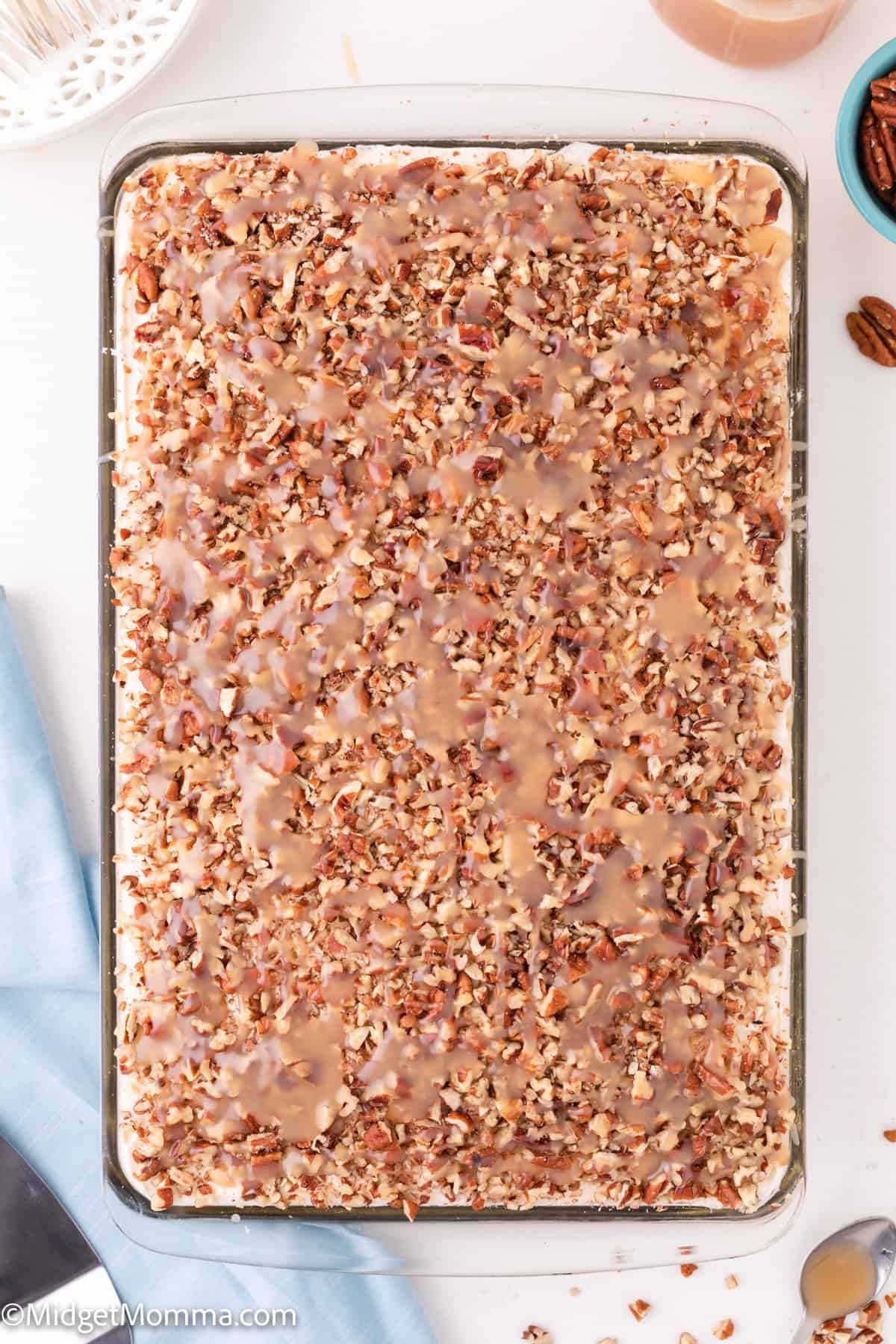 This cake is an adaptation of the 70's poke cakes made popular by Jello for their puddings and jellos, but here we are using a rich caramel sauce to soak into the dark chocolate cake. Make or bring this to a holiday event and you are sure to please everyone except maybe Scrooge (LOL – maybe don't invite him).
I love the combination of chocolate, pecans, and caramel and this poke cake is my newest love and I am sure you are going to love it too.
Chocolate Turtle Dessert Recipes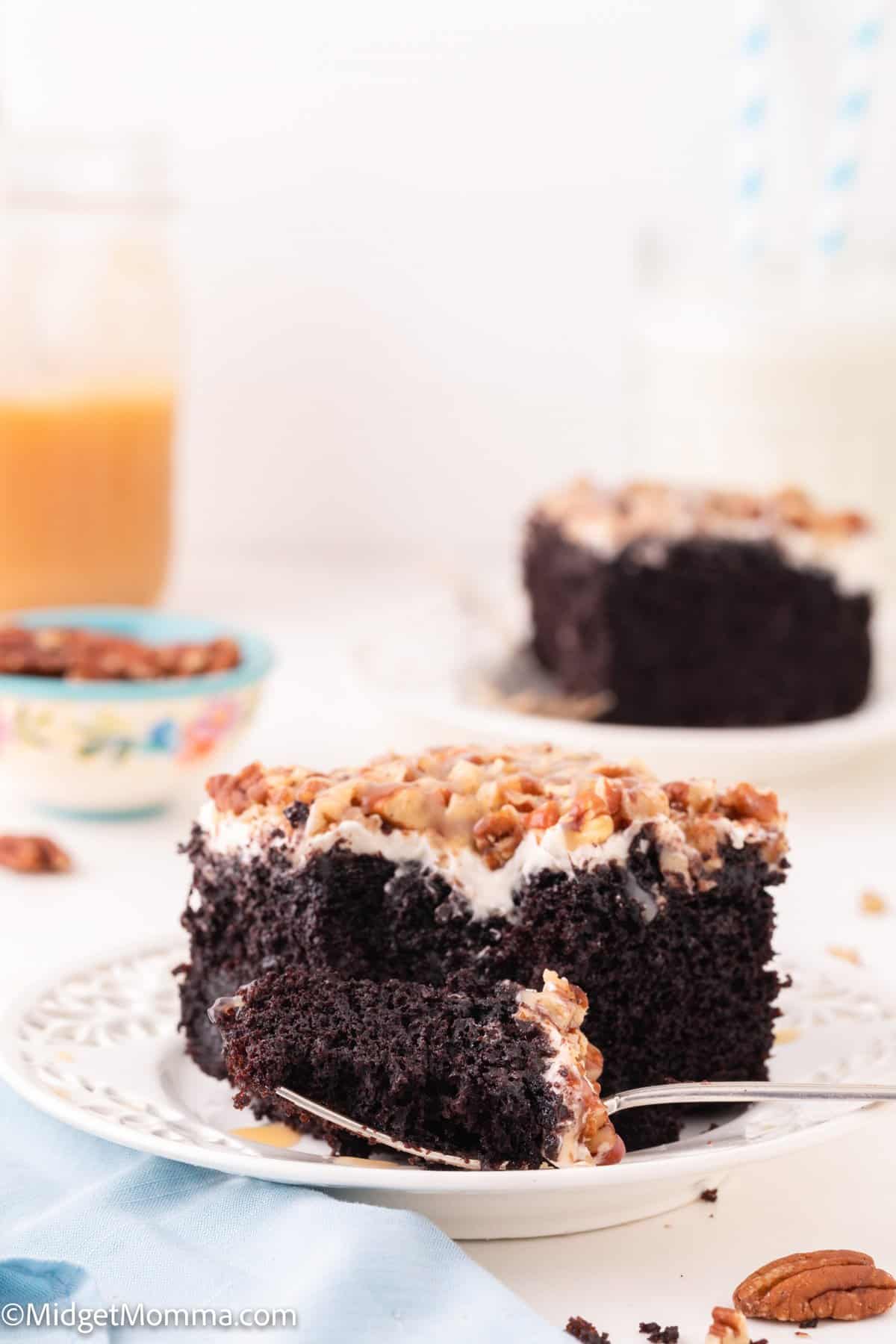 What is a chocolate caramel turtle?
Chocolate turtles are a tasty candy that is made with caramel, chocolate, and pecans. This chocolate poke cake recipe is a tasty twist on that classic homemade candy.
What is a Poke Cake?
A poke cake is a baked cake that after being done has holes punctured in it. Those holes are then filled by pouring filling on top of the cake that goes into the holes making the cake have the flavor thru out the cake. The cake is then topped with frosting like you would any normal cake. Traditionally a poke cake is filled with Jello, however, we made a fun twist and filled this chocolate cake with caramel sauce.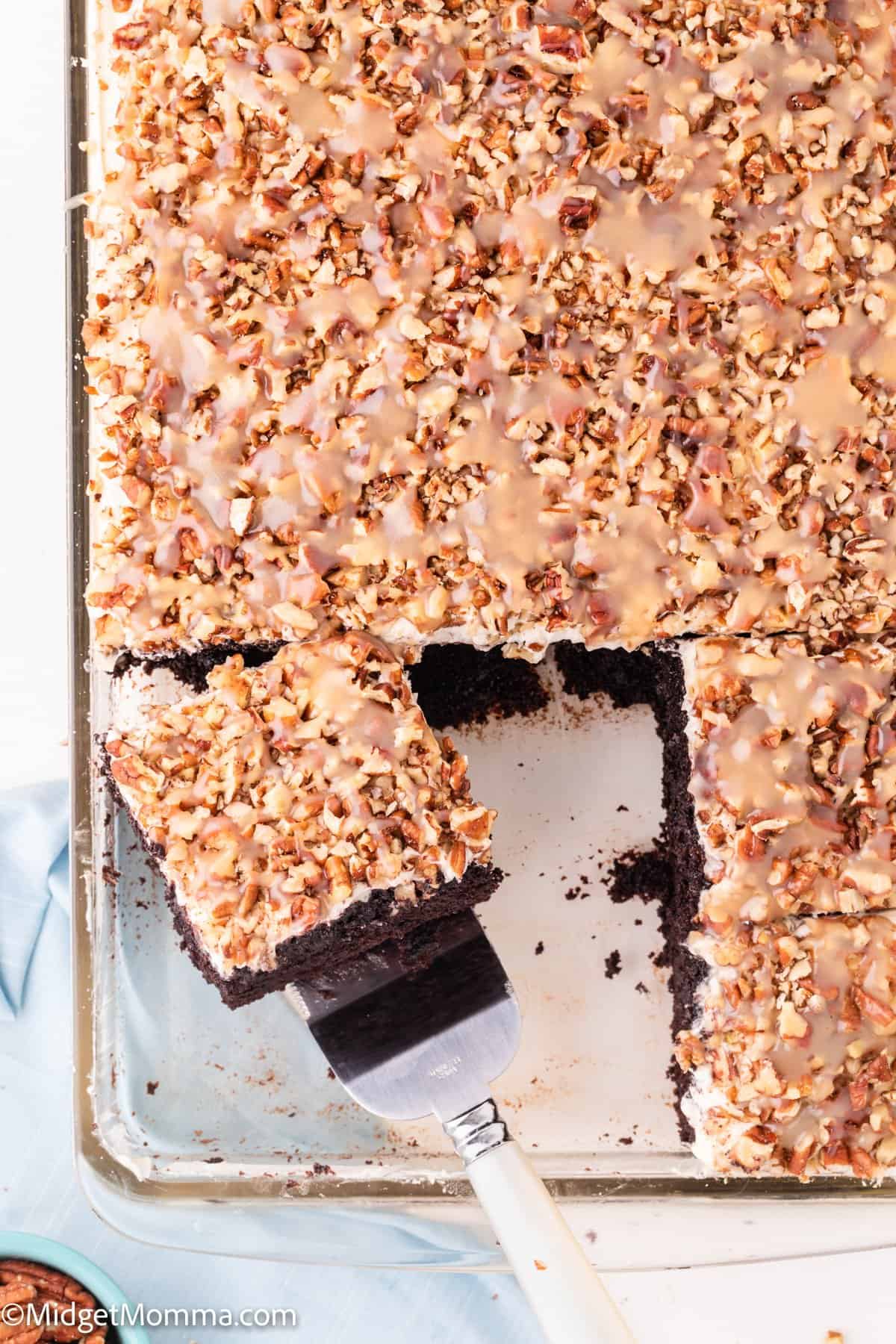 Do I need to make my own caramel sauce for this?
Making your own caramel sauce will take a little bit more time than using store bought, but it is soooo good and easier than you think. That being said, if you prefer, it is perfectly okay to use store bought. Just make sure to get a good quality caramel like this Ghiradelli one. At 17 oz, it will give you enough sauce for the frosting and the cake. (1 cup for the frosting, 3/4 cup to soak the cake, and 1/4 cup to drizzle on top).
How many poke holes do I need and how big should I make them?
The number of poke holes you make can be varied. At a minimum, I would suggest 12. I used more to ensure the caramel would soak in more evenly. As this cake is dark and the sauce lighter, you will not be able to see where the caramel soaked in but it will taste so good. Depending on your wooden spoon, the stem can be quit thick, so in that case, I prefer to use a larger straw so that my holes don't become huge. I would recommend making them somewhere around a 1/4 inch which will allow you to have more holes.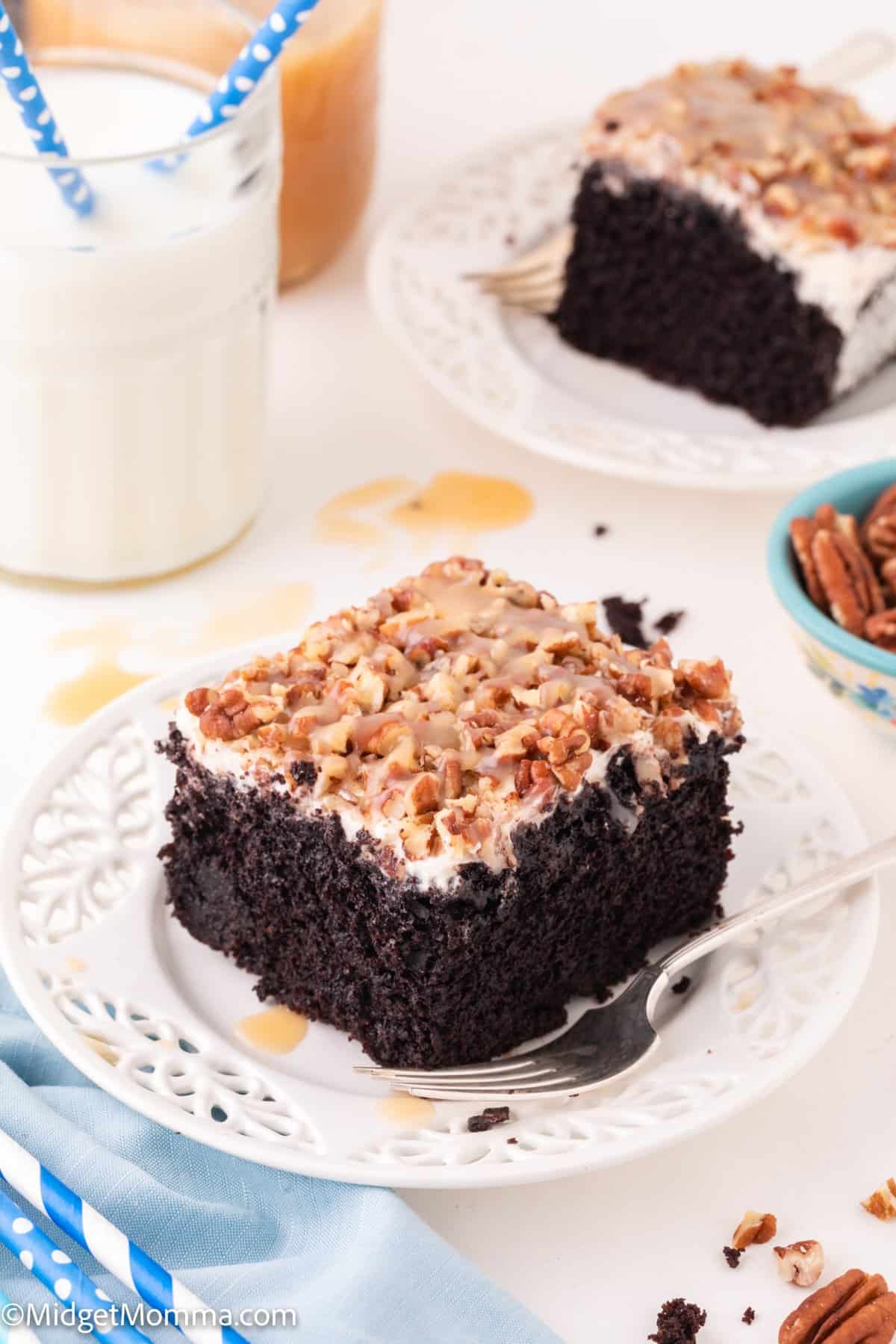 My caramel sauce is really hard and won't pour, what's the best way to heat it up?
If your caramel sauce has firmed up or was in the refrigerator, let it come to room temperature and stir. If it is still too thick, you can heat it in the microwave at 50% power and in 20 second increments. You want the caramel to be liquid but not warm or boiling. For the frosting, your caramel sauce should not be warm nor hot as it will impact the texture of your frosting. It is okay to add the caramel sauce to the frosting if it is o the firmer side as you will be whipping it into the frosting.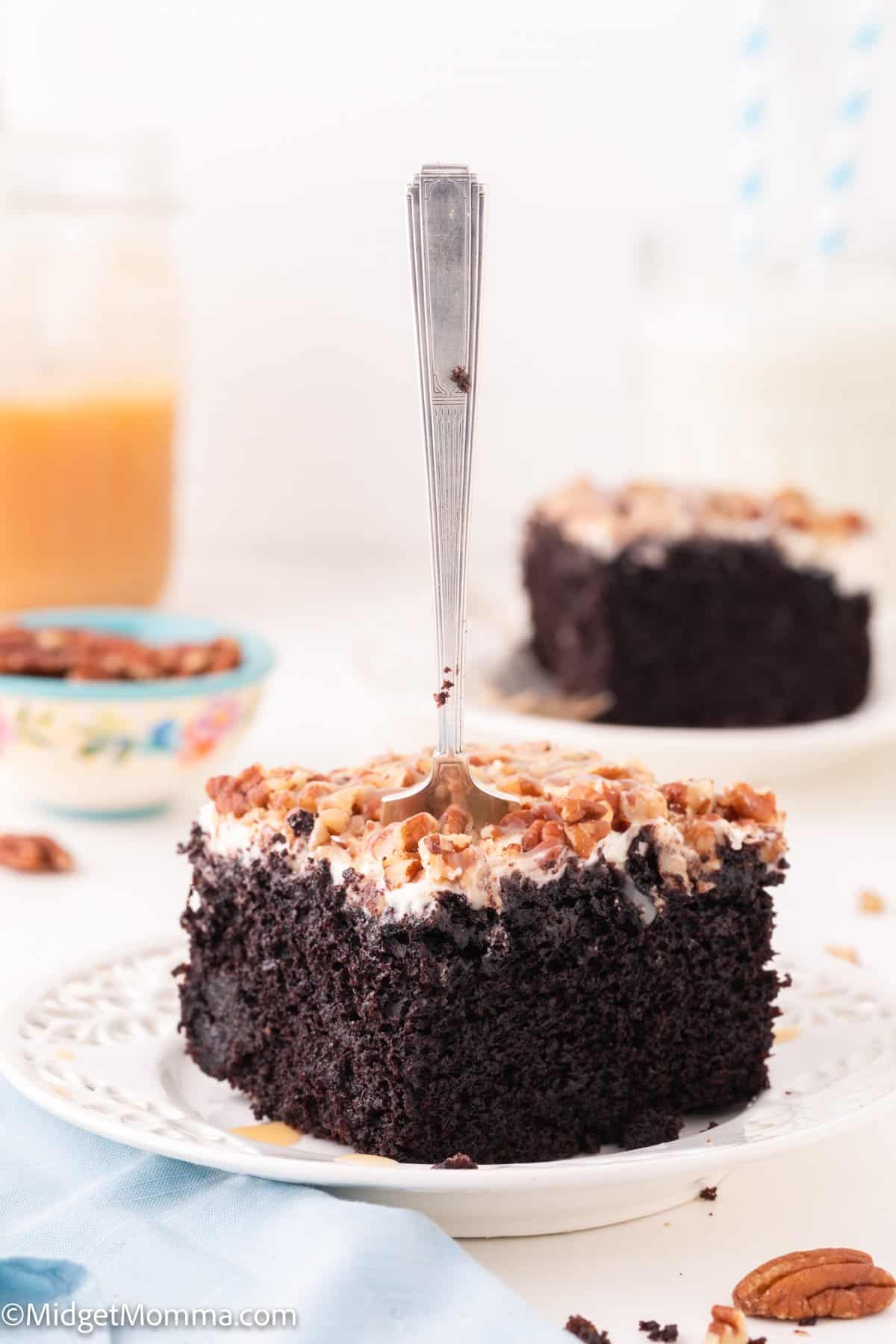 How to store Leftovers
After making the cake you can store any leftovers in the fridge. Cover the cake pan with plastic wrap tightly and then store in the fridge. This chocolate poke cake can be stored in the refrigerator for 2-3 days.
Can I Make this cake ahead of time?
This cake is a great cake to make ahead of time and freeze to enjoy later. You can make the whole cake frosting and all and freeze it or you can freeze it unfrosted and with out the caramel after baking and then add the frosting and toppings after it has thawed.
This cake can be frozen for up to 2 months. When thawing, open the covering or saran wrap to allow for ventilation. Note:  the caramel sauce will be firm from freezing, bring to room temperature 1 hour before serving.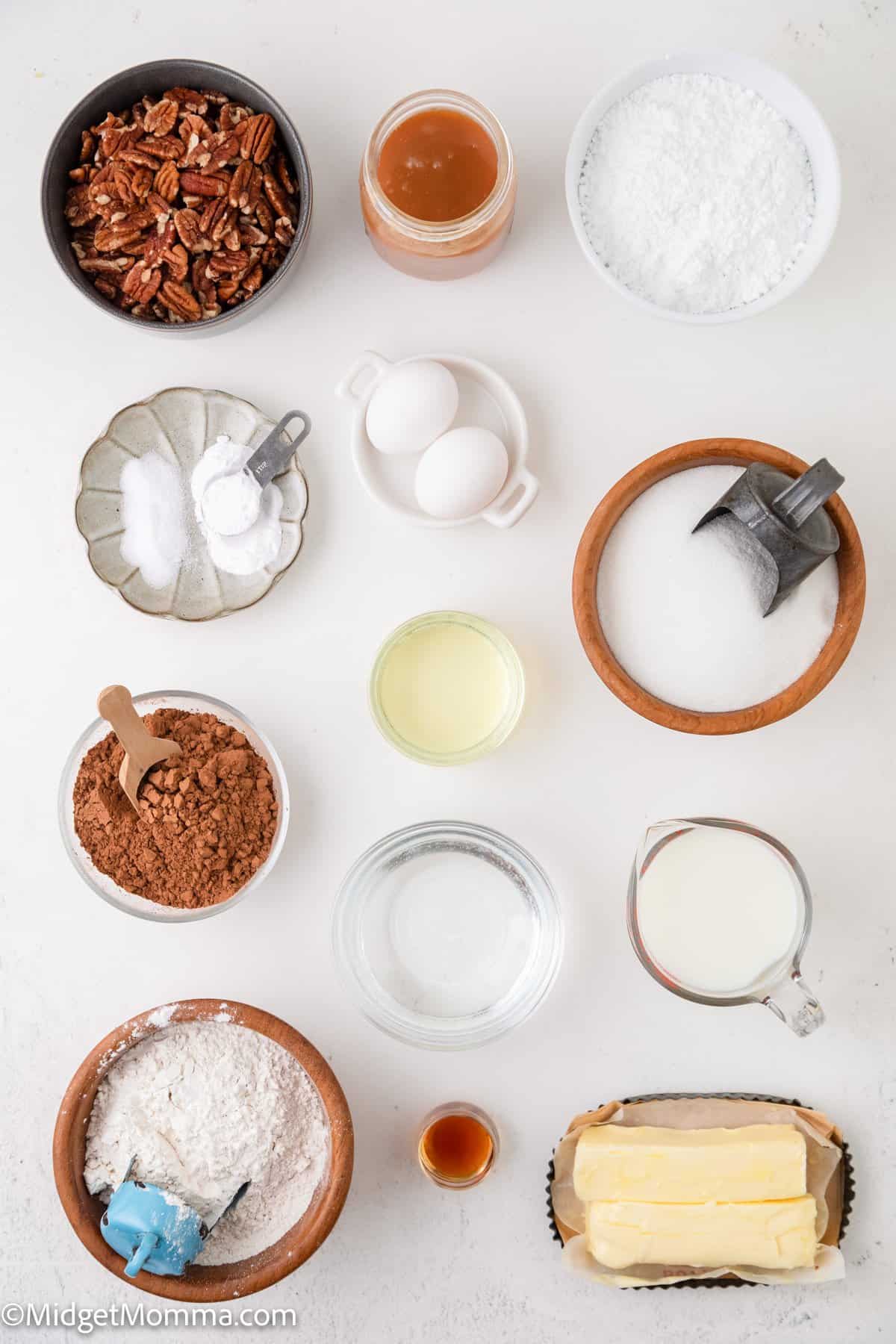 Caramel Turtle Chocolate Poke Cake Ingredients
Homemade Caramel sauce. You can use homemade caramel sauce storebought caramel sauce. I personally prefer to use homemade caramel sauce as I prefer the flavor, but in a pinch store bought caramel sauce will work too.
Homemade chocolate cake. You can use any homemade chocolate cake recipe as the chocolate layer, however I think the buttermilk chocolate cake is the best for flavor when making this turtle poke cake.
Homemde Caramel Buttercream Frosting. Homemade buttercream is the best and it is easy to make, for this recipe you will need a batch of homemade caramel buttercream frosting.
Pecans. Chopped pecans are best, if you can not find chopped pecans you can use whole pecans and toss them into a food processor to chop them up.
How to Make Caramel Turtle Chocolate Poke Cake
First, you will make and bake the buttermilk chocolate cake.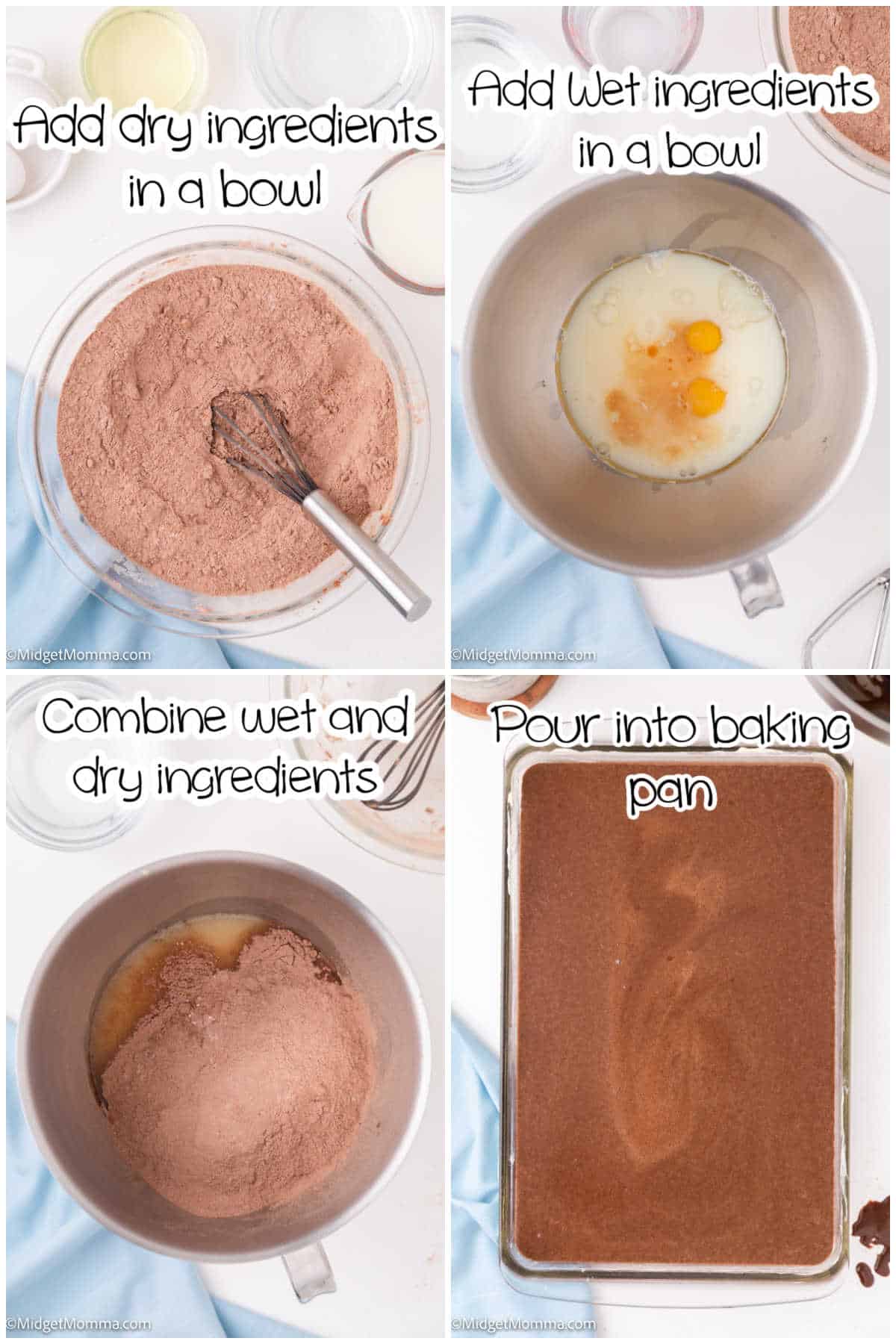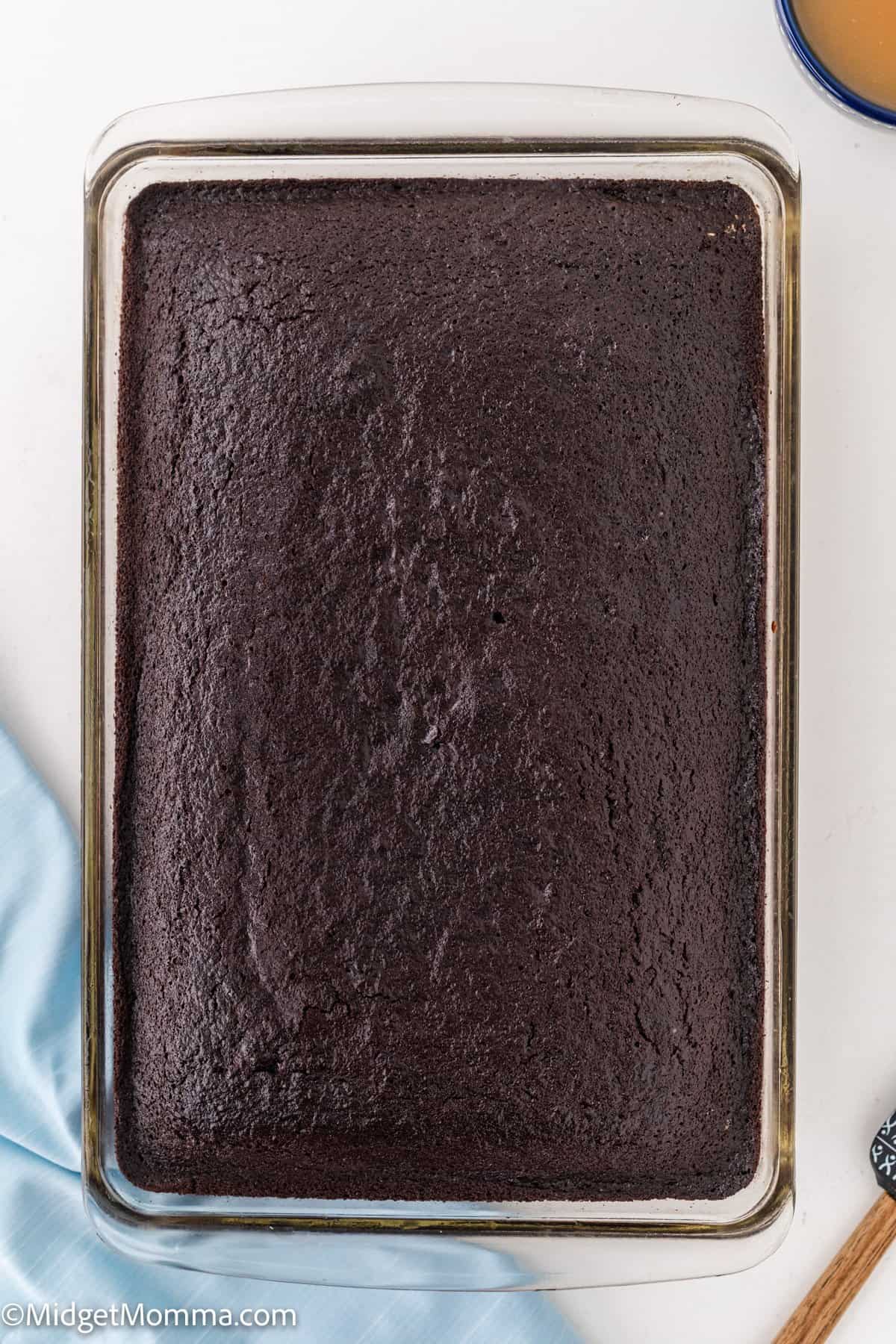 If you do not have any homemade caramel sauce, make that while the cake is baking in the oven. Use this homemade caramel sauce recipe.
Remove the cake from the oven when it is done baking and before the cake has cooled using a wooden spoon poke holes all over the cake.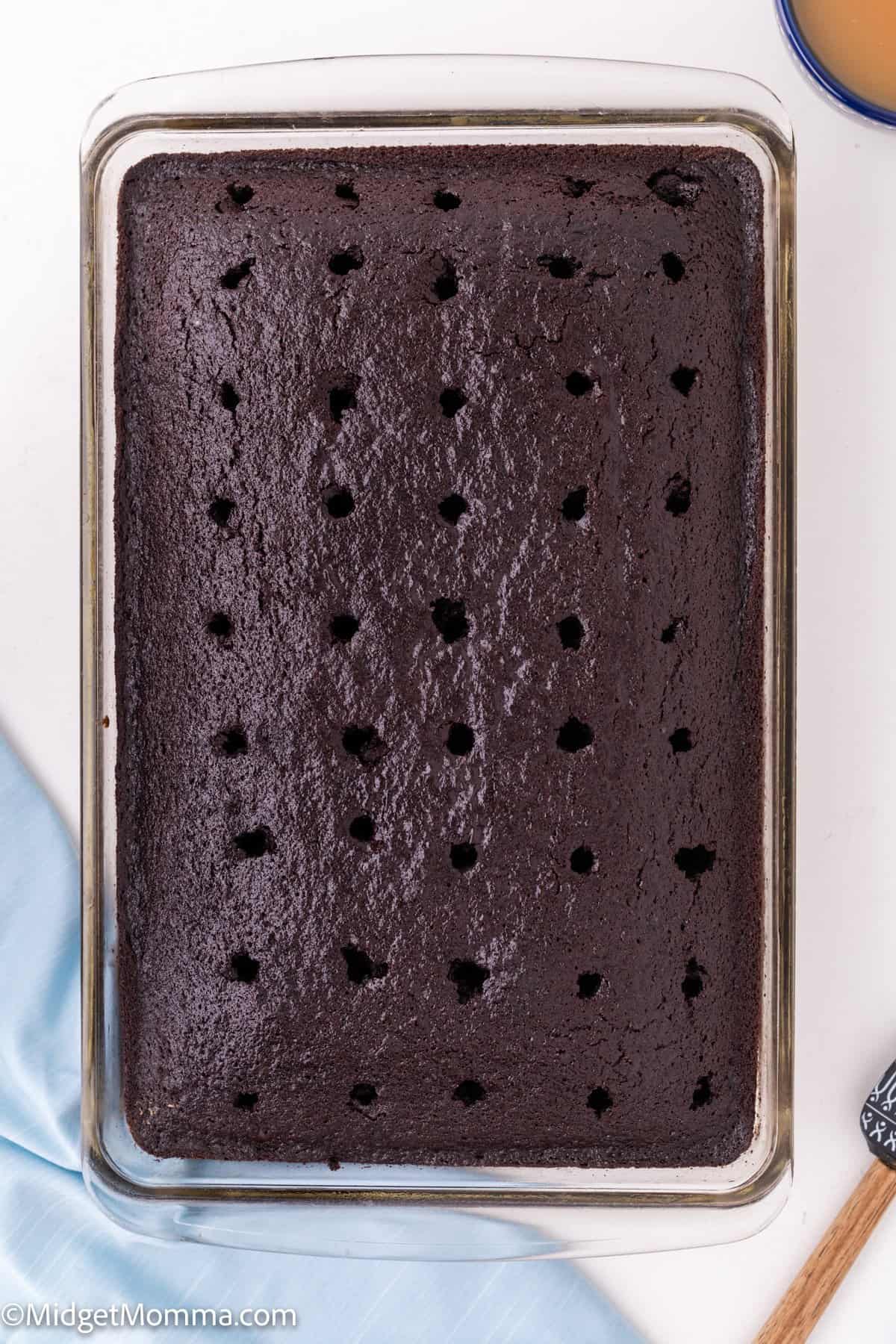 Warm the caramel sauce and pour it all over the cake.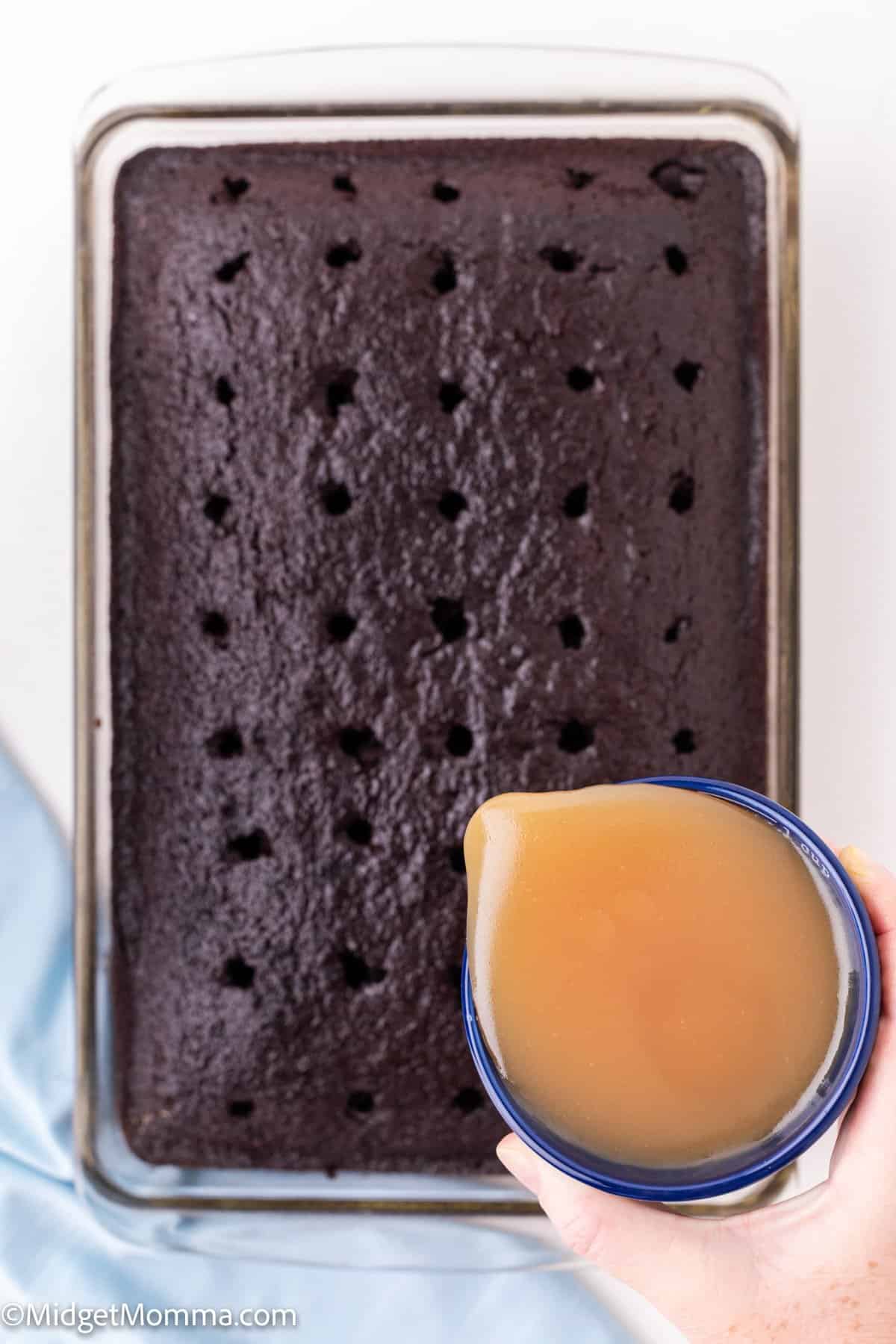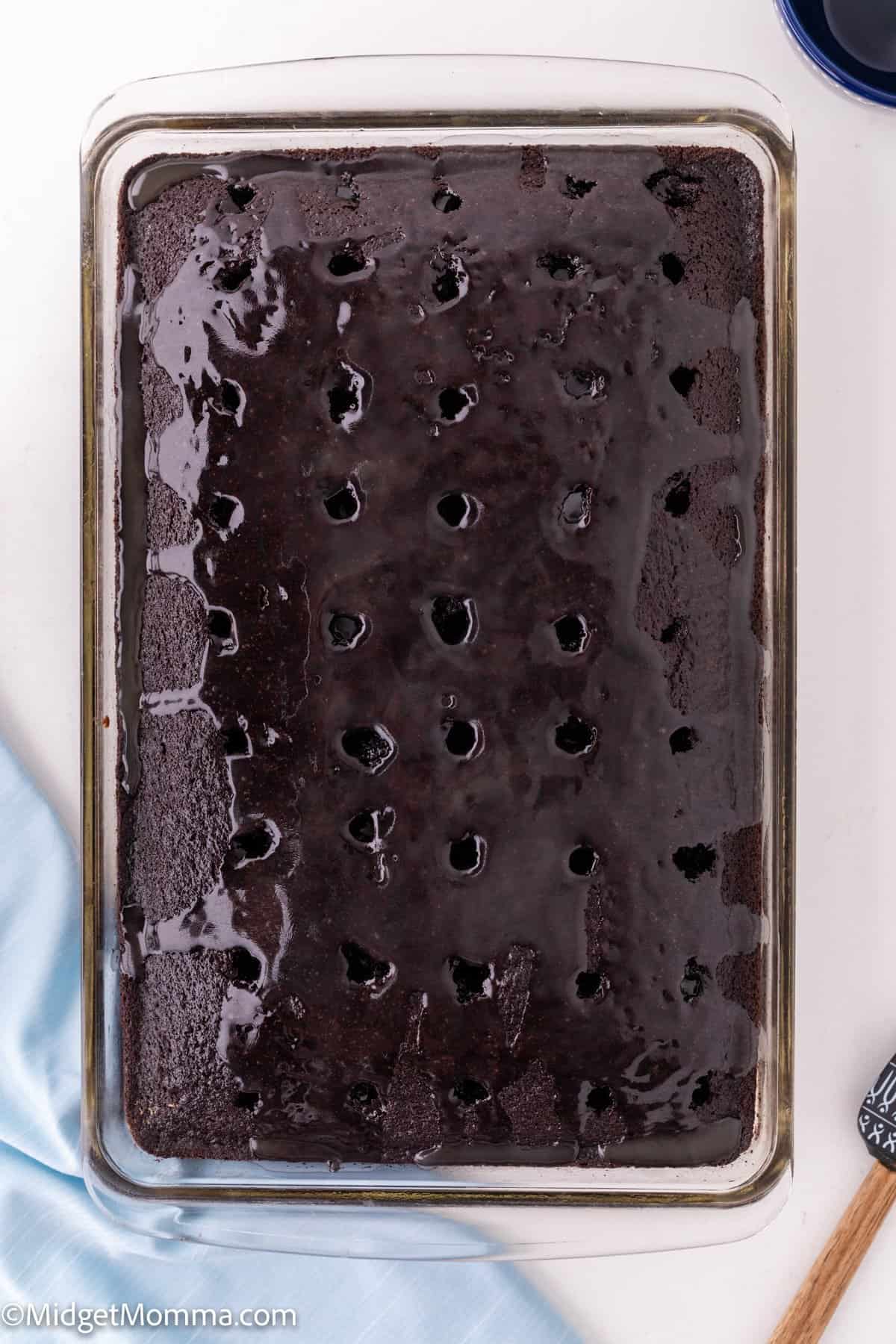 Allow the cake to cool and while the cake is cooling make the homemade caramel buttercream frosting.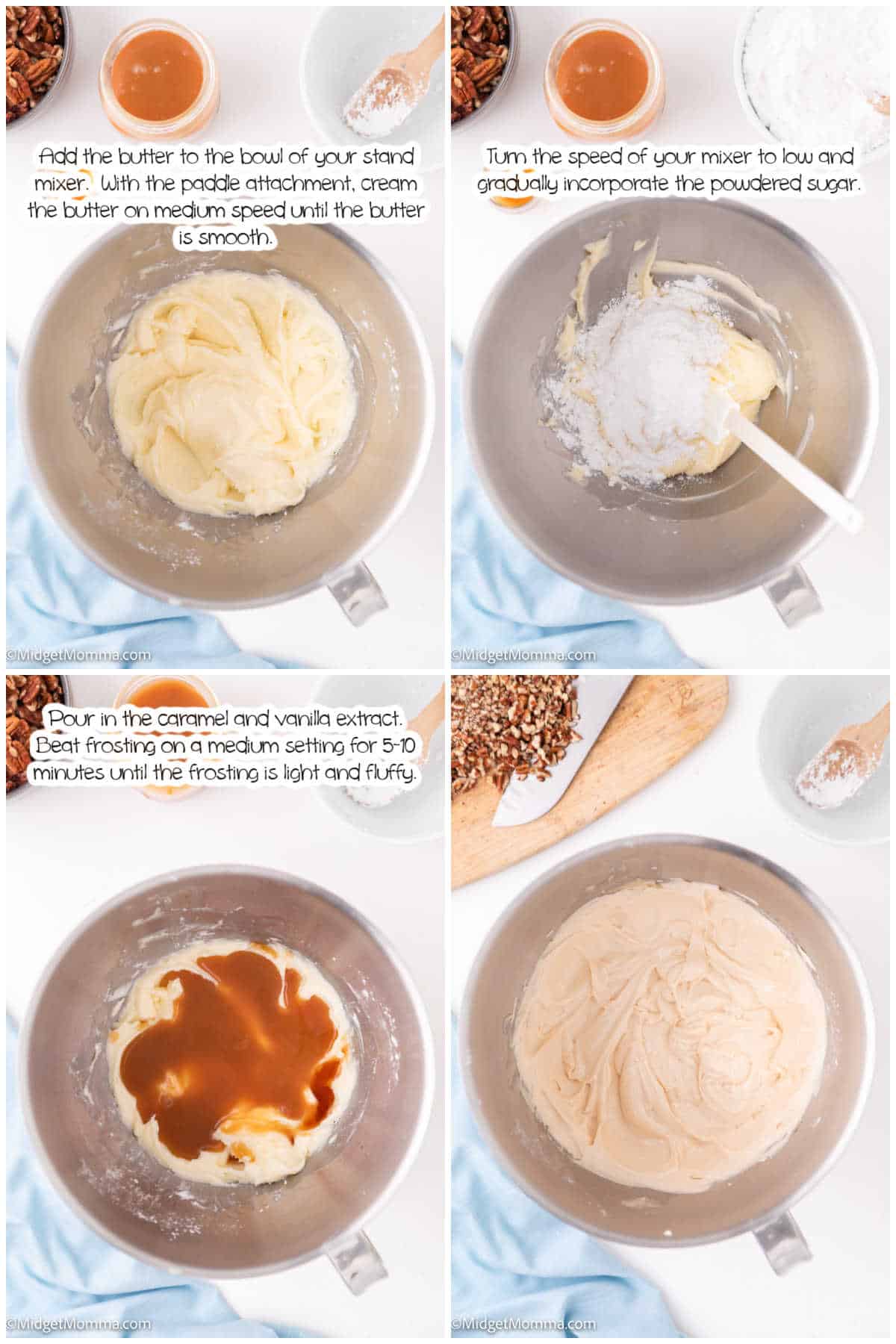 Frost the chocolate cake with the caramel buttercream.
Sprinkle the chopped pecans on top. Add a drizzle of caramel sauce on top.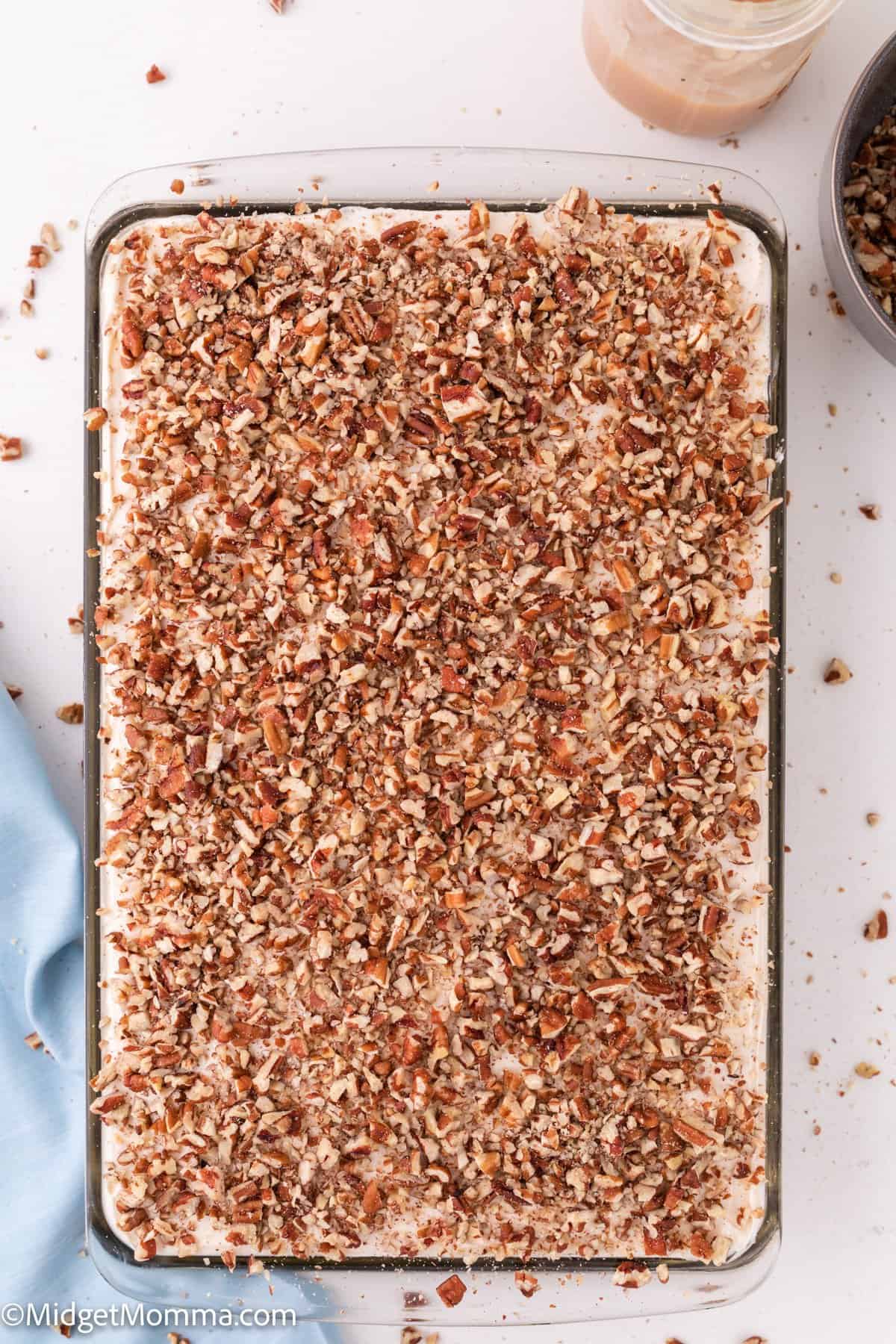 Easy Cake Recipes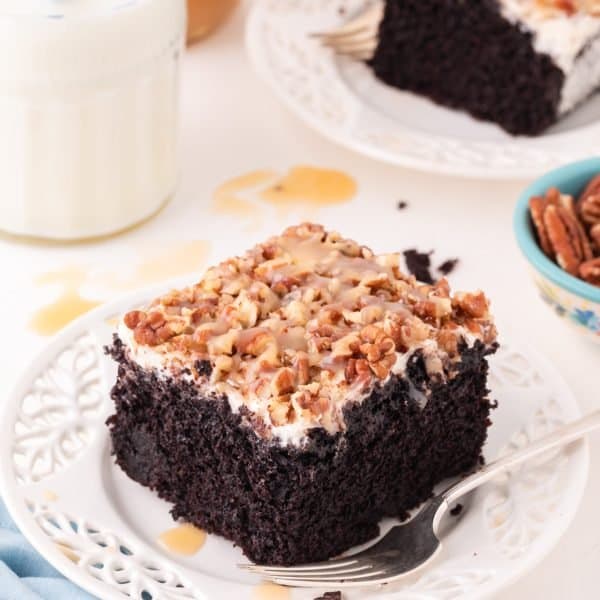 Caramel Turtle Chocolate Poke Cake
Servings
This chocolate poke cake starts with a homemade buttermilk chocolate cake, then homemade caramel sauce that is poured on top of the cake, the cake is then topped with homemade caramel buttercream frosting, pecans, and a drizzle of caramel sauce for the most amazing chocolate poke cake ever.
Ingredients
Buttermilk chocolate Cake Ingredients
Caramel buttercream Ingredients
Poke Cake Filling and Topping Ingredients
Instructions
How to Make Chocolate Cake
Preheat oven to 350 degrees. Grease your 9×13 pan, preferably glass.

Add together the flour, sugar, cocoa, baking soda, and salt in a bowl and combine with a whisk.

Add the eggs, buttermilk, oil, and vanilla into the bowl of your stand mixer, and using the paddle attachment mix together on medium-low.

Add the dry ingredients to the buttermilk mixture.

Mix together well until fully incorporated.

Boil your water and add a small amount to the batter, give it a quick stir and add the remaining boiling water and mix together.

Pour batter into the 9×13 greased pan.

Bake at 350 for 30-35 minutes or until a toothpick comes out clean when inserting into the center of the cake.
How to Make Caramel Buttercream Frosting
Add the butter to the bowl of your stand mixer.  With the paddle attachment, cream the butter on medium speed until the butter is smooth.

Turn the speed of your mixer to low and gradually incorporate the powdered sugar.

Pour in the caramel and vanilla extract.

Beat frosting on a medium setting for 5-10 minutes until the frosting is light and fluffy.
How to Assemble the Cake
Let the caramel sauce come to room temperature or if firm, microwave for 15-20 seconds or as needed till soft and pourable.

When done baking the cake, use the end of a wooden spoon (not too thick) to poke 12-18 holes into the cake going across and down the cake.

Pour 1 cup of caramel sauce over the cake while it is hot.  If the sauce has thickened, microwave for 20 or 30 seconds to soften at 50% power.  Do not boil.

Set the cake aside to cool completely; ideally overnight in the refrigerator.

Once the cake is cooled spread a layer of the caramel buttercream frosting on top.

Chop the pecans and sprinkle them on top of the frosting

Drizzle with 1/2 cup of caramel sauce.
Calories: 560kcal | Carbohydrates: 86g | Protein: 6g | Fat: 25g | Saturated Fat: 10g | Polyunsaturated Fat: 4g | Monounsaturated Fat: 10g | Trans Fat: 1g | Cholesterol: 56mg | Sodium: 568mg | Potassium: 210mg | Fiber: 4g | Sugar: 44g | Vitamin A: 478IU | Vitamin C: 1mg | Calcium: 65mg | Iron: 2mg
cake, Dessert