If you are planning a family trip to Fort Lauderdale Florida then you are probably wondering what is there to do in Fort Lauderdale for families? I am happy to tell you there is a lot of family fun to have in Fort Lauderdale Florida for families with kids of all ages.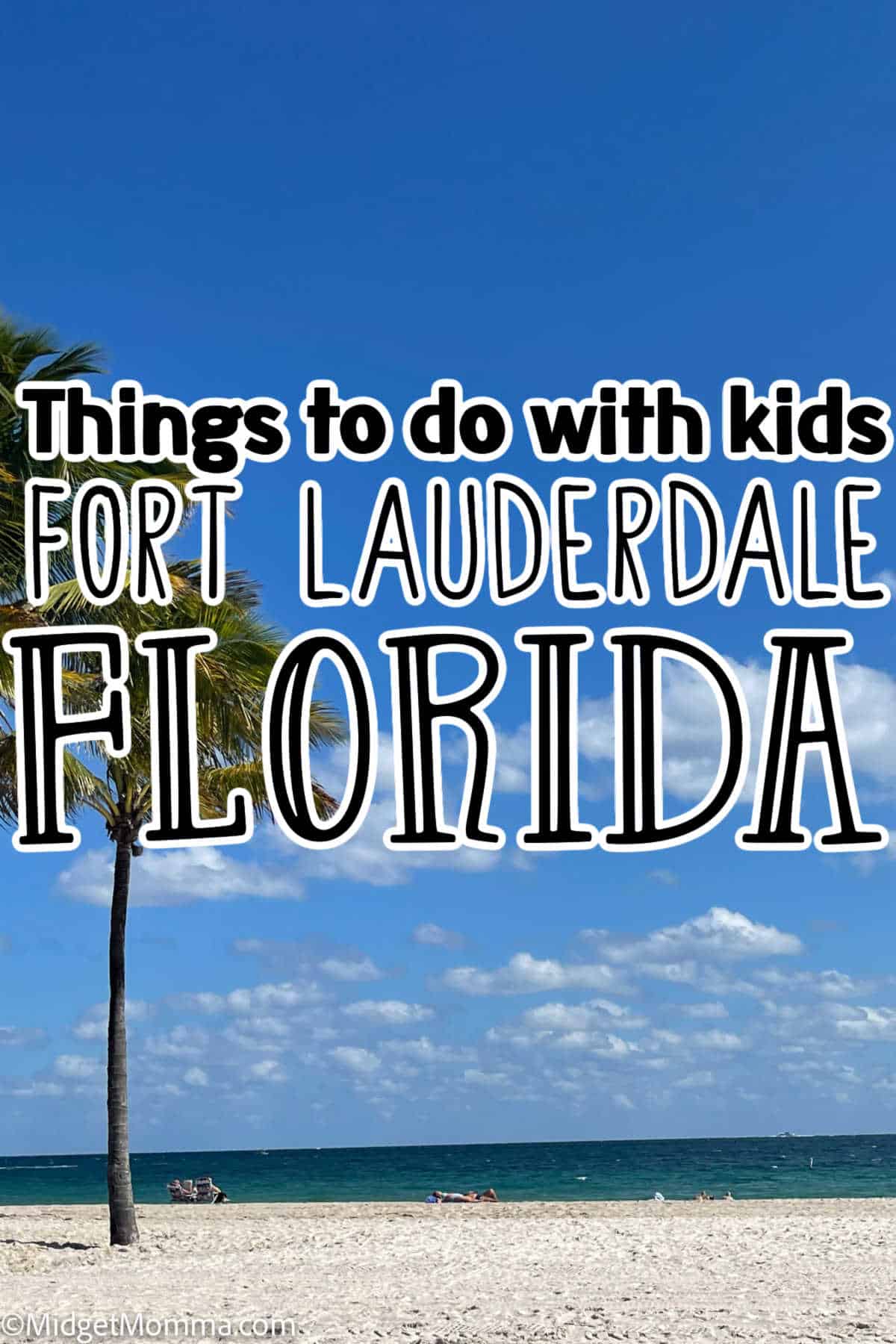 Is Fort Lauderdale a good place to take kids?
Yes! Taking the kids to Fort Lauderdale is a great family vacation spot. There is so much to do right in the city and beach area and within driving distance that you can pack each day with as much fun or relaxing as you want to. We had a ton of fun and there was so much more to do than we got the chance to, so in our opinion, Fort Lauderdale Florida is a great place to take kids.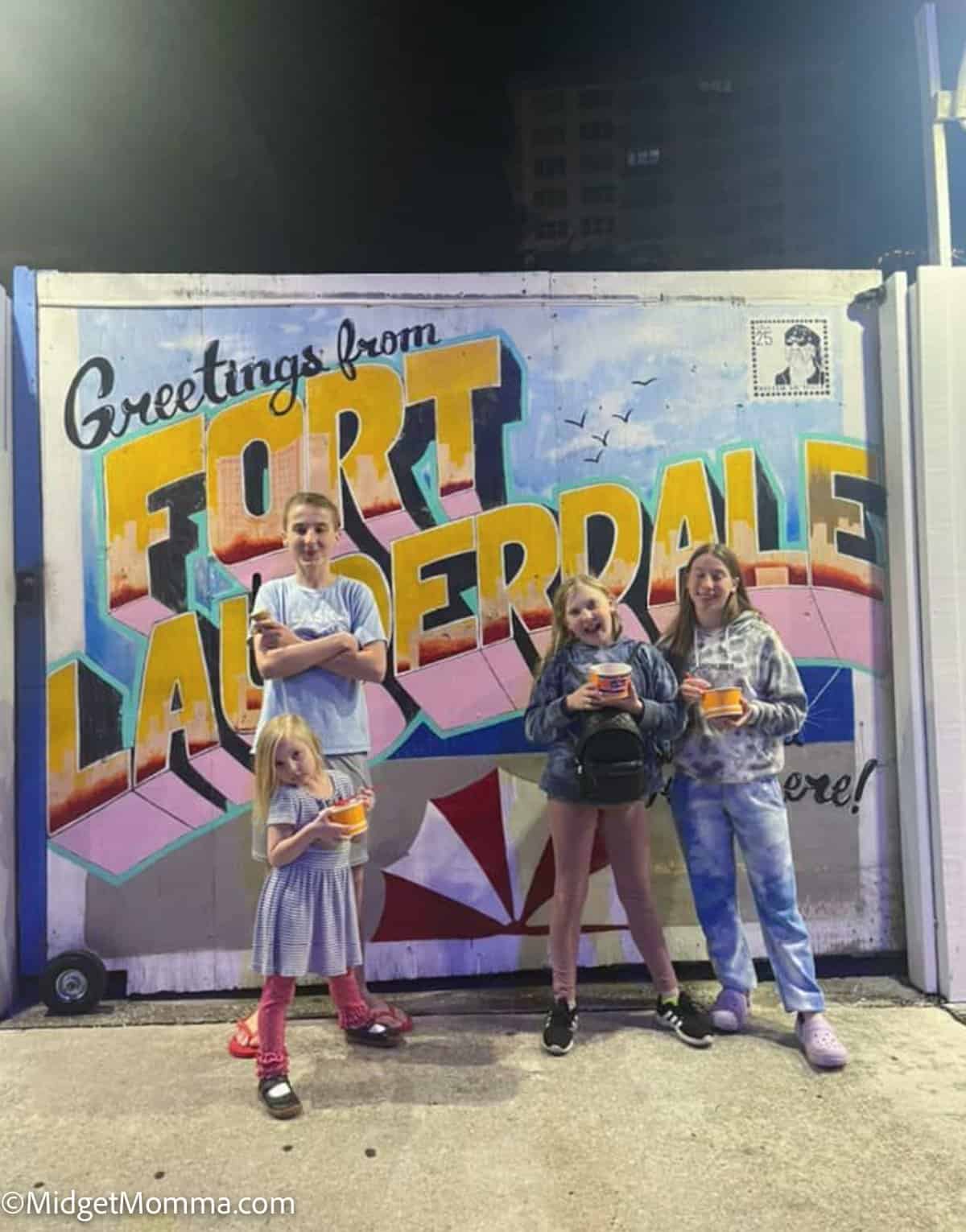 Things to do with kids in Fort Lauderdale Florida
Deciding on if you want to be inside or outside for your travels will help with your activity planning when you take the kids to Fort Lauderdale Florida. I highly recommend enjoying the beautiful weather outside but be prepared for a little bit of rain some days and plan for some indoor Fort Lauderdale activities as well as outdoor Fort Lauderdale activities.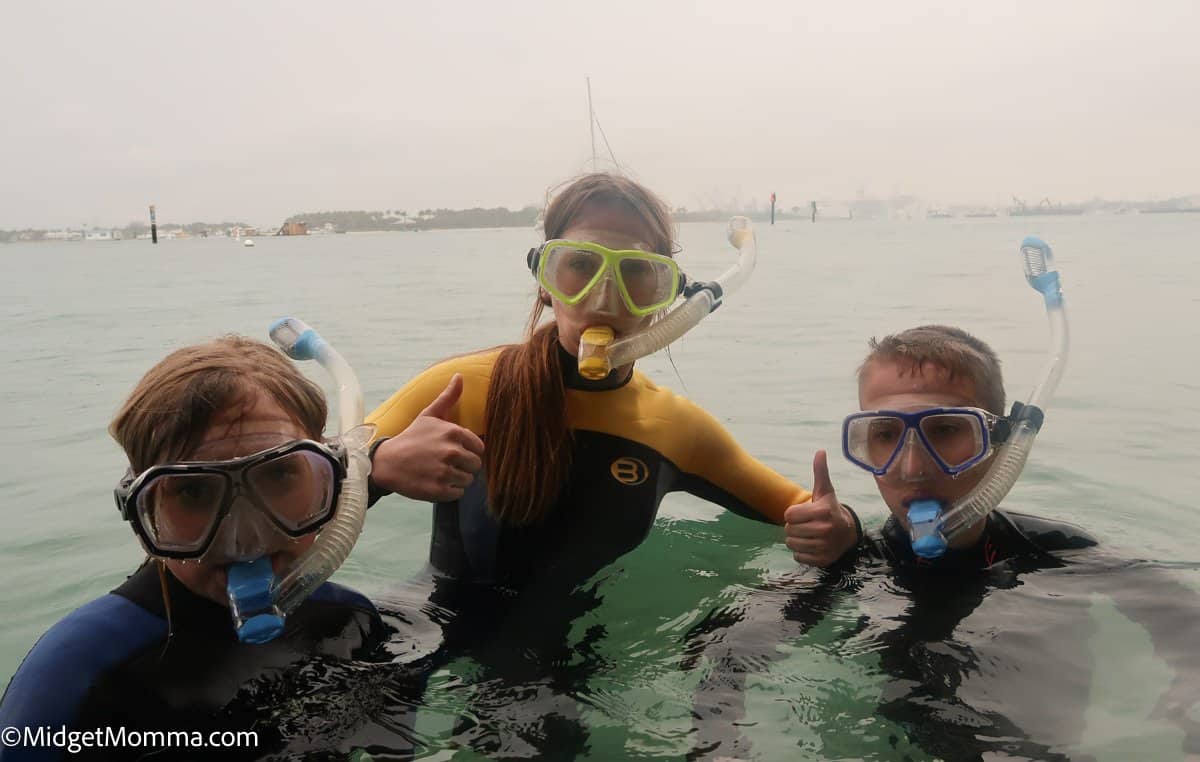 Snorkling in Fort Lauderdale Area
With crystal clear waters snorkeling should be a must do on the list of things to do in Fort Lauderdale. You have many options for going snorkeling from private lessons, private tours, and boat rides that take you snorkeling. When looking for snorkeling options I found lots of deals and snorkeling boat tours on Groupon. When you go snorkeling there are many places that are in the Fort Lauderdale area and a bit further away.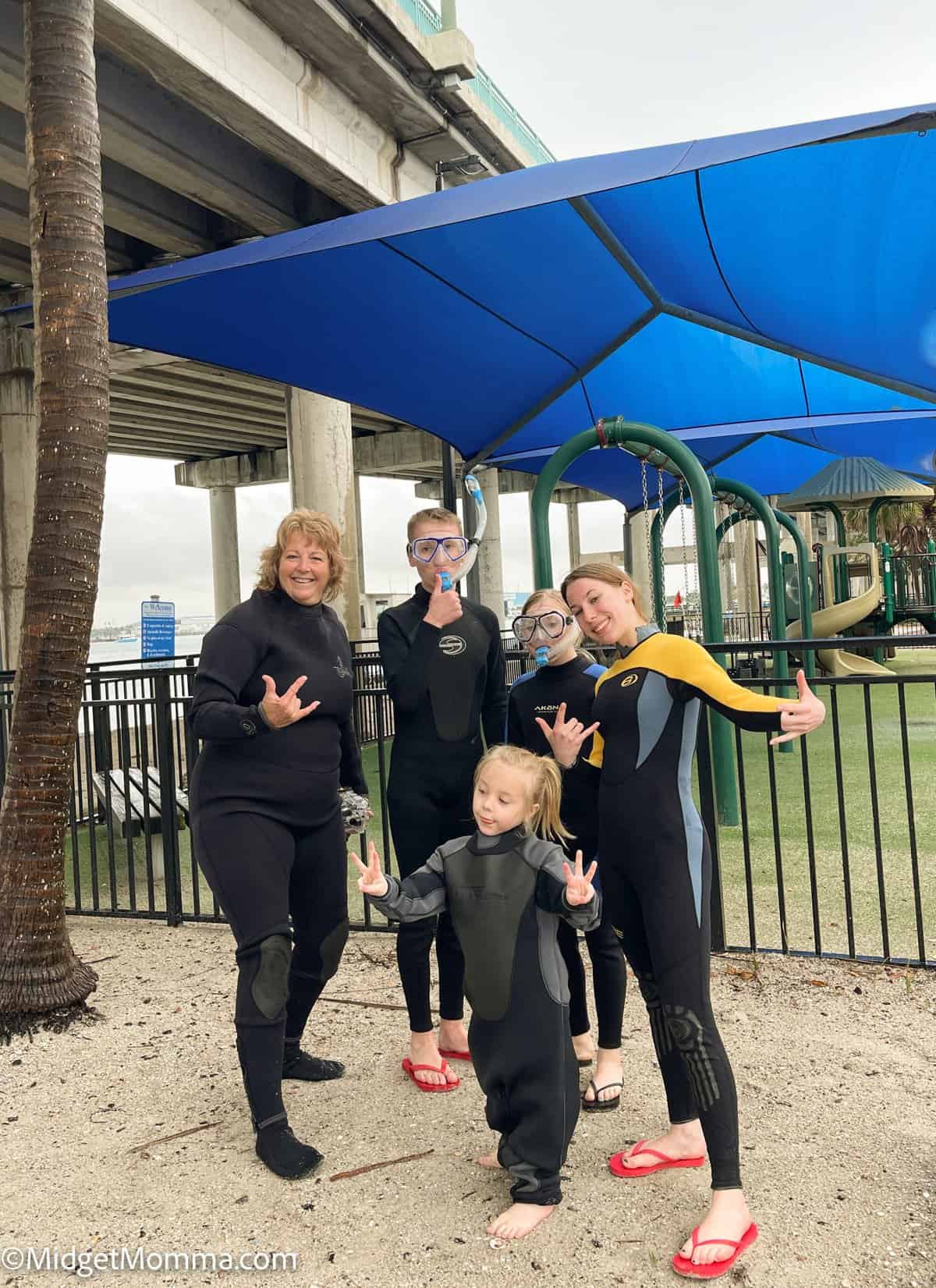 We opted for a private snorkeling lesson and tour with Laura Parke who took us to Phil Foster Park. While it is a bit of a drive from Fort Lauderdale it was well worth it. Laura met us there, gave us a full instructional how-to on using the equipment (which she provides all of it), and then the older 3 kids went on the snorkeling trail with her. Hannah being only 5 stayed with me and practiced using her snorkel and just being in the water getting used to having a wetsuit and gear on.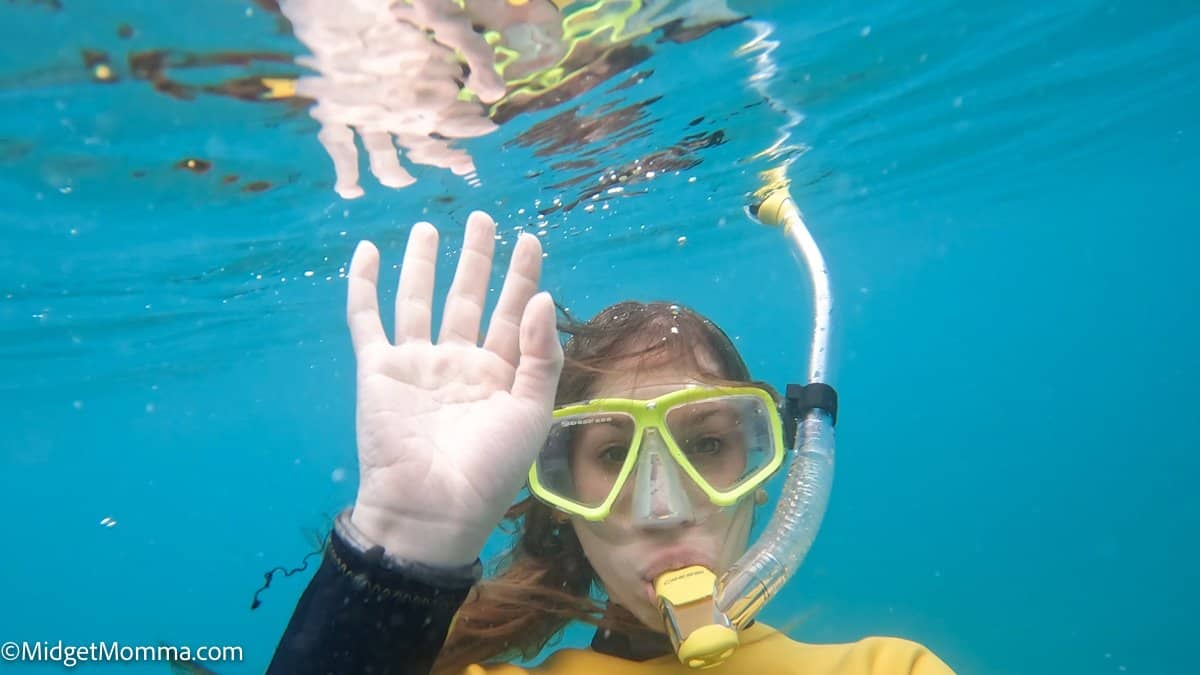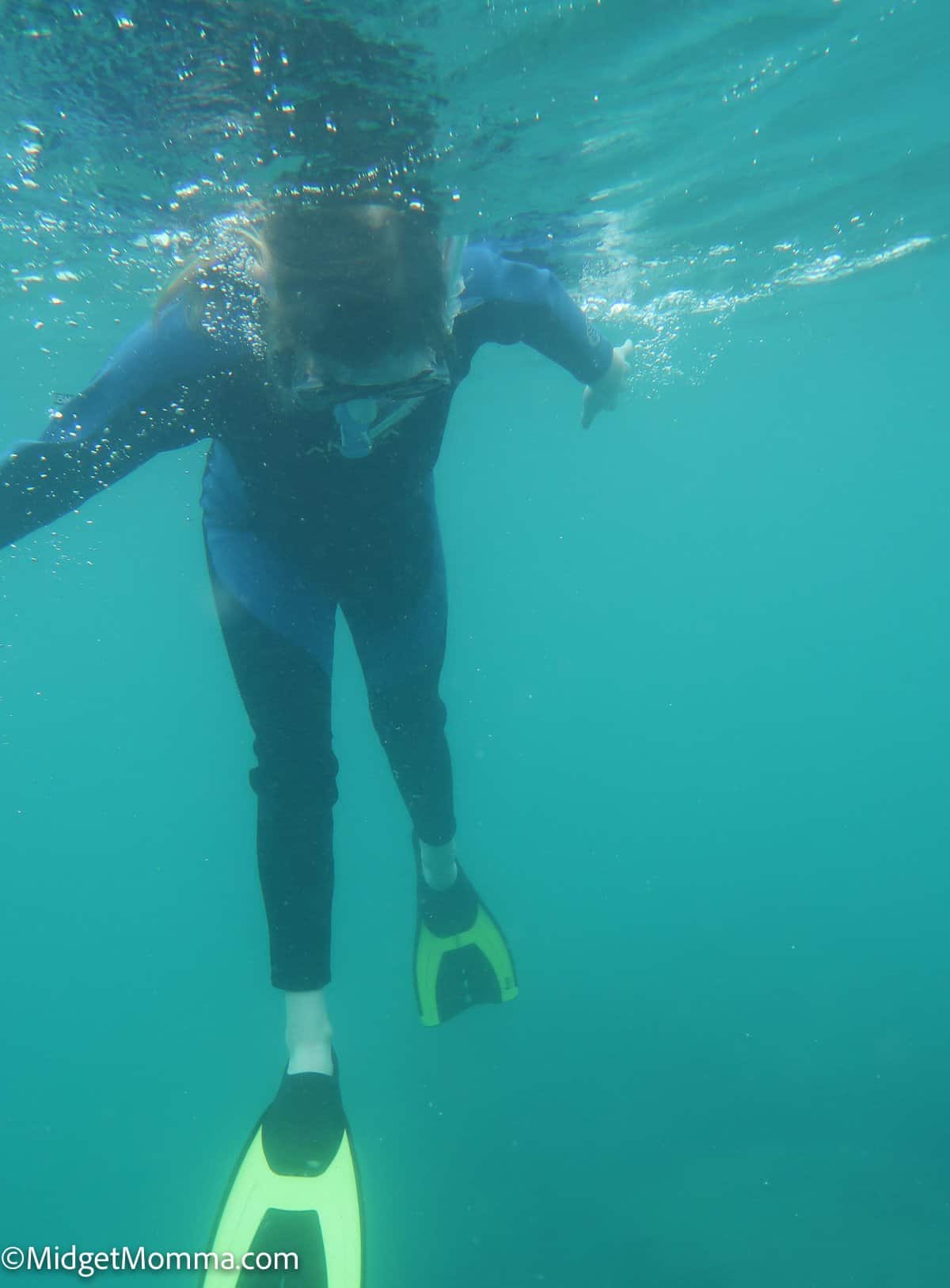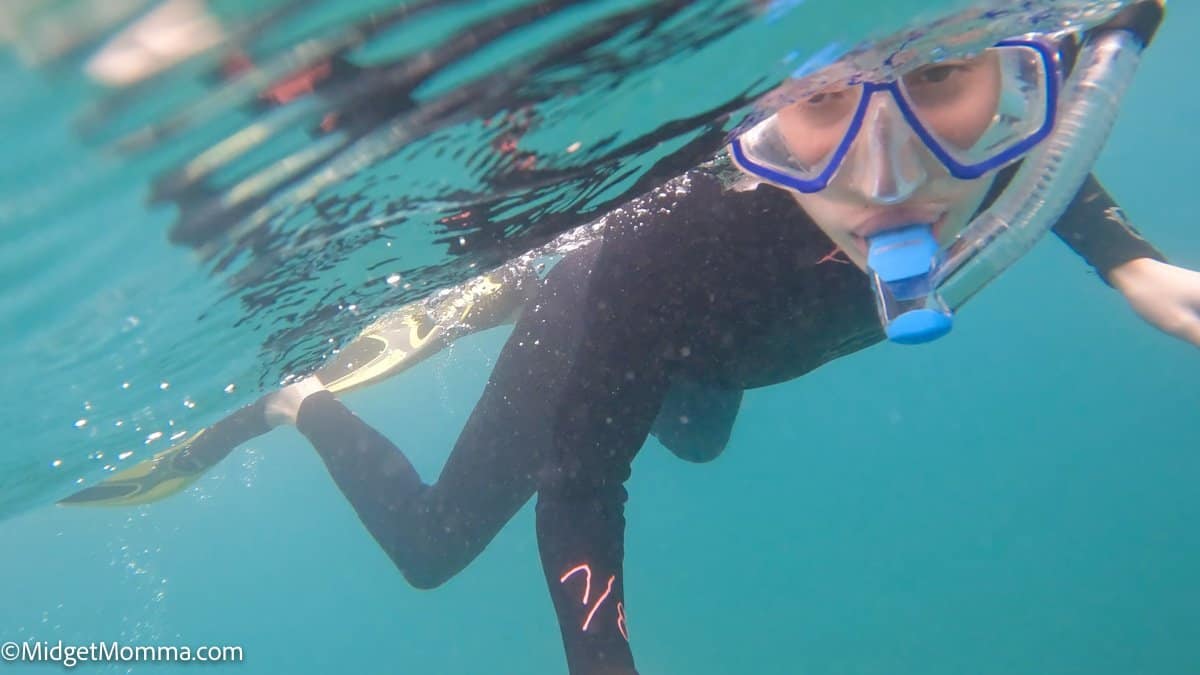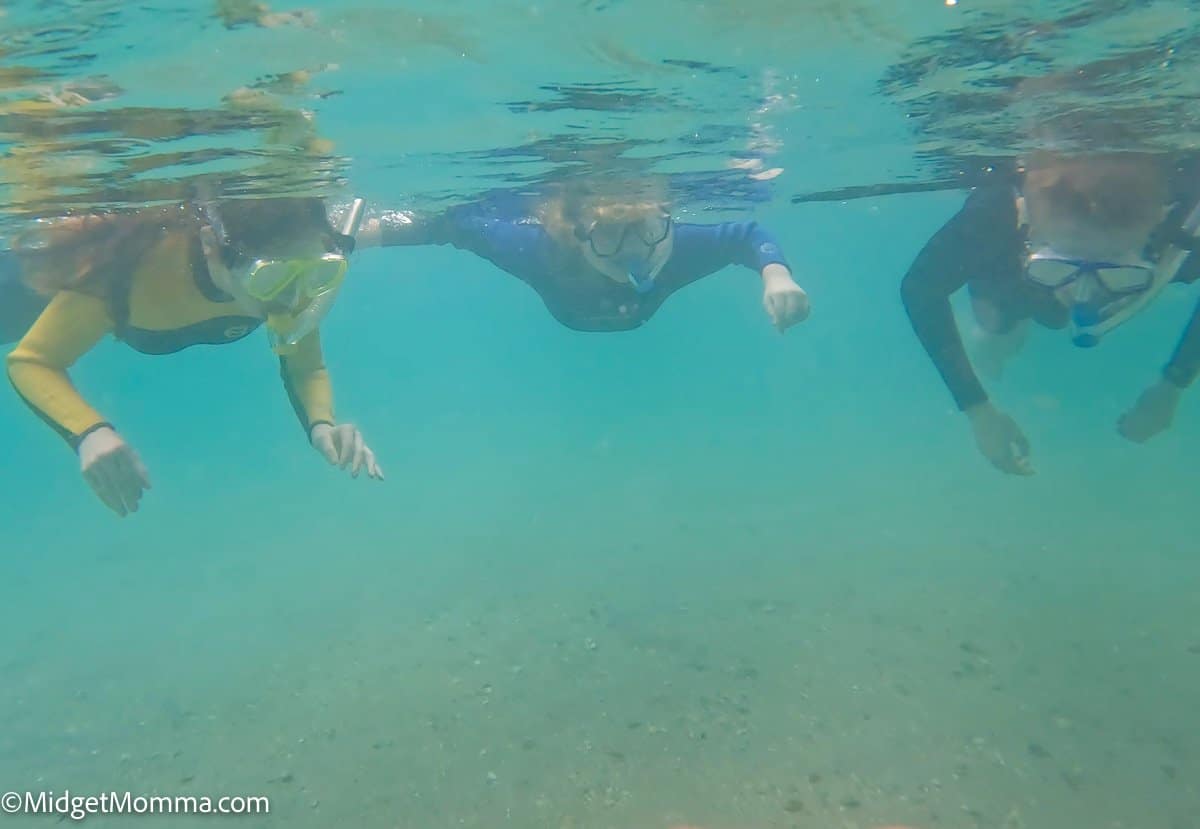 While on the snorkeling trail Laura took photos of the kids and then after our trip with her emailed them to me. The kids used the GoPro to take video while they were snorkeling. You can check out the video the kids made as well. It was the perfect way for all of the kids to go snorkeling for the first time. All 3 of the kids (ages 17, 15, and 12) said it was a great experience and with Laura they felt comfortable and learned a lot. They are all now also asking me when we can find other places to explore and go snorkeling.
The hours of operation will depend on the company and location you pick for your snorkeling.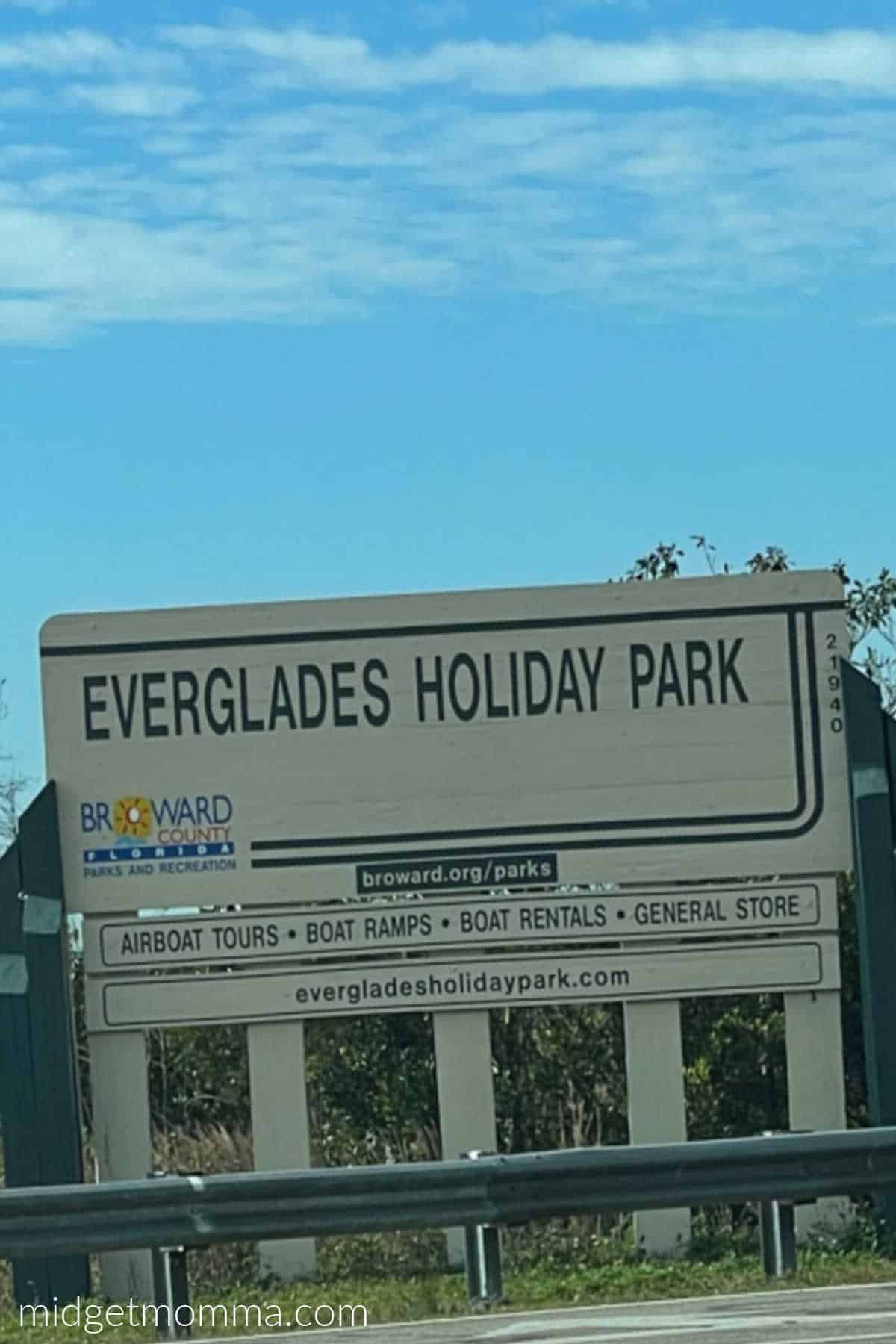 Everglades Holiday Park
The kids had a list of things that they wanted to do, so I had a goal of hitting as many of them as I could. Hold a gator, see a gator show and an airboat tour were on their list. Everglades holiday park covered all of them and we got photos of our holding a baby alligator adventure included as well.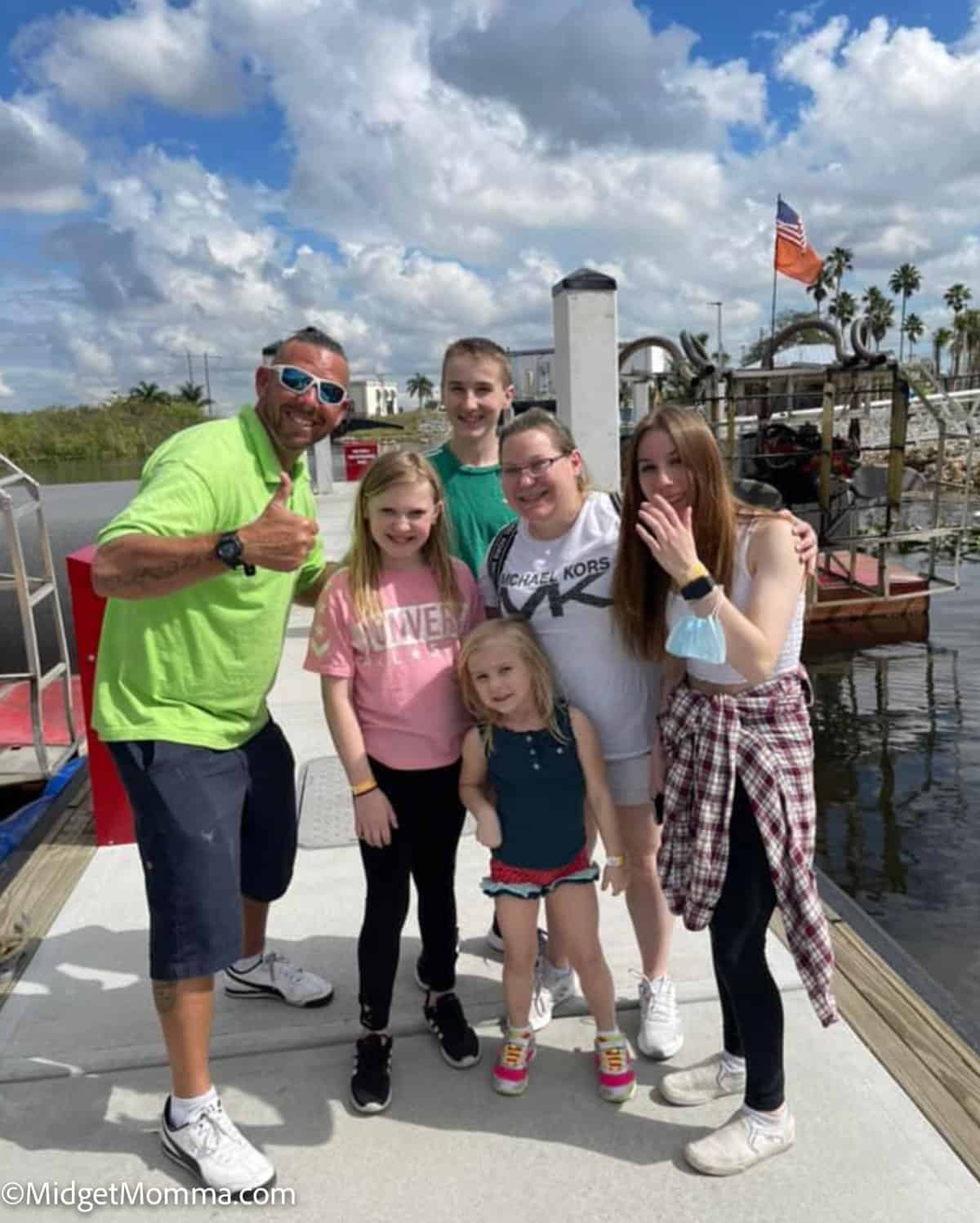 The airboat tour with Everglade Holiday Park took us on a 1 hour tour of the everglade near Fort Lauderdale Florida. Seeing wildlife is not a guarantee, since you are outside of course going thru a natural habitat while we didn't get to see a gator on the tour ride we saw lots of animals. The tour guide gave an entertaining while being an educational tour of the Everglades, talked about the animals, the creation of the everglades, and the different plant life that grows there. I can not forget to mention the adventure side of going 40+ miles an hour thru the Everglades that was a ton of fun as well.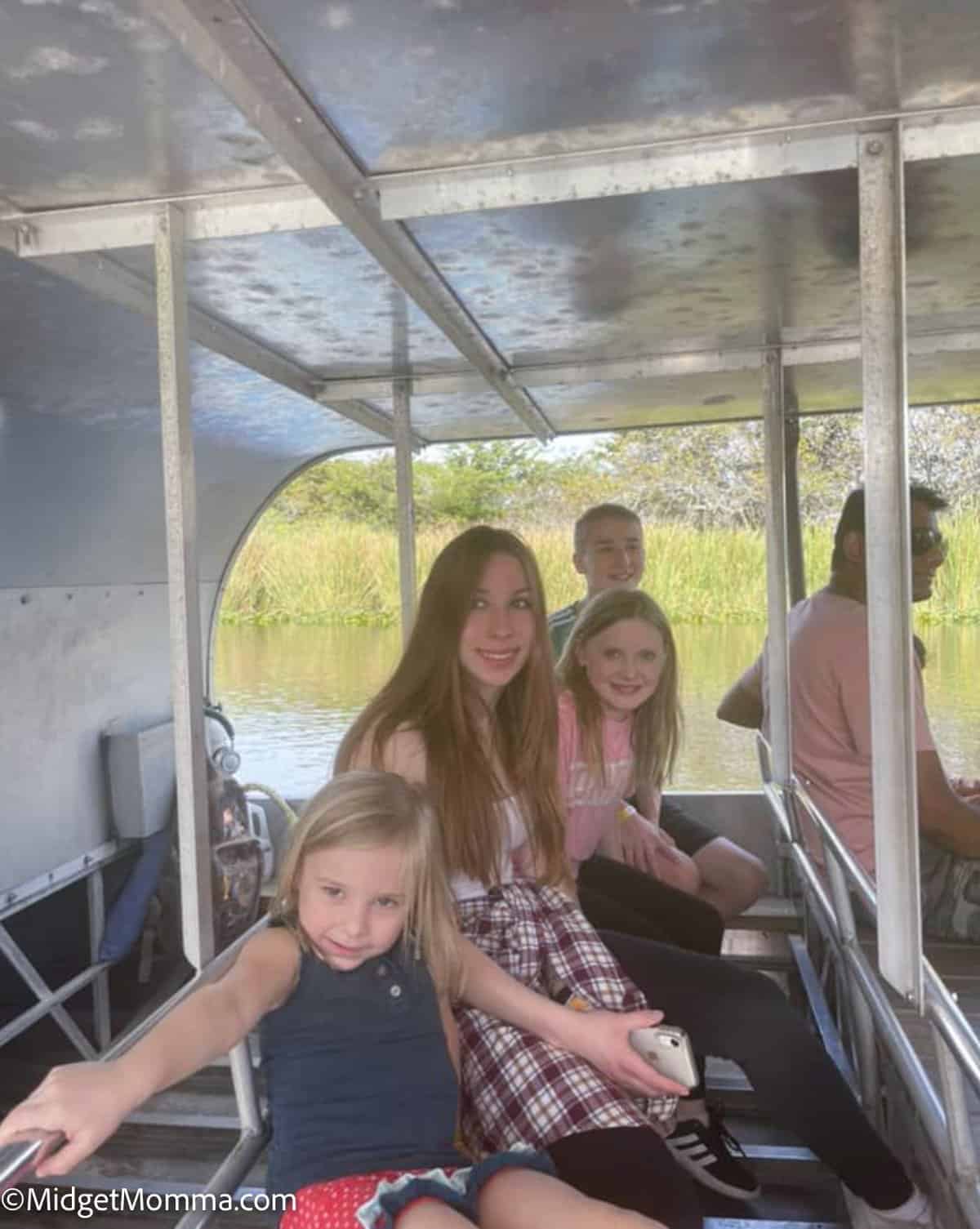 After the airboat tour, you are able to head on over to the Gator show. Presented by the well-known Gator Boys and a ton of fun. Some awesome information about gators and how they rescue gators by bringing them to the Everglades Holiday park and then a fun (and dangerous) performance is done which was loved by the kids.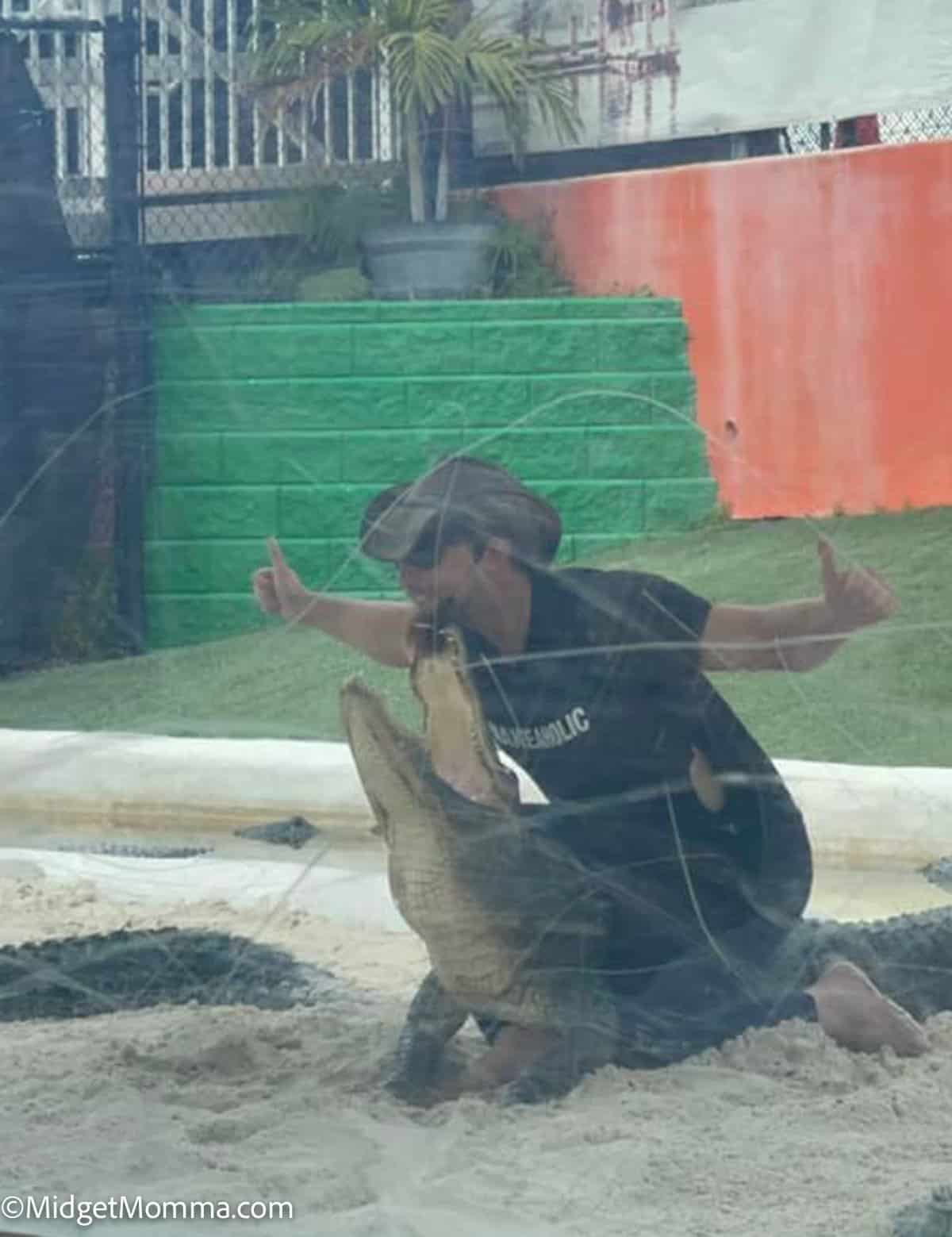 After the gator performance, it was time for holding a baby gator! If you are looking for where to hold a baby gator in Florida there are lots of places to go. However, we really enjoyed the full package deal at Everglades Holiday park where we did the airboat tour, gator show and got to hold a baby alligator.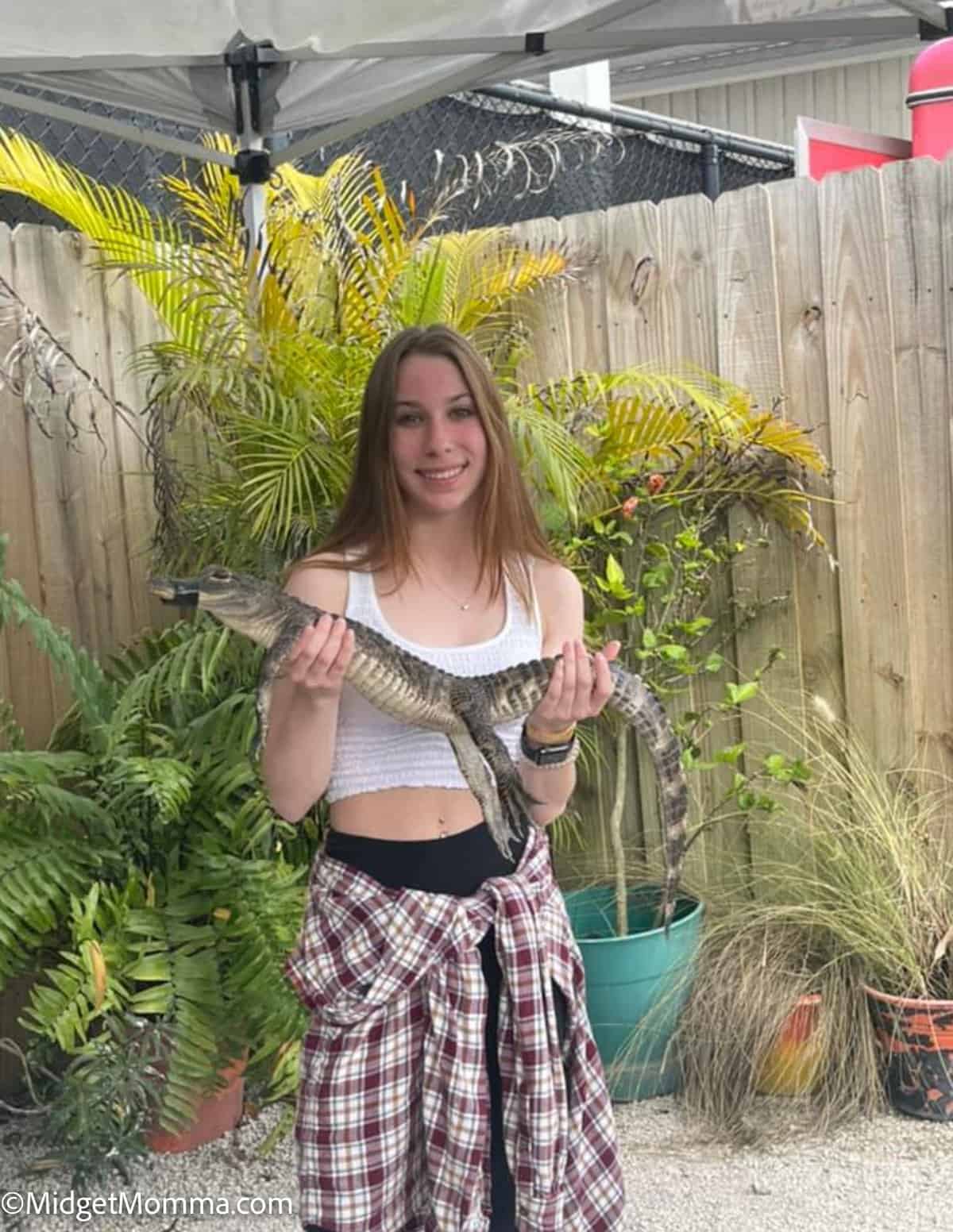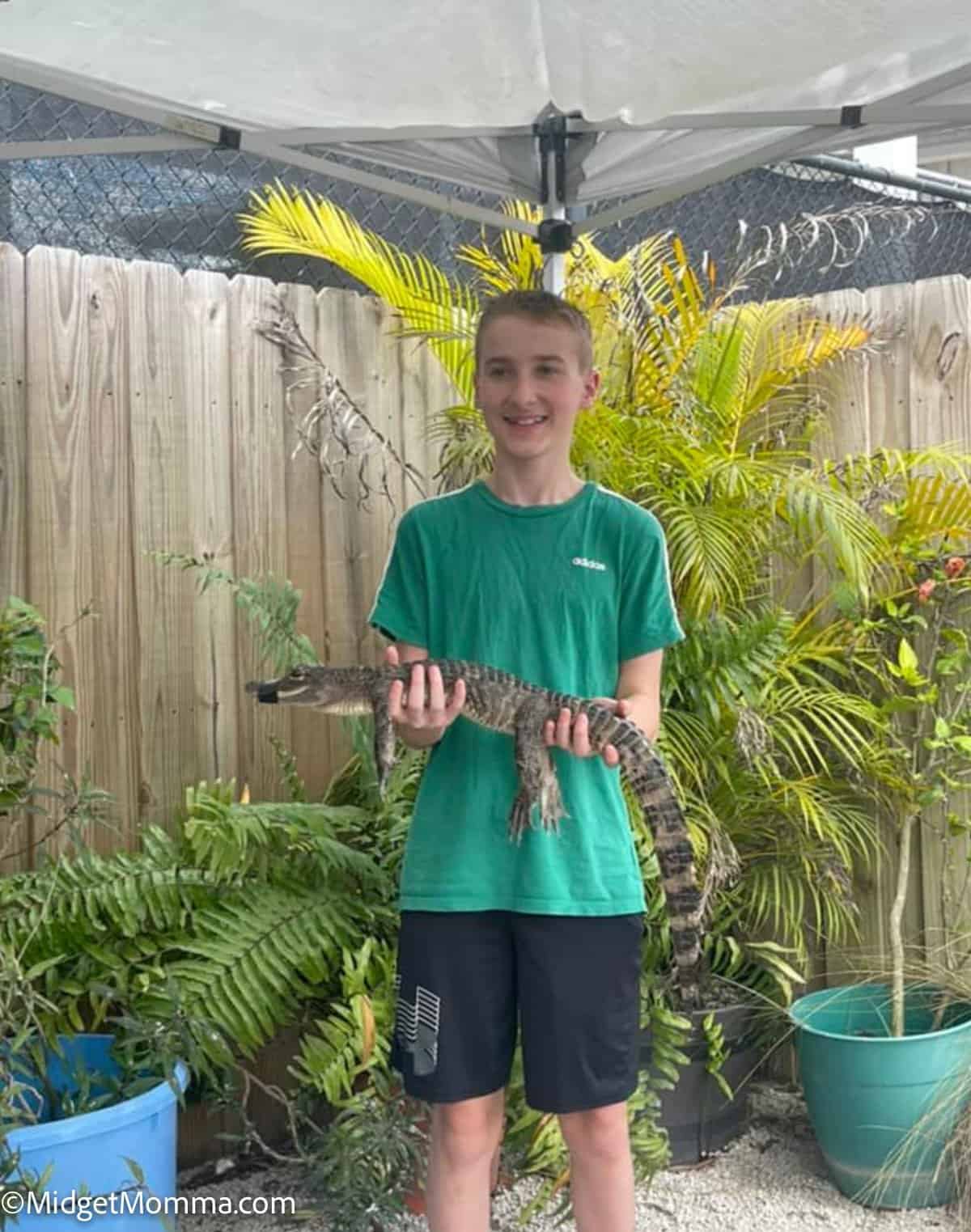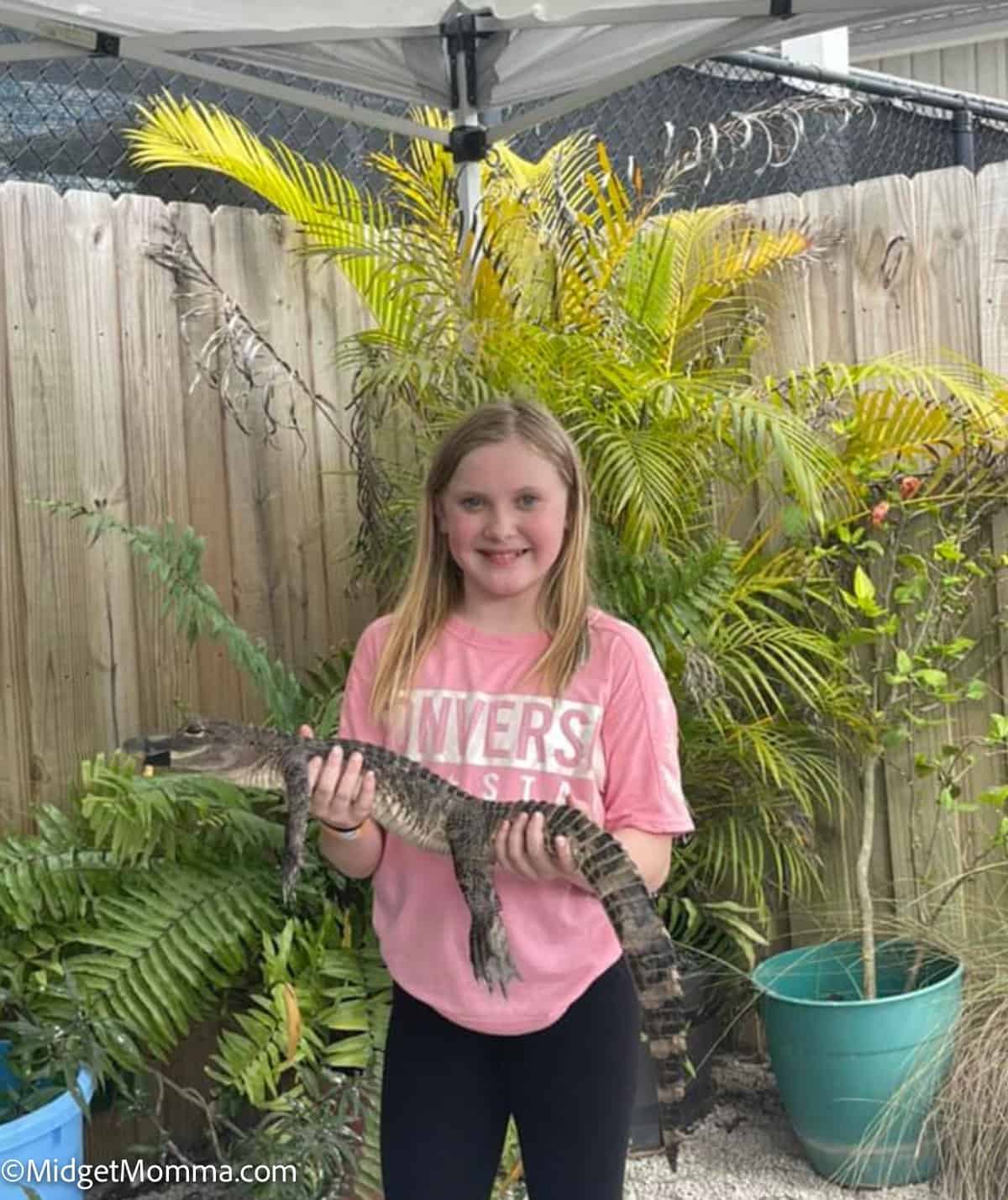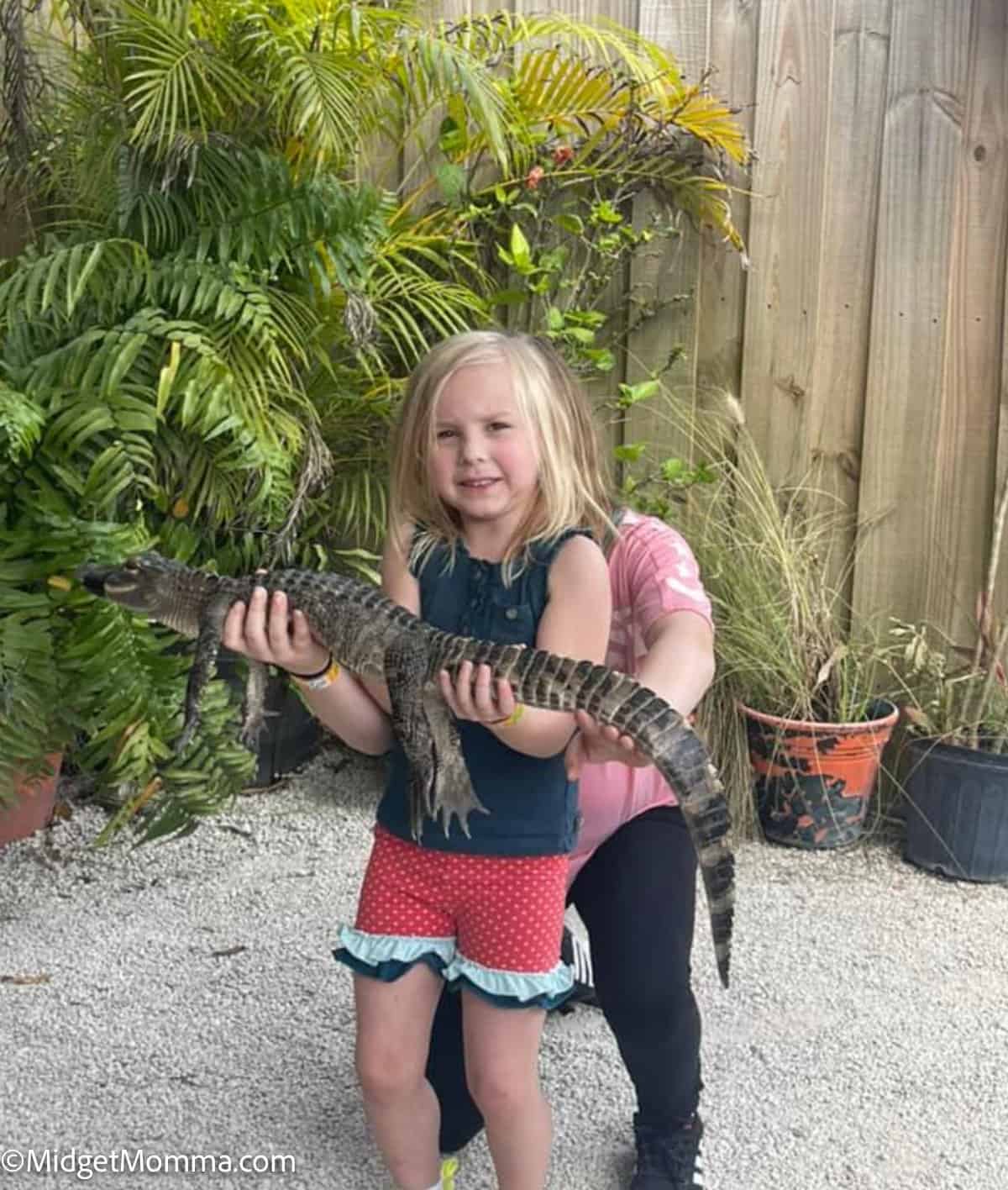 You can purchase tickets online, on Groupon, or onsite. There is a military discount at this location as well.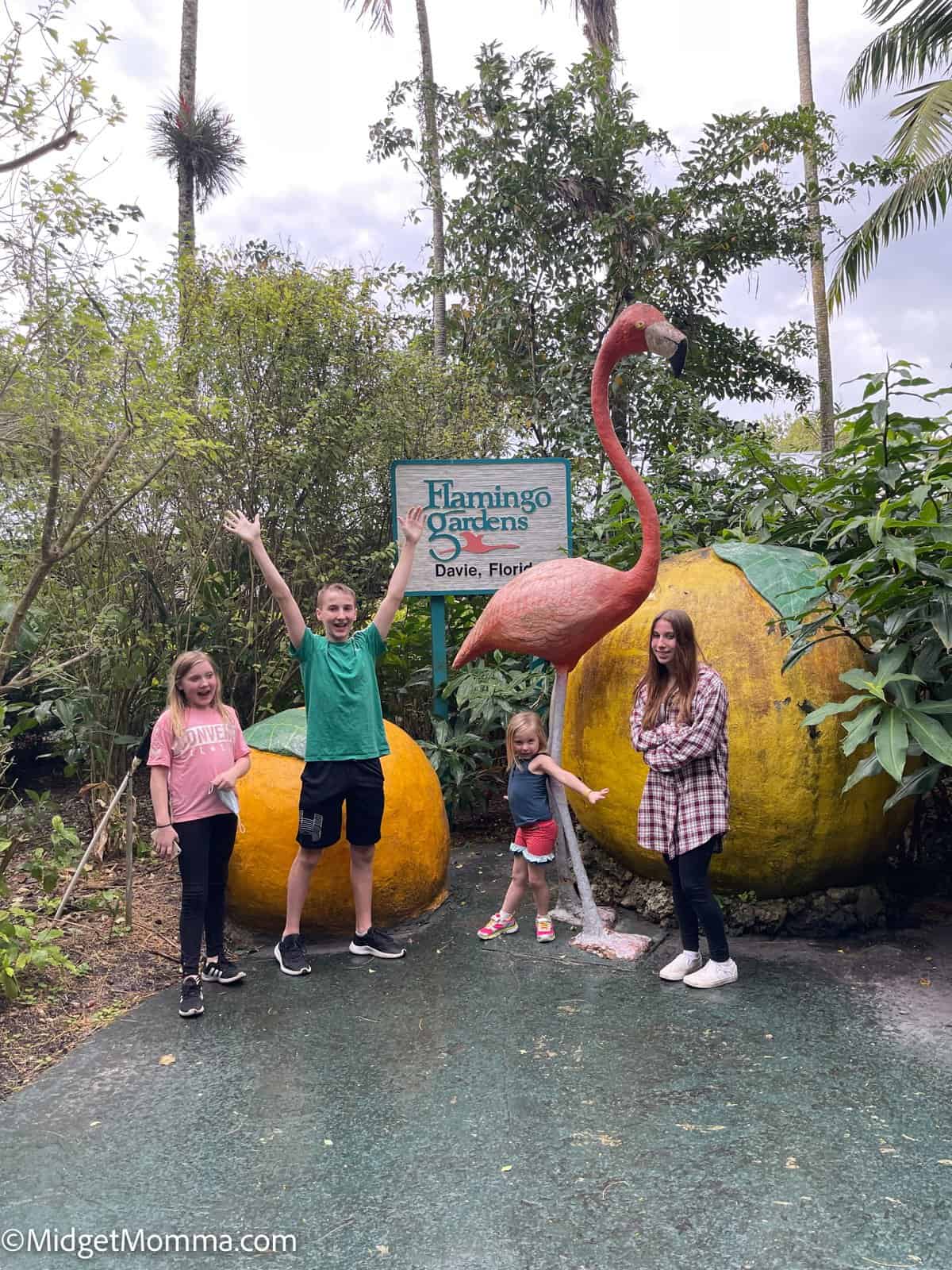 Flamingo Gardens
At Flamingo Gardens you will see much more than just Flamingos. Flamingo Gardens is a wild life sanctuary where permanently and non-releasable animals and birds reside. You will get to see Flamingos along with a bear, bobcats, eagles, otters, peacocks, alligators, and more.
What I loved most about this one was that while it had a lot to see it was also on the smaller side. We did this after doing the Everglades Holiday park so we were all a bit tired from getting up early that morning so a small place with lots to see was perfect.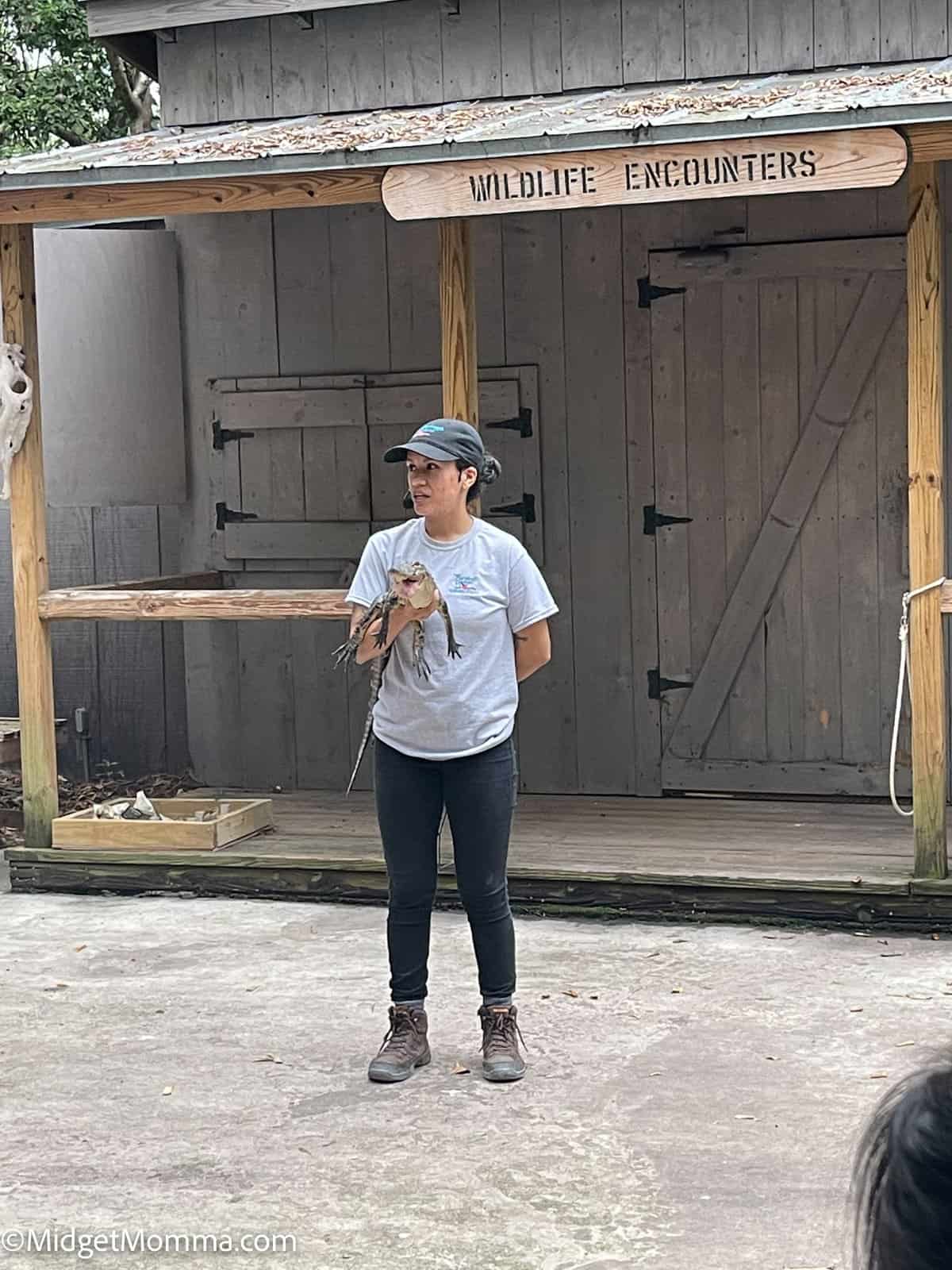 Be sure to watch the animal show they have, you will get to learn about different animals that they have living there that they rescued. The animal encounters show is held daily at 11:30, 1:30, and 3:30 weather permitting.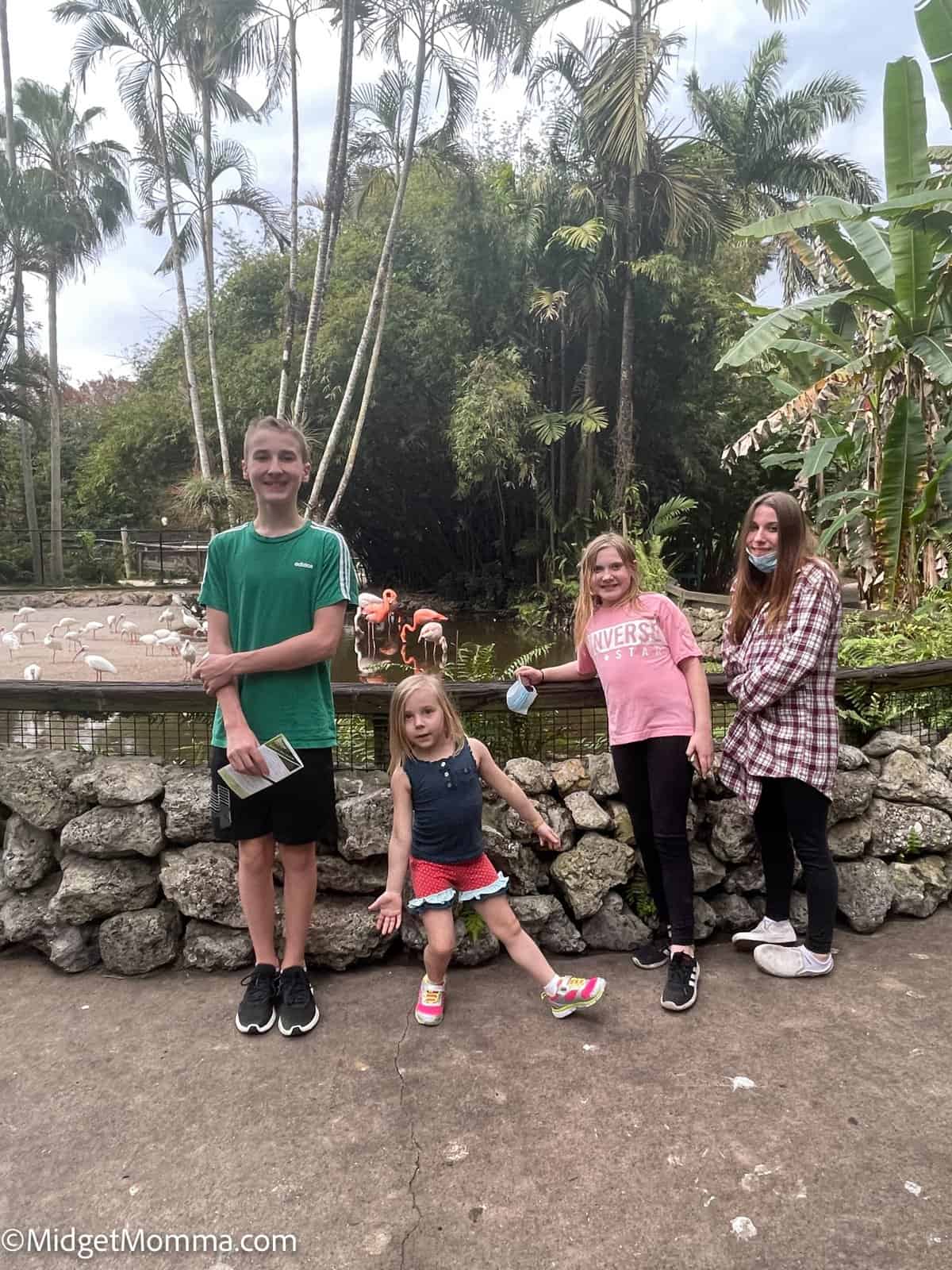 The narrated tram tour was something on our list but we missed it due to a potty break stop, but throughout the day there are multiple tram tours that you can hop on and enjoy the adventure.
Tickets can be purchased at Flamingo Gardens, on their website, and also on Groupon. If you are a AAA member, AARP member, or a military member there is a discounted price as well.
Hours of operation are daily from 9:30 am until 5 pm.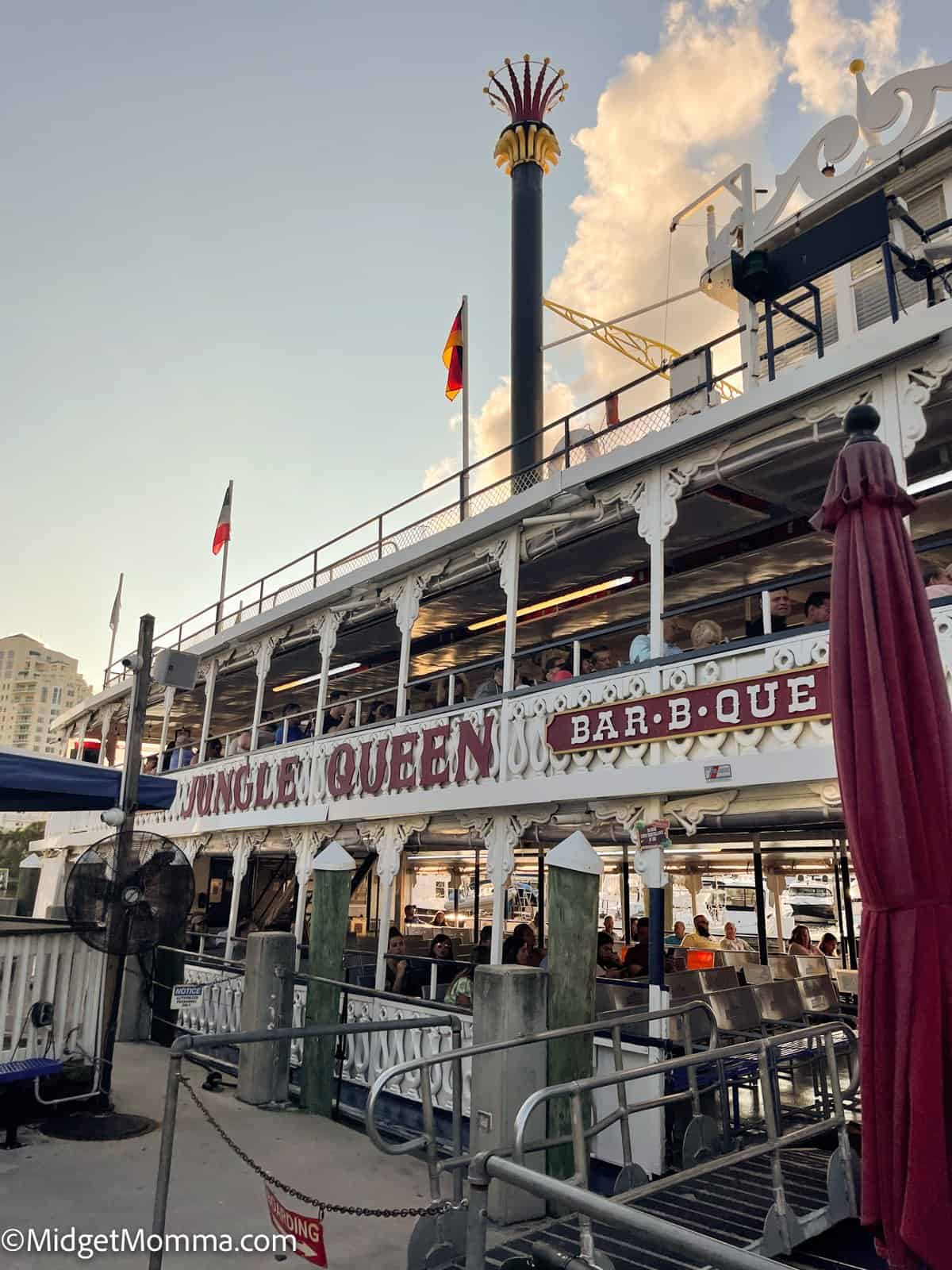 Jungle Queen Boat Sight Seeing Tour and Dinner Cruise
There are two different options that you can pick from with the Jungle Queen. There is a daytime sightseeing cruise and then a nighttime site seeing dinner cruise. We did the nighttime dinner cruise and I highly recommend it.
The night dinner cruise starts with the sightseeing tour as you take a boat ride on the Jungle Queen boat on your way to the private Island where you will enjoy a delicious BBQ dinner and then a fun show. If you get lucky (or unlucky depending on how you see it) you can be picked to take part in the show like my son Logan did.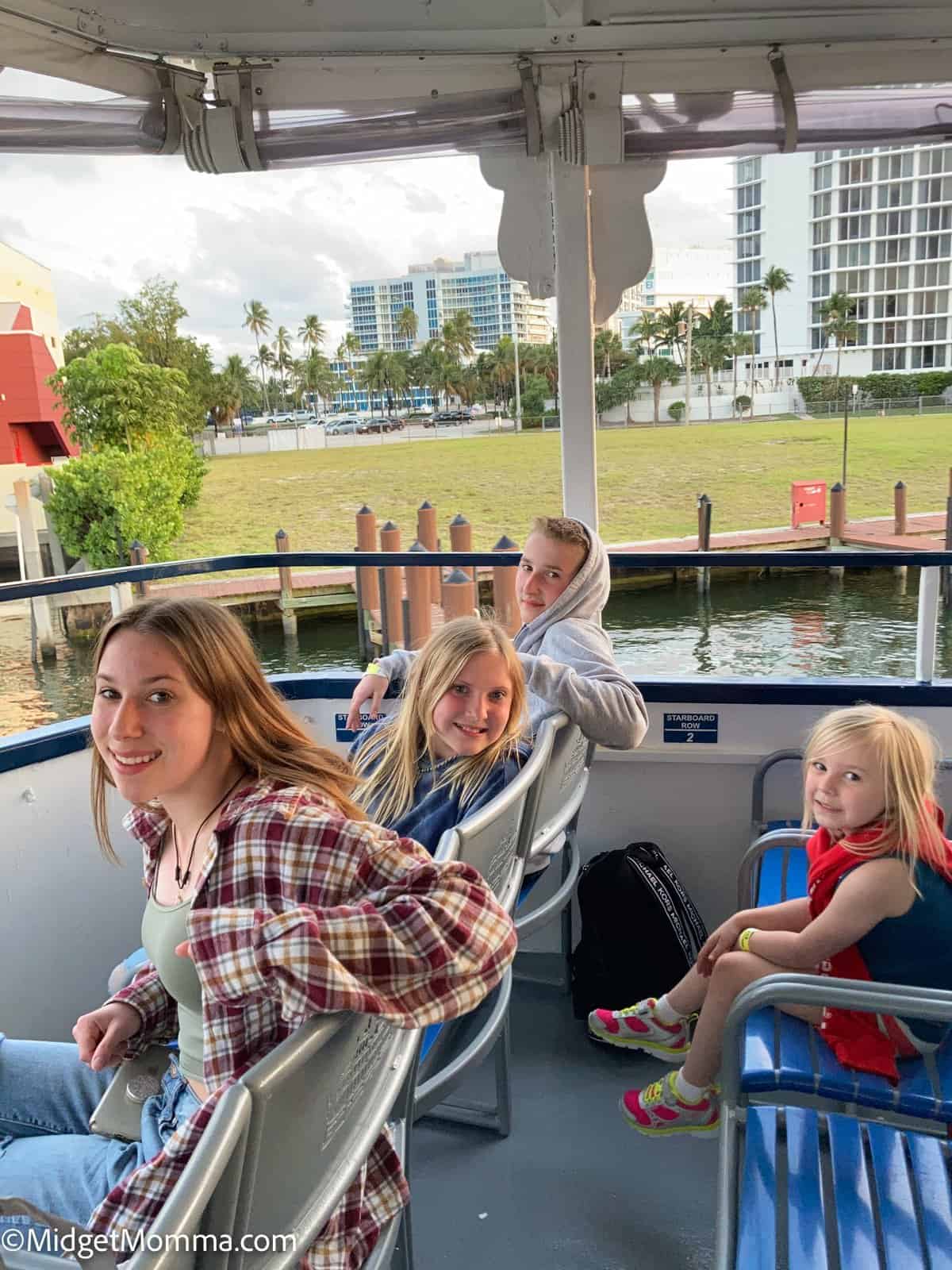 The sightseeing cruise was enjoyed by all of the kids, it kept them all entertained on the 1 hour boat ride to the island. Upon getting to the island for dinner and the show we were greeted by the staff and some wildlife hanging out in the trees.
Dinner is all you can eat of BBQ ribs, BBQ chicken, rolls alongside dishes. Water is included in the meal price but if you want something like soda or a Shirly temple that is extra.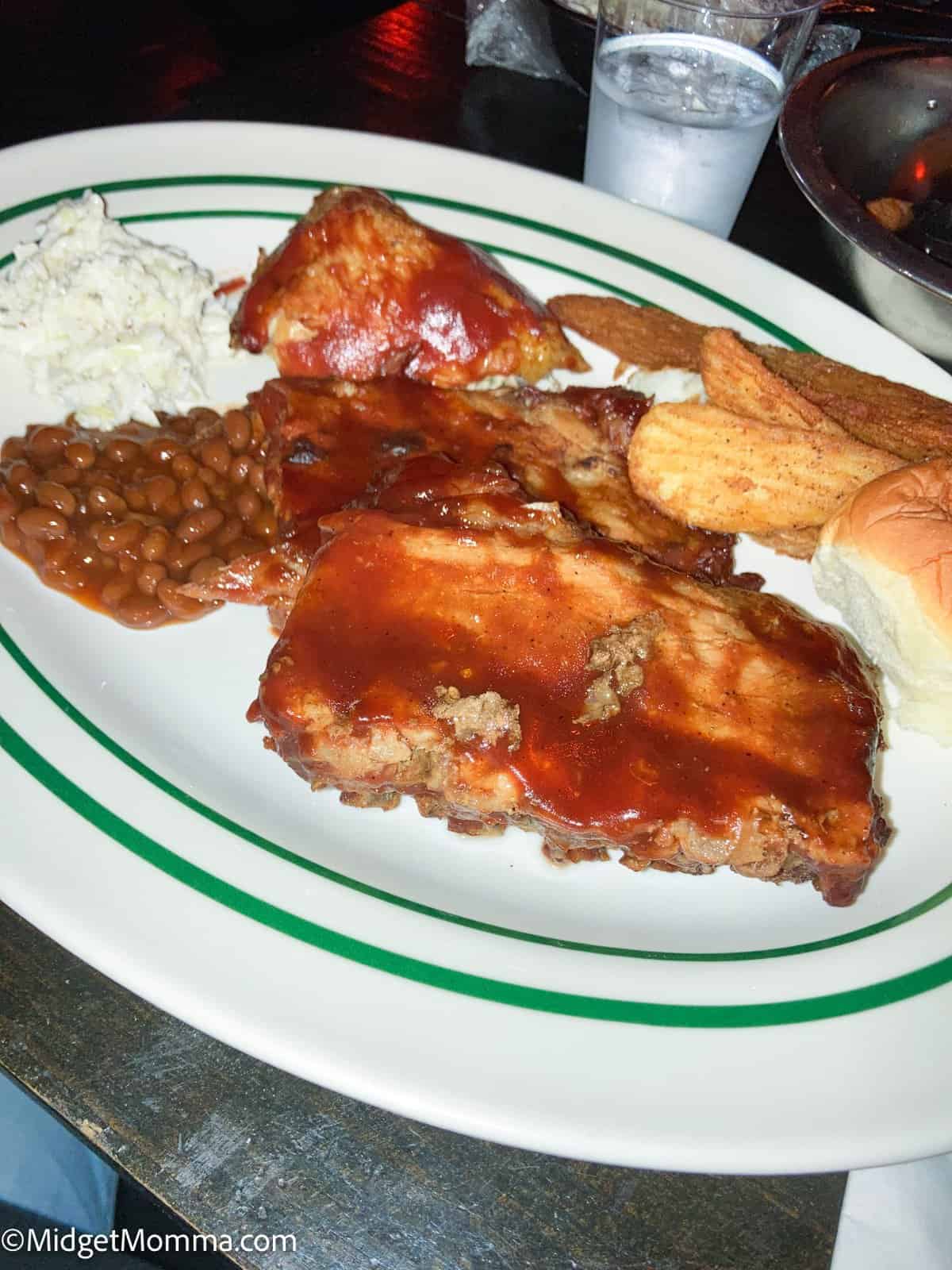 After dinner, there is time to take a walk around the Island, which you are going to want to do. They have different animals that you can see and the kids loved the ambiance of the island. There is also a full wall of history about the island that you can check out too.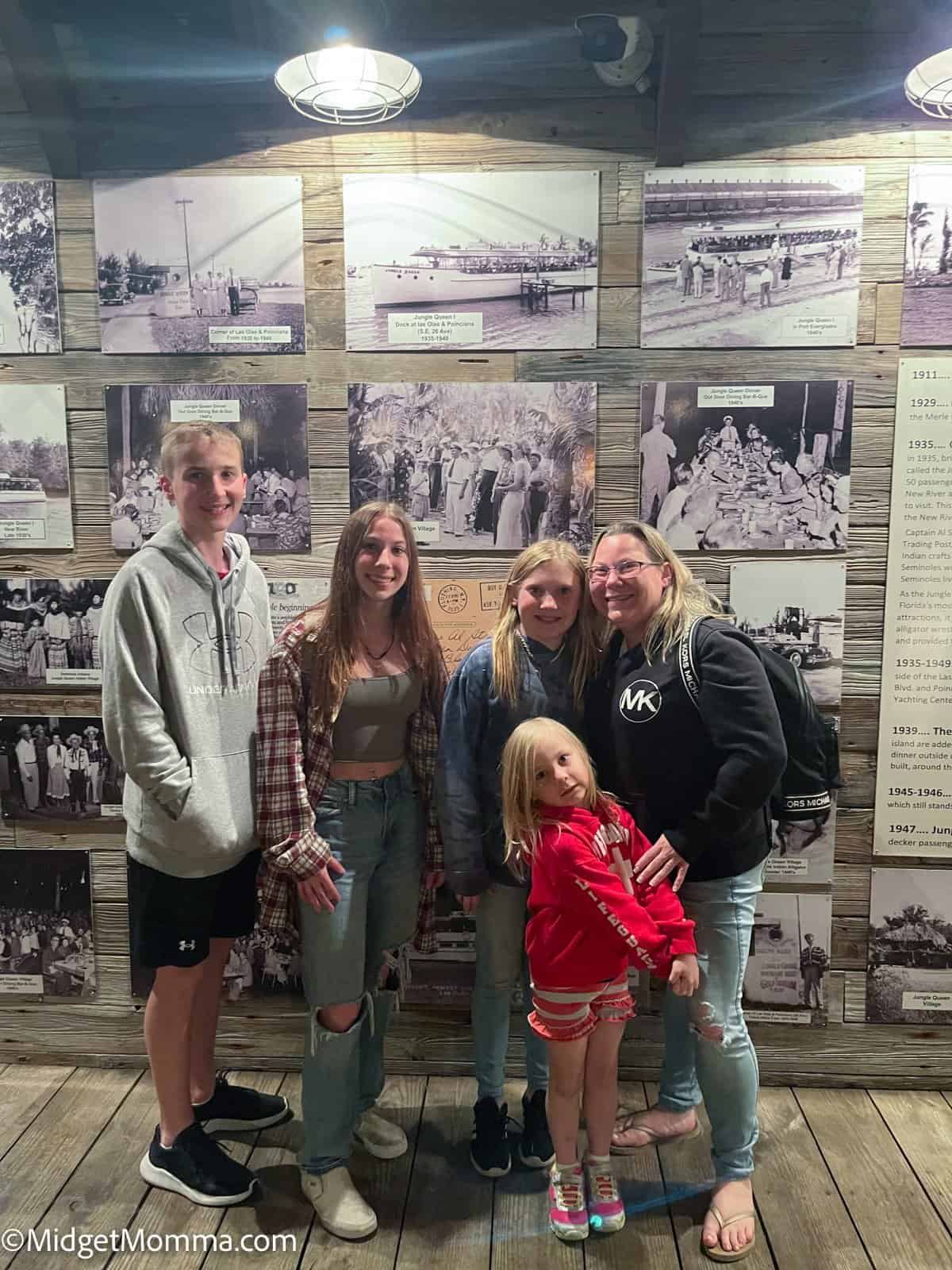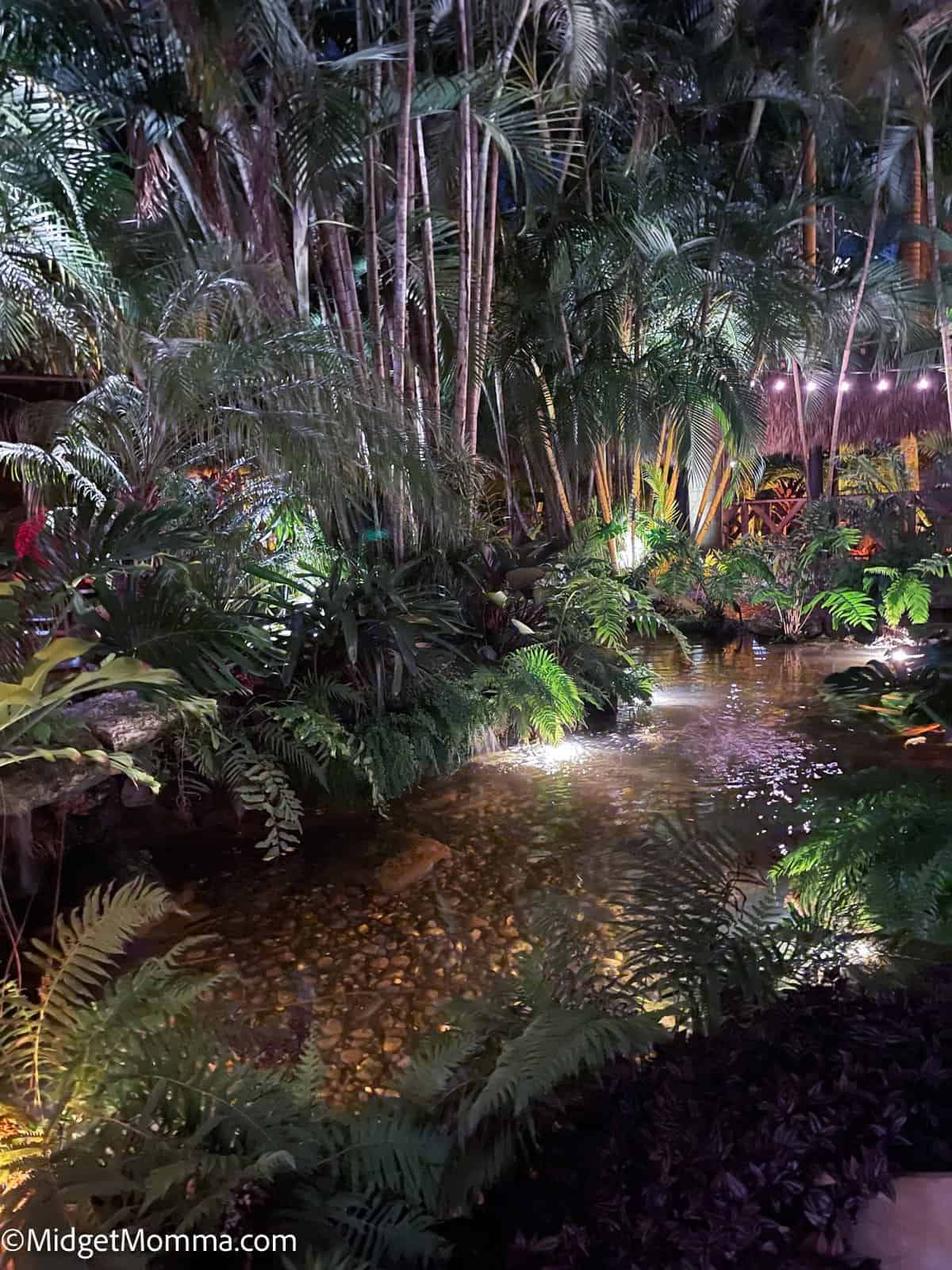 The show starts after dinner and includes comedy, dancing, and more, and is fully entertaining for the whole family.
After the show, you get back on the boat for the ride home, which was enjoyable for all after an evening of fun and food.
Museum of Discovery and Science
Hands on Museums are something I look for everywhere we travel too. They are all different, but the hands-on fun that they all have in common is something my kids always enjoy. In Fort Lauderdale we found the Museum of Discovery and Science. I suggest making this a full-day spot as there is so much to do and to see.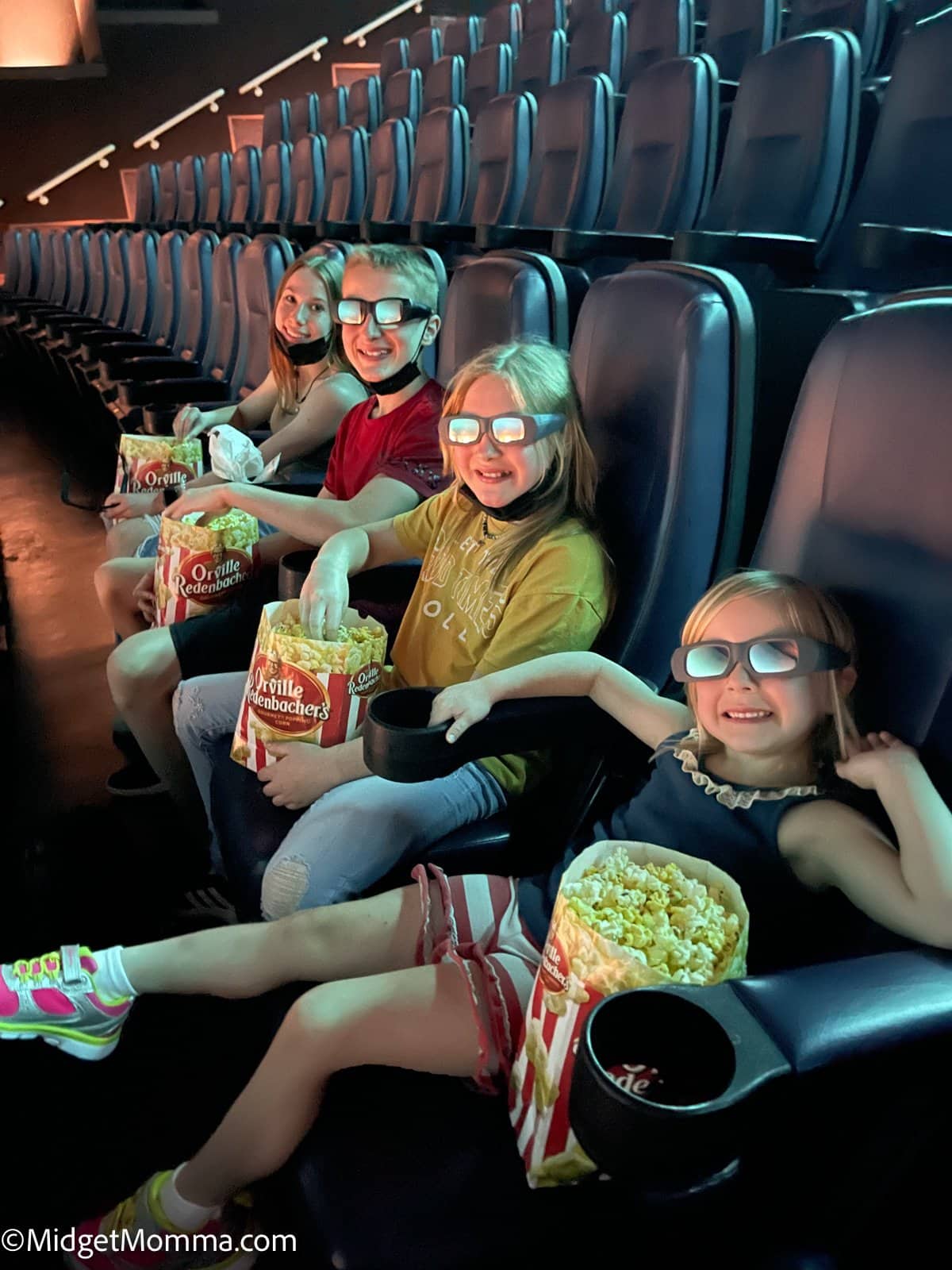 They have hands-on activities and simulators and an IMax theater with educational but fun movies that are all things you do not want to miss. There are different sections that are great for different age groups making this a great stop for families that have kids of all ages.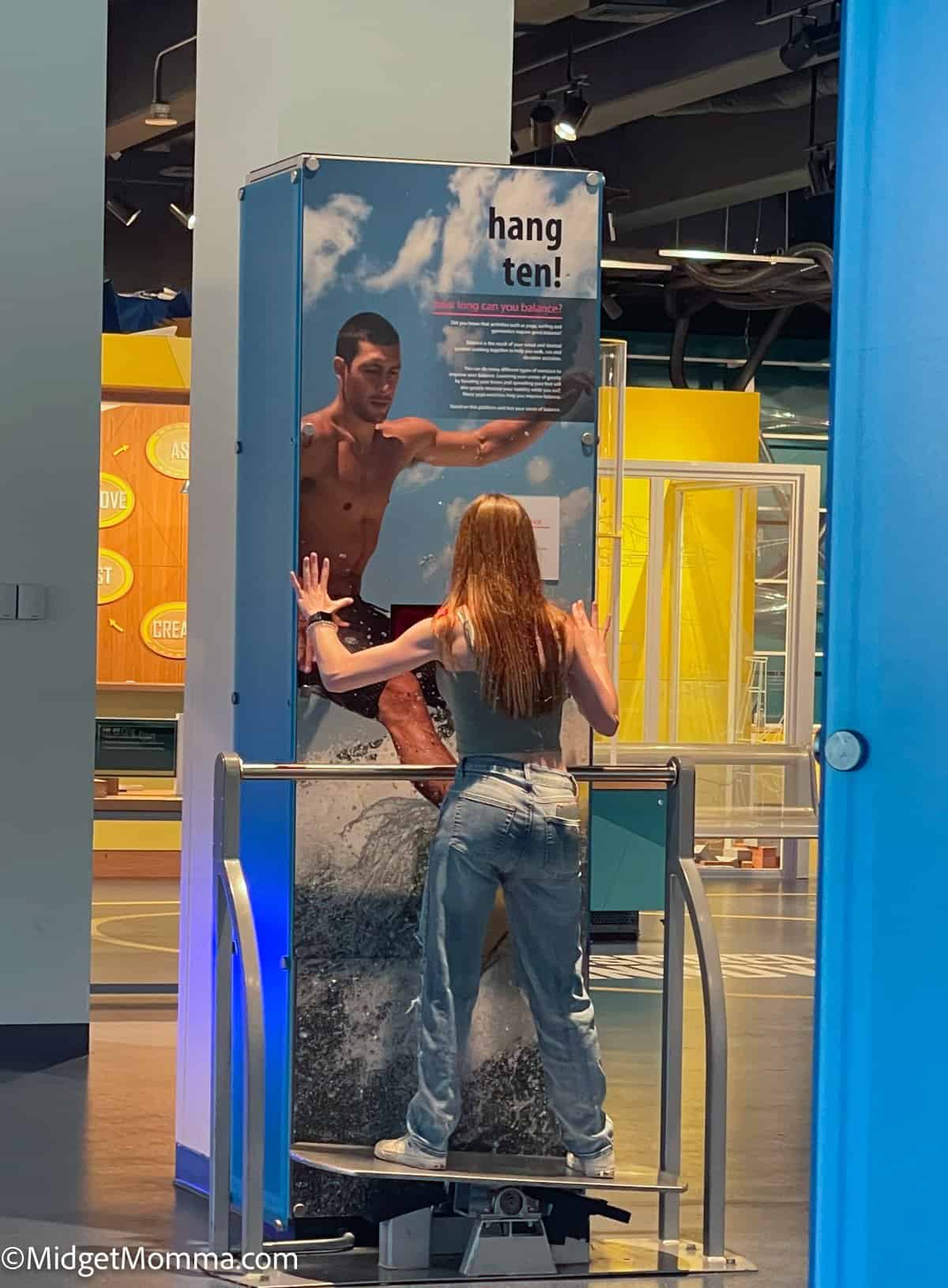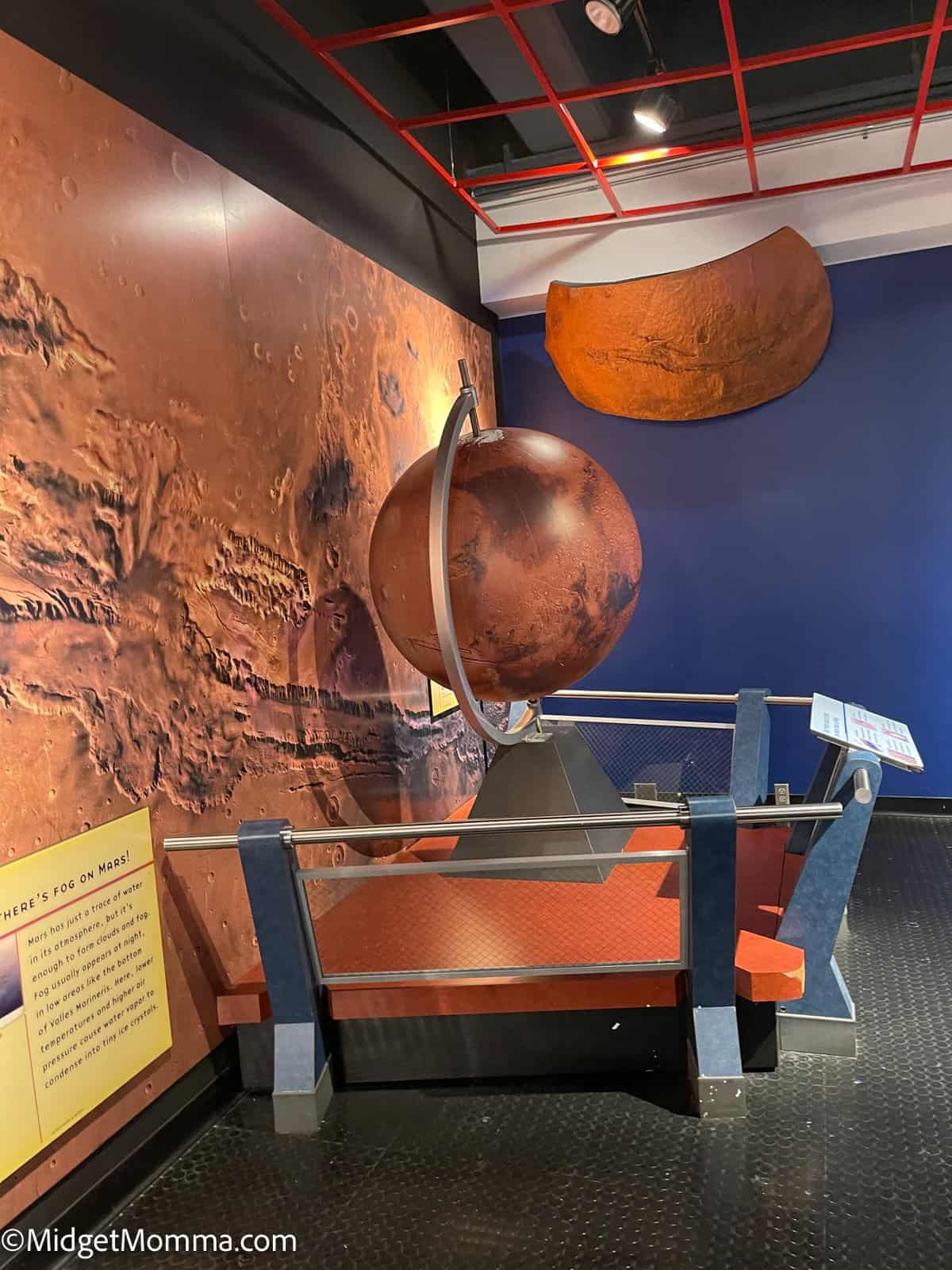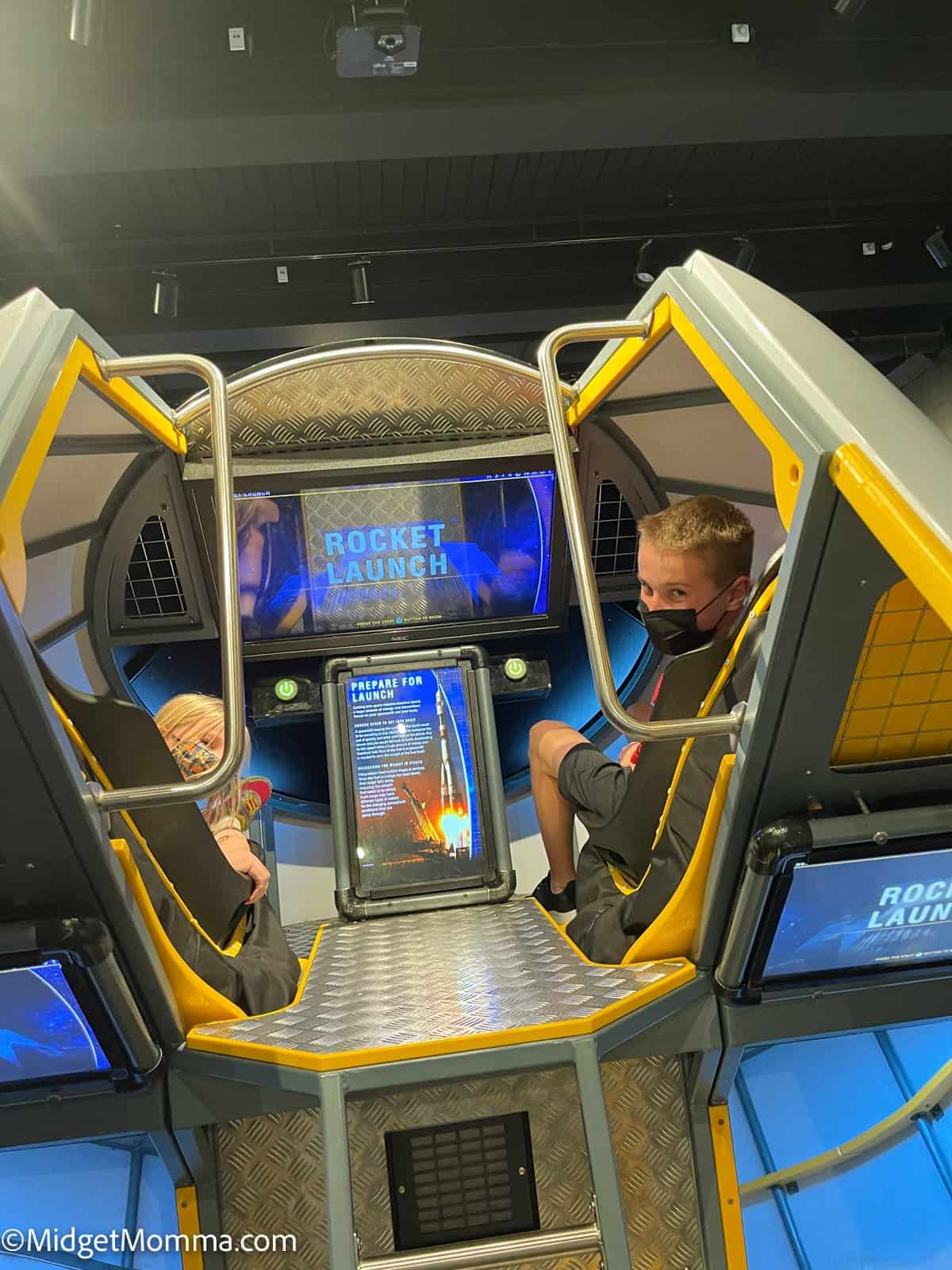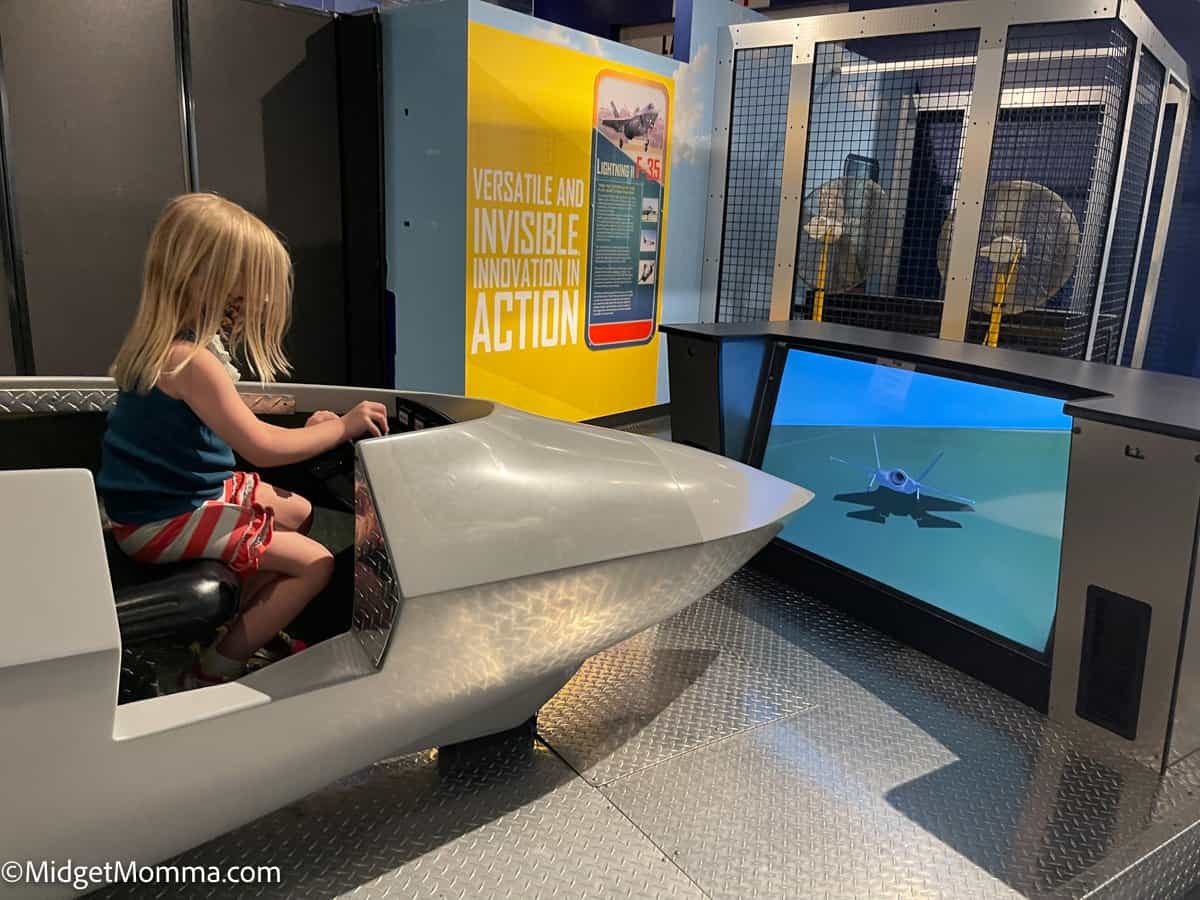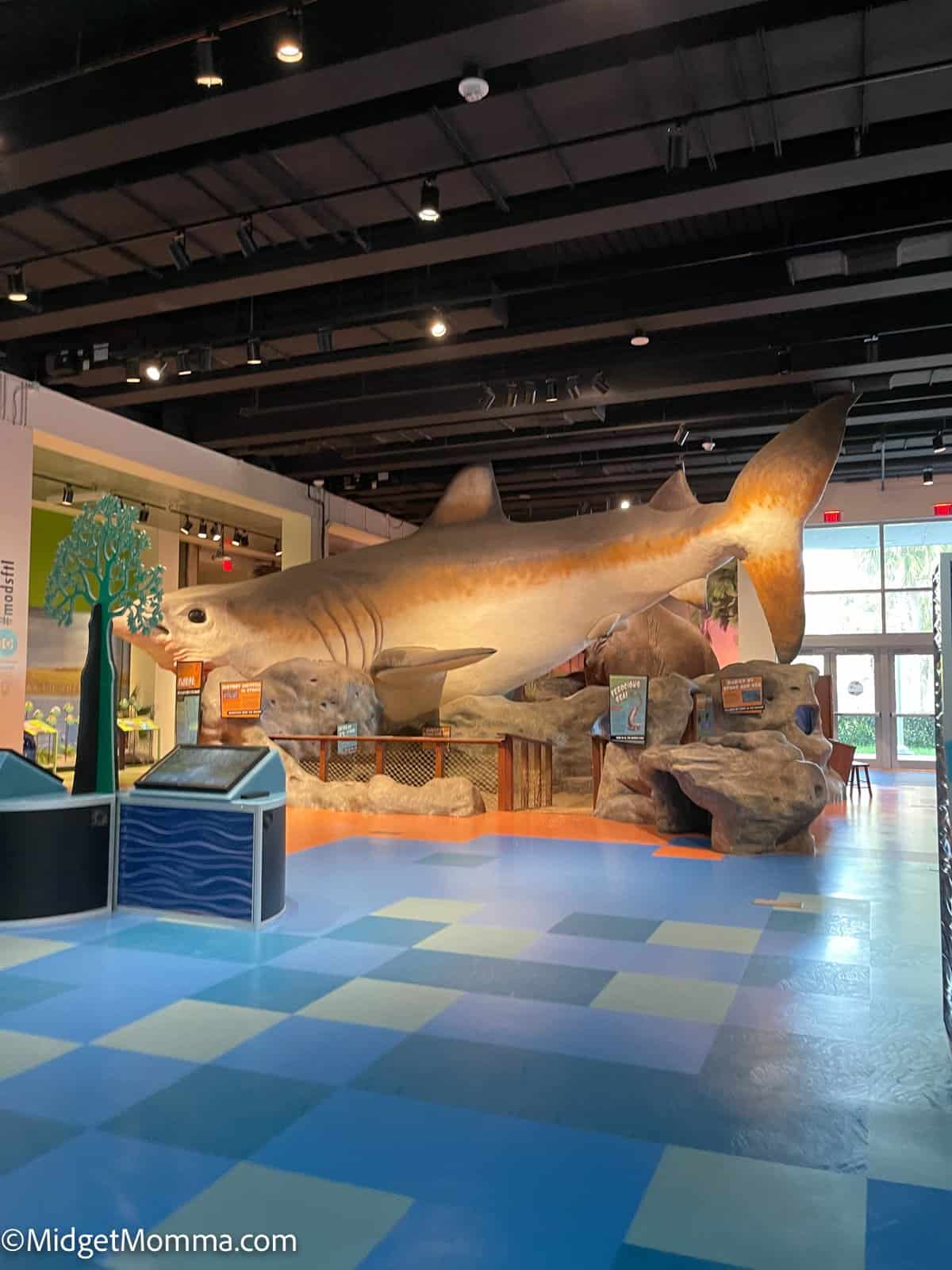 The kids favorite exhibits were the Mars landing simulator, the space rocket take off simulator, and all of the animal and earth exhibits they had. Oh and I can not forget the otter, the adorable otter that the kids thought was the cutest thing to watch swim around!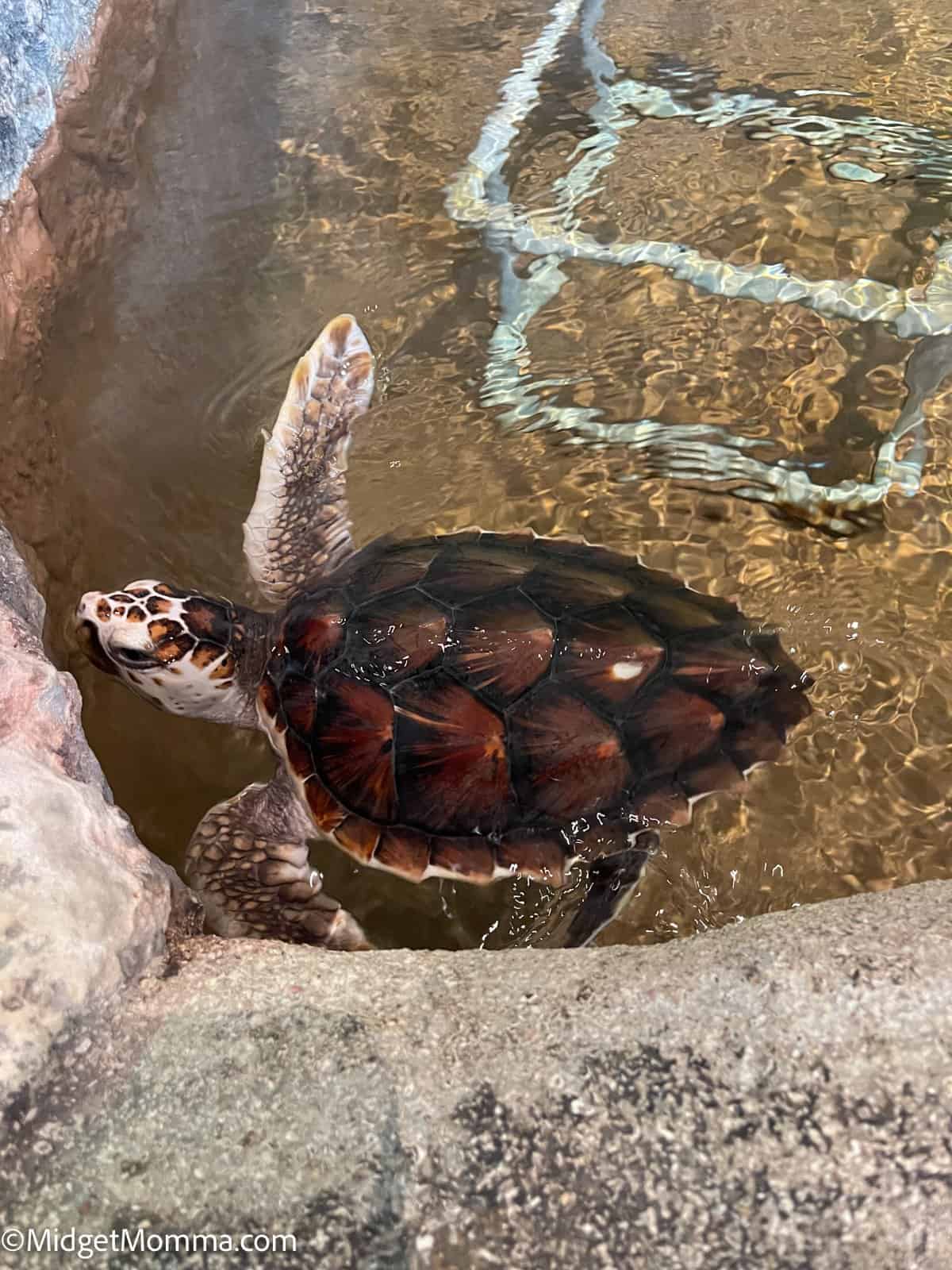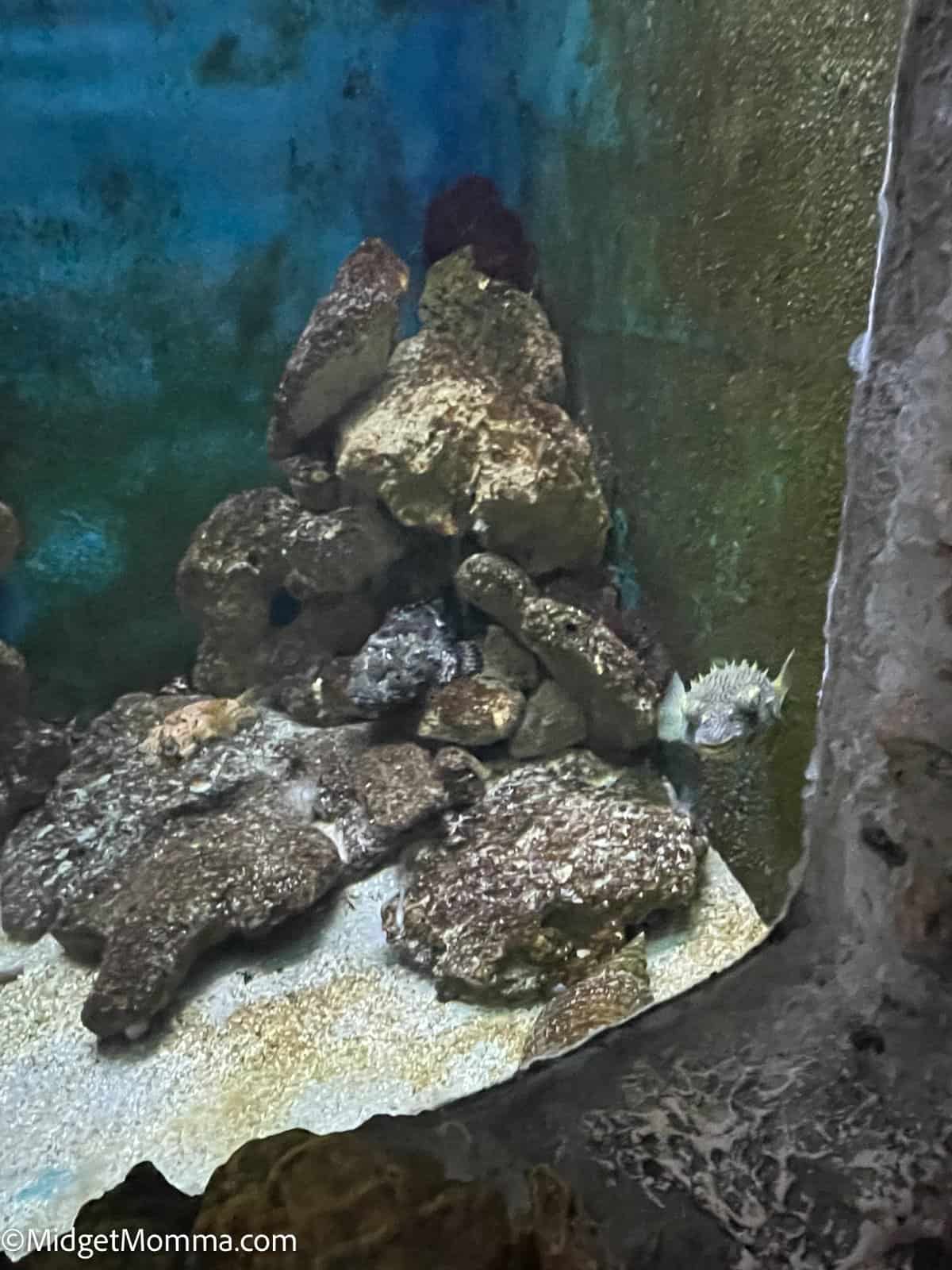 The Museum hours are Monday through Saturday from 10 a.m. – 5 p.m. and Sunday from 12 p.m. – 5 p.m. and they are open daily except for 3 days of the year.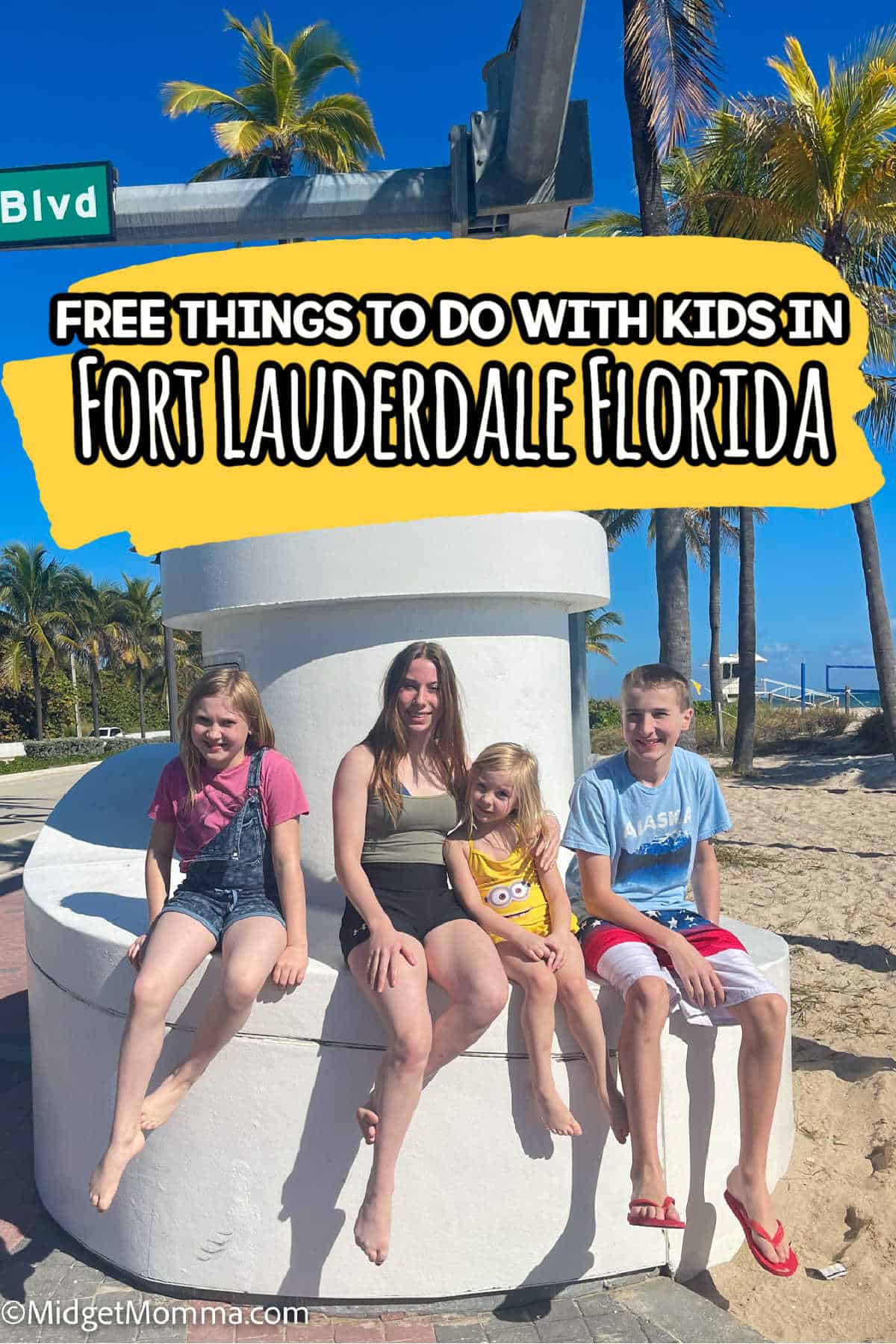 Free things to do with Kids in Fort Lauderdale Florida
While many attractions in Fort Lauderdale have a cost, there are lots of places that you can visit and attractions that you can go to when looking for things to do with kids in Fort Lauderdale Florida. The free things we found to do in Fort Lauderdale were just as much fun as the things that cost money.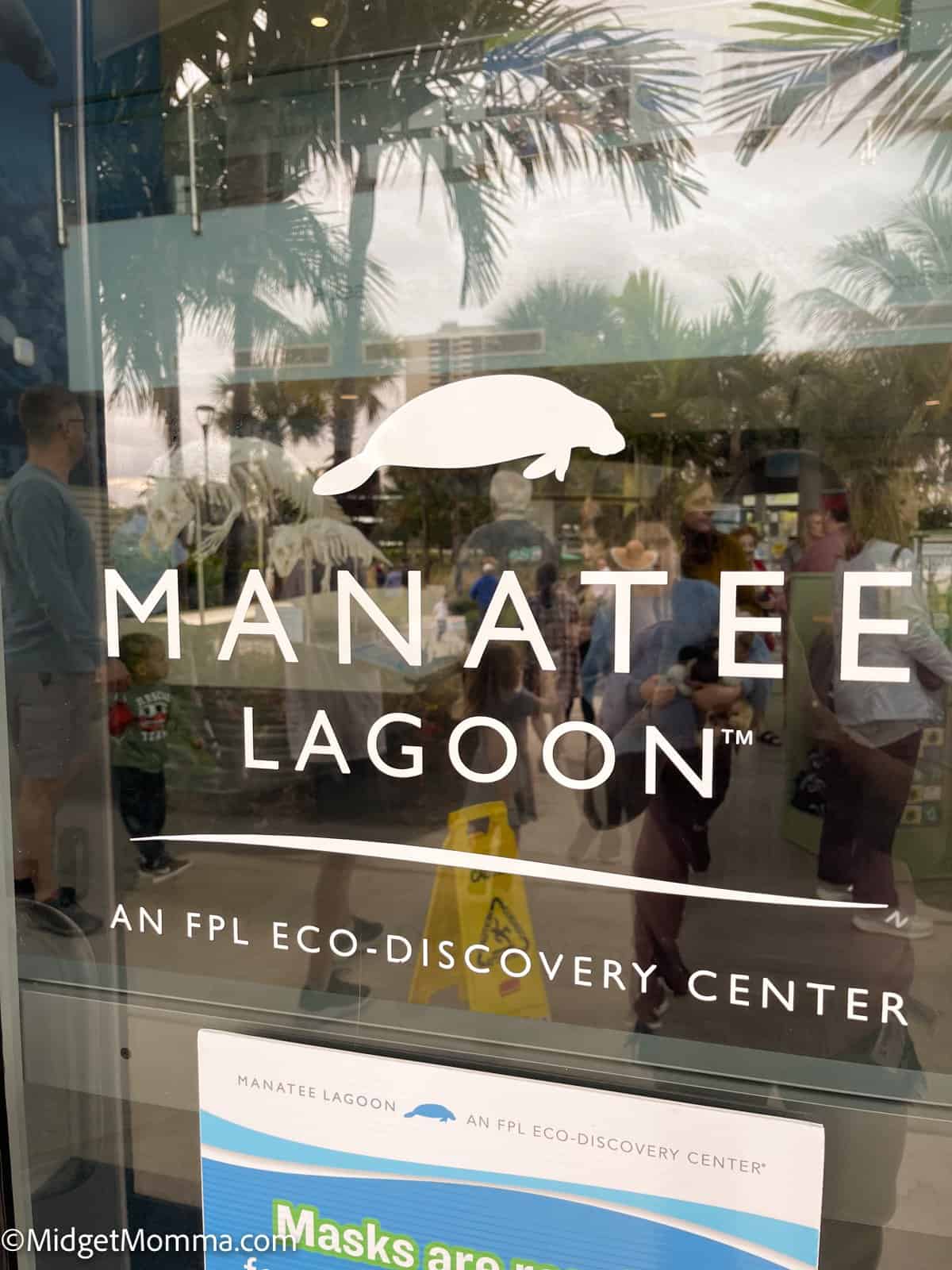 Manatee Lagoon
While a little bit of a drive from Fort Lauderdale as it is close to Phil Foster Park, Manatee Lagoon is a must-see with the kids when you are in Fort Lauderdale. Manatee Lagoon is a free educational and fun attraction to take the kids to. They have a museum and an observation deck to explore. It is a great way to see the manatees up close and personal and learn about them.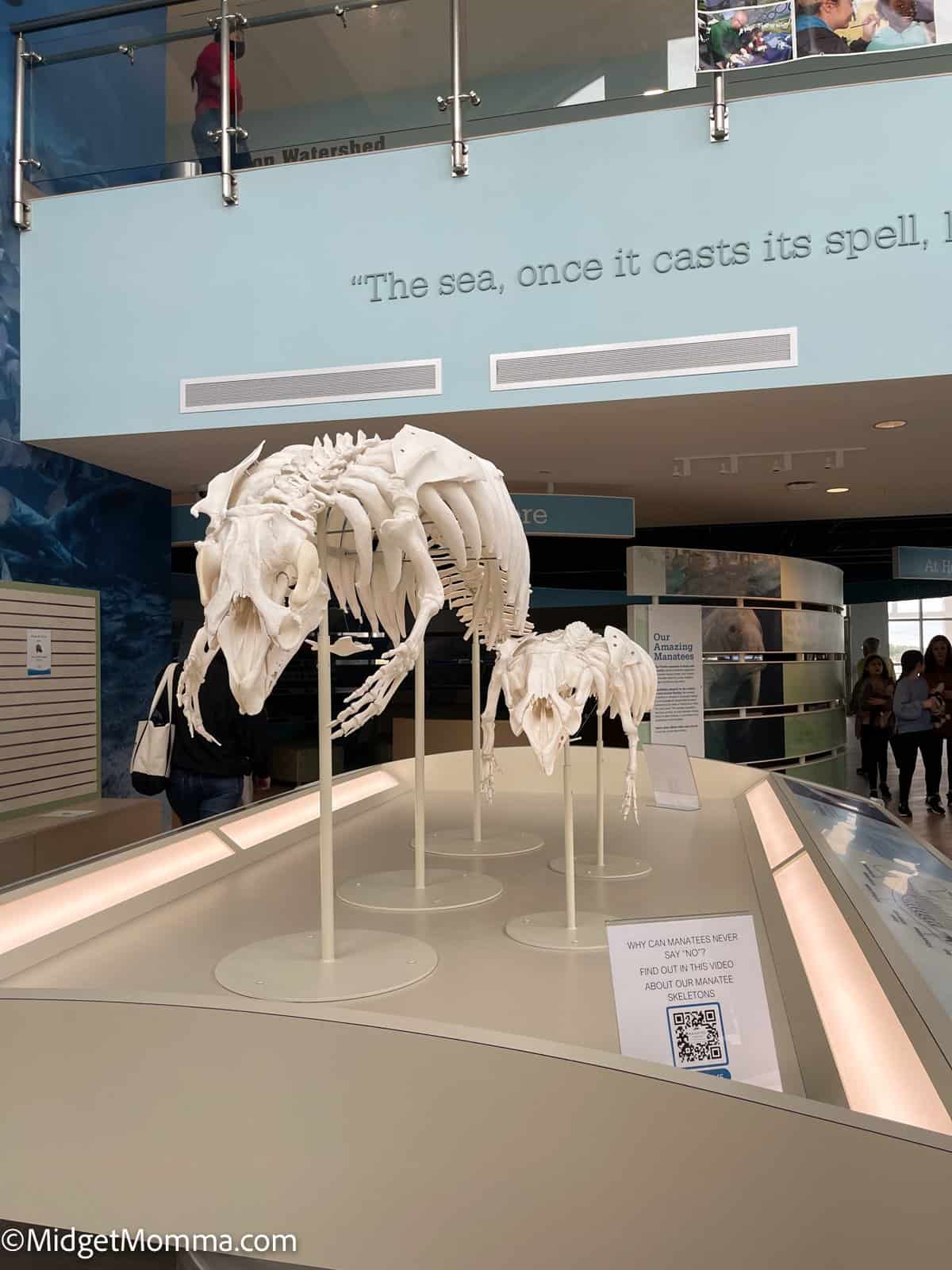 Inside the museum, there are hands-on and interactive learning exhibits that are perfect for the kids. They will be able to learn about the manatees and how they are endangered. While perfect for kids, adults will love this as well.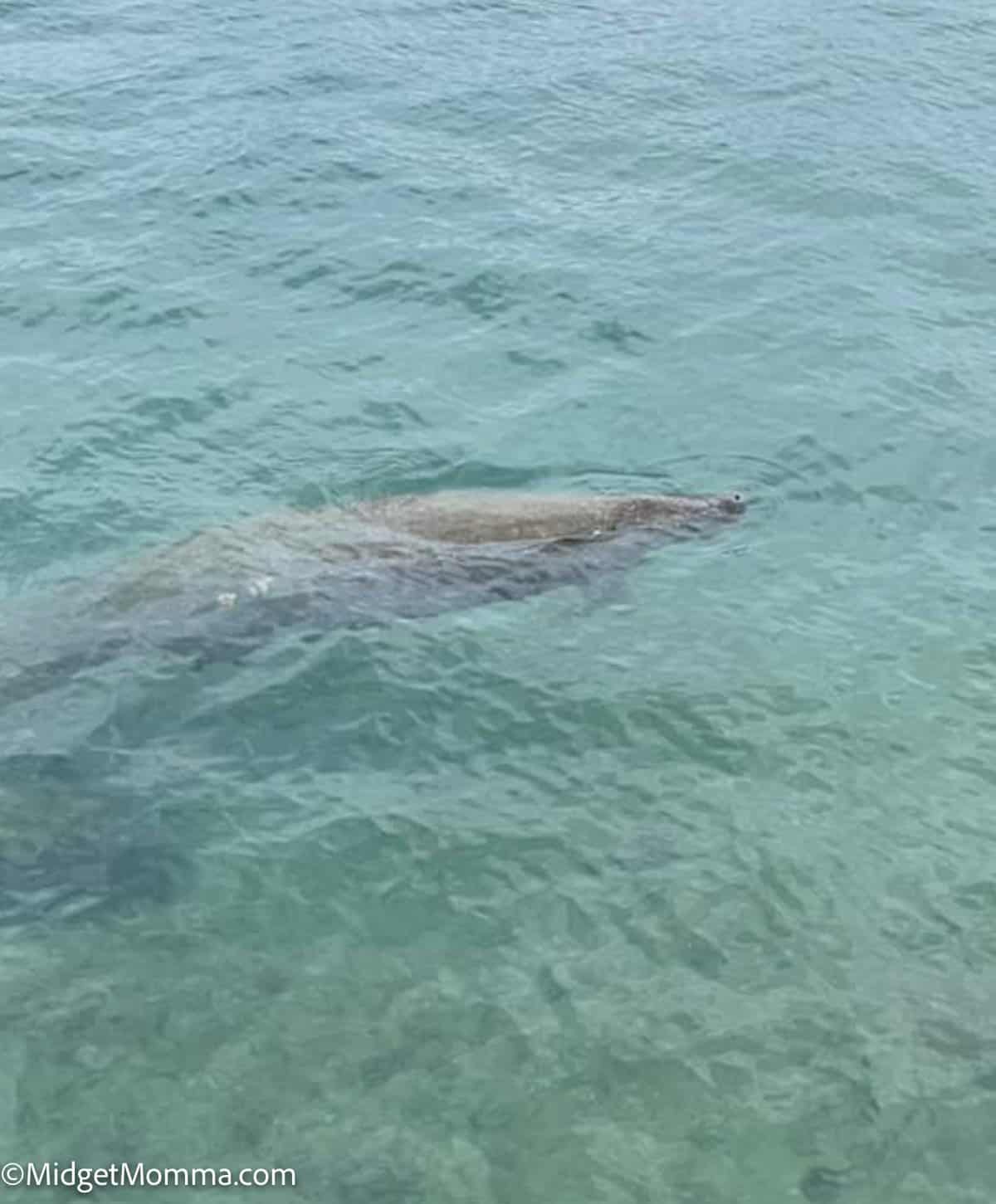 After walking thru the museum you can walk outside to the observation deck and see the manatees swimming in the water. On chilly days you will see manatees swimming in the water when you are standing on the observation deck outside.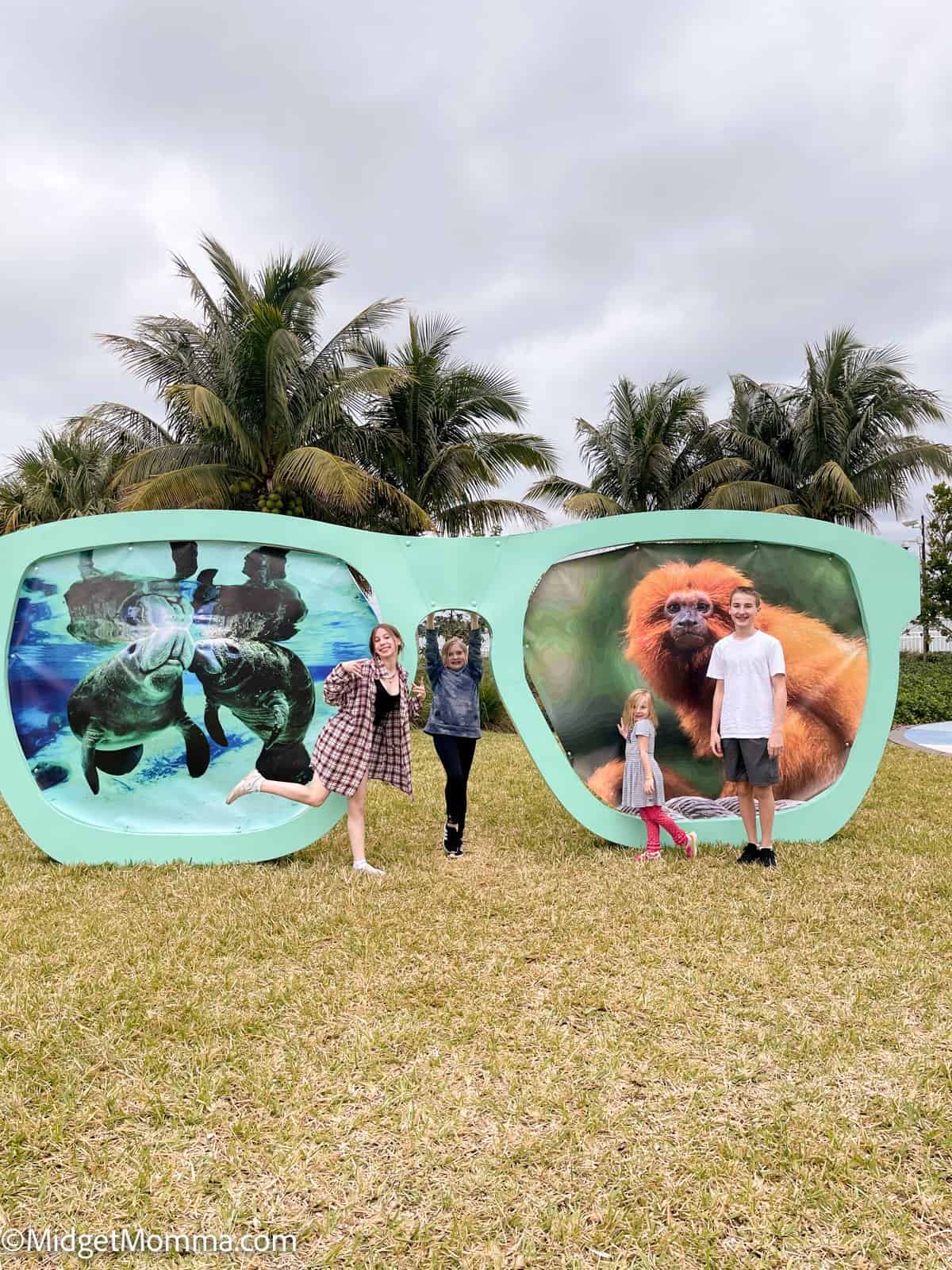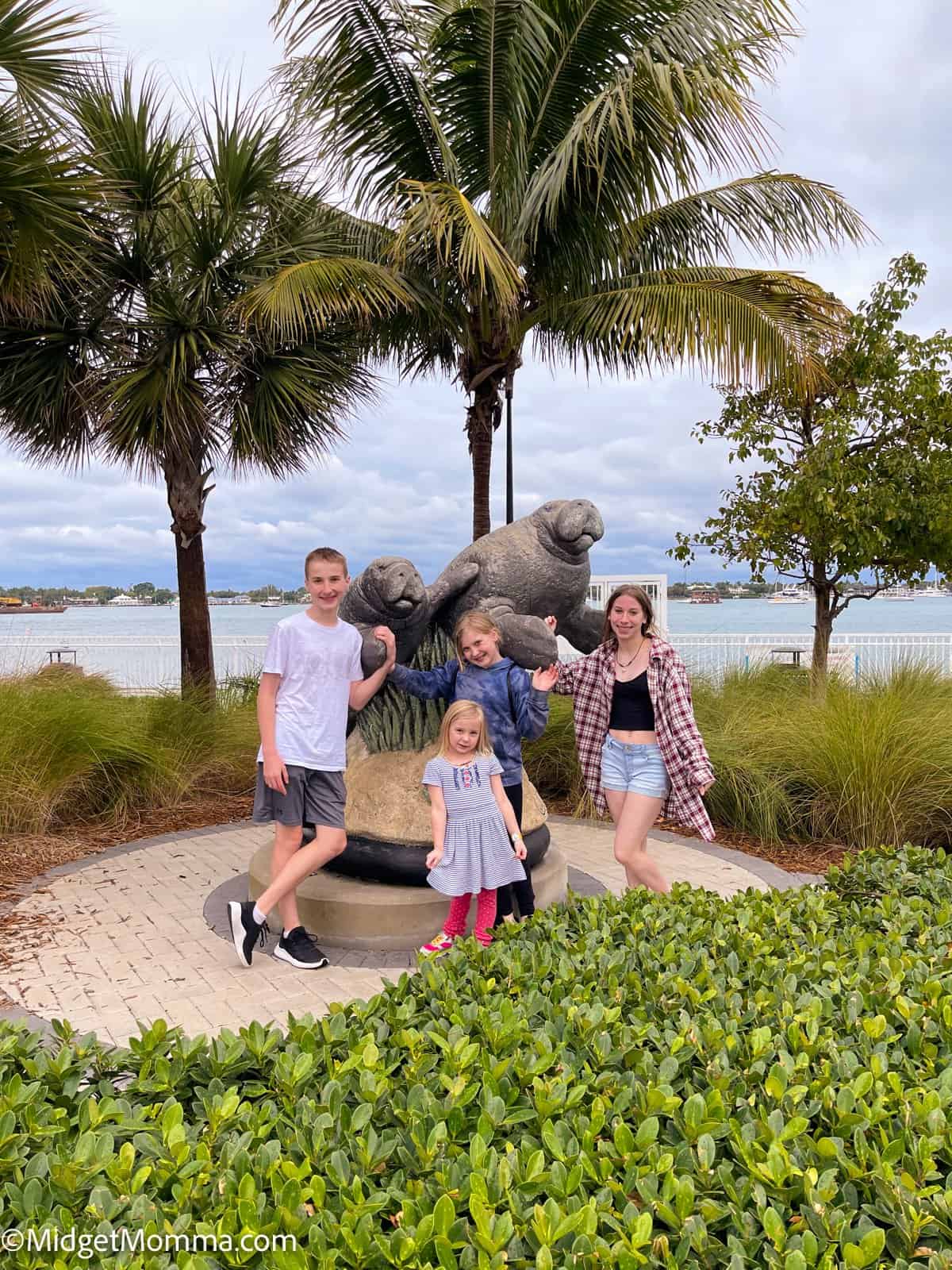 If you are wanting an awesome photo opp, the huge pair of sunglasses and the manatee statue that they have outside is perfect!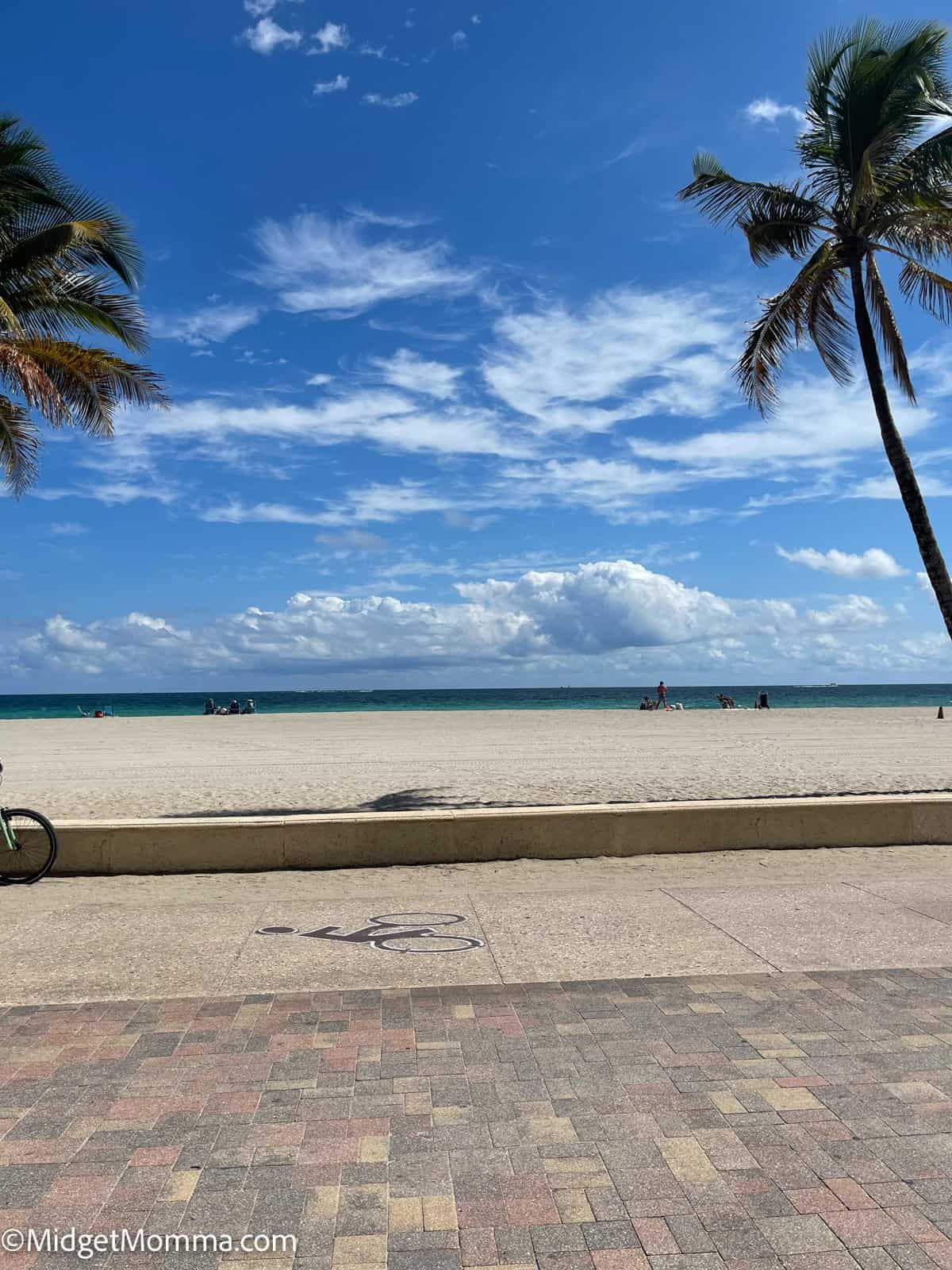 Go to the Beach
There are many different beaches in the Fort Lauderdale area. I do suggest if you are planning a lot of beach days that you get a hotel that is within walking distance. We stayed at the GalleryOne in Fort Lauderdale and it was only a 10 minute walk to the beach entrance. The walk was super easy as there are sidewalks and basically a straight shot from the parking lot to the beach we walked to. Unlike New Jersey beaches, there is no cost to go to the beach in Fort Lauderdale.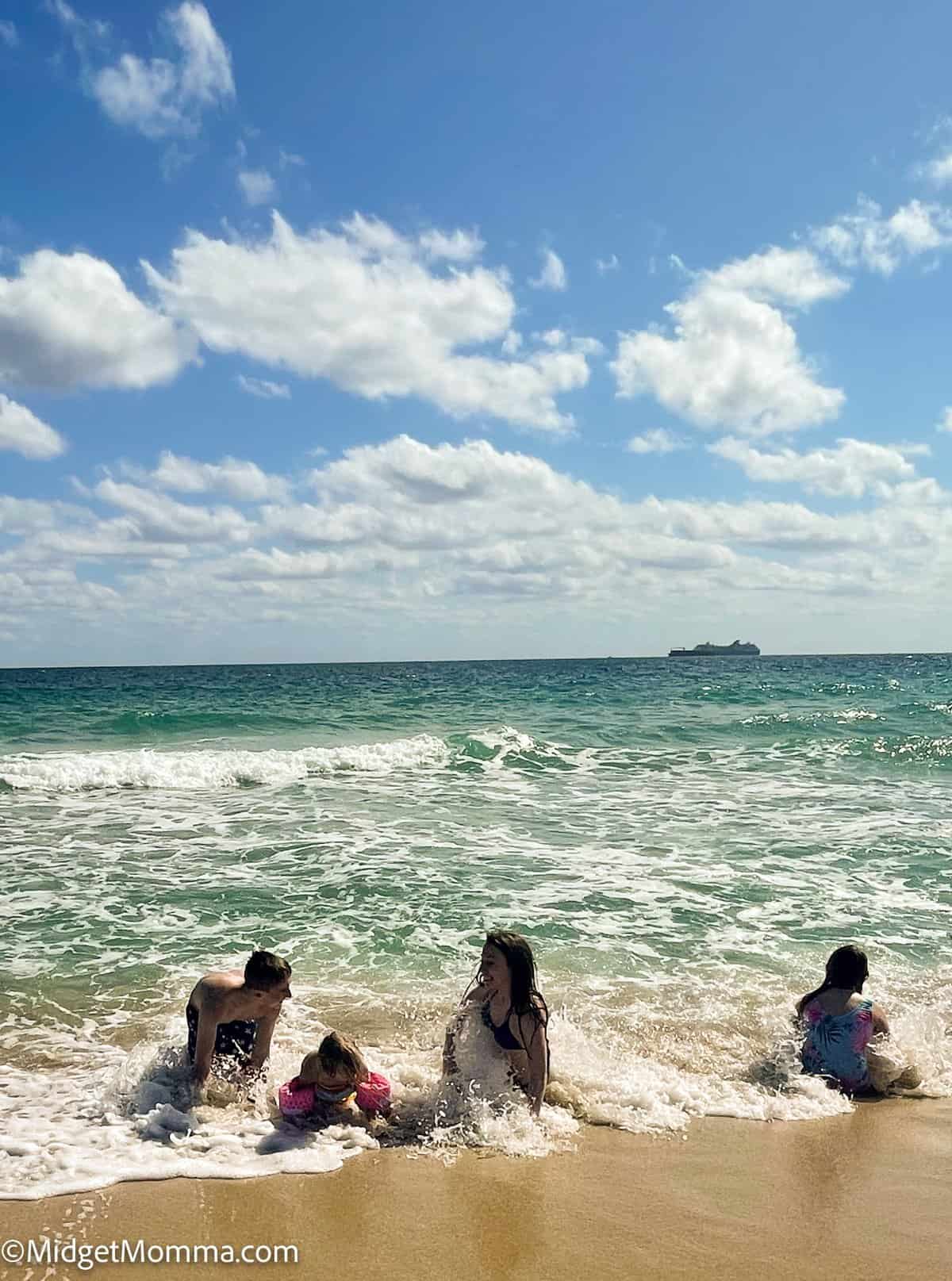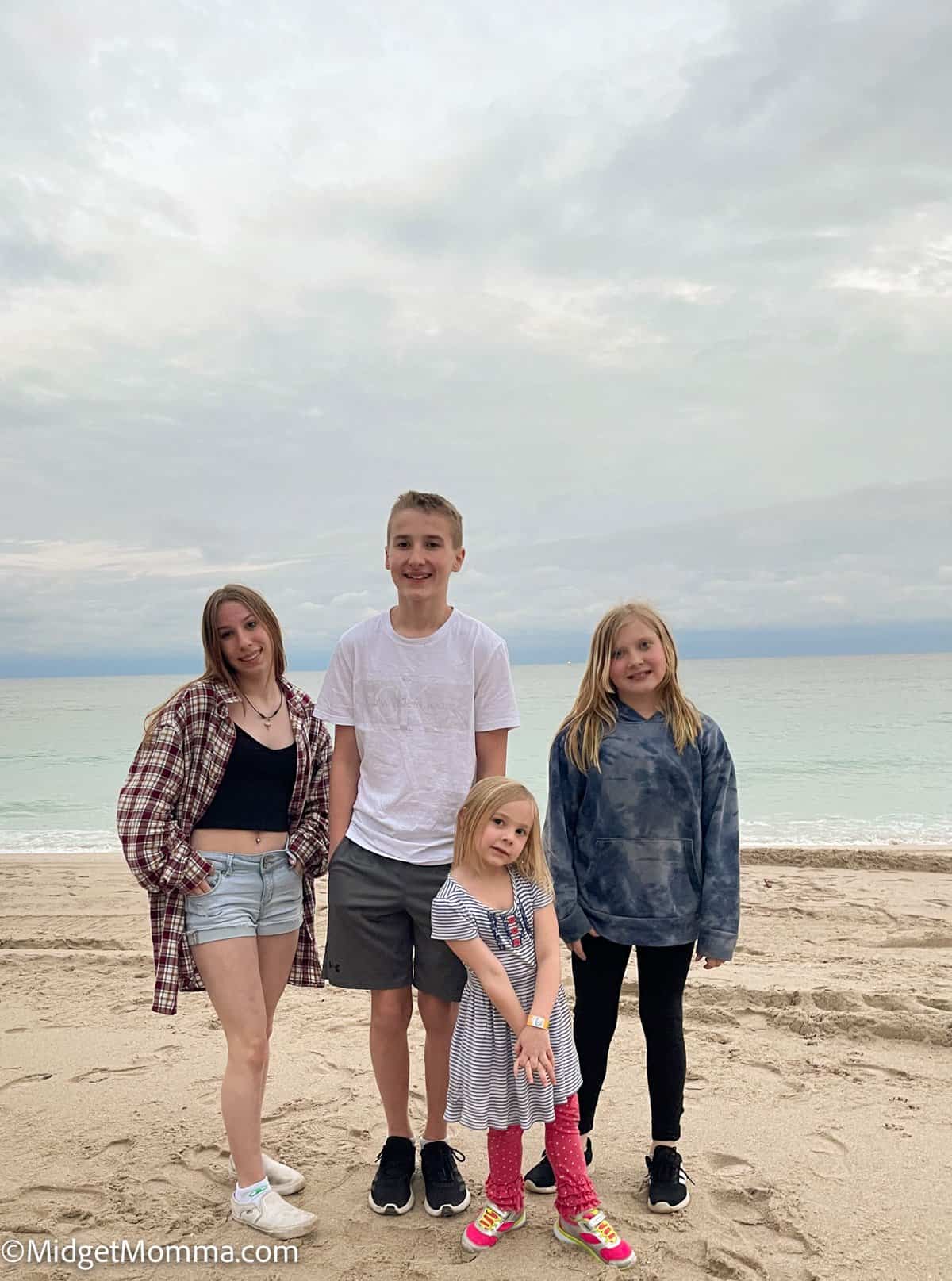 When you are at the beach you can rent chairs and umbrellas on most of them. You will see them set up on the beach, then you put your belongings there and the beach attendant will come to you so you can pay for the rental.
With so many different beaches and beachfront that you can go to, the best thing to do is check which one is closest to where you are staying.
Beaches in Fort Lauderdale Area
Fort Lauderdale beach
Hollywood Beach
Las Olas beach
Deerfield beach
Hillsboro beach
Pompano Beach
Lauderdale-By-The-Sea Beach
Dania Beach
Hallandale beach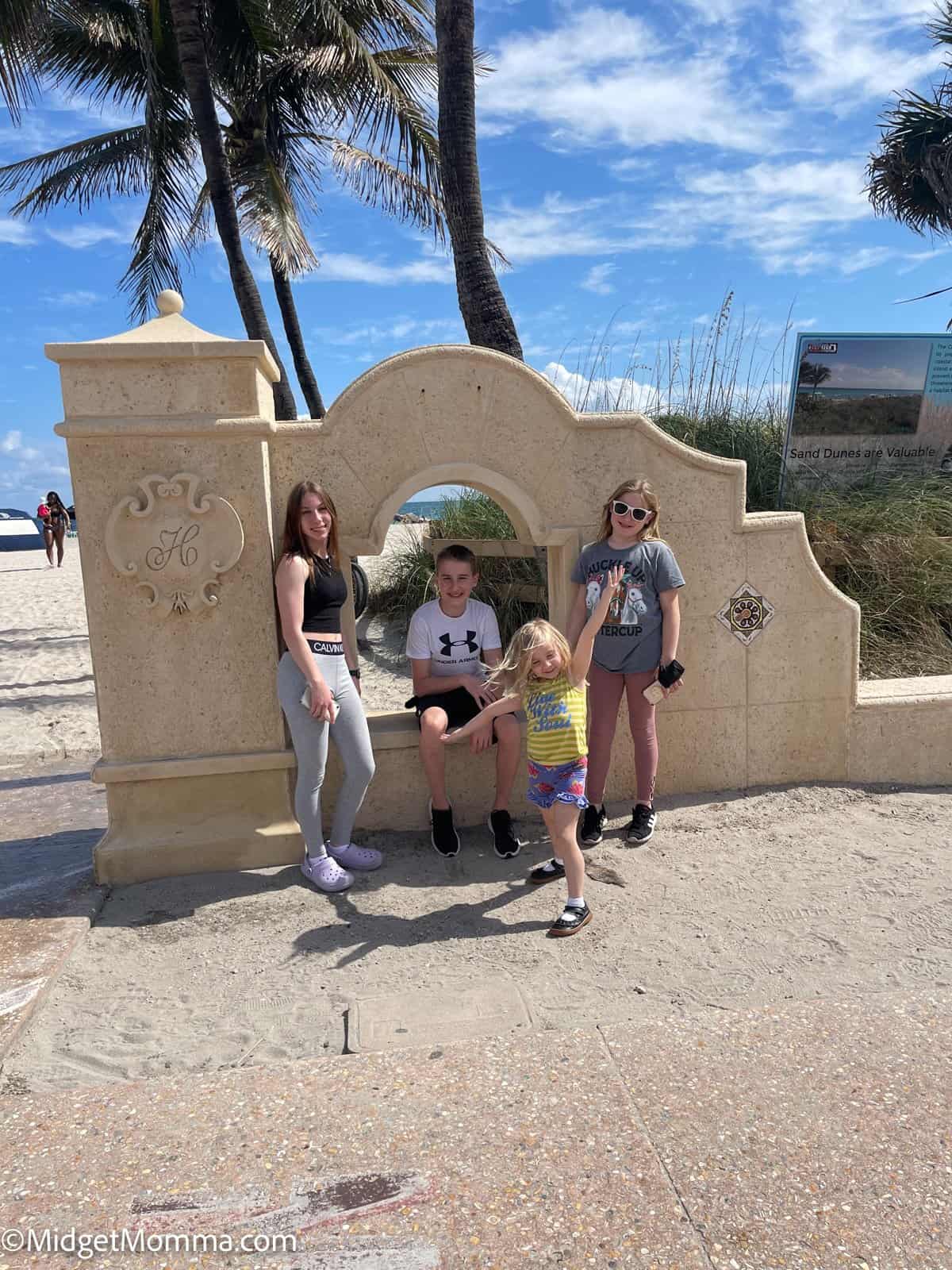 Hollywood Beach Boardwalk
A short drive from Fort Lauderdale beach is the Hollywood Beach boardwalk. Yes, there are other boardwalks that you can go to but I liked this one because exploring and enjoying it is made so easy. The boardwalk stretches 2.5 miles along the Atlantic coast making it great for a slow-paced relaxing activity to do with the kids.
We made this our last stop before heading home from our trip and enjoyed a relaxing fun walk, some delicious sushi, and then some frozen yogurt before heading to the airport. Next time we go we will be adding in enjoying the beautiful clear water and soft sand that is on the beach of the Hollywood beach boardwalk.
Park the car in one of the parking garages, a few short steps, and you are on the boardwalk. From the boardwalk, you can go to the beach if you want to or find a delicious meal to eat. Just walking on the boardwalk being able to see the beautiful view of the water and then go play in the sand if you want to makes it perfect for taking the kids to explore.
There are also playgrounds along the boardwalk that the kids can run off some energy on. The kids loved them and I loved that one of the ones we found was right next to the public restroom making it a fun and easy potty break.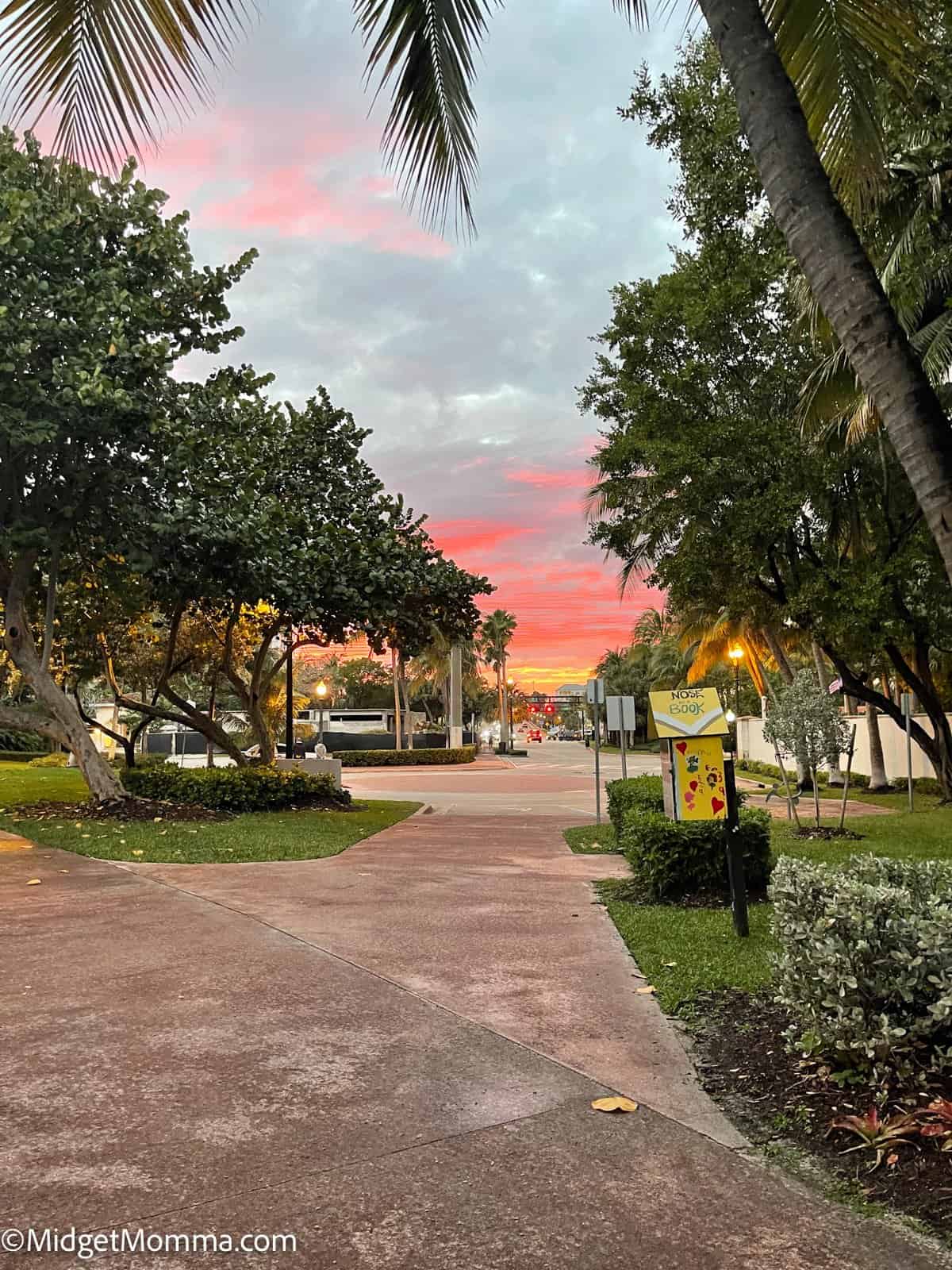 LauderGo Water Trolly
Instead of driving to different places you can jump on the LauderGo water trolly for free and get off at different spots or just enjoy the ride. The water trolly operates daily from 10 am until 10 pm and the stops along the way make exploring easy. Just make sure you get off the final time and the same place you started or you are going to need to find another way to get back to your car.
The LauderGo water trolly stops that the following locations for pick up and drop off:
Riverwalk Laura Ward Park
Huizenga Plaza/ Bubier Park
Riverfront Plaza
Esplanade Park
Tarpon River
New River Yacht Club
Downtowner Saloon
Smoker Park
Looking for more places to take the kids? Check out some of our favorite kid friendly travel spots!
Join the newsletter
Subscribe to get our latest recipes right in your inbox every time we post a new one!