Pumpkin Coffee Cake Recipe
This is a Sponsored post written by me on behalf of Libby's. All opinions are 100% mine.
I am a total pumpkin addict, like 100% addict. I stock up on the Pumpkin Kcups before they run out so I can have them all year long, I keep frozen pumpkin pies in my freezer for when I want a quick treat without having to do all the manual labor and if you say something has pumpkin in it I will be there tasting it in a flash, plus let's not forget my stockpile of Libby's Pumpkin it can be used in soooo many things that it is a must have in my stockpile!
Ok so every morning I make myself a cup of pumpkin spice coffee and well you have to try this amazing pumpkin coffee cake it is the perfect match for any pumpkin coffee lover! Ok so yes pumpkin tastes amazing but did you also know it is healthy for you too? It is a great source of fiber and Vitamin A! You can also use pumpkin in different recipes to lower your sodium and calories!! Awesome isn't it! I knew I loved pumpkin so much for a reason!!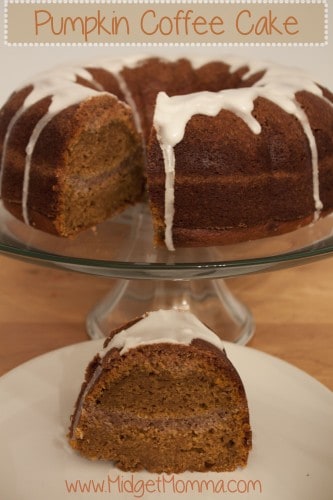 Pumpkin Coffee Cake Recipe Ingredients
Crumb Toping
1 cup all purpose flour
1/2 brown sugar, packed
pinch of salt
1 1/2 cinnamon Tablespoons
6 tablespoons butter, cold cut in small pieces
Cake
2 cups all purpose flour
1 1/2 teaspoon baking powder
1/2 teaspoon baking soda
1/2 teaspoon salt
1 1/2 tablespoon cinnamon
2 teaspoon ground ginger
1/2 teaspoon nutmeg
1/3 cup vegetable oil
3/4 cup unsweetened applesauce
15 oz. Pumpkin Can puree
1 teaspoon vanilla extract
1 1/2 cups of sugar
1/2 cup brown sugar, packed
2 large eggs, room temperature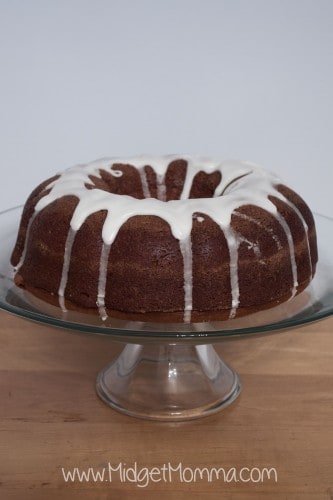 Pumpkin Coffee Cake Recipe Directions
For Topping: In a bowl stir together the flour, brown sugar, salt and cinnamon. Add butter and combine with fingertips until mixture is crumbly. Refrigerate while making batter.
For Cake: Preheat oven to 350ºF. Butter and flour a bunt pan or 9-by-13-inch cake pan. In a small bowl, combine flour, baking powder, baking soda, salt and spices. In a large bowl, whisk together oil, applesauce, pumpkin, vanilla and both sugars until well mixed. Whisk in the eggs. Add flour mixture to pumpkin mixture and stir until just combined, do not overmix. Sprinkle half of the topping into the cake pan and spread evenly. Pour half of the batter on top. Sprinkle with the remaining topping. Than finish off with the remaining batter. Bake cake until a toothpick inserted into center comes out clean, 45 to 50 minutes. Allow to cool in pan on a wire rack at least 20 minutes.
Let me not forget to tell you about the awesome #PumpkinCan contest that is going on too! You can enter to win weekly prizes from Libby's!! Just head on over here to enter!! And follow Libby's on Facebook, Libby's on Twitter and Libby's on Pinterest for awesome ideas on how to use pumpkin in your cooking!!! 
Check out these other great Pumpkin Recipes:
Join the newsletter
Subscribe to get our latest content by email.
This post may contain affiliate links. Please read my disclosure policy here