Pumpkin Trifle. Layers of homemade pumpkin pie pudding, vanilla cake and homemade whipped cream in a dessert pan for the perfect fall pumpkin pie dessert.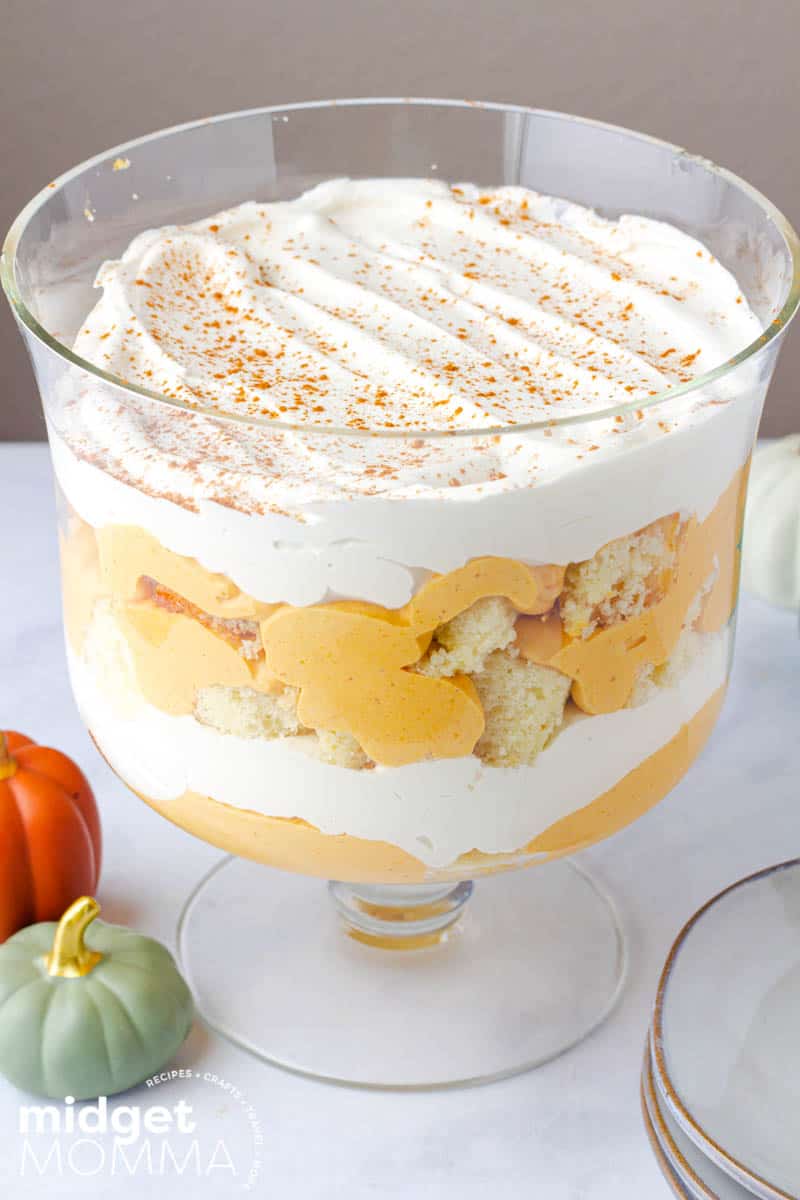 Pumpkin Trifle Recipe
I can not wait for fall. I am warning you now that you are about to see lots of fall recipes because I am so done with summer and ready to enjoy the flavors of fall like pumpkin and apples. This easy pumpkin trifle is one of my favorite fall desserts. It as all the flavors of a pumpkin pie in an easy to make layered dessert!
Easy Pumpkin Dessert Recipes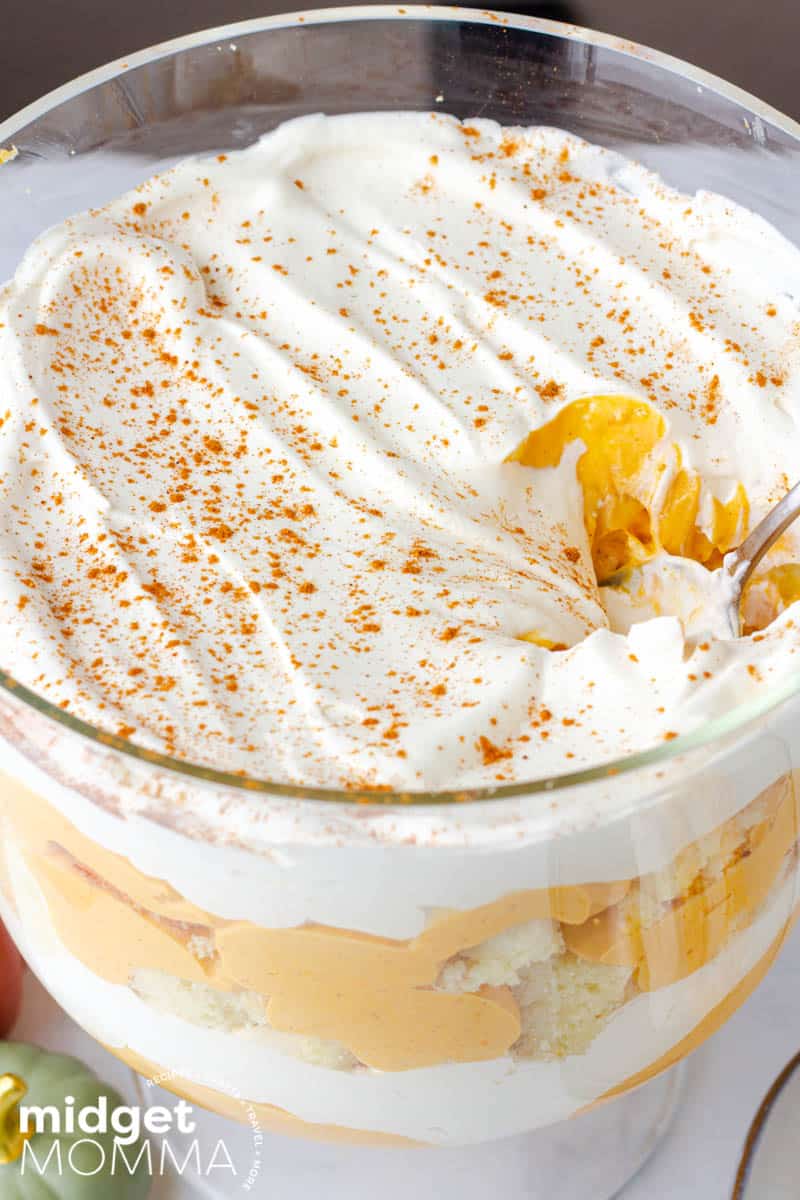 How to Store a Trifle
After serving the trifle you need to store the left overs in the fridge. Keep the dessert in the serving dish you made it in and cover loosely for up to 3 days.
Tips for Making Homemade pumpkin pie Pudding
Making pumpkin pie pudding is not hard at all and with this pumpkin trifle recipe the homemade pumpkin pie pudding has the perfect pumpkin pie flavors.
Right temperature. Make sure the stove heat is at medium, If it is to hot the sugar and milk will burn, if it is to low it will not dissolve the sugar properly.
Keep stirring. When you are adding the milk and sugar mixture to the eggs be sure to keep stirring, you do not want to cook the eggs, you want them to be mixed in with the milk and whisked together well.
Cover. Be sure to cover the pudding with plastic wrap to avoid a skin forming over the pudding while it is setting in the fridge.
Cool time. Do not skimp on fridge time, you need the full hour in the fridge for the pudding to set.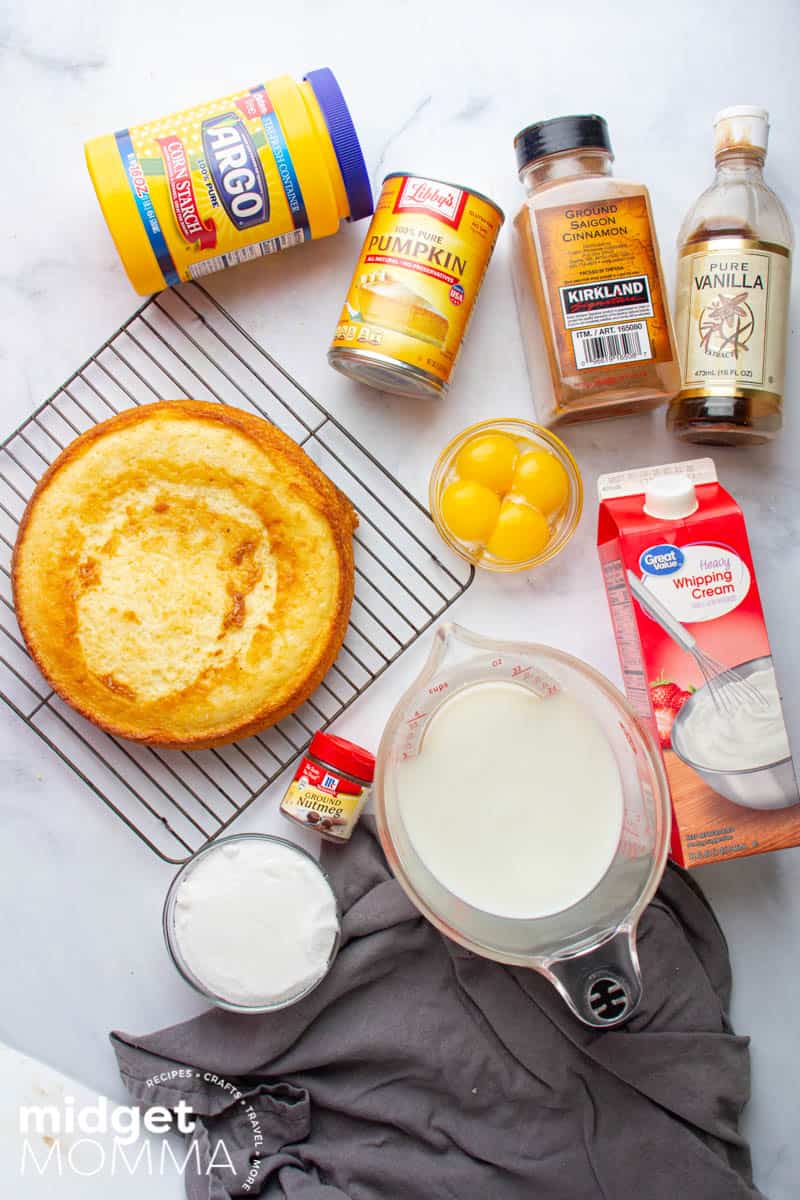 Pumpkin Trifle Ingredients
Vanilla cake. You can use a boxed cake mix, or better yet use my boxed cake mix hack to make a boxed cake mix taste homemade, or your favorite vanilla cake recipe.
Pumpkin Pie Pudding. This pumpkin trifle dessert recipe is made with homemade pumpkin pie pudding. You do not want to skimp here, the boxed pumpkin pudding is no where near as good as this homemade pumpkin pudding. When you are making the homemade pumpkin pudding you can use homemade pumpkin puree or you can use canned pumpkin.
Whipped Cream. If you are in a pinch you can use store bought whipped cream or cool whip but I think it is best with homemade whipped cream and homemade whipped cream is super easy to make.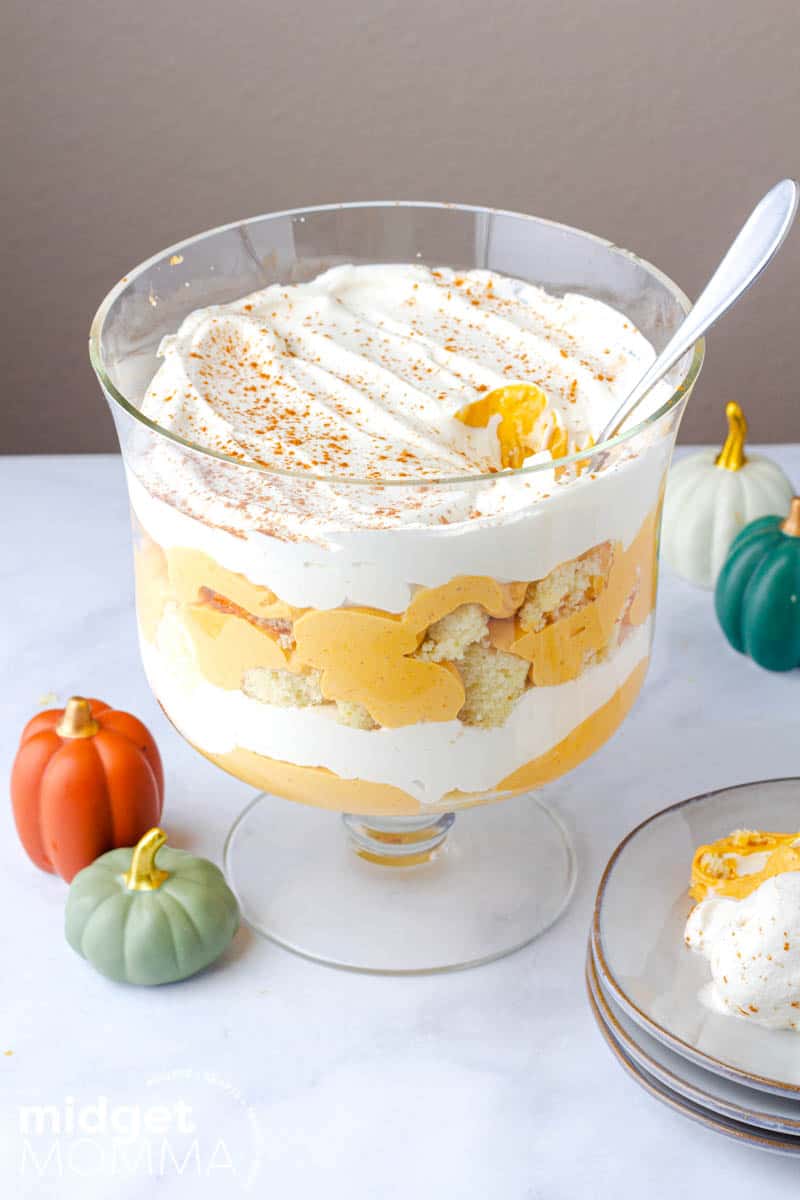 How to Make Pumpkin Trifle
Bake the cake and allow it to cool.
While the cake is baking make the homemade pumpkin pudding and put in the fridge to set.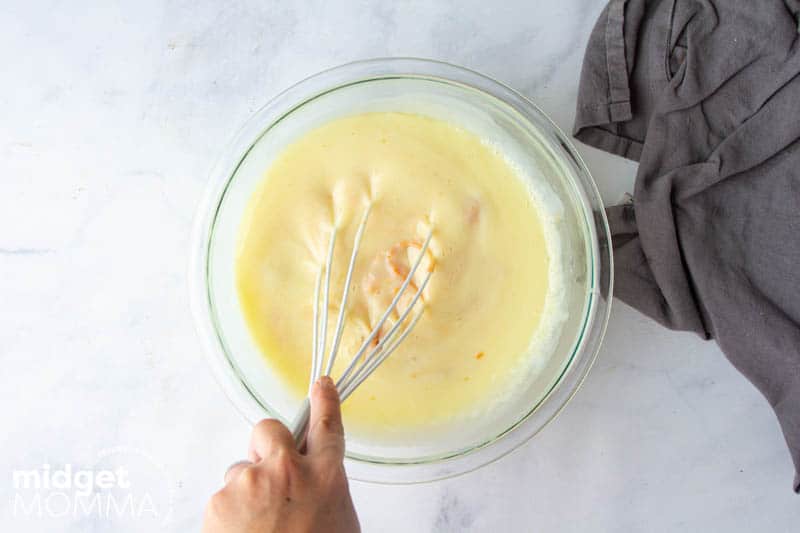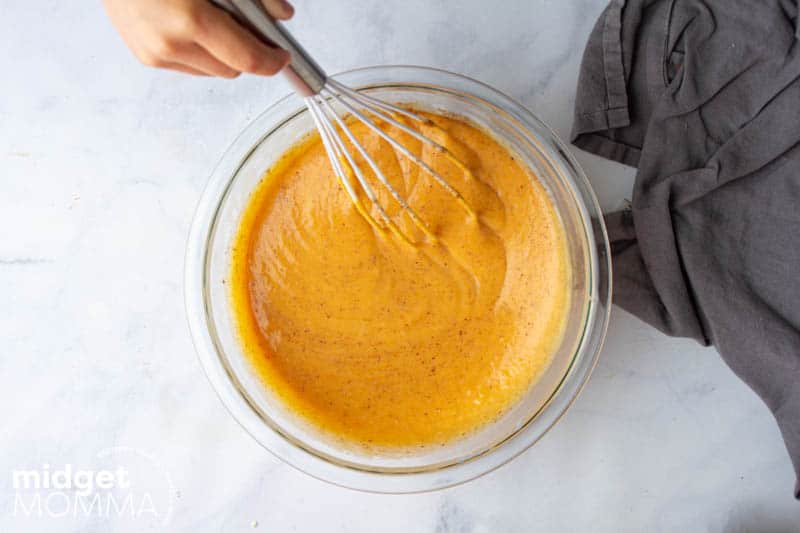 While pumpkin pudding is in in the fridge make the whipped cream.
Once the cake is cooled cut the cake into 1 inch pieces.
Using a trifle dish or in a bowl alternating layers of pudding, cake and than whipped cream until all of the ingredients are used up.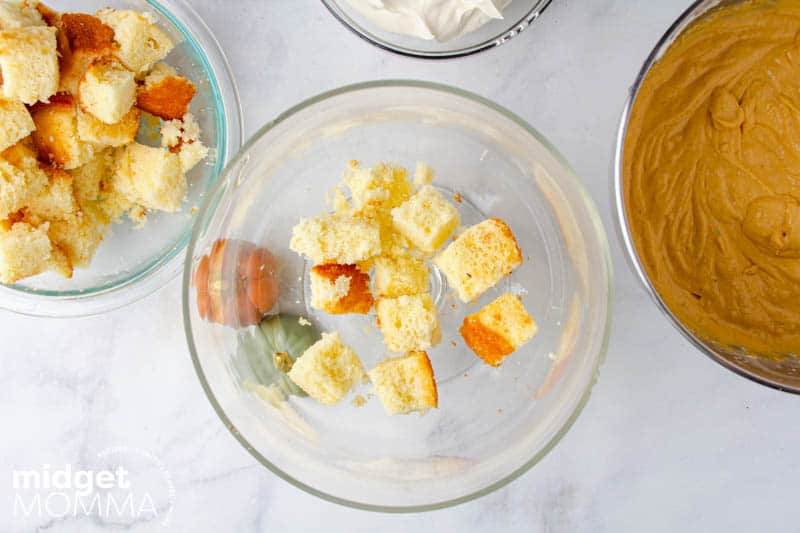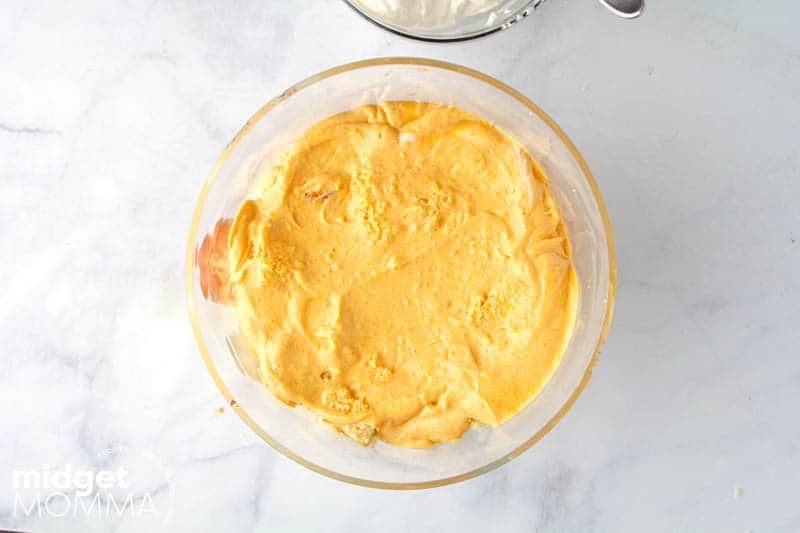 Sprinkle the top with cinnamon.
Pumpkin Recipes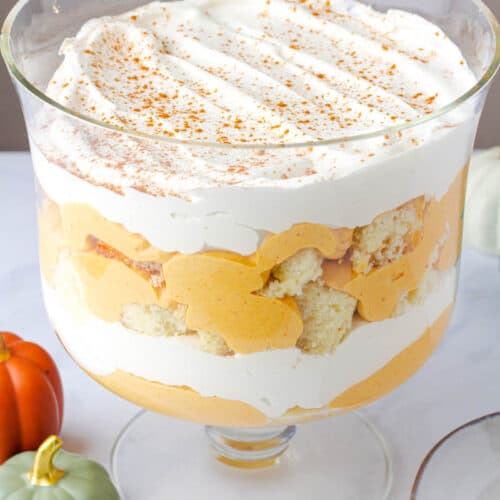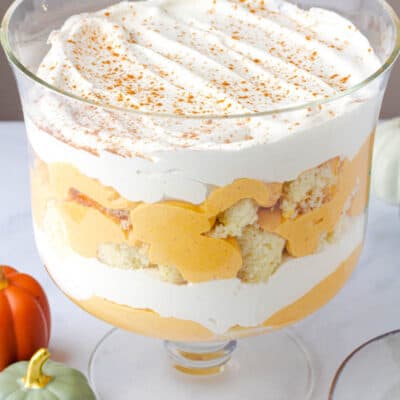 Ingredients
Pumpkin Pudding Ingredients
Whipped cream Ingredients
Instructions
How to Make homemade vanilla cake
Heat the oven to 350.

Place your self-rising flour, cake flour, and sugar in the bowl of your mixer. Mix them together for a minute or two until they are well combined.

Cut your butter into tablespoon pieces. Slowly add your butter into the flour mixture one piece at a time continue mixing until you have reached the texture of sand.

Pour half of your milk into the flour mixture and mix just until the milk is incorporated. Use your rubber spatula to scrape down the sides of your bowl. Add your remaining milk and the vanilla to your batter and mix until combined.

Slowly add in one egg at a time to the cake batter, making sure each egg is incorporated before adding the next egg.

Spray cake pan with no stick spray and pour the cake batter in.

Bake for 30-35 minutes. Check with a toothpick by poking the toothpick in the center of the cake and when it comes out clean it is done baking.

While the cake is baking make the pumpkin pudding.
How to Make homemade pumpkin Pudding
Combine sugar, cornstarch and milk in a medium sauce pan over medium heat. Stir frequently until pudding heats up, then stir constantly until it starts to bubble.

Pour 1/2 cup of milk mixture into the eggs stirring constantly. You don't want to cook your egg yolks. Add the pumpkin, cinnamon, vanilla and nutmeg. Then pour the egg mixture back into the saucepan and cook until bubbly and thickened.

Pour into a bowl and cover with plastic wrap to prevent a skin from forming. Place in the refrigerate for an hour.

While the cake is cooling and the pumpkin pudding is setting make your whipped cream.
How to Make homemade whipped cream
Add all of the ingredients for the whipped cream into the bowl and whisk with a mixer on high speed until medium peaks form, about 1 minute.
How to Make Pumpkin Trifle
Once the cake is cooled cut the cake into 1 inch pieces.

Using a trifle dish or in a bowl alternating layers of pudding, cake and than whipped cream until all of the ingredients are used up.

Sprinkle the top with cinnamon.
Nutrition
Calories: 596kcal | Carbohydrates: 76g | Protein: 10g | Fat: 29g | Saturated Fat: 17g | Cholesterol: 196mg | Sodium: 71mg | Potassium: 224mg | Fiber: 1g | Sugar: 52g | Vitamin A: 4239IU | Vitamin C: 1mg | Calcium: 136mg | Iron: 1mg