Homemade french toast sticks is one of my go to breakfast meals, the kids love them and they are simple to make! Topped with cinnamon and sugar, this homemade french toast sticks recipe makes the perfect kid friendly breakfast! (And for adults too!)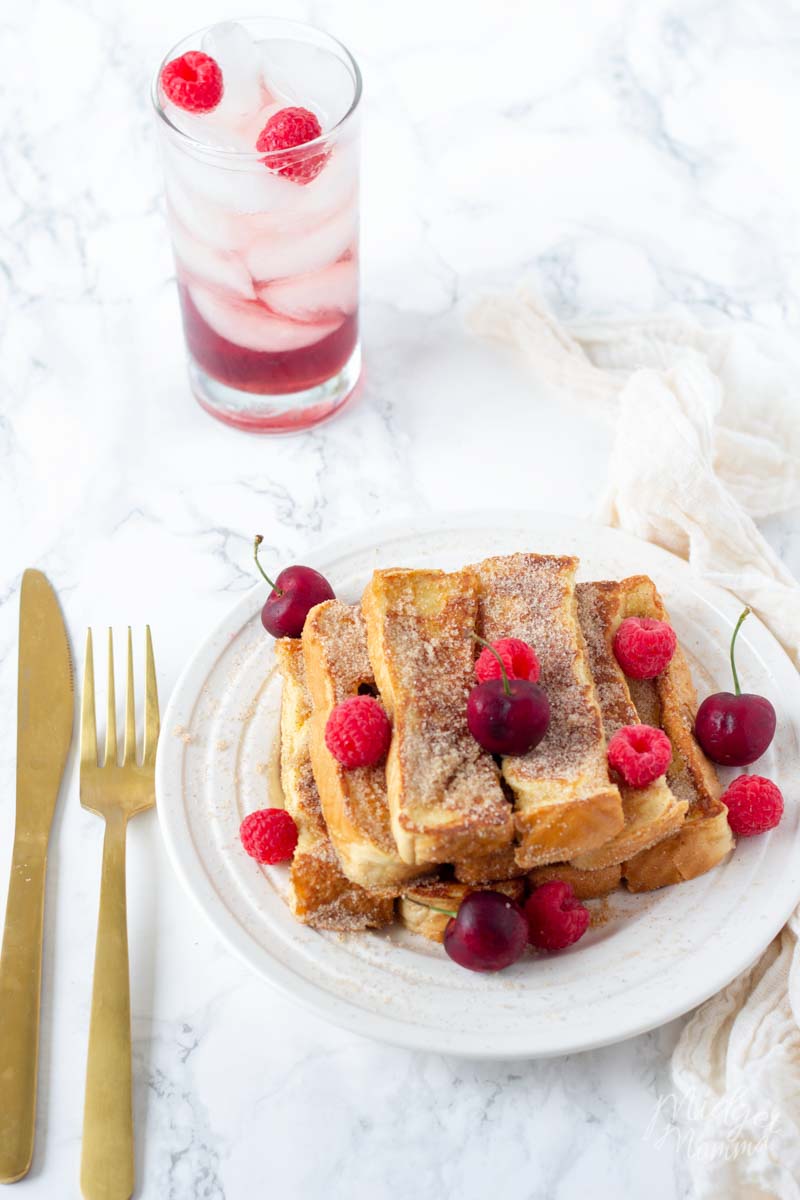 This easy french toast recipe is the perfect one to try if you are looking for how to make french toast without vanilla. With the exception of texas toast bread, you most likely have all of the french toast sticks ingredients in your pantry already.
French Toast Sticks Recipe
This french toast sticks recipe is my kids favorite, I mean really what kid doesn't like a breakfast they can eat with their hands and not have someone tell them to use a fork! When we have french toast sticks for breakfast I also serve them with fruit. What fruit all depends on what we have in the house, but their favorites are cherries, melon, blueberries, strawberries and bananas.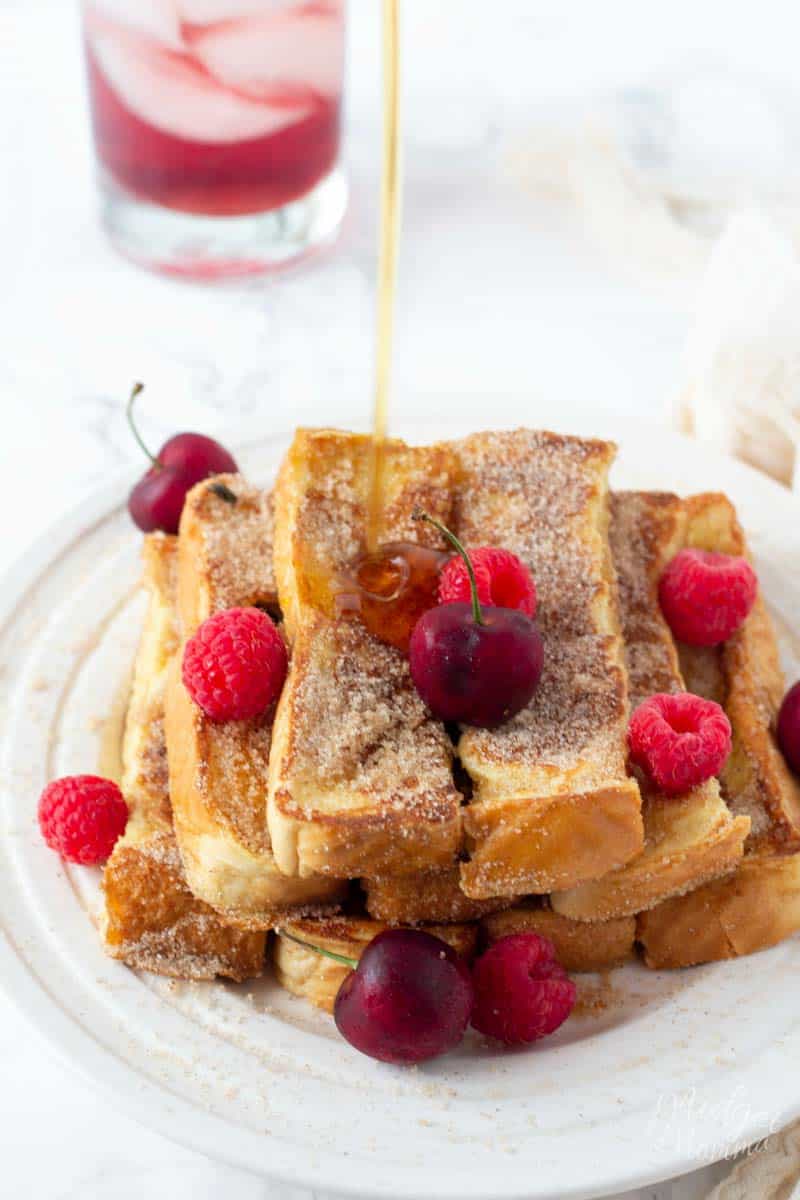 Homemade French Toast Sticks Recipe
When cooking this homemade french toast recipe, you will be using a skillet on the stove. We have tried doing baked french toast sticks with these and they do not come out anywhere near as tasty. So we stick with what works and make skillet french toast sticks.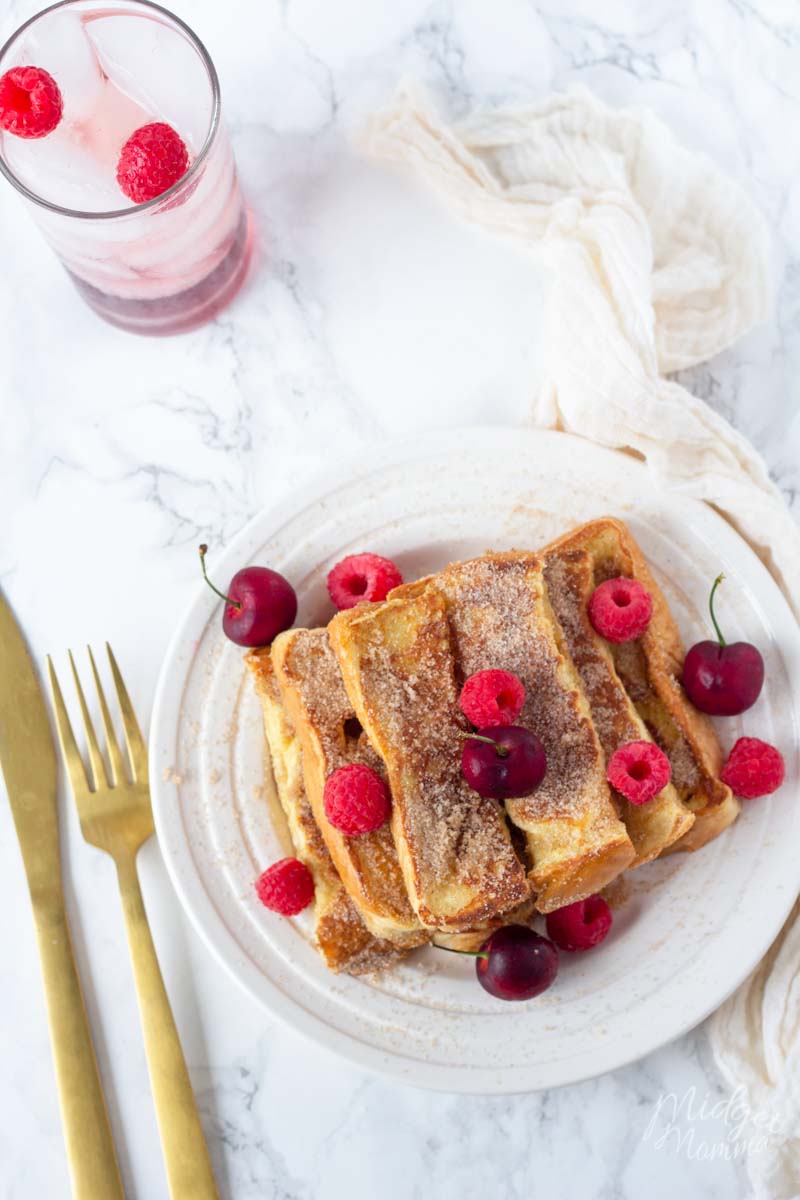 Homemade french toast sticks are really easy to make. If you can not find texas toast bread then you can easily substitute wheat bread or white bread when making this homemade french toast sticks recipe. Your french toast sticks just will not be as thick as ours are, but they will still taste amazing!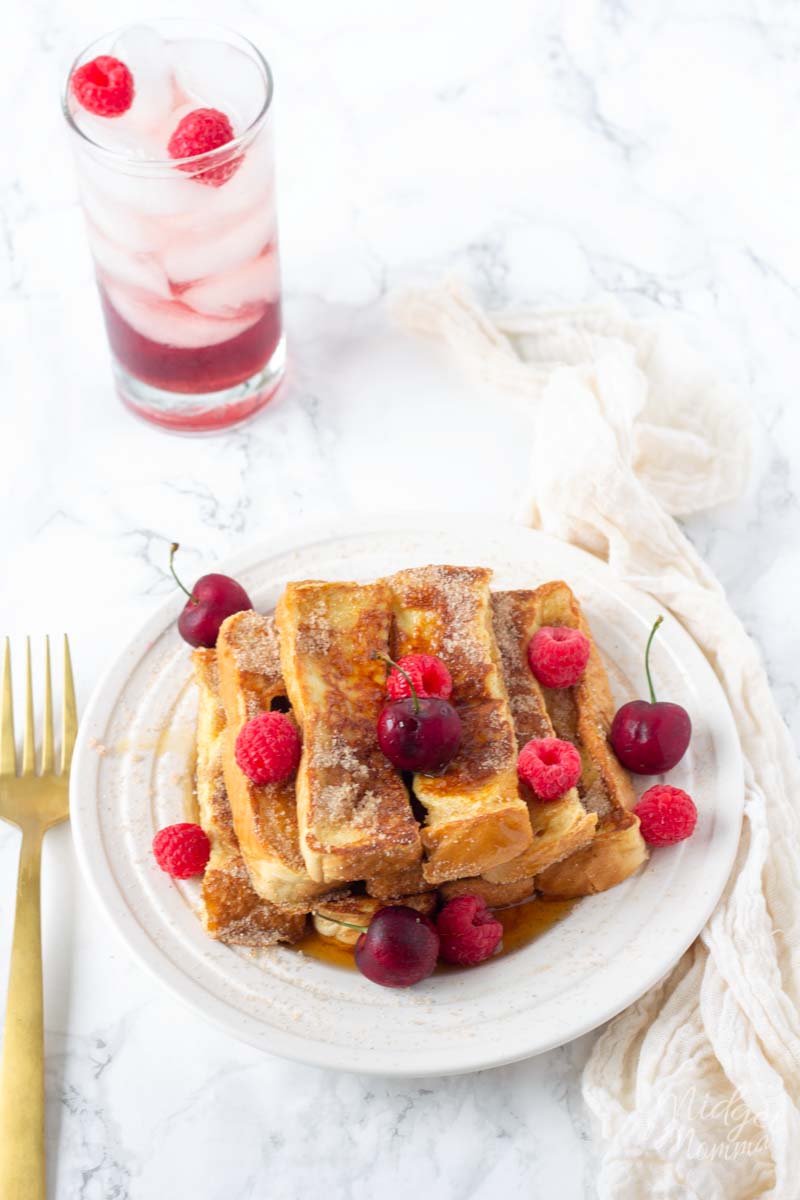 I make a large batch of these awesome Cinnamon Sugar French Toast Sticks Recipe and then keep french toast sticks frozen in the freezer for the kids to heat up in the mornings. It really makes life so much easier when we can have tasty breakfasts that are easy to just heat up.
How to freeze french toast sticks
Personally I like to make a few batches of these texas toast french toast sticks and then freeze them for easy breakfasts. To freeze french toast sticks just cook them following the directions and then let them cool. Once they are cool spray a baking sheet with nonstick spray and lay the homemade french toast on the baking sheet. Place the baking sheet in the freezer for 2 hours until the french toast sticks are fully frozen. Then using a spatula remove them from the baking sheet and place in a gallon sized freezer bag. If you are making more then one batch of these you will need more freezer bags. Then place the frozen french toast sticks in the freezer. To reheat the french toast sticks, put them on a plate and microwave them. For my microwave it takes about 1 minute for 6 french toast sticks.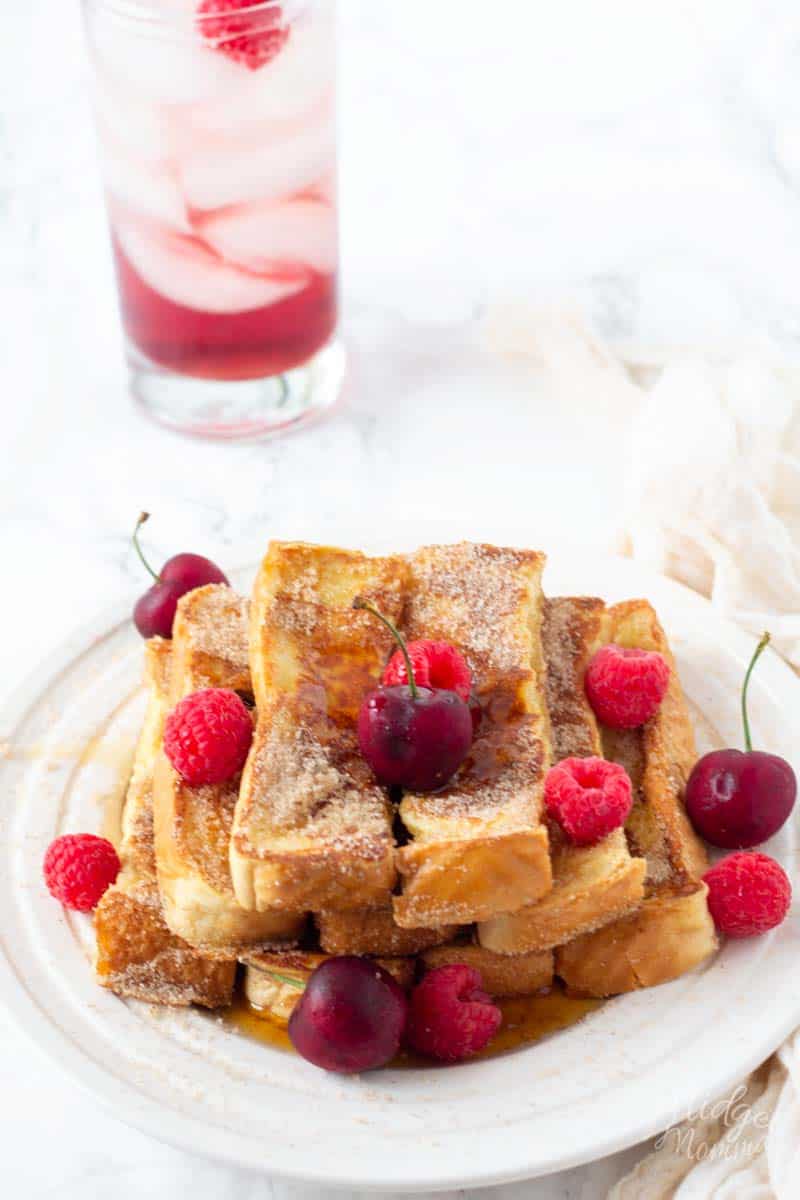 We use texas toast bread to make our french toast sticks because it is double the thickness of regular bread. The thickness soaks up more of the egg and milk mixture that you dip them in. Texas Toast also has a squarer shape then regular bread, so sometimes when making french toast with texas toast bread it is referred to as Texas style french toast.
If you are making french toast sticks with regular bread instead of making french toast sticks with texas toast bread then you will have thinner french toast sticks. It will still come out tasty, but I would suggest upping the amount of bread slices that you use.
How to Make French Toast Sticks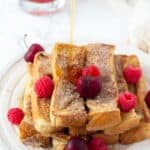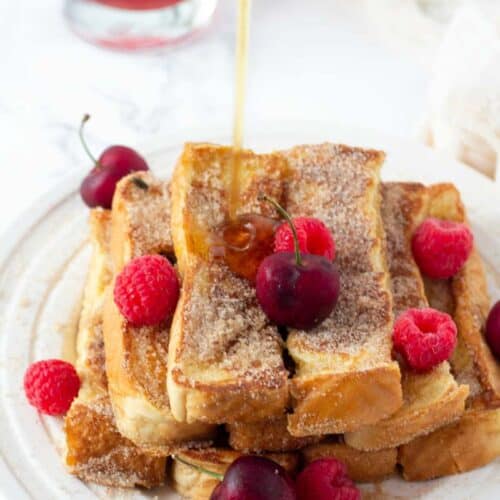 Cinnamon Sugar French Toast Sticks
Homemade french toast sticks are the perfect breakfast. Learn How to make french toast sticks with this simple recipe. Follow these easy directions to learn how to make french toast sticks!
Pin Recipe
Print Recipe
Instructions
Cut each of the texas toast slices in to thirds, while doing so heat up your saucepan on the stove on medium head and coat with a small amount of pam spray (or whatever cooking spray you use).

In a large bowl mix the eggs and milk together with a wisk. In a smaller bowl mix the cinnamon and sugar until well blended.

Dip your slices of texas toast into the egg/milk mixture and place in your pan.

Cook until side is golden brown and then flip to cook the other side. As soon as you remove them from the pan put them into the cinnamon/sugar mixture bowl and swirl them around to coat.

Continue doing the same until all your french toast is made
Notes
This recipe makes 4 servings. Each serving is 6 french toast sticks.
Nutrition
Calories:
592
kcal
|
Carbohydrates:
88
g
|
Protein:
14
g
|
Fat:
21
g
|
Saturated Fat:
6
g
|
Cholesterol:
210
mg
|
Sodium:
524
mg
|
Potassium:
156
mg
|
Fiber:
2
g
|
Sugar:
57
g
|
Vitamin A:
395
IU
|
Calcium:
110
mg
|
Iron:
13.1
mg
7 Weight Watchers SmartPoints on the Freestyle Program
More Great Breakfast Recipes:
Join the newsletter
Subscribe to get our latest content by email.
This post may contain affiliate links. Please read my disclosure policy here