If you are looking for some fun to do with the kids this summer and you have a Harkins Theater near you then you will want to join the Harkins Summer Movies fun! Go to the movies at Harkins Theaters for just $1 per movie!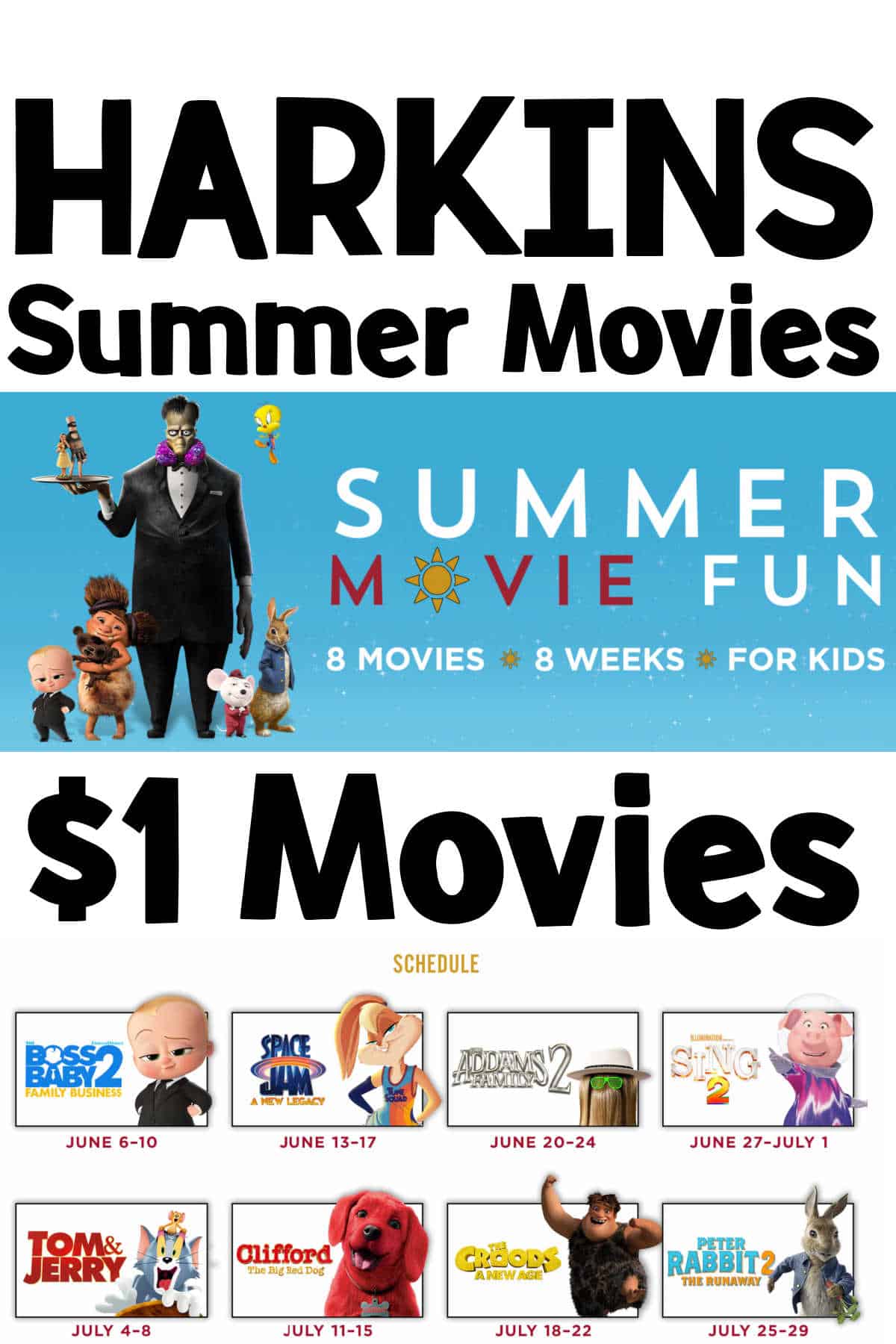 Harkins Summer Movies 2022
If you are looking for movie fun this summer with the kids then you will want to check out the Harkins Summer movie program! You will be able to get movie tickets for as low as $1 depending on if you buy the movie pass or buy them at the box office on the day of the movie.
You can find out all of the Harkins Summer Movie information here.
When are the movies playing?
You will be able to see a movie every week, Monday thru Friday at 9:45am. Each week the same movie is shown Monday thru Friday at 9:45am.
How Much Are the tickets?
You can buy the summer movie pass for $8 in advanced, which makes it just $1 a movie or you can buy the tickets the day of at the theater for $2 per movie ticket.
If you plan to attend at least 4 movies at the same location, it is better to purchase Season Tickets. Purchasing season tickets in advance also ensures seating availability. They do sell individual tickets for $2 each. Individual tickets are not sold in advance you will have to buy those at the box office the day of the movie.
How to Buy Harkins Theater Summer Movies Program for Kids Tickets
The Harkins Summer Movie season tickets are available until they sell out, or through the 7th week of the program, whichever comes first. After the 7th week of the program, Season Tickets are no longer cost-effective and they are not sold.
However, you can still purchase single day tickets for $2 each, when available. Individual tickets are not sold in advance, but are available at the box office, on a first come first serve basis so if you do not buy the season pass you will want to get there early! Find a theater near you here.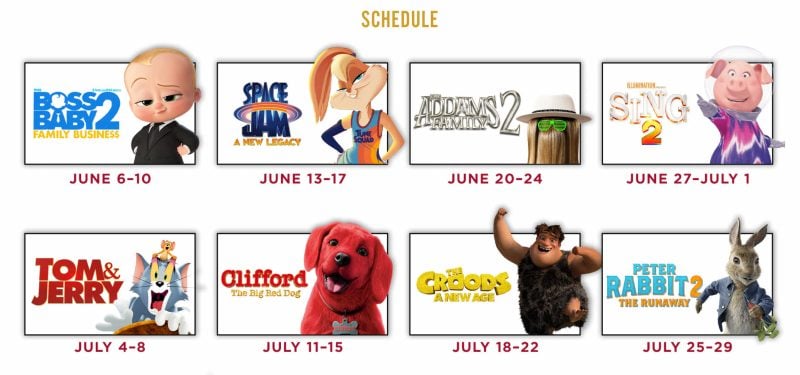 What Movies are playing at Harkins Summer Movies?
Each week there is one movie playing, it is played all days of the week at 9:45am.
June 6-10: Boss Baby
June 13-13- Space Jam
June 20-24: Adams Family 2
June 27: July : Sing 2
July 4-8: Tom and Jerry
July 11-15: Clifford
July 18-22: The Croods
July 25-29: Peter Rabbit 2
Harkins Summer Movie Locations
METRO PHOENIX AZ
Arizona Mills 25
Arrowhead Fountains 18
Chandler Crossroads 12
Chandler Fashion 20
Christown 14
Gateway Pavilions 18
Estrella Falls 16
Norterra 14
Metrocenter 12
North Valley 16
Park West 14
Queen Creek 14
SanTan Village 16
Scottsdale 101 14
Shea 14
Superstition Springs 25
Tempe Marketplace 16
NORTHERN AZ
Prescott Valley 14
Sedona 6
Flagstaff 16
SOUTHERN AZ
Casa Grande 14
Arizona Pavilions 12
Tucson Spectrum 18
Yuma Palms 14
CALIFORNIA
Cerritos 16
Chino Hills 18
Moreno Valley 16
Moutain Grove 16
COLORADO
OKLAHOMA
TEXAS
One of our favorite things each year is the
Kids Bowl Free
. Kids can bowl free everyday each week during the summer and bowling alleys around the country!
More fun Kids activities to try!
If you are looking for things to do with the kids on a budget check out these 9 Ways to Have Summer Fun on a Dime!
Plus check out AWESOME ways to save money going to the movies for more ways to save on your movie fun! Plus check out the awesome family travel deals at the bottom of this post!
Plus there is a really awesome program that gives FREE Lunch to all kids all summer long!
Also don't miss the Barnes and Nobles Summer Reading program where kids can get FREE Books and the Kids bowl FREE Program – the kids can bowl for FREE all summer long!
Kids can also skate for FREE Nationwide all summer long too!!
And if you are looking for more summer fun ideas Make sure you also check out the 100+ Fun things to do with kids this summer, including How to Make Air dry clay.
Join the newsletter
Subscribe to get our latest recipes right in your inbox every time we post a new one!