The kids Bowl FREE Program is a nation wide program that allows kids to bowl every day all summer long for FREE! Find out all the information on how to sign up for the program below!

FREE Bowling for Kids
I am already thinking about the warm weather and the fun that the kids and I will have this summer. There are so many fun things that are budget friendly to do as a family during the summer so be on the look out for us to post them in the coming week.
If you are looking for something to do with the kids this summer? You can snag some awesome fun on the cheap with the Kids Bowl FREE program? With this awesome program, all kids can go to their local bowling alley and bowl 2 games PER day every day for FREE! Each family can have up to 6 kids sign up, so it is the perfect way to get in some family fun on the cheap!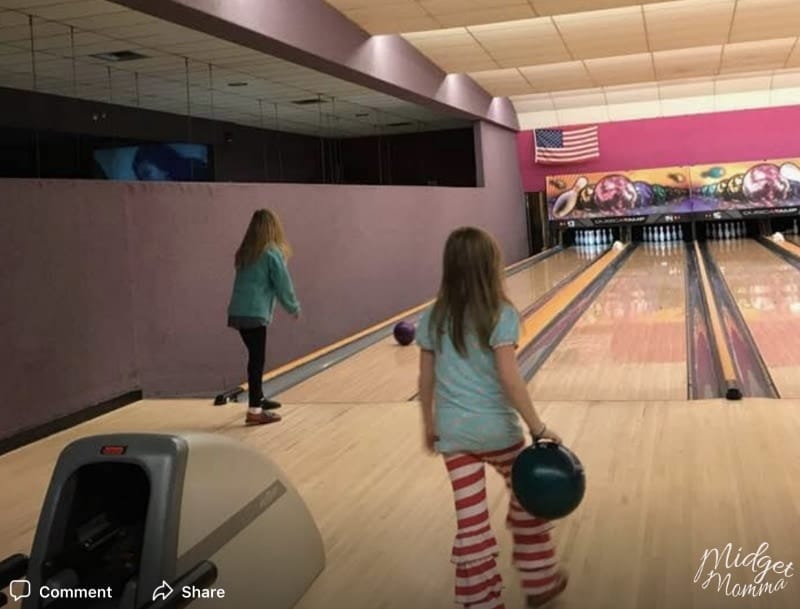 How to Sign up for Kids Bowl Free
Kids Bowl Free registration for the summer of 2023 is open now.
The kids bowl free program is nationwide! All you have to do is sign up and then you can go bowling with the kids whenever you want to!
Just head on over here to the KidsBowlFree website and register your kids for your local bowling alley so they can go! You can see all of the KidsBowlFree Locations here.
How much is Kids Bowl Free?
Kids bowl free is FREE for the kiddos and if the adults want to join in on the fun there is a Family Pass for up to 4 adults to join, starting at $29.95 that includes 2 GAMES PER PERSON PER DAY.
Kids bowl free ALWAYS and parents do not have to buy the optional family pass. However it is a great deal of you do want to bowl with your kids but it's not required.
The family pass is a one time payment that you make online, and you can get 2 Games free all summer long for up to 4 adults during your local bowling centers Kids Bowl Free hours.
You will have to rent the bowling shoes or you can go on Amazon and snag a pair that are on sale. 🙂 You will spend less just grabbing a pair on Amazon, plus then if you are like me and wearing shoes that others have worn freaks you out you can have piece of mind too.
Head on over here to get your kiddos registered for the 2020 Kids FREE Bowling Program!
Kids can also skate for FREE Nationwide all summer long too, be sure to get the kiddos signed up now for this one as well.
Check out 9 Ways to Have Summer Fun on a Dime and 100+ Fun things to do with kids this summer to keep the kids busy all summer long.
Love going to the movies? There are lots of places you can take the kids during the summer for cheap summer movies!
Also don't miss the Barnes and Nobles Summer Reading program where kids can get FREE Books and the FREE Home Depot Kids Workshops for kids that go on every month during the year.
If you are like me and need to write things down so you remember – Erin Condren has 50% off their planners right now, and you get a FREE $10 credit making planners (the monthly ones) as low as $2.50! I keep a planner with all the dates and times of things I want to do with the kids during the summer and it really helps me to not forget to go!