Creamy oats with fresh blueberries is a perfect no cook meal to enjoy for breakfast. This easy blueberry overnight oats recipe is super easy to make. Made with just 4 simple pantry ingredients and fresh blueberries and 5 minutes of time, you can prep breakfast the night before to enjoy in the morning! This blueberry overnight oatmeal recipe is perfect for the summer months when you don't want to cook breakfast in the morning!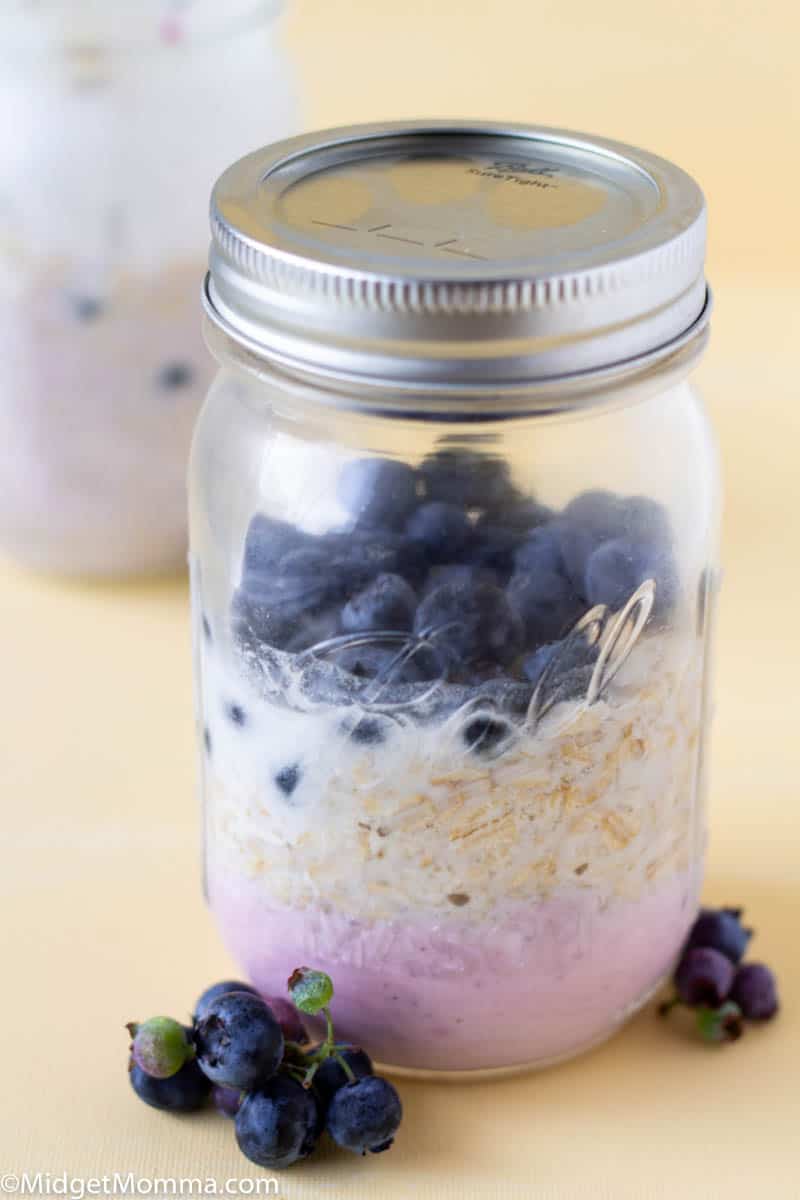 Blueberry Overnight Oats Recipe
A friend of mine told me about how she has been enjoying what she called refrigerator oats and that they were the best thing ever. Of course, when a friend of mine tells me something is amazing I tend to believe them and try them myself. I love make-ahead meals and breakfast is always a bit on the crazy side for us in the mornings so this is the perfect make ahead breakfast recipe and I had to try them.
We had a lot of blueberries on hand from going blueberry picking and so I thought the best overnight oats recipe to try first was blueberry overnight oats. Using the fresh blueberries, old fashioned oats, yogurt, and milk I prepped this nutritious breakfast for the kids the night before in about 5 minutes. Then in the morning got them out of the fridge and had the kids try them. they loved them.
She was right! Not only were overnight oats amazing and made the morning so much easier they were super easy to prep too! This is the overnight oats recipe that got my whole family hooked on this no cook breakfast recipe! This easy recipe can be customized to include other things and my kids love coming up with different variations from the basic recipe.
That was the start of our overnight oatmeal love in this house and we have made them often ever since! Now that the kids are older, they prep their overnight oats the night before, store them in an airtight container and then in the morning have a delicious breakfast that they can easily grab from the fridge to enjoy in the morning.
Be sure to also check out peach overnight oats and maple overnight oats! If you are fans of oatmeal then you should check out Pecan pie oatmeal, apple cinnamon oatmeal, and our banana oatmeal cookies. As you can tell we love oatmeal recipes ins our house!
Blueberry Breakfast Recipes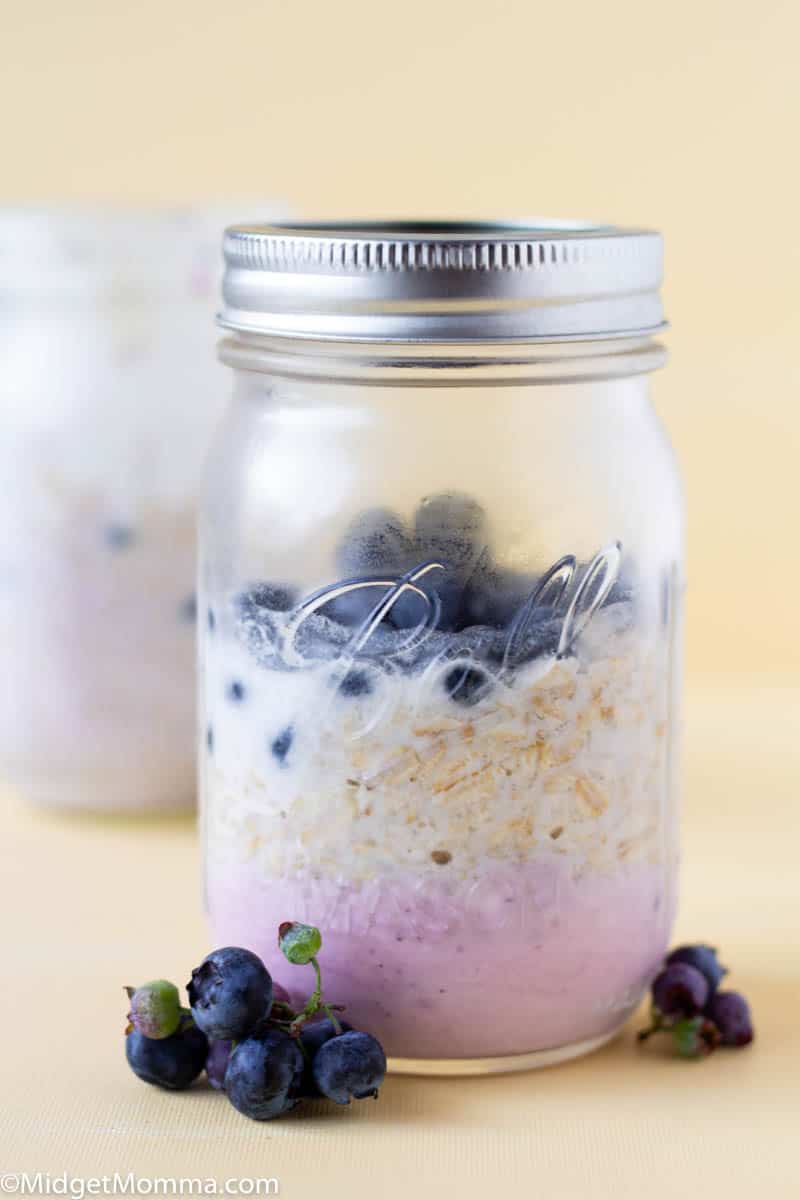 What are overnight oats?
If you have never had overnight oats you are in for a treat! Overnight oats are a quick and easy breakfast made by soaking rolled oats overnight in a liquid. Depending on the recipe some overnight oats recipes use yogurt, others use milk and I have seen some that use water.
Personally, we like using yogurt and milk when making overnight oats. I find that the oats keep their texture better and I don't end up with some slimy smushy something in my jar in the morning. I also like using yogurt in this healthy breakfast recipe because it gives more nutritional value to the oats and it gives amazing flavor too!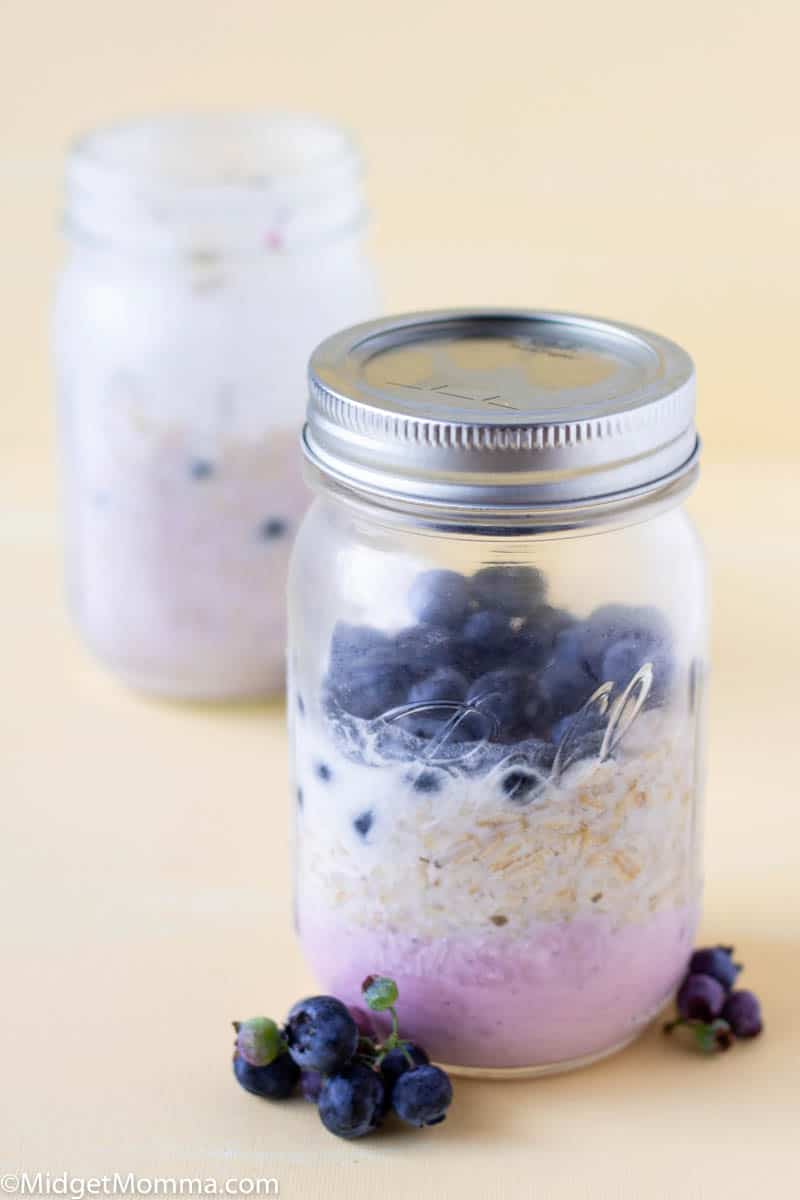 Which type of Oats are best for overnight oats?
The best oats to use are old-fashioned oats. You can use quick oats but they will end up being softer than if you used rolled oats. I do not suggest using steel cut oats, they need more liquid than the others and a longer time in the fridge to get the softness you want your oats to have. You do not want to use instant oats for this recipe as they will not absorb the milk well overnight in the fridge.
What type of milk can I use for overnight oats?
I like using 2% milk but you can also use whole milk. If you do not like to drink cow's milk you can use almond milk, coconut milk, soy milk, oat milk, cashew milk, or any other dairy-free milk you prefer to use.
How Long do Overnight Oats last?
I have found that overnight oats are good for 2-3 days after I have made them. Any longer then that and they get a different texture that I am not a fan of.
How to heat overnight oats
Personally, I like to eat my overnight oats right out of the fridge, cold. My kids prefer to heat theirs up. If you are wanting to heat up overnight oats just heat them in the microwave for 45 seconds to 1 minute. If you do not have a lot of extra room in your container put the overnight oats into a different container to heat up because they will boil a little bit when you are cooking them in the microwave.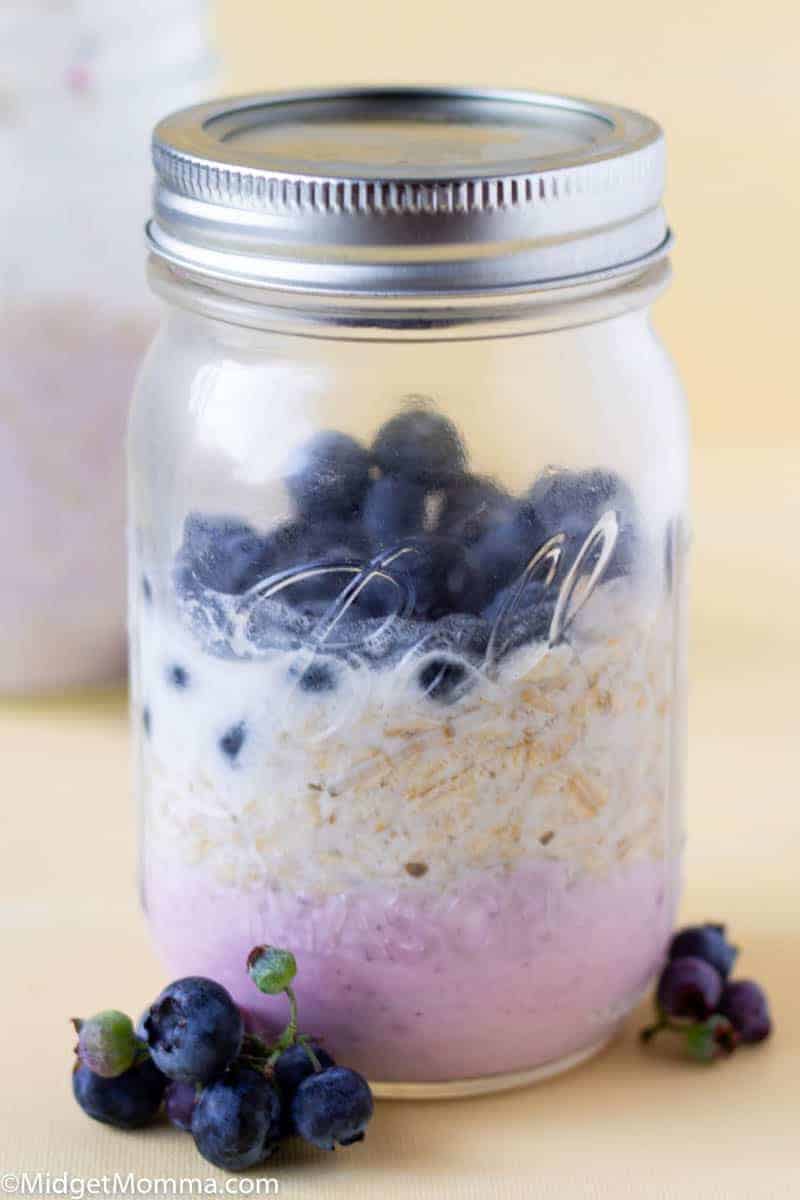 Variations of this recipe
Change up the yogurt. I like to use yogurt with fruit in it when making overnights oats, but you can use also use greek yogurt or plain yogurt.
Add more fresh fruits I love using fresh fruit but you can also use frozen fruit including frozen blueberries when making them. If you want more fruit then you can also add other berries including raspberries, strawberries, and blackberries. If you want to add bananas I suggest adding them when you are serving this.
Add nuts. You can also add nuts, my kids like adding sliced almonds to their oats.
Add sweetener. If you like your oats sweet, you might want to add a little bit of sugar, honey, or maple syrup to sweeten this overnight oat recipe. I find that when I use a fruit mixed yogurt or plain yogurt there is plenty of sweetness but if you are using greek yogurt or yogurt with no fruit you might want to add a touch of sweetness.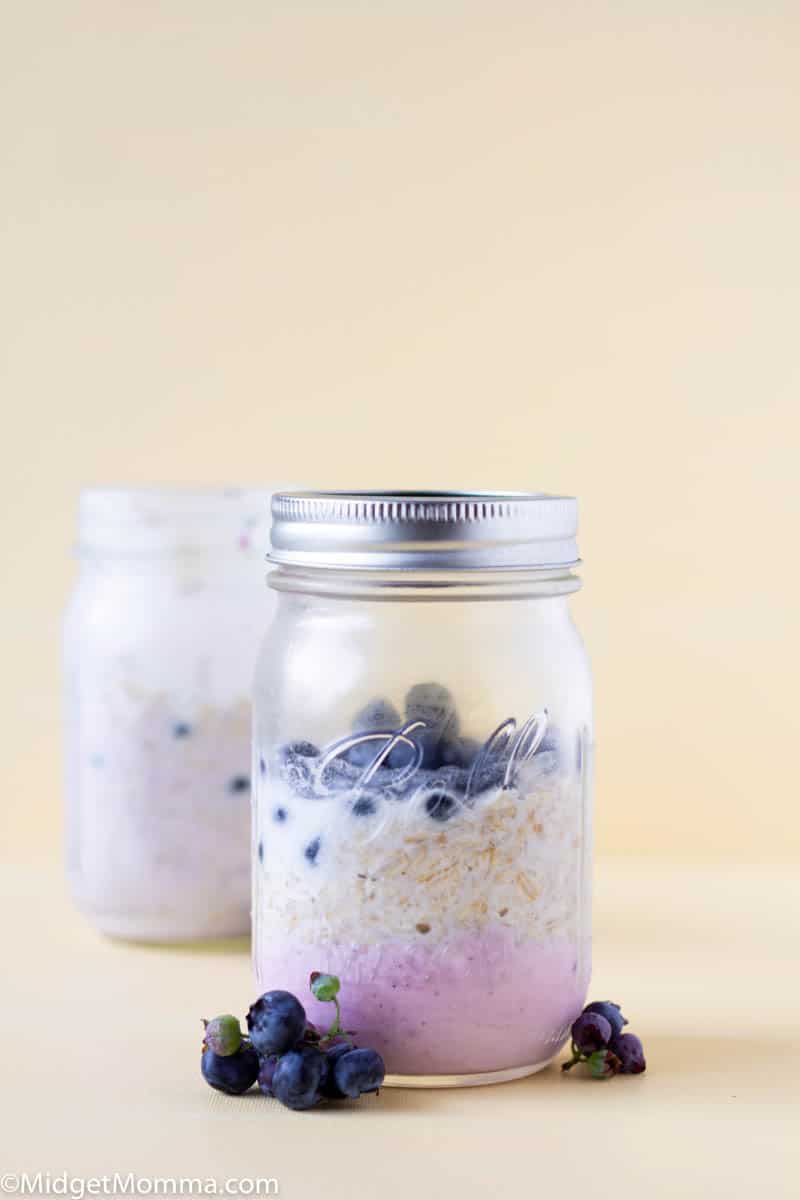 Blueberry Overnight Oats Ingredients
Old-Fashioned oats
milk
Blueberry yogurt
fresh sweet blueberries
How to Make Blueberry Overnight Oats
Add the oats into a mason jar or a bowl, then add in the blueberries and the yogurt, then pour in the milk.
Mix well with a spoon, or if using a mason jar put the lid on it and shake it up to mix everything together.
Put them in the fridge for 8-10 hours, open the lid and enjoy!
Easy Breakfast Recipes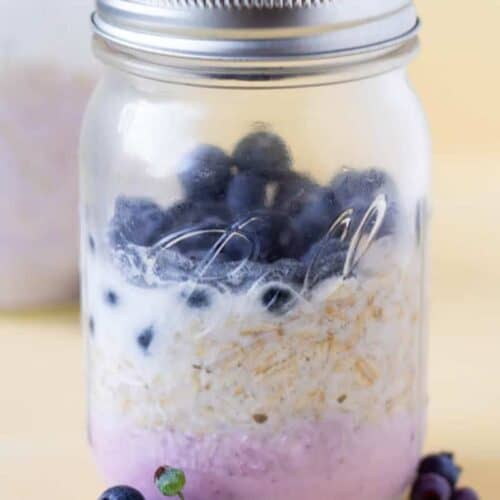 Blueberry overnight oats
Servings
Blueberry overnight oats is a super easy overnight oats recipe with fresh blueberries that is perfect for an easy make ahead breakfast. With just 4 ingredients and 5 minutes of time you can prep breakfast the night before to enjoy in the morning! 
Ingredients
1/2 cup rolled oats
1/2 cup milk
3 ounces Blueberry yogurt
1/2 cup fresh blueberries
Instructions
Wash the blueberries.

In a mason jar or a container with an airtight lid add the rolled oats.

Add the milk and yogurt into the jar and put the lid on.

Shake the jar to mix milk, yogurt and rolled oats together.

Remove the lid and add the blueberries, gently shake and then put the lid back on.

Put the overnight oats in the fridge for 8-10 hours, then open the lid and enjoy either cold or warmed whichever you prefer.
Calories: 161kcal | Carbohydrates: 24g | Protein: 6g | Fat: 5g | Saturated Fat: 2g | Cholesterol: 12mg | Sodium: 47mg | Potassium: 248mg | Fiber: 3g | Sugar: 9g | Vitamin A: 141IU | Vitamin C: 4mg | Calcium: 131mg | Iron: 1mg
Blueberry overnight oats, overnight oats, overnight oats recipe
Breakfast
Join the newsletter
Subscribe to get our latest recipes right in your inbox every time we post a new one!