If you are looking for the perfect birthday pancake then you are going to love these Funfetti Pancakes! Made with typical pancake ingredients, these birthday cake pancakes are perfect for celebrating a birthday or anytime!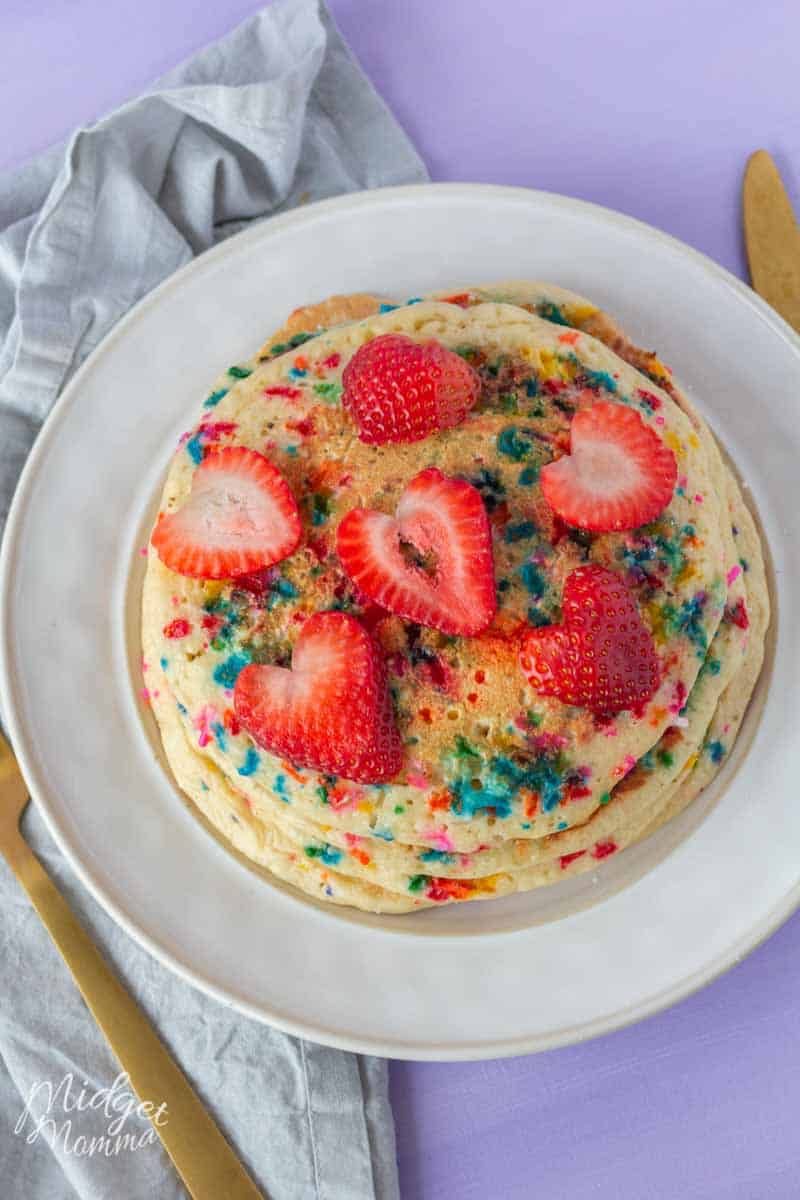 Birthday Pancakes
These funfetti pancakes are like eating birthday cake for breakfast, which we all know is like the best breakfast ever! These homemade pancakes have the perfect fluffiness that is a must for any pancake recipe.
Birthdays are supposed to be fun and there is no better way to start celebrating a birthday then with these homemade birthday pancakes. These are the pancakes my kids ask me to make them every year for their birthday breakfast. Sometimes we change it up and make birthday cake waffles, but for the past few years everyone has requested to have these birthday cake pancakes!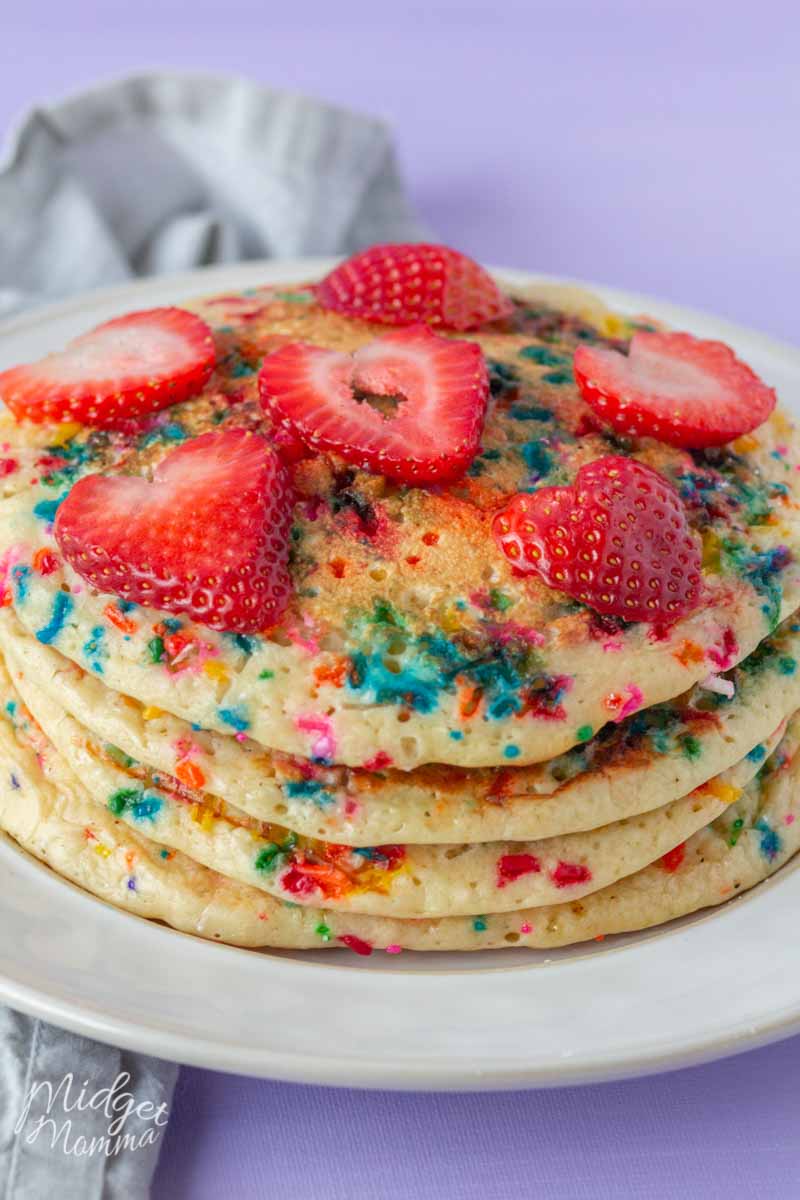 Truth be told, these pancakes are not just for birthdays, they are perfect for anytime you want a special breakfast treat but they have all the fun that you would think would be at a birthday! Just look at all those colorful sprinkles!
To add a little special love to the pancakes I top them with heart shaped strawberry slices. Strawberries already have a shape that is close to a heart you just need to cut the top slightly to add to the shape. Super easy!
The ingredients needed to make these pancakes are probably already in your pantry and fridge. You don't need any special mix or anything like that to make this awesome pancake recipe!
You won't need a mix to make these amazing birthday cake pancakes. However I will suggest that you keep a huge jar of sprinkles on hand, like this one, because once you make these for the kids they are going to want you to make them again and again.

Best Sprinkles for Pancakes
I like the classic funfetti look so I use rainbow sprinkles when making these birthday pancakes. You can totally use other types of sprinkles if you want to. I do suggest not using the crystal sugar sprinkles though because they melt easier then the solid sprinkles and they don't look as pretty.
What to Serve with Pancakes for breakfast
There are so many things that go well with pancakes for breakfast. It all depends on my mood what I am going to serve with them. If you are looking for ideas on what to serve with pancakes, check out some of our favorites!
Sausage
Pork Roll
Canadian bacon
Fruit
Tips for Making Birthday Cake Pancakes
Do NOT over mix. You want those clumps in your pancakes, they are vital to making pancakes fluffy. If you over mix the batter you will end up with tough, unfluffy pancakes.
Don't flip your pancakes to soon (or to late).When you see the bubbles starting to pop flip that pancake over! Over cooking pancakes will also make them tough and unfluffy.
Can Birthday Cake Pancakes be Frozen?
Yes! Just like almost all other pancake recipes, these birthday cake pancakes can be frozen!  I like to make large batches of pancakes at a time to make breakfasts during the busy week even easier.
Freezing pancakes is so easy. Just cook your pancakes and allow them to cool. Once they are cooled stack into piles of serving size you normally make. We do 3 pancakes per pile. Wrap each pile with plastic wrap and then put all wrapped piles of pancakes into a gallon size freezer bag and place in the freezer.
To reheat the homemade pancakes, remove a frozen pancake stack and heat in the microwave in the plastic wrap for 30-45 seconds depending on your microwave.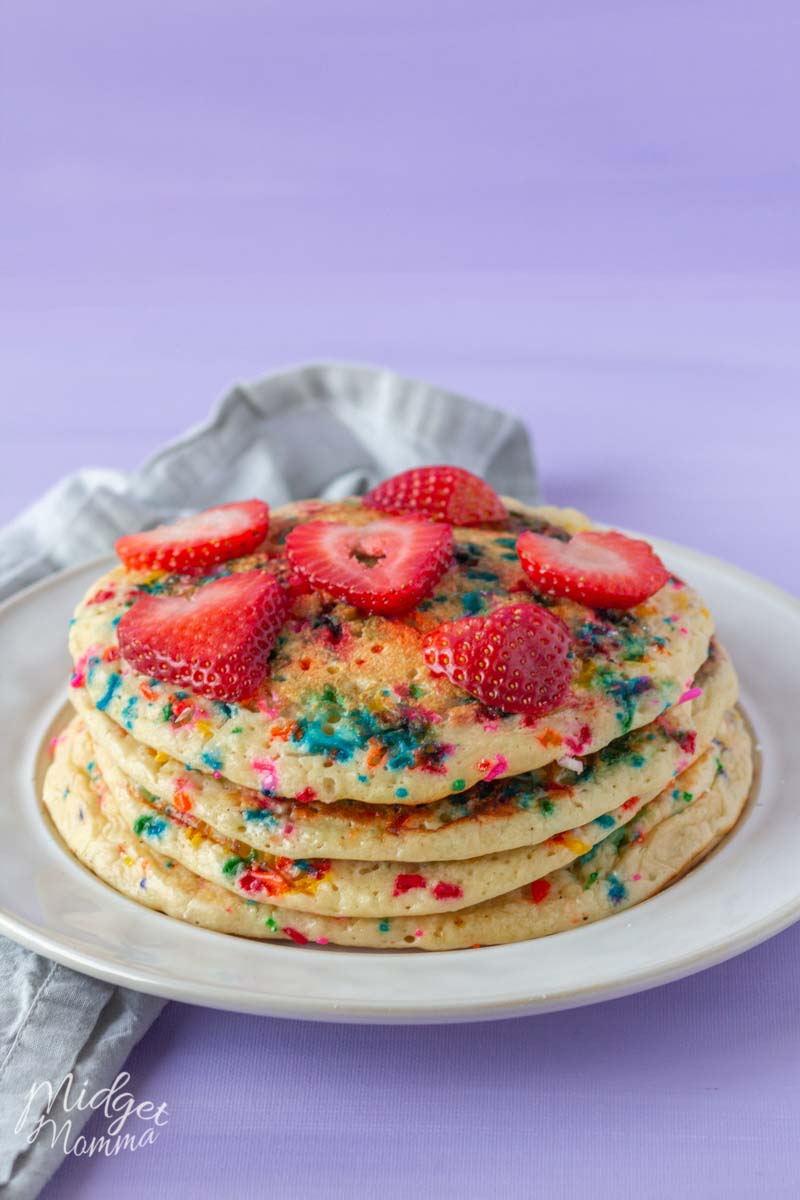 Birthday Pancakes Ingredients
All purpose flour
Baking powder
Salt
Milk
Egg
Canola oil or vegetable oil
Strawberries
Sprinkles
How to Make Funfetti Birthday Pancakes
Wash and slice the strawberries and set them aside
Preheat your griddle or pan over medium heat.
Mix the dry ingredients in a large bowl.
Add the egg, milk and oil and mix just until everything is combined.
Grease your pan or griddle.
Pour the pancake mix and cook each side.
Once pancakes are cooked top with sliced strawberries
Love pancakes? Check out these pancake recipes!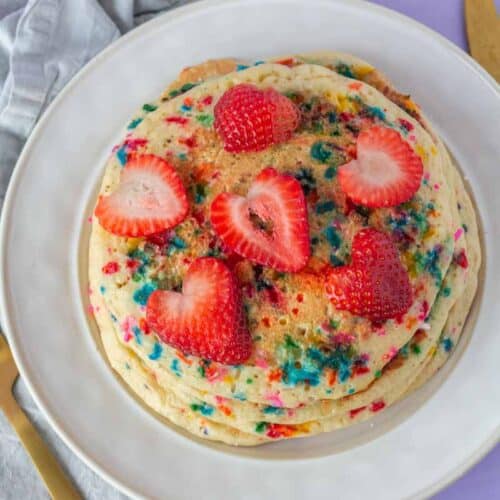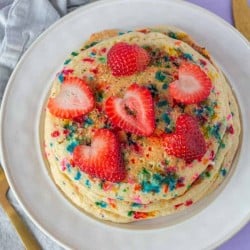 Funfetti Pancakes
Servings
These funfetti pancakes are the perfect birthday pancakes recipe! Every kid will love waking up to these homemade birthday pancakes!
Instructions
Preheat the griddle or pan over medium heat.

In a medium bowl, whisk together the flour, baking powder and salt. Whisk in the milk, egg and oil, just until the batter has combined.

Cut the top off the strawberries in a v shape, slice the strawberries to make hearts and set aside.

Grease the pan with butter. Pour about 1/3 cup of the batter to pan and spread it to make a nice circle. Top the pancake with sprinkles.

Cook the pancake 2 to 3 minutes, or until the bubbles begin popping on top of the pancake and it's golden brown on the bottom.

Flip the pancake over. Cook an additional 2 to 3 minutes, until the other side is golden as well.

Place on the plate than top with your heart shaped strawberries.
Serving: 2pancakes | Calories: 266kcal | Carbohydrates: 37g | Protein: 9g | Fat: 9g | Saturated Fat: 2g | Cholesterol: 63mg | Sodium: 447mg | Potassium: 442mg | Fiber: 1g | Sugar: 4g | Vitamin A: 211IU | Calcium: 222mg | Iron: 2mg
birthday cake pancakes, birthday pancakes, Funfetti Pancakes
Breakfast, pancakes
Notes
Recipe makes 6 pancakes.
Join the newsletter
Subscribe to get our latest recipes right in your inbox every time we post a new one!