Birthday Cake Waffles are amazing! If you have never made them you totally need to! A light and fluffy sweet waffle that tastes just like birthday cake! Then of course you have to have frosting, so these birthday cake waffles are topped with a homemade whipped cream! Oh so good, and the perfect birthday breakfast!
Birthday Cake Funfetti Waffles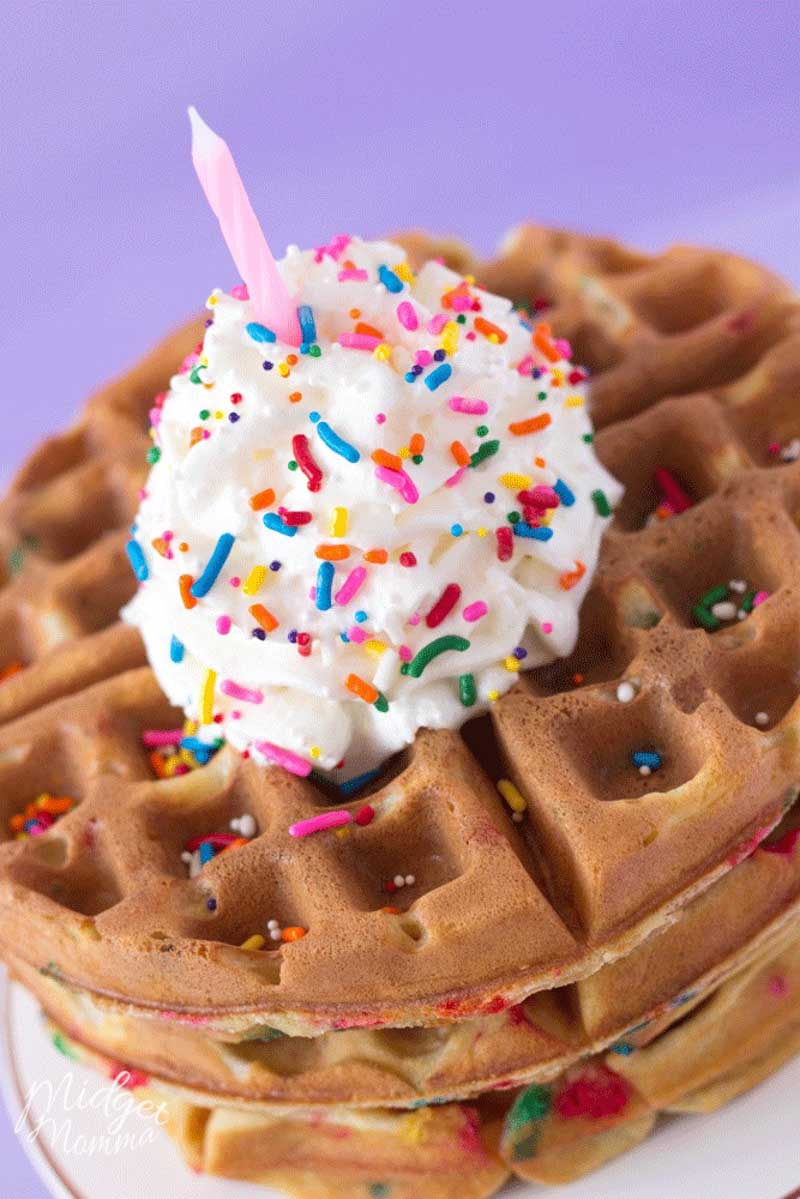 Now Birthday Cake Waffles are not the every day waffle, well I mean you could make them everyday however they are not the healthiest waffle recipe out there, but they sure do taste good!
I mean can you really go wrong combining birthday cake with a waffle as a breakfast food? Um no, no you can't! They are perfection!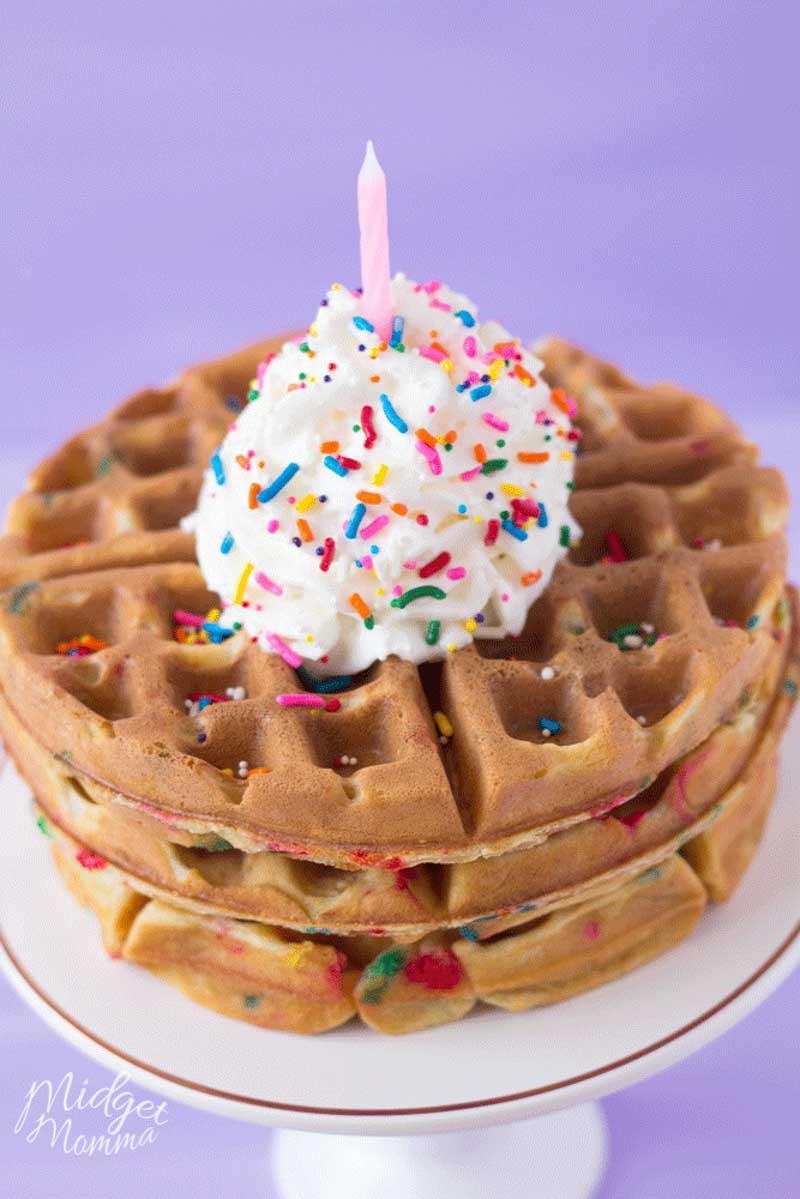 This cake batter waffle recipe reminds me of dessert, and well as an adult if I want dessert for breakfast I can. The kids on the other hand, they get Birthday Waffles or Birthday Cake Pancakes on their birthdays as a special treat!
I may also be the mom that make these amazing buttermilk waffles topped with homemade whipped cream that tastes just like a birthday cake, when I want to have a fun breakfast with the kids. However I won't confirm nor deny that we make these dessert like waffles for breakfast at times, because I am sure that would send some people with pitchforks at me, and I would much rather enjoy tasty food then people making comments about giving my kids an unhealthy breakfast.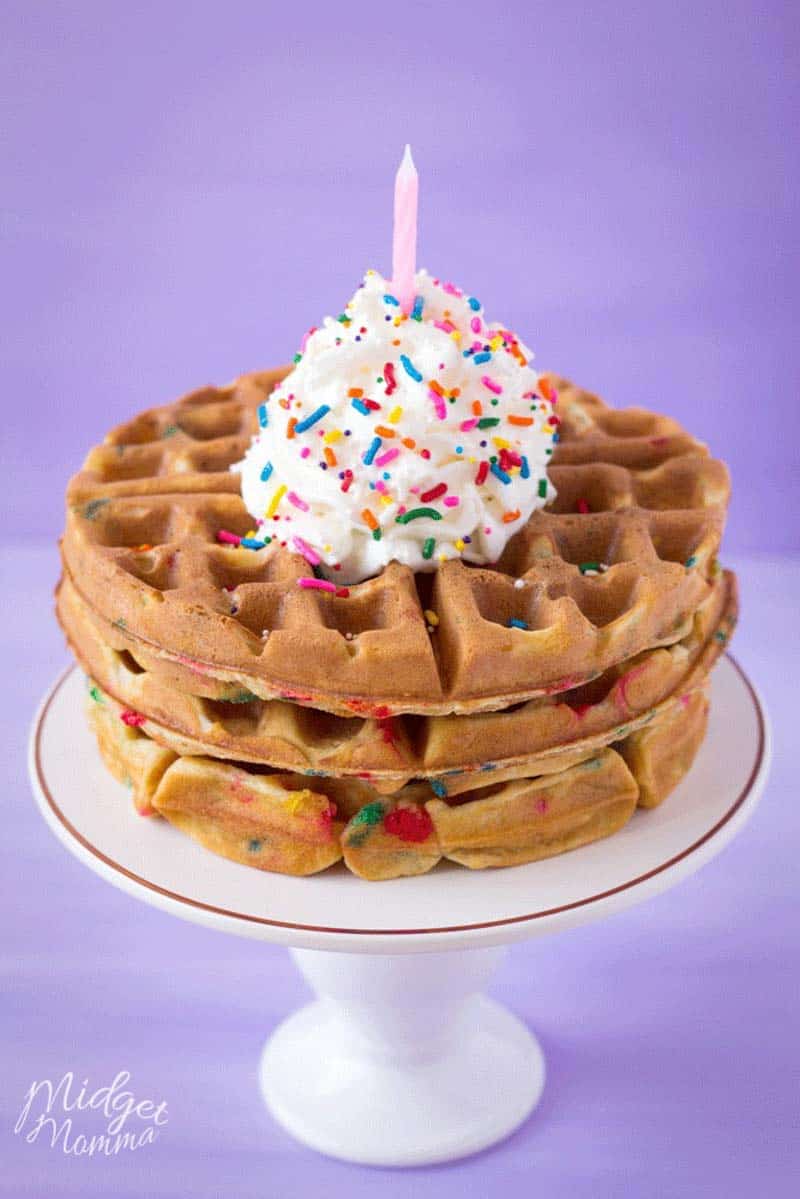 Anyway back to these amazing waffles, I could go on and on about why you need to make these funfetti waffles, but really just trust me. They taste amazing, they look amazing and you could win "Mom of the Day" on your kids birthday for making them!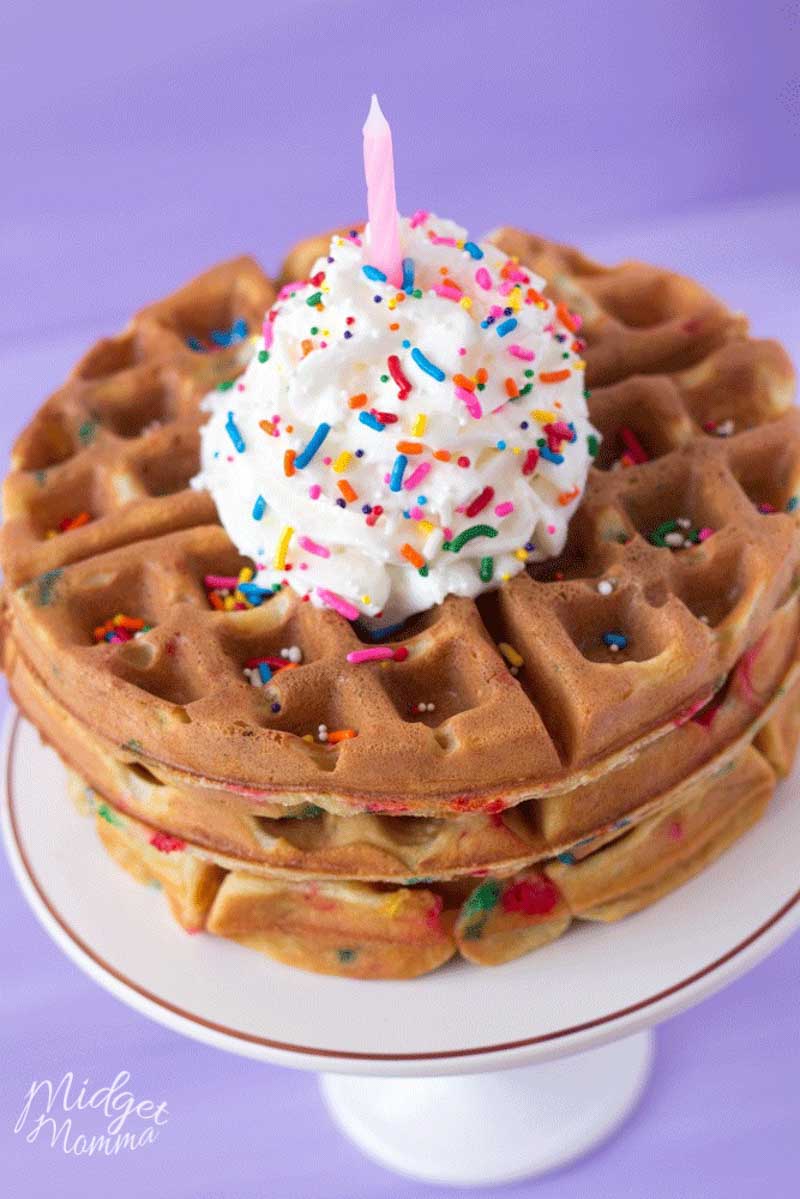 This buttermilk waffle recipe will make 3 birthday waffles, but it is super easy to double and triple the recipe. I highly suggest doing so. Once everyone gets a taste they will be coming back for seconds! I mean really can you blame them, just thinking about it? A tasty fresh waffle with sprinkles topped with whipped cream! Um Yes Please!
Oh and if you want to make it a whole day of birthday cake fun, be sure you check out the Birthday Cake playdough…. oh my gosh! It smells so good and the kids LOVE playing with it!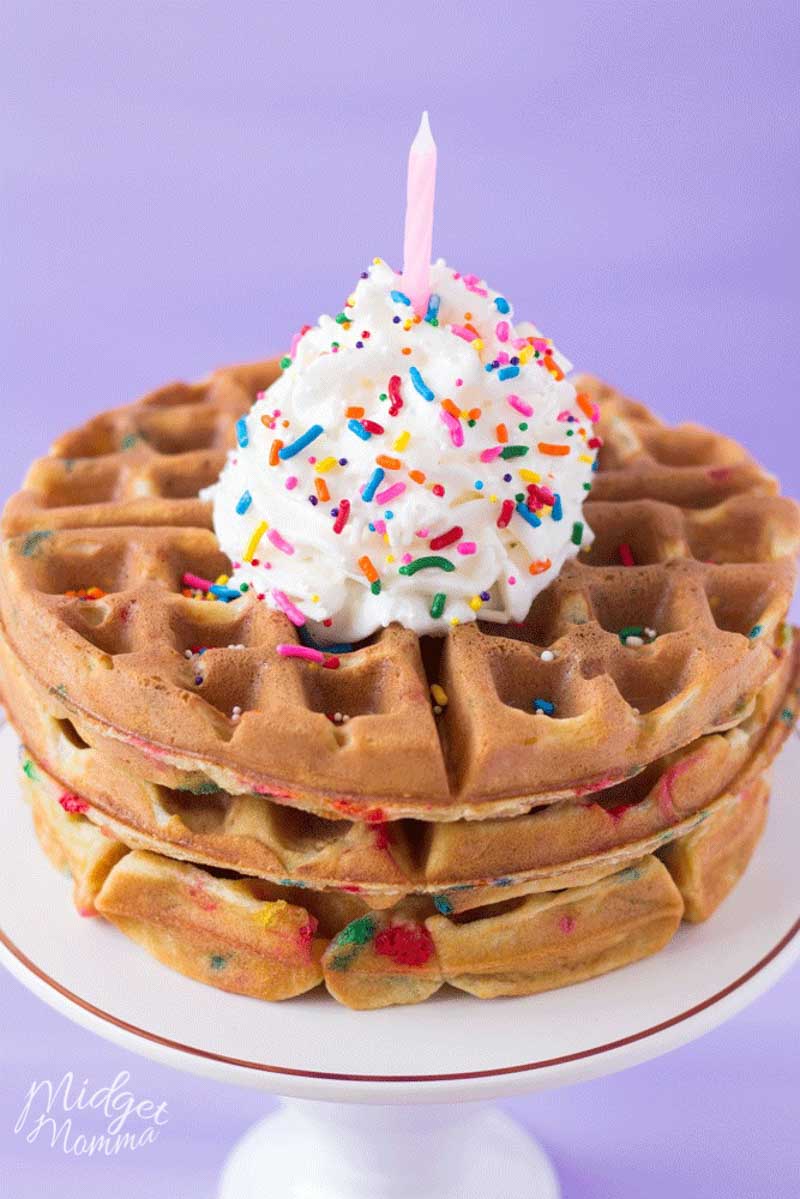 How to Make Birthday Cake Waffles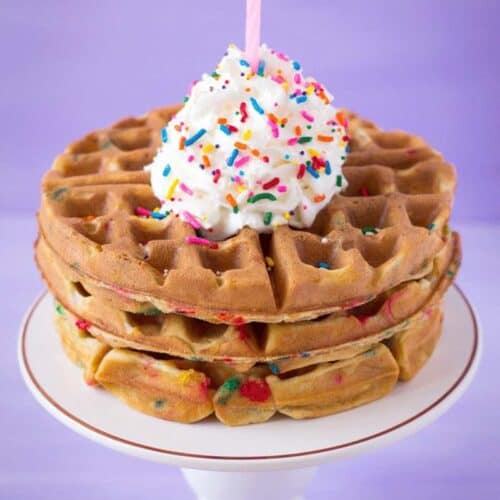 Birthday Cake Funfetti Waffles
Birthday Cake Waffles. A light and fluffy sweet waffle that tastes just like birthday cake!
Pin Recipe
Print Recipe
Instructions
Preheat your waffle maker.

In a mixing bowl whisk together flour, cornstarch, baking powder, baking soda and salt for 20 seconds and set aside.

In a separate mixing bowl whisk together buttermilk, milk, vegetable oil, vanilla extract and egg yolks until combined.

In the bowl of a mixer whisk the egg white on high until soft peaks form.

Add the sugar and whip until stiff peaks form.

While whisking, pour buttermilk mixture into well in flour mixture and mix just until combined.

Fold in egg white mixture, the mixture will be lumpy.

Gently fold in your sprinkles. Cook batter in waffle iron according to manufactures directions.

Serve warm with whipped cream.
Nutrition
Calories:
789
kcal
|
Carbohydrates:
100
g
|
Protein:
15
g
|
Fat:
36
g
|
Saturated Fat:
26
g
|
Cholesterol:
126
mg
|
Sodium:
762
mg
|
Potassium:
491
mg
|
Fiber:
1
g
|
Sugar:
32
g
|
Vitamin A:
420
IU
|
Calcium:
282
mg
|
Iron:
3.7
mg
Looking for more waffle recipes? Check these out!
Join the newsletter
Subscribe to get our latest recipes right in your inbox every time we post a new one!
Join the newsletter
Subscribe to get our latest content by email.
This post may contain affiliate links. Please read my disclosure policy here