7 Eleven Cherry Slurpee Copy Cat Recipe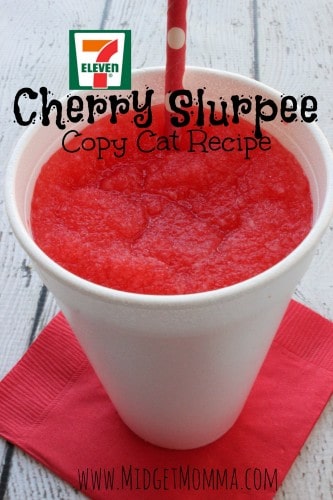 Spending many of my childhood summers in New Jersey at Long Beach Island and then the past 10 years living in New Jersey 7 Eleven Slurpees have a special place in my heart. Not only do I love the FREE Slurpee days and they are fun to take the kids to but they are just an awesome treat to have on a hot day! Making them at home is much easier then you would even imagine and you don't even need to have a machine at home to make them!!
7 Eleven Cherry Slurpee Copy Cat Recipe Ingredients:
1/2 tsp Cherry Kool-Aid Drink Mix
1 tsp liquid from a jar of Marischino Cherry
3 cups Crushed Ice
2 cup cold Club Soda
1/2 cup Sugar
How to make a Copy Cat  7 Eleven Cherry Slurpee
Chill your club soda for at least 15 minutes prior to making, however I suggest chilling it for about an hour, it tends to work better but if you are in a pinch and the kids are screaming about how hot it is outside 15 minutes will do fine 🙂 In your blender add the soda, Kool-aid powder and the cherry juice and blend well. Then add the ice to the blender and pulse until smooth. Pour into a cup (I prefer a styrofoam one add a straw and tada! Delicious yumminess!
If you want to make other flavors try using different flavored kool-aid 🙂
Join the newsletter
Subscribe to get our latest content by email.
This post may contain affiliate links. Please read my disclosure policy here