If you are looking for a delicious lemonade recipe, this Watermelon Lemonade is amazing. This watermelon drink recipe always hits the spot on a hot summer day and it is a simple drink to make. This easy watermelon pink lemonade recipe will quickly become a recipe the whole family calls their favorite. The fresh watermelon and fresh lemons combine for an amazing drink to enjoy on a hot summer's day.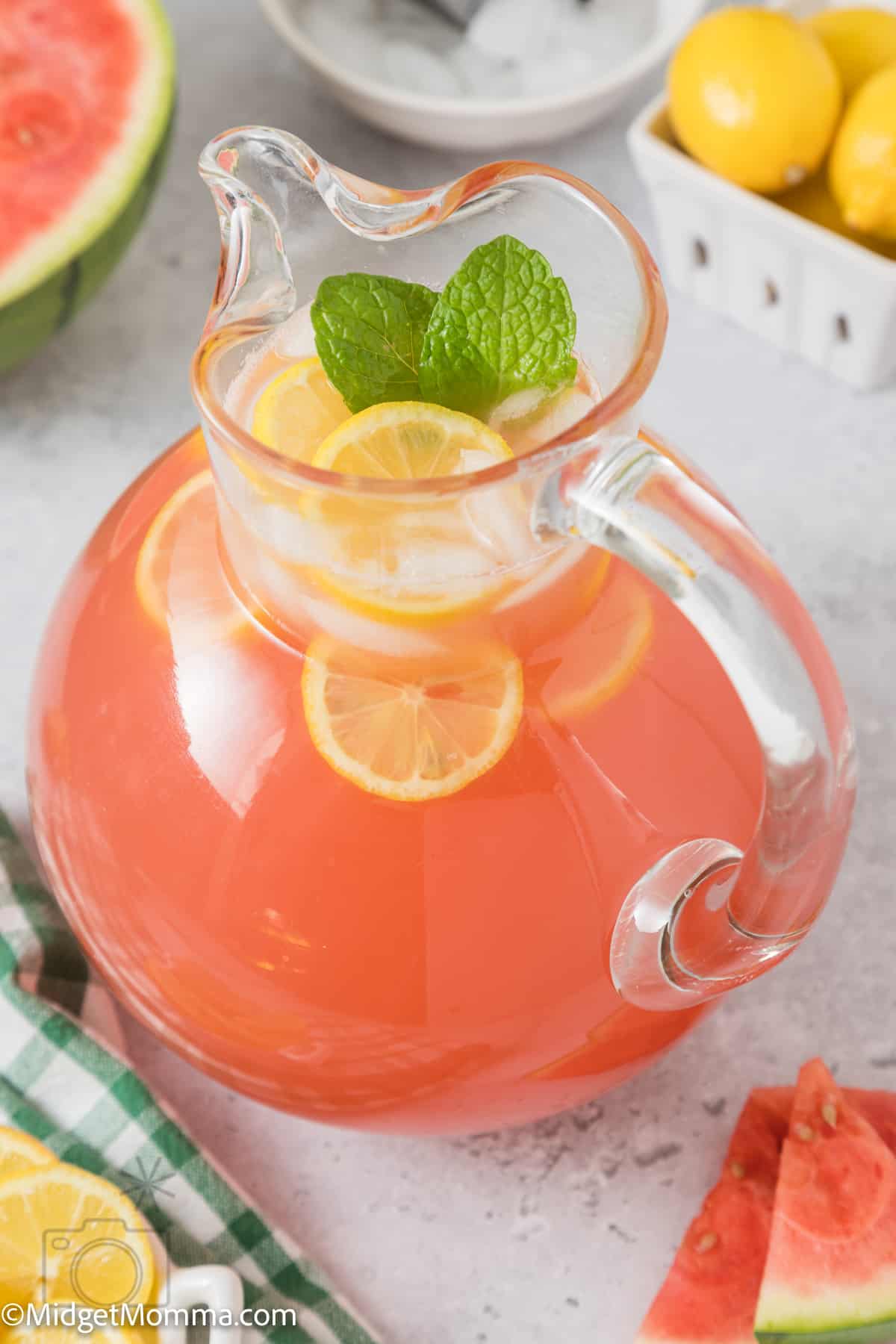 Homemade Watermelon Lemonade Recipe
This easy lemonade recipe is made with watermelon and lemons plus a few other simple ingredients that make for one amazing pink lemonade recipe, that everyone loves. This homemade watermelon pink lemonade recipe is one of the most refreshing summer drink recipes and one that during the summer months is always in my fridge for the kids to enjoy.
This refreshing drink is seriously the perfect summer drink. It is refreshing and has the perfect combination of sweet and tart with the natural sweetness of the watermelon and the tart flavors from the fresh-squeezed lemons.
This delicious summer drink is so easy to make, and during the summer months, you will find a large pitcher of it in my fridge just about every day. If not this one, then one of my other homemade lemonade recipes that are also perfect for summer.
This fresh watermelon lemonade is the perfect drink to bring along with us for our holiday picnics or even just when we are going to the pool. It is one of my favorite drinks to put into my water bottle and the kids too!
Watermelon recipes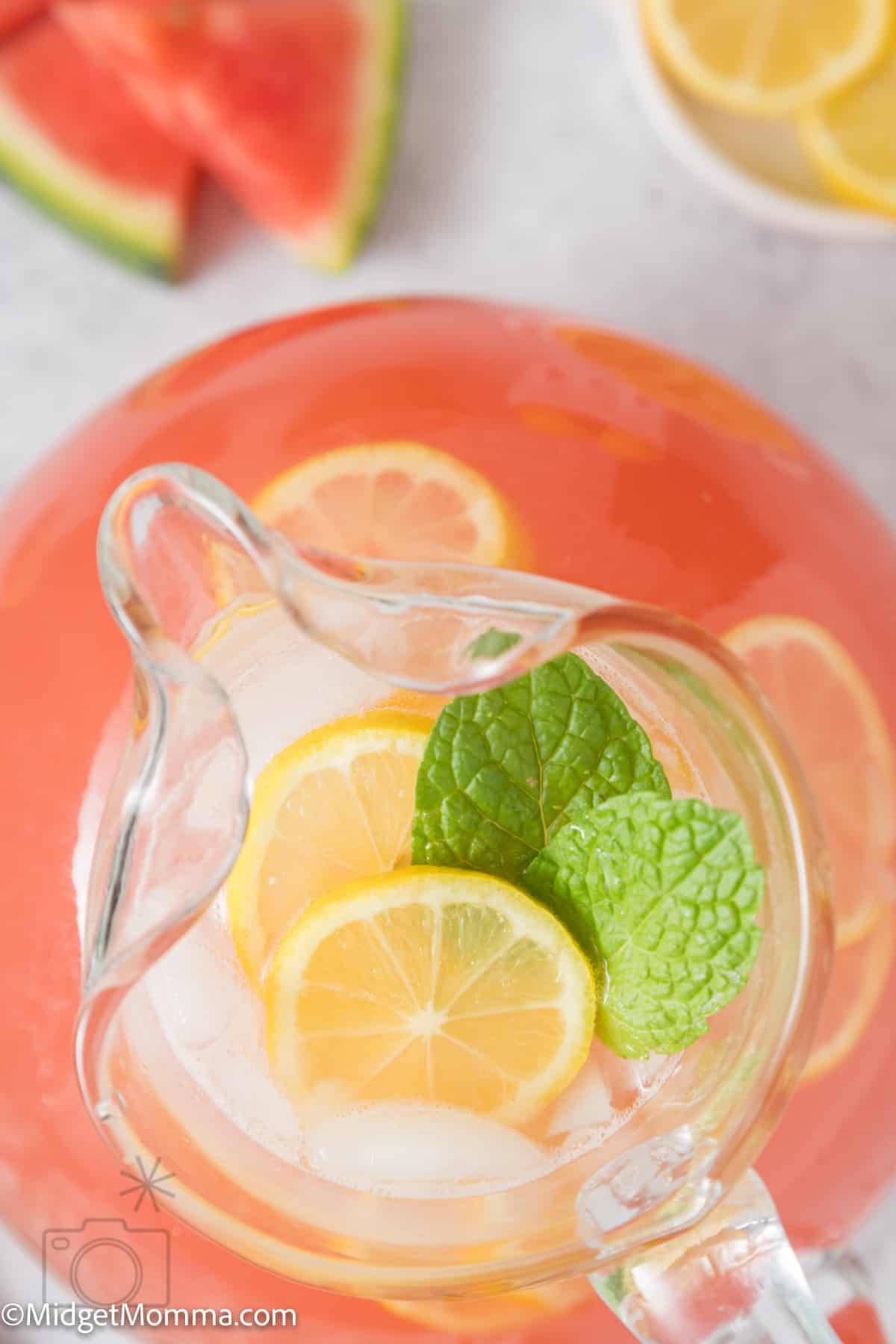 Tips for Making Watermelon Lemonade
Cut the watermelon into small cubes. Cubes of watermelon blend better than larger chunks.
Squeeze the lemons with a juicer. As much fun as it is to squeeze lemons by hand it takes a bit of time, so to speed things up I like to use a lemon juicer. If you do not want to have any pieces of watermelon in your drink then you can use a fine mesh strainer to strain the watermelon and only have the fruit juice.
Use a seedless watermelon. If you don't want to spend time picking the seeds out or chancing any getting into the drink use one without seeds.
Make it fancy. When serving this watermelon lemonade, I love using Mason Jar glasses and fun straws plus you can also a drink umbrella too! You can get totally fancy and add lemon slices and watermelon slices on the edges of the glasses for even more flare!
Make it Boozy. You can also easily turn this into a vodka lemonade cocktail by adding a splash of vodka! But keep that pitcher just for the moms and dads!
Like it tart? Use less sugar.
Make it low carb. Use sugar alternatives instead of sugar to make this a sugar-free lemonade.
Use watermelon Ice cubes. So you don't dilute the lemon and watermelon flavor I suggest using watermelon ice cubes that are made with watermelon chunks instead of ice cubes made with water.
Make it Sparkling Watermelon lemonade. You can use sparkling water for the used to make a sparkling lemonade. You will not want to use sparkling water when making the simple syrup (water and sugar on the stove) but you can use it when you are making the final lemonade recipe in place of regular water.
Lemonade Recipes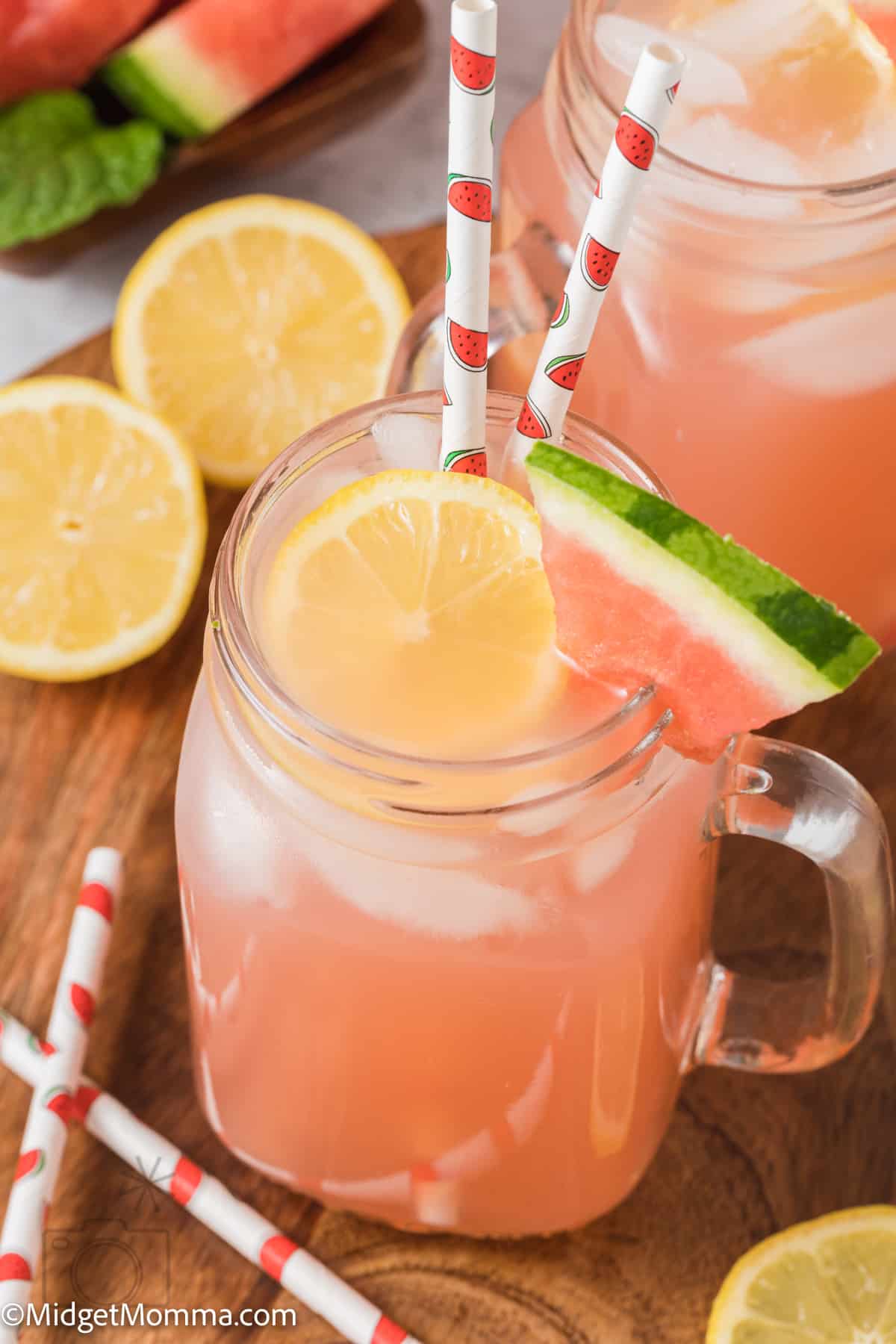 How to tell if a watermelon is ripe
When you are making this lemonade part of the awesomeness is the pink color. This pink lemonade gets its color from the watermelon. You also want to have a refreshing flavor, the best way to have the perfect pink lemonade color and refreshing taste is using a ripe watermelon. There are several things you can look for to determine if a watermelon is ripe:
Look for a yellow spot. On the underside of the watermelon, there should be a creamy yellow spot where it rested on the ground while growing. If this spot is white or green, the watermelon is likely underripe.
Check the surface. The surface of a ripe watermelon should be dull, not shiny. A shiny surface indicates that the watermelon is not yet ripe.
Tap it. Give the watermelon a tap with your knuckles. A ripe watermelon should sound hollow, indicating that it is full of water.
Check the weight. A ripe watermelon should feel heavy for its size. This indicates that it is full of water and has matured properly.
Look for uniformity. A ripe watermelon should have a uniform shape and size. If there are lumps or bumps, it may not have matured properly.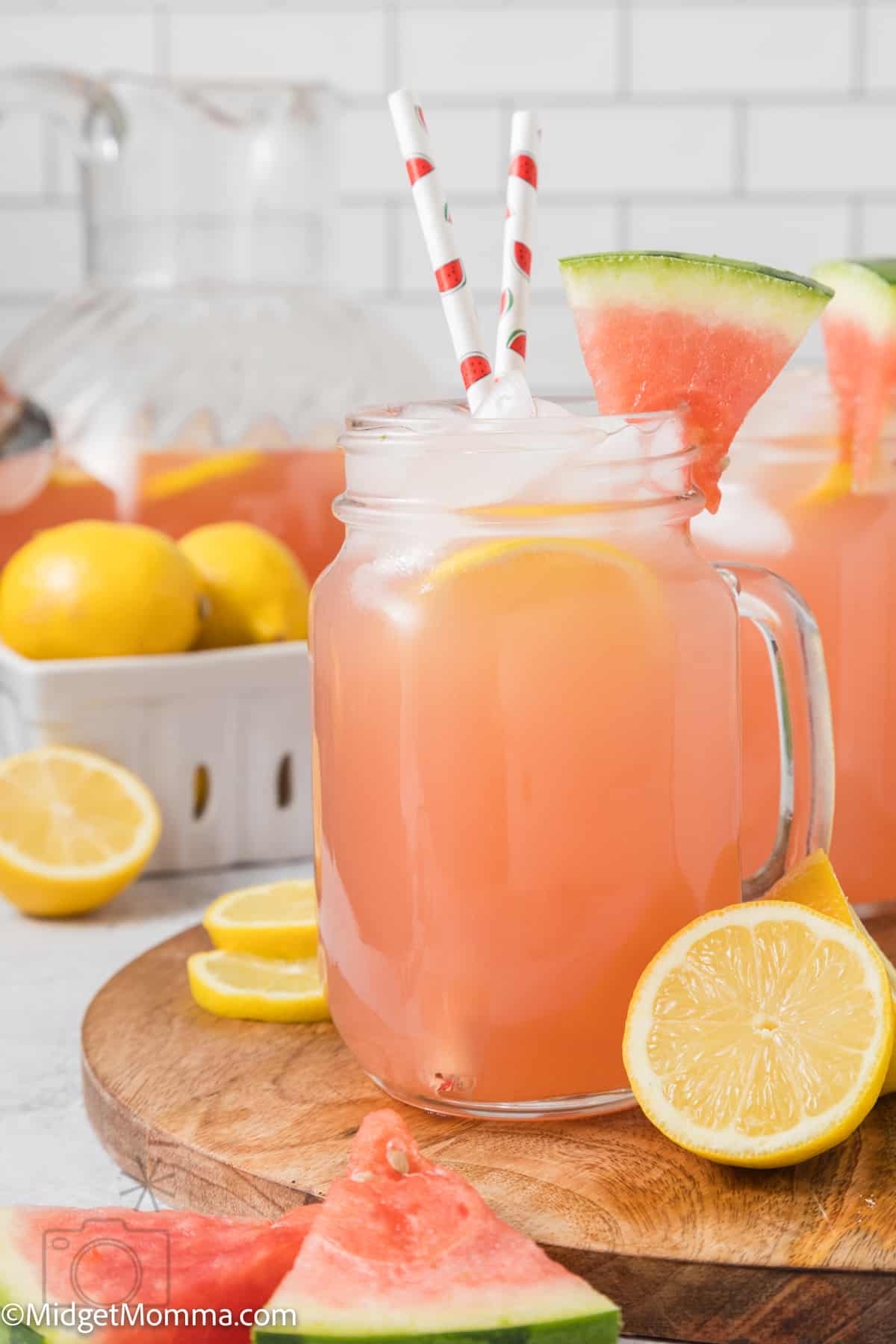 How to Squeeze Lemons Easily
I have said in the past that I am in LOVE with my KitchenAid Mixer and use it all the time, what you might not know is that there is an amazing KitchenAid Juicer attachment that is perfect for making lemonade! Using this attachment is an easy way to squeeze lemons, it makes it so much easier to squeeze all of those lemons than doing it by hand!
When making this lemonade I find it easier to use a lemon juicer instead of my hands, however, you can squeeze the lemons whichever way makes your heart happy.
How do you make lemonade less bitter?
If you find your lemonade bitter you can sweeten it with additional sugar or honey. It is important when squeezing the lemons that you do not get any of the white parts of the lemon in it, that part is very bitter and will make the lemonade bitter.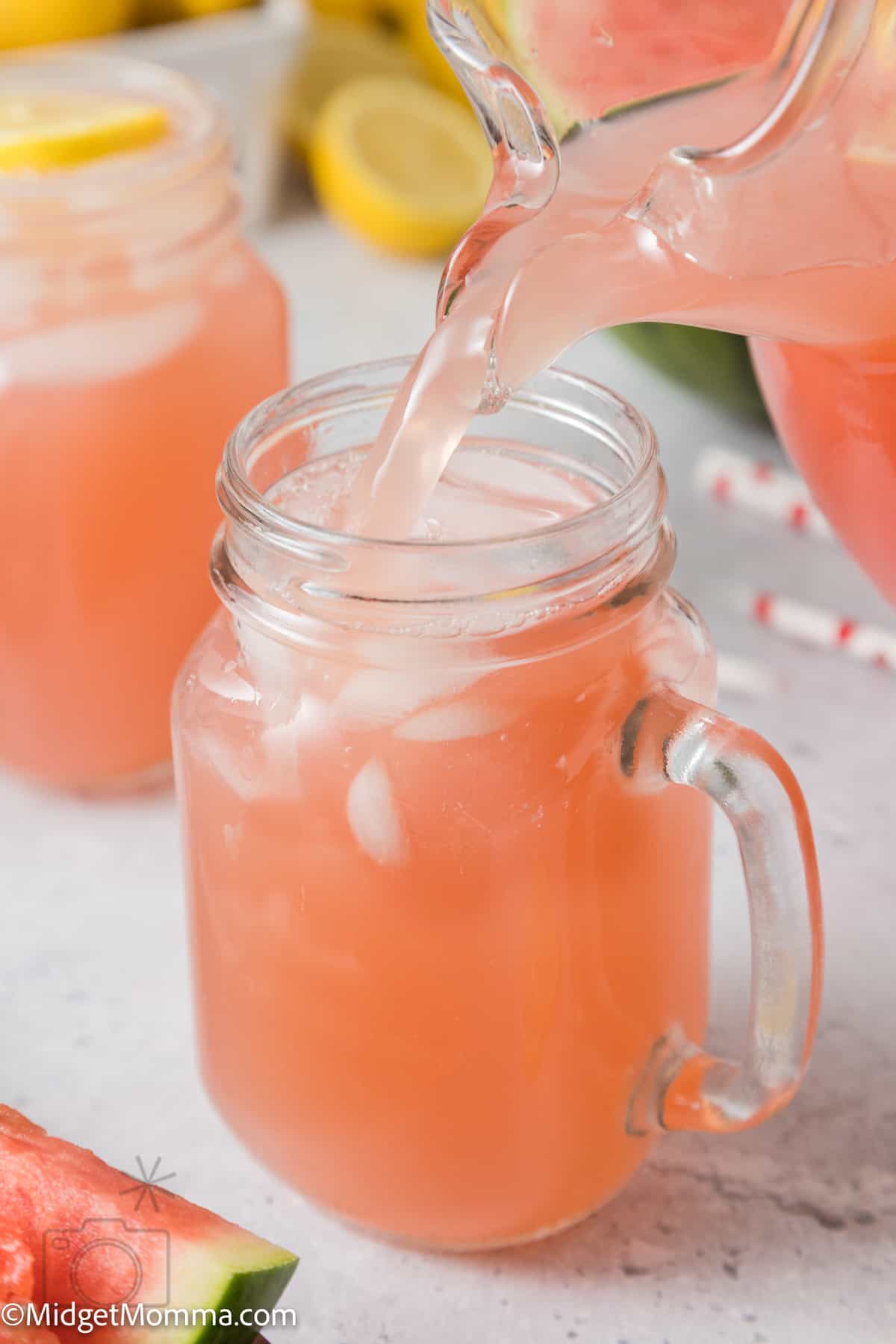 How to Store Homemade watermelon pink Lemonade
After making the homemade lemonade store it in the fridge in a pitcher without ice. Homemade lemonade will keep in the fridge for 5-7 days. If you plan on having leftover lemonade to enjoy later I suggest making a double batch, in our house this doesn't last long on warm summer days with the kids.
Can you freeze lemonade?
You can freeze homemade lemonade. In fact, I like to use homemade lemonade to make ice cubes so when I add them to my homemade lemonade I don't dilute the flavor.
To make lemonade ice cubes pour the lemonade into an ice cube tray. Put the tray in the freezer and freeze for 3-4 hours until they are frozen.
If you want to freeze a lemonade concentrate to thaw and make lemonade later make the simple syrup and pour the simple syrup and the lemon juice together and mix well. Then pour the lemonade concentrate into an airtight container or a freezer-safe zip-close bag and store it in the freezer. Lemonade concentrate will keep for up to 6 months in the freezer.
When it is time to make lemonade thaw the lemonade concentrate and mix it with 3.5 cups of water and the fruit of choice if desired.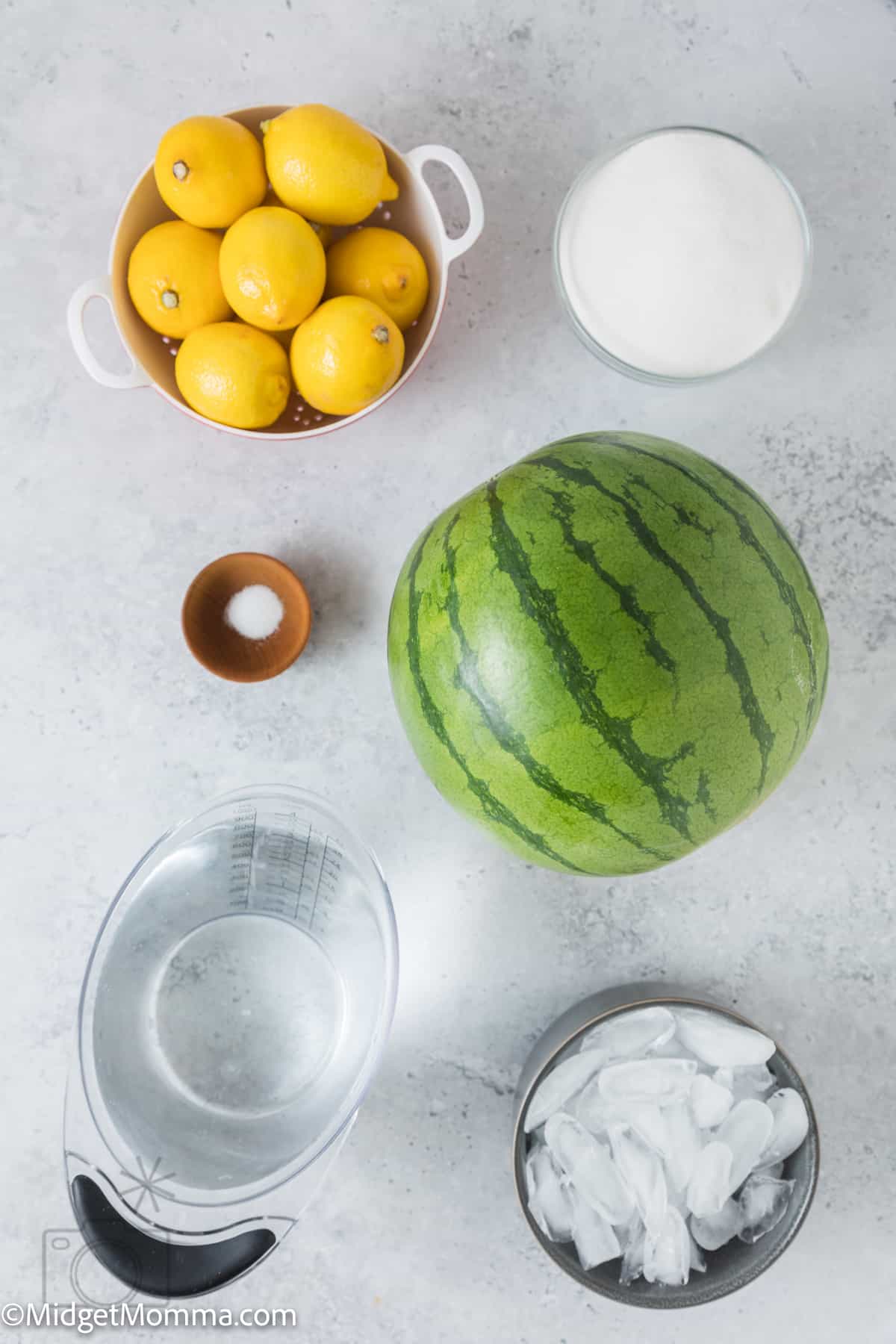 Homemade Watermelon Lemonade Recipe Ingredients
cold water
white sugar
salt
ripe watermelon
fresh-squeezed lemon juice – You will need 10-12 lemons.
ice
How to Make Watermelon Lemonade
In a small pot add the sugar and 1 cup of water and mix.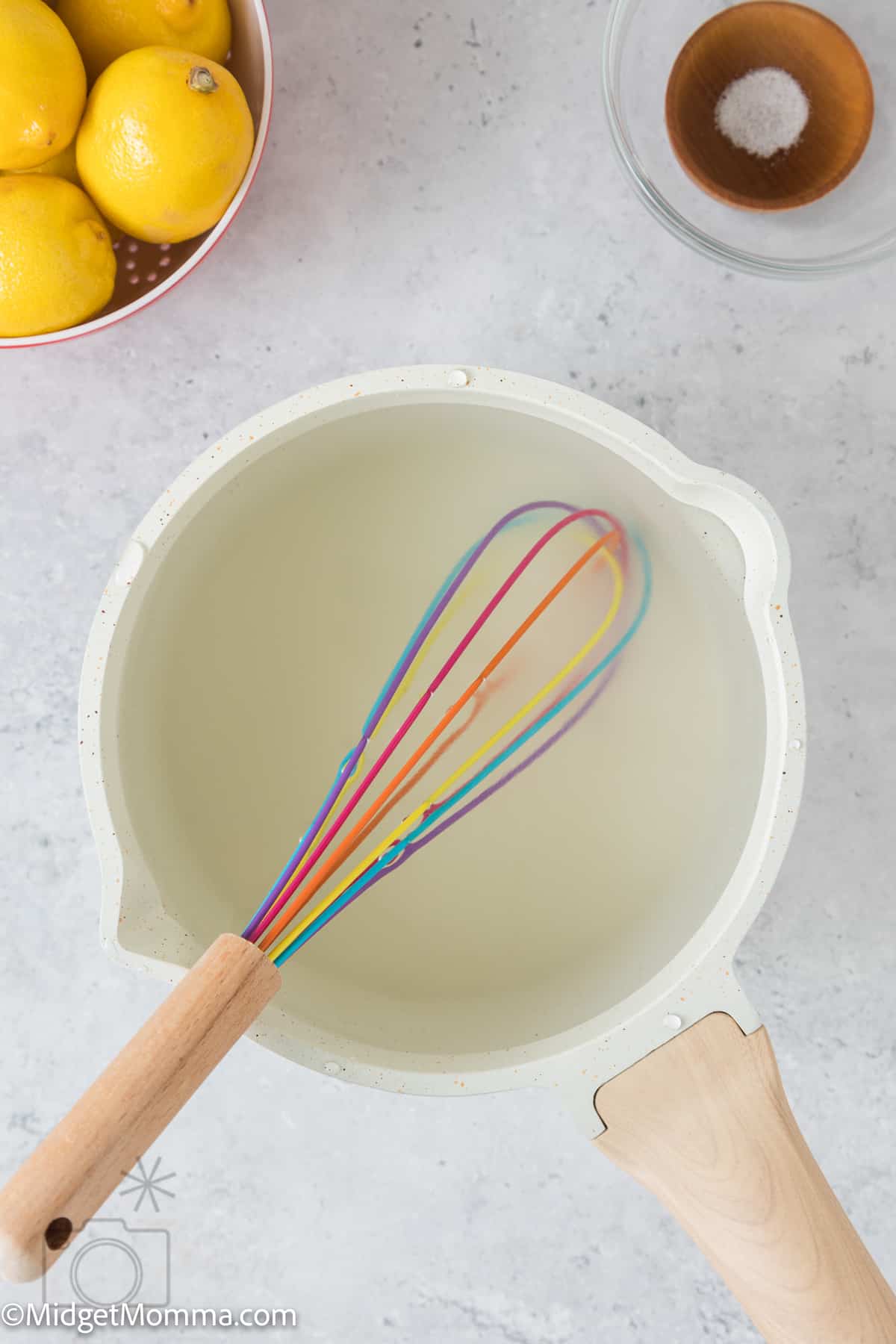 On the stove over medium-high heat bring the sugar and water mixture to a boil, once boiling stir until the sugar dissolves. Remove from the heat and set aside to cool. Remove the pot from heat and set it aside.
Puree the watermelon in a blender until smooth.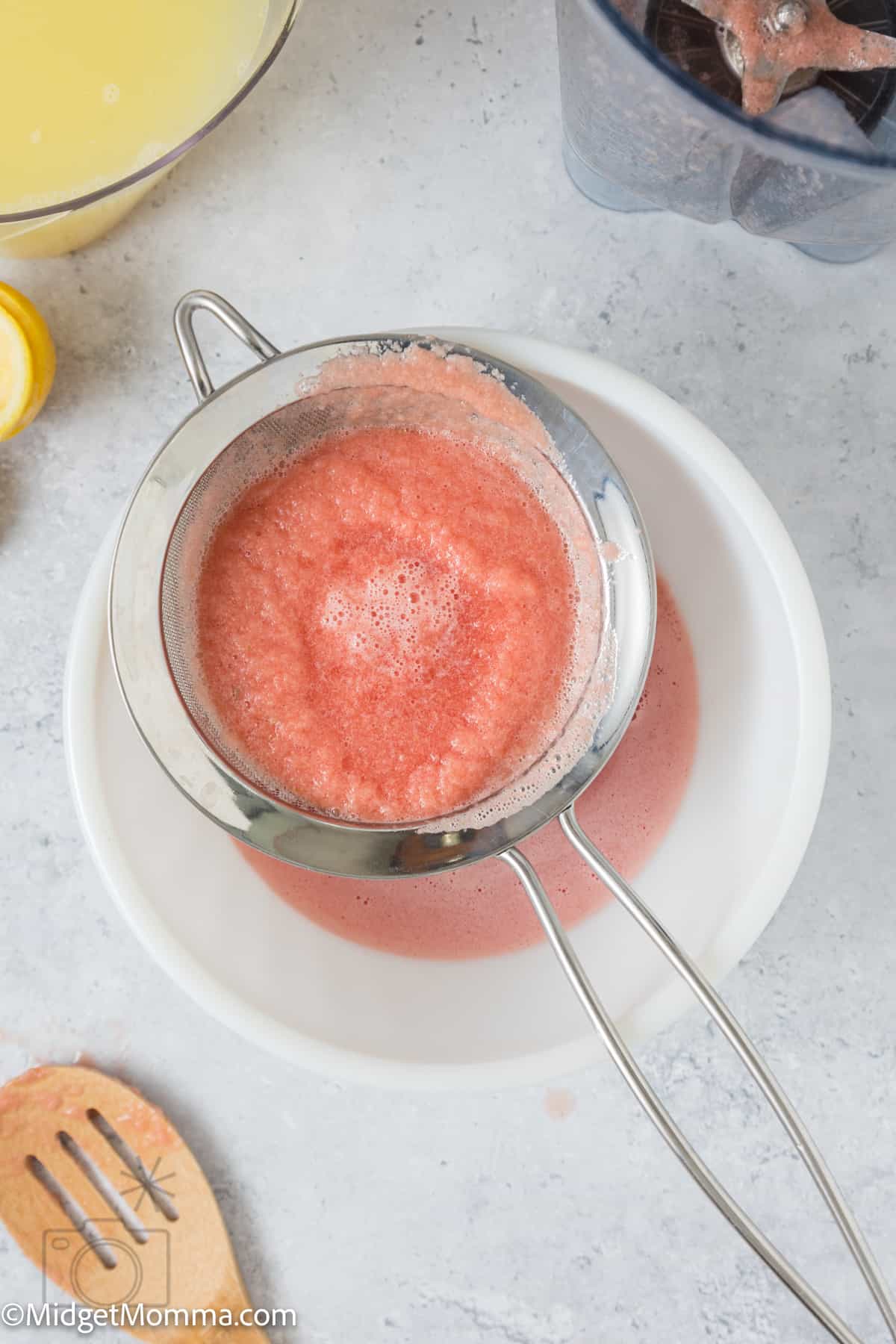 Pour the watermelon puree through a strainer into a large bowl if you do not want to have chunks in the drink.
Juice the lemons into a large bowl. Set aside the fresh-squeezed lemon juice.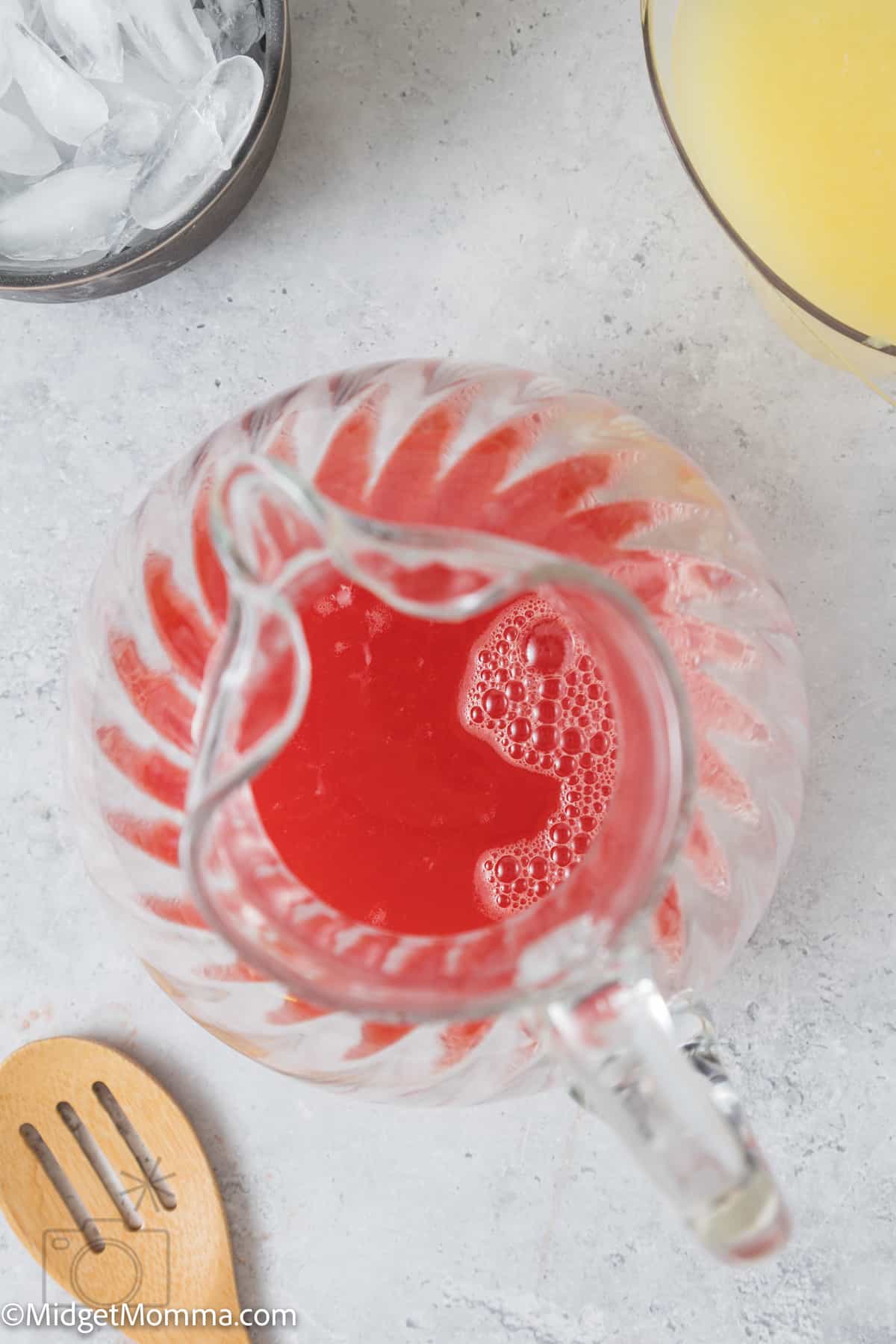 In a large pitcher, combine the remaining cups of water, simple syrup (water and sugar that you made on the stove and cooled), lemon juice, and watermelon juice.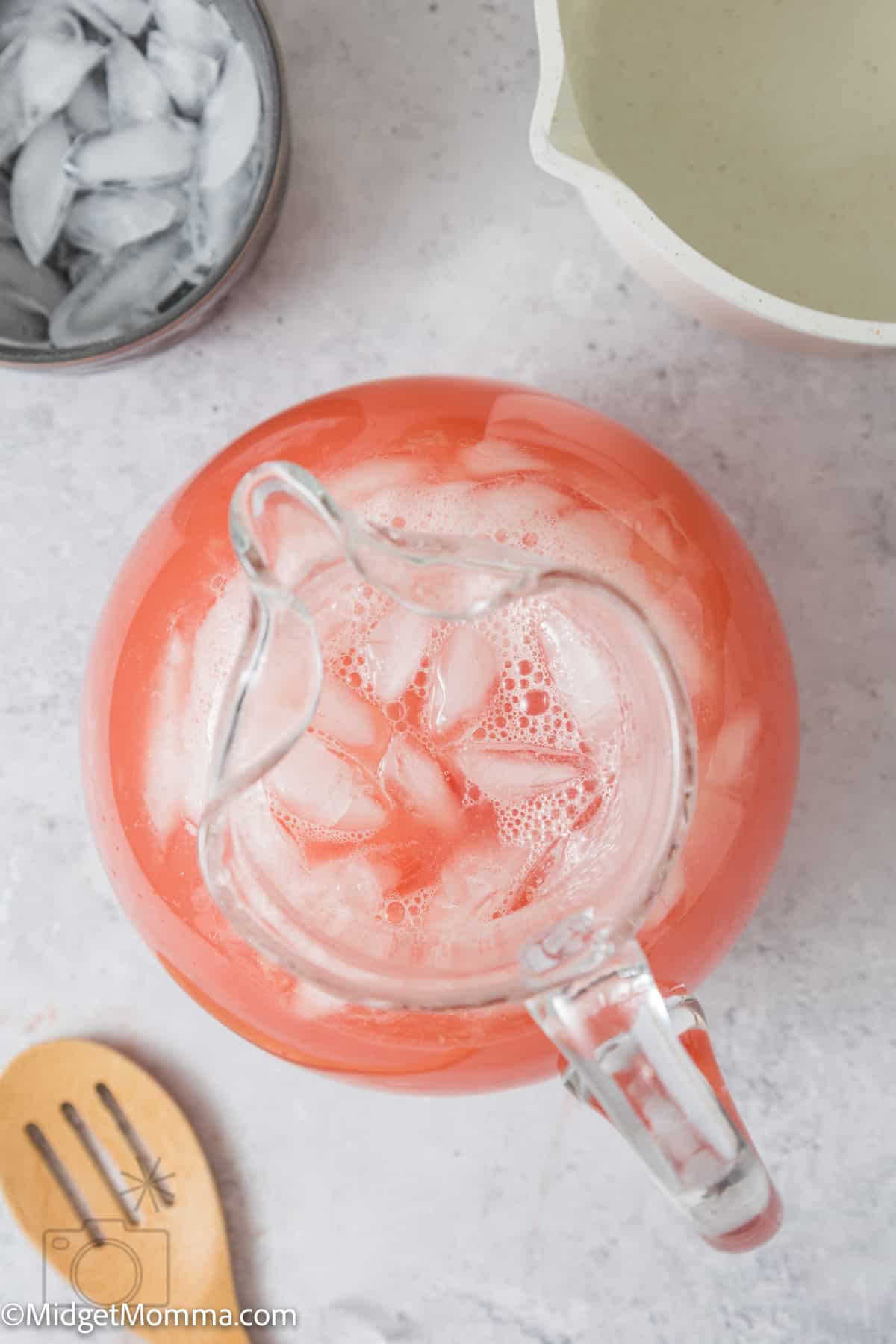 Mix everything well and add ice.
Easy Summer Drinks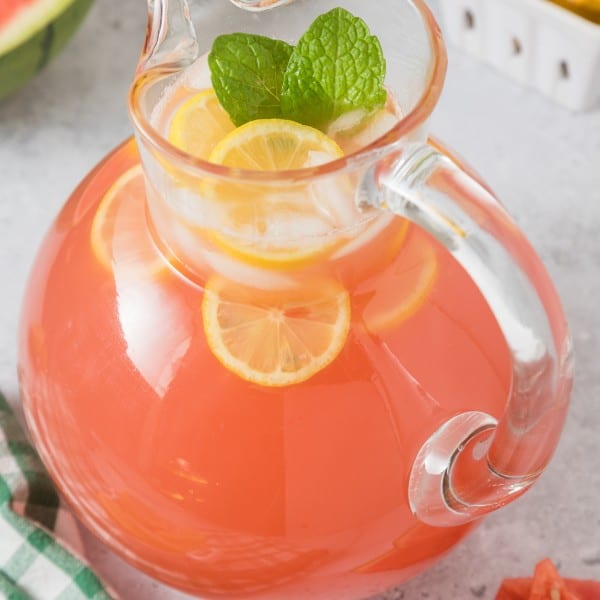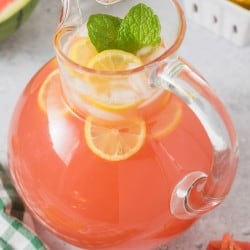 Pink Watermelon Lemonade Recipe
Servings
If you are looking for a delicious lemonade recipe, this Watermelon Lemonade is amazing. This watermelon drink recipe always hits the spot on a hot summer day.
Ingredients
7 cups water
1 1/2 cups sugar
1/4 tsp salt
4 cups watermelon chopped
2 cups lemon juice 10-12 lemons
2 cups ice
Instructions
Bring the water, sugar, and salt to a boil in a pot over high heat, stirring occasionally.

Remove pot from heat and set it aside.

Puree the watermelon in a blender until smooth.

Pour watermelon puree through a strainer into a pitcher. Stir in the sugar water, lemon juice and top it off with ice.
Calories: 120kcal | Carbohydrates: 31g | Sodium: 57mg | Potassium: 98mg | Sugar: 29g | Vitamin A: 290IU | Vitamin C: 19.9mg | Calcium: 10mg | Iron: 0.2mg
Watermelon Lemonade, watermelon lemonade recipe
Drinks