I have been having lots of fun with Star Wars drinks if you haven't been able to tell 😉 This next one is a C-3PO Caramel Milkshake. Inspired by the fun character C-3PO, this caramel milkshake is perfect for any time of the year.  My kids have all the fun with the kids drinks but this one is perfect for the all Star Wars fans if you are having a Star Wars party.
I also have some other great Star Wars drinks that if you are a big Star Wars fan you will love! Some for the kids too! Check out Chewbacca Cocktail, Chewbacca Caramel Hot Chocolate and the Kylo Ren Star Wars Kids Party drink. My favorite one of course is Yoda Hot Chocolate! Make sure you check out the 11 SUPER Cool Star Wars Recipes for Star Wars Fans for all awesome Star Wars Recipes!
This Caramel milkshake is a combination of snicker doodle ice cream and Ghirardelli caramel syrup. Yes it does make a difference which type of caramel you are using when you make it. Cheap caramel is going to give you a cheap flavor, and yuck! Stick with the good stuff to give you the best flavor.
Caramel Milkshake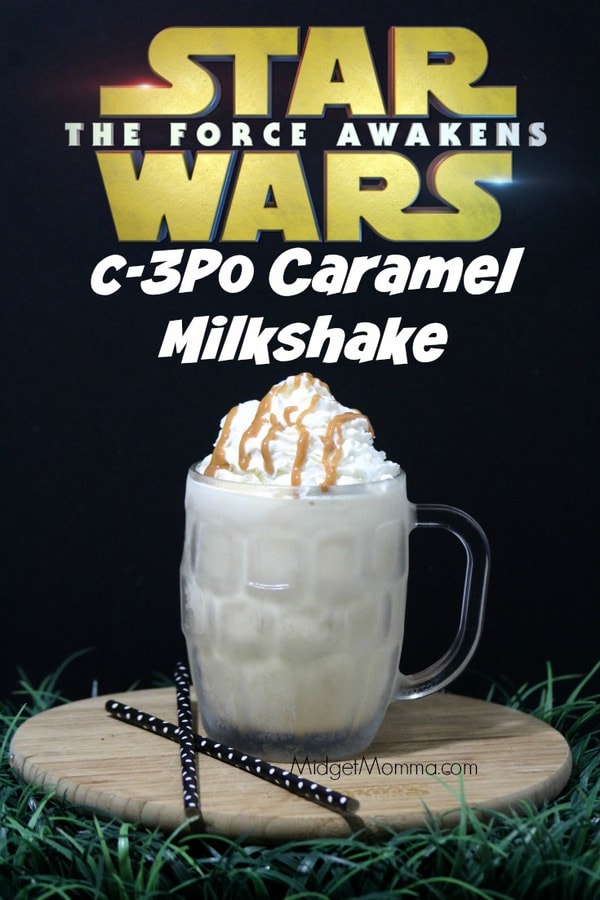 Caramel Milkshake Ingredients:
4 large scoops snicker doodle ice cream
1/2 C whole milk
3 TBSP Ghirardelli caramel syrup
Caramel Milkshake Directions:
Get your blender out and 2 glasses. I prefer to put my glasses in the freezer while prepping mine so they are cold too when I add my milkshake. Set up your blender and then it is time to add the ingredients.
In the blender add your 4 large scoops snicker doodle ice cream, 3 TBSP Ghirardelli caramel syrup and 1/2 C whole milk.
Using the medium-high setting mix until blended well. If you like a thinner milkshake wait until it is blended the first time before adding any more milk. Once you are happy with the consistancy pour into your glasses.
Top your caramel milk shakes with whipped cream and then drizzle more caramel on the top. Add in a fun straw to make it even more festive and fun!
Enjoy!