I am sure you have realized that Star Wars is something that I love and as a family we enjoy and that if there is a way to bring more Star Wars I will. Make sure aside from enjoying this Yoda Hot Chocolate that you check out Chewbacca Cocktail, and the Kylo Ren Star Wars Kids Party drink!
This Star Wars Inspired Yoda Hot Chocolate is easy to make. The kids and adults alike will enjoy this tasty chocolaty drink. Perfect for a cold night snuggling and watching Star Wars.
Make sure you check out the 11 SUPER Cool Star Wars Recipes for Star Wars Fans! for Star Wars fans, for even more tasty and super cool Star Wars Recipes including Chewbacca Caramel Hot Chocolate ,Rey's Chai Spiced White Chocolate Cocoa and more!
When you are drinking this Star Wars hot chocolate it is a must to do so out of a Yoda Hot Chocolate mug! For some reason it just makes the expierence even better!
Star Wars Inspired Yoda Hot Chocolate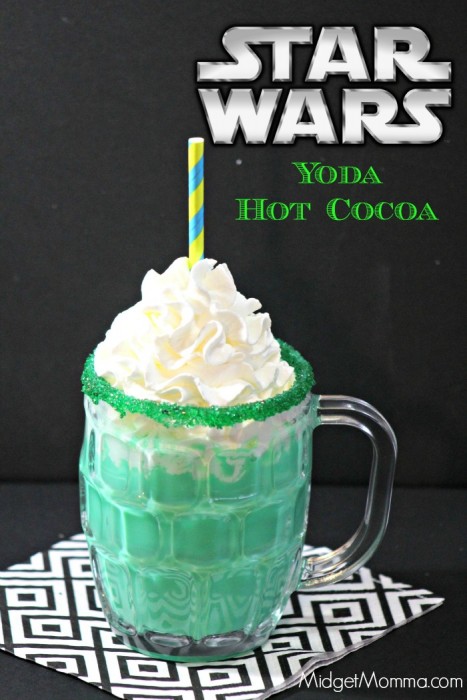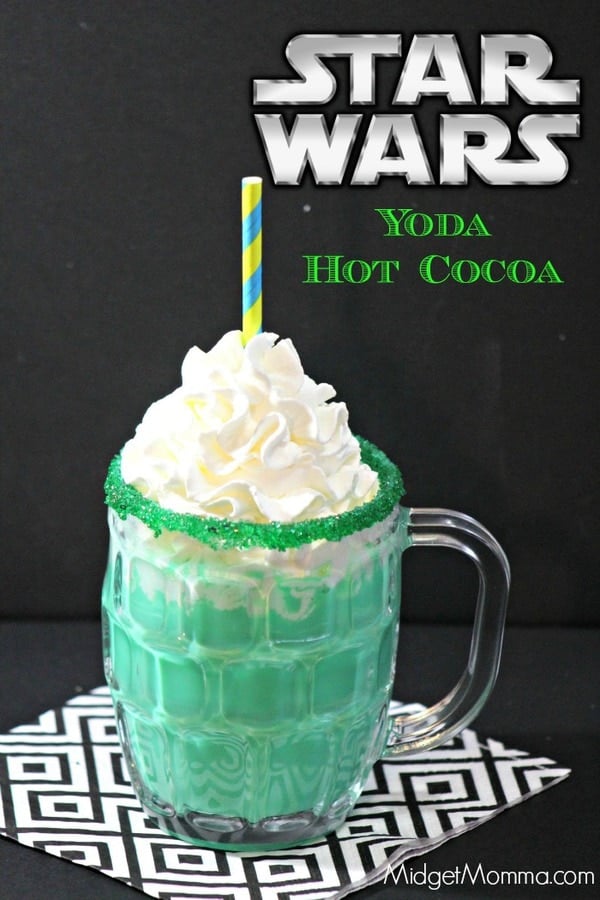 MY LATEST VIDEOS
Star Wars Inspired Yoda Hot Chocolate (White Hot Chocolate):
Star Wars Inspired Yoda Hot Chocolate Ingredients:
 Star Wars Inspired Yoda Hot Chocolate Directions:
-Add white chocolate wafers and heavy cream in a double boiler.
-Stir continuously until white chocolate has melted.
-Pour in the half-and-half, and vanilla extract.  Stirring constantly as you add to blend all the ingredients.
-dip glasses into simple syrup and then sanding sugar
-Pour into mugs.
-Top with whipped cream and serve
Join the newsletter
Subscribe to get our latest recipes right in your inbox every time we post a new one!
This post may contain affiliate links. Please read my disclosure policy here