Ready to make Snow Ice Cream? It's snowing! Get the family together and go grab some of the newly fallen snow. Making snow ice cream is a fun and delicious way to spend an afternoon on a snow day! Customize this special treat to your favorite flavors and everyone can enjoy a one of a kind dessert.
Snow Ice Cream
This snow ice cream recipe is a fun and easy snow day activity. Since you only want to make snow ice cream with fresh snow, it is truly a special treat. You can only make a certain amount of times a year and you never really know when that will be. The kids already get excited when they know it is going to snow. They get to play in the snow all day, drink their favorite hot chocolate, like Unicorn Hot Chocolate and Slow Cooker Hot Chocolate, and they get to make ice cream with snow. It has become a tradition.
Where I live, we tend to get a lot of snow in the winter time. Not too long ago, we had a snowstorm and I wasn't able to go outside with them because I wasn't feeling well. I wanted to do something snow related and a friend of mine reminded me about snow ice cream and I was excited to still be able to something snow related with them, however, when I checked the stockpile, there was no sweetened condensed milk, which the the usual way to make snow cream. So I needed to figure something else out using what I had on hand.
So, what is Snow Cream
Snow ice cream, or snow cream, is exactly what it sounds like. It is ice cream that is made with snow as the base. It is combined with milk and sugar or sweetened condensed milk. It also has added flavoring like vanilla, cocoa or strawberry syrup.
Making Snow Cream Without Sweetened Condensed Milk
Most recipes that you will find online to make snow ice cream call for sweetened condensed milk. I have never seen a snow ice cream with milk recipe. But that is all I had at home. And I certainly couldn't go out during the snowstorm to get it. So I made snow cream with milk.
Is Snow Ice Cream Safe?
Snow ice cream is safe to eat as long as you are using clean snow. I always recommend that you use freshly fallen snow. After the snow has been sitting, you are not really sure what has gotten on the snow.
Can I Freeze The Snow Cream
Yes, you can snow cream. If you have leftovers, you want to store it in the freezer. Place it in an airtight container or in a freezer bag.
Variations to Snow Ice Cream
There are so many ways to change up this ice cream. You can use any type of flavor that you like. The day we tried the snow cream with milk we made vanilla, chocolate and strawberry. You can change the flavor by adding different types of extracts to the snow. Some of my favorite extra ideas are peppermint, lemon, root beer and birthday cake extracts. These are fun flavors to add to the snow cream.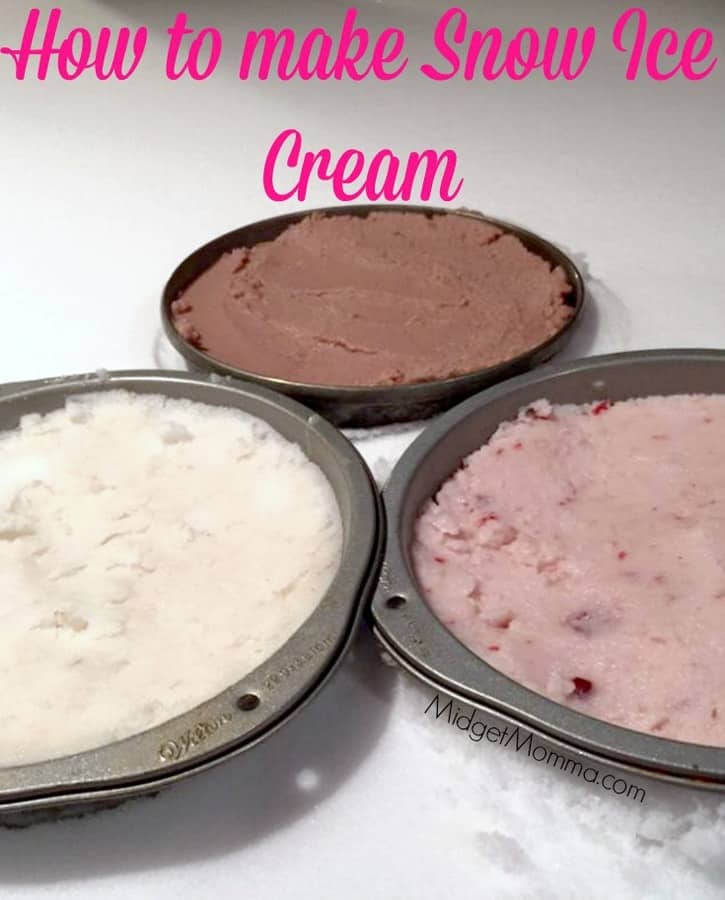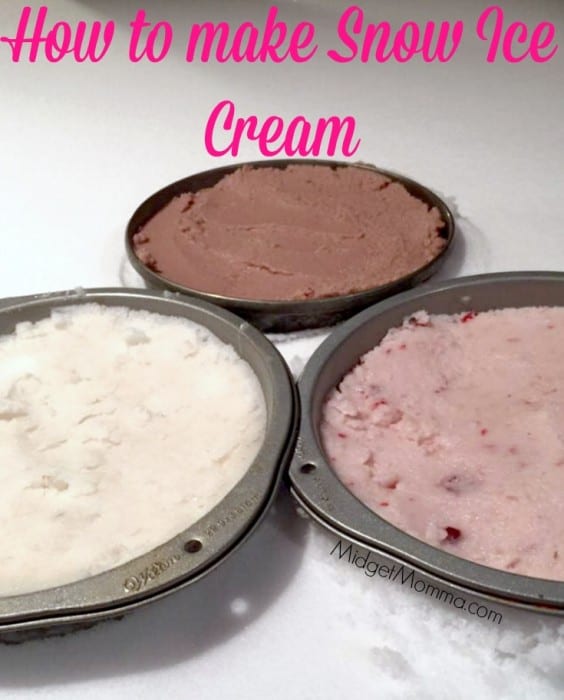 How to make snow Ice Cream:
Ingredients:
Snow
Vanilla
Cocoa Powder
Strawberry dessert topping
Sugar
Milk
First send the kids out with HUGE mixing bowls and measuring cups and have them fill the bowls up with fresh clean snow.
Then put another bowl in the fridge while the kids are collecting snow to cool it. You don't want a warm bowl or the snow will melt.
For the Vanilla Snow Ice Cream:
Mix 1 cup of milk, a tablespoon of vanilla extract 2/3 cup of sugar. Mix all of it well and then add the snow in 1 cup at a time until thick and creamy.
For Strawberry Snow Ice Cream:
Mix 1 cup of milk, 2/3 cup of sugar and 1/2- 1 cup strawberry dessert topping. I am sure strawberry jam would work well too. then add the snow in 1 cup at a time until thick and creamy.
For Chocolate Snow Ice Cream:
Mix 1 cup of milk, 3 tablespoons cocoa powder and 2/3 cup of sugar. Mix all of it well and then add the snow in 1 cup at a time until thick and creamy.
If you want it sweeter then taste test the mixture before adding in any snow. The amount of snow you need will depend on the temperature of your house, the bowl you are mixing it in and how long your snow was in the house after the kids collected it 🙂
After you have mixed it, put the ice cream into other containers or leave it in the bowl it is in and let it chill outside in the cold for a few minutes and then serve!