Everyone loves classic lemonade, but this recipe has a tasty strawberry twist that makes it the perfect summer drink. Homemade Strawberry Lemonade is the perfect refreshing summer drink that everyone will love! Made with strawberries and lemon the whole family will love this refreshing strawberry drink! With fresh homemade lemonade and strawberries, this lemonade is perfect for everyone to enjoy!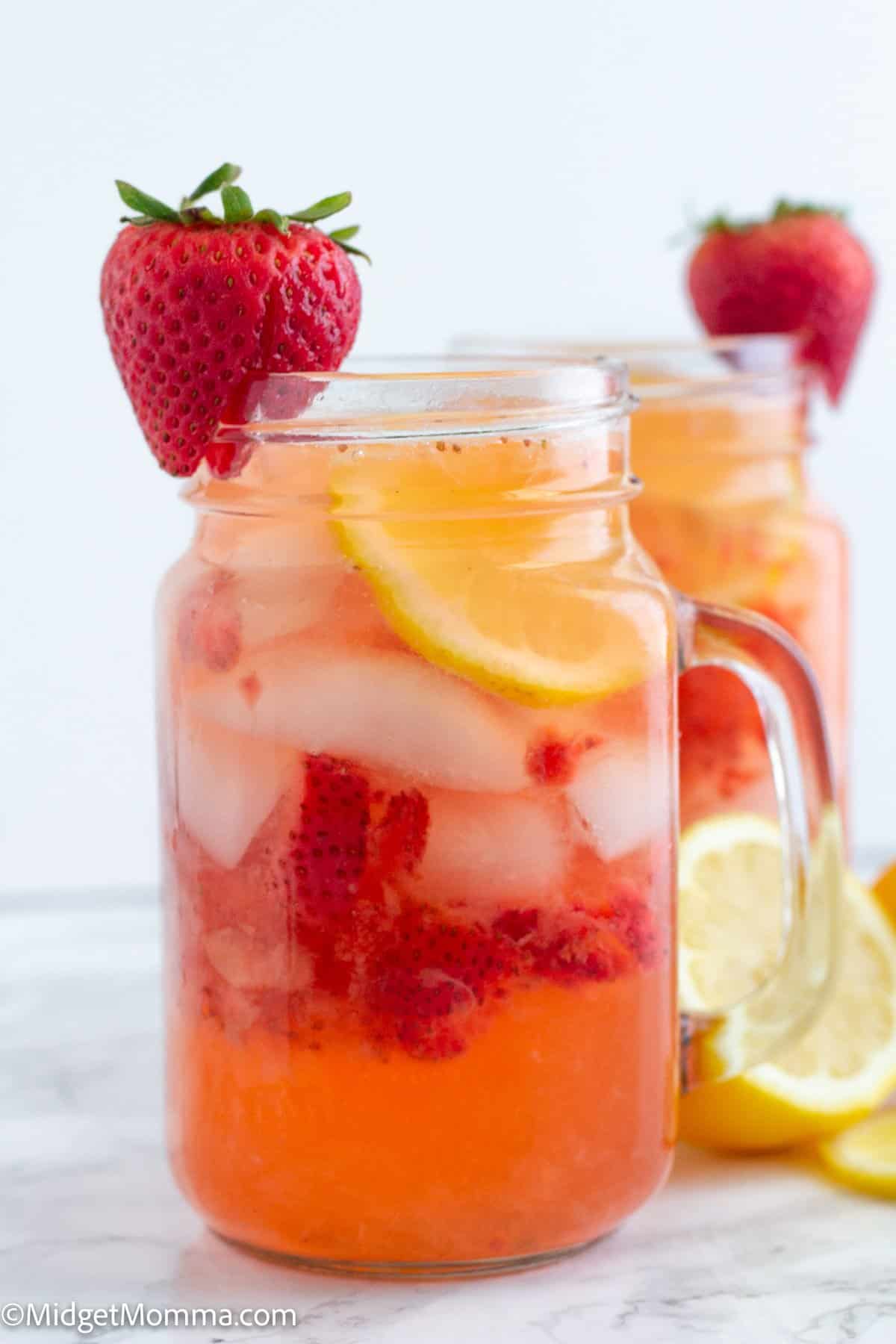 Homemade Strawberry Lemonade Recipe
If you are a fan of Wendy's Strawberry lemonade or Starbucks strawberry lemonade then you are going to love this fresh strawberry lemonade recipe.
Although it was the Red Robin's strawberry lemonade with chunks of strawberries in it that was the motivation for creating this delicious strawberry anyone who loves the Wendy's or Starbucks versions is sure to love this refreshing lemonade recipe. Perfectly tart from the lemons while being sweet with chunks of strawberries, there is nothing not to love.
This easy lemonade recipe is even better than those though because you can make it at home and don't have to leave the house! Aside from that I also think this easy homemade strawberry lemonade recipe tastes better then any of the others! Made with fresh ingredients this refreshing drink is such an easy recipe that you can make it daily all summer long.
During strawberry season the kids and I tend to go a bit overboard with picking fresh strawberries. Thankfully there are lots of things to make with strawberries including this simple recipe. This easy strawberry lemonade recipe is one of our go to homemade lemonade recipes to enjoy on a hot summer day. It has the perfect balance of tart from the lemons and sweet from the strawberries.
My kids sometimes call this delicious drink, pink lemonade sometimes because the combination of the strawberries and the lemonade give it a beautiful pink color.
Lemonade Recipes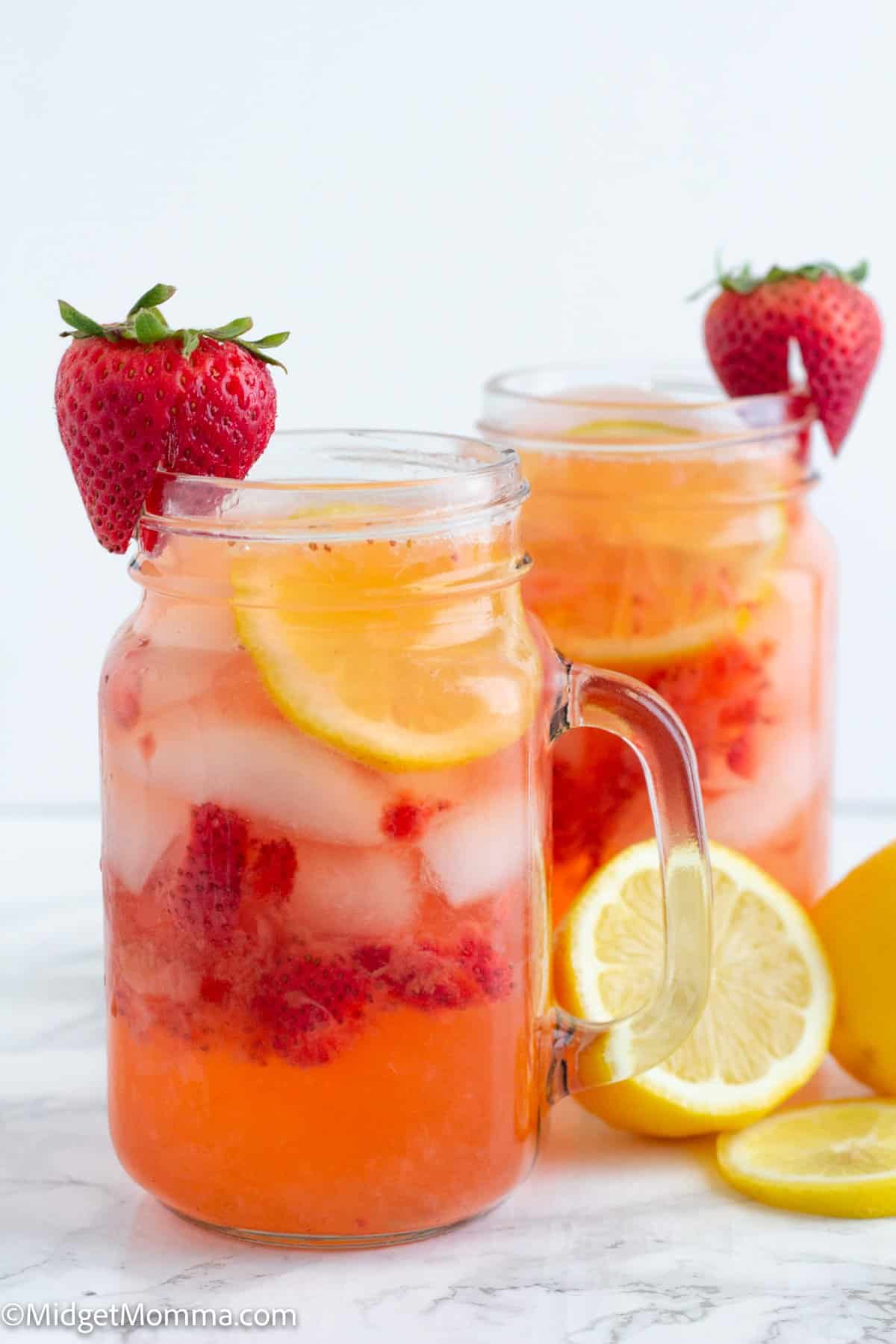 What is Strawberry Lemonade made out of?
This simple lemonade recipe has just 4 ingredients, strawberries, lemons, sugar and water.
Fresh or Frozen Strawberries
You can make this easy lemonade recipe with frozen strawberries or fresh strawberries. Personally I prefer to use frozen strawberries when making this strawberry lemonade drink. If you are buying frozen strawberries for this tasty summer drink, make sure you buy the unsweetened ones.
I have a tendency to buy lots of strawberries when I see them on sale for dirt cheap or to pick a ton when we go strawberry picking and then I end up wondering what to make with fresh strawberries. Thankfully there are lots of things to make with fresh strawberries or I can freeze them because strawberries freeze really well. What I like to do is freeze strawberries and later use them in recipes like this fresh strawberry lemonade.
Recipe Variations
Use fresh strawberries. If you are buying fresh strawberries then you can freeze them and then use them or you can use them fresh.
Dip the rim of the glass. If you want to get fancy you can make some lemon sugar and dip the rim of the glasses in it before pouring your homemade lemonade into the glass.
Serve it fancy. When serving this lemon strawberry summer drink I like to make it fancy by adding a strawberry to the top of the glass and some thin slices of fresh lemon after pouring it into the glasses. I also like to add a fancy straw like the fun paper straws that you can find at the dollar store.
Make it boozy. You can also easily turn this into a strawberry lemonade cocktail by adding a splash of vodka! But keep that pitcher filled with the refreshing summer cocktail just for the moms and dads!
Add lemon slices. If you want to fancy things up add a lemon slice to the side of the glass or in the lemonade when you are serving it.
Make it Sparkling Strawberry lemonade. You can use sparkling water for the used to make a sparkling lemonade. You will not want to use sparkling water when making the simple syrup (water and sugar on the stove) but you can use it when you are making the final lemonade recipe in place of regular water.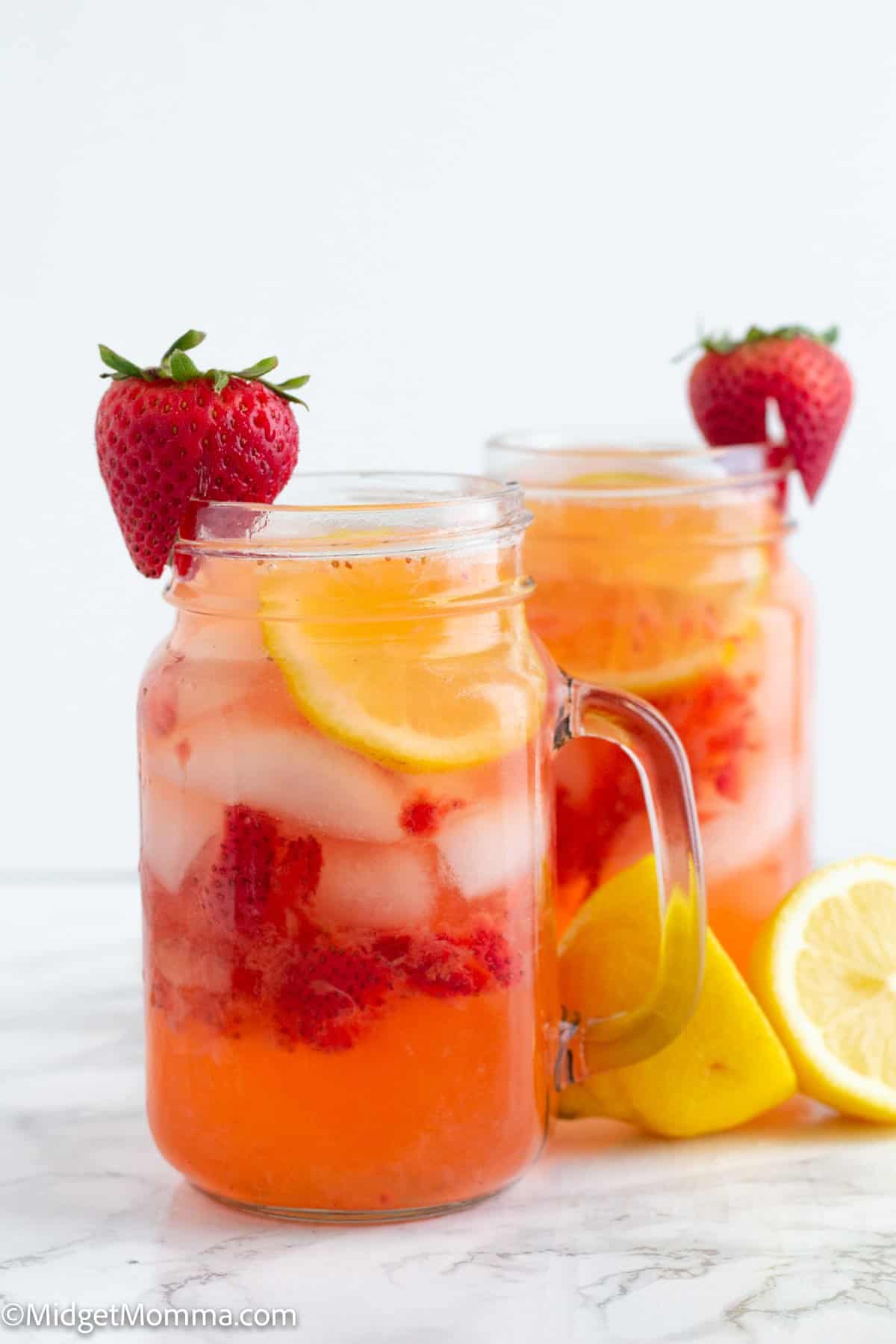 How to Store Homemade Lemonade
After making the homemade lemonade store it in the fridge in a large pitcher without ice. Homemade lemonade will keep in the fridge for 5-7 days.
How do you make lemonade less bitter?
If you fin your lemonade bitter you can sweeten it with additional sugar or honey. It is important when squeezing the lemons that you do not get any of the white parts of the lemon in it, that part is very bitter and will make the lemonade bitter.
Can you freeze lemonade?
You can freeze homemade lemonade. In fact I like to use homemade lemonade to make ice cubes so when I add them to my homemade lemonade i don't dilute the flavor.
How to Squeeze Lemons Easily
I have said in the past that I am in LOVE with my KitchenAid Mixer and use it all the time, what you might not know is that there is an amazing KitchenAid Juicer attachment that is perfect for making lemonade! Using this lemon juicer attachment is an easy way to squeeze lemons, it makes it so much easier to squeeze all of those lemons then doing it by hand!
You can also use a manual squeeze lemon juicer if you prefer.
How to make lemonade Ice Cubes
To make lemonade ice cubes pour the lemonade into an ice cube tray. Put the tray in the freezer and freeze for 3-4 hours until they are frozen.
How to make lemonade concentrate
If you want to freeze a lemonade concentrate to thaw and make lemonade later make the simple syrup and pour the simple syrup and the lemon juice together and mix well. Then pour the lemonade concentrate into an airtight container or a freezer safe zip close bag and store it in the freezer.
Lemonade concentrate will keep for up to 6 months in the freezer. When it is time to make lemonade thaw the lemonade concentrate and mix with 3.5 cups of water and the fruit of choice if desired.
Does it have to have strawberry chunks?
I personally love the chunks of strawberries in my lemonade, but if you want a smoother texture then you can use a fine mesh strainer and strain the mashed strawberries so you do not end up with any chunks. Then add the mashed strawberry mixture to the lemonade in place of the smashed strawberries.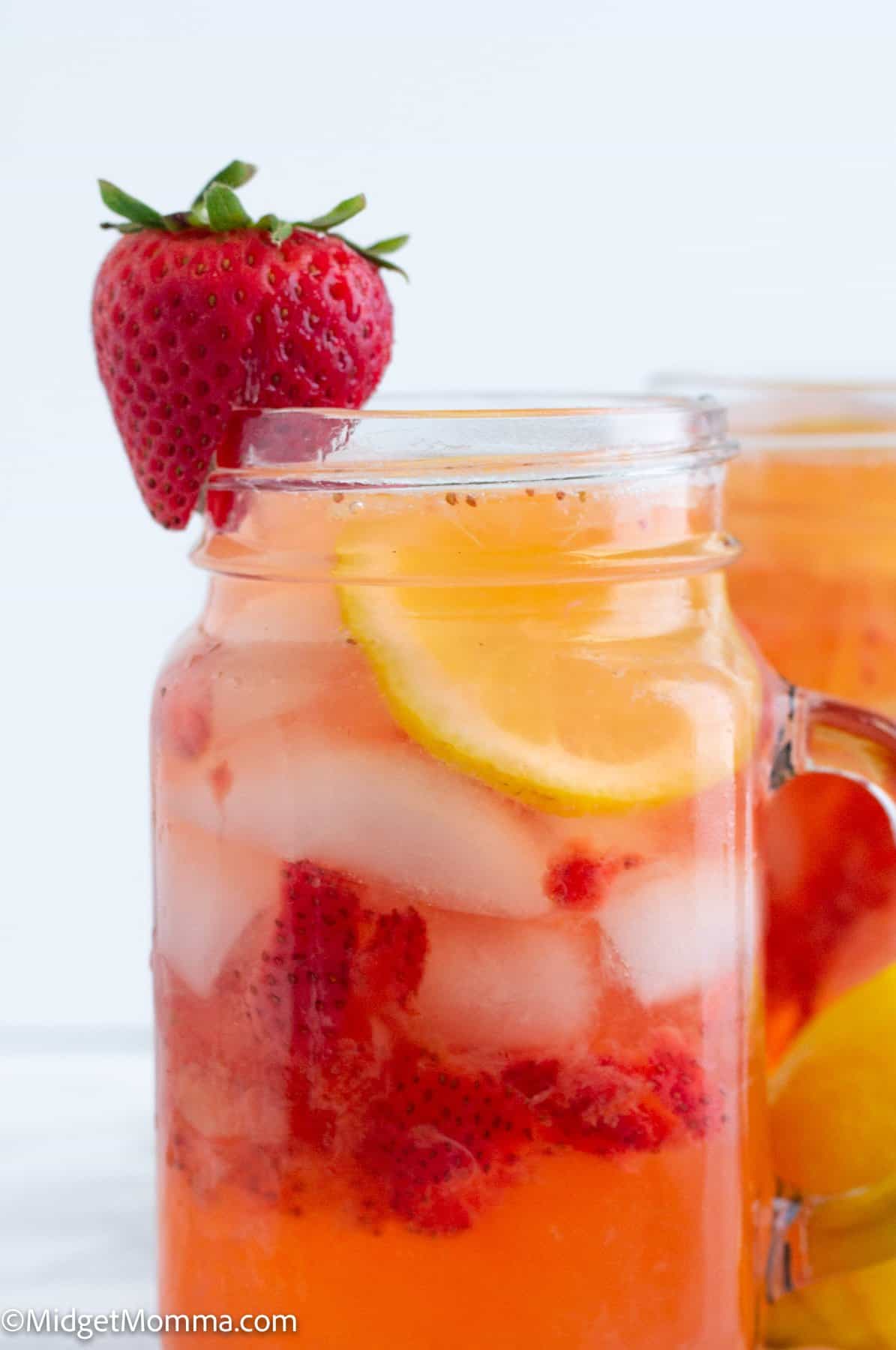 Strawberry Lemonade Ingredients
Granulated White Sugar
Water
Fresh Lemons
Frozen Strawberries
How to make Strawberry Lemonade
In a small pot add the sugar and 1 cup of water and mix.
In a medium saucepan on the stove and turn the heat up to medium-high. Bring the sugar and 1 cup of water mixture to a boil and stir to dissolve the sugar into the water.
Juice the lemons into a large bowl.
In another bowl add the strawberries and mash the strawberries up using a fork so they are in small pieces.
In a large pitcher, combine the remaining cups of water, simple syrup (water and sugar that you made on the stove and cooled), lemon juice, and strawberries. Mix everything well.
Serve in a glass over ice or store in a pitcher in the fridge.
Looking for more tasty drink recipes? Check these out!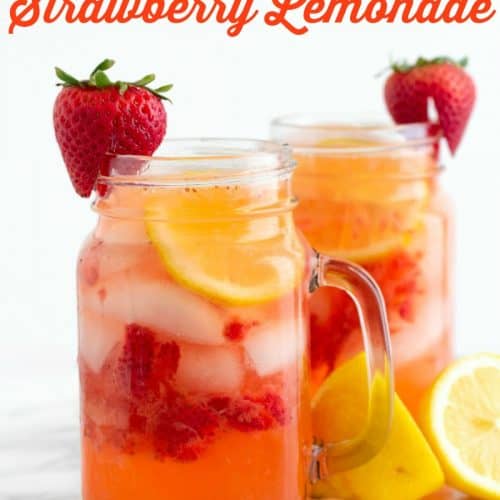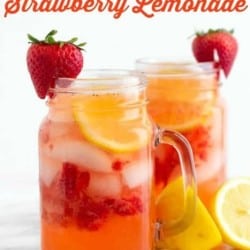 Homemade Strawberry Lemonade Recipe
Easy Homemade Strawberry Lemonade. This homemade strawberry lemonade Recipe is the perfect refreshing summer drink made with strawberries and tart lemons. Add a splash of vodka to make this a Strawberry Lemonade cocktail.
Tools
1 1/2 cup sugar
9 cups water
1 1/2 cup lemon
1 1/2 cup frozen sliced strawberries thawed or fresh strawberries
Instructions
In a medium pot add the sugar and 1 cup of water up to a boil over medium-high heat.

Set aside and let it cool.

Squeeze your lemons, saving only the juice.

Using a fork mash the strawberries so they are in small pieces.

In a large pitcher, combine the rest of the water, simple syrup, lemon juice, and strawberries.

Serve in a tall glass over ice.