The internet is filled with keto chaffle recipes and you might not have any clue where to begin. That is OK, and I am here to help you!
We have been testing and creating chaffle recipes for the past month and thought it might be helpful to share the best chaffle recipes we have made and tried this week with you to help you figure out where to start.
I have found amazing chaffle recipes that I found on other blogs that I think you will all love just as much as the keto chaffle recipes we have created and shared with you. Those are included in this post too.
If you are looking for the best keto chaffle recipes, then this is the post for you! We have all the best keto chaffle recipes that are perfect for breakfast, lunch, dinner and dessert all in one spot!
Best Chaffle Recipes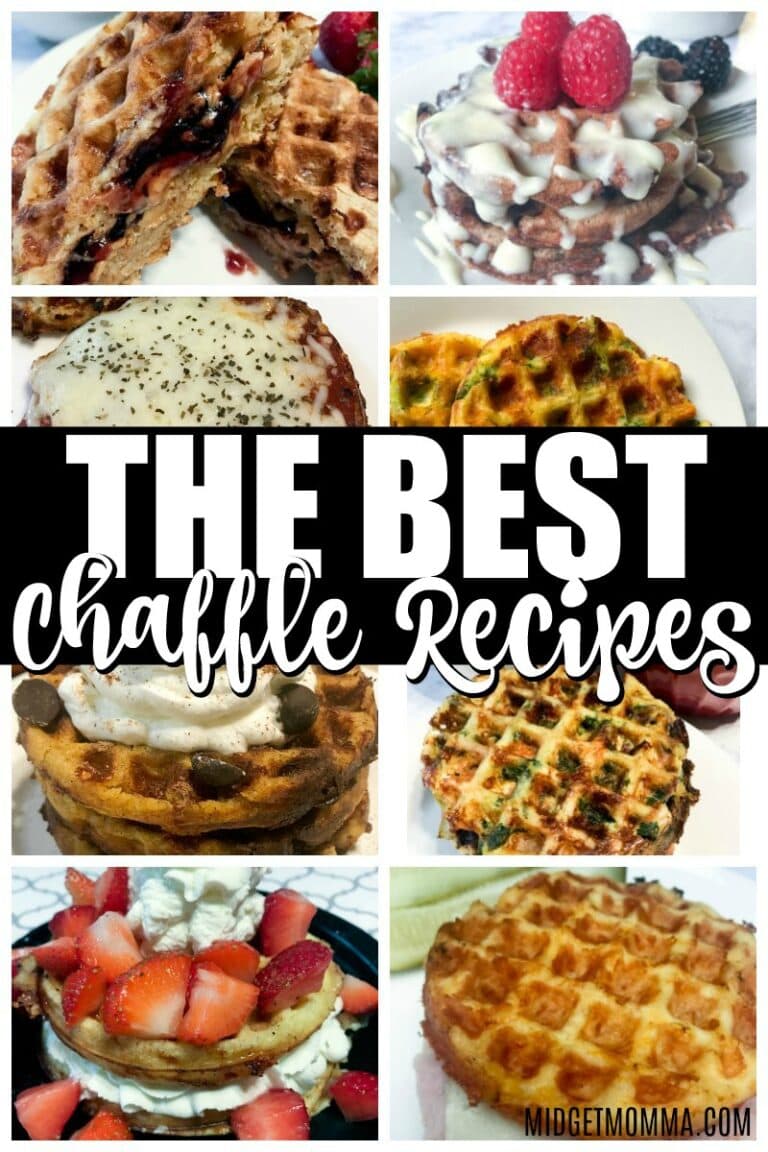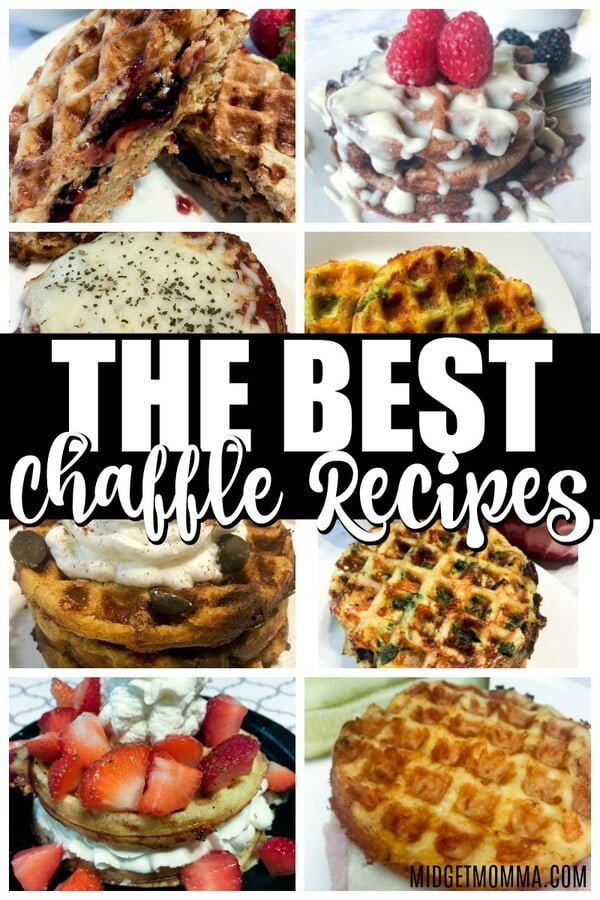 What is a Chaffle?
If you are just now hearing about chaffles I am sure you are wondering what is a chaffle? A chaffle is a "waffle" made with only cheese, egg and sometimes keto friendly flour, different spices, seasoning and add ins to give you different flavors. But the basics of a chaffle is that it is egg and cheese combined to make a tasty keto waffle!
How long does a Chaffle take to cook in a mini waffle maker?
If you are using the Dash Mini Waffle Maker it will take 3-5 minutes per waffle depending on what type of chaffle you are making. If a chaffle has things like berries the juices will make it take a little bit longer to crisp up in the mini waffle maker then one with no extra liquid.
What do you cook chaffles in?
I am sure you can cook these chaffles in a regular waffle maker, however the single serve Dash waffle maker is what I am using. My whole house isn't keto and the Dash waffle maker is super budget friendly. If you don't have one, grab one now because once you get hooked on making chaffles you are going to want to have one!
All The Best Keto Chaffle Recipes
There are so many different chaffle recipes floating around that it can be hard to know which ones are the best ones. You don't want to waste time making a chaffle that won't turn out good. So we have rounded up the best chaffle recipes for you.
To start I suggest making the basic keto chaffle recipe and then from there making the more in depth recipes.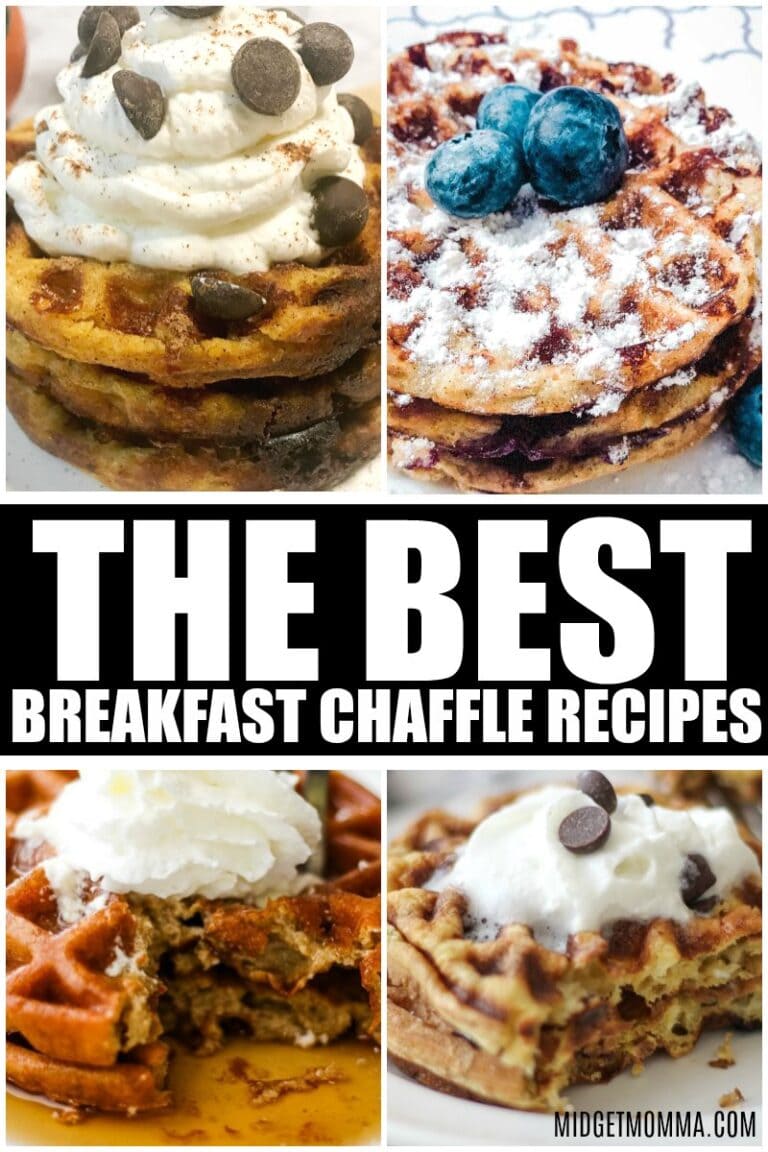 Breakfast Chaffle Recipes
There are lots of tasty breakfast chaffle recipes that are super delish and so easy to make too!
Sausage and Gravy Chaffles. Sausage and Gravy Chaffles are the perfect breakfast chaffle that gives you a full breakfast meal that reminds you of the traditional biscuits and gravy.
Chocolate Chip Chaffles. Add some powdered swerve confectioners or keto whipped cream on top for a chaffle that tastes like a chocolate chip waffle! The best two I have found are the Chocolate Chip Chaffle made with Almond Flour and the Chocolate Chip Chaffle made with Coconut flour.
Pumpkin Chaffles. Fall is coming so pumpkin chaffles are a must have. These Pumpkin Chocolate Chip chaffles and these maple pumpkin chaffles are both perfect for fall!
Fruit Chaffles. Fruit is limited when you are on a keto diet, so making tasty fruit keto chaffles is semi limited. This Blueberry Chaffle is amazing and so is this blueberry chaffle made with no flour.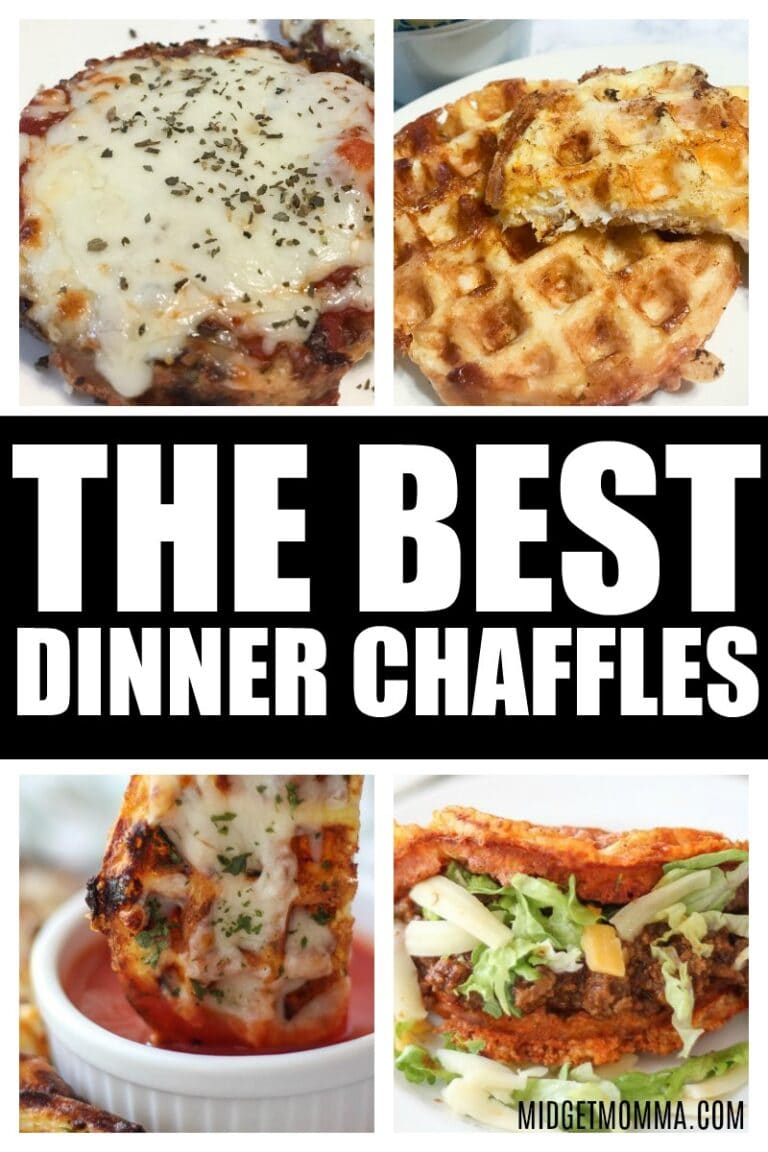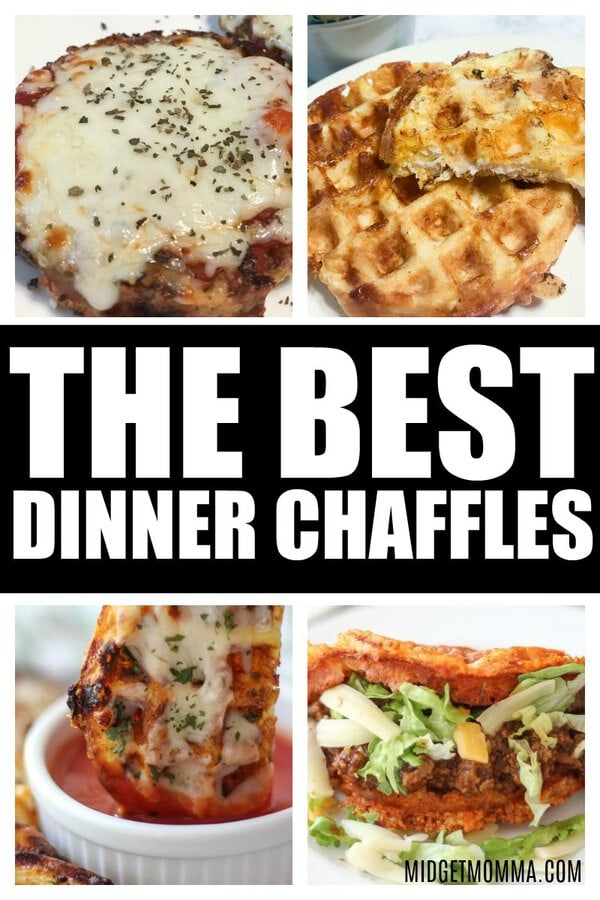 Dinner Chaffles
Many of these dinner chaffle recipes are also perfect lunch chaffle recipes too!
Keto Chaffle Sandwiches. Use the easy keto chaffle recipe or the breakfast bread chaffle recipe and make some tasty sandwiches! I love making a turkey and cheese sandwich, egg salad sandwich or Chicken Salad.
If you are looking for a full sandwich recipe, be sure to check out this amazing French Dip Chaffle Recipe.
Savory Chaffles. These tasty chaffles can be used as a meal and have tasty savory flavors. The sweet chaffles are amazing but sometimes savory is what we want. For those times the Cheddar and Broccoli chaffle, Spinach and Artichoke Chicken Chaffle, Chicken Quesadilla Chaffles, BBQ Chicken Chaffles, Chicken Parm Chaffles and Chicken Bacon Ranch Chaffles are perfect!
Taco Chaffles. There are two tasty taco chaffles that we are loving. These Taco Chaffle with almond flour and these taco chaffle with coconut flour are great handheld keto chaffles. If you want to change things up be sure to check out these tasty Taco Chaffle Bowls.
Chaffle Garlic Bread. If you are making a meal with Zoodles and topping it with amazing sauce like spicy bacon pasta sauce, Chicken and Broccoli Alfredo or homemade alfredo you are going to want a tasty keto garlic bread to go with it. We are loving Garlic bread chaffles and if you are looking for one without almond flour, check out the Coconut Flour Garlic Bread Chaffle.
Pizza Chaffles! These were a hit with everyone in my house. There are 2 awesome keto chaffle pizza recipes I recommend. Chaffle Pizza made with almond flour and chaffle pizza made with coconut flour.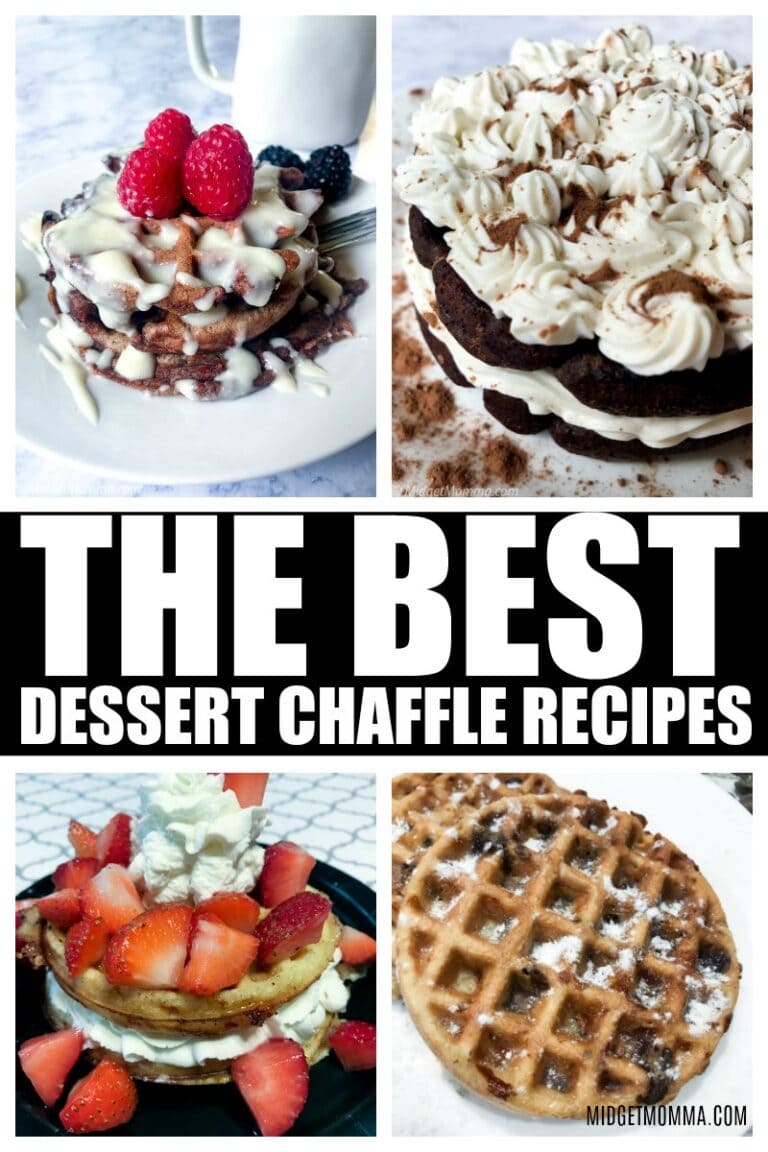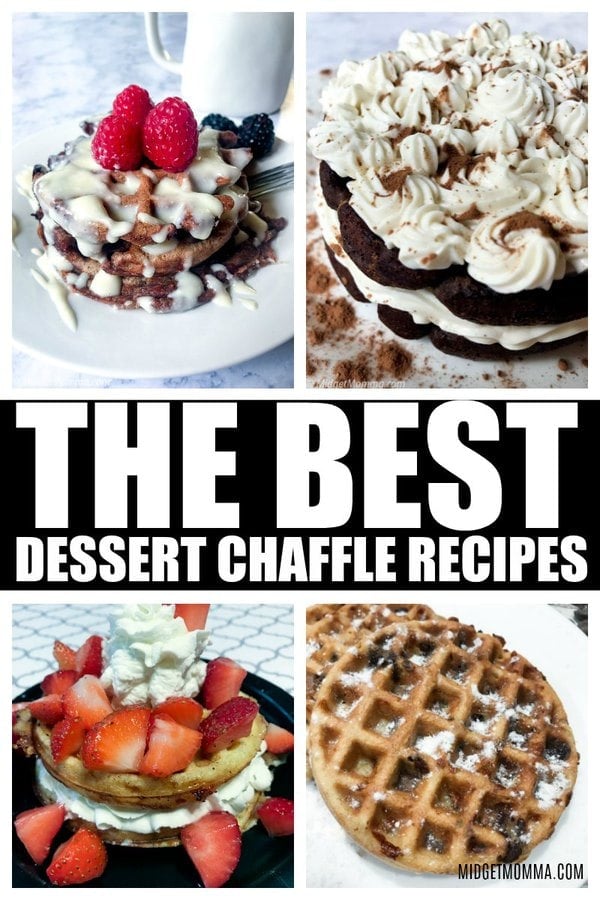 Dessert Chaffle Recipes
Dessert Chaffles. They might taste like dessert but they can be enjoyed as a dessert or as a meal! We love the Cinnamon Roll Chaffles, Peanut Butter Chocolate Chip Chaffles!
Keto Strawberry Shortcake. Strawberry Shortcake Chaffles and Strawberry Shortcake chaffle bowls are the perfect way to enjoy this tasty dessert low carb style!
Chocolate. We also love Chocolate Chaffles with some keto buttercream frosting or some keto whipped cream!
Many of the sweet chaffle recipes are also amazing as a dessert when you top them with some keto ice cream!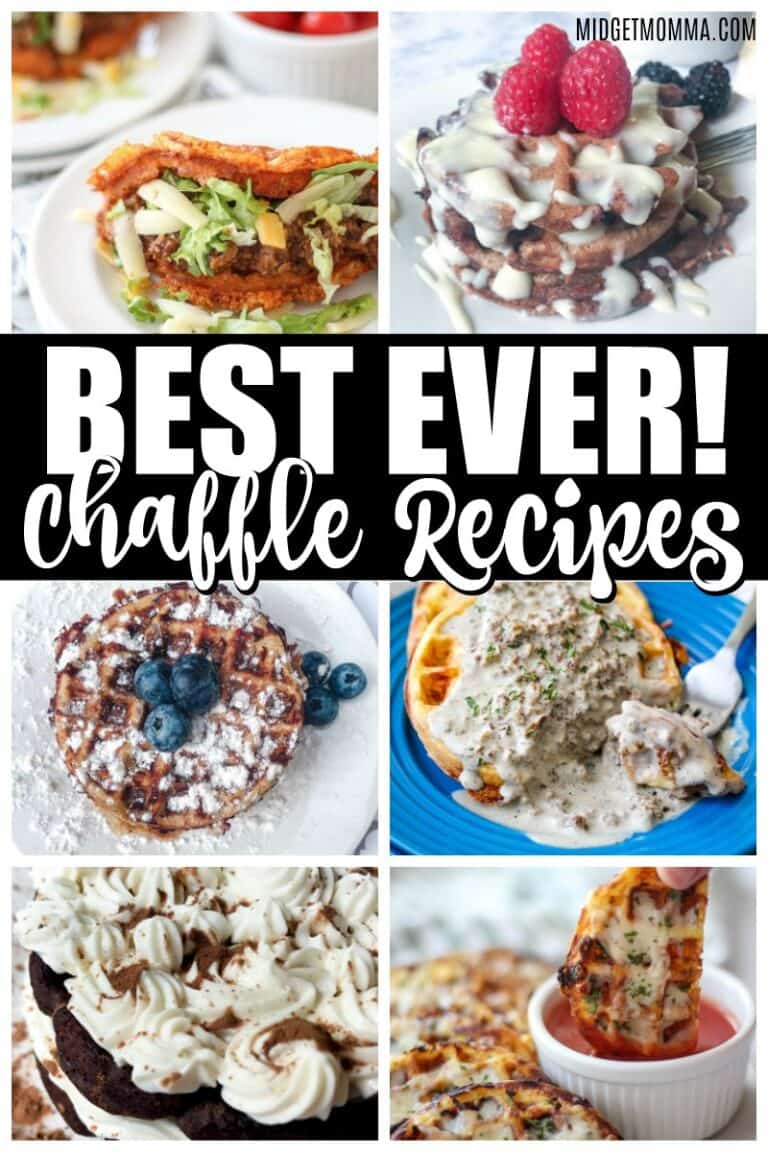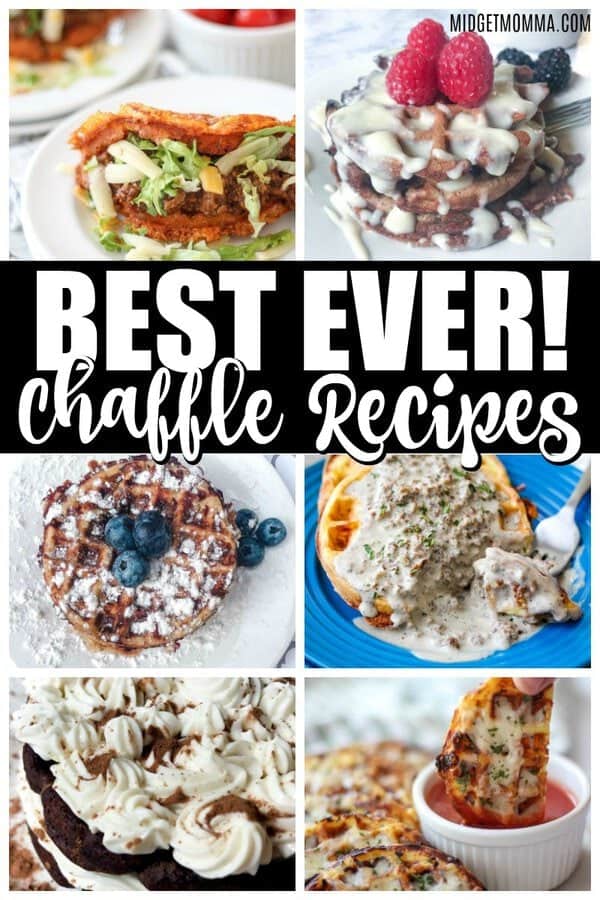 Get Our Newest Keto Recipes!
Subscribe to get our Newest Keto Recipes by email.