Recently I have been taste testing Keto Diet foods like cheese chips and a few other things. I also found out that my favorite way to make chicken salad is Keto friendly. So while in the kitchen making cheese chips and chicken salad I got an idea. What if I folded my cheese chips as soon as they cam out of the oven into tiny taco like shells and then put the chicken salad in them to form a Keto Friendly Chicken Salad Cheese Shell Tacos. 
The first time I made these I used these Keto Cheese Crackers, and they were amazing I just didn't cook them as long because I wanted them to be a little softer. This time when I made (so I could share the recipe with you) I was out of cheese squares and I forgot to put seasoning on the cheese before going in the oven so I made them with just cheese crackers from what I had on hand. You can use either way of making the cheese crackers and these Keto Friendly Chicken Salad Cheese Shell Tacos will taste amazing!
If you are just getting started following a keto diet then you are probably trying to navigate your path and sometimes getting a bit lost. There are a TON of great resources on Amazon. If you are looking for other items to include in your lunch prep or your snack prep Amazon has quite a few awesome options too! Like these Whisps Cheese Crisps, almonds and moon chips. Plus if you are having a chocolate craving, we love Lily's Chocolates!
If you have left turkey you are wanting to use, then you can use this roasted Turkey breast recipe instead of chicken.
If you are new to Keto and you are looking for more resources on how eating Keto works, Amazon has a TON of books, ebooks, cookbooks and more that are AMAZING!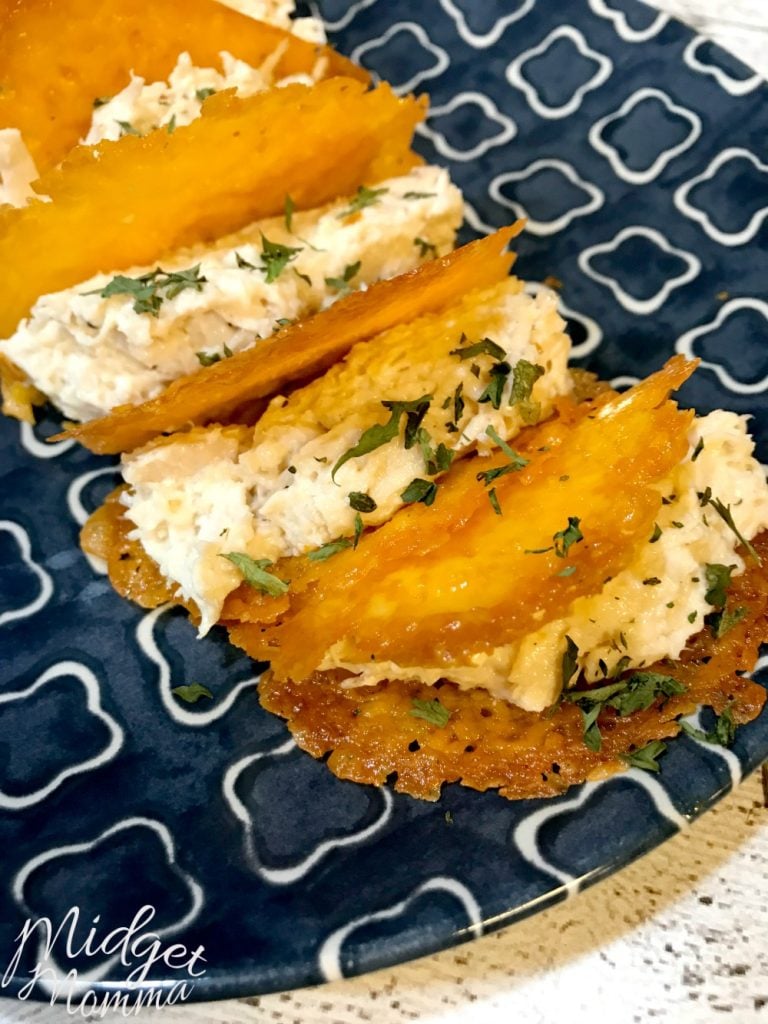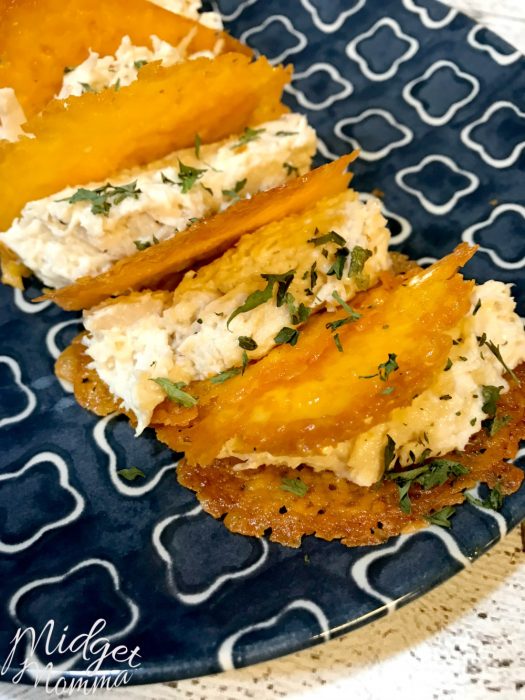 Oh boy! I took a bit and they were AMAZING! I told Tom, "hey you need to try this!" and if you know Tom, he is not always thrilled with my kitchen experimenting. This time he so thought I was insane. He looked at me and said "If you think I am going to like this you are insane. But I will try them". After taking a bite, he looked at me and said "I am not saying I was wrong to question these, but they are really good and I could totally eat these as a meal!"
I win! Which we all know I normally do. 😉
This Keto Friendly Chicken Salad Cheese Taco is super easy to make too! This Keto Friendly Chicken Salad Cheese Taco recipe makes 4, but you can easily double and triple this recipe to make enough for whoever is eating with you. This is definitely one that Keto and non Keto folks will enjoy!
When I made my cheese chips this time I didn't add any seasoning to them so it was just cheese but you really need to try these Keto Cheese chips, they are AMAZING!
Chicken Salad Cheese Shell Tacos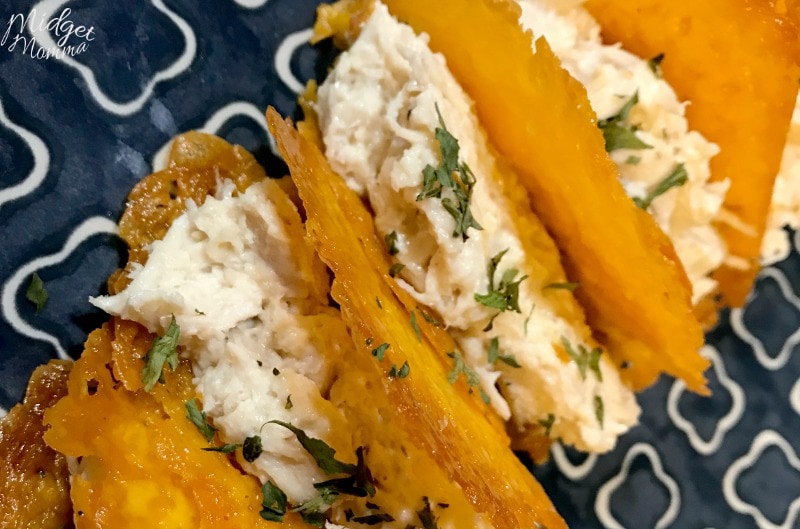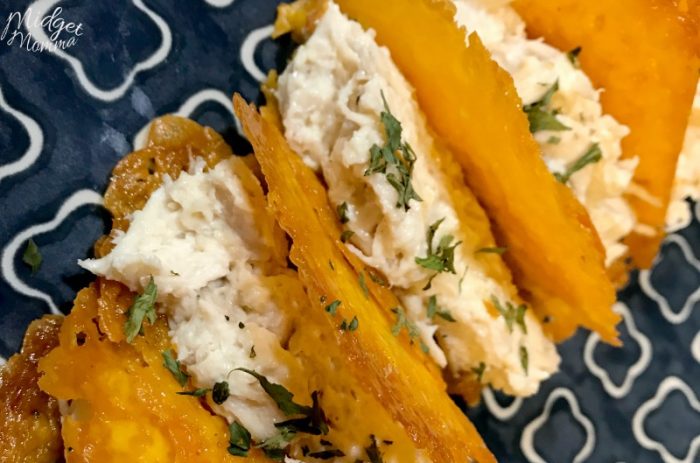 Keto Friendly Chicken Salad Cheese Tacos Ingredients: 
1/4 cup cheddar cheese – I am sure they would taste good with other flavors of cheese too!
1/4 cup shredded or diced chicken (cooked and cooled)
3 teaspoons mayo
pinch of salt and pepper
pinch of cheese (optional if you want to mix some extra cheese into your chicken salad)
Keto Friendly Chicken Salad Cheese Taco Directions:
Heat your oven to 350 degrees. Using parchment paper make 4 piles of cheese (so they melt in a circle shape). Cook cheese for 8 minutes (until bubbly but look kinda like a cracker). Or use the recipe above for Cheese Crackers.
In a bowl mix chicken, mayo, salt and pepper and mix well. You can add in extra cheese here if you are wanting to.
Remove cheese crackers from oven and let cool a little. Then remove from pan. Put chicken salad filling on top and fold like a taco.
Enjoy!
1 Weight Watchers SmartPoint per serving on the Freestyle Program when using Fat Free Cheddar Cheese and light mayo.
Nutritional Information Based on MyFitnessPal app:
Calories for 4: 755
Carbs: .7grams
Protein: 12.1 grams
Fat: 78.1 grams
Need more Keto Meal ideas? Check these out!
Still stuck on lunch ideas? Check out this Keto Lunch List!
If you are looking for more Keto meals, these Keto Egg Cups are amazing, made with ham and cheese and always a hit in our house! Plus this is our favorite Keto Friendly pizza crust to make, that everyone in house enjoys.
If you are needing a veggie make sure you check out this oven roasted parmesan asparagus, it is sooo good!
If you are looking to save money on some of your Keto Grocery shopping, right now you can get a FREE $10 to spend at Walmart.com! 
Find more Easy Family Friendly Keto Recipes here
Get Our Newest Keto Recipes!
Subscribe to get our Newest Keto Recipes by email.
Join the newsletter
Subscribe to get our latest recipes right in your inbox every time we post a new one!