Homemade apple cinnamon pancakes combine from scratch pancakes with apples and cinnamon for the perfect fall pancake recipe.

Apple Cinnamon Pancakes
One of my favorite fall activities it apple picking. It gets the kids outside and they love to pick their own healthy snacks.
We end up with a crazy amount of apples every single time. It doesn't matter how much I say I am going to not over pick we always end up over picking.
Thankfully the kids love apple cinnamon pancakes and I can make them often and they always gobble them up. If you are looking for the perfect fall breakfast, these apple cinnamon pancakes are a must!
Easy Pancake Recipes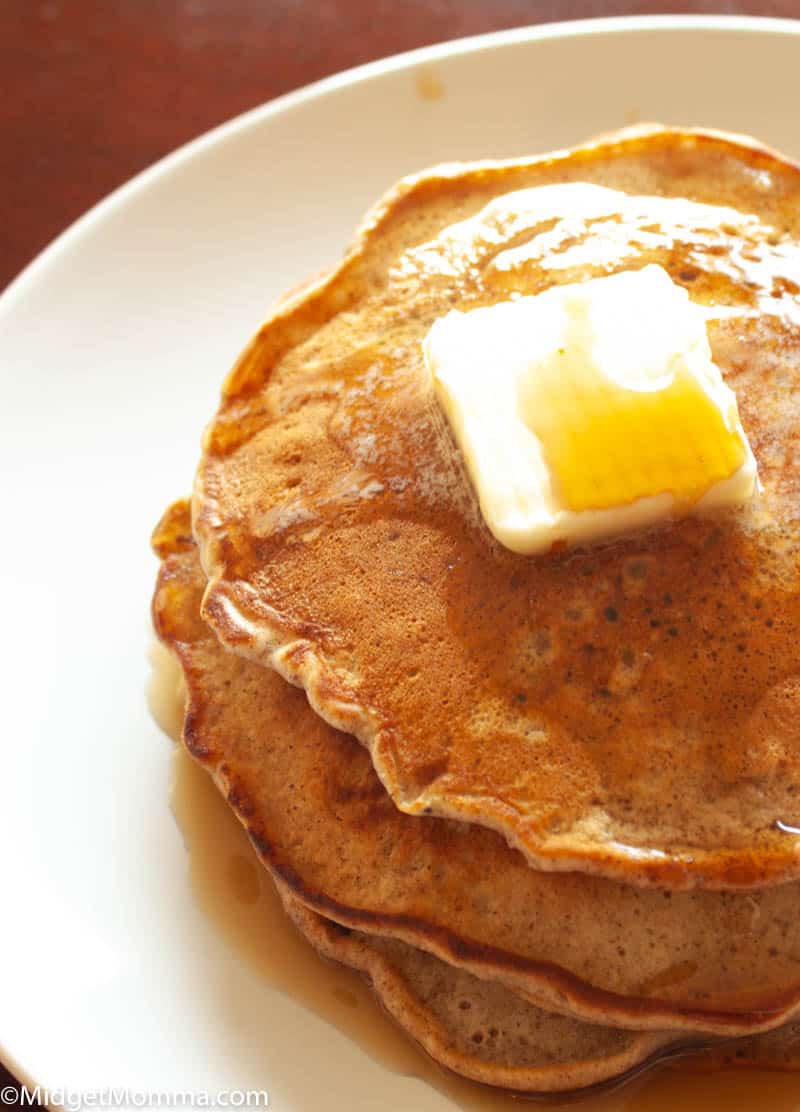 What do you serve with apple cinnamon pancakes?
Just about any other breakfast food goes well with these apple cinnamon pancakes. There are lots of tasty sides to serve with pancakes for breakfast. Some of our favorites are: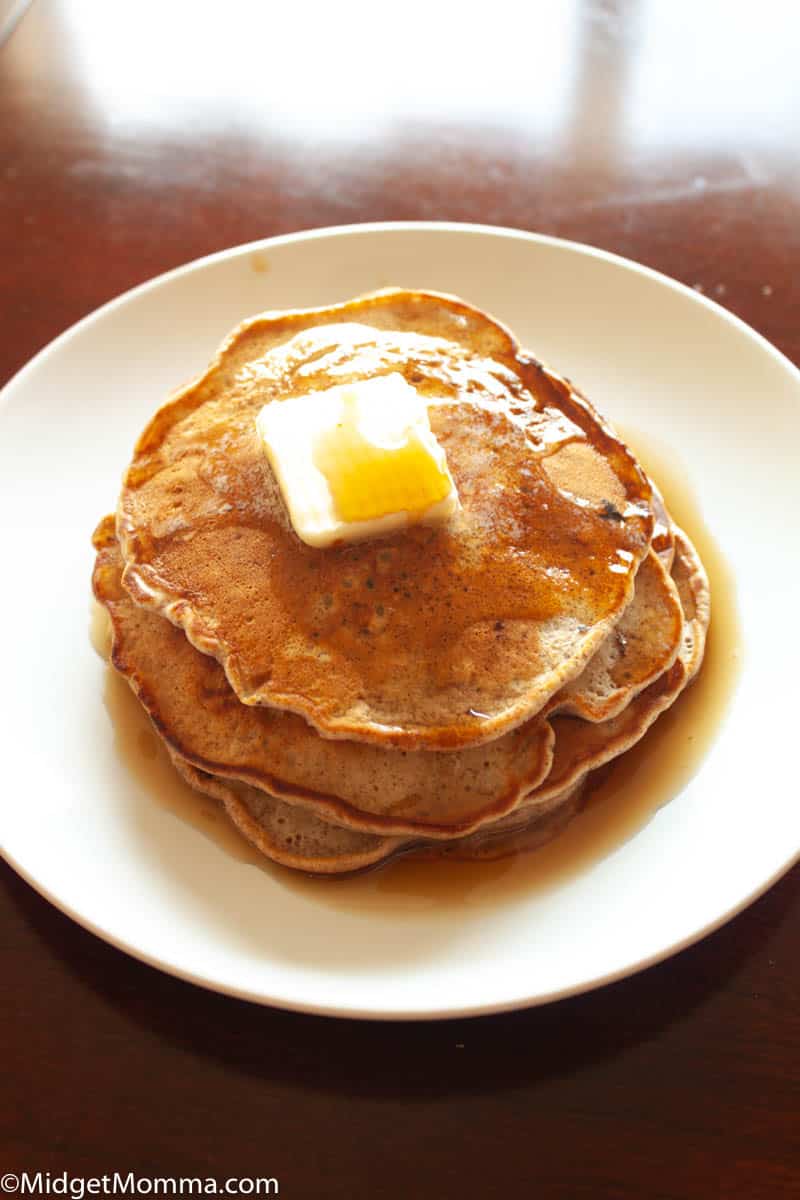 Tips for making the best Pancakes
Do NOT over mix. You want those clumps in your pancakes, they are vital to making pancakes fluffy. If you over mix the batter you will end up with tough, unfluffy pancakes.
Don't flip your pancakes to soon (or to late).When you see the bubbles starting to pop flip that pancake over! Over cooking pancakes will also make them tough and unfluffy.
How to Freeze Pancakes
I like to make large batches of pancakes at a time to make breakfasts during the busy week even easier.
Freezing pancakes is so easy. Just cook your pancakes and allow them to cool. Once they are cooled stack into piles of serving size you normally make. We do 3 pancakes per pile. Wrap each pile with plastic wrap and then put all wrapped piles of pancakes into a gallon size freezer bag and place in the freezer.
To reheat the homemade pancakes, remove a frozen pancake stack and heat in the microwave in the plastic wrap for 30-45 seconds depending on your microwave.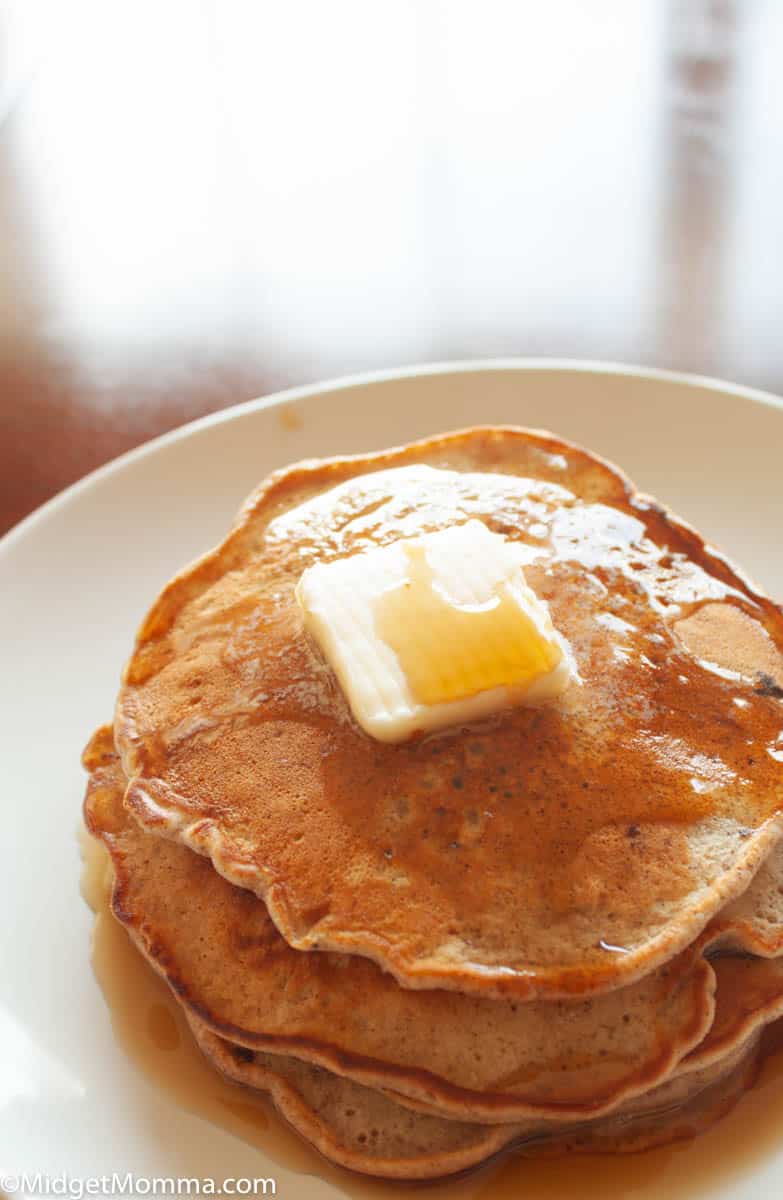 Apple Cinnamon Pancakes Ingredients
butter, melted
applesauce
eggs
milk
vanilla extract
shredded apples
flour
baking powder
cinnamon
sugar
nutmeg
cloves
Apple Cinnamon Pancakes Directions
Preheat a griddle or frying pan over medium heat.
In a large bowl, mix together the melted butter, applesauce, eggs, milk, vanilla and shredded apple.
In a medium bowl mix together the flour, baking powder, cinnamon, sugar, nutmeg, and cloves.
Stir flour mixture into the wet ingredients until just combined.
Pour about ¼ cup onto the hot pan and let cook for a couple of minutes on each side, flipping half way through.
Fall Apple Recipes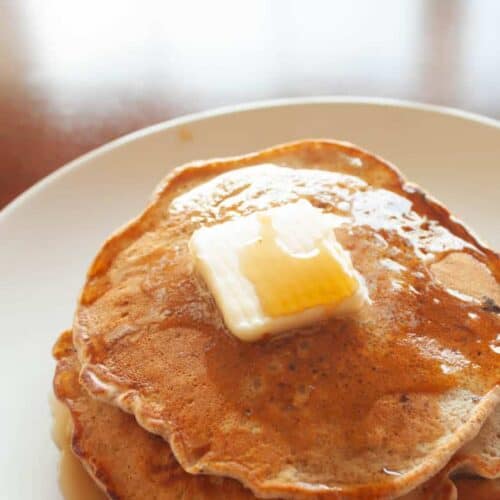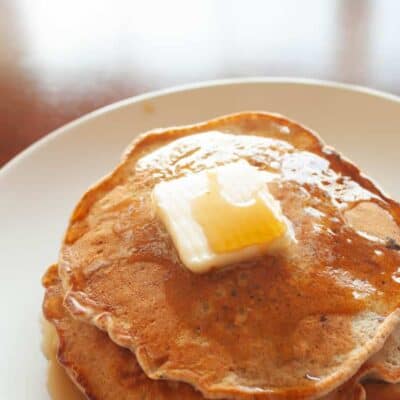 apple cinnamon pancakes
Homemade apple cinnamon pancakes combine from scratch pancakes with apples and cinnamon for the perfect fall pancake recipe. 
Print
Pin
Rate
Servings: 4
Nutrition
Calories: 562kcal | Carbohydrates: 84g | Protein: 15g | Fat: 19g | Saturated Fat: 10g | Cholesterol: 125mg | Sodium: 190mg | Potassium: 606mg | Fiber: 4g | Sugar: 21g | Vitamin A: 705IU | Vitamin C: 3mg | Calcium: 290mg | Iron: 4mg