It is Finally fall! I am so in love with everything about fall including my favorite pie, homemade apple pie! If you have never made homemade apple pie then you are in for a real treat and will never make frozen apple pie ever again.
***Note if you are coming from pinterest, know the images have been updated but it is the same amazing apple pie recipe in the photo you clicked on!
If you are planning on making this amazing homemade apple pie for Thanksgiving, then you are going to also want to make Pumpkin Pie from Scratch! Then you will have the best Thanksgiving pies ever for your Thanksgiving dinner!
Homemade Apple Pie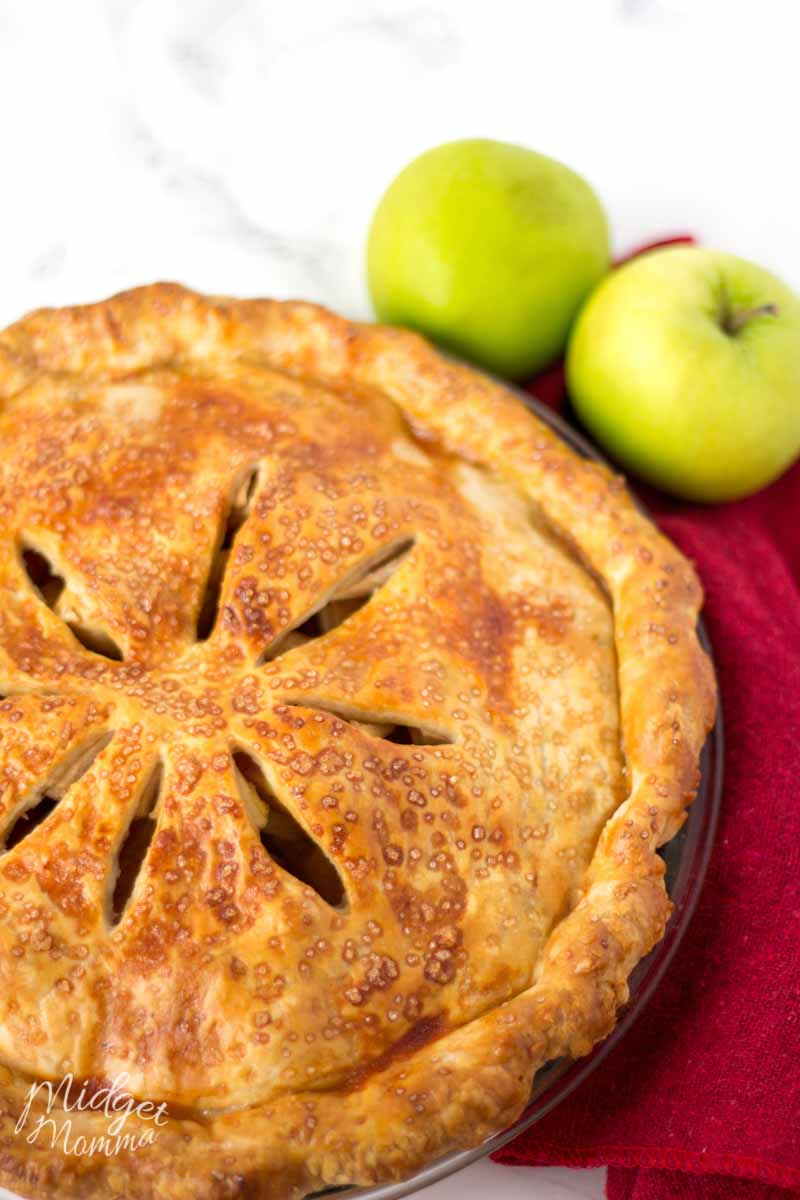 Apple Pie
This weekend was the best weekend ever! We were able to get the kids out of the house and take them apple picking. We went on a hay ride, picked apples for apple pie (and other tasty treats!), and enjoyed apple cider and cider doughnuts.
The first thing I had to make with all these great fresh apples was my best apple pie recipe! This homemade apple pie is amazing! It uses the most amazing homemade apple pie filling and makes this most amazing cinnamon apple pie that you will ever have a bite of!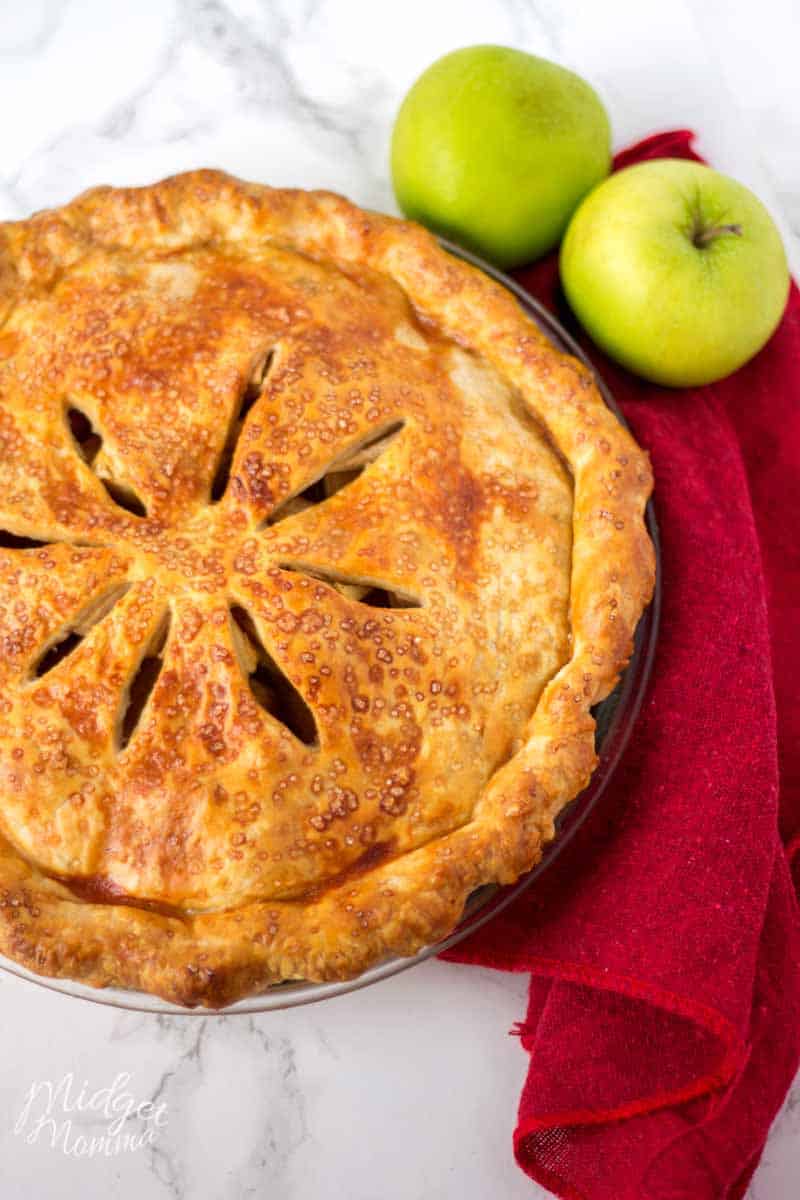 Homemade pie crust is a must when making this easy apple pie recipe. There are two different ways to make a pie crust at home, Pie Crust made With A Food Processer or this homemade pie crust. Either pie crust will work with this awesome homemade cinnamon apple pie, but whatever you do do NOT use packaged pie crust!
This is seriously the best apple pie recipe ever! It is making me hungry just thinking about making apple pie! Oh and if you are wondering…. yes! I think this cinnamon apple pie recipe is perfect for having apple pie for breakfast! I can not be the only one who looks forward to a warm piece of tasty apple pie for breakfast the day after making an apple pie, right?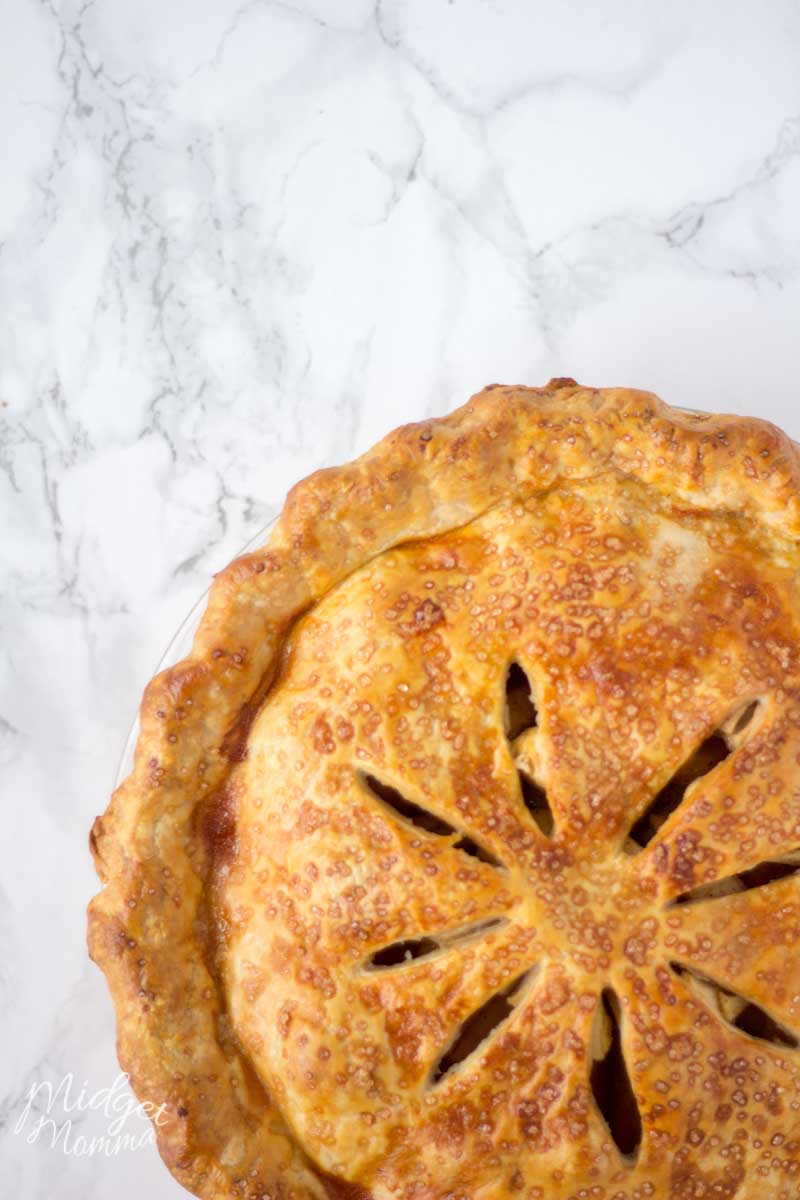 When I make an apple pie, an amazing apple pie filling recipe is a must!! It is a must to make apple pie filling  from scratch!
You do not need to make stove top apple pie filling for THIS version of apple pie, however it is perfect for Lattice Apple pie, so if you are looking for a stove top apple pie filling recipe check out the lattice apple pie!
I know some people don't like cornstarch in their apple pie so if that is you then you are in luck because this is a super tasty apple pie filling without cornstarch!
If you are looking for more awesome pies for Thanksgiving dinner make sure you check out the best pumpkin pie ever, and this amazing maple pumpkin pie!
If you want to make your apple pie fancy you totally can easily too! Just check out how to make Lattice Pie crust Apple pie  and how to make the best egg wash for apple pie!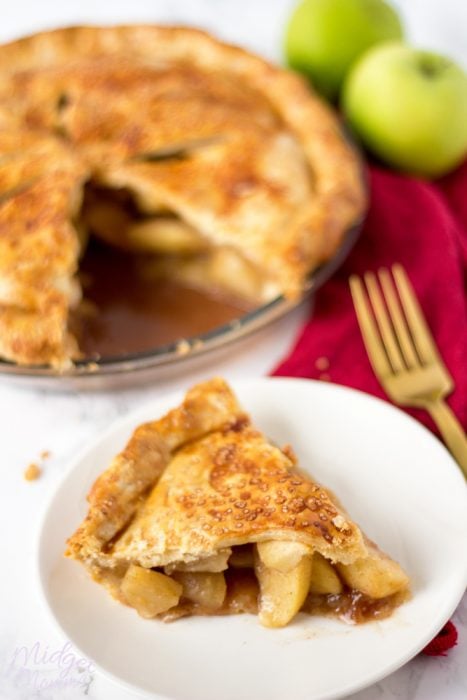 Looking for the best Thanksgiving Side dishes? Check out this tasty list of Thanksgiving side dish recipes that includes Sweet Potato Casserole, Pearl Onions in Cream Sauce, Herb Bread Dressing and Pecan Maple Streusel Pumpkin Bread!
How to make apple pie from scratch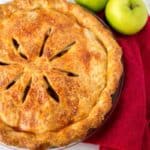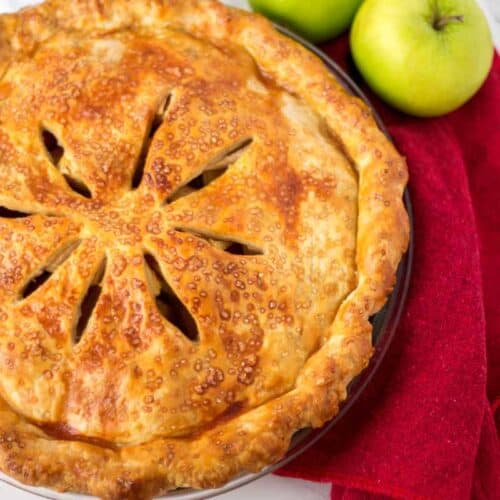 homemade apple pie
If you have never made homemade apple pie then you are in for a real treat and will never make frozen apple pie ever again.
Pin Recipe
Print Recipe
Total Time
1
hour
5
minutes
Course
apple dessert, Dessert, pie
Instructions
Peel, core and slice the apples.

Toss all of the apples with 1/4 cup of the sugar.

Pour the apples in a colander set over a large bowl and allow to drain for 1 1/2 hours.

While the apples are setting prepare your pie dough and let it set in the fridge for a hour.

Adjust an oven rack to the lowest position and place a rimmed baking sheet on the rack.

Heat the oven to 500 degrees.

In a large bowl, toss the apples with the remainder of sugar, brown sugar, flour, lemon juice, sea salt, nutmeg, and cinnamon. Set mixture aside.

Roll out the double pie crust on a floured surface then place the bottom crust in the pie pan.

Pour the apple mixture into the pie crust, than top with the top pie crust. Crimp the edges of the crust using your fingers.

Cut 4-5 vent holes in the top of the pie crust. Brush the top crust with the beaten egg white, and then sprinkle the sugar in the raw on top.

Place the pie on the hot baking sheet in the oven then reduce the temperature to 425 degrees.

Bake until the top crust is golden brown, this should take 20-25 minutes.

Once the top is golden brown, rotate the baking sheet, and turn the temperature down to 375 degrees. Bake another 30-35 minutes, until the top crust is a deep golden brown.

Remove the pie from the oven and allow it to cool before serving.

Top with a big scoop of vanilla ice cream for an extra treat.
Nutrition
Calories:
209
kcal
|
Carbohydrates:
42
g
|
Protein:
1
g
|
Fat:
4
g
|
Saturated Fat:
1
g
|
Sodium:
134
mg
|
Potassium:
138
mg
|
Fiber:
3
g
|
Sugar:
28
g
|
Vitamin A:
1.2
%
|
Vitamin C:
6.8
%
|
Calcium:
1.2
%
|
Iron:
3.6
%
Keyword
homemade apple pie
More amazing Tasty recipes check out these!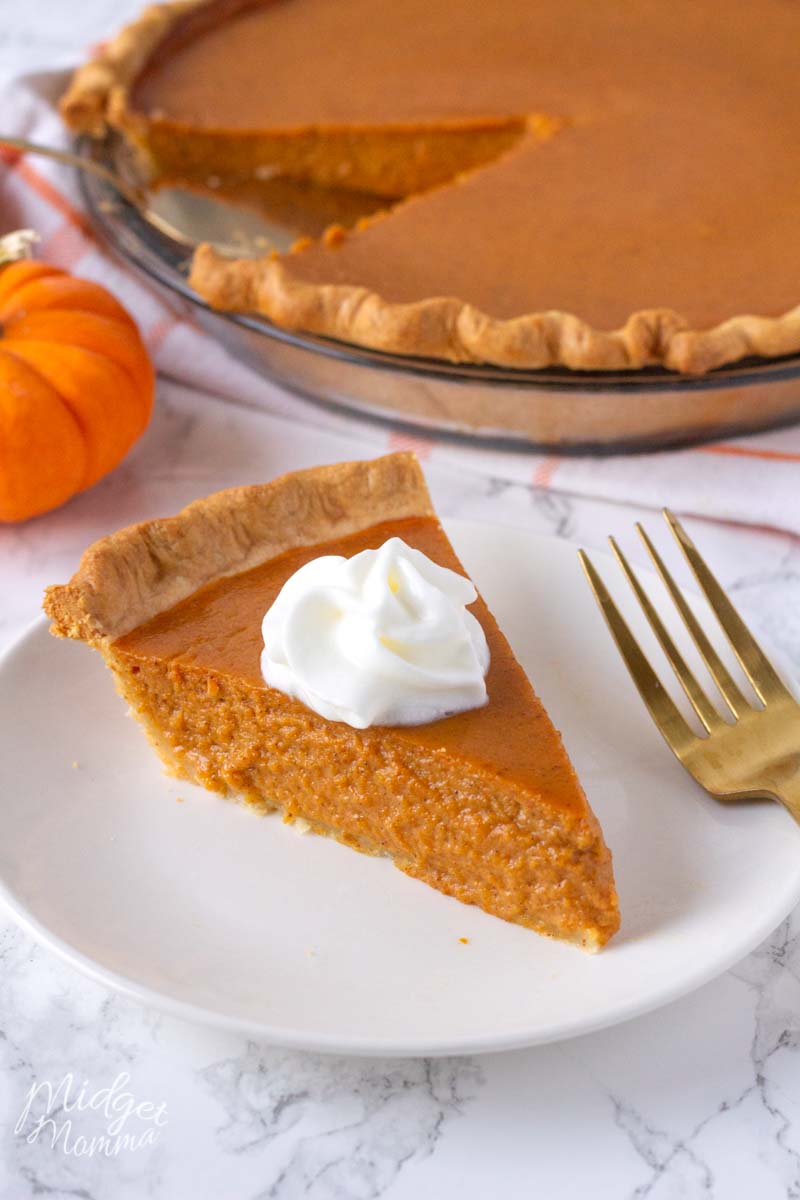 Mini Apple Pie with Puff Pastry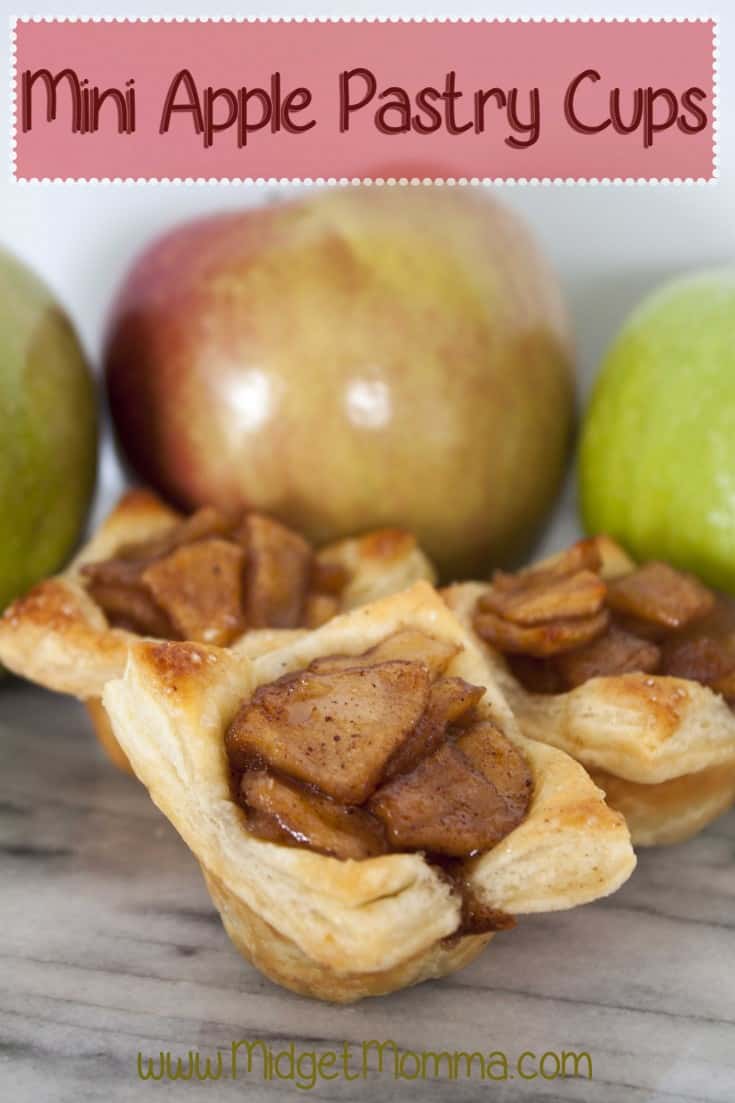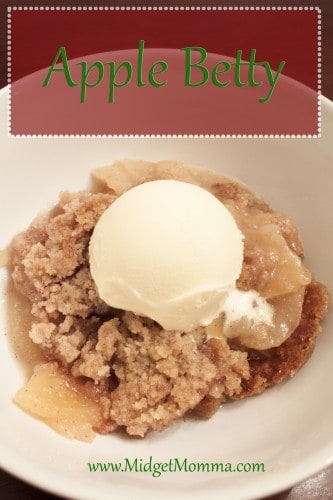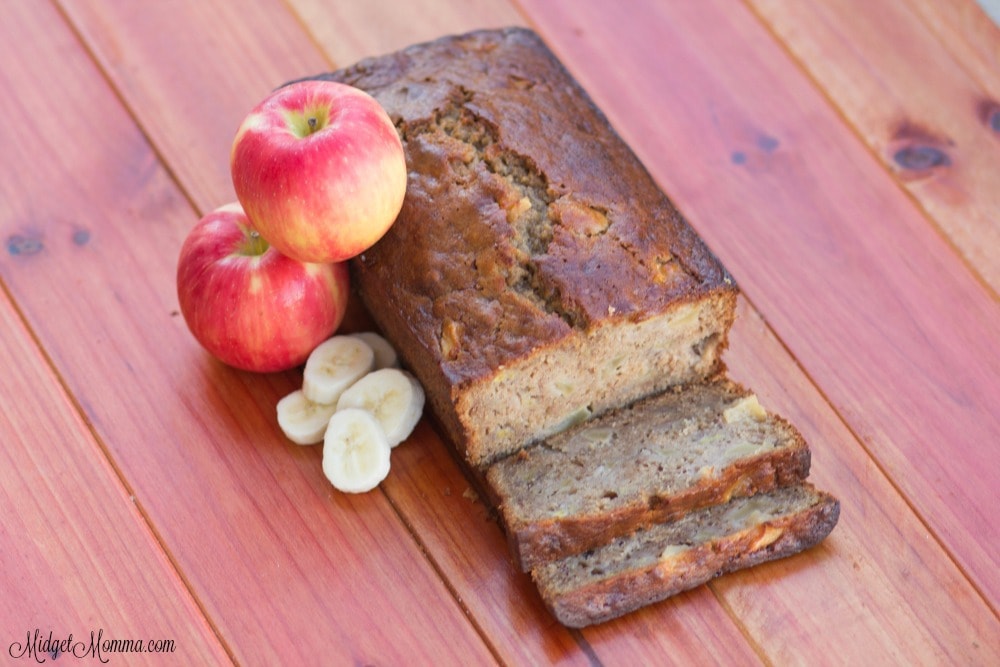 If you love Apple Pie then you need to check out these AMAZING Apple Pie spin off recipes!
Mini Apple Pies with Puff Pastry
We have a few other must have Thanksgiving dinner recipes, that I am sure you are going to love too. So while you are planning your Thanksgiving dinner, make sure you also check out these other great recipes.
Looking for Thanksgiving Recipes? Make sure you check out 65 Amazing Sides Dishes for Thanksgiving! 
Join the newsletter
Subscribe to get our latest recipes right in your inbox every time we post a new one!


We won't send you spam. Unsubscribe at any time.
Powered by ConvertKit

.ck_form.ck_minimal h3.ck_form_title {
text-align: center;
margin: 0px 0px 10px;
font-size: 28px;
}
.ck_form.ck_minimal h4 {
text-align: center;
font-family: 'Open Sans', Helvetica, Arial, sans-serif;
text-transform: uppercase;
font-size: 18px;
font-weight: normal;
padding-top: 0px;
margin-top: 0px;
}
.ck_form.ck_minimal p {
padding: 0px;
}
.ck_form, .ck_form * {
-webkit-box-sizing: border-box;
-moz-box-sizing: border-box;
box-sizing: border-box;
}
.ck_form.ck_minimal .ck_form_fields {
width: 100%;
float: left;
padding: 5%;
}
/* Form fields */
.ck_errorArea {
display: none; /* temporary */
}
#ck_success_msg {
padding: 10px 10px 0px;
border: solid 1px #ddd;
background: #eee;
}
.ck_form.ck_minimal input[type="text"], .ck_form.ck_minimal input[type="email"] {
font-size: 18px;
padding: 10px 8px;
width: 68%;
border: 1px solid #d6d6d6; /* stroke */
-moz-border-radius: 3px;
-webkit-border-radius: 3px;
border-radius: 3px; /* border radius */
background-color: #fff; /* layer fill content */
margin-bottom: 5px;
height: auto;
float: left;
margin: 0px;
margin-right: 2%;
height: 42px;
}
.ck_form input[type="text"]:focus, .ck_form input[type="email"]:focus {
outline: none;
border-color: #aaa;
}
.ck_form.ck_minimal .ck_subscribe_button {
width: 100%;
color: #fff;
margin: 0px;
padding: 11px 0px;
font-size: 18px;
background: #a81da8;
-moz-border-radius: 3px;
-webkit-border-radius: 3px;
border-radius: 3px; /* border radius */
cursor: pointer;
border: none;
text-shadow: none;
width: 30%;
float: left;
height: 42px;
}
.ck_form.ck_minimal .ck_guarantee {
color: #626262;
font-size: 12px;
text-align: center;
padding: 15px 0px 0px;
display: block;
clear: both;
}
.ck_form .ck_powered_by {
display: block;
color: #aaa;
font-size: 12px;
}
.ck_form .ck_powered_by:hover {
display: block;
color: #444;
}
.ck_converted_content {
display: none;
padding: 5%;
background: #fff;
}
.ck_form.ck_minimal.width400 .ck_subscribe_button, .ck_form.ck_minimal.width400 input[type="email"] {
width: 100%;
float: none;
margin-top: 5px;
}
.ck_slide_up, .ck_modal, .ck_slide_up .ck_minimal, .ck_modal .ck_minimal {
min-width: 400px;
}
.page .ck_form.ck_minimal {
margin: 50px auto;
max-width: 600px;
}
/* v6 */
.ck_slide_up.ck_form_v6, .ck_modal.ck_form_v6, .ck_slide_up.ck_form_v6 .ck_minimal, .ck_modal.ck_form_v6 .ck_minimal {
min-width: 0 !important;
}
@media all and (min-width: 801px) {
.ck_modal.ck_form_v6 .ck_form.ck_minimal {
margin-left: -300px;
width: 600px;
}
}
.ck_modal.ck_form_v6 .ck_minimal .ck_subscribe_form {
padding-top: 20px;
}
.ck_slide_up.ck_form_v6 .ck_minimal .ck_subscribe_form {
padding-top: 10px;
}
.ck_form_v6 #ck_success_msg {
margin-top: 15px;
padding: 0px 10px;
}
.ck_slide_up.ck_form_v6 .ck_minimal + .ck_close_link {
top: 5px;
}
.ck_slide_up.ck_form_v6 .ck_minimal h3.ck_form_title {
margin-top: 5px;
}

This post may contain affiliate links. Please read my disclosure policy here