Do your kids LOVE Little Bites? If so then they are going to LOVE these Blueberry Banana Mini Bites.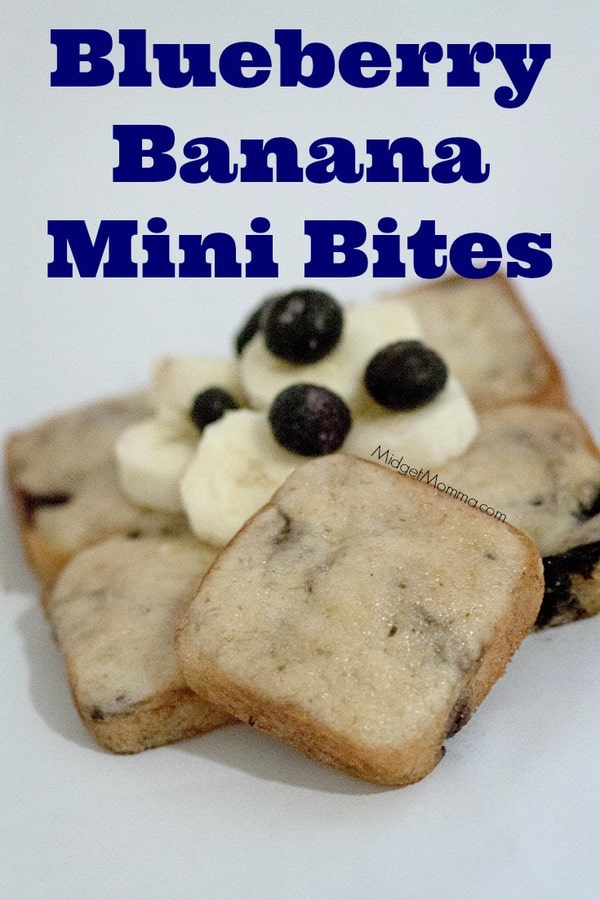 These Blueberry Banana mini Bites are similar to the little bites snacks you can get in the store, but sooo much better! When making these I couldn't decide between banana or blueberry bread so, I thought well why not do both! These Blueberry Banana Bread Bites did not last long in the house, and I am sure they won't last long in your house either! These are great to put in the kiddos lunch boxes too!!
Blueberry Banana Mini Bites
Blueberry Banana Mini Bites Ingredients
1 3/4 cups all-purpose flour
1 teaspoon baking powder
1/8 teaspoon baking soda
1/4 teaspoon salt
1/2 cup unsalted butter, at room temperature
1 cup sugar
2 large eggs
1/4 cup buttermilk
1/2 teaspoon vanilla extract
3 ripe bananas
1 cup blueberries
Blueberry Banana Mini Bites Directions
Preheat your oven to 350 degrees.
Grease your mini square pans or muffin tins.
Whisk together the flour, baking powder, baking soda and salt in a large bowl, set it aside.
In the bowl of your mixer cream the butter and sugar together on medium speed for 5 minutes.
Reduce the speed to low and add eggs in one at a time.
Incorporate the buttermilk, vanilla and bananas into the butter mixture.
Slowly add in the flour mixture into the butter mixture, stir just until combined.
Carefully fold in the blueberries making sure you don't over mix them.
Scoop your mixture into the pan so it fills them up halfway.
Bake for 14-16 minutes or until a toothpick comes out clean from the middle.
Place them on a cooling rack then store in an airtight container.
If you love Blueberries, be sure to check out these other amazing and tasty recipes too! 
Looking for more Tasty Recipes? Check these out!