As an Amazon Associate and affiliate with other networks, I may earn a commission from purchases made through links within this post. For more information read my disclosure page here.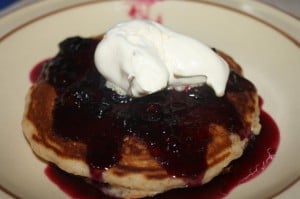 If you like this don't forget to pin it so you don't lose it!
Make sure you also check out my White Chocolate Blueberry Cheesecake Pancakes recipe which this syrup goes with Amazingly!
You can easily double and triple this recipe for saving it for later and sticking it in the fridge 🙂
Ingredients: 
2 cups of blueberries
1/2 cup of sugar
1/2 water
Directions 
Mashup your blueberries, you can use either a food processor, potato masher, blender ect
Add water, sugar and blueberries to a pot
Heat on the stove at medium high heat until boiling
let boil for 5-8 minutes randomly stirring
Remove from heat and let thicken
Join the newsletter
Subscribe to get our latest content by email.