Are you looking for the perfect Frozen Cupcake? Then you are going to love this snowball cupcake that was inspired by the Frozen movie! This easy to make cupcake recipes is the perfect cupcake for any Frozen Movie Fan!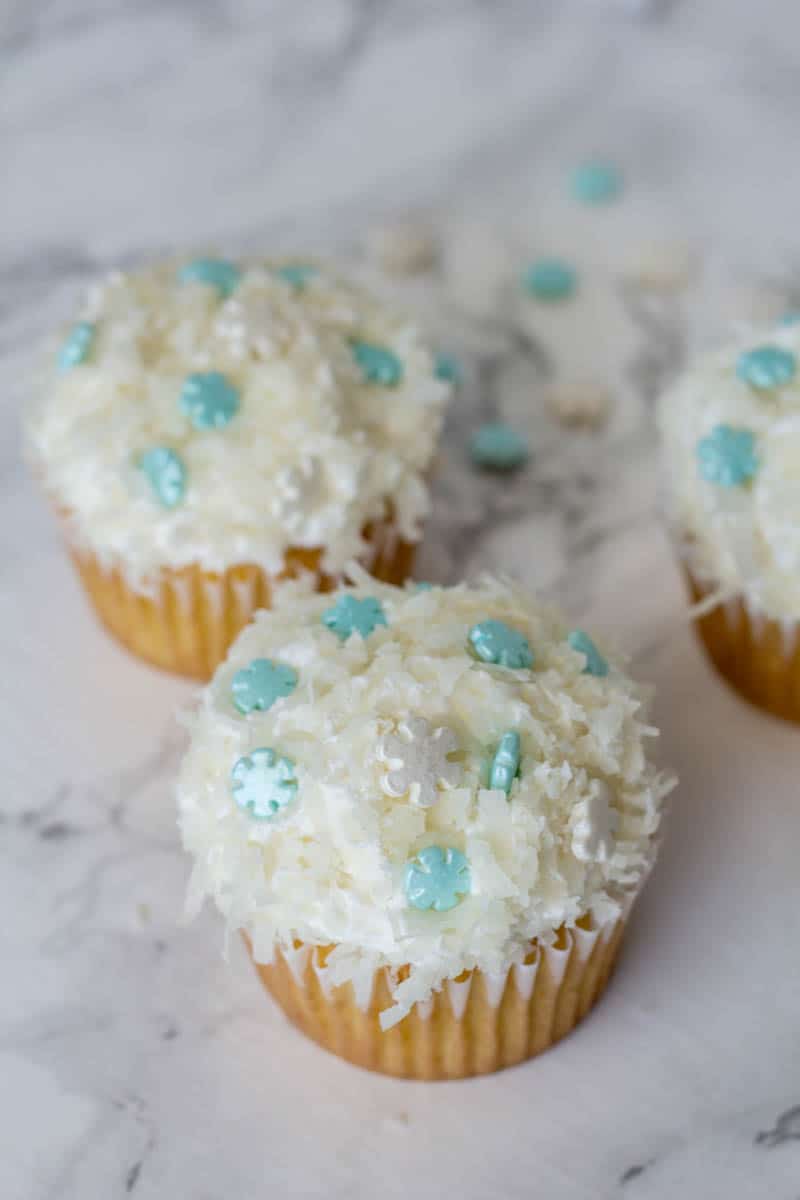 Frozen Cupcakes
It doesn't matter how many years it has been since the original Frozen movie came out that the love for the movie still holds true in our house. I originally posted this Frozen Movie Cupcake in 2014 and with the new Frozen 2 movie about to come out I thought it was the perfect time to update the photos.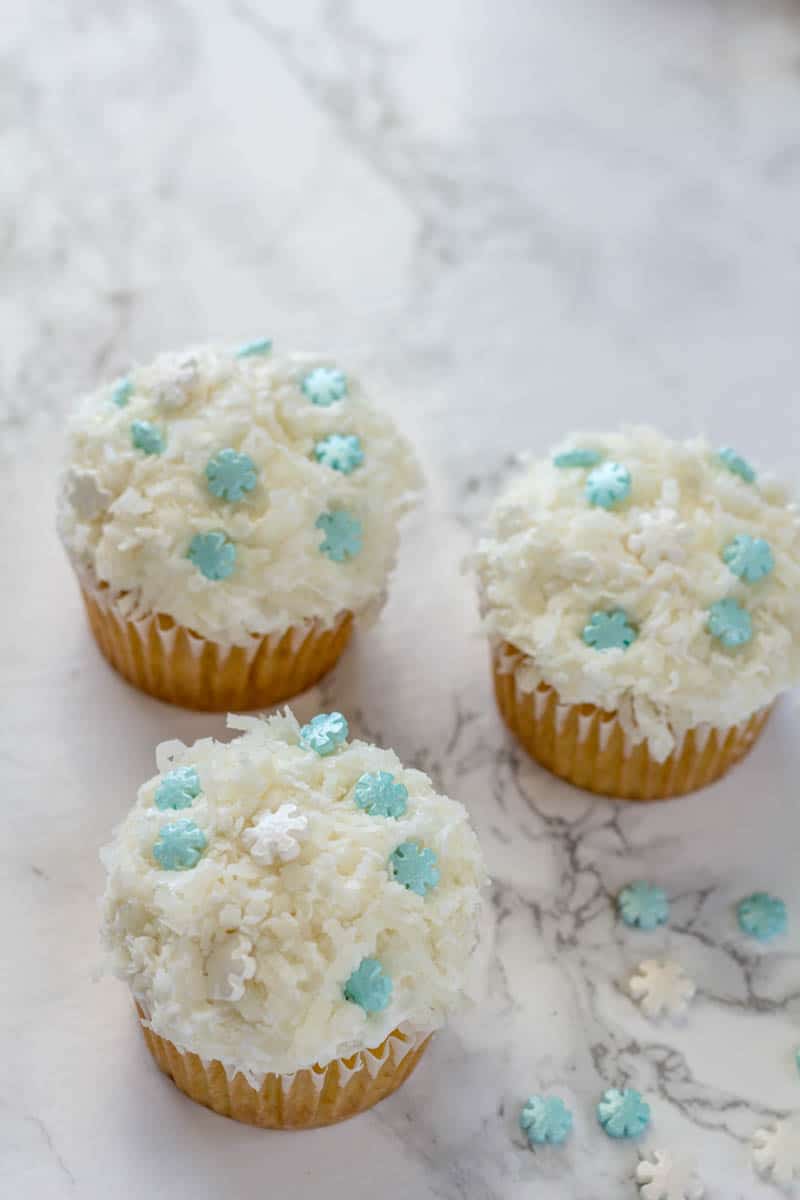 Let us all be upfront with ourselves, the new Frozen movie is bound to have kids singing the songs for years and wanting to have special Frozen movie treats just like the original did. Just bookmark all the Frozen movie treats now because you will be needing them soon!
Looking for more Frozen Movie treats? Check these out!
These Frozen cupcakes are so easy to make and the kids will love them! All you need is your favorite cupcake flavor, homemade buttercream, sweetened shredded coconut, Sanding sugar and Frozen Snowflake sprinkles!
Note, if you do not like coconut you can skip it and just use a lot of the sanding sugar instead. I do not recommended regular sugar because it starts to melt (like Olaf in the summer) once it gets wet with the frosting.
If you are running short on time, use the recipe for how to make a boxed cake taste homemade. If you are wanting to have homemade cupcakes, check out these amazing cupcake recipes!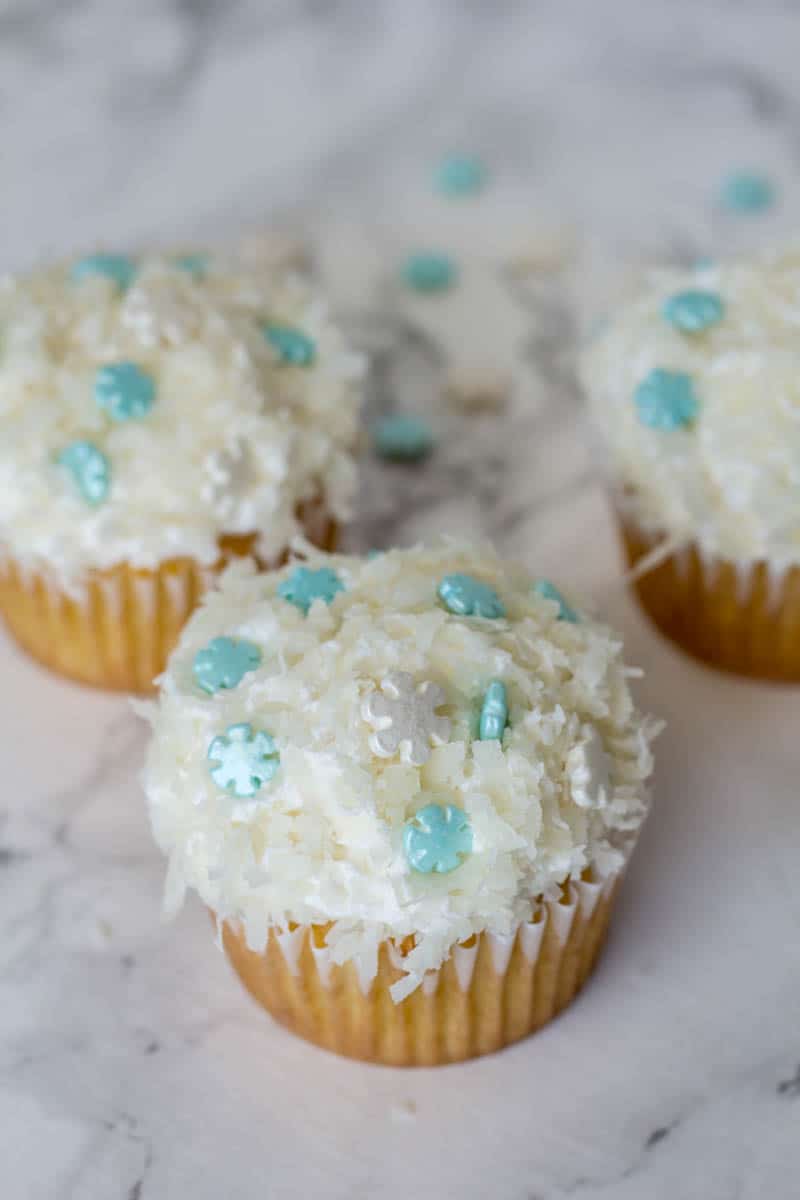 Tips for Making Frozen Cupcakes
Follow the recipe. Each cupcake recipe is different. It is important to follow the recipe as directed. all of our cupcake recipes have been tested multiple times to make sure they are perfect.
Bring ingredients to room temperature. Cupcakes will bake best when the ingredients are brought to room temperature before mixing the cupcake batter.
Allow cupcakes to cool completely. Before frosting the cupcakes let them cool completely. If you frost cupcakes while they are still warm then the frosting will melt.
Do not over mix. Over mixing the batter will lead to having tough and flat cupcakes. When making cupcakes you have to be careful that you don't over mix the batter when you are folding in the flour mixture. If you over-mix your angel food cake batter your cupcakes will turn out flat. You want to mix everything just until mixed, over mixing will cause you to have rough and tough cupcakes. We all know that the best cupcake are light and fluffy.
Fill the cupcake liners appropriately. You do not want to over fill the cupcake liners. Follow the directions for the specific cupcake recipe, if the recipe doesn't tell you how full stick to the 2/3 full rule. Which is roughly 3 tablespoons of cupcake batter per cupcake liner.
Use the best kitchen tool for filling liners. If you are working with a thick cupcake batter then you want to use a spoon or a cookie scoop to fill the cupcake liners. If it is a thin cupcake batter then use a bowl with a spout or a glass measuring cup to pour in the batter.
Use quality cupcake liners. While you might not think it matters a cupcake liner but having a quality cupcake liner will make it so your cupcakes don't stick to the wrapper and peel off nicely so you can see the perfect cupcake in it.
Bake one tray at a time. Using the center of the oven rack and bake one tray of cupcakes at a time. This will give you the best cupcake results.
Allow cupcakes to cool completely before frosting. If you frost cupcakes while they are still warm then the frosting will melt.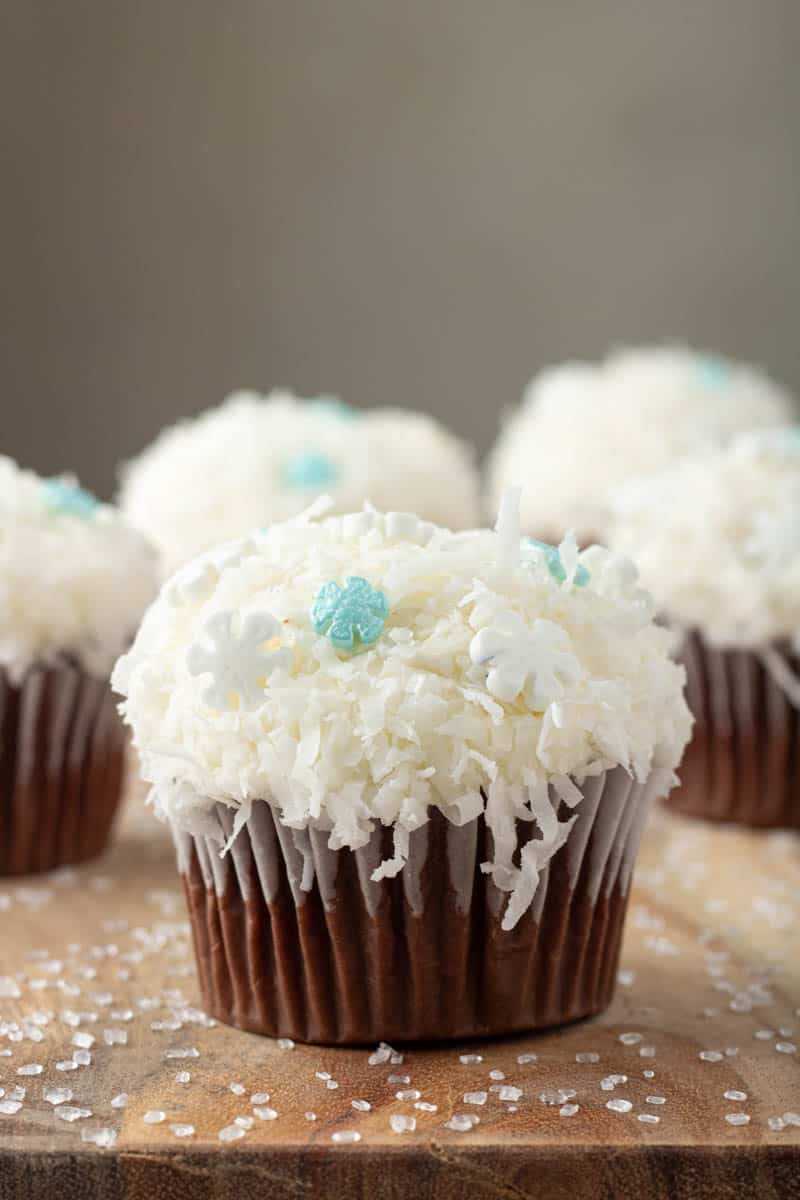 How to tell when cupcakes are done baking
I like to use the toothpick test when I am making cupcakes with the kids because it is easier for them to see and learn. But if you have been making cupcakes for a while you may not want to use that method.
If you are wanting an even easier method, the cupcake bounce done method as we call it is even easier. Pull the tray of cupcakes out from the oven and lightly press on a cupcake in the middle of the baking pan. If if bounces right back and no finger print is left behind then your cupcakes are done. If there is a finger print you need to bake them for a few more minutes.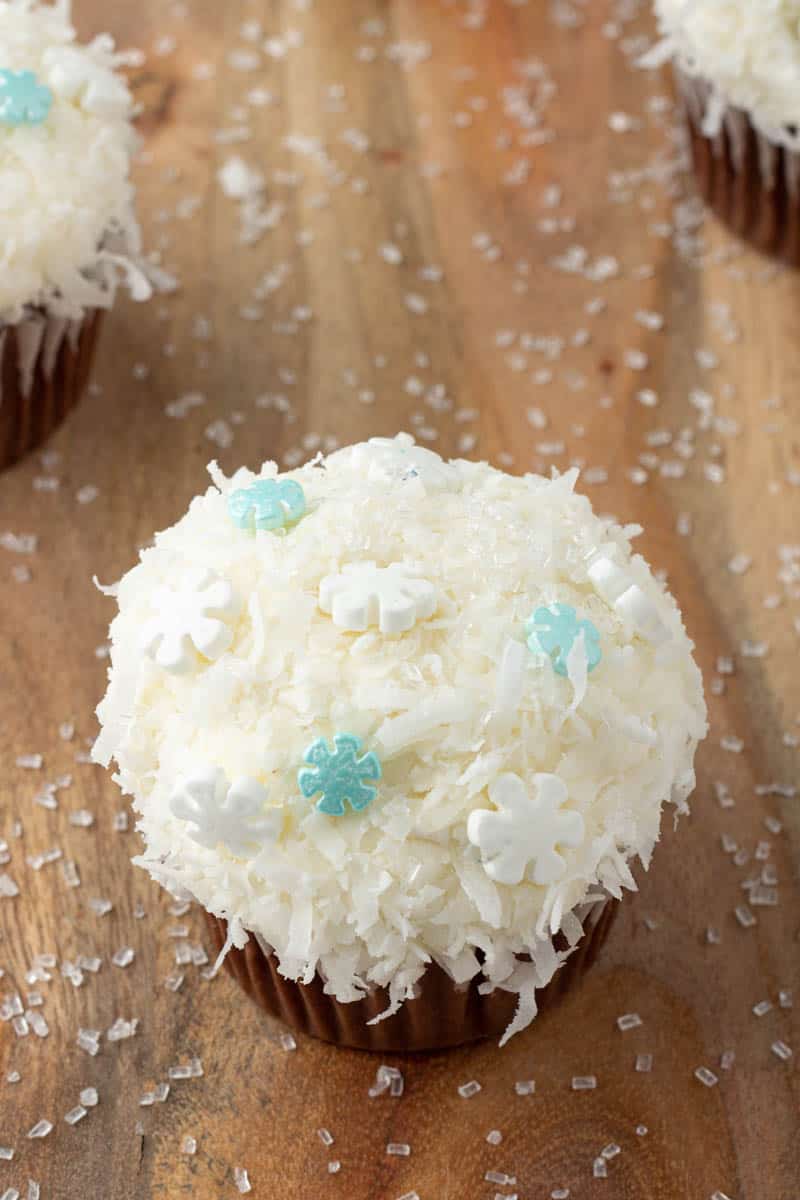 How to Store Cupcakes
It is best to store cupcakes in an airtight container on the counter. Cupcakes are best to be enjoyed with in 48 hours of making them. They won't be bad to eat after 40 hours but they will start to dry out and not be as fresh.
After frosting cupcakes you are ok to store them on the counter for a day or 2 but after that they should be stored in the fridge.
If you are storing them unfrosted you can store them in an airtight container or a plastic bag. If you are storing them with frosting on top I suggest using a cupcake storage container.
Variations of this Cupcake Recipe
Change up the frosting.It is important to use white frosting when making these Frozen Snowball coconut cupcakes. You want them to look like a snowball. If you are going to use coconut stick with the vanilla buttercream. If you are only going to use sanding sugar on the cupcakes then any flavor will work.
Change up the cupcake flavor. You can use any flavor cupcake that you want to when making these cute Disney Cupcakes. We have LOTS of different cupcake flavors for you to pick from too!
Frozen Cupcakes Ingredients
Sweetened Shredded Coconut
Wilton's snowflake sprinkles
Sanding sugar
How to Make Frozen Snowball Cupcakes
Make your cupcakes and allow them to cool completely.
While your cupcakes are cooling make your frosting flavor of choice.
Once cupcakes are fully cooled and the buttercream frosting is done, use a piping bag to pip frosting on to each cupcake.
Next dip the cupcake into the coconut and press it into the buttercream to create a snowball shape.
Sprinkle the top with sanding sugar to make it sparkle and cover the places that do not have coconut.
Add a few snowflake sprinkles into the cupcake randomly.
Disney Cupcake Recipes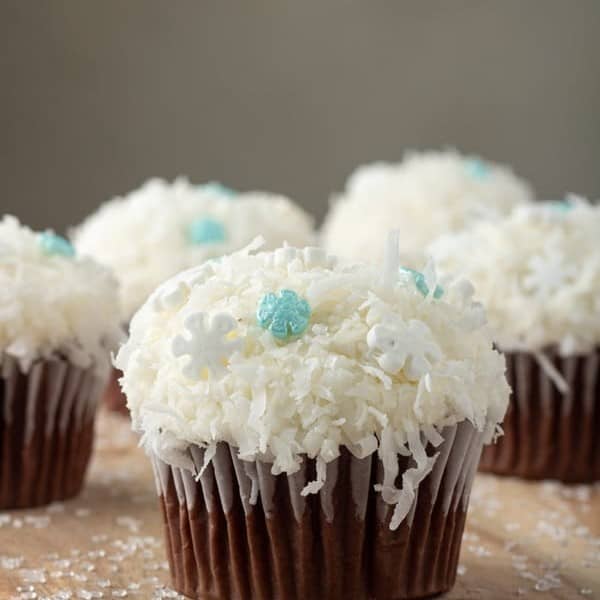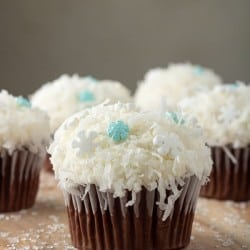 Frozen Cupcakes
Servings cupcakes
Homemade cupcakes topped with buttercream, coconut, sanding sugar and snowflake sprinkles to make easy Frozen Cupcakes!
Ingredients
Vanilla Buttercream Ingredients
Chocolate Cupcake Ingredients
Frozen Cupcakes Topping Ingredients
2 cups sweetened shredded coconut
1/2 cup snowflake sprinkles
1/2 cup sanding sugar
Instructions
Vanilla Buttercream Directions
Place your butter and shortening together in the bowl of your mixer. Mix them together on medium speed until they are nice and creamy.

Turn the mixer down to the lowest setting and slowly incorporate the powdered sugar into the shortening mixture.

Once you have added all the powdered sugar in to your mixture, add in the vanilla extract and then the hot water.

Turn the mixer up to medium-high speed and continue mixing for 10 minutes until light and fluffy.
Chocolate Cupcake Directions
Preheat the oven to 350˚ F.

Put paper liners in your cupcake pans or you can use silicone, which ever ones you prefer.

In a bowl whisk together the hot brewed coffee and cocoa, until dissolved and set aside.

In another bowl, combine the flour, baking soda, baking powder and salt. In the bowl place the butter and sugars. Beat on medium-high speed of your mixer until light and fluffy, about 3 minutes. Add in the eggs one at a time. Mix in the vanilla.

With the mixer on low speed, add the dry ingredients in three additions alternating with the coffee-cocoa mixture, beginning and ending with the dry ingredients.

Mix each addition just until incorporated, being careful not to over mix.

Divide the batter between the prepared liners, filling each about two-thirds of the way full.

Bake about 20 minutes or until a toothpick inserted in the center comes out clean.

Let cool in the pans briefly, then transfer to a wire rack to cool completely.
How to Make Frozen Cupcakes
Make your cupcakes and allow them to cool completely.

While cooling make your buttercream frosting.

Once cupcakes are cooled pipe butter cream frosting on top.

On a baking sheet pour the coconut and dip the cupcakes into the coconut.

sprinkle the tops of the cupcakes with sanding sugar and add snowflake sprinkles on top.
Calories: 808kcal | Carbohydrates: 110g | Protein: 3g | Fat: 42g | Saturated Fat: 21g | Cholesterol: 77mg | Sodium: 295mg | Potassium: 135mg | Fiber: 2g | Sugar: 97g | Vitamin A: 687IU | Vitamin C: 1mg | Calcium: 35mg | Iron: 1mg
Frozen Cupcakes, Snowball Cupcakes
cupcakes, Dessert
More Cupcake Recipes You will Love