If you need a simple Disney inspired treat, you have to try these delicious Frozen Muddy Buddies inspired by the movie! These Muddy Buddies are a perfect way to enjoy your favorite characters from Disney's Frozen in every bite.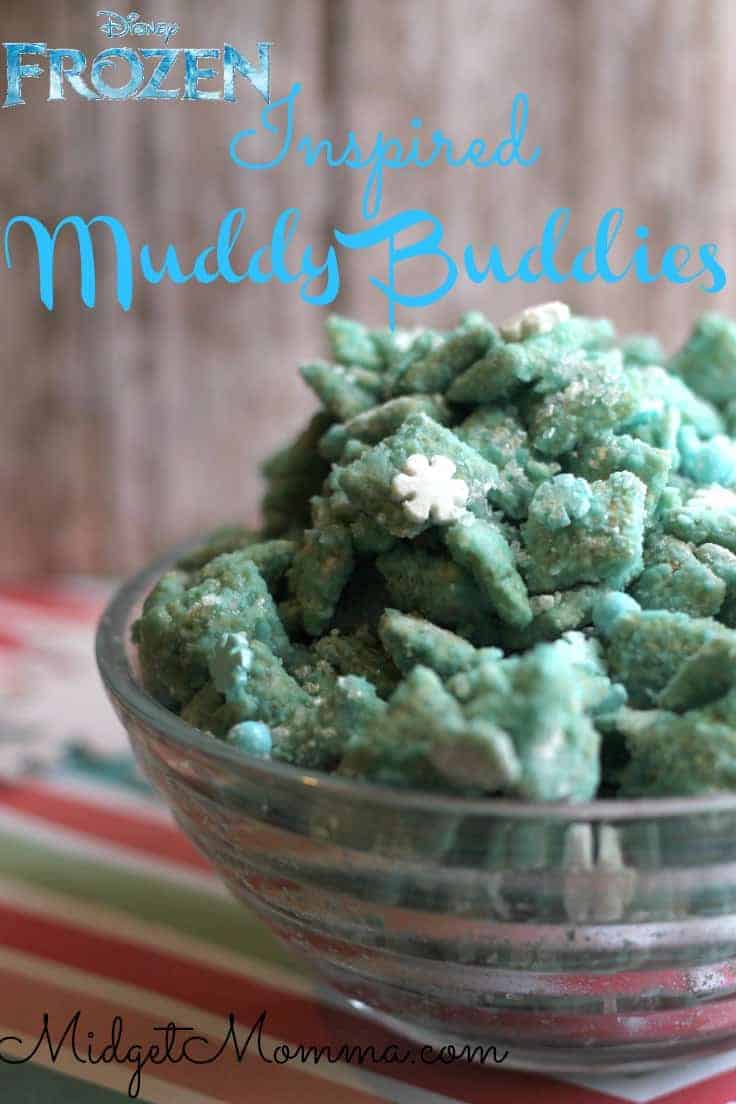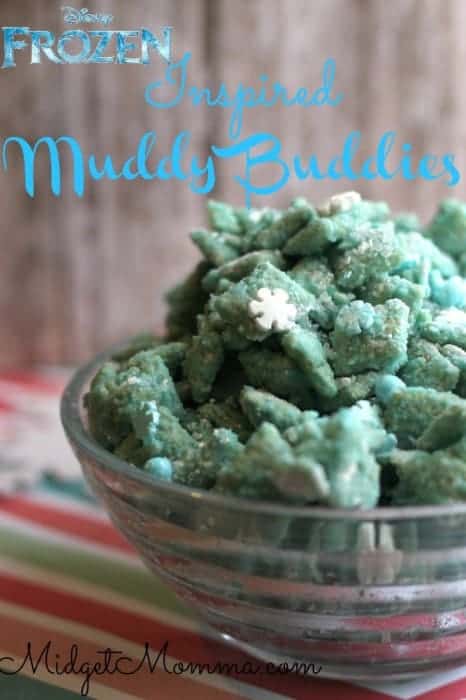 Disney's Frozen Muddy Buddies | Frozen Inspired Treats
Are you looking for a fun and creative treat to serve at your child's next birthday party? These Disney Frozen Muddy Buddies are sure to be a hit!
Do you love Frozen? I know you do. That's why we created these delicious Frozen Muddy Buddies. They are a perfect way to enjoy your favorite characters from Disney's Frozen in every bite.
Muddy Buddies are the perfect way to make your FROZEN fan feel special. One of my favorite on-the-go snacks, Muddy Buddies can be made into a themed treat by adding some fun toppings like chocolate sauce and sprinkles or crush up mini marshmallows for that final touch!
What are muddy buddies?
Muddy buddies is made from a rice cereal that is coating in chocolate or peanut butter and then rolled in powdered sugar. This became popular in the 1980s and are still a well loved treat now. Sometimes it goes by other names like puppy chow, doggy bag, reindeer chow or monkey munch. The crazy names are because when it is made in the more traditional way, with chocolate and peanut butter it resembles dry dog kibble, or puppy chow.
Why your kids will love them
It's a fun and creative treat that your child will love to make. They enjoy eating the muddy buddies, but they also have so much fun making them! Plus, it helps with fine motor skills as well as creativity when you are designing their own custom topping creations.
Kids will love this recipe because it pairs perfectly with their favorite Disney movie. Make it for a Frozen themed party or for movie night.
How to Store
You can store these in an airtight container. You can use a container with a lid or store them in a freezer bag. The treat can be kept at room temperature but I recommend keeping it in the refrigerator or the freezer. It will last much longer this way and it does not get melted causing it to be a mess.
How Long Do They last
When you make muddy buddies, you can count on them lasting for about a week to 2 weeks. You want to make sure they are stored properly, in an airtight container and away from humidity. This will help your treat to last longer. If you keep it in the refrigerator or the freezer, it will last for up to a month in the refrigerator or 3 months in the freezer.
Variations to Muddy Buddies
I am using cotton candy add in to add a cotton candy flavor to the recipe. You can use other flavor of mix ins in order to create a different flavor.
Add sprinkles – You can use white and blue sprinkles or you can find snowflakes that will match the theme perfectly.
Flavored Chocolate – You can also use different flavored chocolate or add in extracts that will flavor the chocolate. You can use whatever flavoring you like in the chocolate.
Add Blue and White M&Ms– These go right along with the Frozen theme and will add a delicious twist to the treat.
Gluten Free– When using rice cereal this tends to be naturally gluten free. If you do not want rice cereal, you can also use a flour based cereal.
Add nuts and chocolate chips– You make this into a trail mix type snack by adding nuts and unmelted chocolate chips. You can use peanut, almonds, walnuts or pecans.
Frozen Muddy Buddies Ingredients
1 cup white chocolate chips
9 cups rice chex cereal
1⁄4 cup butter
1 1⁄2 cup powdered sugar
2 Tbsp. heavy cream or half and half
1 packet frosting mix ins,cotton candy flavor
1⁄2 jar white snowflake sprinkles
1 pack white/blue sixlets
(I found both of the last two items in the specialty Christmas baking aisle at Walmart.)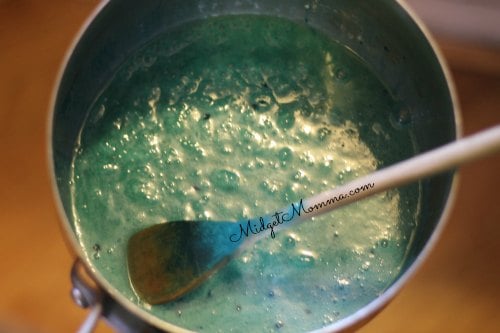 Frozen Muddy Buddies Directions
Melt butter, cream, and chocolate chips over medium heat in a large saucepan, stirring until smooth and fully melted. Place chex in a large bowl, pour melted mixture over cereal, stir well to coat. While mixture is still wet add powdered sugar, frosting mix in, half sprinkles, and half of the sixlets.
Pour into serving bowl(s) top with remaining sprinkles and sixlets.
Store in an an airtight container.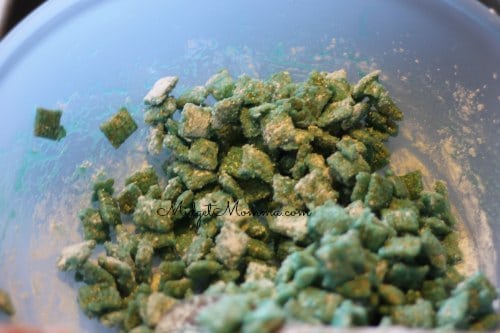 More Frozen Inspired Recipes
We have more Frozen Inspired Recipes for you to try. Whether it is for a Frozen party or it is a special movie night, these Frozen recipes are going to be perfect for your family time.