Are you looking for the best Rev Velvet cupcake Recipe? Then you are in luck! Make sure you also check out our strawberry cupcakes, and chocolate cupcakes  that are also amazing! We have a lot of cupcake and frosting recipes that you do not want to miss trying!
When making these Red Velvet cupcakes, you are going to want to use this amazing Vanilla Bakery Style Buttercream Frosting! It is the BEST frosting with these cupcakes!
If you are a fan of whipped vanilla frosting you can use that too when making these red velvet cupcakes.
If you have always wanted to make an icing swirl so you have pretty cupcakes, check out this step by step guide on how to make an icing swirl. It really changes the look of your cupcakes! If you are using different flavored frostings and want them both on top of your cupcake swirled together, check out how to swirl two icing flavors. If you want to layer your frosting flavors, check out the layered frosting swirl!
Red Velvet Cupcakes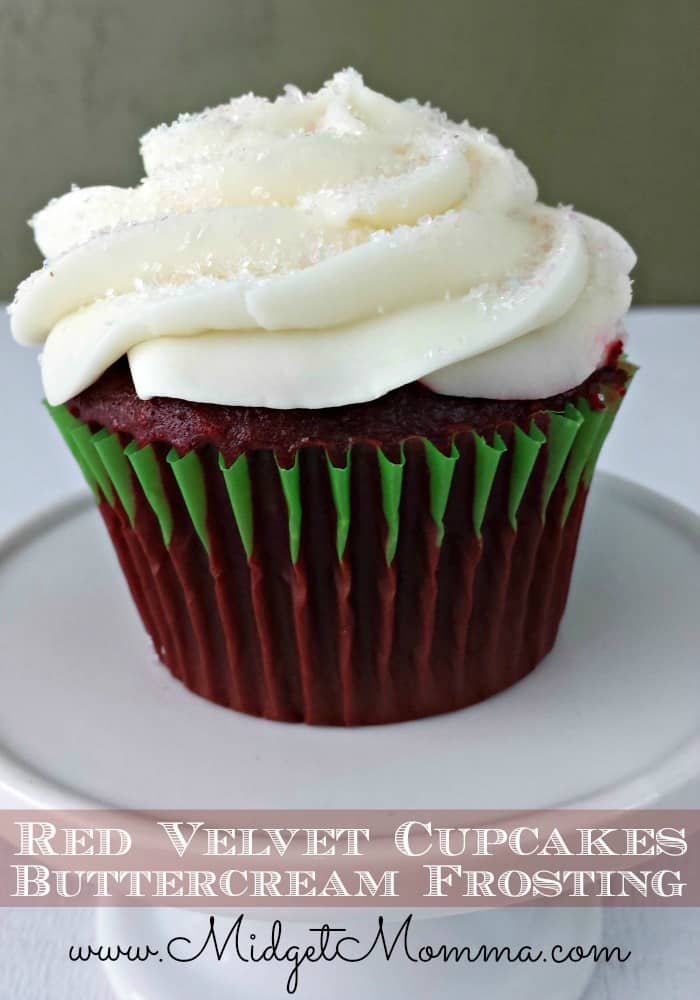 Red Velvet Cupcakes
Ingredients for Red Velvet Cupcakes
2-1/2 cups all-purpose flour
1-1/2 cups sugar
1 teaspoon baking soda
1 teaspoon salt
1 teaspoon cocoa powder
1 cup oil
1/2 cup applesauce
1 cup buttermilk
2 eggs
2 tablespoons red food coloring
1 teaspoon white vinegar
1 teaspoon vanilla extract
Directions for Red Velvet Cupcakes with Buttercream Frosting
Preheat the oven to 350-degrees and grease the muffin pan (or use liners as I've done).
Sift together the flour, sugar, baking soda, salt and cocoa powder into a medium bowl and set aside.
In a large mixing bowl, whisk together the buttermilk, eggs, food coloring vinegar, and vanilla. Slowly add the dry ingredients and mix until smooth.
Spoon the batter into the prepared muffin pans. Do not fill the cups more than 2/3's full. Bake for 19-21 minutes until a tester comes out clean.
Remove from the oven and let set for 10 minutes before turning out onto a rack to cool completely.