Looking for cupcakes that are perfect for Mardi Gras? These cinnamon cupcakes a fun twist to the traditional King's Cake but are the perfect serving size. Cupcakes are just more fun to eat especially these tasty cinnamon cupcakes. You are going to LOVE these Mardi Gras Cupcakes, they are the best Cinnamon Cupcake Recipe ever!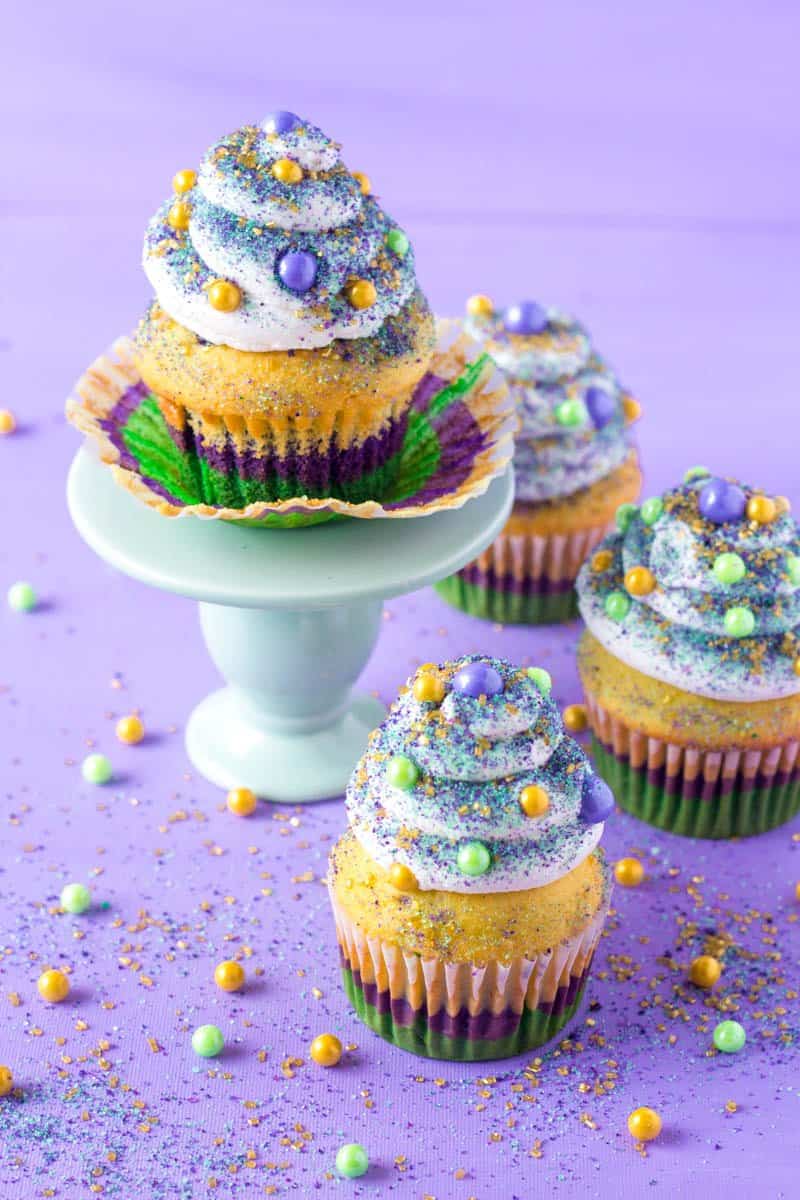 Cinnamon Cupcake Recipe
If you are looking for the perfect easy to make Mardi Gras desserts for your Mardi Gras parties, then you are going to want to add these awesome colored cupcakes to your list!
When it comes to Mardi Gras, I am always looking for interesting ways to enjoy the day and bring some fun. I love to find great tasting dessert ideas that are perfect for Mardi Gras that I can also make any time of year. These cupcakes feature a cinnamon taste, that brings the traditional flavors associated with Mardi Gras. Most people love to have King's Cake for Mardi Gras, and with these cinnamon cupcakes, you get a great tasting cupcake that reminds you of King's Cake. But it is better.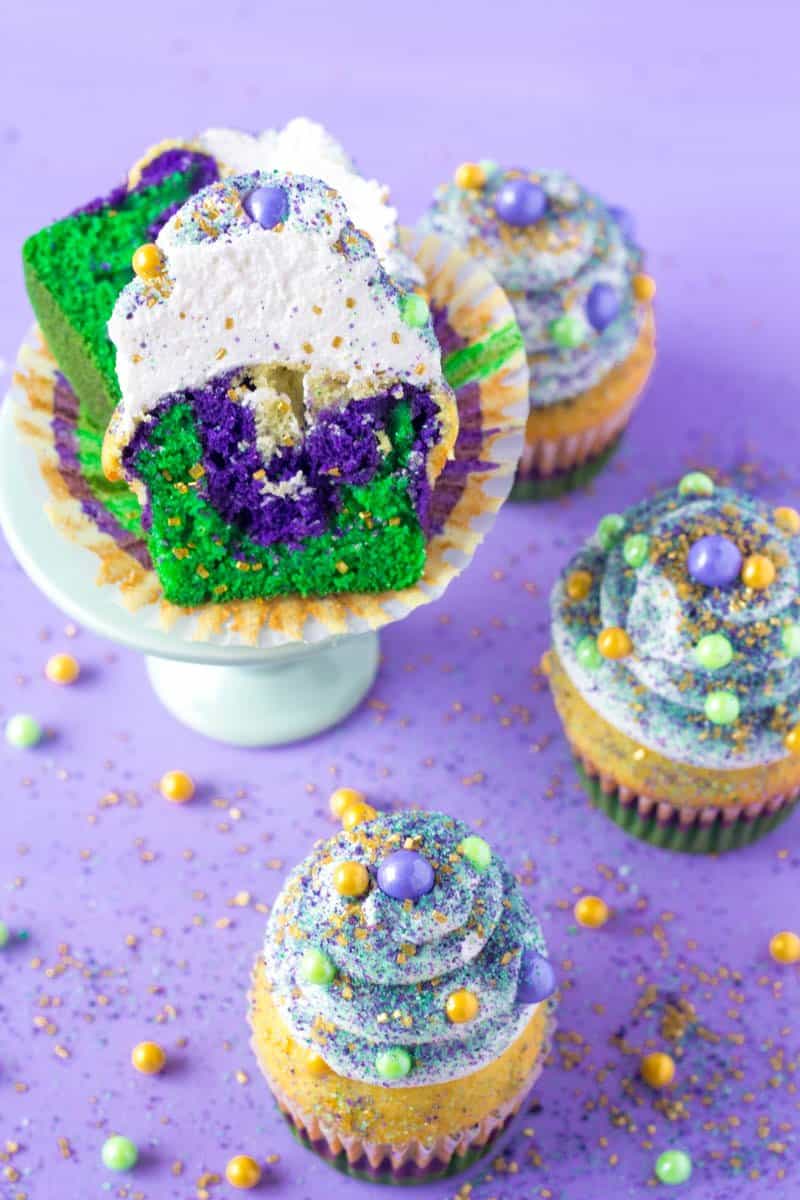 The Perfect Mardi Gras Cupcake Recipe
After living in New Orleans for a few years, Mardi Gras has become something we look forward to.One of my favorite things about Mardi Gras is the New Orleans desserts. They are amazing!
I love making my easy king's cake and my Kings Cake Cheesecake Dessert cheeseball when ever we going to have a get together to celebrate Mardi Gras with our friends.
This year I wanted to make something that was a single serve treat and came up with this fun Mardi Gras Cinnamon Cupcake Recipe.
Looking for more Mardi Gras recipes? Check these out!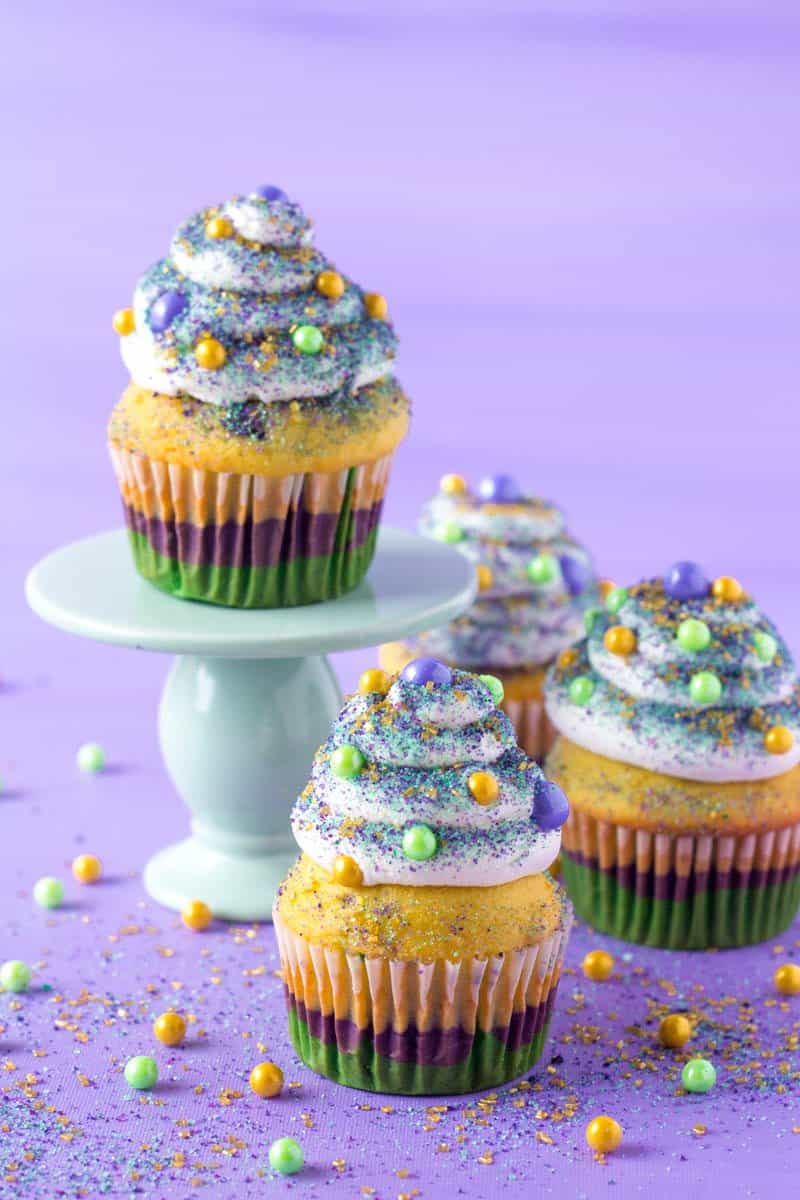 Tips for Making Cupcakes
Do not over mix. Over mixing the batter will lead to having tough and flat cupcakes. When making these angel food cake cupcakes you have to be careful that you don't over mix the batter when you are folding in the flour mixture. If you over-mix your angel food cake batter your cupcakes will turn out flat.
Allow cupcakes to cool completely. Before frosting the cupcakes let them cool completely. If you frost cupcakes while they are still warm then the frosting will melt.
Properly fill the piping bag with frosting. If you have never filled a pastry bag with frosting check out how to fill a pastry bag with frosting.
Pip frosting with a cupcake frosting swirl. If you have never made a cupcake frosting swirl, it is super easy to do. Check out how to make a frosting swirls on a cupcake to learn how.
How to Store Cupcakes
It is best to store cupcakes in an airtight container on the counter. Cupcakes are best to be enjoyed with in 48 hours of making them. They won't be bad to eat after 40 hours but they will start to dry out and not be as fresh.
Can Cupcakes be frozen?
Yes they can. You will want to freeze them without any frosting on them. Wrap them individually with plastic wrap and freeze on a baking sheet. Then once they are solid store in a zip close freezer bag. They will keep for up to 2 months when frozen.
To thaw, simply remove them from the freezer and defrost. Then frost as normal.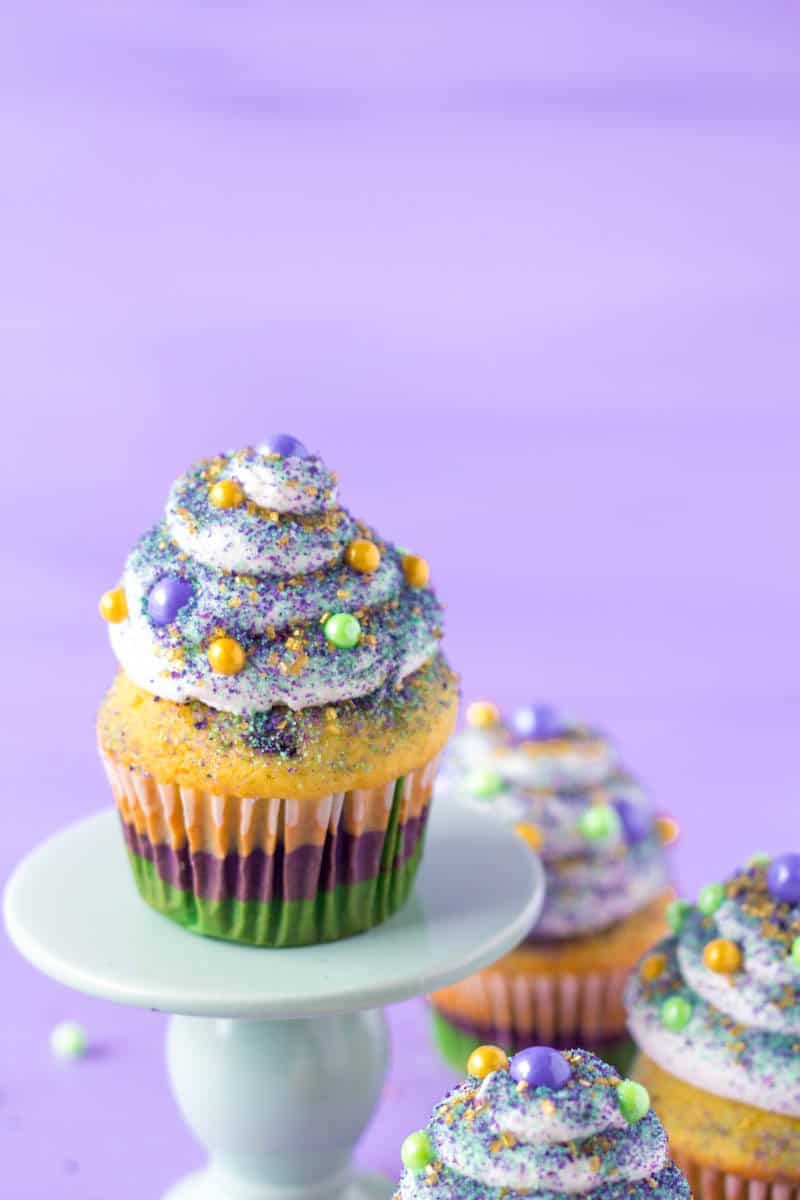 What Sprinkles do I use?
When making these Mardi Gras cupcake, I make my own sprinkle mixture. I like to use fun Mardi Gras colors like gold, purple and green sprinkles. I based the sprinkle mix on sprinkles that I saw at Walmart. If you choose to buy a premade sprinkle mixture, I would recommend these from Amazon.
What Icing Do I Use for Mardi Gras Cupcakes?
When I make these cupcakes, I like to use vanilla buttercream. It is one of my favorite icing recipes. In addition to tasting great, it is easy to make, affordable and it is very versatile. Once you know how to make a buttercream icing, you can use the recipe to make so many other types of desserts. If you are wanting to change the flavor up a bit, you can also use Marshmallow Fluff Frosting, Vanilla Whipped Frosting or Almond Buttercream.
If you are new to making cupcakes and decorating them, be sure to check out how to fill a pastry bag and how to make an icing swirl. It is so easy to use a piping bag to frost cupcakes, and using one makes them look super fancy!
How to Store Cupcakes?
Cupcakes should be stored at room temperature unless it has something in the frosting that needs refrigerations like cream cheese. When you store cupcakes at room temperature they stay fresh longer. Be sure to keep them stored in an airtight container.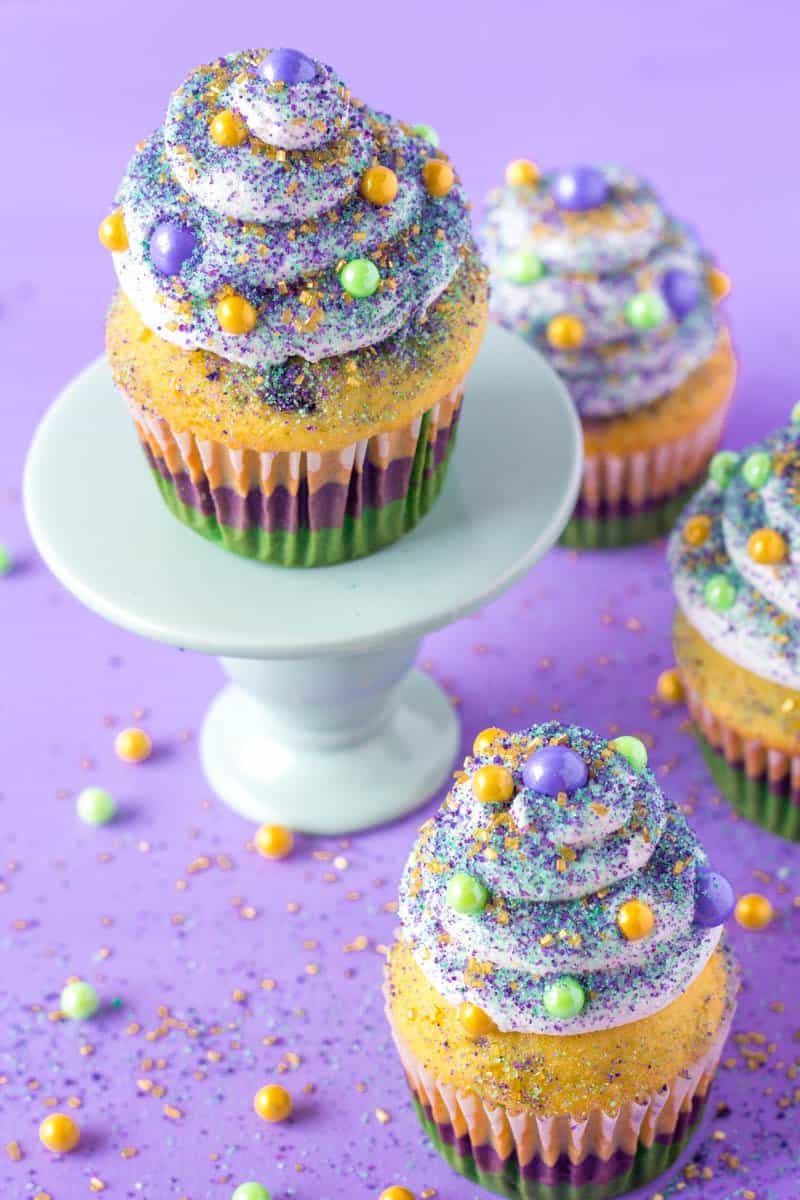 Mardi Gras Cupcakes Supplies
To make these homemade colored cake cupcakes you will need cupcake pans, cupcake wrappers, mixing bowls, food coloring and a spatula.
Ingredients for Cinnamon Cupcakes
self-rising flour
cups cake flour
granulated sugar
unsalted butter, at room temperature
milk – You can use 2%, full fat or 1% milk. Personally I prefer to bake with whole milk.
vanilla extract – Store bought or homemade vanilla
cinnamon
eggs
Buttercream Frosting Ingredients
Butter
Shortening
Vanilla Extract
Confectioners sugar
hot water
Food Coloring – gel or liquid food coloring will work
Decorative Ingredients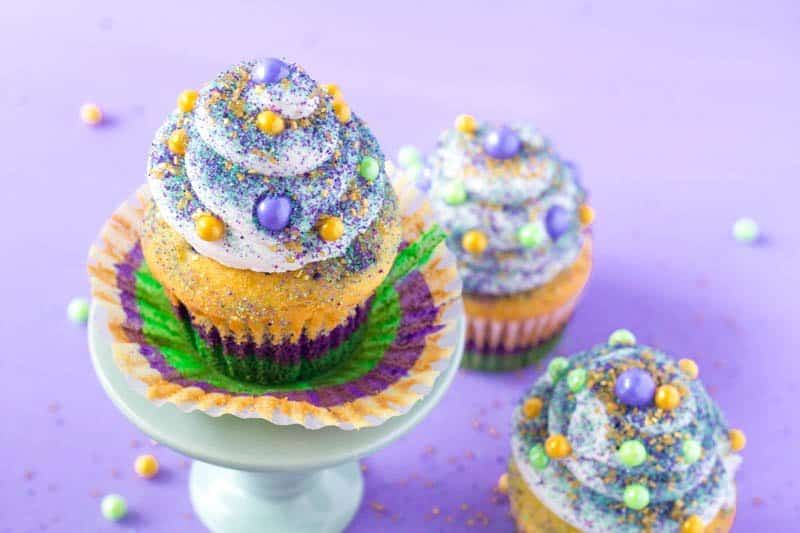 How to Make Mardi Gras Cupcakes
Bake your cupcakes and allow them too cool completely. While they are cooling make your buttercream frosting. Once cooled it is time to start decorating.
Color the buttercream to a mice soft purple color and place it in a piping bag with a large straight piping tip.
Swirl the buttercream onto your cooled cupcakes and top with the sprinkles.
More Cupcake Recipes you will love!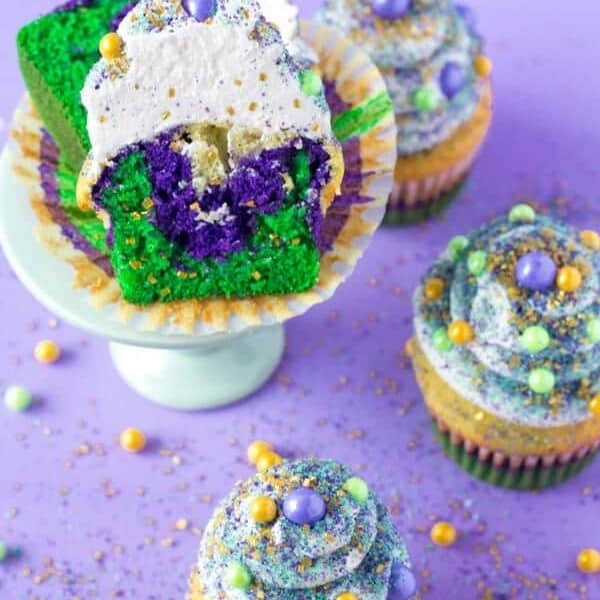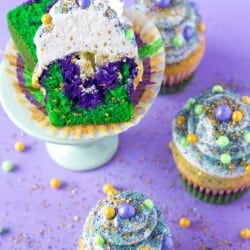 Mardi Gras Cupcakes
Servings
Mardi Gras Cupcakes are the perfect Mardi Gras treat. With colored cupcakes and homemade buttercream these cupcakes are perfectly festive!
Instructions
Colored Vanilla Cupcakes
Preheat the oven to 350 degrees. Line your cupcake pans with white cupcake wrappers.

Place your self-rising flour, cake flour, and sugar in the bowl of your mixer.

Mix them together for a minute or two until they are well combined.

Cut your butter into tablespoon pieces.

Slowly add your butter into the flour mixture one piece at a time continue mixing until you have reached the texture of sand.

Pour half of your milk into the flour mixture and mix just until the milk is incorporated. Use your rubber spatula to scrape down the sides of your bowl. Add your remaining milk and the vanilla to your batter and mix until combined.

Slowly add in one egg at a time to the cake batter, making sure each egg is incorporated before adding the next egg.

Divide the batter into three separate bowls. Color one bowl purple, one bowl green, and one bowl yellow.

Scoop the batter into the prepared cupcake pan, filling them 1/4 of the way full with the green batter. Then top them with the purple batter filling them another 1/4 full. Finally, top them another 1/4 with the yellow batter.

Bake for 10 minutes then rotate the cake pans so the pan that was on the top rack is now on the bottom and the pan that was on the bottom is now on the top rack. Continue to bake for another 10-13 minute until a toothpick comes out clean from the center of the cupcake.

Transfer the cupcakes to a cooling rack until they have reached room temperature.
Buttercream Frosting
Place your butter and shortening together in the bowl of your mixer. Mix them together on medium speed until they are nice and creamy.

Turn the mixer down to the lowest setting and slowly incorporate the powdered sugar into the shortening mixture.

Once you have added all the powdered sugar in to your mixture, add in the vanilla extract and then the hot water.

Turn the mixer up to medium-high speed and continue mixing for 10 minutes until light and fluffy.
How to Assemble cupcakes
Color the buttercream to a nice soft purple color with food coloring and place it in a piping bag with a large straight piping tip.

Swirl the buttercream onto your cooled cupcakes and top with the sprinkles.
Calories: 493kcal | Carbohydrates: 65g | Protein: 3g | Fat: 25g | Saturated Fat: 12g | Cholesterol: 69mg | Sodium: 85mg | Potassium: 42mg | Fiber: 1g | Sugar: 54g | Vitamin A: 529IU | Calcium: 23mg | Iron: 1mg
colored cupcakes, Mardi Gras Cupcakes
cupcakes, Dessert
These cupcakes before the buttercream icing are 5 Weight Watcher SmartPoints on the Weight Watchers Freestyle Program.
Join the newsletter
Subscribe to get our latest recipes right in your inbox every time we post a new one!