If you love cupcakes then you are going to LOVE these Sugar Free Salted Caramel cupcakes! These salted caramel cupcakes are also keto cupcake recipe and low carb cupcake recipe! No one will even be able to tell that these sugar-free salted caramel cupcakes are sugar-free!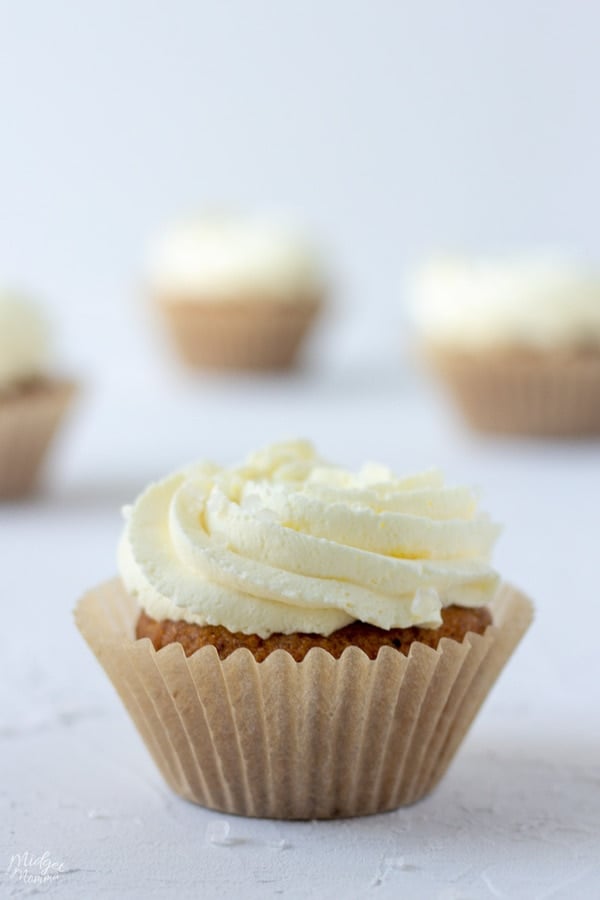 Keto Salted Carmel Cupcakes
I love Salted Carmel Cupcakes, they have been one of my favorite cupcakes since I took my first bite. Sometimes I made them with chocolate cupcakes or I made them with vanilla cupcakes depending on my mood.
Since switching to eating low carb I have missed them. It was time to come up with an amazing salted caramel cupcake recipe that would give me the flavors I love in a treat that would not kick me off my low carb way of eating.
Now that is not to say that I don't enjoy the sugar loaded ones once in a while and on holidays like my kids birthdays. However I do want a cupcake more than just when it is a holiday, so I need something that will make that possible, like these sugar-free cupcakes.
I also might have a huge stash of cupcake liners in the pantry that like to tease me.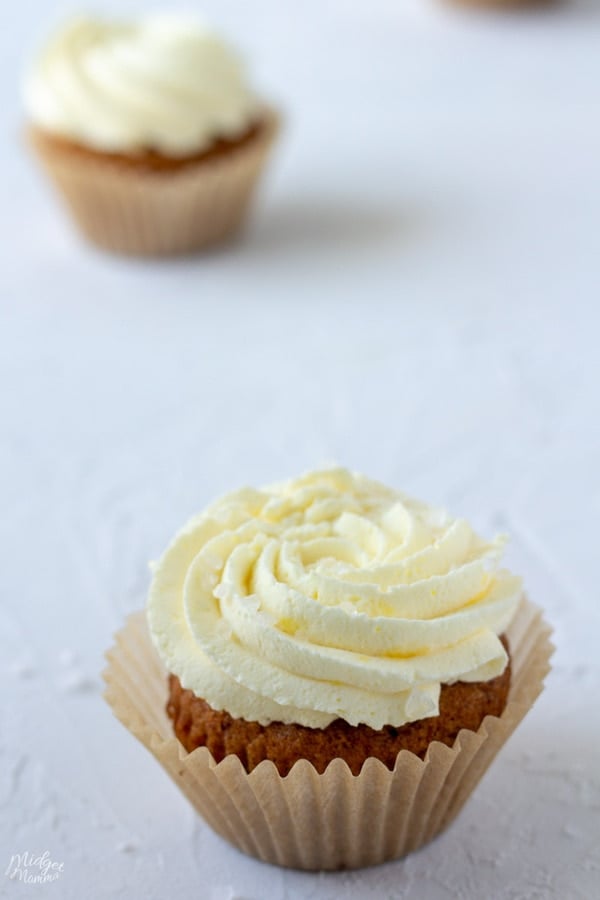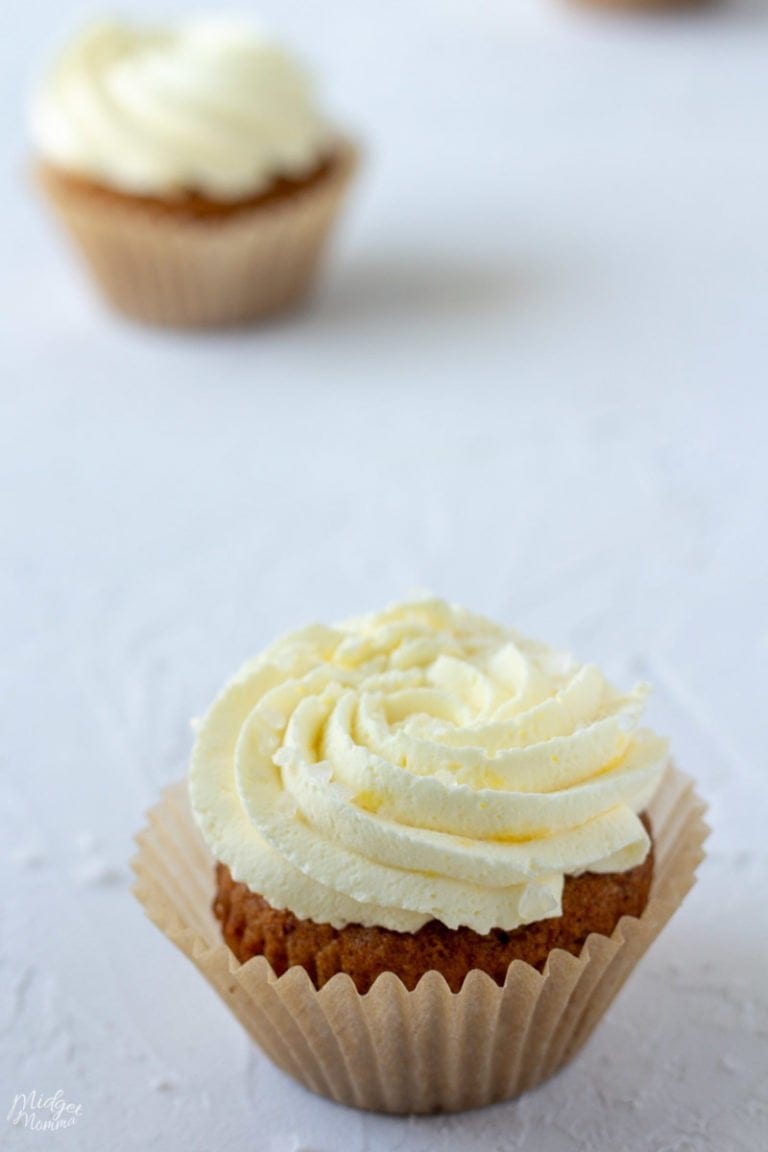 Sugar-free Salted Caramel Cupcakes Ingredients
Homemade Sugar-Free Cupcakes. 
First up was getting a recipe an amazing cupcake recipe that did not taste like cardboard AND had the texture that I love in a cupcake. So I got to work in the kitchen and out popped keto vanilla cupcakes and keto chocolate cupcakes. You can use either cupcake flavor when you are making these low carb salted caramel cupcakes.
Sugar-Free Caramel Frosting.
Next up was frosting, which had to have an AMAZING Caramel flavor, and so the Sugar-free caramel Frosting was created. It is a little bit different then the caramel buttercream I have used in my sugar baking, however, it tastes delicious! So have no worries that you are going to be missing out on any of the flavors by making these sugar free salted caramel cupcakes.
Salt.
Then all that is needed aside from to make these amazing keto salted caramel cupcakes is the salt! It is a must to use coarse sea salt or kosher salt, check out here to pick up some great salt for your cupcakes. You do NOT want to use table salt, it will just get absorbed into the frosting and you won't get any of the amazing salty taste.
The Recipe nutrition card is based off using sugar-free vanilla cupcakes, if you are using the sugar-free chocolate cupcakes recipe, adjust the nutrition based on them.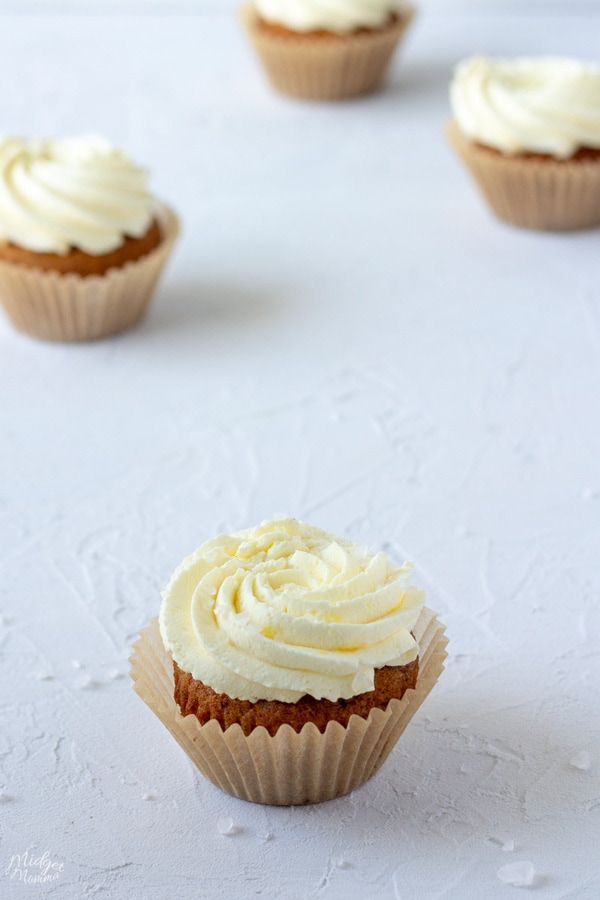 How to Make Sugar Free Salted Caramel Cupcakes
I think they look best using the cupcake swirl, which is super easy to do. So if you are wanting your cupcakes to look super fancy, then use the cupcake swirl!
If you are wanting to fancy these keto cupcakes up some more, you can add a drizzle of sugar-free caramel sauce on top of them.
Following Weight Watchers? These Sugar Free Salted Caramel Cupcakes are 11 Weight Watchers Points
Sugar Free Salted Caramel Cupcakes
Sugar Free Salted Caramel Cupcakes. These sugar free caramel cupcakes are made with sugar free cupcakes and an amazing sugar free caramel frosting. Add in the salt and you have one amazing low carb and keto cupcake recipe that everyone will love!
Pin Recipe
Print Recipe
Instructions
Preheat your oven to 350 degrees.

In a mixing bowl mix the almond flour and coconut flour till mixed well. Next add in the baking soda, baking powder, xanthan gum and salt. Set the bowl aside.

In another mixing bowl mix the butter and the granulated stevia with a hand mixer.

Once your butter and granulated stevia are mixed well, add in your eggs and egg whites one at a time.


Mix well with your hand mixer.

Add in your heavy cream to the egg, butter, and granulated stevia mixture and give it a little bit of mixing.

Then add in the apple cider vinegar and give it a little mixing.

Add in the vanilla and give it a little bit more mixing.

Add in the liquid stevia and give it a little more mixing.

Make sure everything is mixed well.

Slowly add the dry ingredients into the wet mixture. Do NOT over mix.

Line your cupcake pan with cupcake liners.

Using a cookie scoop, fill each of the 24 cupcake liners with the cupcake batter.

Bake at 350 for 18-20 minutes. Check them at the 18-minute mark with a toothpick to see if they are cooked. The toothpick will come out clean if they are. If they are not cooked all the way thru put them back in for 2 minutes.

It is VERY important not to overbake these cupcakes, so once you get close to the end of the cooking time you want to make sure you get them out of the oven.

While your sugar free vanilla cupcakes are cooling make your frosting.

Place the syrup, heavy cream and dry pudding mix into the bowl of your mixer. With the whisk attachment turn the mixer on low just until the ingredients are combined.

Turn the mixer up to high until your mixture reaches stiff peaks. Once your frosting has stiff peaks it is good to go and ready to be piped on to your cupcakes.

Allow the cupcakes to cool for 15-20 minutes before frosting them. Then frost them with the frosting and a piping bag.

Once they are all frosted liberally sprinkle the big flake salt on top of the cupcakes.
Notes
Calculate Net Carbs - 5g net carbs (7g carbs - 2g fiber = 5g net carbs)
Nutrition
Calories:
273
kcal
|
Carbohydrates:
7
g
|
Protein:
5
g
|
Fat:
25
g
|
Saturated Fat:
12
g
|
Cholesterol:
96
mg
|
Sodium:
250
mg
|
Potassium:
107
mg
|
Fiber:
2
g
|
Vitamin A:
740
IU
|
Vitamin C:
0.2
mg
|
Calcium:
80
mg
|
Iron:
0.7
mg
More Tasty Recipes you will love!
Sugar Free Salted Caramel Frappuccino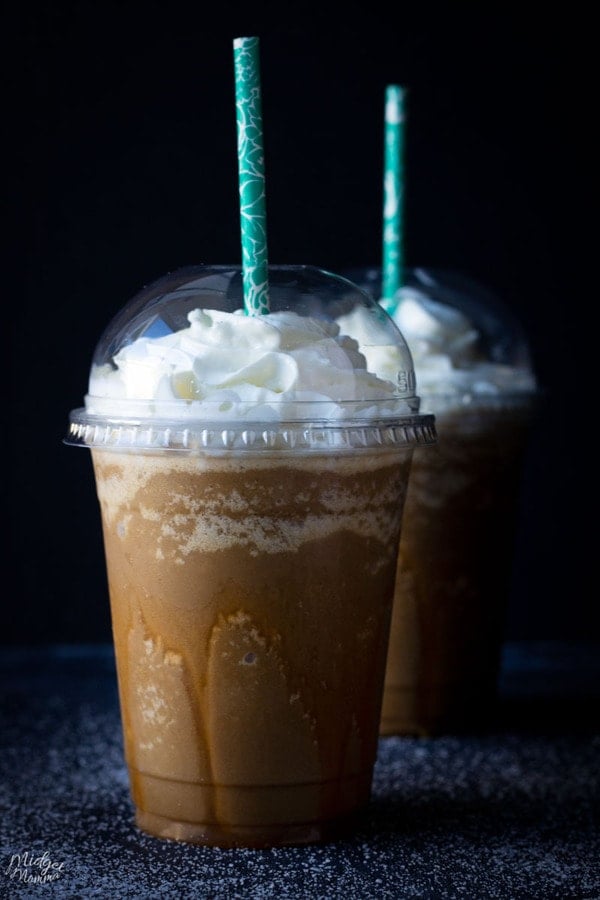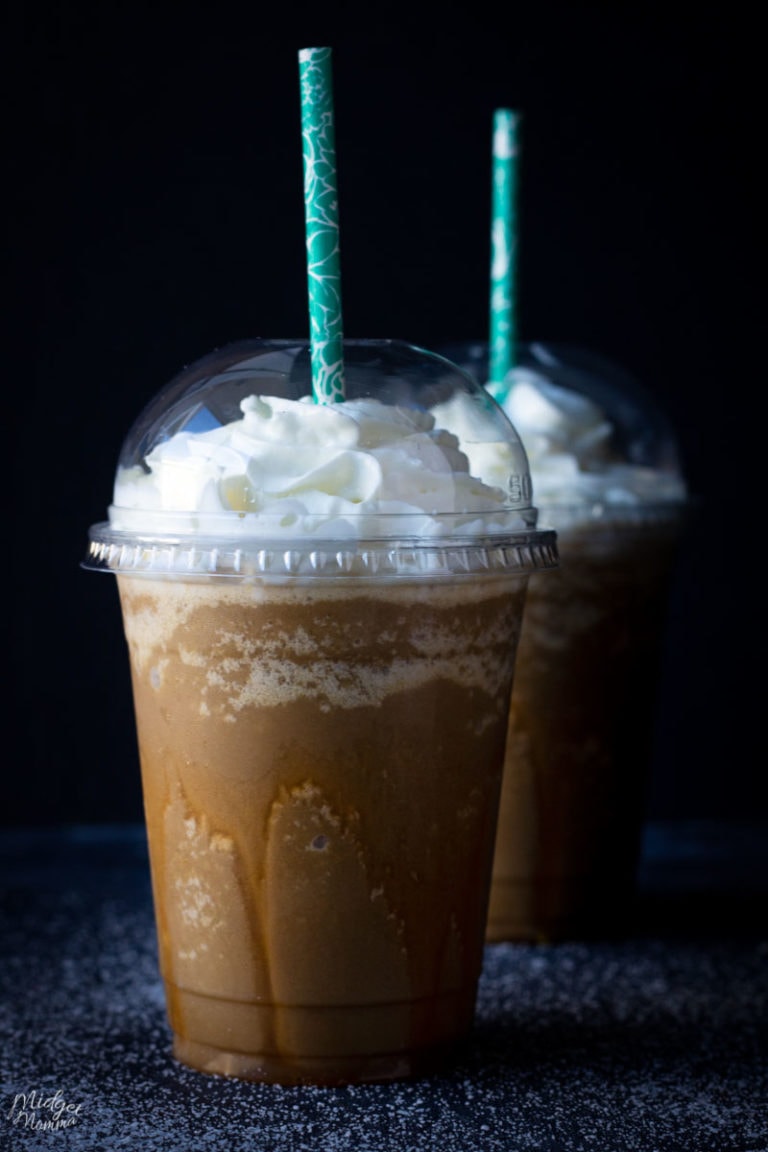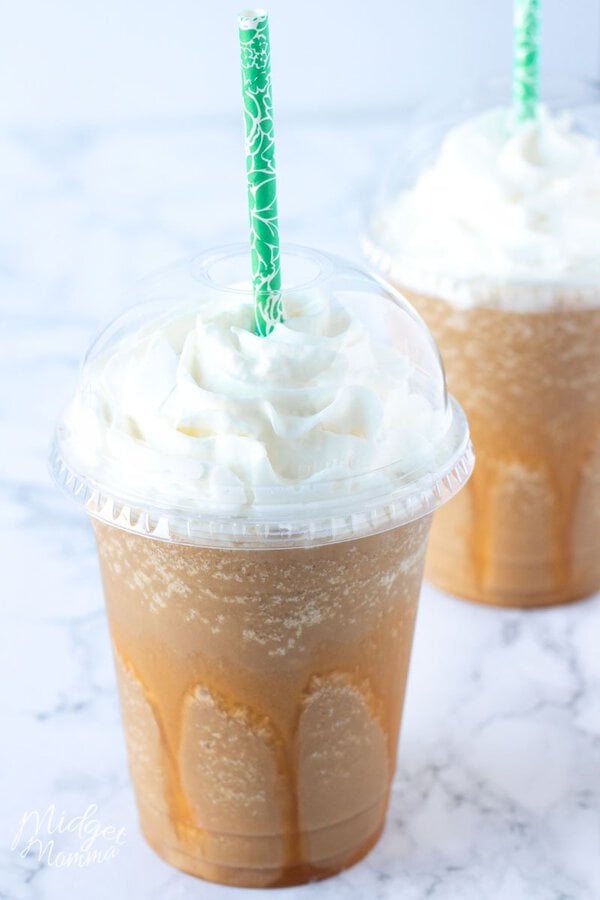 Sugar-Free Whipped cream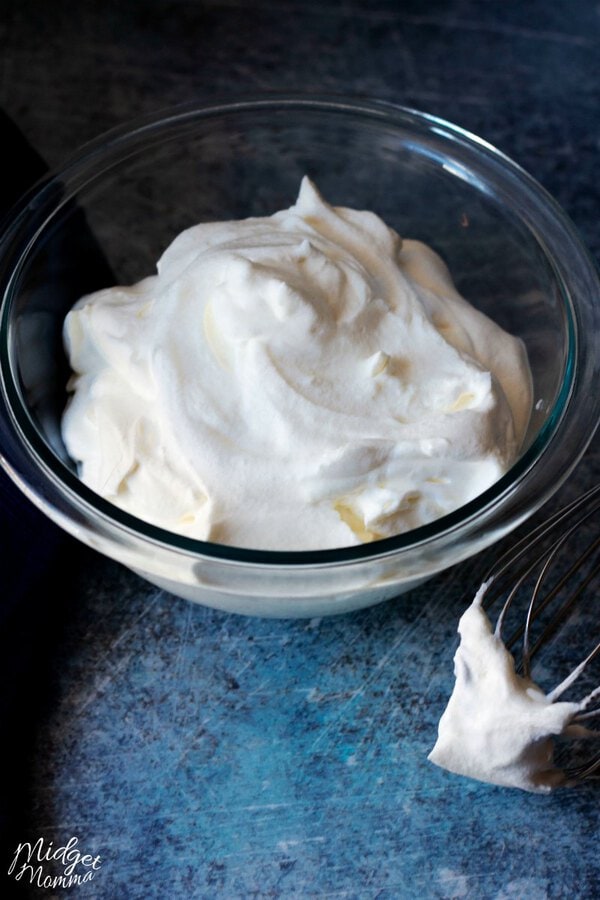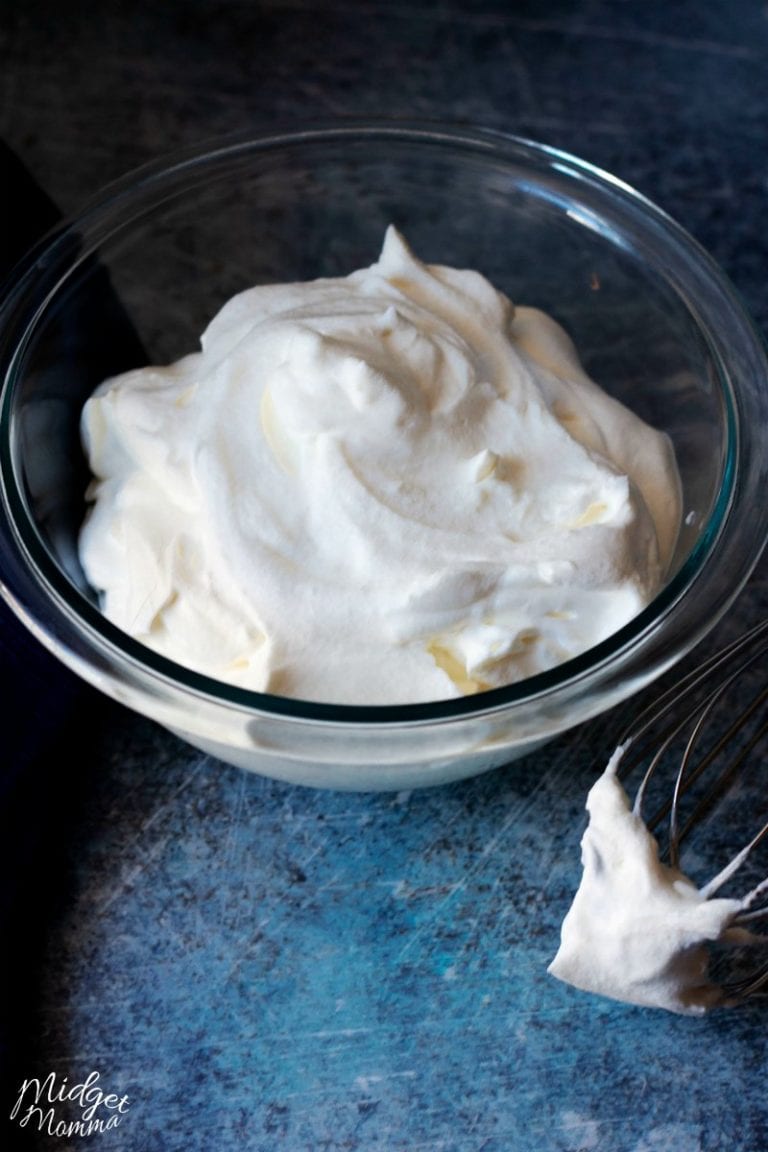 Join the newsletter
Subscribe to get our latest content by email.
This post may contain affiliate links. Please read my disclosure policy here