We all know the only mammal that lays eggs is the Easter Bunny and so when making Easter cupcakes it is totally ok to claim the eggs on top in the nest as Easter Bunny eggs 🙂 My kids love helping me make these Easter Bunny Egg Nest Cupcakes, they also like to eat the left over decorations from making them 😉
For the actual cupcakes, you can use any recipe you would like, my favorites are strawberry cupcakes, vanilla cupcakes and chocolate cupcakes. All of those recipes taste just like a bakery made them.
Here is also the recipes for my favorite vanilla buttercream – it is the only vanilla frosting I will use, that you will want to use when making these Easter Bunny Egg cupcakes.
Easter Bunny Egg Nest Cupcakes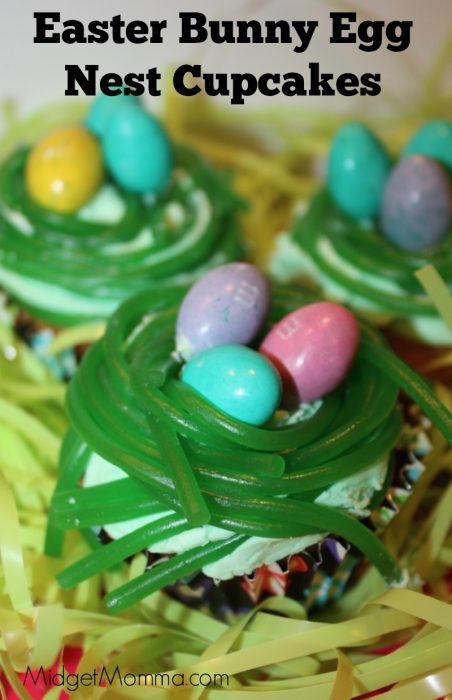 Easter Bunny Egg Nest Cupcakes Supply List
Easter Bunny Egg Nest Cupcakes Ingredients
24 cupcakes
Peanut M&M Eggs
Green food coloring
Easter Bunny Egg Nest Cupcakes Directions:
Let your cupcakes cool after baking.
Make your green frosting – make this vanilla buttercream frosting and then add green food coloring to the color green you prefer.
Pipe an even layer of buttercream onto the top of each cupcake.
Using the green licorice laces make a "nest" on top of the frosting.
Place 3 Peanut M&Ms in the center of the nest as eggs
12 Weight Watchers Smart Points per serving
Join the newsletter
Subscribe to get our latest content by email.
This post may contain affiliate links. Please read my disclosure policy here