Alice Springs chicken is one of my favorite copycat recipes that I have been making for as long as I can remember. It has always been a family favorite when I have made it and so it was a must to come up with a low carb Alice Springs chicken recipe.
Alice Springs chicken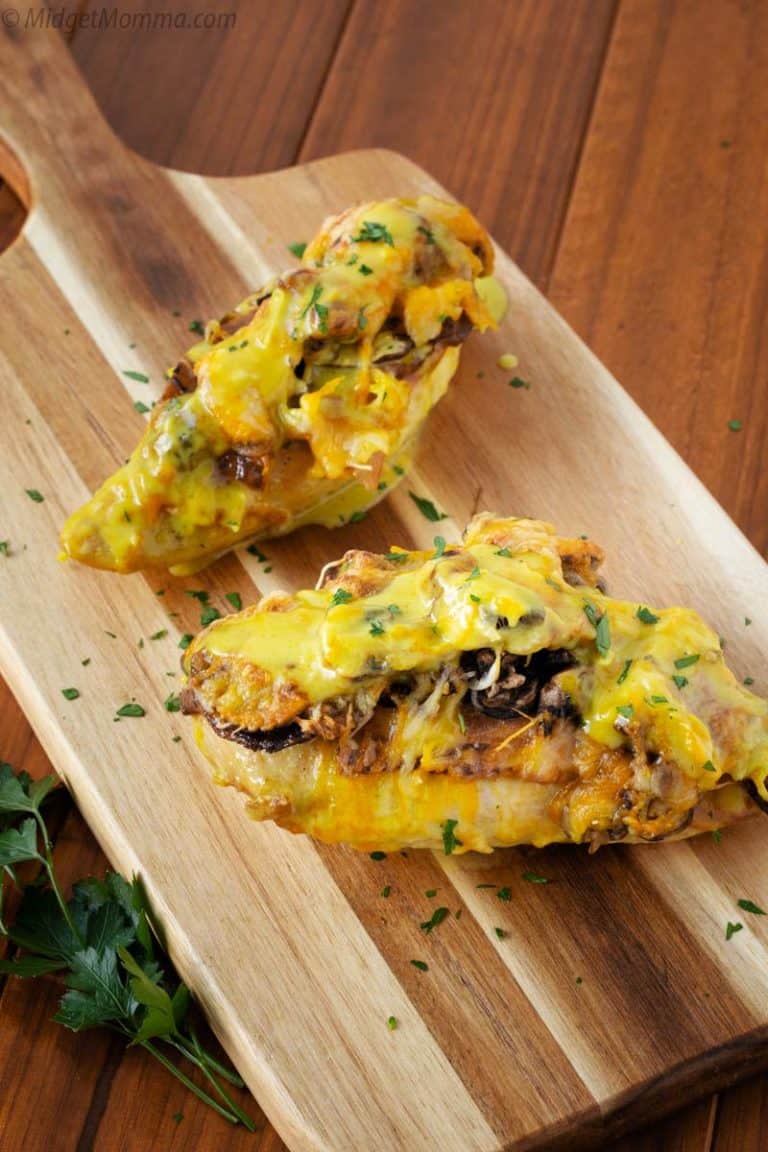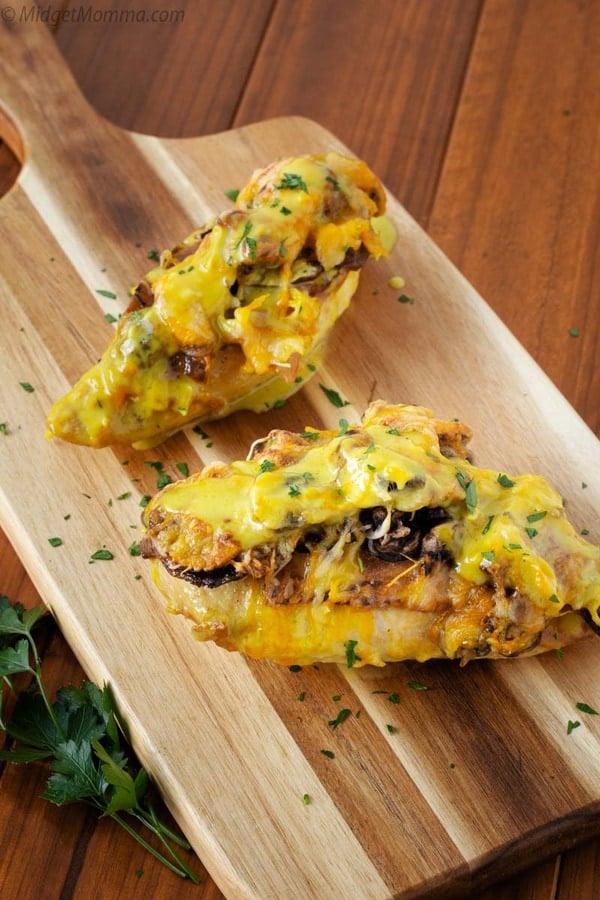 We do not have an Outback steak house near us, but years ago my friend Jaime shared a recipe for honey mustard chicken with me. I then went to Outback one time and realized that the recipe she had shared with me tasted JUST like Outback Steakhouse Alice Springs chicken. Seriously it is the PERFECT copycat recipe of Alice Springs Chicken.
However there are a few ingredients in the original that make that family loved recipe, not a fit for eating keto or low carb so I had been skipping out on making it lately. Then I realized how easy it would be to make a low carb Alice Springs Chicken that would bring the family favorite chicken recipe back to the dinner table and help me stay on track with low carb. With these new changes, I love this recipe because it fits with the keto diet, but is perfectly family friendly!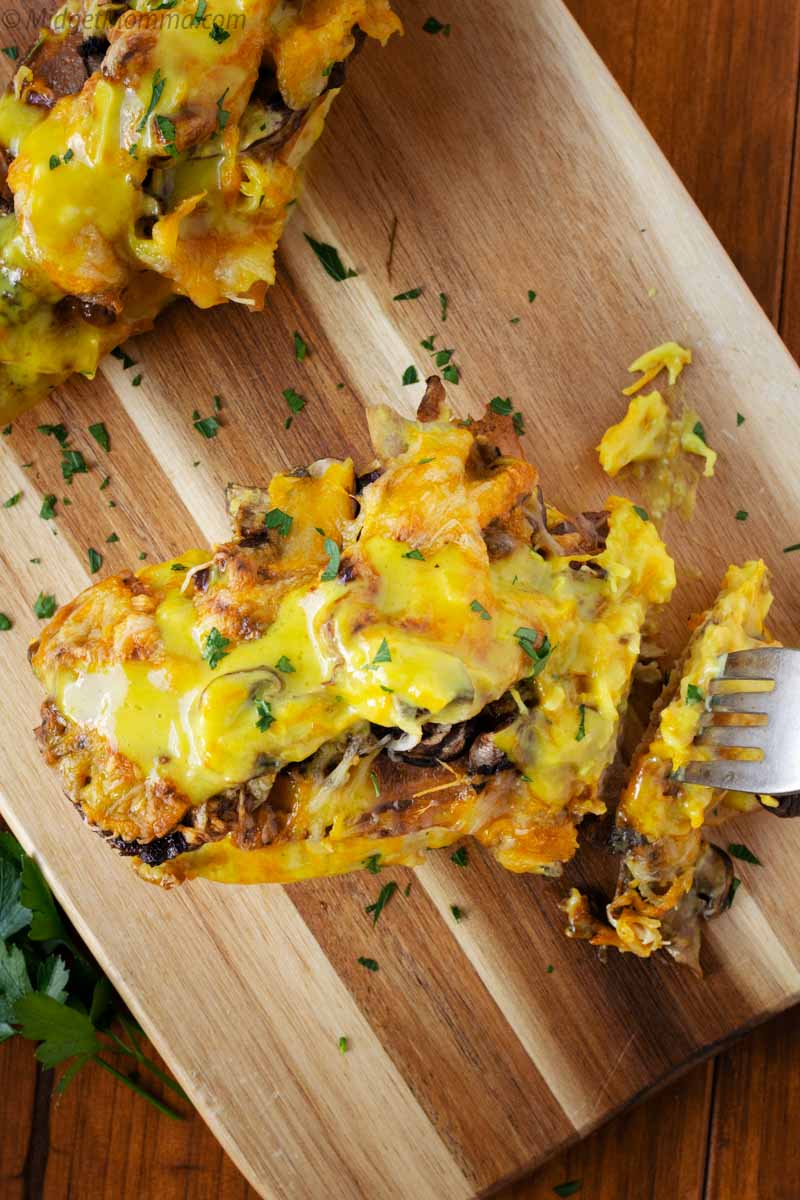 Side Dishes for Low Carb Alice Spring Chicken
In our house, since not everyone is low carb, I tend to make the main dish low carb and keto friendly. I also make side dish recipes that are low carb and other sides that are not low carb or keto for the rest of the family. Everyone eats all the low carb sides, but I skip the carbby sides. It makes feeding everyone much easier then making a different meal for everyone in the house.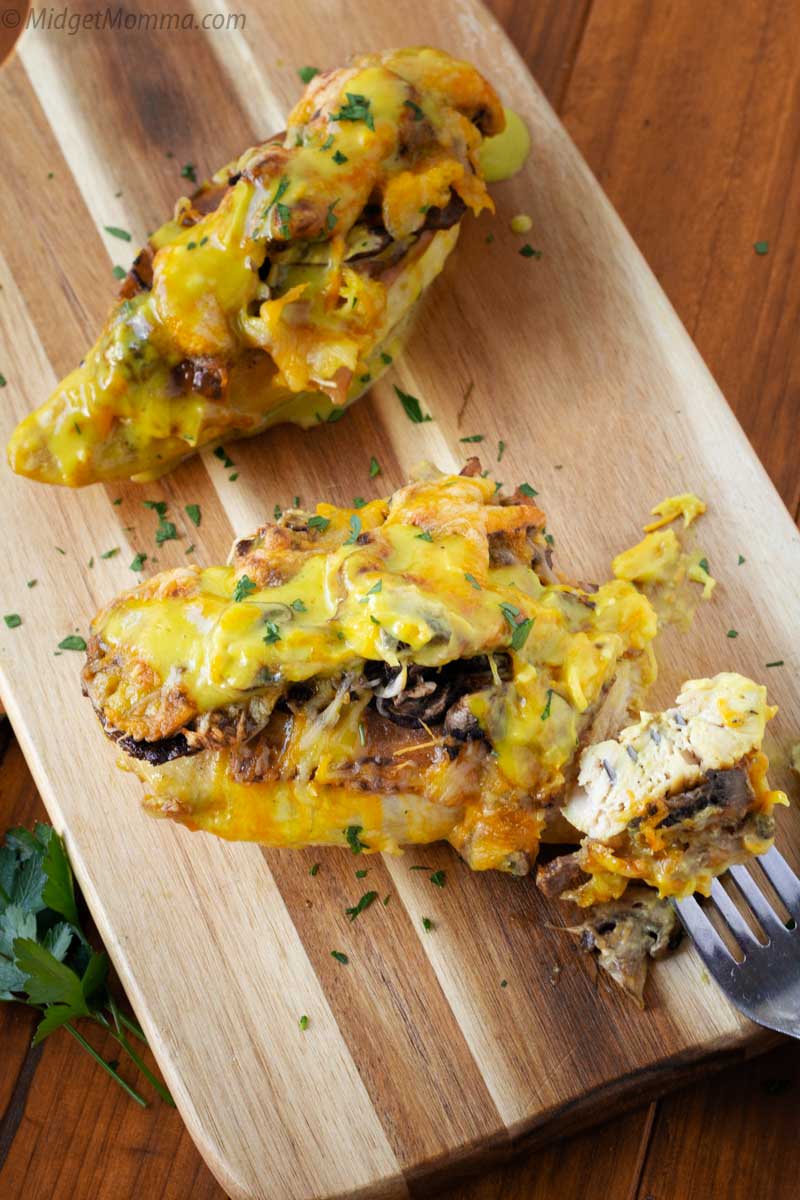 Low Carb Alice Spring Chicken Ingredients
Boneless Skinless Chicken Breasts. Make sure they are full thick chicken breasts. Don't slice them thin, even if you normally like your chicken thin, they need to be thick for this chicken recipe.
Seasoning Salt.
Bacon.
Sliced mushrooms.
Colby-Monterey Jack Shredded Cheese.
mayonnaise
yellow mustard
swerve. You can also use Lakanto Monk Fruit if you have that on hand.
Onion flakes.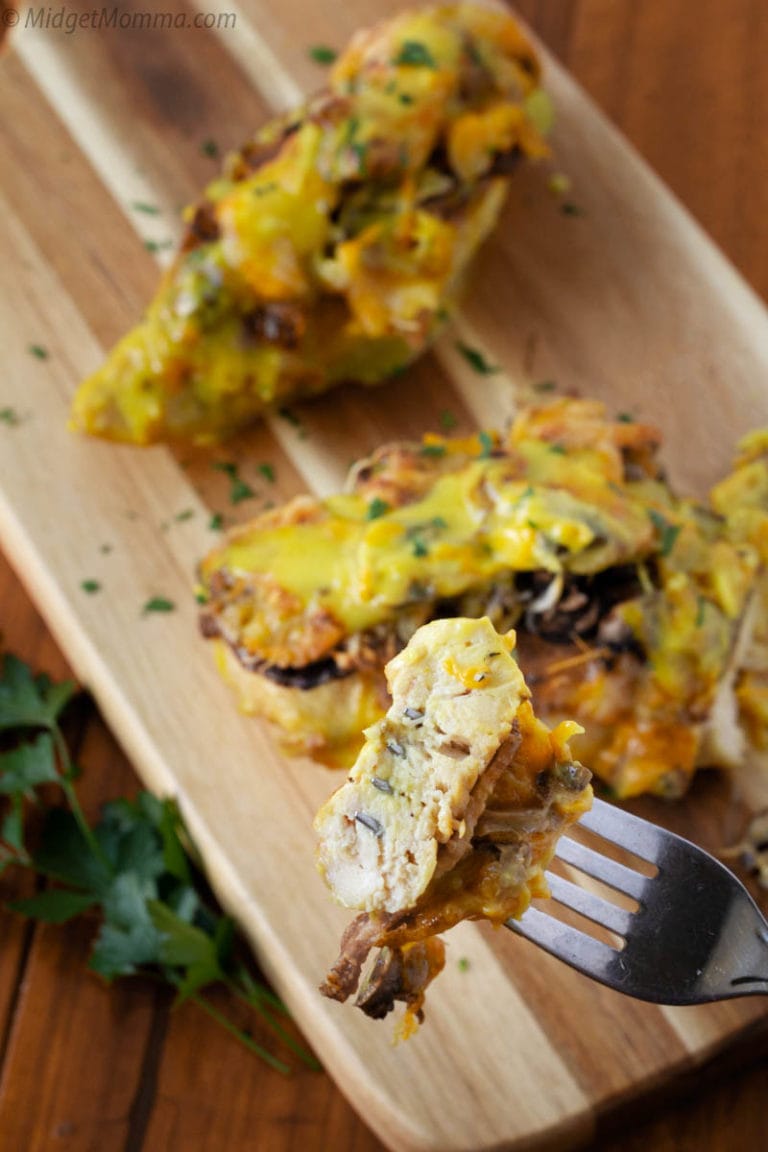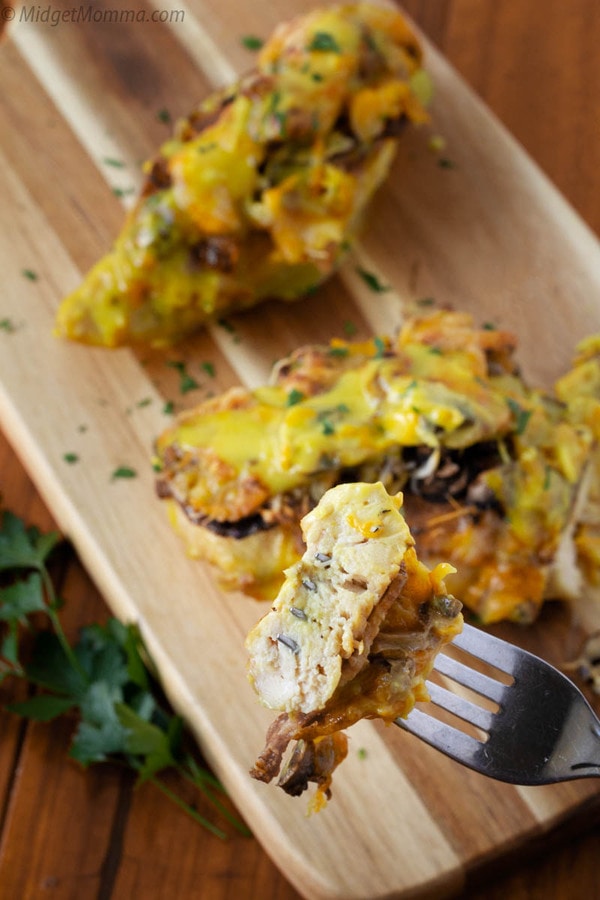 How to Make Low Carb Alice Spring Chicken
This low carb chicken recipe is super easy to make! Before getting started your prep, preheat your oven to 350°.
While the oven is preheating, you will season your chicken with Seasoning Salt and let it sit in the fridge for a few minutes.
Make the tasty low carb honey mustard sauce. It takes just a few minutes to whip up, and it is also great if you are looking for a dipping sauce for other meals. I tend to make extra of the sauce and keep it in the fridge for dipping things in later, like chicken nuggets.
Slice the mushrooms if needed. If I know it is going to be a busy night then I will buy the presliced mushrooms.
Then cook your bacon until crispy, and I leave the bacon grease in the pan and then add a little bit more oil if needed and sear the chicken breasts for 4 minutes per side. You can drain the bacon fat, however I find the bacon grease adds even more flavor and we prefer it this way.
Get a baking dish, spray it with non stick spray, and add a little sauce to the bottom of your baking dish.
Place the chicken in the dish and top with the bacon, then the mushrooms, then the cheese, and then the remainder of the sauce.
Bake in the oven! Serve with the sides of you choices.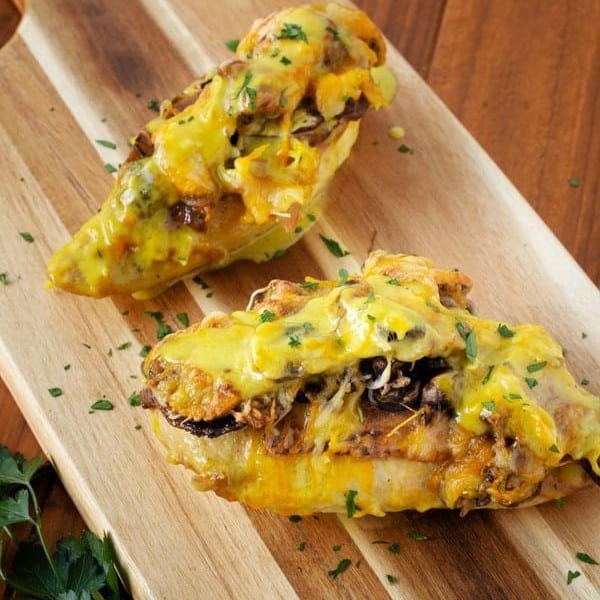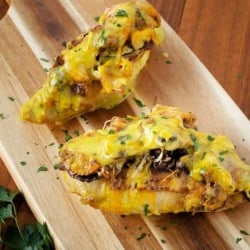 Low Carb Alice Spring Chicken Recipe
Servings
This Low Carb Alice Spring Chicken Recipe is a perfect copy cat of the Outback Steakhouse dish, but low carb and keto friendly!
Instructions
Preheat the oven to 350°.

Rub Seasoning Salt on chicken breasts and place on a plate and put them in the fridge while you prepare everything else.

In a medium sized bowl mix 1/2 cup mayonnaise, 1/2 cup yellow mustard, 1 teaspoon swerve and 2 tablespoons onion flakes. Mix everything until it forms a sauce and set aside.

Wash and slice your mushrooms if needed and set aside.

Slice each piece of bacon in half and cook on medium high heat until crispy. Remove from the pan and set aside

Remove the chicken from the fridge, and using the same pan you cooked the bacon in sear the chicken over medium heat.  Cook the chicken breasts for 4 minutes on each side.

Get a 9x13 pan, spray with nonstick spray and pour a small layer of the sauce on the bottom of the dish.

Place the chicken in the dish and top with the bacon, then the mushrooms, then the cheese, and then the remainder of the sauce.

Bake Alice Springs Chicken at 350° for about 15 minutes. Check the chicken to make sure it is at 165° before removing it from the oven. The cook time can vary a little bit depending on your oven and how thick the chicken breasts are. You want the the cheese is completely melted and chicken is cooked all the way through.
Calories: 653kcal | Carbohydrates: 5g | Protein: 59g | Fat: 42g | Saturated Fat: 13g | Cholesterol: 198mg | Sodium: 4489mg | Potassium: 1048mg | Sugar: 1g | Vitamin A: 330IU | Vitamin C: 4.6mg | Calcium: 182mg | Iron: 1.6mg
Low Carb Alice Spring Chicken Recipe
Dinner, Main Course
12 WeightWatchers SmartPoints on the Freestyle Program per serving.
Get Our Newest Keto Recipes!
Subscribe to get our Newest Keto Recipes by email.
More Keto Chicken Recipes You'll Love!