If you have never had a monster cookie you are missing out! It is a combination of a chocolate chip cookies, peanut butter cookie, M&M cookie, and oatmeal cookies all in one. These cookies are now one of my favorite kind of cookie and so I had to turn it in to a frosting for cupcakes! With that in mind I came up with this Monster Cookie Dough Frosting.
Seriously if you want to you can eat it with out making cupcakes if you really wanted to! You also will want to add my chocolate chip cookie dough frosting to your list of things to try because I can eat it with a spoon 😉
These cupcakes combine the best of both worlds with the great flavor and texture from the cookie dough with a nice fluffy texture of a cupcake. Oh sooo good! Warning you that you will be sneaking bites of the frosting because it tastes JUST like raw cookie dough!
To give it the nice rounded scoops look I use 1/4 cup scoop that you normally use to dish out ice cream. If you don't  have a scoop you can always just use a spoon to scoop it out but I think they look much better when I use the scooper.
You will want to use this vanilla cupcakes recipe for your cupcakes. It is the only vanilla cupcake recipe I use!
Monster Cookie Dough Frosting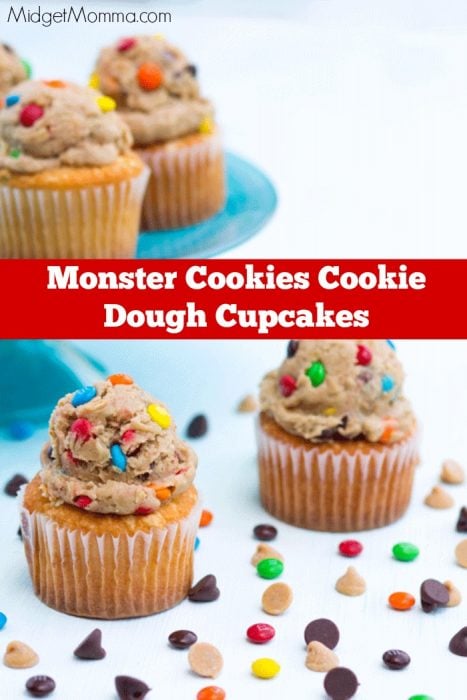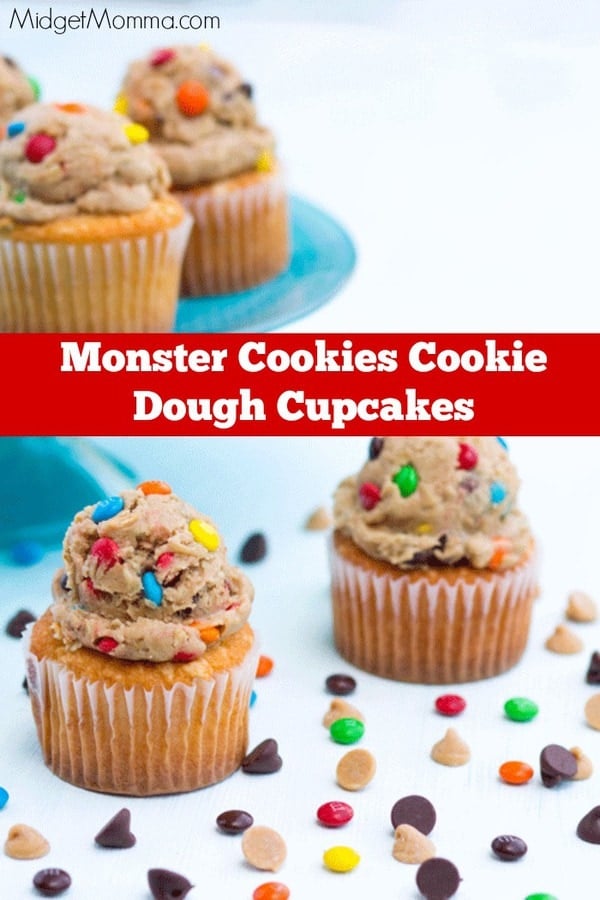 Monster Cookie Dough Frosting Supplies
Monster Cookie Dough Frosting Ingredients
1 cup butter, softened
1 cup creamy peanut butter
1 1/2 cup powdered sugar
3 tablespoon brown sugar
1 teaspoon vanilla extract
3 tablespoon all-purpose flour
1 cup oats
1 cup mini M&M's
¾ cup semi-sweet chocolate chips
Monster Cookie Dough Cupcakes Directions
Combine the butter, peanut butter, sugar and brown sugar together in the bowl of your mixer. Cream them together on medium speed until light and fluffy, about 5 minutes.
Stir in the vanilla extract.
Turn the speed down to low and carefully add in the flour and oats just until it's combined.
Stir in the mini M&M's and chocolate chips.
With a 1/4 cup scoop, scoop the dough into the top of each cupcake.
20 Weight Watchers SmartPoints per cupcake on the Freestyle Program.
Love cupcakes? Check these out and don't miss this awesome list of cupcake frosting recipes!
More Amazing Frosting Recipes to Try:
Join the newsletter
Subscribe to get our latest content by email.
This post may contain affiliate links. Please read my disclosure policy here