I am in love with these, Chocolate Cherry Chip Cookies. They are a simple twist on a classic chocolate chip cookie. It's a twist on my recipe for my bakery style chocolate chip cookies . The dried cherries bring this great texture to the classic chocolate chip cookie. It's almost a surprise when you bite into them. Now if you don't have dried cherries on hand you can always substitute it for Craisins since they have a similar flavor and texture.
Are you're the type of person who likes to have a nice warm cookie out of the oven every time? Then all you need to do is scoop out the dough as per the directions but instead of baking them all off at once you can actually freeze the dough in a zip-top bag and bake them off when you would like them. You just need to add a few extra minutes in the oven when you cook the frozen dough. I truly recommend getting yourself a Cookie Scoop  can sure all the cookies baked evenly at the same time.
If you are looking for THE BEST mixing bowls These with the rubber bottoms are my favorite! They don't slip when I am doing my baking and mixing ? When I am frosting a cake I find it easiest to do when I am using my cake stand, I can easily turn the cake as needed to put the frosting on it.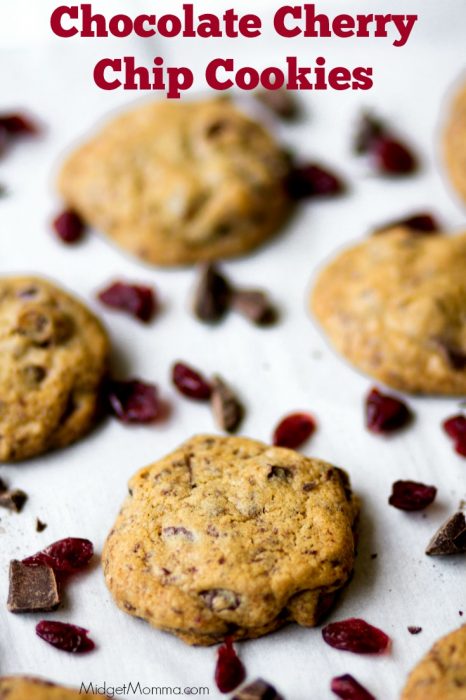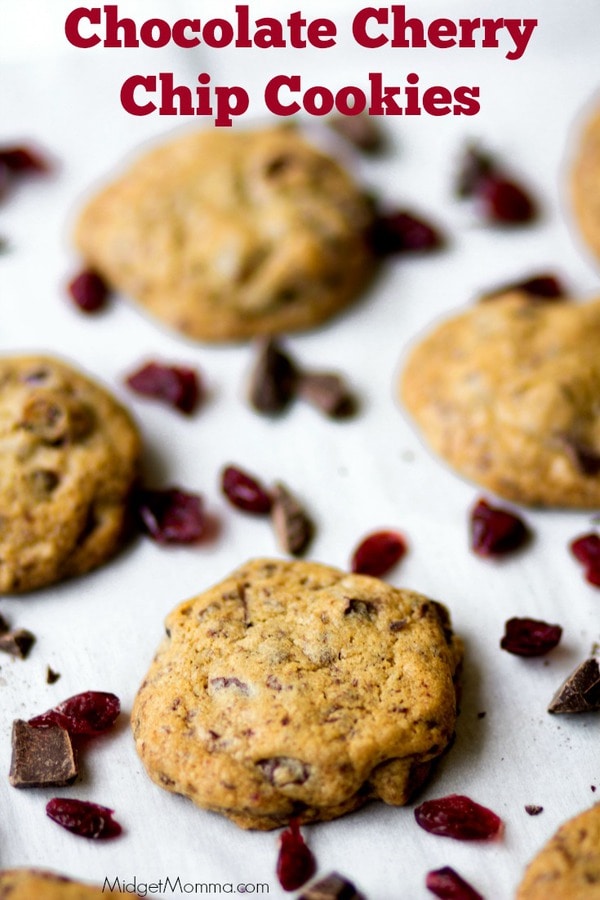 Chocolate Cherry Chip Cookies
Makes about 24 cookies
Chocolate Cherry Chip Cookies Supplies
Mixing bowls
Stand mixer
Rubber Spatula
Sheet pans
Parchment paper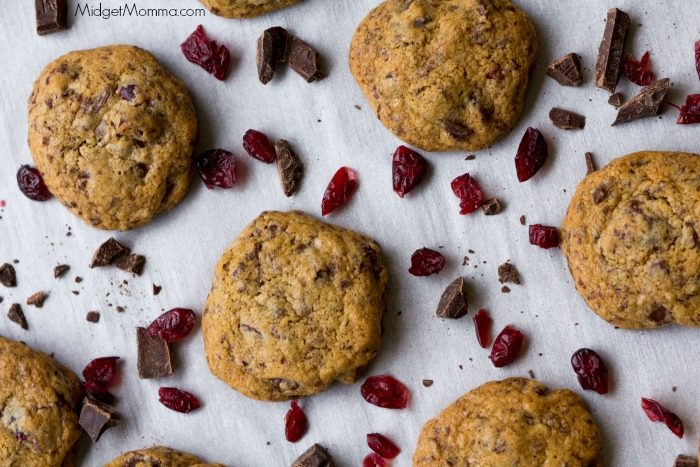 Chocolate Cherry Chip Cookies Ingredients
2 sticks unsalted butter, soften
2/3 cup sugar
1/2 cup brown sugar
2 teaspoon vanilla extract
2 large eggs
2 1/2 cups all-purpose flour
1 teaspoon kosher salt
2 teaspoons baking soda
3 cups coarsely chopped semisweet chocolate
1 cup dried cherries
Chocolate Cherry Chip Cookies Directions
Preheat the oven to 350 degrees. Line two cookie sheets with parchment paper.
Whisk the flour, kosher salt, and baking soda together in a medium bowl.
Beat your butter, sugar and brown sugar together with your mixer on medium speed until light and creamy, about 5 minutes.
Add in the eggs one at a time and then vanilla just until combined.
Turn the speed down to low and carefully add in the flour mixture just until it's combined.
Stir in the chopped chocolate and cherries.
With a 1/4 cup scoop, scoop out the dough into balls.
Arrange them on a sheet pan about 2 inches apart.
Bake for 15 to 18 minutes, just until the edges start turning brown. Half way threw rotate the pans so the cookies will cook evenly. Let them cool on the cookie sheet for 5 to 10 minutes.
With 24 cookies, these cookies are 13 Weight Watchers SmartPoints per serving
Join the newsletter
Subscribe to get our latest content by email.