The poor old Mr. Grinch his heart was just way to small for his body. He just could not help being the grumpy monster that he was. If only he had someone to come and make his heart grow with a sweet treat. These Grinch Oreo Pops are sure to warm up any of the grinch hearts you know to help them grow. Now since the grinch is all green I choose to use a mint Oreos so even the inside of these pops would be green.
I picked up the heart sprinkles on amazon here. If you go to any of your local craft stores they will have pre-colored chocolate chips that are meant for dipping chocolate. Check out these great tips on how to melt your chocolate .
We also love making these other fun and festive treats for the holidays:
MY LATEST VIDEOS
The Grinch Oreo Pops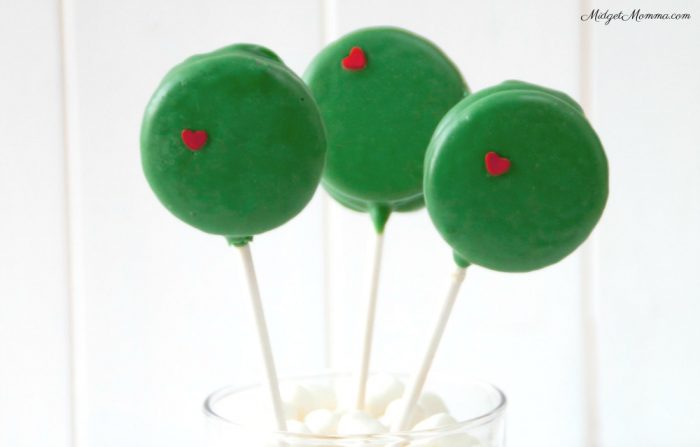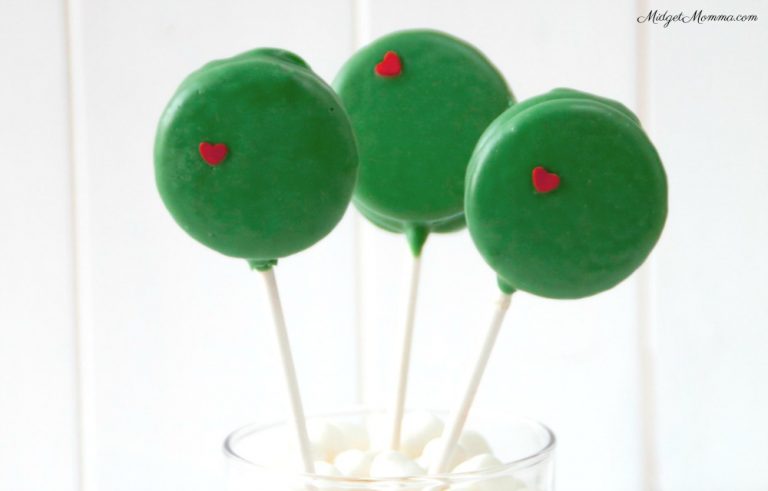 The Grinch Oreo Pops Ingredients
1 package pumpkin Oreos
1 bag green candy melts 
1 bag green candy melts
mini red heart sprinkles
The Grinch Oreo Pops 
Supplies
2-3 sheet pans
2-3 silicon mats or parchment paper
The Grinch Oreo Pops Directions
Line cookie sheets with parchment paper or silicon mats.
Very carefully twist the tops off of all the Oreo's and set them on the prepared cookie sheets.
Melt your green chocolate over a double boiler.
Dip the end of a lollipop stick into chocolate so its only 1/2 inch in the chocolate. Gently push the stick into the cream side of the Oreo half way in and all the way down. Top the blank side of the Oreo with a small amount of chocolate and sandwich it with the other side of the cookie.
Let the chocolate set for 10 minutes.
Pour the melted chocolate into a glass. Dip the Oreo into the green melted candy, turning to cover them completely. Tap the stick on the edge of the container to get off the extra chocolate.
Set the dipped Oreo Pop back on one of the prepared cookie sheets. Place one red heart on the top left-hand side of the oreo. Allow the chocolate set completely.
This post may contain affiliate links. Please read my disclosure policy here