These Christmas tree brownies, made with Homemade Brownies Recipe are so simple it's ridiculous. If you are looking for a super cute Christmas dessert, these Christmas tree brownies are perfect! They are such an easy Christmas dessert to make for any party you are going to.
Christmas Tree Brownies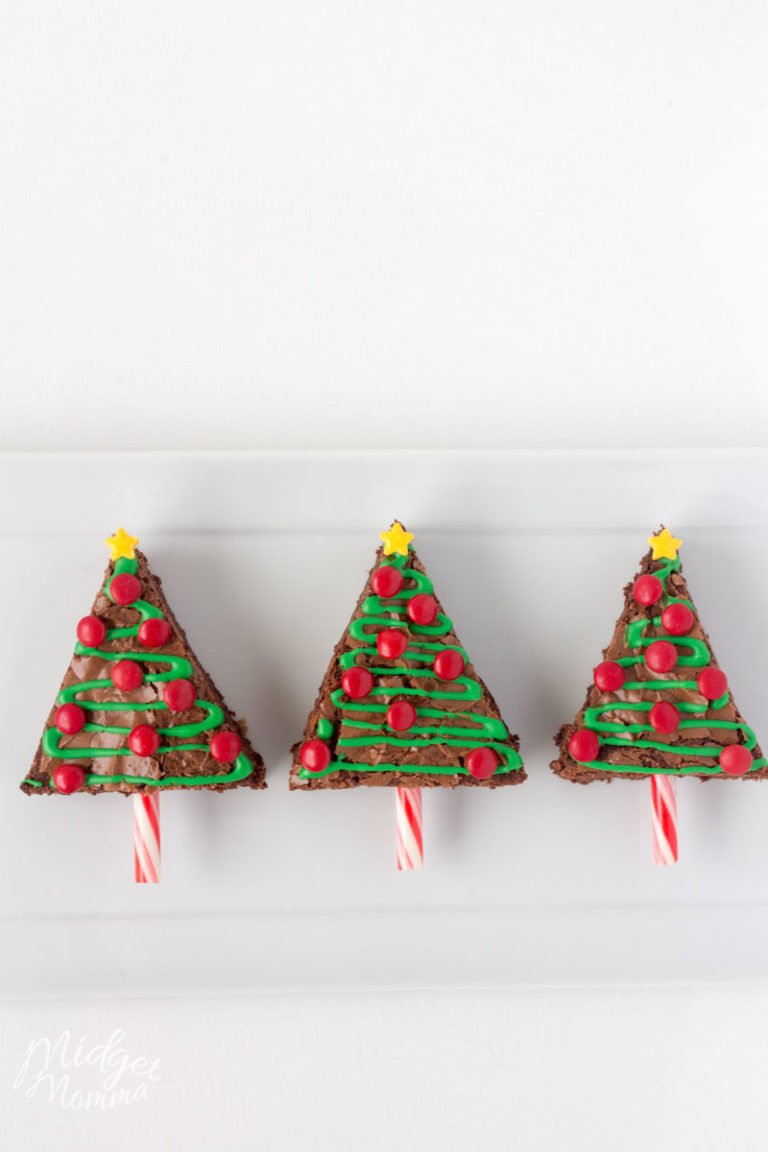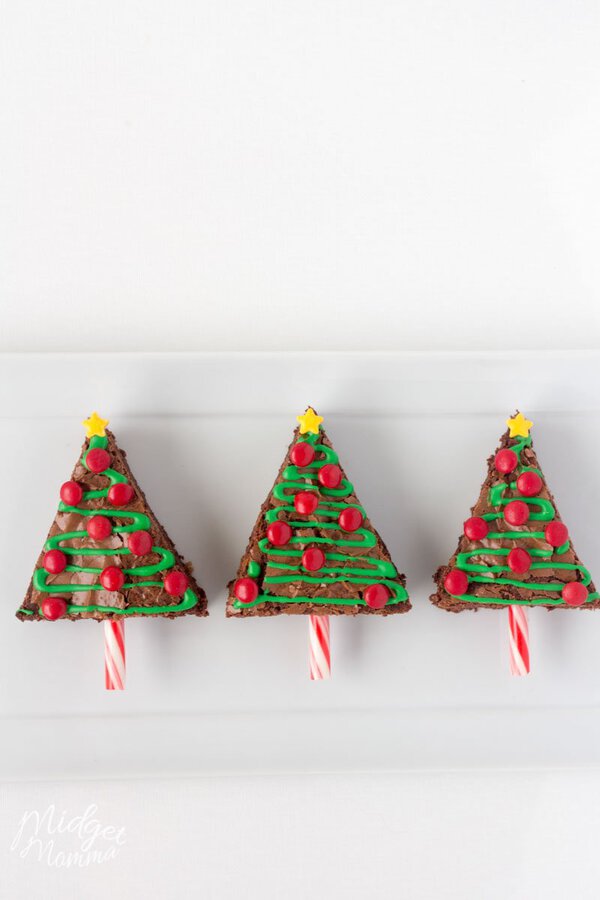 Christmas Brownies
If you are looking for easy Christmas desserts for a crowd then you are going to love how easy it is to make these Christmas brownies. Everyone loves brownies, any time you have a party or you are bringing a treat to a party you can not go wrong with homemade brownies. Anyone else notice, that when you are at a party the brownies are what everyone grabs first? Might just be the chocolate loving me that notices that, but I am a huge fan of homemade brownies and I am a big fan of easy Christmas desserts when going to a Christmas party or having a Christmas dinner at our house.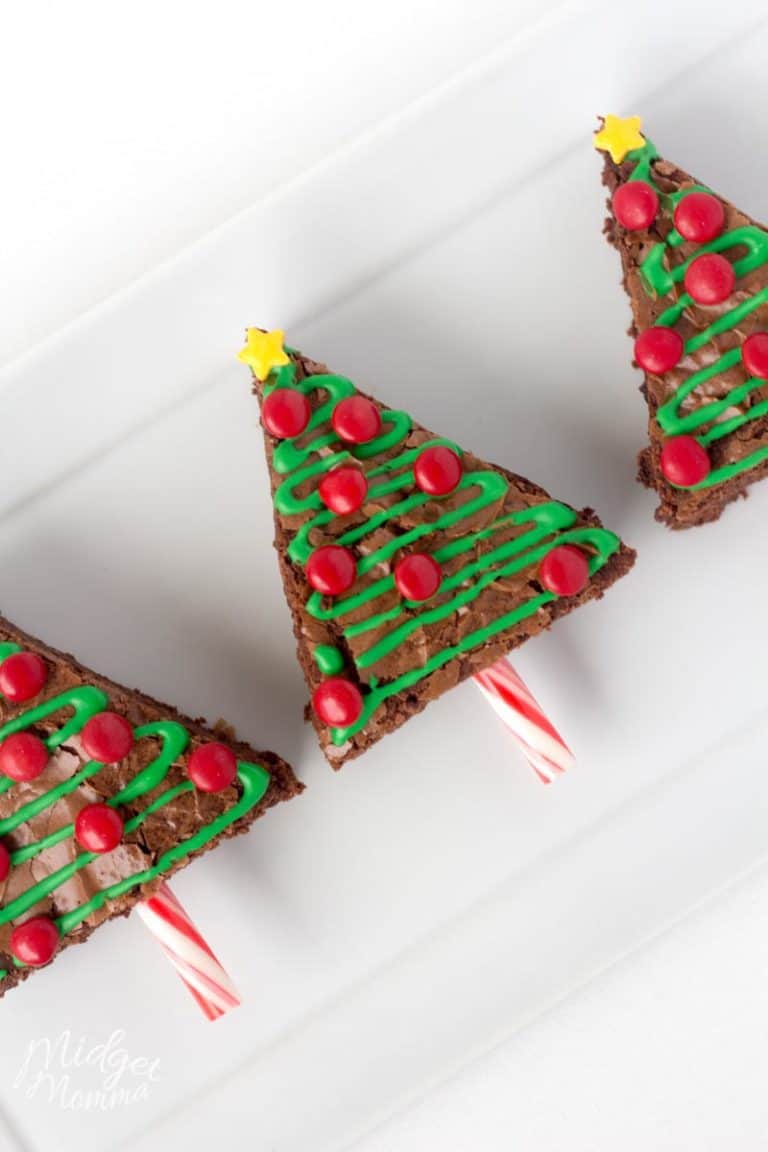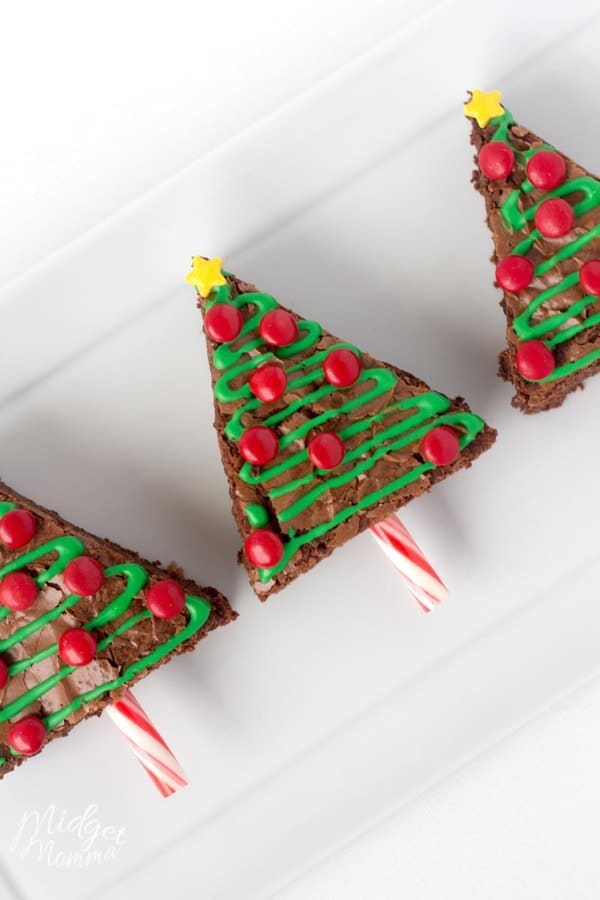 Easy Christmas Tree Brownies
The first step in making these Homemade Brownies Recipe Christmas Trees is whipping up a batch of brownies with homemade brownie mix. You can use a boxed brownie mix if you want to, however I much prefer homemade brownies when making these Christmas brownies.
For the frosting I suggest making some cookie frosting, it dries hard and tastes amazing! You could use a container of store bought frosting but again I prefer making as much from scratch as I can. It doesn't take to much longer to make things from scratch then using store bought things.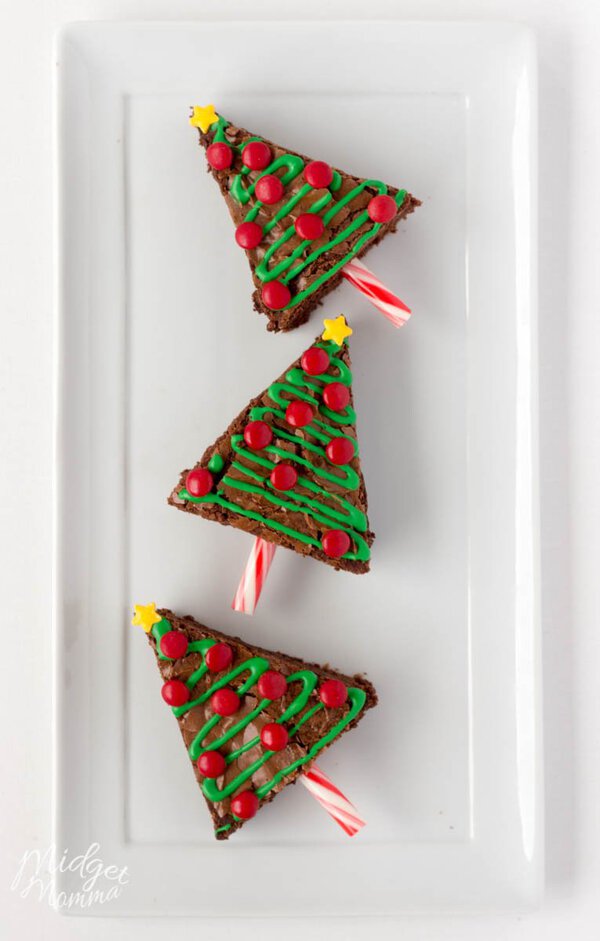 Piping frosting on these Easy Christmas tree brownies is super simple! You can use a pastry bag or if you do not have any pastry bags then you can put your frosting in a ziplock freezer bag and then cut a small hole on one of the corners of the bags and use that as your pastry bag. Don't use the thinner bags, they will pop as you put pressure on the bag when piping the frosting onto your Christmas brownies.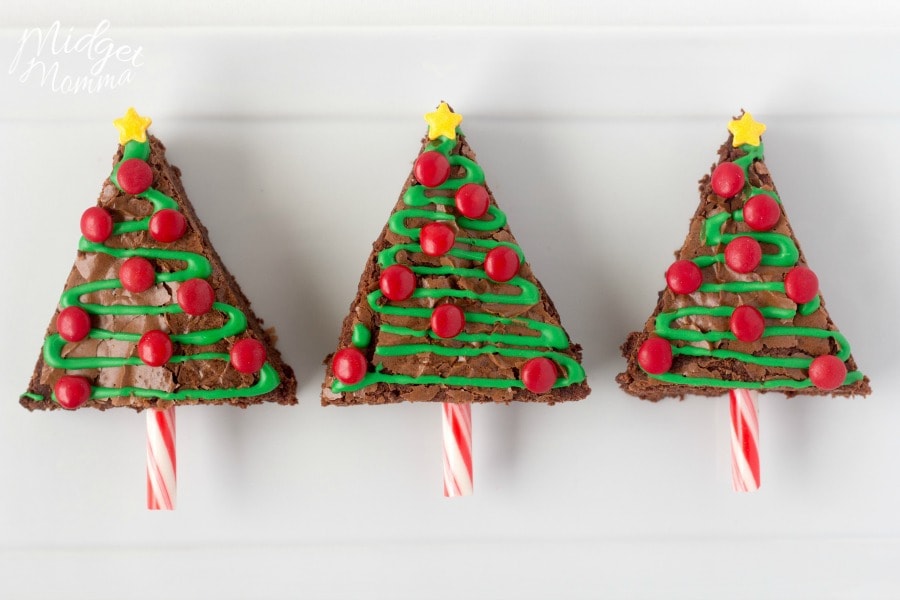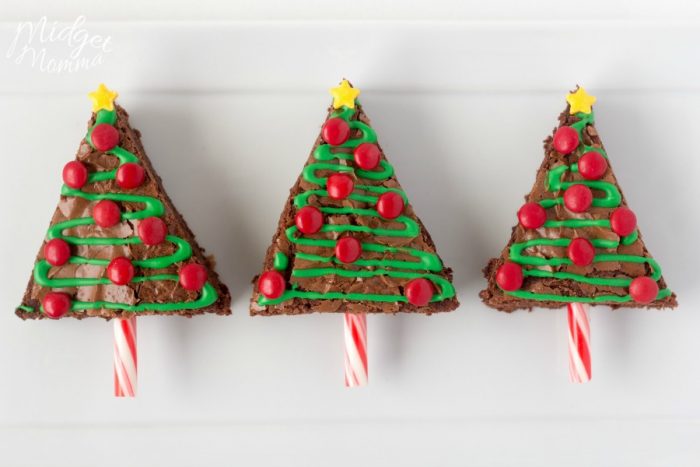 Christmas Tree Brownie Recipe
Of course like any Christmas tree, these Christmas trees need decorations too. I like to use M&Ms to decorate the Christmas tree brownies, however it is really easy to change things up and use sprinkles, or any other small candies to decorate them. So use what ever you want to when you are fancying up your christmas tree brownies.
You are going to need a star on the top of your tree brownies too. I was able to find the stars at my local craft store they are just the Wilton Brand you can also find them on Amazon here. 
I personally like using peppermint candy canes as the tree trunk, but if you have kiddos who don't like the peppermint ones, the cherry flavored candy canes also work.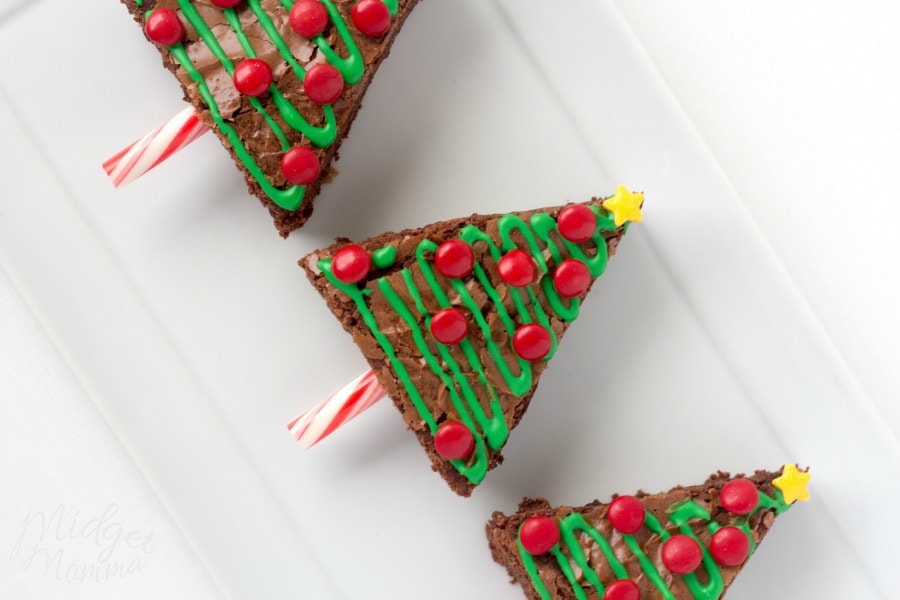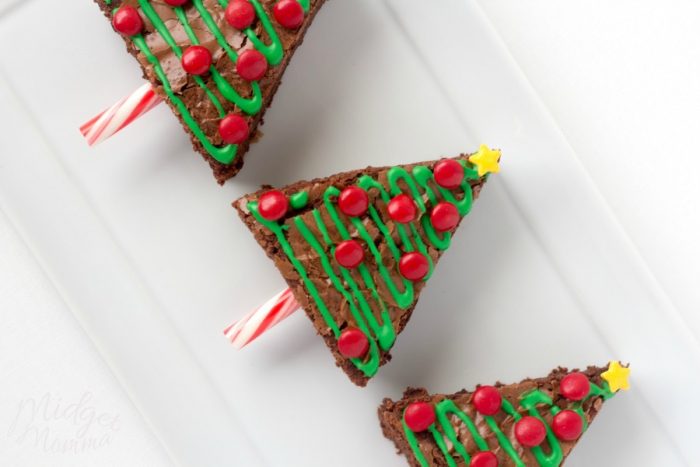 How to Make Christmas Tree Brownies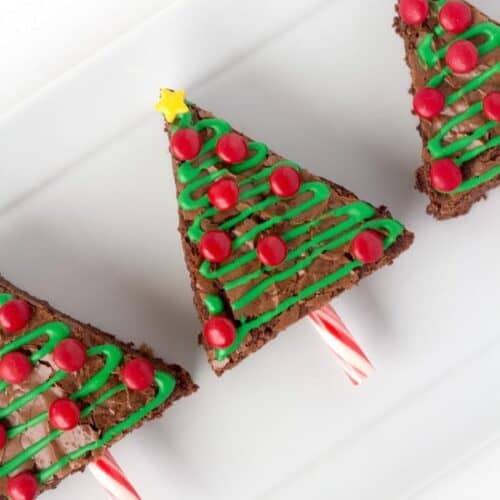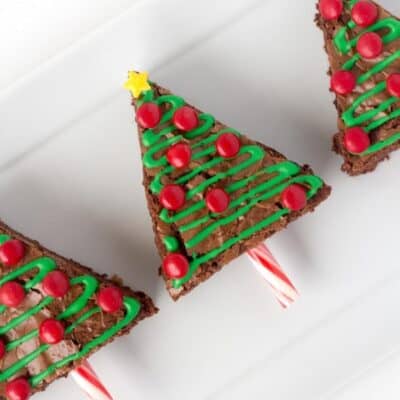 Christmas tree brownies
If you are looking for a super cute Christmas dessert, these Christmas tree brownies are perfect! They are such an easy Christmas dessert to make for any party you are going to.
Print
Pin
Rate
Servings: 10
Ingredients
One 13 x 9" pan of brownies.
One can of the vanilla frosting or a batch of cookie frosting
Mini M&Ms or other small candy or sprinkles
Box of Candy canes Peppermint or cherry
Star Sprinkles
Instructions
Make your brownies and let them cool. Once they are cool you can get started turning them into christmas tree brownies.

While your brownies are cooling get your icing ready. If you are making homemade make it and color it green with the food coloring. If you are using store bought frosting color it green right in the container.

Then while your brownies are continuing to cool, get your candy canes ready. Break your candy canes into 1 inch pieces and set aside.

Get your pastry bag, or zip lock bag if you don't have a pastry bag to use. Then fill it with your frosting, set your frosting bag aside until you are ready to start decorating your Christmas Tree Brownies.

Cut your brownies in rows of three length and then cut triangles in the shape of a Christmas tree out of each row. If you have a triangle shaped cookie cutter you can also use that to cut your brownies in to triangles.

Starting at the top of the triangle zigzag the frosting on the way down to the bottom and repeat this with each brownie.

Once all of your christmas tree brownies have icing, decorate them using M&Ms, other small candy or sprinkles. Then top off the top of your brownie christmas tree with a star at the top.

Let the frosting set and then stick a piece of candy cane into the bottom of each brownies chrsitmas tree.
15 Weight Watchers SmartPoints on the Freestyle Program.
We have a lot of tasty Christmas cookie recipes, so make sure you check out the 12 days of Christmas cookies and the Best Christmas Cookie Recipes. Looking for more Christmas fun? Check out these Christmas Treats kids will love and Fun Kids Christmas crafts!
Looking for more Easy Christmas Desserts? Check these out!
Chocolate Dipped Nutterbutter snowmen
Reindeer Poop Christmas Cookies
Join the newsletter
Subscribe to get our latest recipes right in your inbox every time we post a new one!
More Holiday fun to check out!
You can Facetime Santa for a fun Santa Phone Call or you can call Santa on Santa's Phone Number!
If you are looking for more Christmas fun for kids make sure you check out 16 Kids Christmas Crafts and this HUGE list of Tasty Christmas Treats for kids, they are all things that the Elf can make the kids or bring the kids as activities if you wanted him too!
When does Elf on the Shelf come? And everything else you need to know about the Elf on the Shelf!
Elf on the Shelf Letter – Perfect Elf on the shelf printable letter that you can print out and have your elf on the shelf bring with him or her when he comes to visit! Plus this Elf on the Shelf Rules printable is awesome to print out and hang on the wall for the kids!
You should also check out these 135 elf on the shelf ideas! There are over 135 Elf on the shelf Ideas that kids will love! If you are running short on time, then make sure you check out this list of Quick Elf on the Shelf ideas!
Make sure you also check out Reasons your Elf Did not move… it might happen sometimes 
if you are stuck on Elf Names, Check out this awesome list of 110 Elf on the shelf names! We have girl elf names and boy elf names!