Here are some more great Quick Elf on the Shelf Ideas!! If you are short on time then you are going to love this list of Quick elf on the shelf ideas, that will have your elfiness done in no time!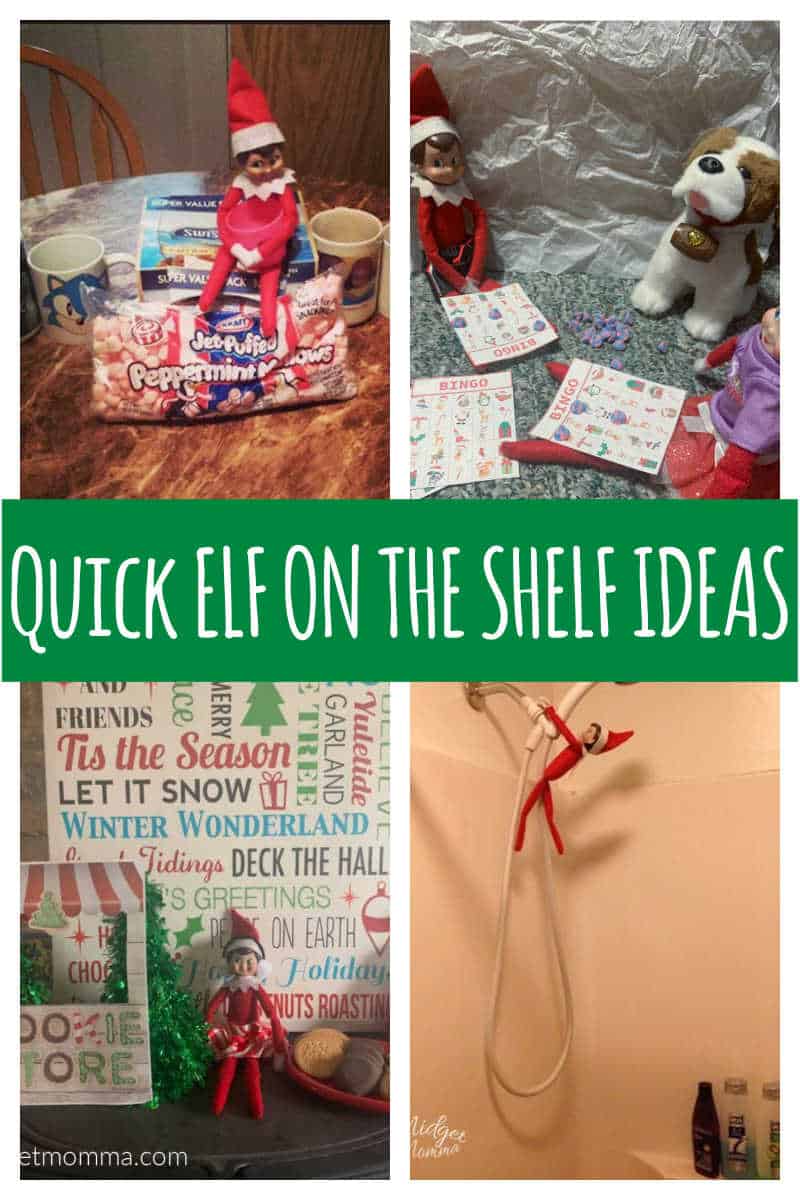 Quick Elf on the Shelf Ideas
Doing Elf on the Shelf does not have to take long at night and it does not have to be hard. These Quick elf on the shelf Ideas will take you no more then 5-10 minutes at most to set up and the kids will love them!
Want your own Elf on the Shelf? Buy one on Amazon here to use in your own family Christmas traditions!
Plus, to make your life easier we also have the 24 Easy Elf on the Shelf Ideas calendar so you don't have to worry about thinking about the planning. Just follow the calendar and have your Elf on the Shelf fun each day!
Our favorite quick Elf on the Shelf Ideas
These Quick Elf on the Shelf Ideas on simple to do and don't take much time at all. Plus the great thing about these Quick Elf on the Shelf Ideas is they are all fun ones the kids will love!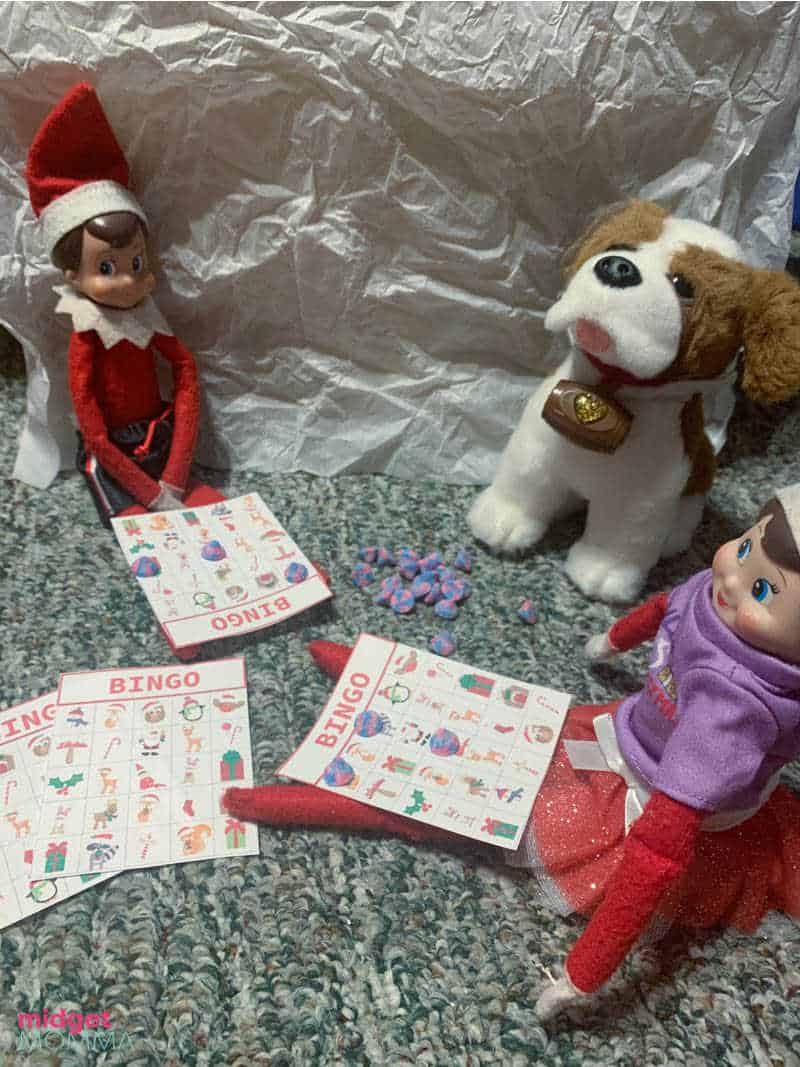 Elf Bingo
Head on over here and print the Elf Bingo game or use a Bingo game you already have and the elves are ready to play with their friends.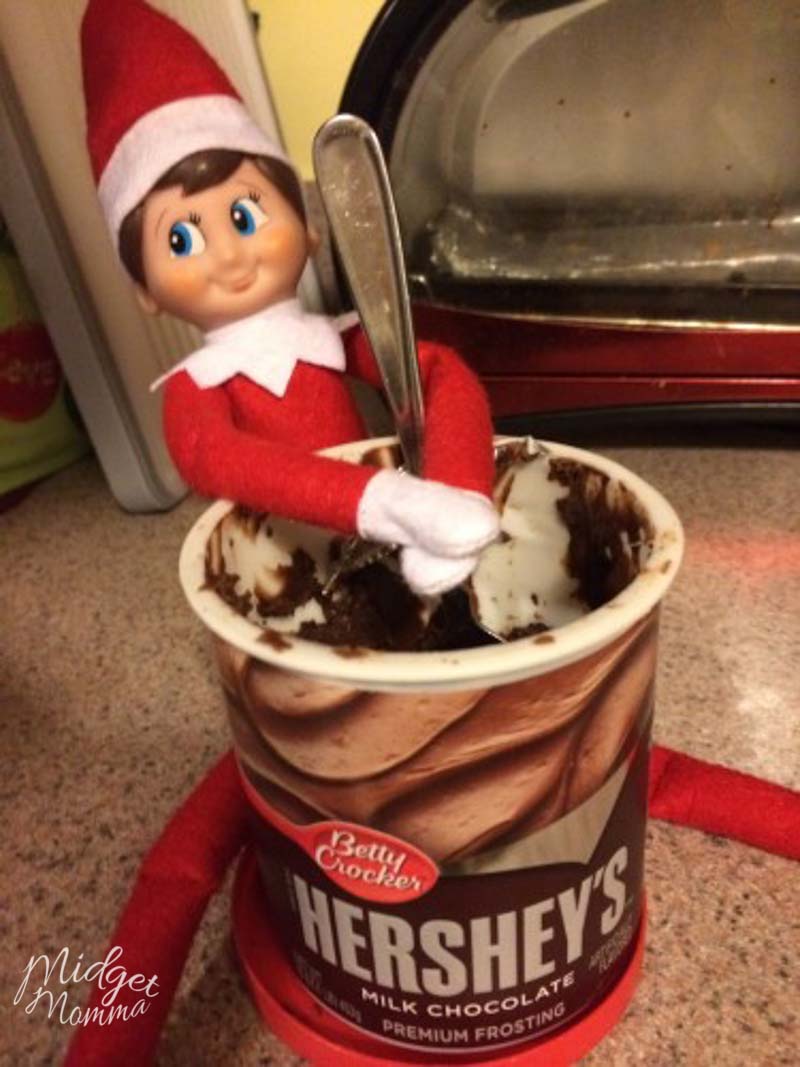 Elf Gets a Snack
There are lots of ways you can make this one quick and easy. Elves LOVE Sweets, anything sweet is the perfect snack, our favorites are candy, containers of frosting and cookies.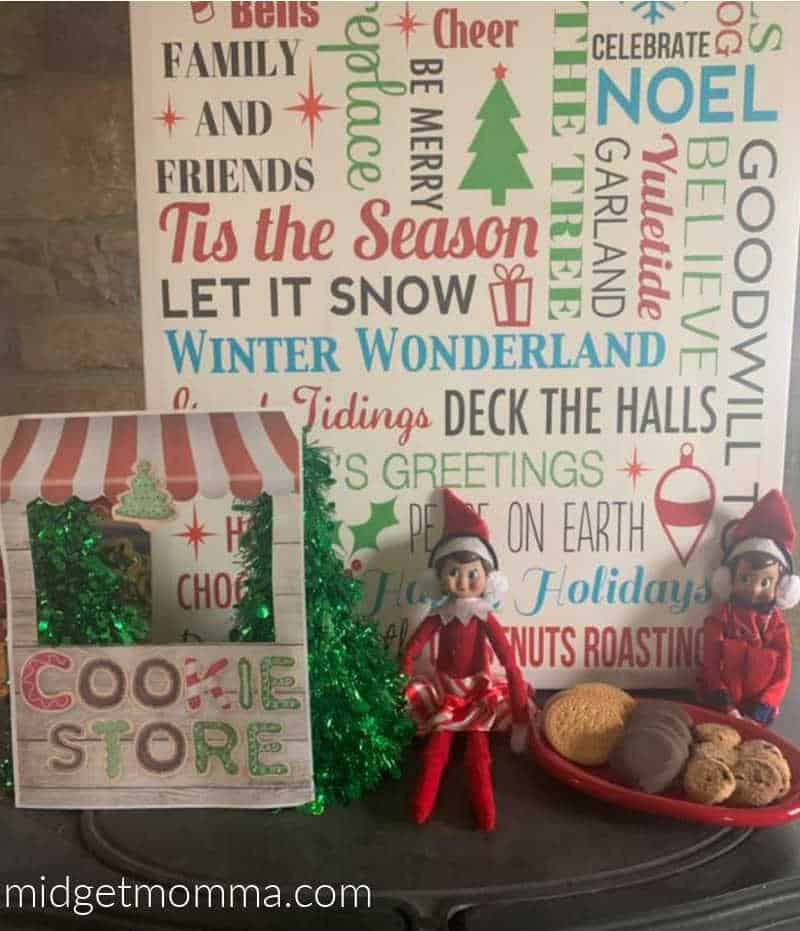 Elf Cookie Shop
Grab the Elf Cookie Shop printable here, or make your own and set out a plate of cookies.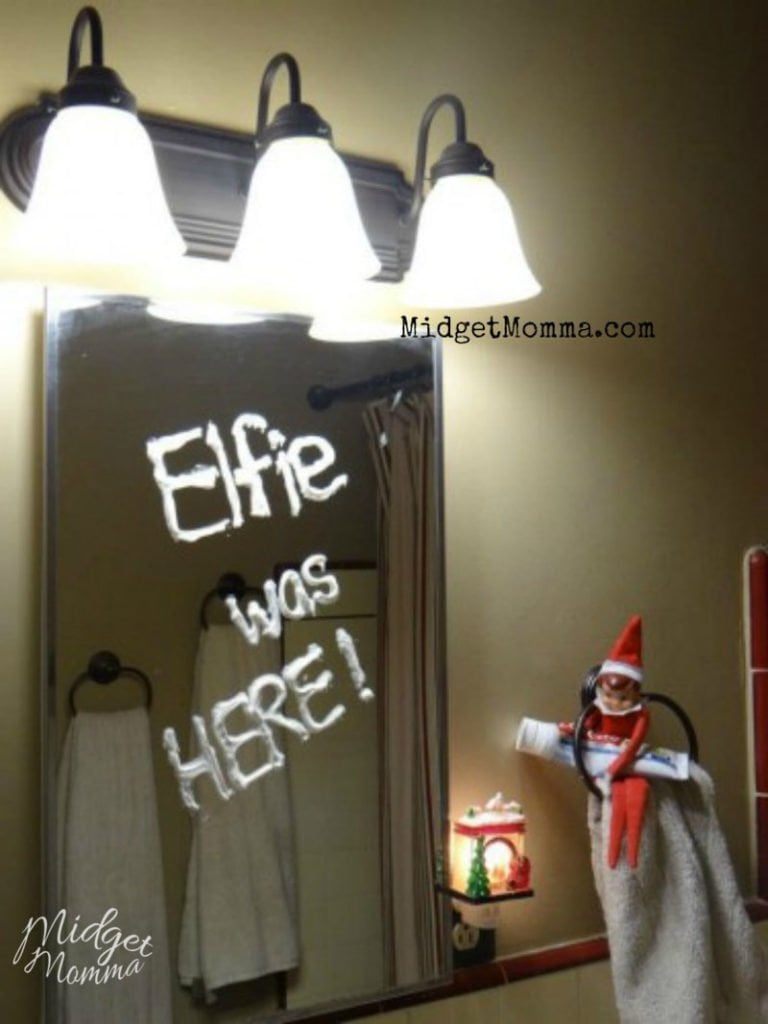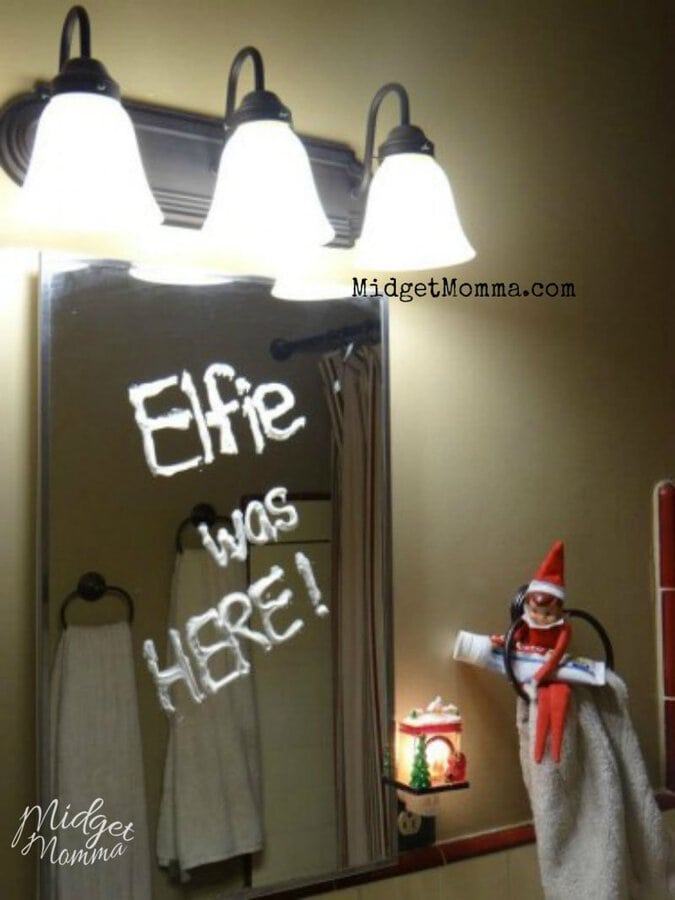 Elf Leaves a Message
Pick a mirror (use shaving cream, toothpaste or an erasable marker) or grab a piece of paper and leave a message from the elf to the kids.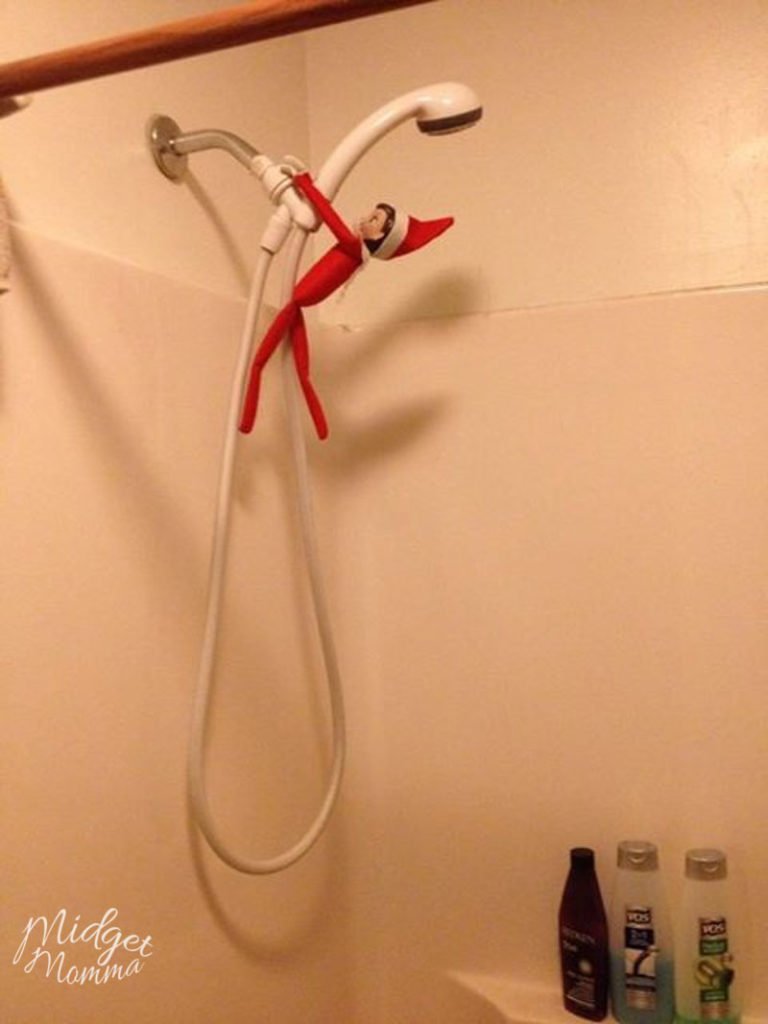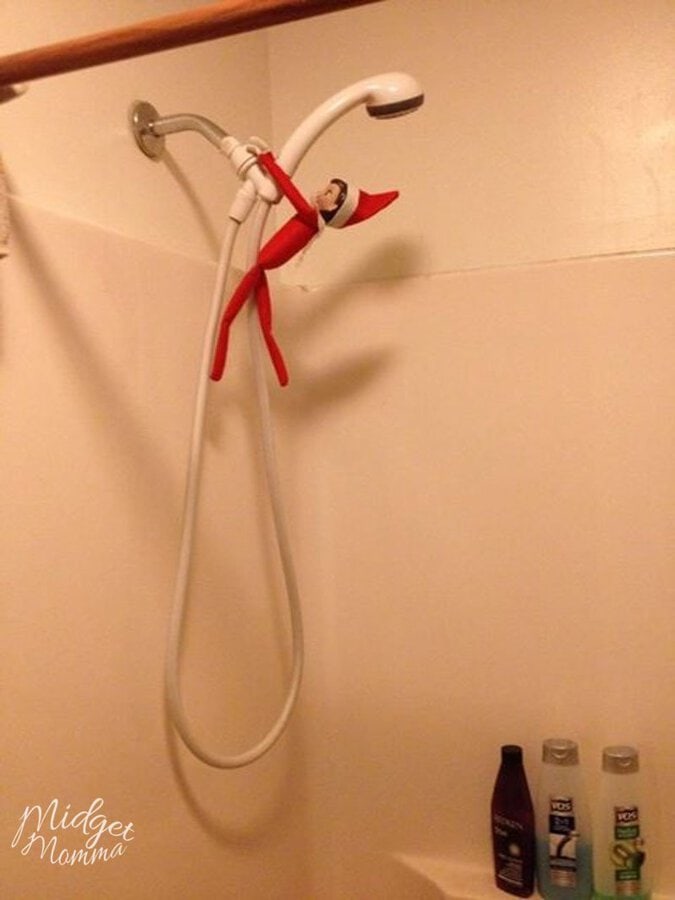 Elf Takes a Shower (or a bath)
You can hang elf in the shower for a super simple idea. If you want to get a bit more in depth use a tub or a doll tub and fill it with marshmallows or cotton balls to be the bubbles and have Elf take a bath.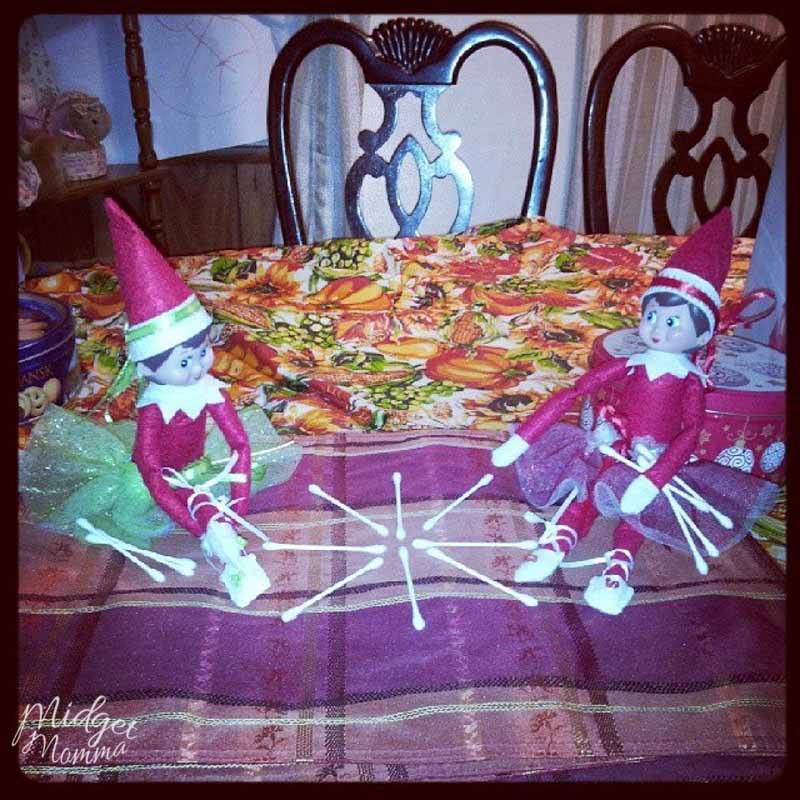 Easy Snowflakes
Use Q-Tips or toothpicks and lay them out to look like a snowflake.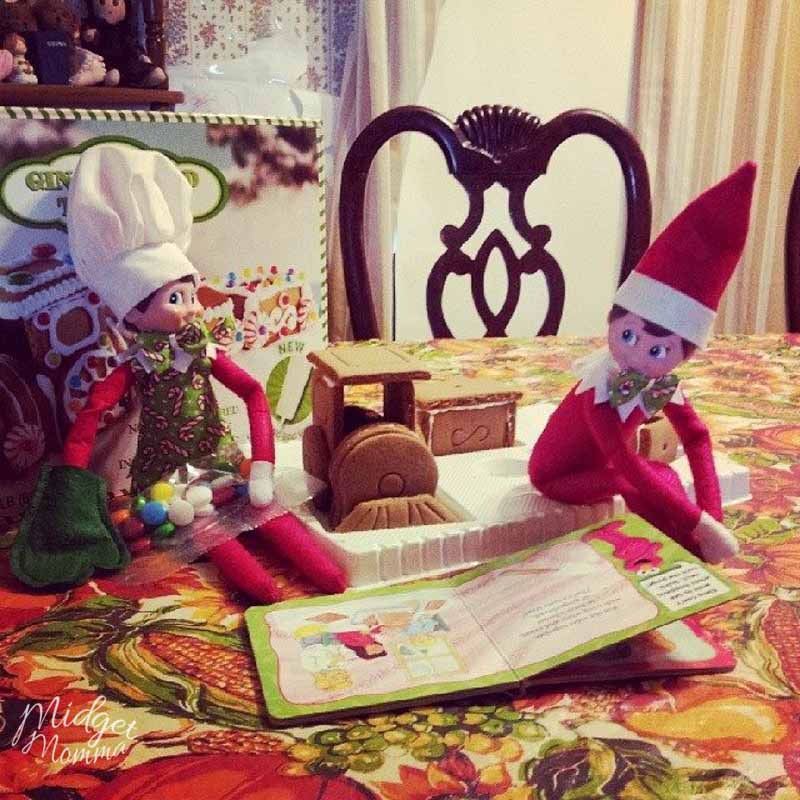 Elf Reads a Book
Grab a book and have elf read it. You can also add some extra to it by setting out other toys as if the elf is reading a book to the other toys.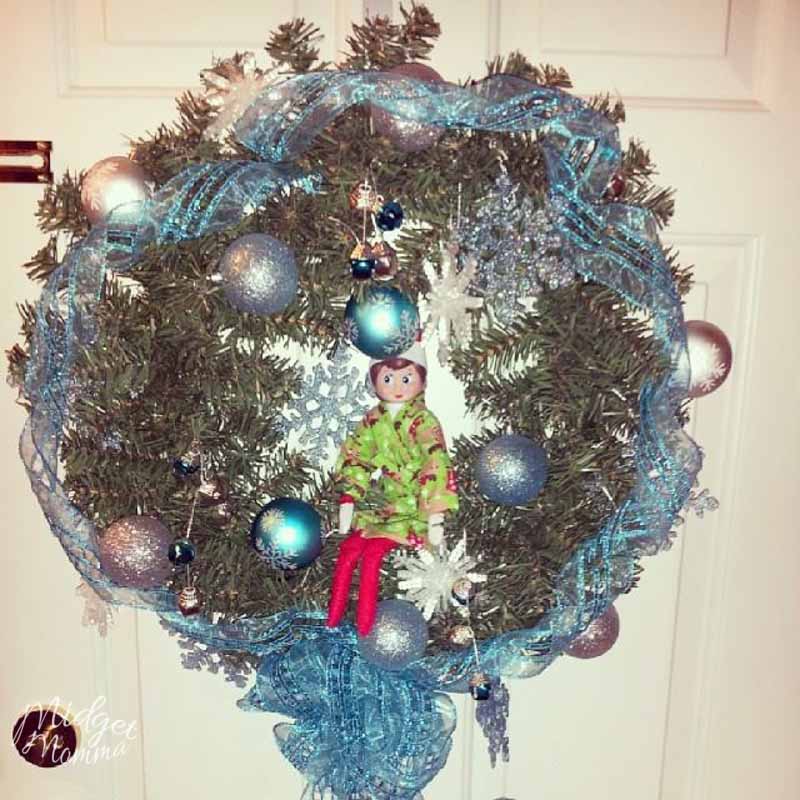 Easy Elf Hiding Places
Elf hiding places are the easiest way to have fun with the elf and there are many places in the house that are easy hiding spots.
In a glass in the cabinet
In the Media cabinet
In holiday decorations
In the Candy Jar
In the Cookie Jar
In the Mailbox
In the bathroom Cabinet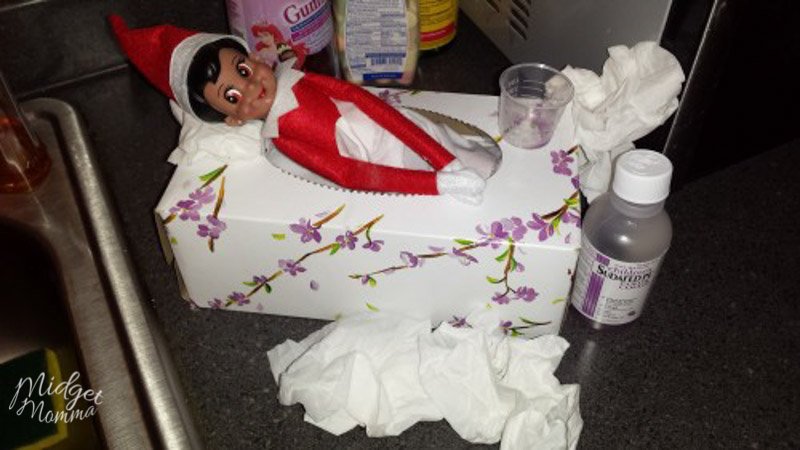 Elf gets a Cold
Grab some tissues and a some cold meds to leave out with the elf. Once elf is better you can have them come the next day with a healthy elf certificate, you can make your own or get the printable here.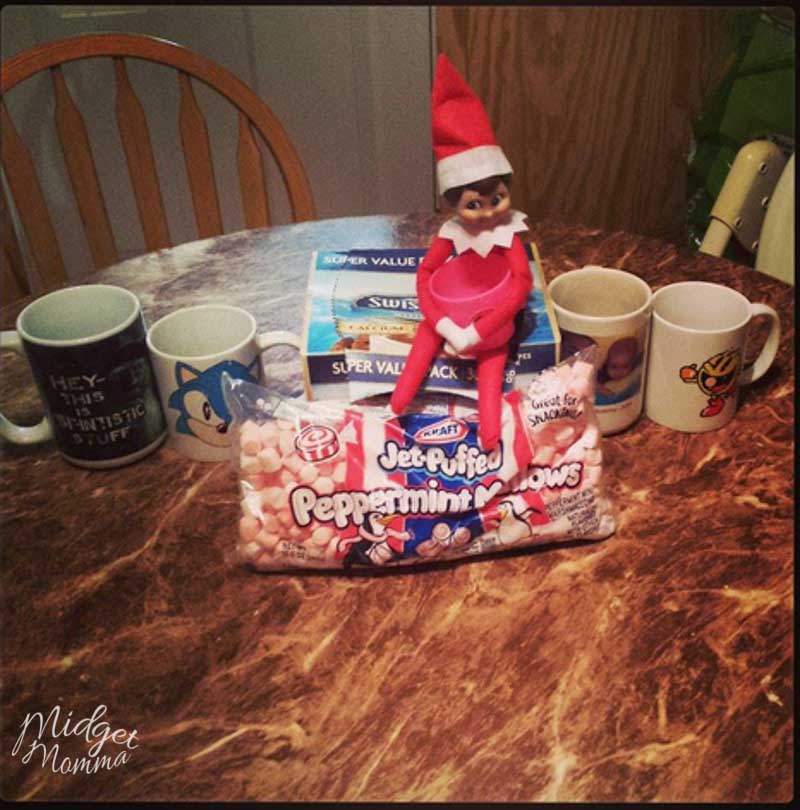 Hot Cocoa Day
Set out mugs and hot cocoa for the kids to enjoy. You can do this in many ways including store bought hot chocolate, homemade hot chocolate, Hot Chocolate Spoons and Hot Chocolate Bombs.
Looking for more hot chocolate ideas? Check these out!
More Elf on the Shelf Ideas
If this is the first time you are doing Elf on the Shelf and you are not sure on how to start. Check out how to get started doing Elf on the shelf. It is EASY to do and so much fun for both the parents and the kids!
Make sure you also grab the awesome Elf on the Shelf Letter or you can grab this Elf on the Shelf Arrival Letter printable. It makes welcoming the elf on the shelf super easy! And you are going to need the Elf on the Shelf Rules too!
if you are stuck on Elf Names, Check out this awesome list of 101 Elf on the shelf names! We have girl elf names and boy elf names!
Make sure you also check out Reasons your Elf Did not move… it might happen sometimes.
Elf on the Shelf Printables
More Holiday Fun For the Kids
You can Facetime Santa for a fun Santa Phone Call!
There are so many tasty Christmas treats that the kids will love and they are all perfect for any kids Christmas parties that you might have. Some of our favorite Christmas treats are Santa Hat Cupcakes and Whoville Cookies !
But you can check out the full list of Kid Friendly Christmas Treats and pick out your favorites to make with the kids!
If you are looking for cookie recipes we have you covered there too! Check out our Beautiful Christmas Sugar Cookies, and Christmas Tree Desserts Recipes!