So you forgot to move the elf and now you need a quick, easy and last minute elf on the shelf idea. Have no worries, the kids will love these easy Last minute Elf on the Shelf Ideas!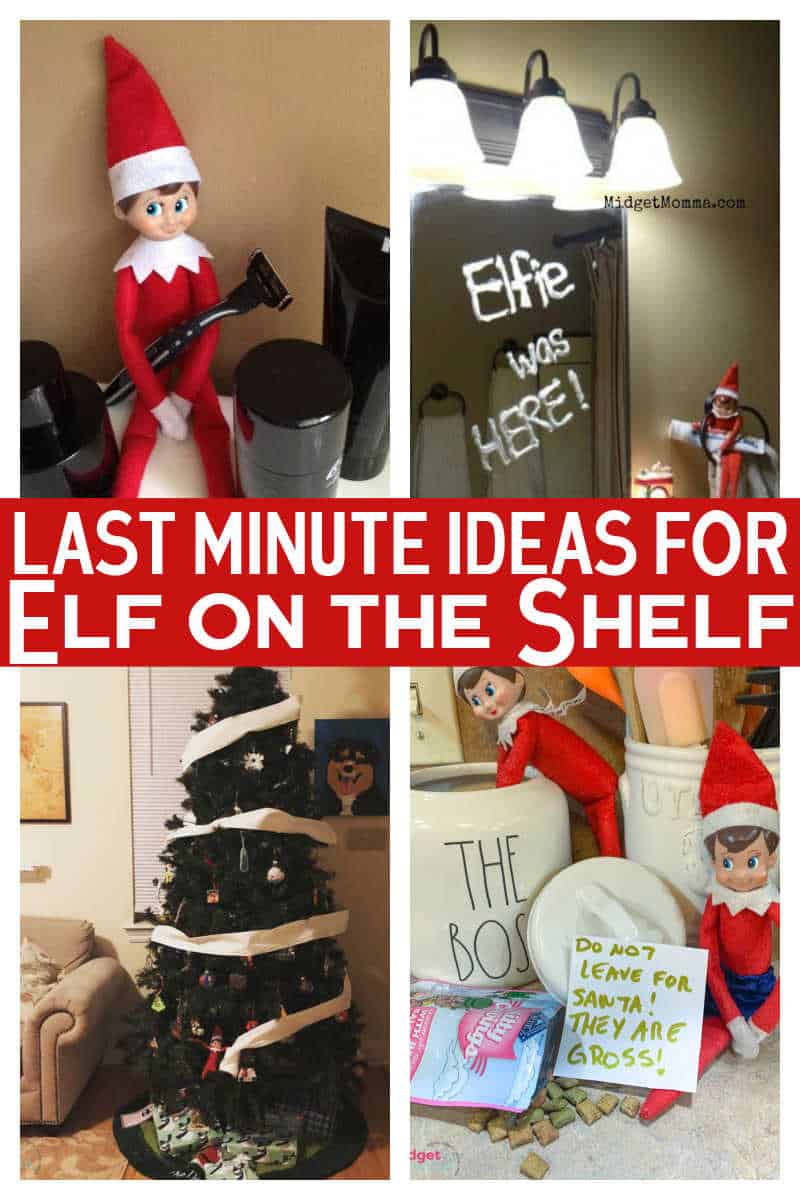 Last Minute Elf on the Shelf Ideas
All of these elf on the shelf ideas can be done in less then 5 minutes which is great for those middle of the night thoughts about forgetting or getting it done while the kids are getting dressed for the day.
As a mom of 4 there have been plenty of times that I fell asleep at night, then woke up in the morning saying "Crap I forgot to move the elf". While I could give the kids a reason the elf did not move however I try not to do that as much as possible. Even if it is the easiest fun elf on the shelf thing I I can do I much prefer that then giving an excuse for why the Elf did not move.
Looking for more Elf on the Shelf Ideas? Check these out!
5 Minutes or Less Elf on the Shelf Ideas
All of these ideas for elf on the Shelf will take you no more then 5 minutes to set up and then you can enjoy all the smiles from the kids when they find the elf.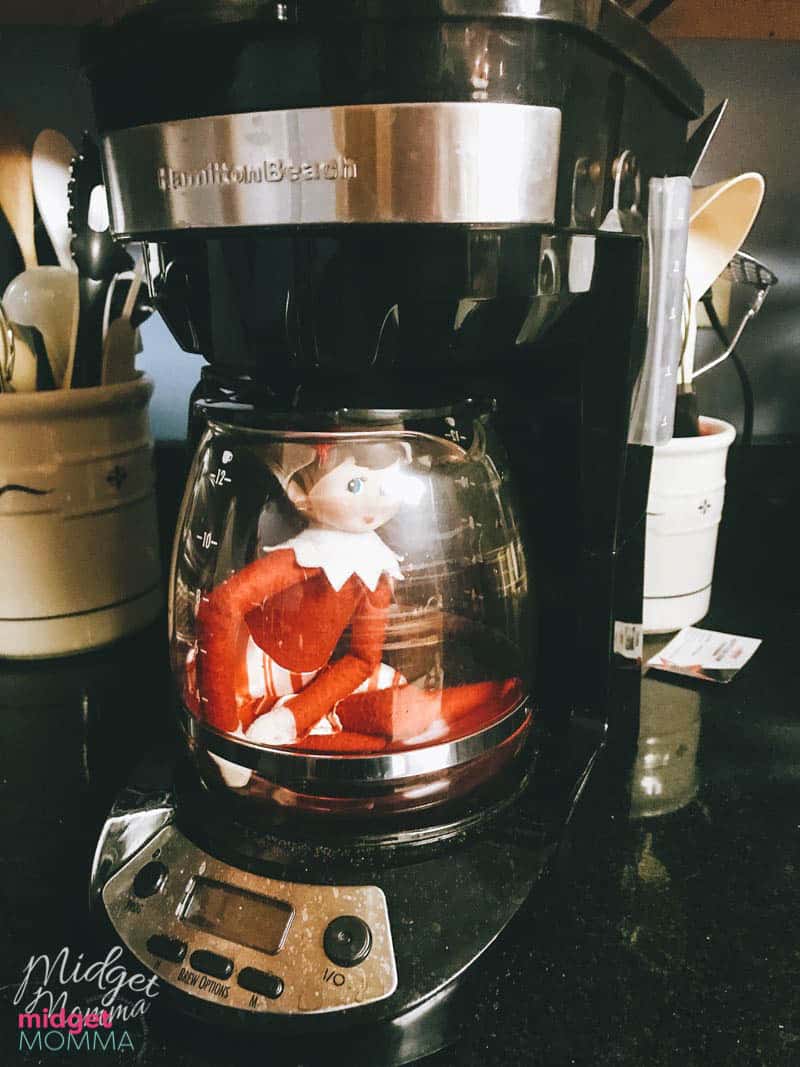 Elf in the Coffee Pot.
Use the Keurig and pop your little friend in the Coffee pot as a quick hiding spot!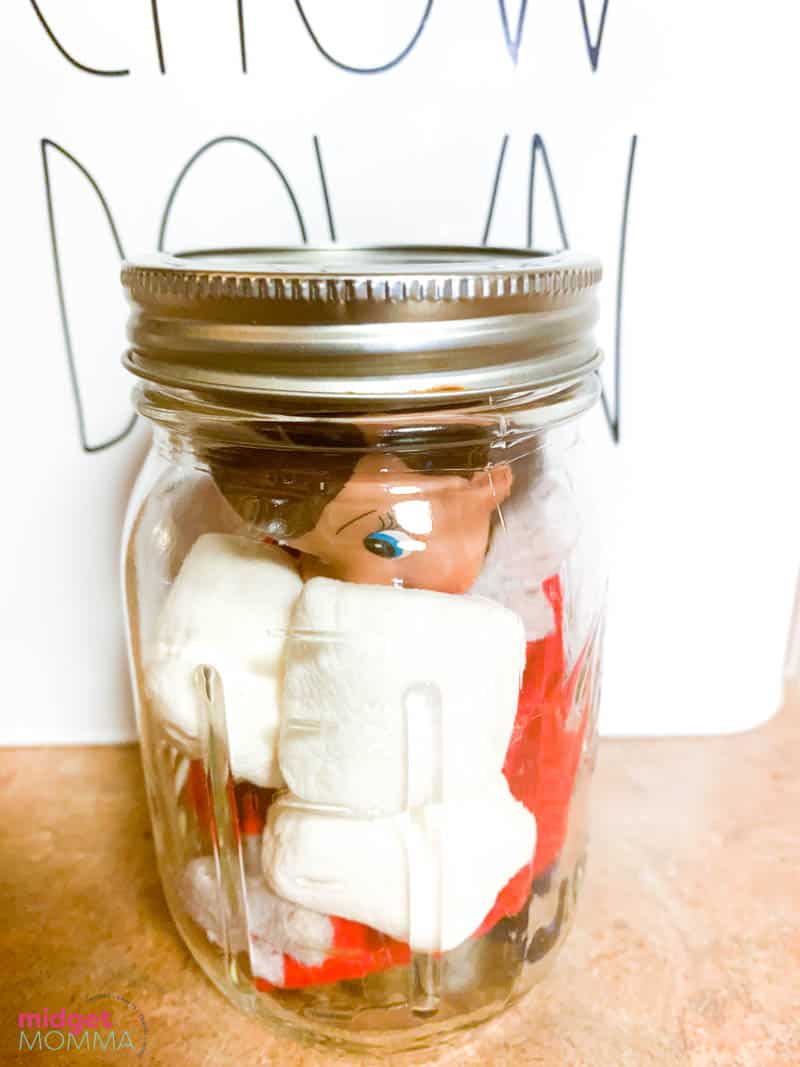 Hiding in a Jar.
Grab any jar you have on hand, I prefer to use a mason jar and stick the elf on in. If you want to take it the next step add something like marshmallows so it looks like he is hiding.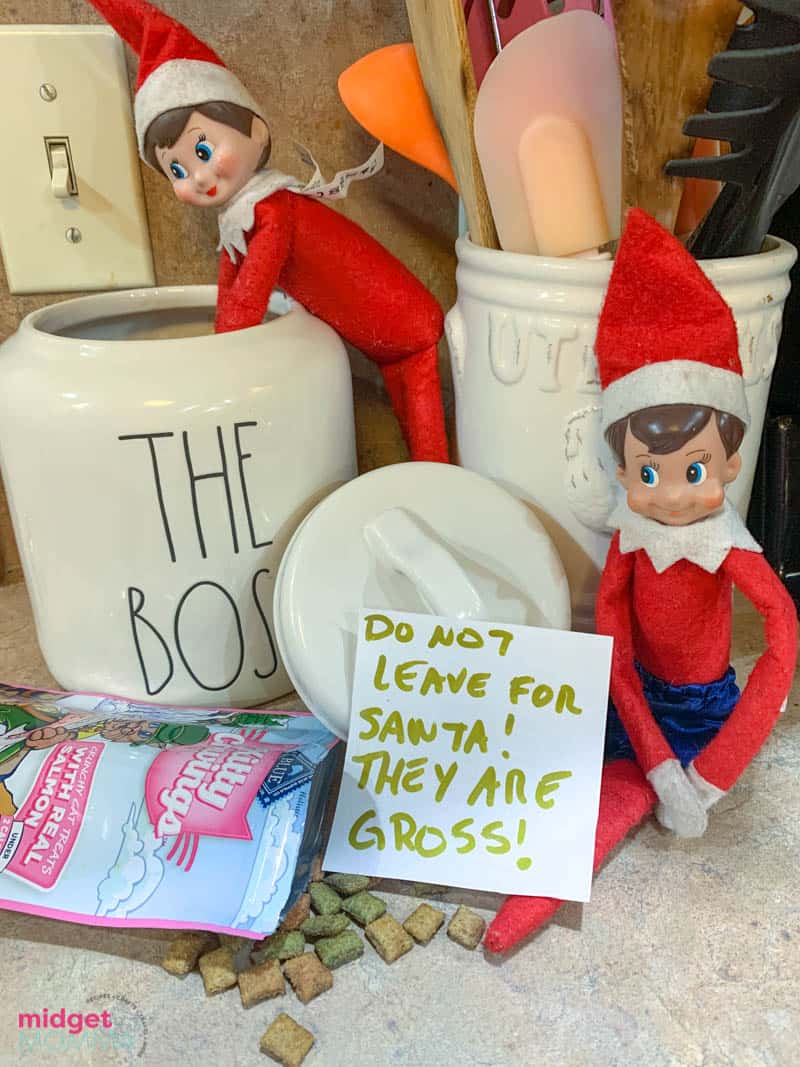 Last Minute Elf on the Shelf Idea – Elf tastes dog or cat treats.
Grab the cat treats or animal treats and leave a quick note about how gross they are.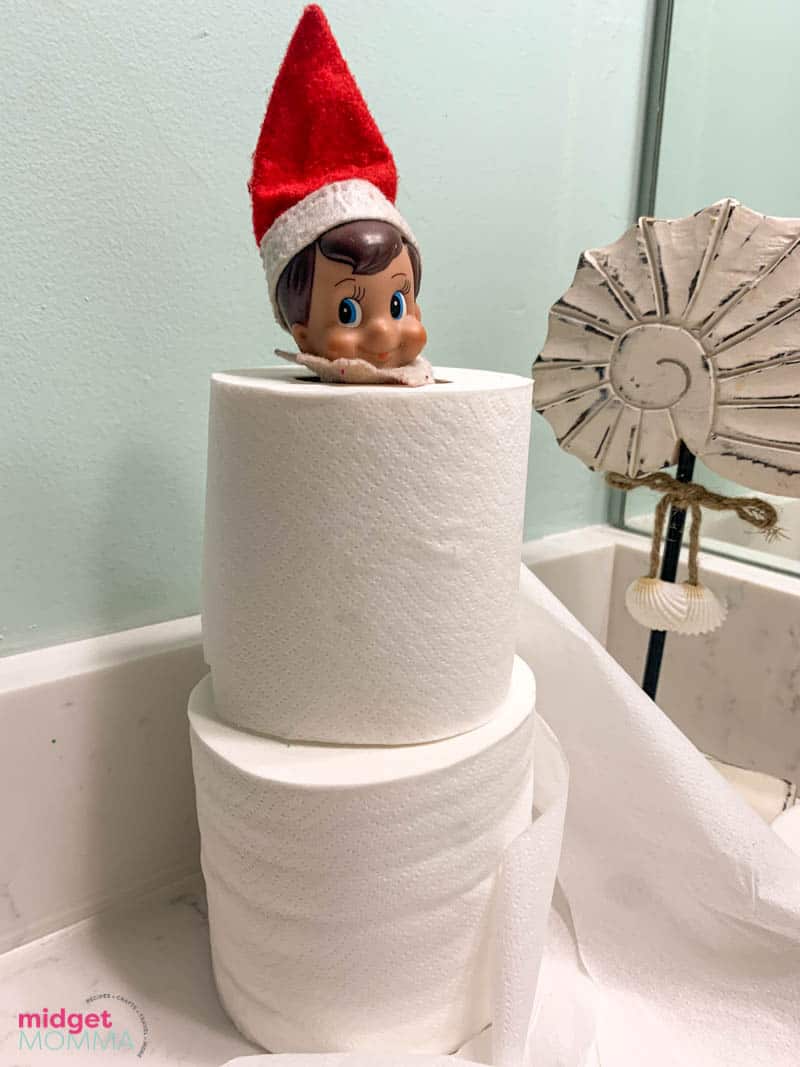 Stuck in toilet paper.
Grab some toilet paper rolls and stick him or her in, then just leave them in the bathroom for the kids to find.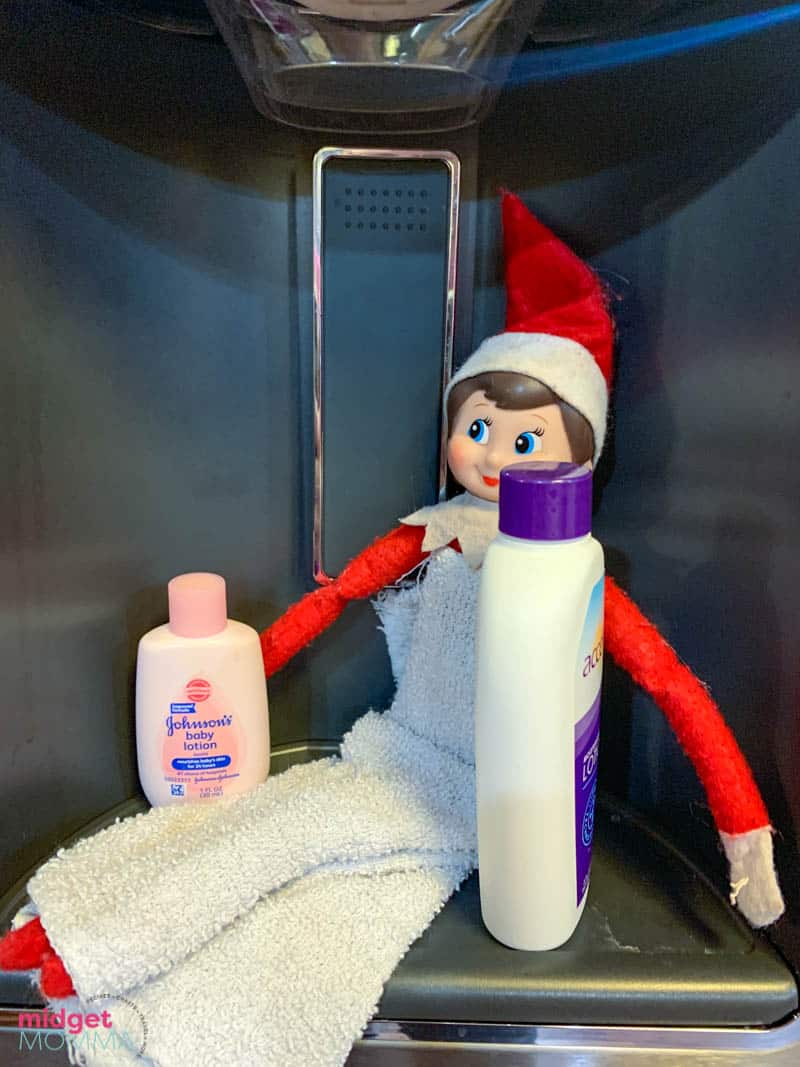 Shower with the Fridge Water Dispenser.
Grab a towel and wrap the elf up add some soap and they are having an elf shower (in the kitchen).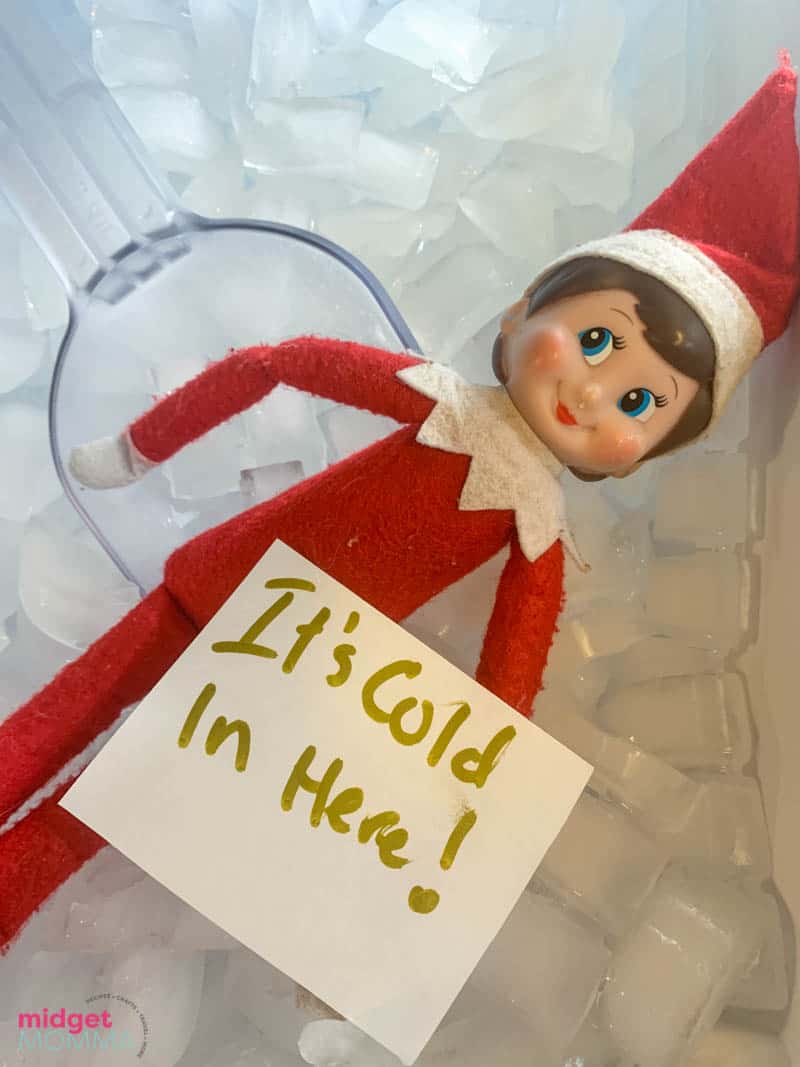 Last Minute Elf on the Shelf Idea – Elf in the Ice tray.
It's freezing in here! Plop him or her in the freezer, in an ice cube tray or in the ice drawer with a little note.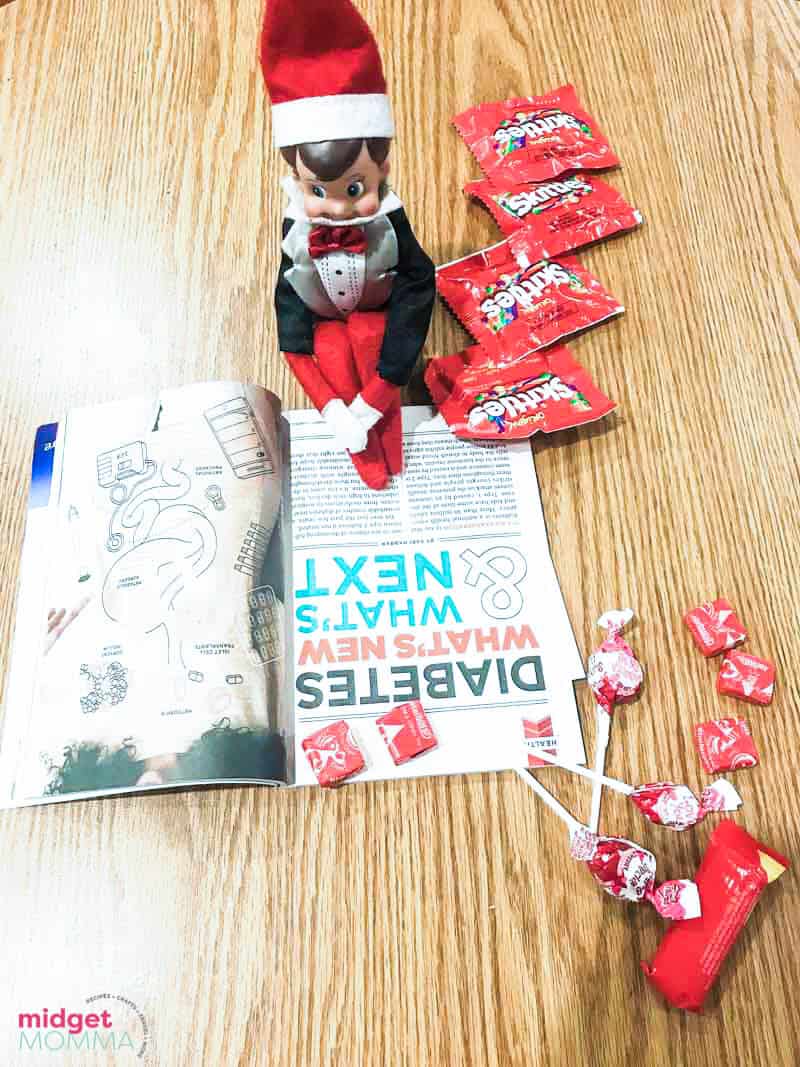 Reading a Magazine.
This one can be done with a book, newspaper or a magazine. Set them up to be reading and add an extra touch with a handful of candy.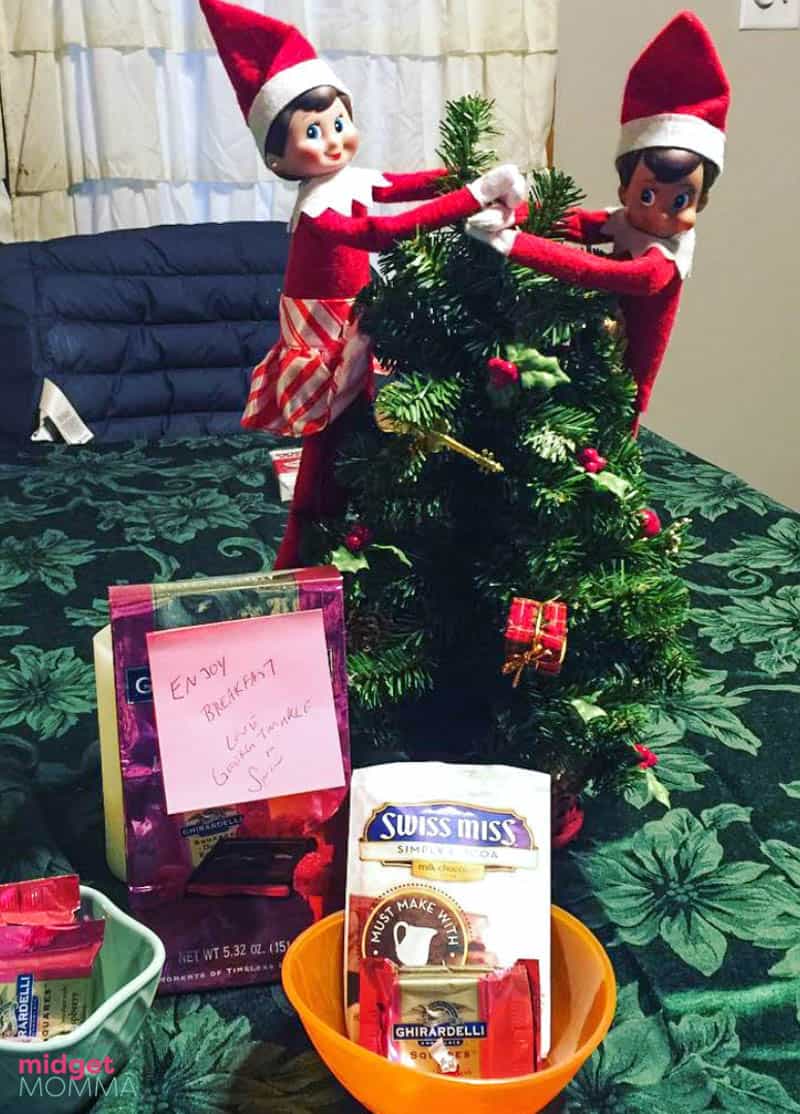 Elf Brings Breakfast
This one can be a variety of things and you can make it as easy as a few packets of hot cocoa and some chocolate.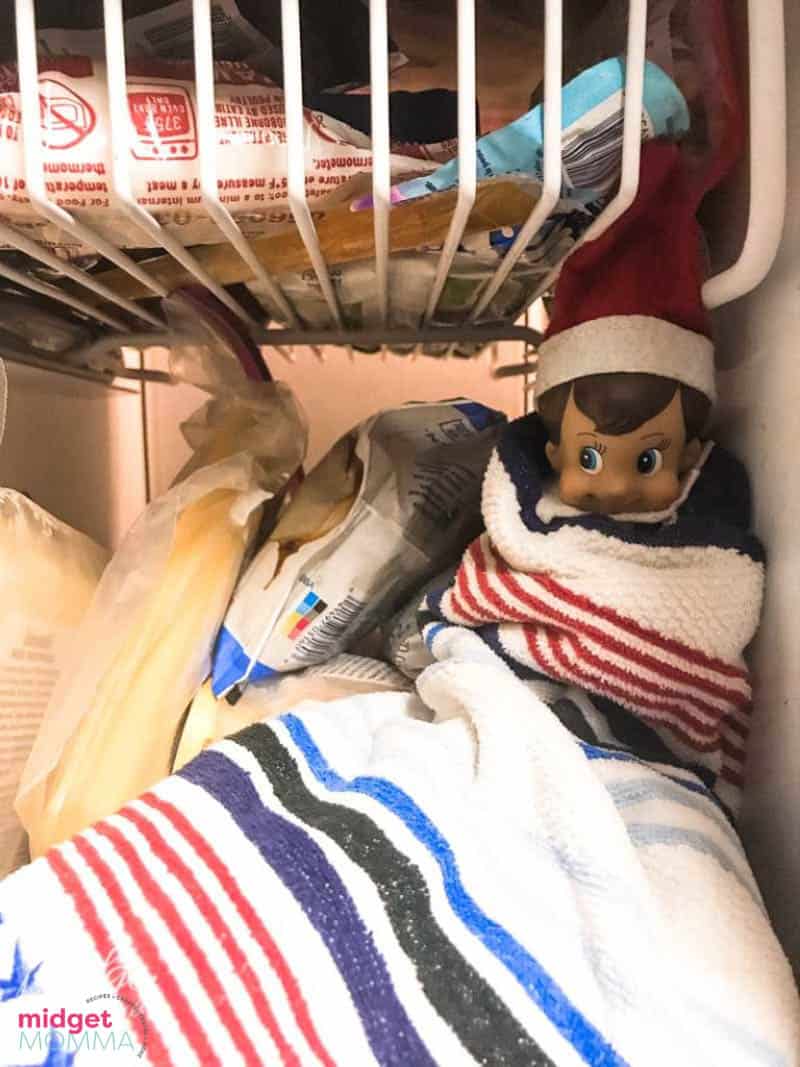 Brr! It's Cold in here!
Wrap the elf in a washcloth and pop them in the fridge or freezer.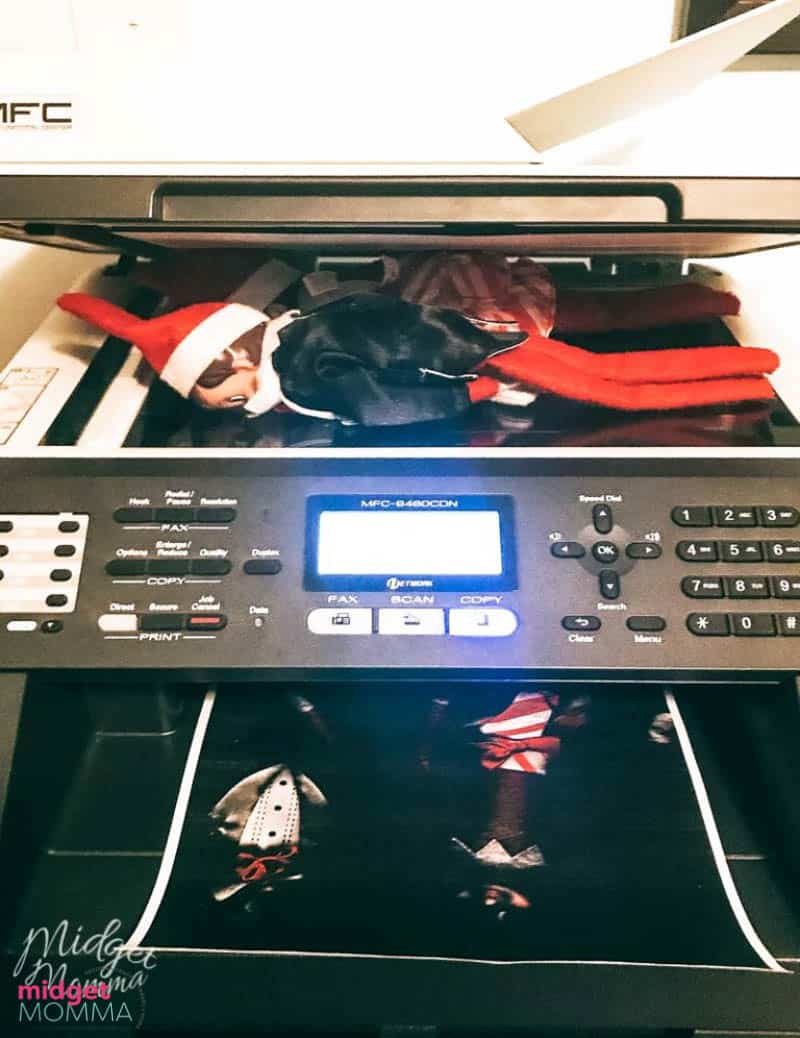 Last Minute Elf on the Shelf Idea – Fun with the Photocopier
Pop the elves or elf on top of the photocopier and have them make a copy of themselves for the kids to find!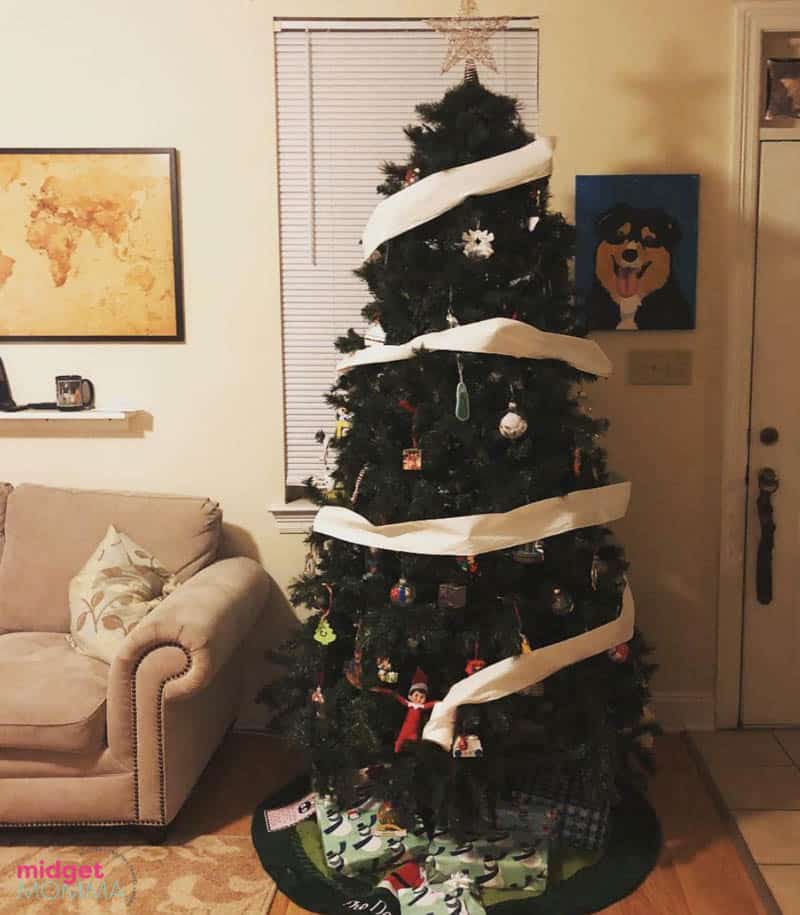 Time to Decorate the Tree.
A little bit of toilet paper is all you need for this one. If you don't want to use toilet paper, tissues, articles of clothing (especially underwear if you have a prankster elf) are perfect silly decorations for the tree.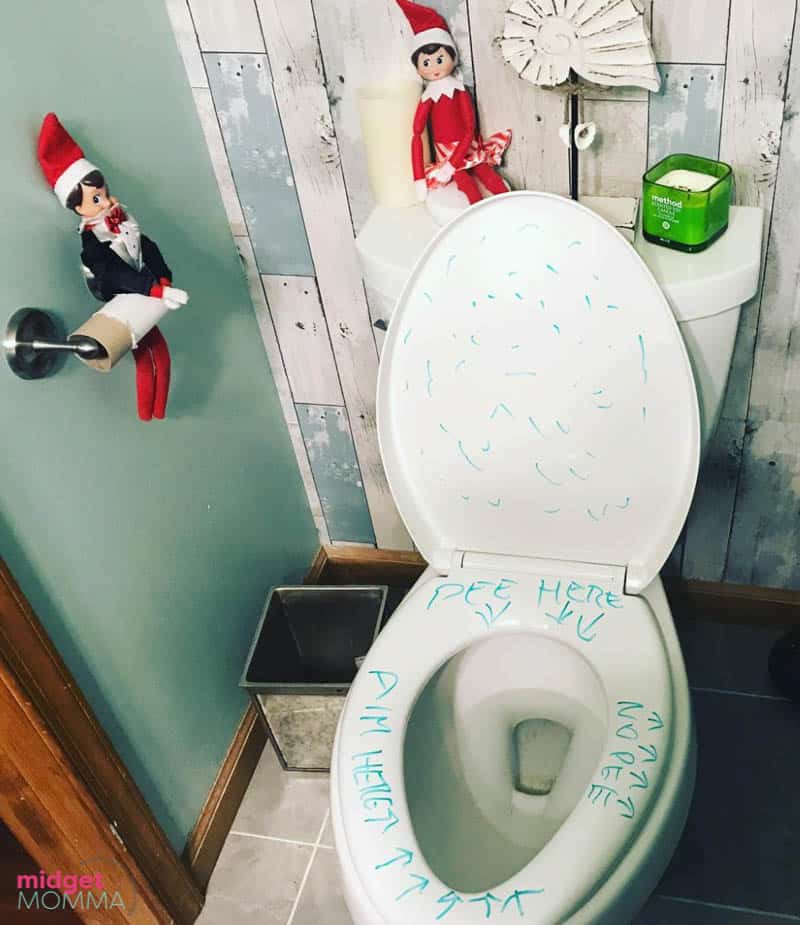 Silly comments in the bathroom!
Have kids who miss with their "aim"? Let the elves tell them. You can also add a few drop of green food coloring to the water to make it look like the elf used the potty.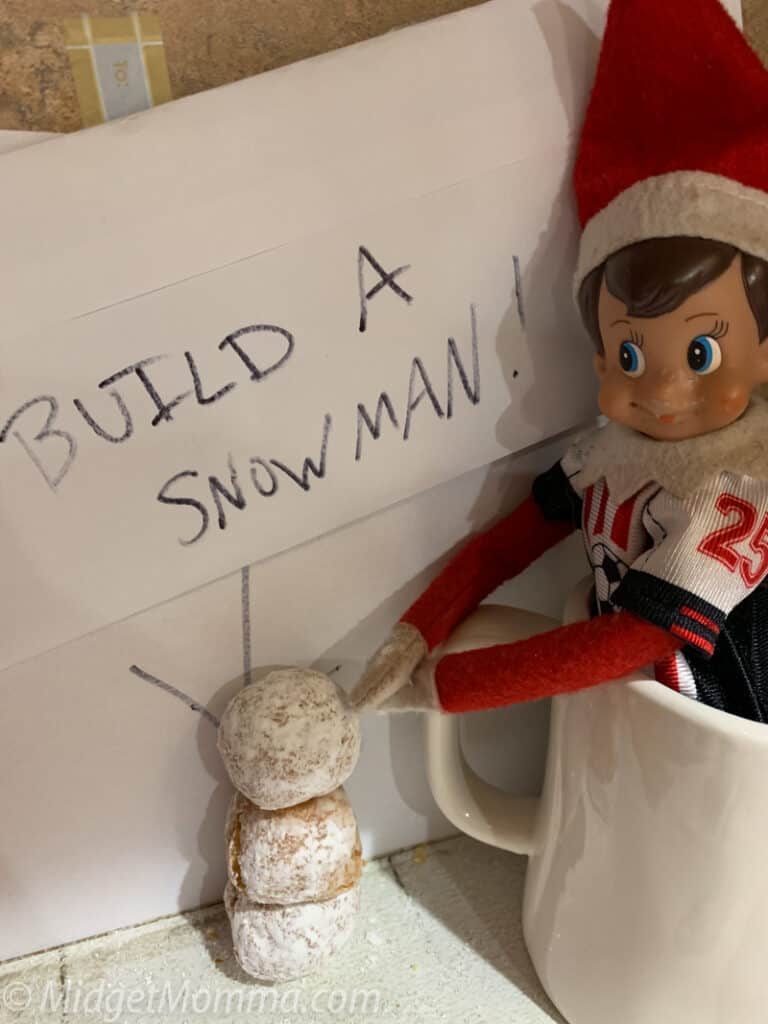 Build a Snowman
Use donuts, donut holes or marshmallows and build a fun and easy snowman! You can go in depth more if you want to, but you want and need it to be quick this works great!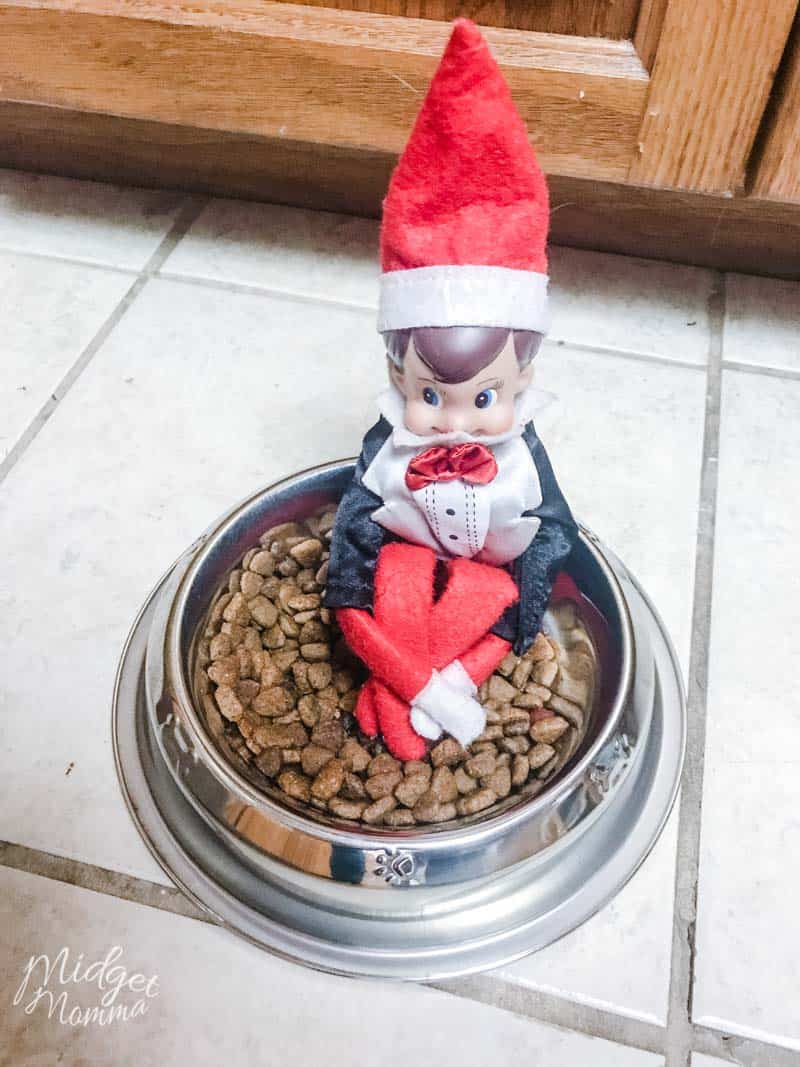 Make a mess with Pet food.
You can use cat food, dog food or any pet food and have the elf just hang out in the pet food bowl or make a mess with it.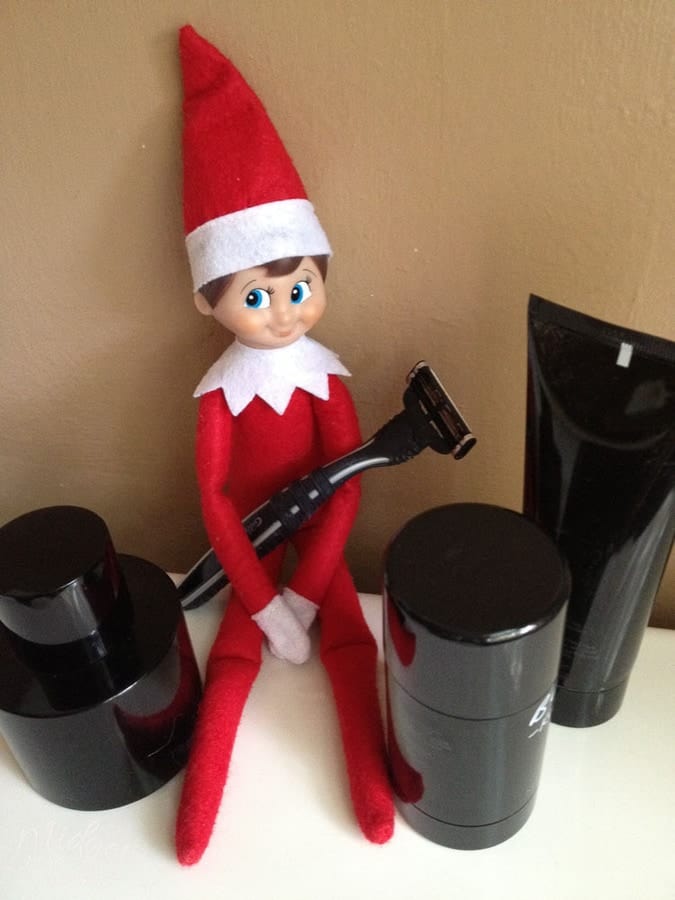 Elf Shaving
Grab Dad's razor, place the elf on the bathroom counter and he is a shaving elf and your work is done!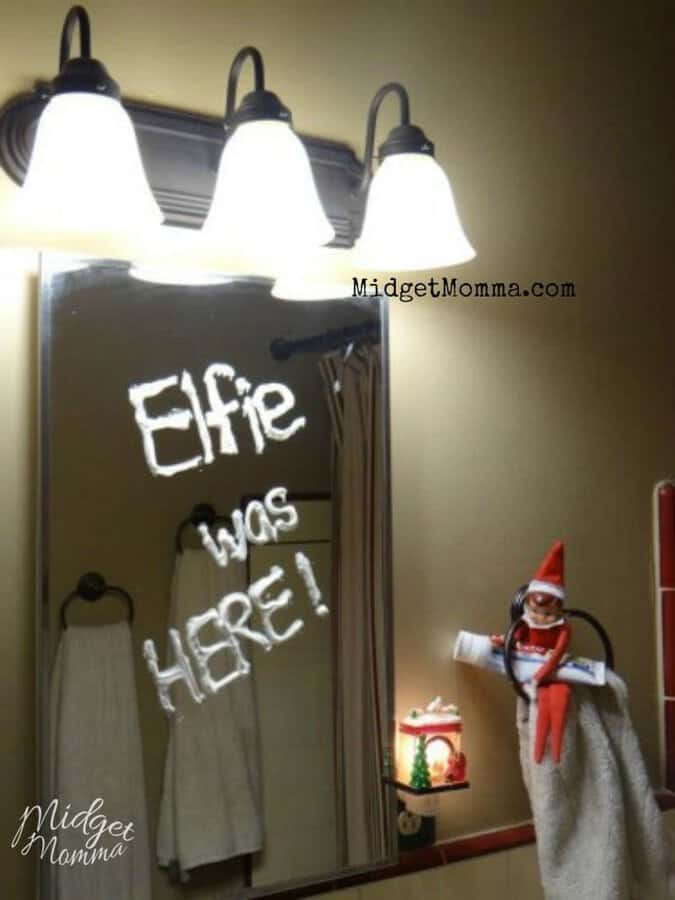 Elf Doodles
Use toothpaste, shaving cream or a a dry erase marker and write a short note to the kids from the elf.
Elf on the Shelf Printables
More Holiday fun to check out!
You can have a lot of fun calling Santa with Santa's Phone number and it is FREE!
When does Elf on the Shelf come? And everything else you need to know about the Elf on the Shelf!
Elf on the Shelf Letter – Perfect Elf on the shelf printable letter that you can print out and have your elf on the shelf bring with him or her when he comes to visit! Plus this Elf on the Shelf Rules printable is awesome to print out and hang on the wall for the kids!
You should also check out these funny elf on the shelf ideas! There are over 135 Elf on the shelf Ideas that kids will love! If you are running short on time, then make sure you check out this list of Quick Elf on the Shelf ideas!
You can have a lot of fun calling Santa with Santa's Phone number and it is FREE!
Make sure you also check out Reasons your Elf Did not move… it might happen sometimes
if you are stuck on Elf Names, Check out this awesome list of 110 Elf on the shelf names! We have girl elf on the shelf names and boy elf on the shelf names!
There are so many tasty christmas treats that the kids will love and they are all perfect for any kids Christmas parties that you might have. Some of our favorite Christmas treats are Santa Hat Cupcakes and Whoville Cookies ! But you can check out the full list of Kid Friendly Christmas Treats and pick out your favorites to make with the kids!
If you are looking for cookie recipes we have you covered there too! Check out our Beautiful Christmas Sugar Cookies, 12 Days of Christmas Cookies, The Best Christmas Cookies Recipes, and Christmas Tree Desserts Recipes!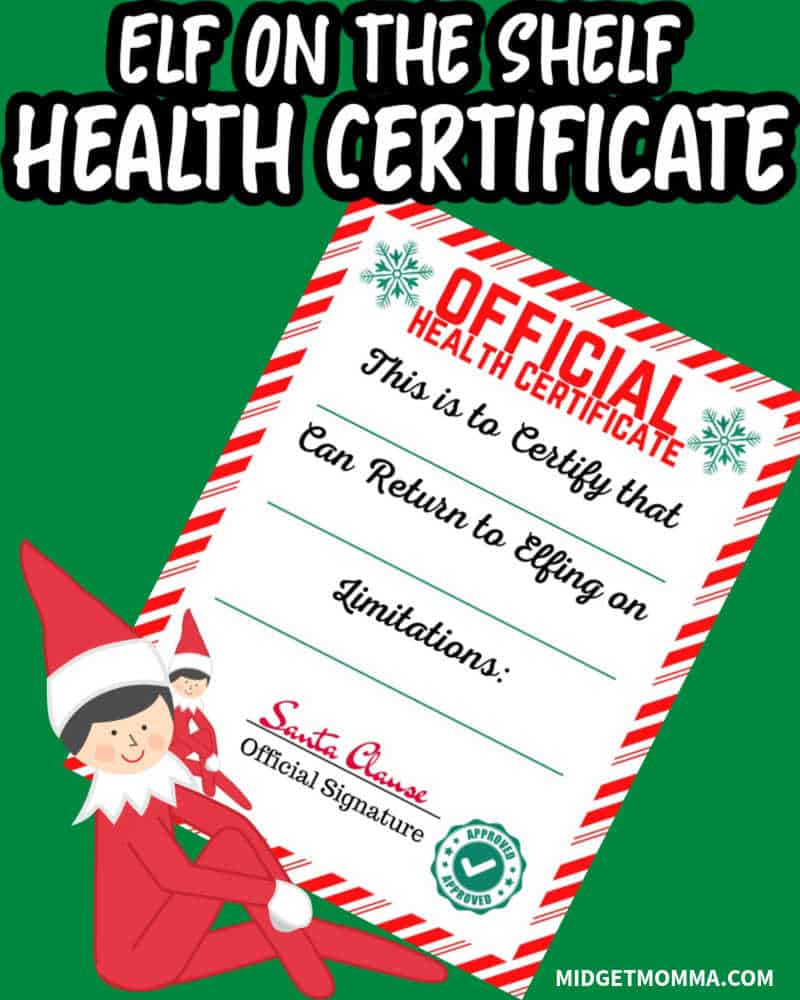 New for this year! Elf on the Shelf Heath Certificate! Grab it to show your Elf has a clean bill of health! Grab yours Here.