Last Minute Elf on the Shelf Ideas. If you are short on time and need to get the elf fun started then you are going to love these Quick and Easy Elf on the Shelf Ideas! Done in less than 5 minutes, you can have the Elf ready to go for the kids to enjoy when they wake up!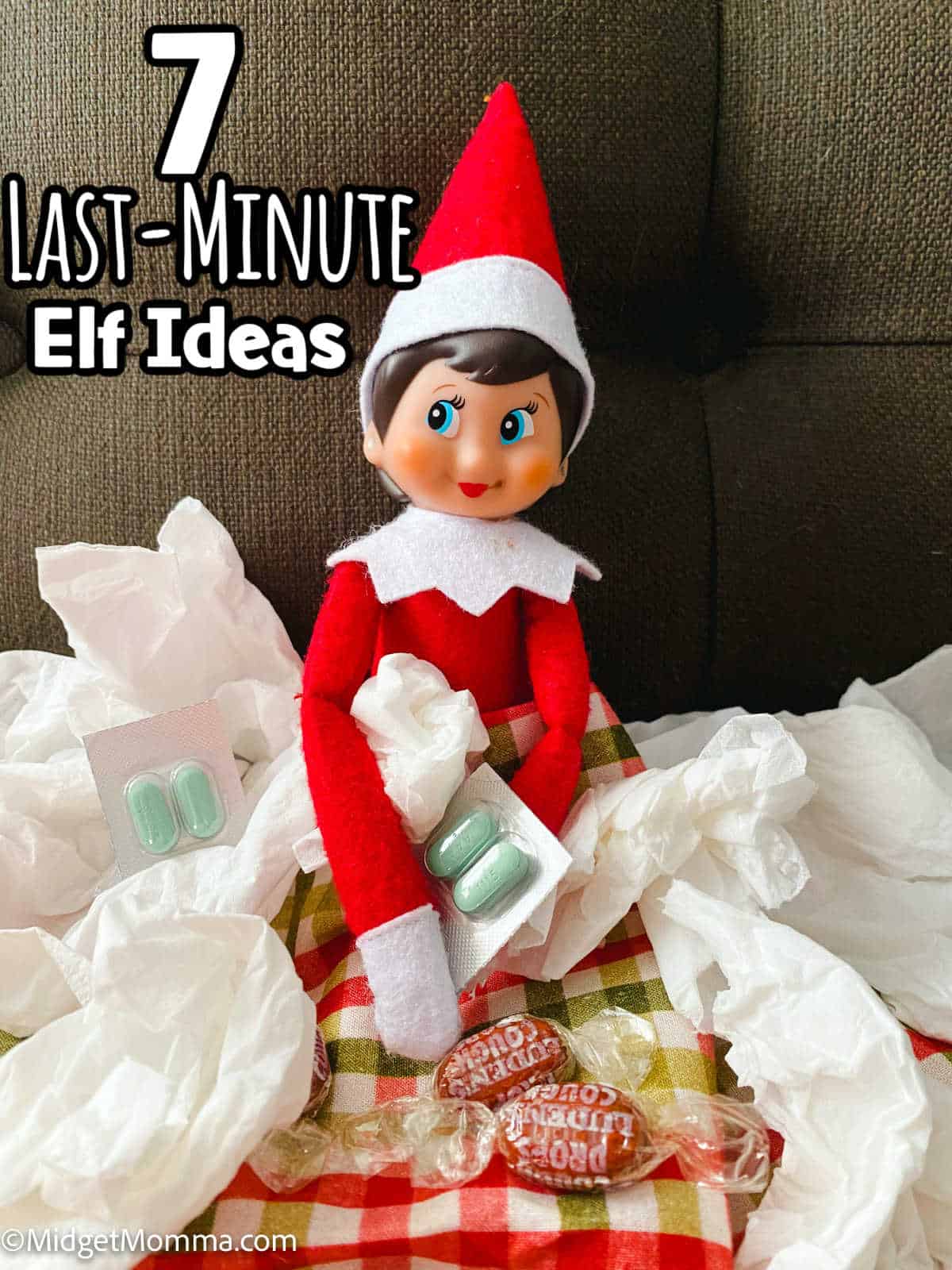 Last Minute Elf on the Shelf Ideas that Require Minimum Effort
The elf on the shelf is one of those things that is loved by children and can send fear into the parents. After all, while it can be completely magical for a child, it can cause a lot of stress and extra pressure on parents that perhaps they don't need. Especially at one of the busiest times of the year.
However, many parents endure the elf on the shelf purely to see the delight in their children's faces each day, after all, it is the magic that makes Christmas time with children, isn't it? But not all of us have the time for elaborate setups and lots of mischiefs.
So here are some Last Minute Elf on the Shelf Ideas that Require Minimum Effort that the kids will love and you can get done quickly.
What is Elf on the Shelf?
Year after year, children and adults alike are baffled by the mystery of how Santa really knows who's been naughty or nice. After much urging by the elves and Mrs. Claus, Santa has allowed his biggest secret to be revealed in The Elf on the Shelf: A Christmas Tradition. At the start of each Christmas season, the elf appears to serve as Santa's eyes and ears, traveling back to the North Pole each and every night to make a detailed report of the day's activities. Children can register their elf online to receive an official adoption certificate and a special letter from Santa.
Still need more Elf ideas? Check these out!
Decorating the house, rooms and toys
A great idea is to get the elf decorating. There are so many different ways that you can get fun decorating done in the house that will make the kids love the fun the elf did. From toilet paper, to wrapping paper, tinsel or streamers the possibilities are endless and super easy.
You can get a few of your child's favorite toys and get the elf to decorate them. You could use tinsel, string, Christmas wrapping paper, and bows. Whatever you have to hand. Set up the toys and the elf with the decorations anywhere in the room, but a great spot could be under the Christmas tree. If you want to add a level of mischief to this quick set up then maybe hang the toys from the light with tinsel or ribbon.
You can also have the elf decorate the house or the tree in a silly manner with the kids clothing, underwear or with toilet paper.
Decorating the bathroom with some tinsel or any other room in the house is another great easy option.
Hang streamers from the fans all around the house.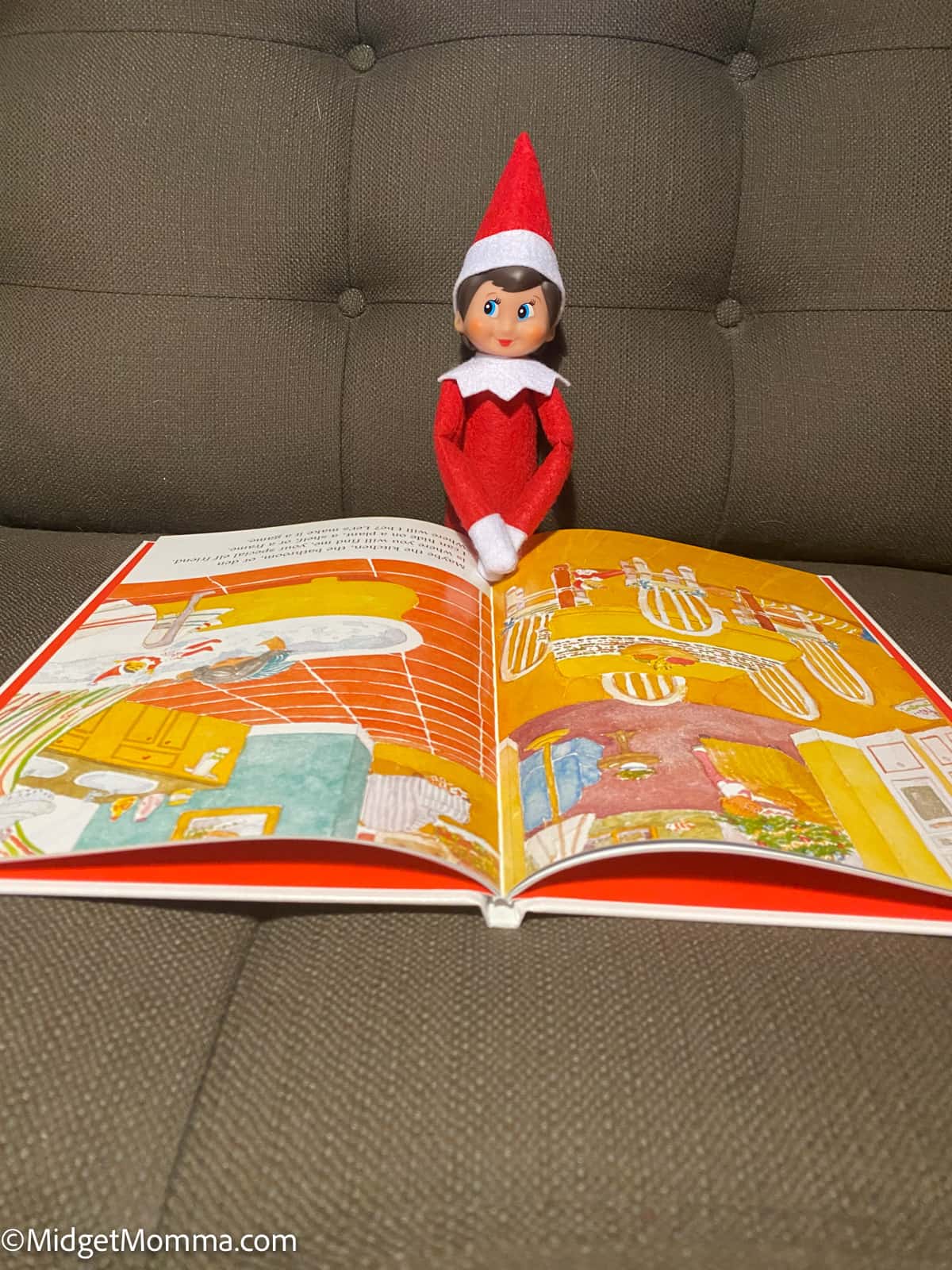 Reading a book
One of the simplest ideas you could try, but one your children will love is to set up the elf with a reading book. You could use your child's school book or one of their favorites from their bedroom. They could be sat reading the book in a corner of the room, or add a few toys in front of the elf so it looks like the elf is reading to them. Another great one would be to set the elf up with your child's schoolwork or homework. Perhaps writing an answer down on a piece of paper.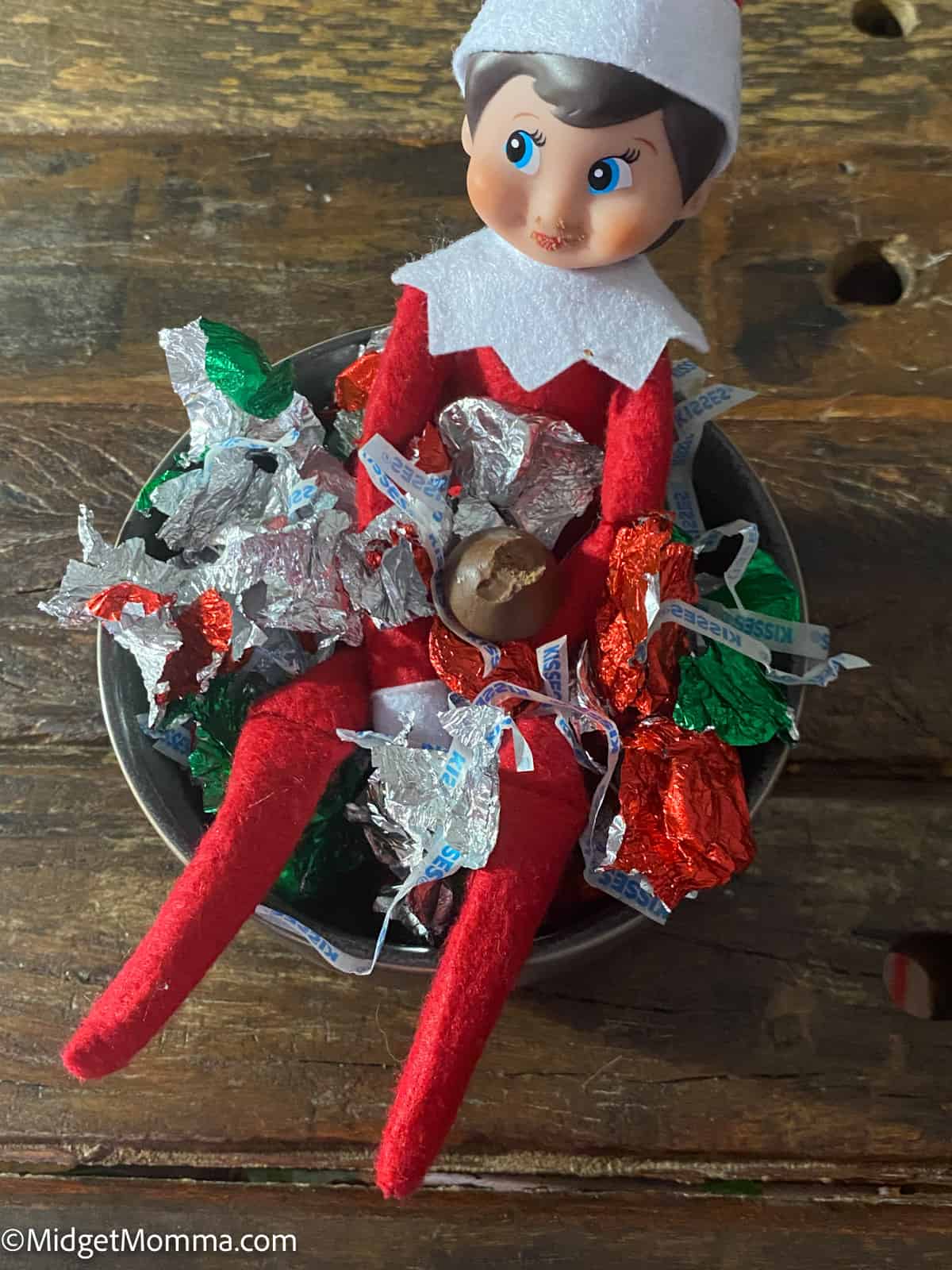 Eating all of the Christmas candy
Sometimes you don't have time even for the simplest of setups, and that's ok, so place the elf in a box of candy or amongst some wrappers from chocolates. If you can, smear a little chocolate on the face. This is a mischievous setup but also so quick to do if you have run out of time or even forgotten in the morning.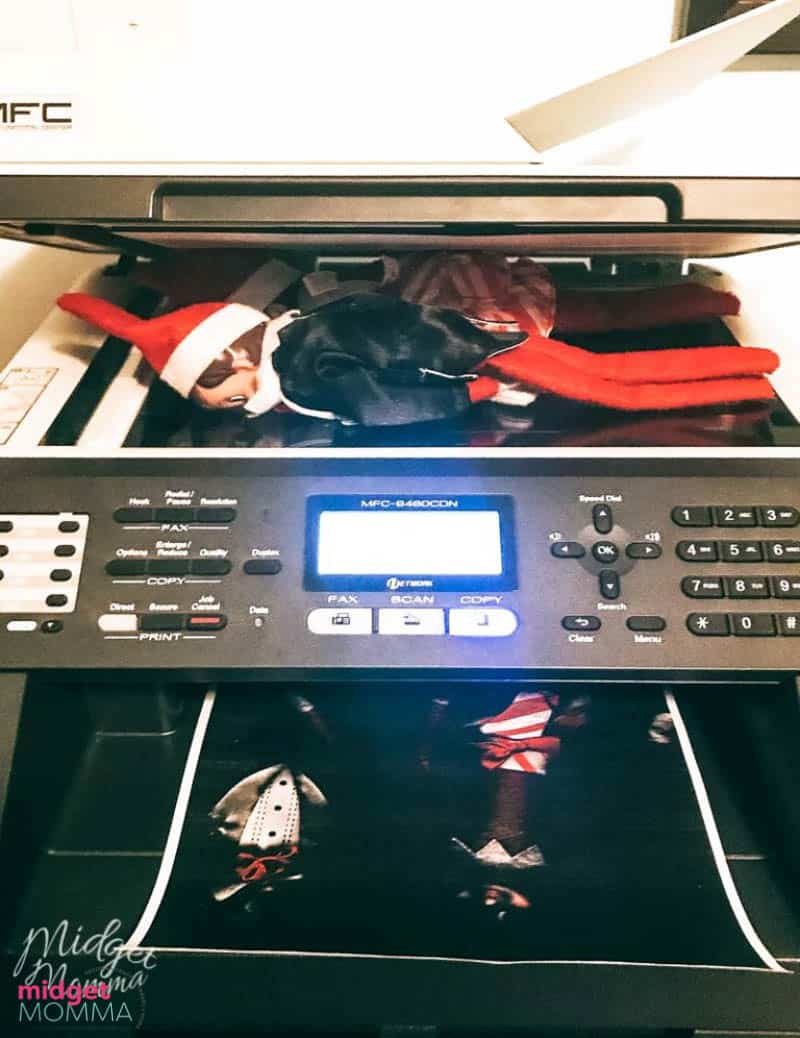 Taking "Elfies"
This is a great one to try if you have run out of ideas. Get your phone or iPad and take a few snaps as if the elf was taking a selfie. You can then show your child in the morning and say you have found them on the device. Another step to this would be to take snaps of the elf next to your child in bed. If they are deep sleepers this could be a funny one to try. You could even print some of these pictures out the night before and leave them scattered around the bedroom or lounge space.
You can also go the way of having the elf make photocopies of themselves, if you do not have a camera to use.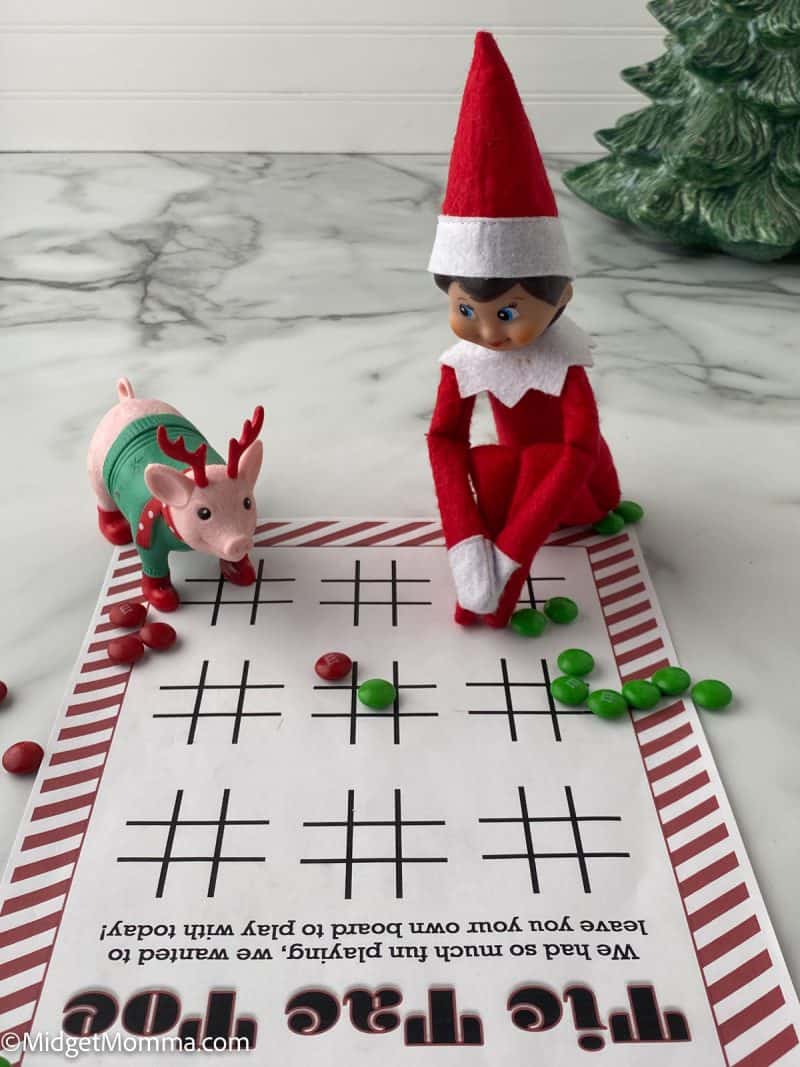 The elf wants to play
One that requires minimal effort is to get a few of your child's favorite toys out and then leave the elf sitting amongst them as if they are playing. Add a little note saying that they want to play and you have a quick and easy setup your kids will love.
You can grab game printables like the Elf Tic Tac Toe, or you can have them playing a card game or any other game to make this a quick and under 5 minute elf idea.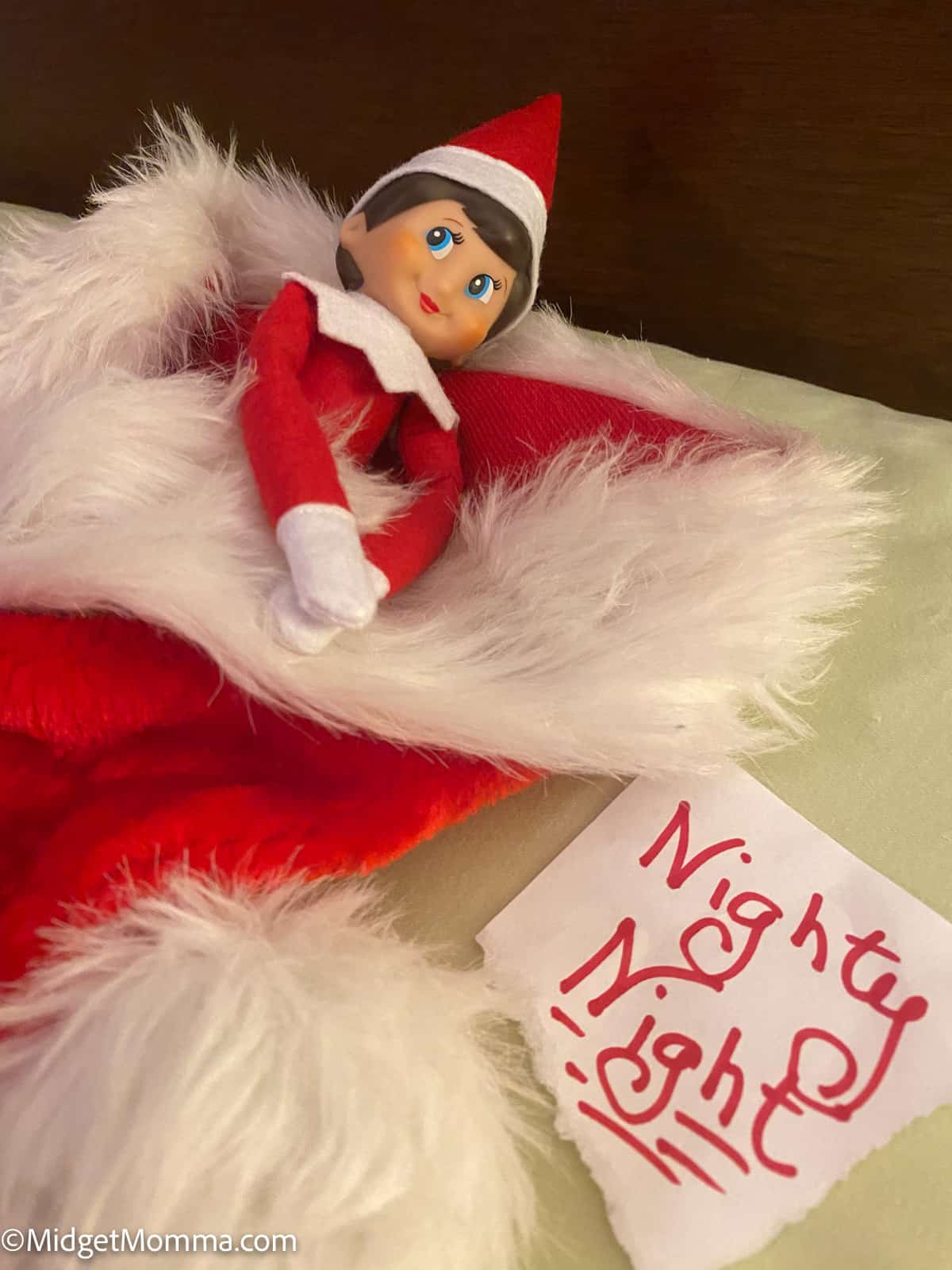 An elf nap
Sometimes you just want to get to bed yourself, so set the elf up as if they are taking a nap. Place them in a box of tissues, put them in your pet's bed, or even in a spare bedroom if you have one. It is so simple, but in the morning you could ask your child to find them. It will keep them guessing.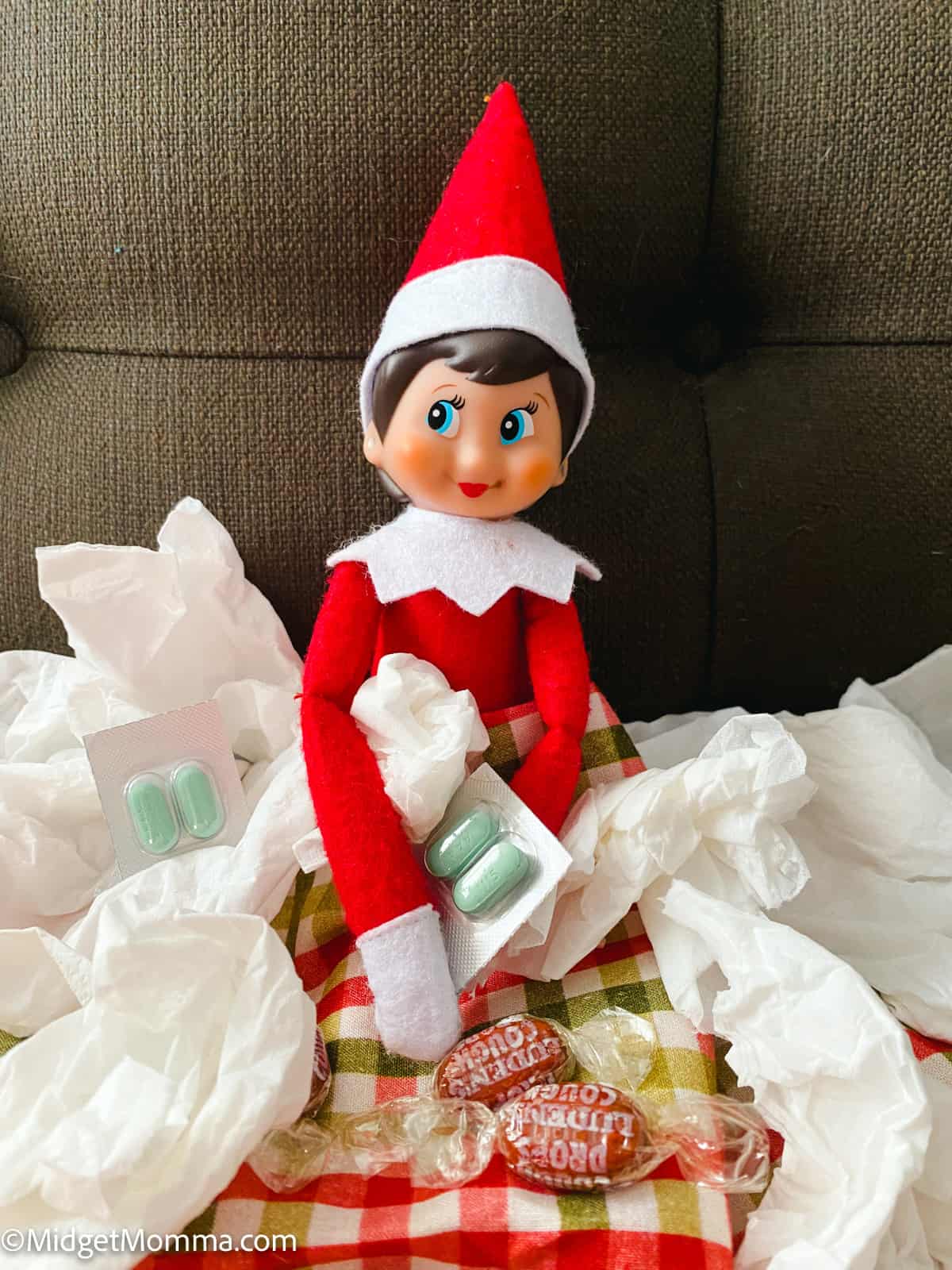 Having a sick day
A box of tissues, some medicine and a napping elf will make this elf on the shelf idea quick and easy to do. It also makes for a great set up for the next day, when you can have the elf bring a certificate saying they are healthy.
Hopefully, this has given you plenty of ideas for quick and easy elf on the shelf setups that require minimum effort.
Elf on the Shelf Printables
More Christmas Fun for Kids
You can Facetime Santa for a fun Santa Phone Call!
There are so many tasty Christmas treats that the kids will love and they are all perfect for any kids Christmas parties that you might have. Some of our favorite Christmas treats are Santa Hat Cupcakes and Whoville Cookies !
But you can check out the full list of Kid Friendly Christmas Treats and pick out your favorites to make with the kids!
If you are looking for cookie recipes we have you covered there too! Check out our Beautiful Christmas Sugar Cookies, and Christmas Tree Desserts Recipes!
If you want to have even more fun you can get Personalized Text Messages each day from Santa!
If you are looking for a totally fun activity to do with the kids, reindeer poop slime is always a BIG hit!