This week the kids were getting the homemade slime recipe creating on. They came up with this totally gross looking Easy Reindeer Poop Homemade Slime. This Easy Reindeer poop slime is nice and stretchy! It looks just like reindeer poop as the kids do their slime swirls. Yes, totally gross I know!
Personally I think this homemade slime recipe looks gross, but the kids seem to think it is the coolest thing ever. I shouldn't be surprised really, for some reason kids like gross things! They were quite proud of their slime creation when they showed it to me and told me that all kids will love it!
If you are looking for how to make reindeer poop then you are in luck! You can make this Christmas slime and you can also make Reindeer poop Christmas cookies ! They are always a hit each year and so is this gross reindeer poop slime! It fits right in with kids!
Looking for more Christmas fun?
Check out our Glittery Christmas Fluffy Slime and the Sparkly Homemade Playdough!
We also have a lot of fun making DIY Christmas ornaments like this Santa Hand Print Ornament!
If you plan on making a lot of slime, I highly suggest buying a gallon of the clear glue. It is a lot cheaper then buying the little bottles.
Easy Reindeer Poop Homemade Slime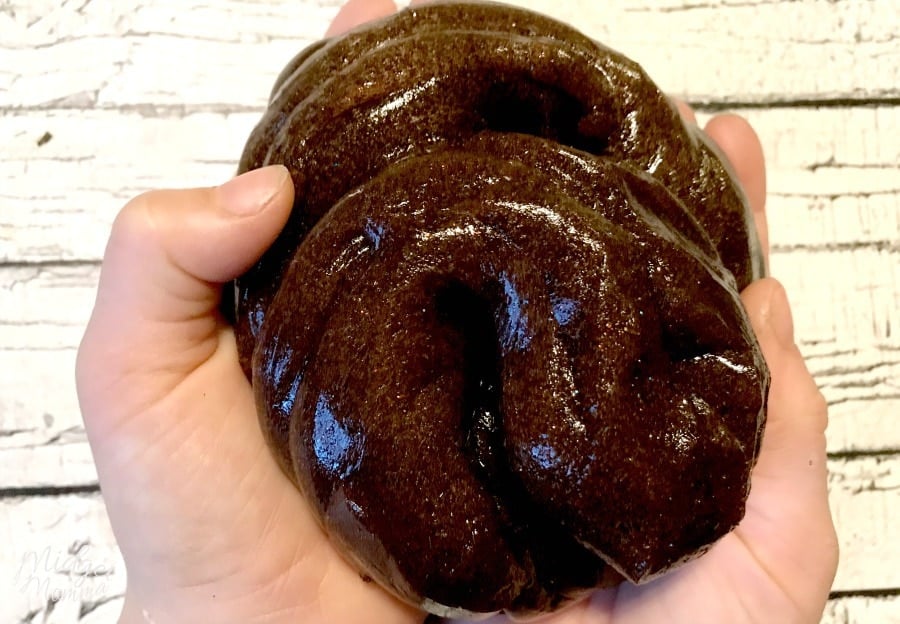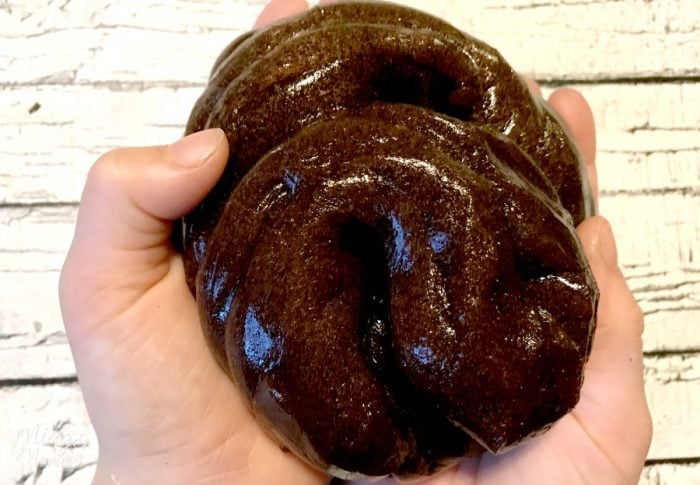 Easy Reindeer Poop Slime Ingredients:
1 cup clear glue
1/4 cup water
1 teaspoon baking soda
1/2 tablespoon Saline Solution
Red food coloring
Green Food Coloring
Glitter (Optional)
Reindeer Poop Homemade Slime Recipe Directions:
In a bowl mix 1 cup of glue and 1/4 cup of water. Then mix well and add in the baking soda.
Add 3-4 drops of green and 3-4 drop of red food coloring.
Mix well and keep adding a few drops of each until you get the deep brown color.
If you are wanting to add glitter you can at this point. – Alyssa likes all her slime to sparkle so she added some red and green glitter, but that is optional.
Once your mixture is the deep brown color add in your saline solution. You will want to start with 1/2 tablespoon and add a little bit at a time afterward to get the consistency that you want your slime to be.
Check out some of my other great slimes!
Edible Slime Made with Lifesaver Gummies
More Christmas Fun for Kids
You can Facetime Santa for a fun Santa Phone Call!
There are so many tasty christmas treats that the kids will love and they are all perfect for any kids Christmas parties that you might have. Some of our favorite Christmas treats are Santa Hat Cupcakes and Whoville Cookies ! But you can check out the full list of Kid Friendly Christmas Treats and pick out your favorites to make with the kids!
Does Elf on the Shelf come to visit your house? If so make sure you check out these awesome Elf on the Shelf Ideas!
If you are doing Elf on the Shelf, then be sure you also print out the Elf on the Shelf Rules and the Elf on the Shelf Welcome Letter!
Looking for Christmas Crafts to do with the kids? We have lots of those too! So be sure to check out the Easy Christmas Crafts for Kids, for LOTS of fun Christmas Crafts Ideas to do with the kids.
If you are looking for cookie recipes we have you covered there too! Check out our Beautiful Christmas Sugar Cookies, and Christmas Tree Desserts Recipes!