Slime is life in our house with my kids. Daily I am asked if they can create a new slime and so I have given in. I figure why not, they can make the different slime recipes and then I can share them with you all. 🙂 We are already in the Christmas spirit here so this week the kids made Christmas Glitter Fluffy Slime Recipe.
This Christmas Glitter Fluffy Slime is fluffy and has that "popping noise" the kids want. Don't ask me what it is about the sound, but according to my kids having slime that pops is "satisfying". Playing with the slime is always something my kids seem to be able to do for hours.
This Christmas Glitter Fluffy Slime is similar to our Glitter Fluffy slime, but we changed things up a bit.
Fluffy Slime Recipe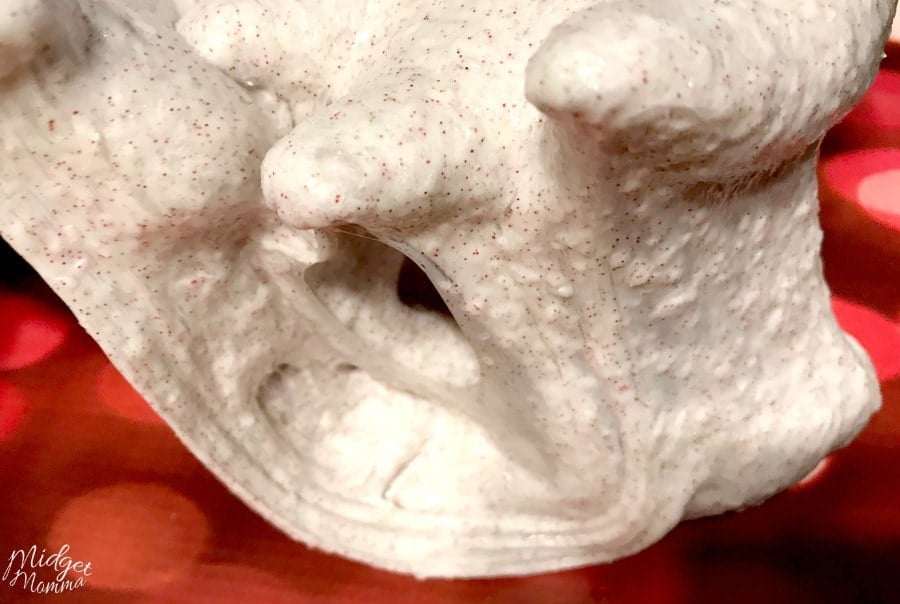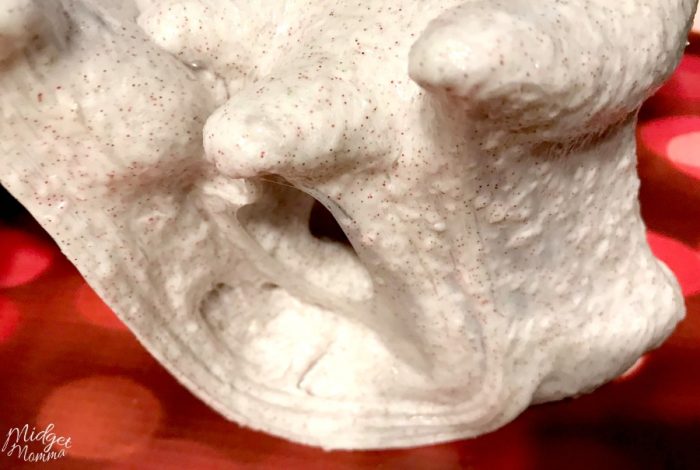 If your kids are like mine and OBSESSED with making slime, buy the gallon of Elmer's glue. Trust me it is cheaper and you are not stuck buying glue what seems like weekly. 😉
How to Make Fluffy Slime with Shaving Cream
When making fluffy slime we find the cheap Barbasol shaving cream works best. You do not want to use the gel shaving cream, you want the fluffy shaving cream when making fluffy slime with shaving cream.
Christmas Glitter Fluffy Slime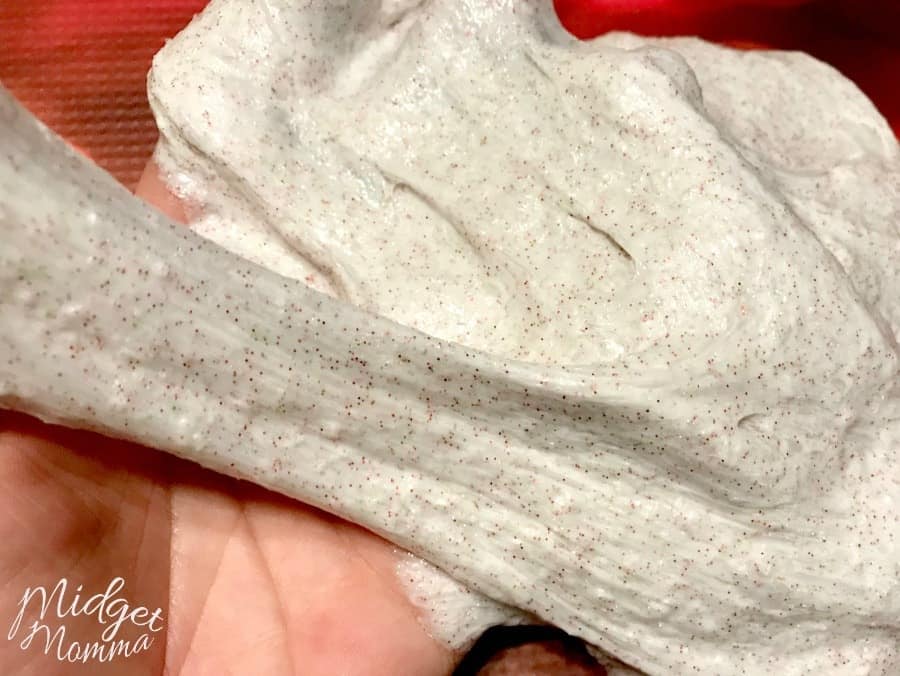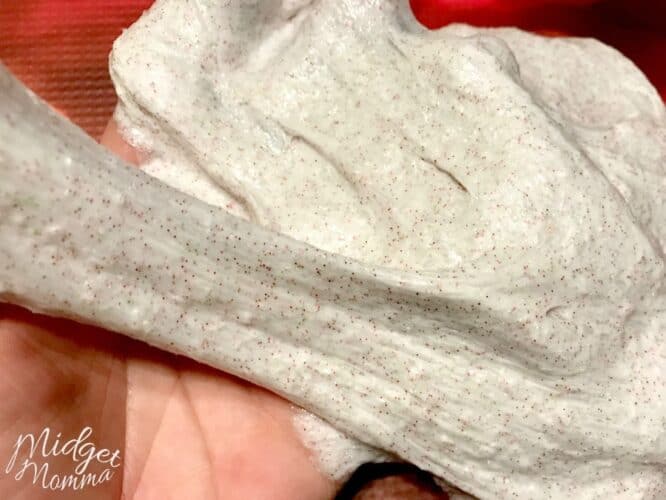 Fluffy Slime Ingredients List:
contact solution
3 cups shaving cream
1/2 cup white glue
2-4 tablespoons Glitter (depends on how glittery you want it to be)
1/2 tablespoon Baking Soda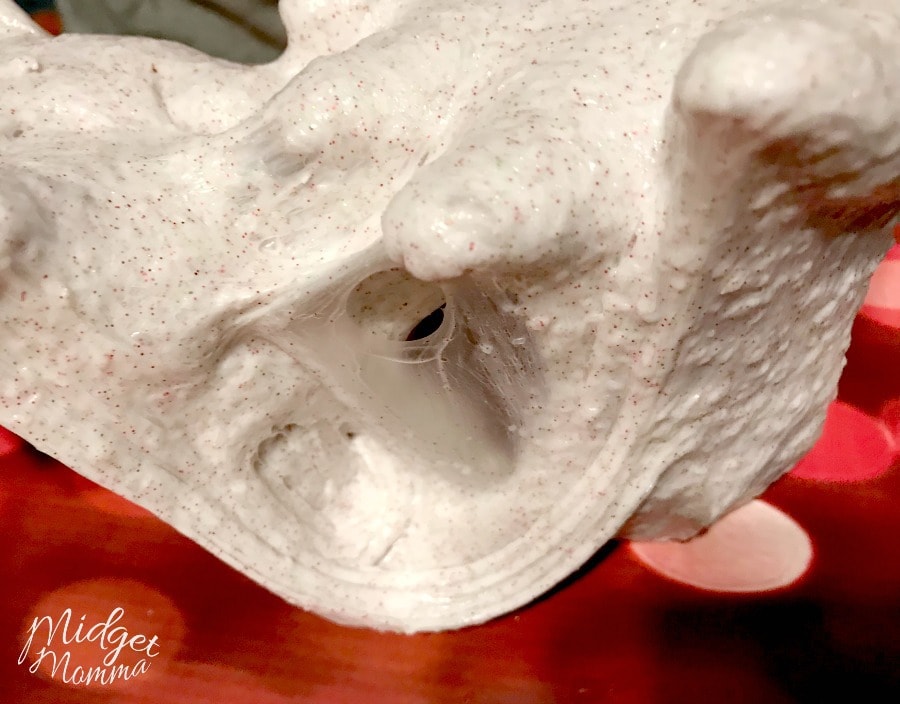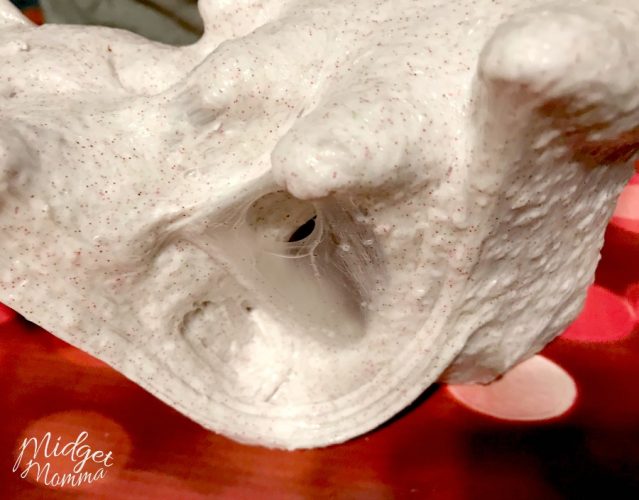 Christmas Glitter Fluffy Slime Directions
In a bowl add the Elmer's glue. Then mix in 1/2 tablespoon baking soda and mix well.
Add about 3 cups of shaving cream. You can measure it or just eyeball it but when you mix the shaving cream in you want it to take away the gluey feeling and make it fluffy with out adding to much shaving cream.
Stir until all the shaving cream and glue is mixed well, it will look like a sticky glob that is also liquidy.
Add 2 Tablespoons of your choice in color of glitter- we went with red and green to make our Christmas Glitter Fluffy Slime
Next add in your saline solution. Start with a little by squirting it from the container into the mixture and stir. Continue adding saline solution and stiring until you get to the slime consistency that you want.
After playing make sure the kiddos wash their hands and then store your Christmas Glitter Fluffy Slime in an air tight container for up to a week. Ours has been known to be ok past a week but with the kids playing with it, I don't like to have gross slime and we make more after a week.
Check out some of my other great slimes!
Edible Slime Made with Lifesaver Gummies
How to Make Butter Slime with Clay
More Christmas Fun for Kids
You can Facetime Santa for a fun Santa Phone Call!
There are so many tasty christmas treats that the kids will love and they are all perfect for any kids Christmas parties that you might have. Some of our favorite Christmas treats are Santa Hat Cupcakes and Whoville Cookies ! But you can check out the full list of Kid Friendly Christmas Treats and pick out your favorites to make with the kids!
Does Elf on the Shelf come to visit your house? If so make sure you check out these awesome Elf on the Shelf Ideas!
If you are doing Elf on the Shelf, then be sure you also print out the Elf on the Shelf Rules and the Elf on the Shelf Welcome Letter!
Looking for Christmas Crafts to do with the kids? We have lots of those too! So be sure to check out the Easy Christmas Crafts for Kids, for LOTS of fun Christmas Crafts Ideas to do with the kids.
If you are looking for cookie recipes we have you covered there too! Check out our Beautiful Christmas Sugar Cookies, and Christmas Tree Desserts Recipes!
Join the newsletter
Subscribe to get our latest recipes right in your inbox every time we post a new one!