If you are looking for the perfect Christmas keepsake ornament to make with the kids then you are going to LOVE this Kids Handprint Santa Ornament made with Air Dry Clay!
Kids Handprint Santa Ornament made with Air Dry Clay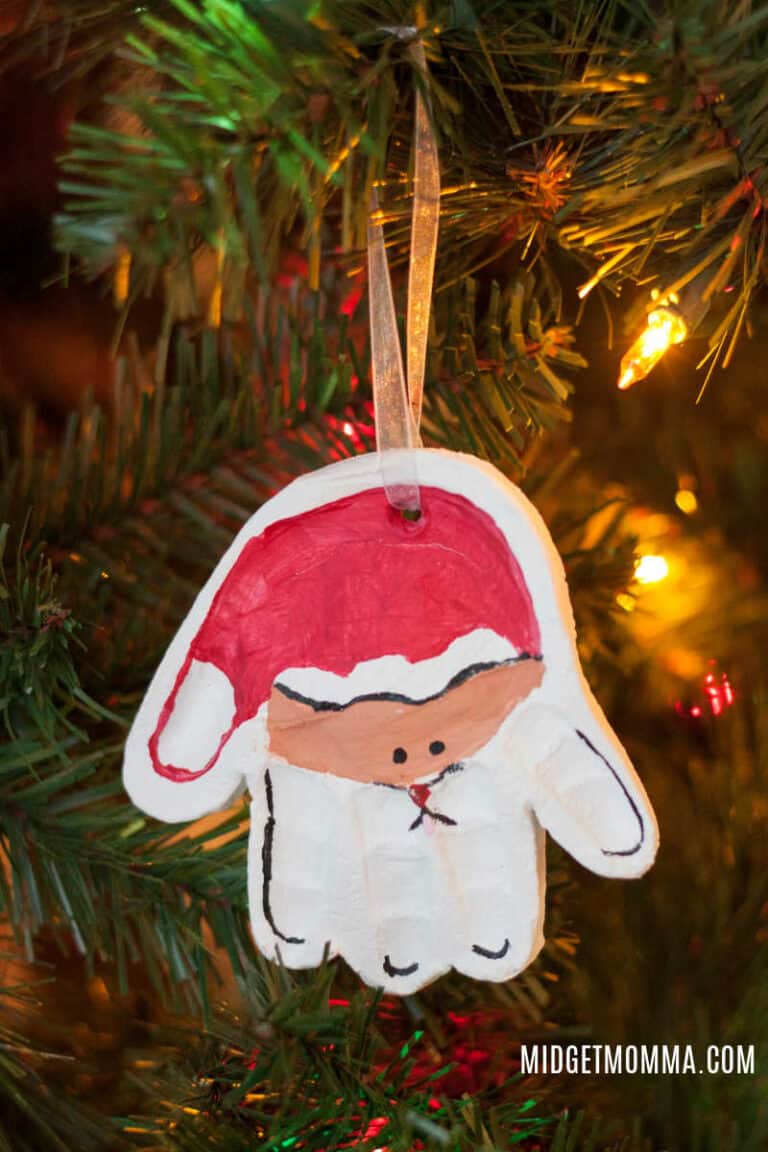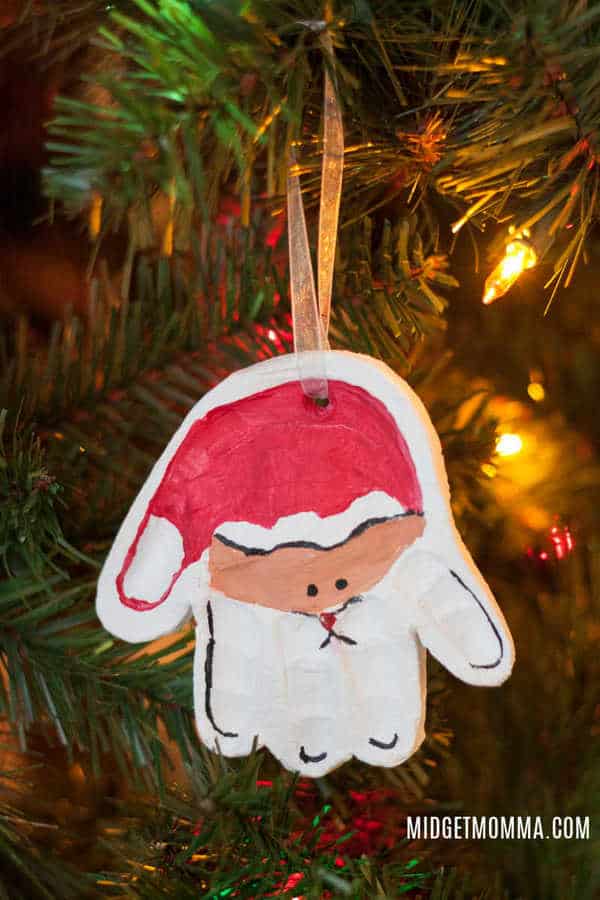 Kids Hand Print Santa Ornament
HoHoHo Its time to get Crafty. I always grew up just having glass ball ornaments on my tree, while my husband had all different kinds of ornaments on the tree.
When we first got married I wanted to keep the tree like the one I had growing up. Then I had kids and it slowly changed because I loved having unique ornaments and ornaments that were kids keepsake ornaments on our tree.
I also got hooked on making DIY Ornaments with air dry clay and their handprints to make keepsakes that I will be able to keep forever!
I have made a lot of different air dry handprint ornaments, but these Santa handprint ornaments are my absolute favorite!
Looking for more crafts? Check out other air dry ornaments that are super cute too!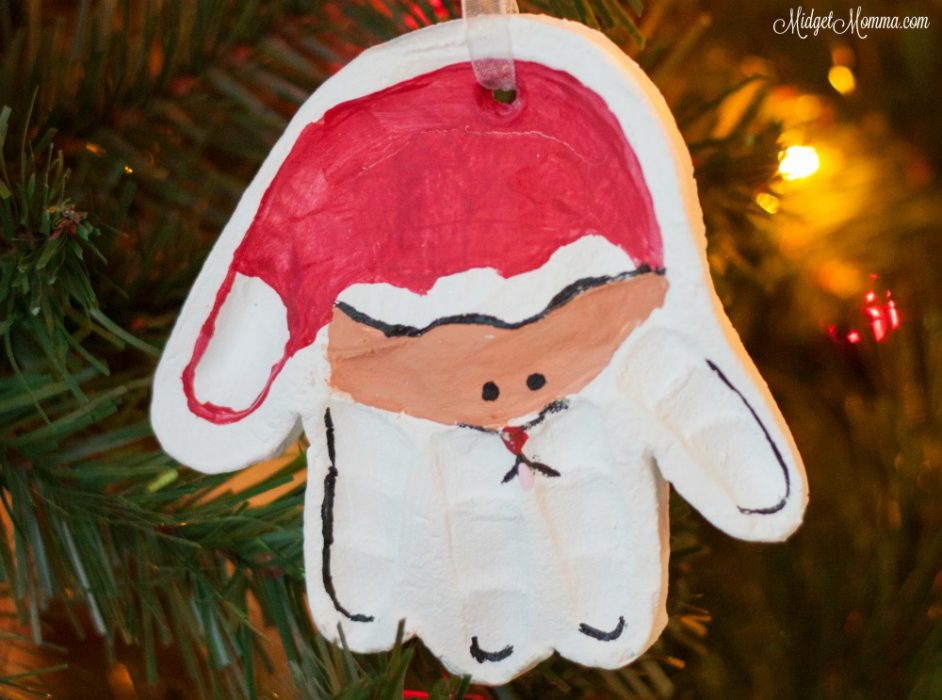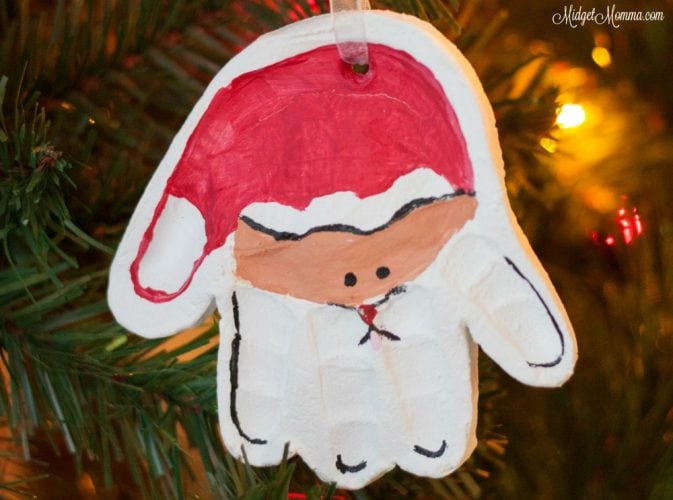 Handprint Santa Ornament Ingredients
Air dry clay (Use this recipe here)
white, tan and red paint
Black paint pen
Ribbon

How to Make Handprint Santa Ornament
Roll out your clay to 1/4 inch. Press your child's hand into the clay.
With a pairing knife carefully cut around the hand print leaving a 1/4 boarder.
Make a small hole on the bottom of the hand print which will be your top, to be able to hang it from the tree.
Let it dry for 3 days. Paint the ornament white.
Paint the Santa hat leaving a small part of the thumb whit for the ball of the hat and a small part of the brim of his hat white.
Under the brim of the hat paint it tan for his face, leaving the rest white for his beard.
With the paint pen draw his face and highlight around the hand print.
Dot a small red dot for his nose.
Let the paint dry and then hang the ornaments on your tree.
More Christmas Fun for Kids
You can Facetime Santa for a fun Santa Phone Call!
Does Elf on the Shelf come to visit your house? If so make sure you check out these awesome Elf on the Shelf Ideas!
135 Funny Elf on the Shelf Ideas 
Elf on the Shelf Kitchen Ideas
50 Quick Elf on the Shelf Ideas
Elf on the Shelf Ideas from Reader Krystal!
If you are doing Elf on the Shelf, then be sure you also print out the Elf on the Shelf Rules and the Elf on the Shelf Welcome Letter!
Looking for Christmas Crafts to do with the kids? We have lots of those too! So be sure to check out the Easy Christmas Crafts for Kids, for LOTS of fun Christmas Crafts Ideas to do with the kids.
There are so many tasty christmas treats that the kids will love and they are all perfect for any kids Christmas parties that you might have. Some of our favorite Christmas treats are Santa Hat Cupcakes and Whoville Cookies ! But you can check out the full list of Kid Friendly Christmas Treats and pick out your favorites to make with the kids!
If you are looking for cookie recipes we have you covered there too! Check out our Beautiful Christmas Sugar Cookies, and Christmas Tree Desserts Recipes!